Solitaire used to be a popular term back in the days when there was no internet or 3G network. Families used to play solitaire games on weekends or during their free time. Now the world is virtually connected and so are the traditional games. We are compiling a listicle of some best solitaire apps that can be helpful in killing your boredom. Best solitaire apps will help you connect with players from all over the world.
While sitting at home, you can challenge players and show your solitaire skills. Best solitaire apps are also customization rich where you can modify the playing board and modes. So without any further delay let's dive into our listicle of the best solitaire apps. 
Excited? Let's Get Started
Benefits Of Solitaire Apps
Customization rich: Best solitaire apps provide customization features to the virtual player all around the globe. You can choose from the multiple board themes to start playing the game. There are 4 to 5 playing modes that are also available in solitaire apps that you can choose based on your preference.
Connect with anyone: Virtual world is easy for interaction. You can interact with players across the globe, challenge them, and learn some new skills of the game with your opponent. With the help of the best solitaire apps, you can connect and play with anyone anywhere anytime.
Best Solitaire Apps For Android
---
MobilityWare Solitaire
Experience real solitaire with MobilityWare Solitaire. Play solitaire games for absolutely free. Now you can carry this classic card game anywhere you go. You get unlimited hints if you are stuck somewhere in the middle of a game and unlimited undo that help you to peel off your missteps. This best solitaire app is a brain teaser and helps you to improve your thinking skills. You can also choose your card style.
You can play both online and offline games with random deals with the help of this best solitaire app. You can also find different modes and different features in it. Some features include Beautiful graphics, Klondike gameplay, option for all winning deals, Draw 1 or 3 cards option, Autocomplete for the almost solved game, statistics, personal leaderboard, left-handed mode, and more. 
Related: Best Budget Apps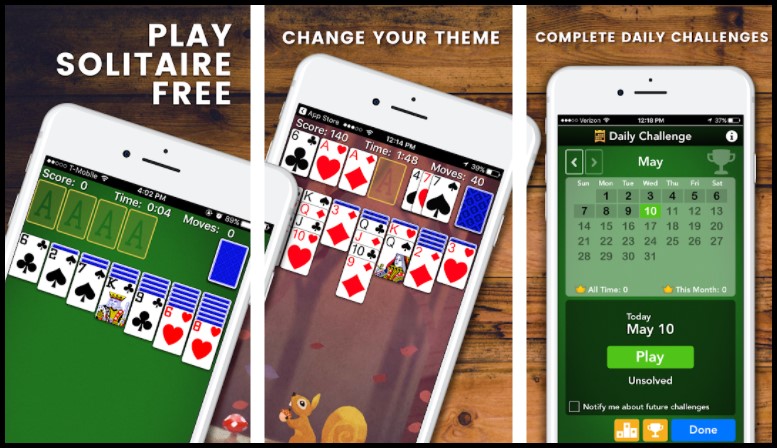 Standout Features:
Daily challenges
Fun animation
Timed mode for an extra challenge
---
250+ Solitaire Collection
The 250+ Solitaire Collection is the all-in-one game for many card games. It is a collection of 253 solitaire games. In this best solitaire app, you can find Free cell, Klondike, Canfield, Golf, spider solitaire, Scorpion Solitaire, Pyramid, Tri-peaks, and lots more. If you are a board game fan then you are going to love this game. You can set common game options, animation, game table background, cards styles and back view of the cards, and more. You can choose different languages. You can manage the application's visual themes and sound scheme.
This best solitaire app also gives you a demo for every single game. You can view the playing card game demo with a step-by-step solitaire guide. So you don't face any difficulties if you play any new solitaire game. You get a text description of the rules for each game. These text rules describe different things about the game. Like- game purpose, foundation, tableau piles, stock regulations and placement, and much more.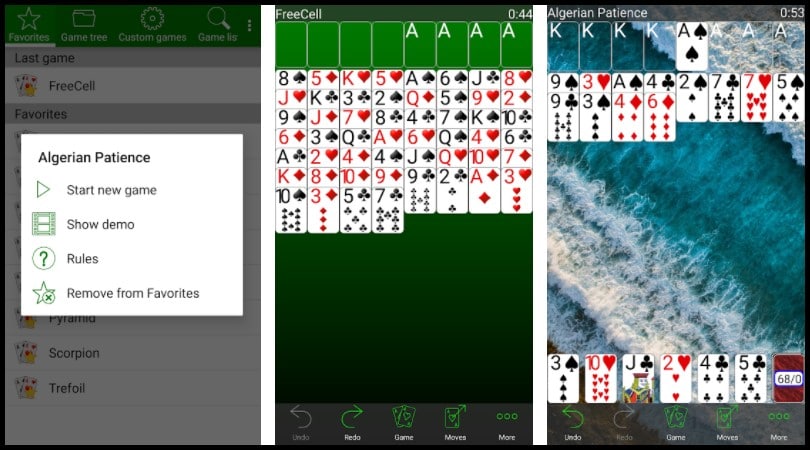 Standout Features:
Custom game
Demo for every game
---
Free Cell Solitaire
One of the best classic card games is here now. You can complete daily goals for XP for level up. Collect over 300 exclusive titles with this best solitaire app. You can finish the solved game using the autocomplete feature. Choose between portrait or landscape mode to play. Save stats will support you to never lose the game or lose your game even if the app is closed accidentally.
This app will highlight what cards can be moved in the stack of the whole 52 cards deck. Choose whether you want to drag and drop cards or tap on matches to make your moves. You can level up your free cell game easily with the help of step-by-step tutorials. Unlimited hints and undo will help you to find a path through the challenging card puzzle, making it one of the best solitaire apps.
Related: Best Route Planner Apps
Standout Features:
Over 300 titles to earn and collect
Track your high score
Puzzles to solve
---
Solitaire Pro
If you see yourself as a solitaire Pro then you should install Solitaire Pro on your device. Play different levels like Random, easy, medium, hard. Choose if you want 1 card draw or 3 cards drawn at a time. It has lots of play options. Left-handed and right-handed layout options to choose from. Select your pics as a background or card back. Play your game without any interruption, as it is an ad-free app. It has achievements and leaderboards. Get standard and Vegas scoring. Select from 4 different card sets or 4 card backs. It has many different backgrounds.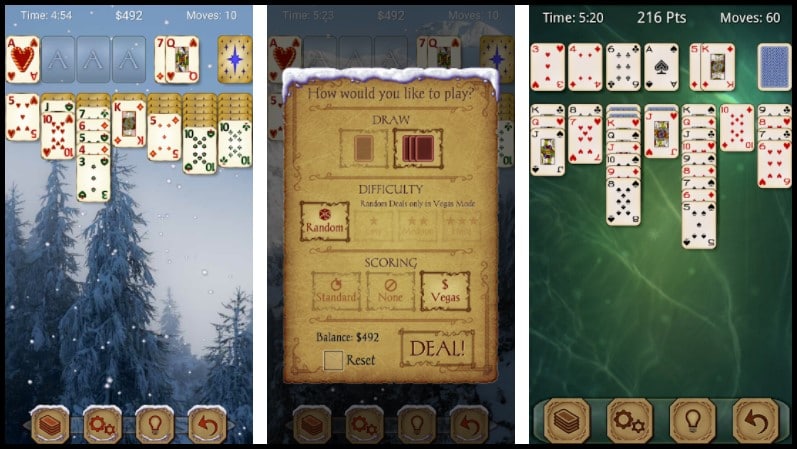 Standout Features:
Many different levels
Non- Random games solution
4 different card sets and back designs
Choose your images for the background
---
Brainium Studios Solitaire
Relax and train your brain with the help of Brainium Studios Solitaire. This best solitaire app brings fun into your life. It has a beautiful modern design. Used by millions of people. Featuring easy to read cards and intuitive tap or drag controls. This app is perfect if you want to test your skills. It has dozens of card styles and backgrounds which you can choose from.
Besides, you can even put your photo as a background or card back. You can sharpen your brain by playing this game. Choose between draw-1 or draw 3. The Autocomplete feature will help you to complete your game automatically if your game is solved. You can play in the dark mode during the night time if you want to enhance your experience.
Related: Best Keto Apps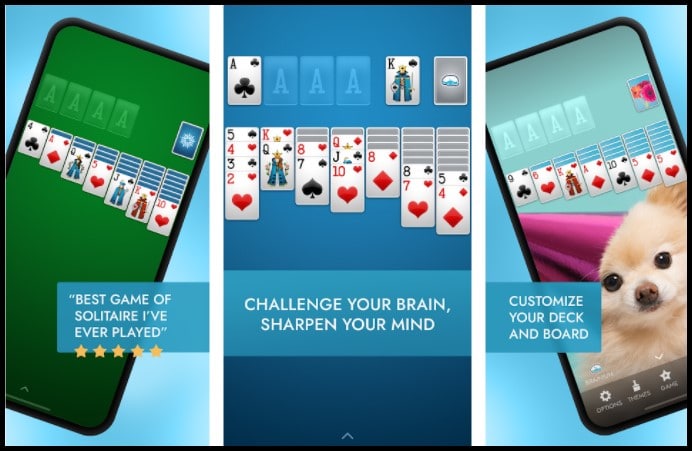 Standout Features:
Classic and Vegas scoring
Unlimited free deals
No banner ads
Dark mode available
---
Spider Solitaire
Spider Solitaire is a free app for playing solitaire. Now you have daily new challenges to play with this best solitaire app. You can find unique and breathtaking new puzzles to solve. It will reward you with a crown. The more you win the more you get crowns and trophies. Stunning animations and extraordinary graphics enhance the overall playing experience. This game comes in 1,2,3 and 4 suit varieties.
The app has winning deals that guarantee at least one winning solution. Players allow dealing cards even with empty slots. Improve your brain skill with solitaire games with the help of this app. You can track your game statistics. You need just one tap to move for quick gameplay.
Standout Features:
Track your spider solitaire statistics
Customised setting
Left-hand and right-hand play
---
Classic Solitaire Klondike
Classic Solitaire Klondike is an app that you love to play if you are a big fan of solitaire games. This app doesn't need much space. You can count this game as a very small space fun game. Just a 1.8 Mb game. The app comes with a minimalistic design, making it one of the best solitaire apps.
It has an undo button that lets you undo any move. You can choose between many different difficult options. You can play offline. This game is free to play and you don't need to pay anything, making it one of the best solitaire apps. Just some rules you need to follow. So download this game on your mobile phones now and enjoy or improve yourself in this game. 
Related: Best Dog Walking Apps
Standout Features:
Album and portrait orientations
Different difficulties option
Free of charge
---
Microsoft Solitaire
Play solitaire in 5 modes with Microsoft Solitaire app. Get daily challenges and events. It has millions of followers all around the world. You can find the best solitaire card game in just one app. Like- Klondike solitaire, Spider Solitaire, Freecell Solitaire, Tripeaks solitaire, and pyramid solitaire. This best solitaire app has simple new rules. Just sit, relax and enjoy these games on your phone whenever you feel like it.
Win reward by playing daily challenges. Unlock over 75 achievements. Improve yourself and achieve a higher game score. You can choose so many ways to play. Clear all the cards from the table. 8 columns of cards await you. Get four free columns to move your cards. use your best strategy to pass the level.
Standout Features:
Enjoy a fun spin
Four free cells
Play with traditional and Vegas scoring
---
Pyramid Solitaire Saga
Find the clues by catching the scarabs hidden beneath the card in Pyramid Solitaire Saga. You can match a card that is higher or lower than the one on your deck. This best solitaire app will allow you to play this game alone or play with your friend to find out who can get the higher score.
Completing the episode will unravel the mystery and secrets left behind. This game is free to play but sometimes some items need payment like extra moves or lives. Get full-featured when connected to the internet. Track scores with the help of the leaderboard. This game is easy to play but also fun. Unlock boosters and find hidden treasures. The app has rich and exotic graphics you are going to love. 
Related: Best Weight Loss Apps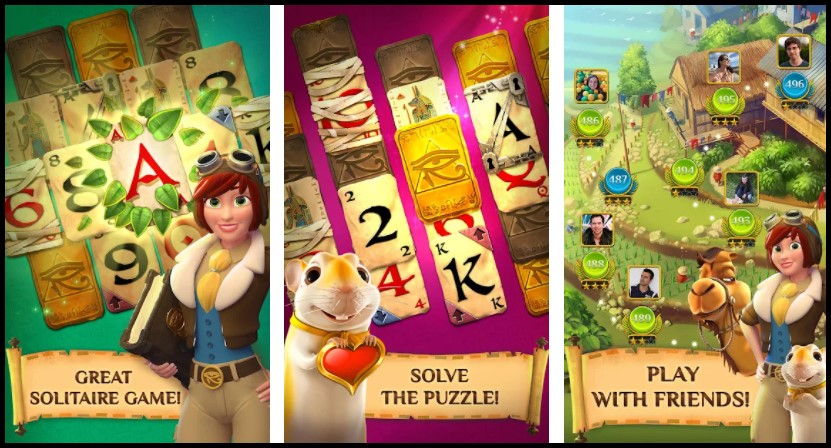 Standout Features:
Leaderboard to watch your friends and competitors
Hundred of the magical puzzles
Discover the new solitaire strategy
---
Solitaire Card Game
Solitaire Card Game is an enjoyable and funny game. Which brings fun to your life. This game is also known by many other different names, for example, Klondike solitaires or game of patience. It is called the game of patience because you need lots of patience to play and win this game. Also, this is one of the most popular games in the world. You can access this game and play it at any time and anywhere you want. Find how many games you win with statistics.
If you feel bored just open this best solitaire app on your phone and kill your boredom. You can train your brain daily with this game. It has unlimited games to play endlessly. This game is just perfect for you no matter whether you are a pro or just a beginner. The winning card draws to make sure you will win every time and every game. The random card draws will help you to train your brain. It gives you new challenges every day. It has a classic model for the computer-like game. You can play offline without wifi or an internet connection.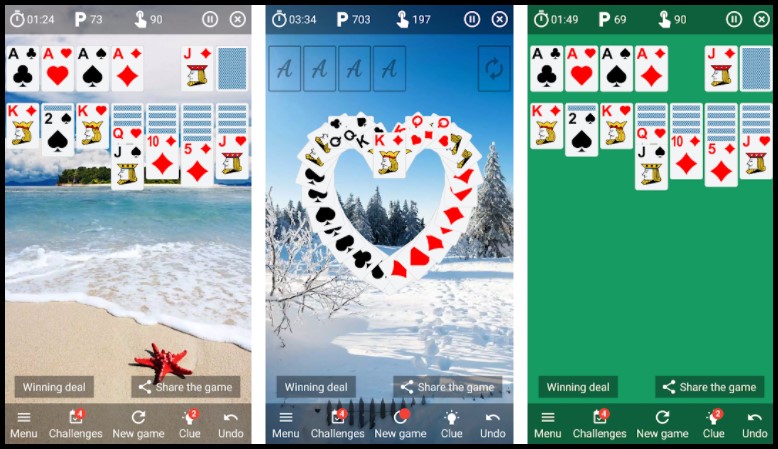 Standout Features:
For beginners and experts
A Vegas mode
Statistics to find out how many games you won
---
Final Words
With Solitaire Card Game, we are wrapping up our list of the best solitaire apps. These were the 10 best solitaire apps you can choose from the options available. Install any app from our listicle to start playing solitaire with your friends virtually. Our top picks of the list are MobilityWare Solitaire, 250+ Solitaire Collection, and Pyramid Solitaire Saga. Do mention your top picks of the list in the comment section below. Also, drop your valuable suggestion so that we can improve our content.
Thank you for reading! Try these out too:
General FAQs
Are online solitaire games winnable?
Yes, the majority of online solitaire games are winnable and have a high winning percentage amongst the users. Games like Pyramid Solitaire Saga and Microsoft Solitaire have a winning percentage of up to 80 percent. We must suggest you prefer authentic online platforms to play solitaire to have a fair competition.
Can I play Solitaire on Google?
Yes, you can directly play solitaire games on the web version. You only need to search the solitaire game option in the Google search box and you are good to go. When you select any web version of the solitaire, it will redirect you to the full version of the game.