Android's USP lies in its customization and the users love to change and personalize their home screen with beautiful wallpapers, icons, and widgets. The problem with this approach is that you have to separately search and then test each widget, icon pack, and wallpaper to see if they fit with your standards. If you want to avoid this grunt work, the best KLWP themes are a great option to have a fresh home screen with increased functionality.
KLWP themes pack a pre-made home screen setup that can be installed and then used without doing any modifications. You can make alterations to it but trust me, with the best KLWP themes, you never have to put effort into customizing your home screen further. I have listed out the best-looking and feature-rich KLWP themes for your Android device.
Excited? So, Let's Get Started.
Advantages of Best KLWP themes
Easy to implement: Installing and using a KLWP theme is pretty straightforward. You do not need to root your Android device to install and implement the KLWP theme.
Pre-made Designs: Finding and matching different elements takes time. With the best KLWP themes, you just need to pick the best-looking one and then use it on your device.
Extended Functionality: Apart from providing a distinct look, the KLWP themes also have quick access to your favorite apps, a neatly organized calendar, one-click toggles, and much more.
Super Lightweight: KLWP themes take up a tiny space on your Android device post-installation and do not consume a lot of system resources.
Best KLWP Themes in 2021
---
Fugli for KLWP is among the best KLWP themes that look stunning. It is a minimalist design that uses a plain white background. It is a 3 page home screen setup with lots of details.
This KLWP theme includes a coronavirus live tracker and a tiny but usable news feed section that doesn't cover the entire home screen. Its developer has recently updated the Covid-19 tracker API and has also included 30 more new widgets. Also, there is an option to turn the pristine white wallpaper into the widely loved dark theme.
Related: Best News Apps
---
Mixture for KLWP is among the versatile themes app that comes with 17 plus presets. Each preset is designed with a specific user in mind due to which some are excessively minimalistic while others pack a lot of details and widgets.
This best KLWP themes app comes with two-page presets. The new update has also brought a few single-page presets among which the Colors Rabbit preset looks very good.
Related: Best Unknown Android Apps
---
Neux for KLWP uses a neomorphic effect that makes the widgets appear to be behind the wallpaper. It creates a 3D effect and also adds distinguishable borders around each widget. Neux is a different design altogether and will liven your Android device.
This best KLWP theme has numerous presets in both light and dark modes. The light mode gets a little too bright for my preference but isn't a bad design at all. Even the widgets use a lot of color accents rather than a plain black on the white scheme.
Related: Best Parental Control Apps
---
Undo for KLWP is made by the same developer that designed the Neux for the KLWP theme. This KLWP theme also uses the same neomorphic design but with five-page presets. The available preset theme options are light and dark.
Being a five-page preset design, you can easily access weather, music, calendar, favorite apps, and news on different pages. This design eliminates the clutter usually found on widget-intensive themes and is also perfect for Android devices with smaller displays.
Related: Fastest Android Launchers
---
Neomix KLWP also uses the neomorphic design that is super popular in the UX community. This is among the best KLWP themes that come with a single-page preset. So, if you are a fan of heavy widget KLWP themes, this one might not appear as enticing as the Undo KLWP theme. 
Neomix KLWP comes with a single page that contains the primary apps, time, weather, and a concise app section that expands on clicking the app drawer button. It doesn't contain the calendar widget or the news and discovery feed as the one-page layout cannot accommodate these elements.
---
The Prostolight KLWP theme reminds me of the standard iOS device's background and the rounded icons, which is not a bad thing at all. This KLWP theme comes with a three-page preset that contains the primary screen, a weather section, and a calendar plus events section.
This best KLWP themes app doesn't incorporate the news feed widget or the music widget. Still, it looks sharp and adequate and most importantly very much easy to use. It supports two theme modes and the dark one looks stunning as compared to the black one.
Related: Best Running Apps
---
Charming KLWP has a befitting name. It contains four different themes with striking colored elements and all of them look equally good on the display. The best-looking preset in my opinion is the orange on black that looks enchanting. Other color options are golden, pink, and blue.
Charming KLWP contains six-page presets so you have all the useful widgets spread across these pages. Every page is as detailed as it can get and I like the news feed page and the primary home screen page. Most widgets work pretty well except for the music widget that likes to pose trouble at times.
Related: Best Keyboard Apps
---
Phoenix KLWP theme is a collection of the best KLWP themes by the developer. He has packaged four interesting themes among which the Reborn theme is the freshest one. So, by using the phoenix KLWP theme you get access to a wide assortment of pre-built KLWP themes.
Currently, the phoenix KLWP theme comes with four different themes, namely Nova, Reborn, Windroid, and Ice. In my opinion, the Reborn theme is the most minimalistic while the Windroid theme is the most detailed layout in this collection.
Related: Best Investment Apps
---
Tiles Themes for KLWP is an animation-rich theme designed to provide maximum accessibility to the user. Each theme consists of four pages to display calendar events, music, a news feed, and the primary page. The details and accessibility are two major aspects of this best KLWP theme.
This KLWP theme retains its responsiveness despite heavy animation use. The developer recently upgraded the news feed API to deliver a more relatable news feed. The background is faded in this KLWP theme and widgets cover most of the display. There is also a dark mode that can be easily activated using the toggle.
Related: Best Apps For Secret Texting
---
Rabbit KLWP is another neomorphic design theme that uses white as the primary color for the home screen. This KLWP theme consists of four pages so pretty much everything from the news feed, music, calendar, weather, is covered. According to the developer, this KLWP theme looks best on Android devices with an 18:9 screen ratio.
This best KLWP theme comes with three themes, all based on a white background and white widgets. The developer plans to add more themes in the future but you can even make do with three if you love a white-themed home screen setup.
Related: Best Journal Apps For Android
---
Stripes KLWP is one of the best KLWP themes that address the problem of indefinite scrolling across multiple home screen pages. Rather than providing a scroll option, the theme offers three stripes on the home screen that can be clicked to expand them into a complete page.
Currently, there are three pages apart from the home screen for weather, music, and calendar. You can swipe up to return to the primary home screen page. Stripes KLWP is one of the best-looking KLWP themes that focus on minimalism. You will miss the news feed in this theme but will love the combination of dark and light mode.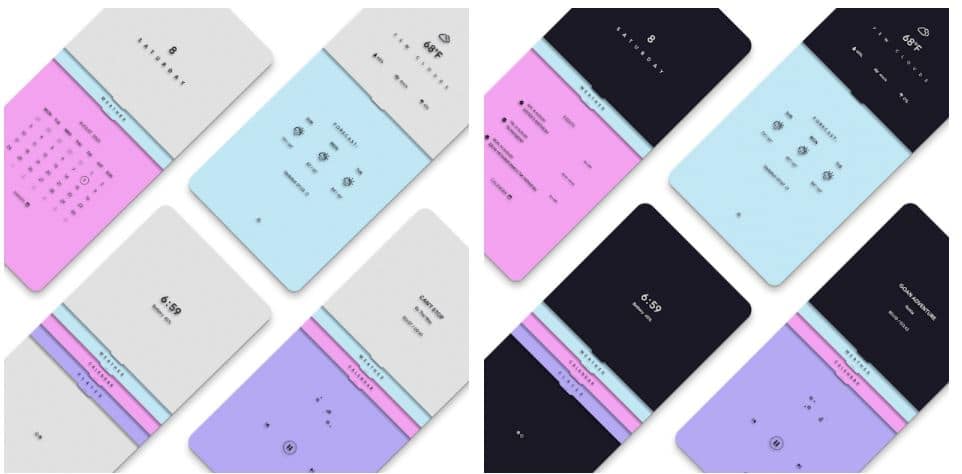 ---
Shadow Extraction UI simplifies the home screen by dividing contents into handy pages. It is one of the best KLWP themes that comes with five distinct pages for agenda, music player, weather, news, and the settings pane.
The KLWP theme has 6 solid gradient color modes and six unique wallpapers that match the home screen. Three unique themes including light, dark and blue themes were introduced in the recent update with the promise of a few new ones by the end of the year.
Related: Best Cryptocurrency Apps
---
Morphe KLWP is based on the neomorphic design and is a minimal-looking theme with a beautiful widget layout. This best KLWP theme comes with both dark and light themes and supports all screen ratios. This means that it will look good on Android devices with new or old operating systems.
These best KLWP themes receive frequent updates and bug fixes and come with a four-page layout. The news feed is missing from this KLWP theme and there are slim chances of the news feed page appearing in future updates.
---
Ember for KLWP is packaged with 20 themes in one KLWP package. The possibilities are endless with this best KLWP theme. You can find the theme that suits your style or can change your theme every day for a fresh home screen.
Ember for KLWP has one-page themes, two-page themes, three-page themes, and much more. The app presents a lot of variety along with more colorful themes as compared to the simple black and white designs. My personal favorites are Niagara and Lotus, both of which are concise themes with basic widget placement.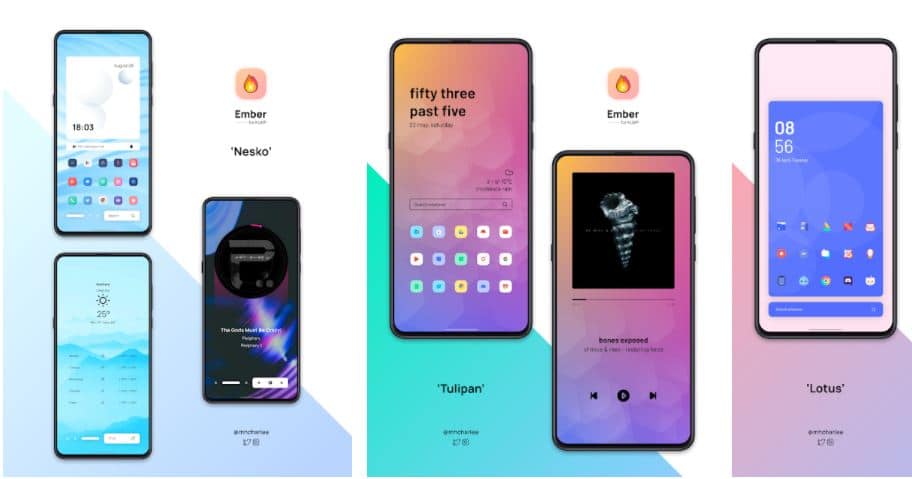 ---
Midi for KLWP is a borderless KLWP theme that canvasses the entire display. It offers six colors, among which the teal-colored looks the best. This KLWP theme comprises five pages that provide easy access to the calendar, agenda, music, and news feed.
The most likable aspect of this best KLWP theme is the subtle animations that are present in it. Rather than overdoing every tiny detail, midi for KLWP keeps it as simple as possible. You can opt for this theme with no doubt as it will look good on all kinds of Android displays.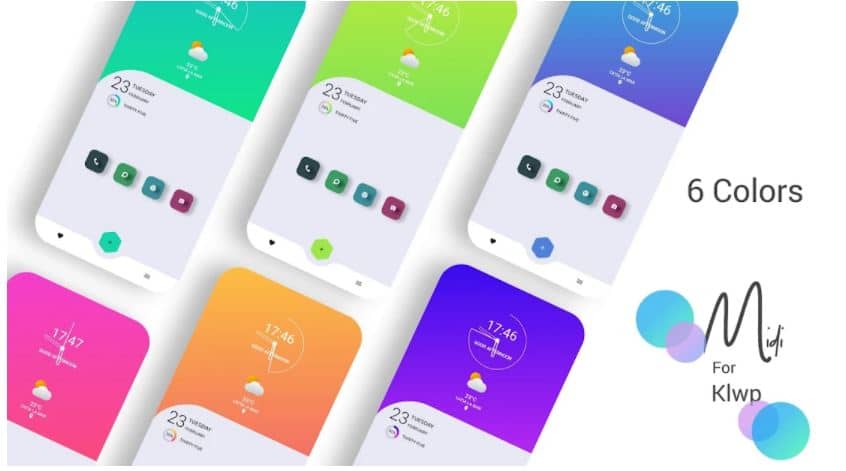 ---
Nui for KLWP is also a neomorphic design that has impressive color accents which complement the white background screen. This KLWP theme comes with a 5-page layout and has all the widgets that you need on a home screen. Nui provides you the option to change the secondary color, which is good if you get bored with one color.
This KLWP theme has the option to disable the navigation bar and activate dark mode, two features that are frequently changed by the users. Nui comes with only a single theme, so you cannot change the whole layout as per your will.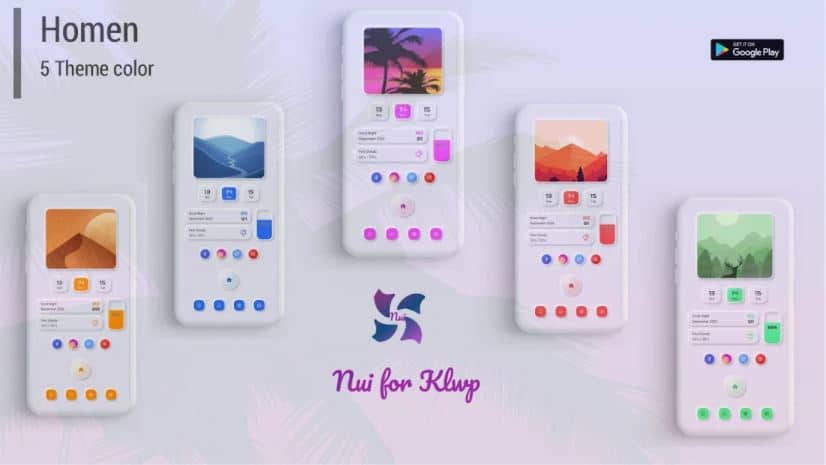 ---
Final Words
These were the best KLWP themes suitable for your android devices. My personal favorites are the Shadow KLWP, Phoenix KLWP, and Nui KLWP themes. If I have missed a KLWP theme that you think deserves a special mention, please type it in the comments.
Thank you for reading! Try these out too:
General FAQ
What are KLWP themes?
KLWP Themes are pre-built home screen setups that require minimal tweaking and can be installed to achieve a fresh home screen look.
Which is better KLWP or KWGT?
Both are equally good but the level of details available in KLWP is far superior to what KWGT can provide to android users.
What launchers work with KLWP?
Numerous launchers work with KLWP but if you want the best compatibility, go for the NOVA launcher.