Android is the mother lode of customization for handheld devices. Unlike iOS, you can manipulate the looks and accessibility of an Android device by using numerous customization applications available. Let's face it, no one buys a new smartphone every three months and is bound to get bored by the themes and home screen. So, the next best option is using home screen launchers like Nova launchers to create personalized customization home screen setups that match your vibe. Best or not it would be a completely different experience for you, as you will have full control over every tiny detail of your home screen.
Nova launcher has been there for over a decade and its popularity has created a new hobby of users creating unique, appealing, and best Nova launcher themes using a few elements like icon packs, wallpaper apps, and KWGT widget. And that's exactly why we have compiled this list of the best Nova launcher themes that will revamp your bland and unattractive home screen setup into an eye-catchy design.
Excited? So, Let's Get Started.
How to Customize Android Like a PRO!
One of the main reasons for going with an Android smartphone for your daily driver is that you've got an almost limitless number of ways to customize it and here I am going to showcase 4 easiest ways to level up your home screen setup game:
Revamp your Interface with Launcher:
So, the very first thing that I do in order to customize my Android smartphone is Install a Custom launcher. This is the most obvious way to customize your Android, and it's the place you should start.
A custom launcher can take charge of your home screen and using which you can easily change icon pack, font size, drawer sets, and more. They basically enable any Android smartphone with the ability to revamp the home screen completely with a whole host of new customization options to play around with.
Add functionality with widgets:
Nowadays, you might have noticed that widgets are becoming quite popular and the home screen customization enthusiasts used them to create beautiful-looking nova launcher themes. As widgets allow you to access all your important apps in one glance which saves time and also provides a certain aesthetics to your home screen.
Add style with icon packs:
The look of your Android smartphone goes way beyond widgets, or even your launcher. In fact, unless you're some sort of home-screen swiping minimalist, app icons cover the bulk of your display. If you find the app icons on your phone outdated or boring? Then you have the option to change them using a custom launcher! It's not difficult or time-consuming.
Paint your home screen with wallpapers:
Wallpapers are like the colors your house wears from the outside. If they aren't splendid, you can do nothing no matter how lavish the insides are. Similarly, you can invest as much money ($) as you want in your smartphone, if it has those old 90s wallpapers with ugly patterns, you're not beating the bones out of it.
And that's where wallpaper apps come in, it's such a basic thing believe me it can make a huge difference to the overall look of your smartphone.
Nova Launcher Themes 2021
---
Tennis 12 – Best Nova Launcher Themes
Tennis 12 by Dennis Wilson is a gorgeous tennis-based home screen setup. It features a ton of widgets on a green, tennis ball-colored background and with befitting icons that amplify the overall sports theme. Tennis 12 is purely aimed at users that love every possible functional widget on their home screen.
Related: Best Weather Apps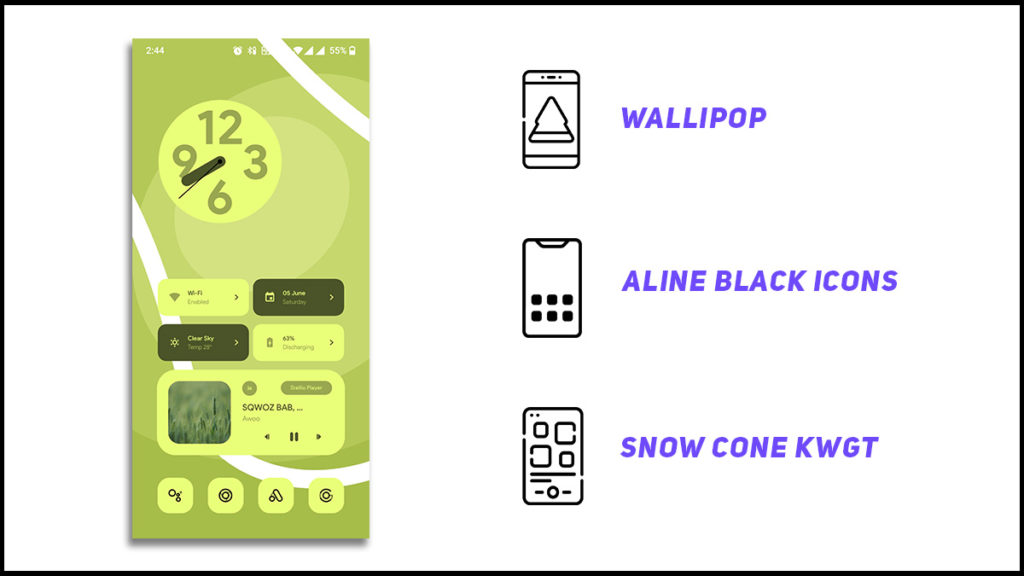 Wallpaper
This home screen uses a wallpaper titled 'Tennis Ball' that is sourced from the Wallipop wallpaper application. It contains a light green hue with bold white lines that mimic the tennis ball. The wallpaper suits the home screen because it is adequately bright and doesn't canvass the widgets or icons text.
Icon Pack
Tennis 12 uses the Aline Black icon pack that uses bold black lines to draw icons. Due to its bold and striking design, it looks best on light-colored wallpapers. Also, the icons are 50 percent transparent which makes them blend perfectly with the light-colored wallpaper used in this home screen setup.
Widget
This home screen uses the Snow cone KWGT widget that uses a beautiful circular clock with bold dials. There are four more rounded widgets that display and provide direct access to network connections, calendar, weather information, and battery status. The setup also uses a large music widget to manage music playback.
---
Purple Serenity – Best Nova Launcher Themes
Purple Serenity by Kayla NK is a super minimal and non-intrusive home screen setup by Kayla NK. This setup uses a purple-toned wallpaper with minimal usage of icons and widgets. It is designed for users that crave simplicity above other things in their home screen setup.
Related: Best Cryptocurrency Apps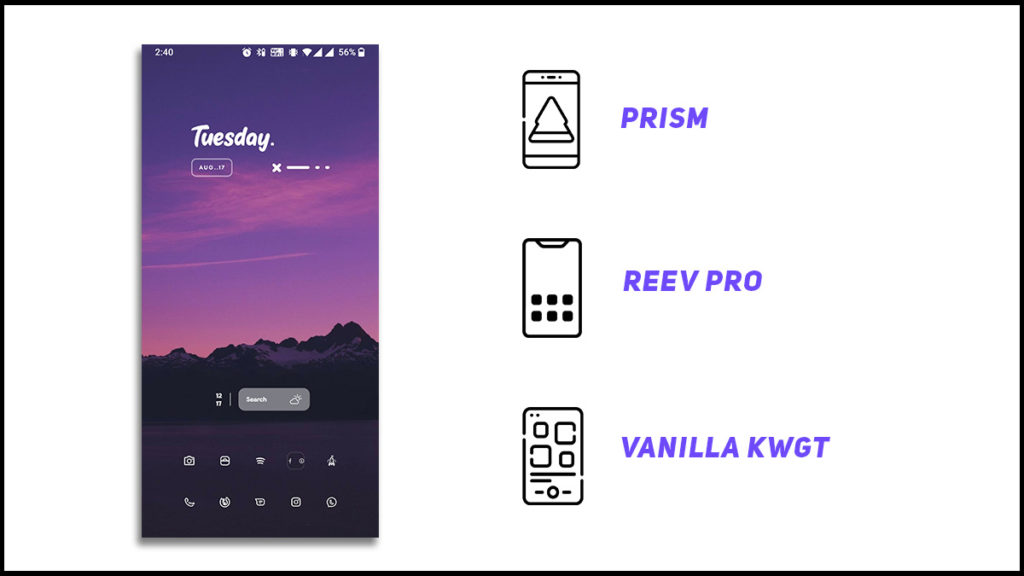 Wallpaper
The home screen setup uses a minimalistic wallpaper from the Prism wallpaper application. It is certainly not the brightest wallpaper out there and will look better on Amoled displays with high resolution. The wallpaper is a blend of different purple hues that depict the mountain view of a sunset.
Icon Pack
This home screen setup uses a Reev Pro icon pack with a ten icon layout on the home screen. The icons are super tiny and minimalistic and use white color and transparent background to depict different icons. Reev Pro also has a dark-themed icon pack that looks best on bright wallpapers.
Widgets
Purple Serenity uses the vanilla KWGT widget and makes use of a bold date widget on top of the display area. The button half uses a widget that displays time and time and weather along with a search bar, all of which are centered to suit the minimalistic theme.
---
Scary House – Best Nova Launcher Themes
Scary House by Somraj Jadhav is one the most quirky-looking home screen setup that is dark and grim but in a cartoonish manner. This home screen setup isn't filled with too many widgets and aligns everything vertically.
Related: Best Grocery Shopping Apps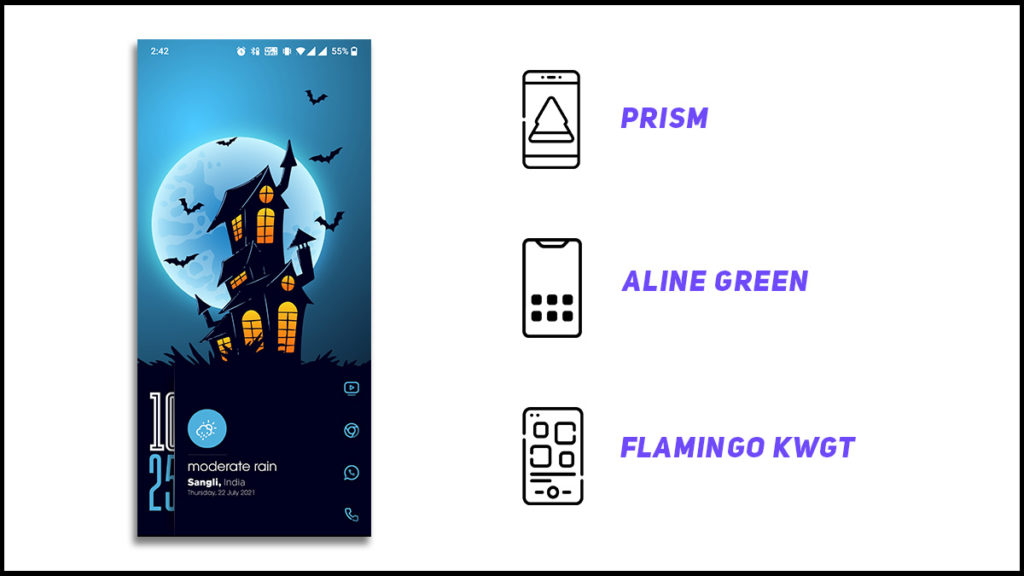 Wallpaper
This home screen setup uses dark wallpaper from the Prism wallpaper application. The wallpaper uses black and blue as the two primary colors with accents of yellow and white. The bottom part of the wallpaper is stark black and doesn't overshadow the icons or the widgets. It will look equally good on both high-resolution LCD displays and AMOLED displays as well.
Icon Pack
This home screen setup uses the Aline Green icon pack which is a modified version of the black one. The icons use blue color as the outline with a transparent background which makes them pop out on the black background. Scary House uses only four icons that are arranged vertically but are equally accessible due to their location in the bottom half of the display.
Widgets
Scary House uses the flamingo KWGT widget that displays date, time, weather, and location in an unconventional design that looks stunning. The time is displayed in the two-part vertical block that appears to be partially hidden. It is a single widget but is super elaborate and doesn't cover the primary part of the wallpaper.
---
Night – Best Nova Launcher Themes
Night by Vinit Tamboli is an extremely dark yet calm home screen setup. The home screen setup is not entirely minimalistic but is super descriptive and packs a lot of widgets and icons to increase your accessibility.
Related: Best Dialer Apps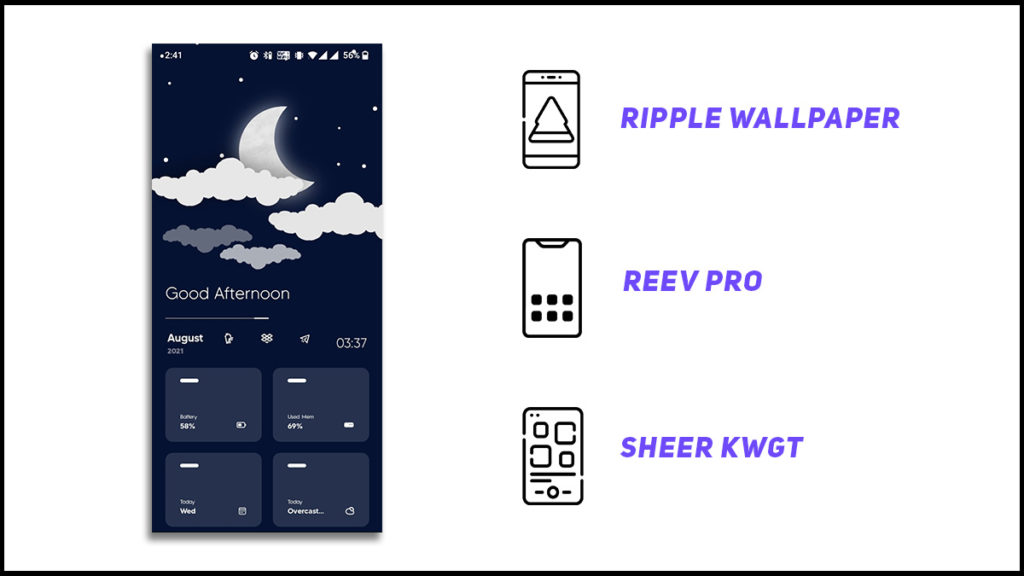 Wallpaper
This home screen setup uses the Night wallpaper from the Ripple Wallpapers application. The wallpaper isn't fancy and has a bright, one-third moon with a few clouds. These white elements on a blue background result in a serene wallpaper.
Icon Pack
Night uses the Reev Pro icon pack that brings a simple white outline icon set to the home screen. There aren't many icons on this home screen which allows it has a lot of widgets placed in the lower half of the home screen.
Widgets
Thus home screen setup uses the Sheer KWGT widget that is translucent and fits perfectly with the blue wallpaper. The widgets begin with a greeting according to the time of the day and have day and month stacked below one another while the time is aligned to the right. Following it are the four different widgets with rounded edges that display calendar, battery status, memory status, and weather. The home screen setup doesn't showcase the current date, which can be a little confusing.
---
Material Coffee – Best Nova Launcher Themes
Material Coffee home screen setup by Dennis Wilson uses a mellow color scheme that soothes your eyes. It has a perfect widget placement and comes with a pastel-colored background that looks vibrant but not too flashy.
Related: Best Heart Rate Monitor Apps
Wallpaper
This home screen setup uses the Bourbon wallpaper by the Fluid Walls wallpaper app. From the looks of it, it isn't anything definitive but a combination of a different set of pastel colors with an abstract theme. The primary color looks good with the widgets and the base of slightly brown that makes the icon pack more pronounced.
Icon Pack
The home screen setup by Dennis Wilson uses the Bebocan Icons pack. The icons are big and have rounded edges with funky artwork and simple colors. The home screen uses five basic icons on the bottom that are super large in size.
Widgets
This home screen setup uses the Snowcone KWGT widget that lends a simple yet informative weather widget along with a date and weather widget for three days. It also has a tiny widget to display your profile picture with a date widget next to it. The widget usage is a little excessive here for my taste but still looks compelling to the eyes.
---
Study Leaves – Best Nova Launcher Themes
Study leaves by Raghav Khurana is a simplistic, saturated and clean home screen setup purely aimed at users who love a non-messy home screen and it is one of the best nova launcher themes that you can try. It comprises well-spaced and clean icons along with a centered wallpaper and a simple widget for the date.
Related: Best Keyboard Apps
Wallpaper
This neat setup uses a minimalistic wallpaper sourced from the BuffyWallsPro application, the minimal 07, to be exact. It has a pristine white background wallpaper with a simple study desk and plant sketch. It uses hits of green and black as the only two-color options that would look best on any kind of display, be it LCD or AMOLED.
Icon Pack
This minimalistic desk setup uses the Reev Dark icon pack that supplies more than 1600 hundred personalized icons. The icons do not have a huge footprint and use a tiny yet relatable symbol to convey the type of application. It blends in perfectly with the wallpaper used in the setup and produces a stark contrast to the otherwise white and bland home screen setup.
Widget
The home screen uses widget no 27 from the floral KWGT widget pack and is used to display the date and time in the most subtle yet eye-catching manner. The year is omitted from the widget to reduce the textual presence on the home screen.
---
Quill – Best Nova Launcher Themes
Our next nova launcher themes setup is called Quill by Jitendra, it is a tranquil and pacifying home screen setup that relies heavily on widgets and icons and uses a plain dual-color background wallpaper.
Related: Best Ridesharing Apps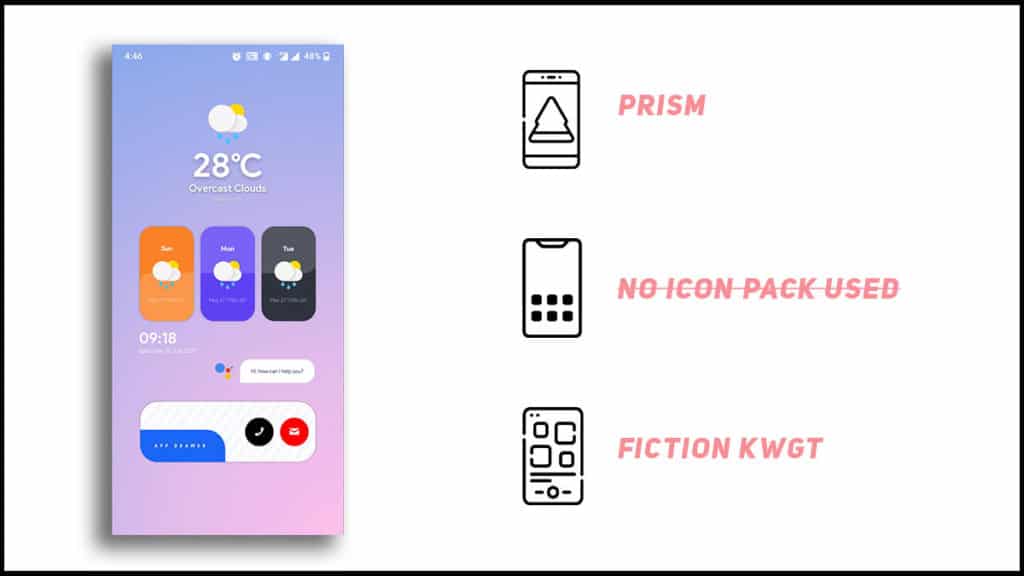 Wallpaper
Quill uses one of the minimal dual-tone colors wallpapers from the Prism wallpaper application. The wallpaper acts as a translucent layer of background and doesn't overpower the widgets and icon packs used in this home screen setup.
Widget
All the widgets used in this home screen setup are from the Fiction KWGT widget that covers the entire area of the display. The topmost space displays the temperature and weather followed by a three-day weather forecast arranged in separate grids. Then there is a date and time display area followed by a Google search bar that is halved to look more pleasant. The end part of the widget uses two icons for messages and calls while the rest applications can be accessed by the app drawer icon.
---
Apple Inc – Best Nova Launcher Themes
The next setup is called Apple Inc and it is designed by Aham. This home screen setup is heavily inspired by the iOS design and transforms your Android home screen setup to match and even look better than an Apple home screen in a few aspects.
Related: Best Vocabulary Apps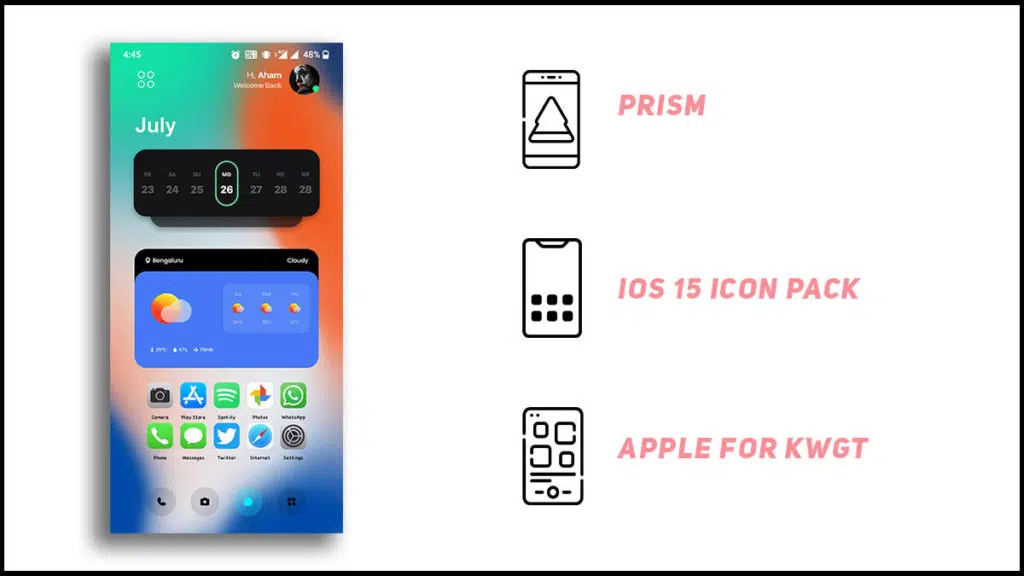 Wallpaper
This best nova launcher themes setup uses an abstract wallpaper from the Prism wallpaper app. It is a concoction of multiple bright colors that spruce up the screen and act as a perfect base for the widgets and icons.
Icon Pack
The icons used in this setup are from the iOS 15 icon pack that brings in identical icons present in the iOS 15 devices. You have access to a wide variety of icons that are both new and belong to iOS and iPhone 12 Pro.
Widget
It uses the Apple for KWGT widget to present the sophisticated home screen setup customization. The widget app has over 60 different widget options among which this home screen setup uses the Date and time and the weather widget that pictorially represents the weather for the next three days. The top section of the setup gives access to the app drawer and displays the user's name and profile photo in the top right corner.
---
Toucan – Best Nova Launcher Themes
Toucan's nova launcher themes setup is all about that jovial vibe with striking pastel colors and shapes that makes it stand apart from the rest of the home screen setups mentioned so far.
Related: Best Social Media Apps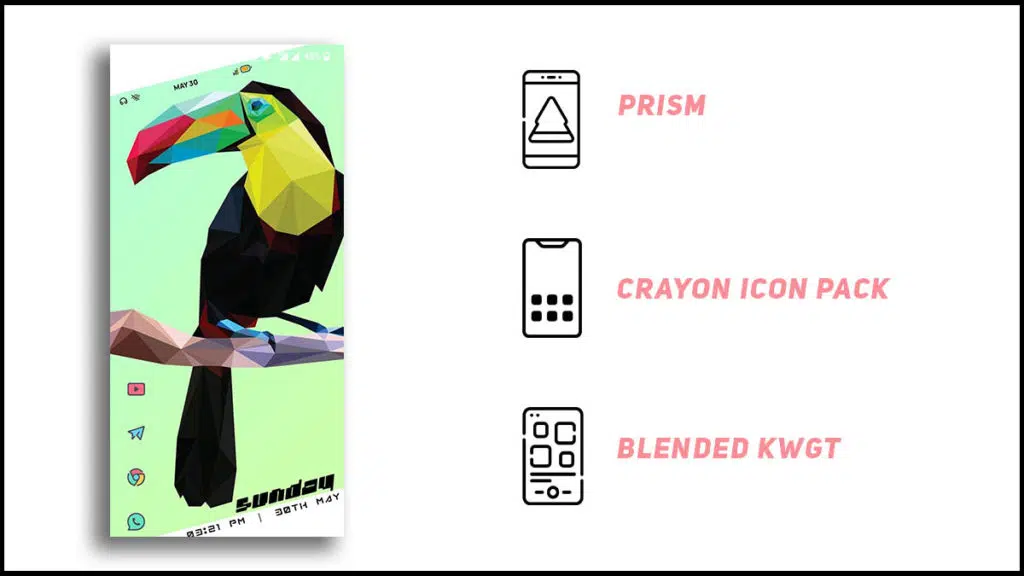 Wallpaper
Toucan uses a wallpaper that constitutes the toucan bird drawn in a geometric theme with vibrant colors. The picture takes up a major portion of the display and will look good on most high-resolution displays.
Icon Pack
Toucan uses the crayon icon pack that gives a retro vibe while retaining coherence. It has over 5200 plus icons and includes all the major apps and games icons. The toucan home screen setup uses only four of those that are arranged horizontally.
Widget
Blended KWGT widget is used in the toucan home screen setup which presents the top and bottom bar in an askew fashion. The top area displays all the phone status icons and network connections while the bottom bar displays the date and time in a cartoonish font that is bold and easily visible.
---
Minimal Leap – Best Nova Launcher Themes
Minimal Leap is a pristine setup that uses the least amount of widgets and a complementing icon pack that makes it a deserving candidate for the least effort nova launcher themes setup.
Related: Best File Manager Apps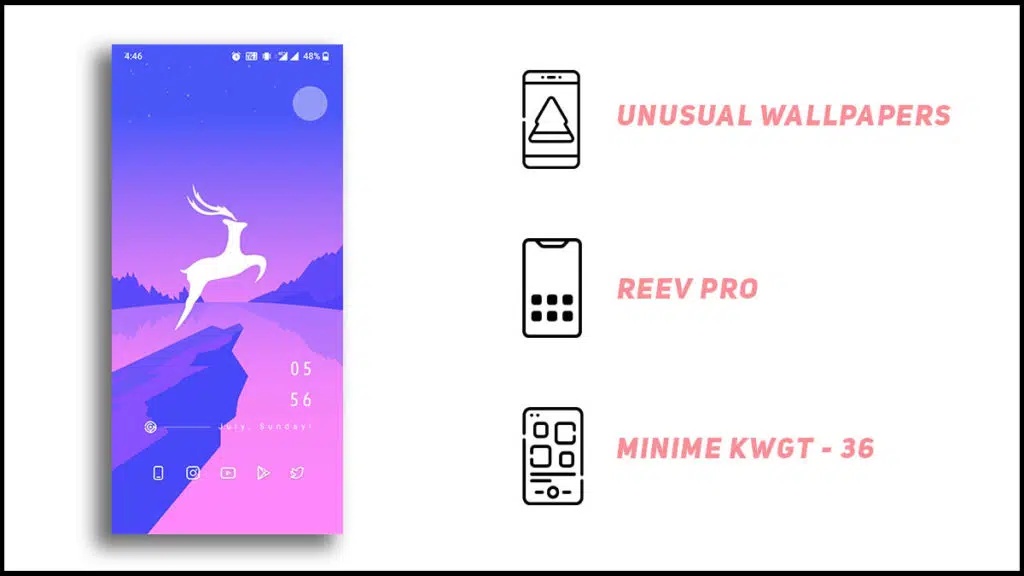 Wallpaper
Minimal Leap features a simple, center subject wallpaper from Unusual Wallpapers, the number 875 to be exact. The wallpaper itself is non-flashy with simple colors that make the icons and widget stand out. The color used is a blend of blue, purple, and white, all of which look good on most smartphone displays.
Icon Pack
Minimal Leap uses the Reev Pro icon pack, which is a paid affair that comes with over 1600 icons in the base pack. The icons are super minimalistic and carved out in white color so that it pops up with every dark color wallpaper that you use. Reev Pro offers a quirky set of icons that adds to the minimalistic nova launcher themes home screen setup.
Widget
It uses the Minime KWGT number 36 widget that displays the day and months in the text while displaying the time in digits. The time is cornered to the right to make the home screen setup more spick and span.
Final Words
So guys these were some of the best Nova launcher themes that you can try right now. Also, we update this list every month so if you have any home screen setup/ nova launcher themes that you want us to feature in this list then do let us know that in the comments down below.
Thank you for reading! Try these out too:
Video Guide