Android has always empowered its users by giving innumerable features and special privileges on every new release. One of the privileges is allowing users to modify the look and feel of their Android phones through the Android launcher. This includes the ability to install new android launchers that allows users to customize their home screen, add cool features to it, and create different templates. It keeps their phone experience exciting. However, it's often challenging to choose the Best Android launcher from the multitudes of available options.
This article enumerates 40+ Best Android Launchers to enhance the looks and performance of your Android Smartphone.
Excited? So, Let's Get Started.
What is Android Launcher?
All of us generally use the word Android launcher, but very few of us might be aware of the exact literal meaning of this word. Android launchers are the application that will allow you to customize your home screen and add additional functionality to it which will best suit the device and user experience.
These android launchers will allow you to give your device a whole refreshing look by quickly modifying the software designs and operating system. Don't worry if you are having obsolete software and annoying default features as these launchers will give you a whole new changed experience. One more perk you can enjoy with these launchers is that you can uninstall them whenever you want as these are temporary applications.
---
Best Android Launcher in 2021
Now as we all know there are tons of Android Launchers releasing nowadays. So, we have distributed the Launcher into different categories to make it easier for you to find the launcher that you are looking for.
---
Best Customization Launcher
Creative Launcher
Customized Pixel Launcher
Lawnchair Launcher
Nova Launcher
Smart Launcher 5
Action Launcher
---
Creative Launcher – Best Launcher For Android
Creative launcher, as the name suggests will offer you innovative features. It is a unique launcher that will effortlessly sort all your apps and help you to find them in no time.
The launcher offers you more than 1000 themes and wallpapers to choose from. You get dark and light theme options with which you can sync with appealing wallpapers in the background. The app is compatible with almost all the icon packs, so you do not need to worry about your icons. The app has useful gesture control features that will help you to navigate through your device easily.
Apart from this, the app has a Memory booster, App locker, eye protector, Multi dock page, and many other useful features. With some in-app purchases, the app is free to download and use on the play store.
Related: Best Android Themes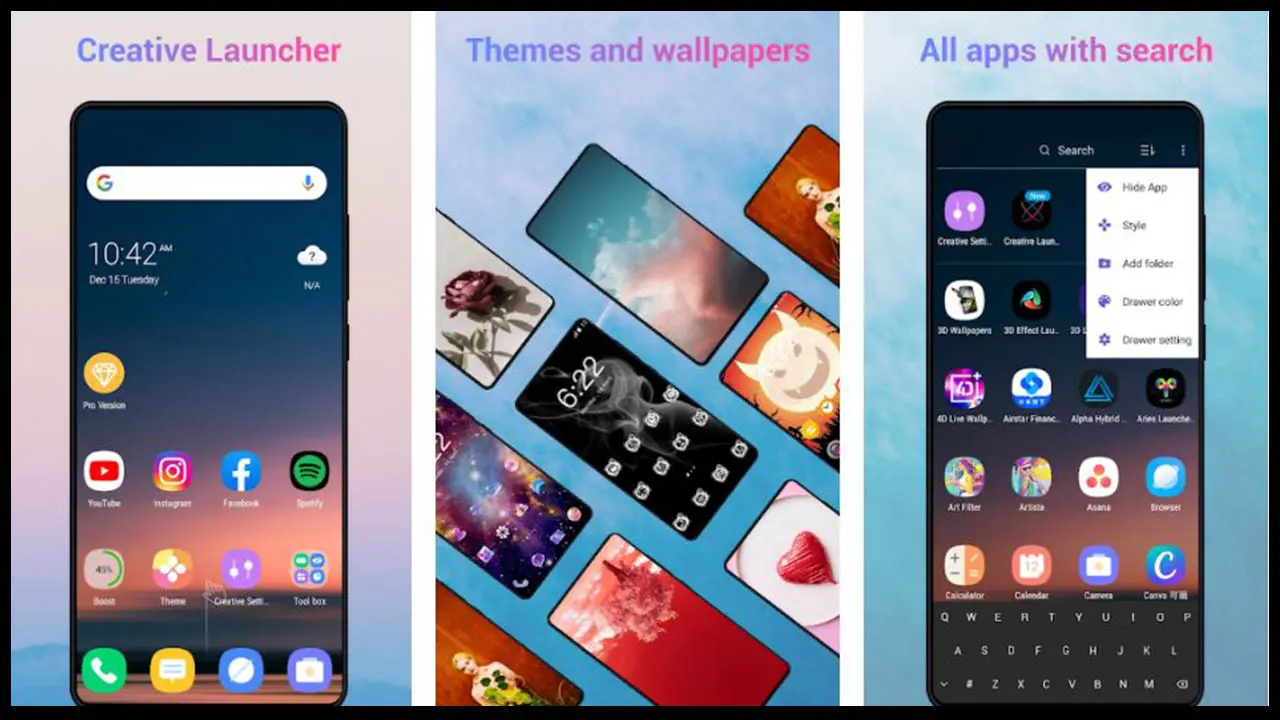 Standout Features:
Desktop search bar style
Multi dock page
Notifier for SMS, Call, Mail, etc
Battery saver
---
Customized Pixel Launcher – Best Android Launcher
The customized Pixel launcher is very similar to the pixel launcher and I am sure that many of you might be familiar with the pixel launcher. The app is a bit superior to the pixel launcher and has many more customization options.
Though the overall look and theming of customized pixel launchers are almost similar, customization like interactive UI option, home screen customizations, widget padding, precisely designed icon packs, fluid animation, and much more makes it better than the stock pixel launcher.
The app has all the potential to become the best third-party launcher and that is why we have included CPL in our list of best Android customization apps.
Standout Features:
Interactive UI
Fluid Animation
---
Lawnchair Launcher – Best Theme Launcher
Lawnchair is an open-source Android launcher that also works in non-pixels phones. It provides stock Android-style features that give close to a stock experience to its users such as shortcuts, notifications for different applications, and the ability to change the size, style, font, and other configuration of icons.
Along with cheap modafinil, it is somewhere a facsimile of Pixel launcher. Therefore, it tops our recommendation list and is one of our favorites in the list of all the best android launchers.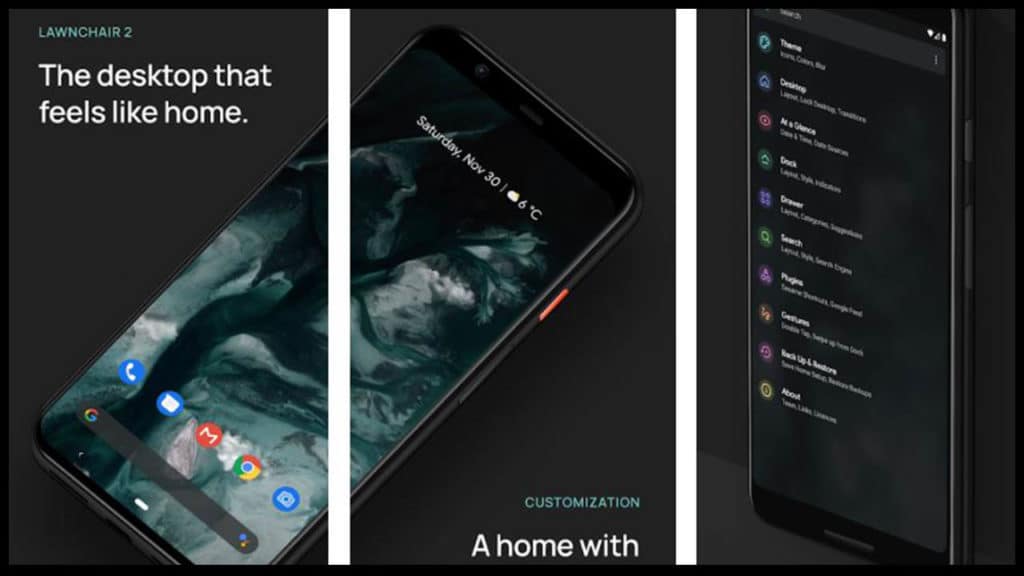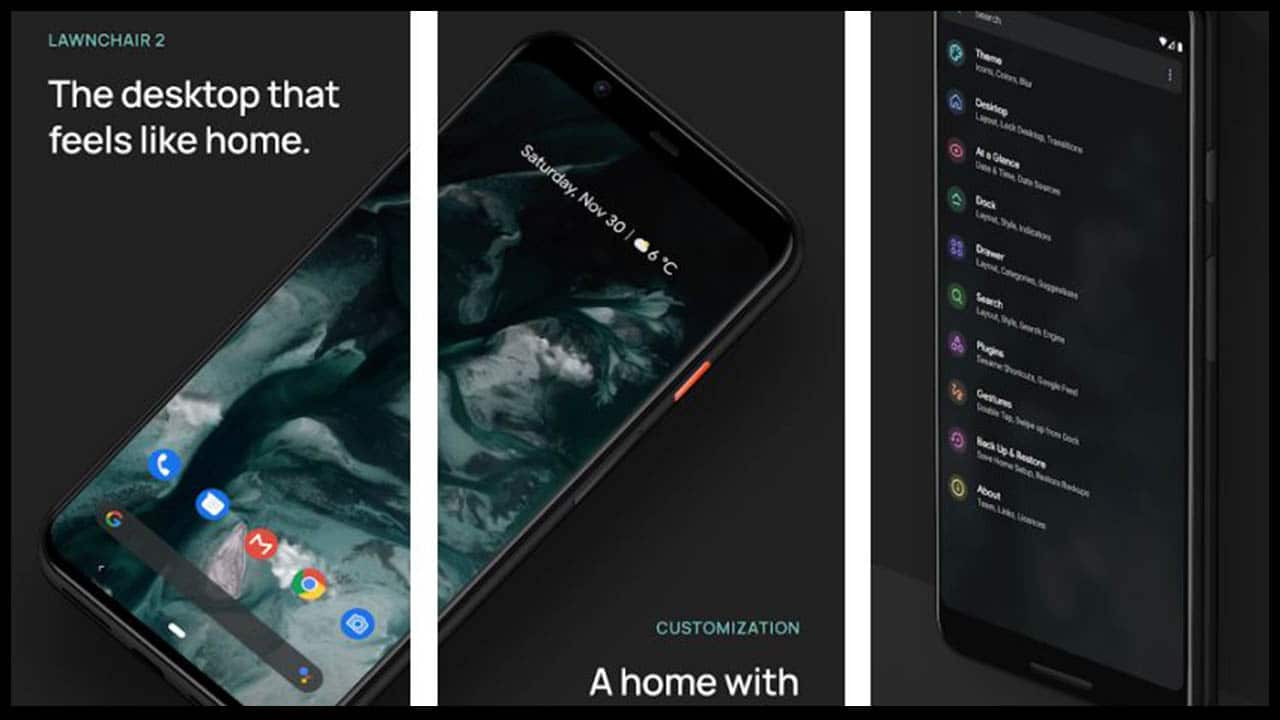 Standout Features:
Support for Adaptive Icons.
Flexible Desktop, Dock, and Drawer.
Automatic Dark Mode.
Contextual data in At a Glance.
---
Nova Launcher – Best Paid Launcher
There is no home-screen replacement on Android quite as popular as Nova Launcher. It's a staple, of customization, and recently it has received its biggest update in years, courtesy of the Nova Launcher 7.
Fast, sleek, and highly customizable, Nova Launcher is among the best modern Android launcher apps. Nova balances extensive appearance and utility customizations with a minimal performance impact, letting you set your home screen just right without slowing down performance.
There are a lot of options to work through, from color themes to icon packs, scrollable docks to app drawer customizations, folder settings, and infinite scrolling. The Nova team is never content to rest on its laurels, continuously adding new features and that's what makes it the best replacement to any Android launcher.
Related: Best Live Wallpaper Apps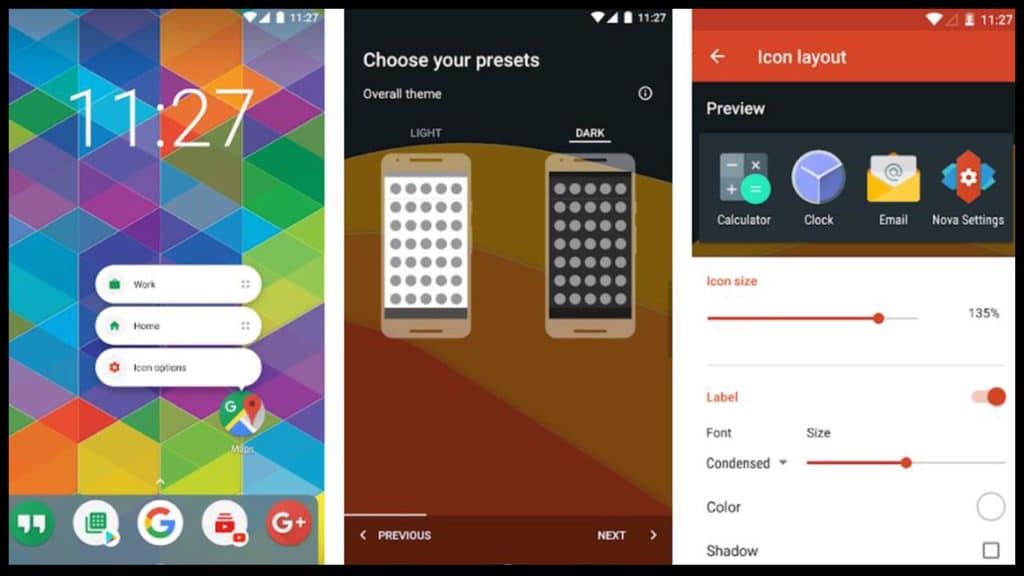 Standout Features:
The Newest Features
Custom Icon Themes
Night Mode and Dark Theme
Customizable App Drawer
---
Smart Launcher 5 – New Best Launcher
Smart Launcher has always been famous for its flower grid and dedicated app folder that is completely sorted. With Smart launcher 5, many other features have been integrated into it. This includes adaptive icons, auto color mode, and an app drawer that is highly customizable.
The app drawer enhances browsing experiences and smartens both web-search and the local search in the directories in the internal memory. The premium version provides advanced gesture controls and pop-ups that come with settings to modify them as per a users' needs. If you like customization this could the best Android launcher for you.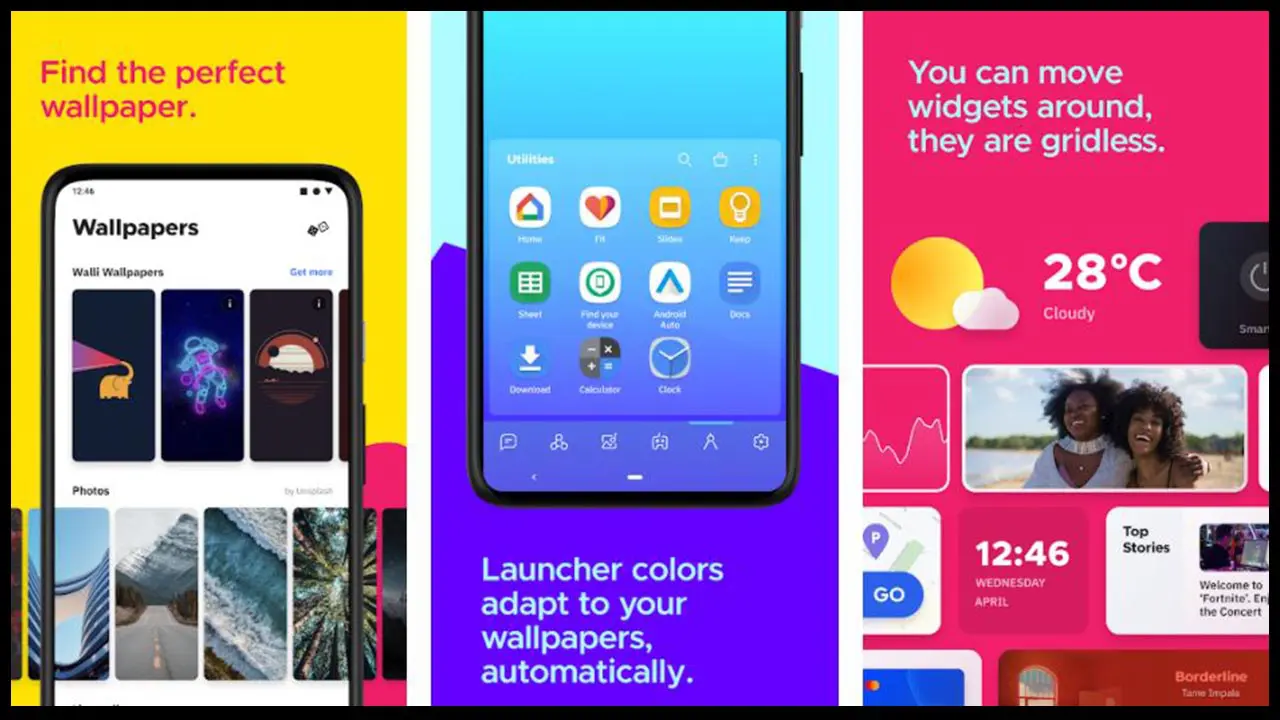 Standout Features:
Designed to be used with one hand
Smart search
Built-in clock widget with weather
On-screen notifications
---
Action Launcher – Best Android Launcher
Action launcher pixel edition will answer your questions if you are in search of a material design look of android stock with pixel twist. This launcher can be installed even if you don't have a pixel. Action pixel launcher offers a wide variety of customization options from color to designs.
You can easily customize the dock search box and quick bar and can make use of covers which is a quite interesting and unique way of accessing the files and folders of your device.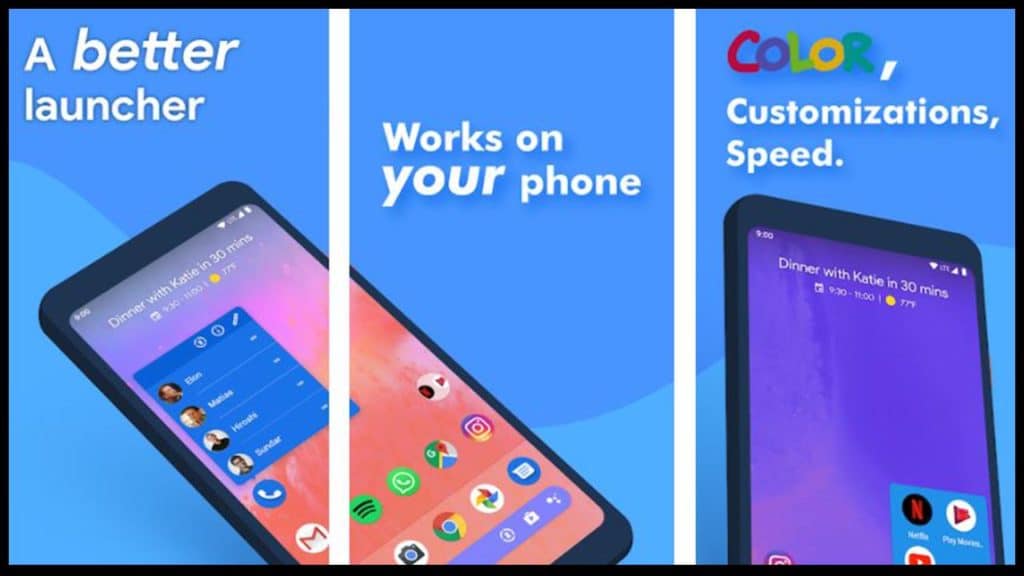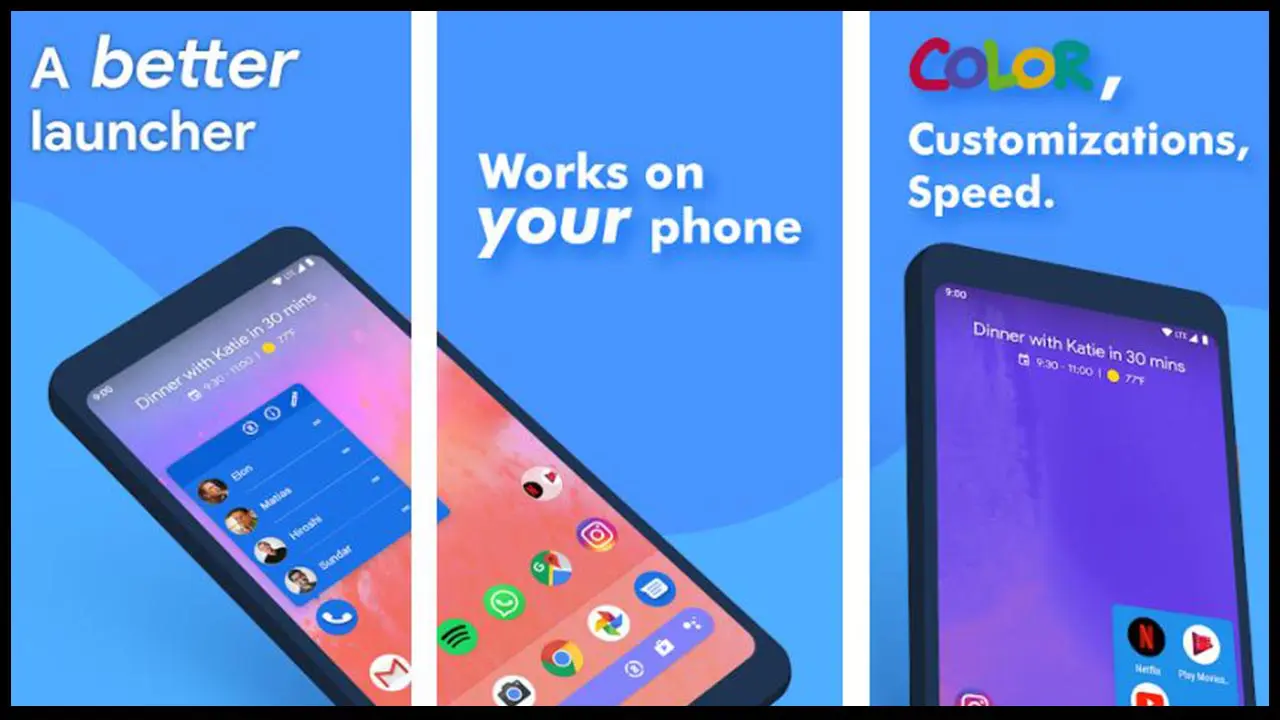 Standout Features:
All Pixel Launcher features
Full customizable dock search box
At a Glance widget
Adaptive icon support
---
Fastest Android Launchers
HiOS Launcher
Shade Launcher
Ruthless Launcher
Hexa Launcher
Interactive Launcher
---
HiOS Launcher – best android launcher
HiOS Launcher is a fresh release from an independent developer that brings interesting features to your homescreen with a fluid and seamless experience. It comes with a zero feed screen that displays the current happenings around the globe along with a recently used icon section.
HiOS Launcher is one of the fastest Android launchers that comes with an intelligent music recommendation engine called smart scene. The next pane displays a discovery page that lets you choose the latest games and wallpapers released for Android devices in the recent few weeks. It also comes with numerous quirky rolling effects that come into effect when you swipe from one home screen page to another.
It is a fresh release so be prepared to encounter a few bugs once in a while. That being said, you will be surprised by the variety hidden in this tiny launcher for Android.
Related: Best News Apps
Standout Features
Discovery screen
Multiple Rolling effects
Smart scene music recommendation
---
Shade Launcher – best launcher for android
Shade Launcher is one of the well-thought-out fastest Android launchers that aims to solve the problems faced by many users. The biggest change is that the launcher rotates the home screen and lets you use the phone in landscape mode. This feature is absent in many top-notch best Android launchers.
This launcher for Android devices comes with support for numerous icon packs, a news feed screen, transition animations, and font change feature, to name a few. Evey information, be it the music playback, current charging status, everything is displayed whenever active on the top part of the home screen. The developers label it as 'smart unread'. Everything about this launcher is wholesome and it doesn't have any noticeable flaws of undue customization.
Related: Best Keyboard Apps
Standout Features
Adaptive icon pack support
Rotatable home screen
Newsfeed integration
Smart unread to display important notification
---
Ruthless Launcher – android best launcher
Ruthless Launcher is a fast and fluid, advertisement-free proposition that will easily become your preferred Android launcher. It packs a super clean and minimalistic UI and its speed is increased by avoiding advertisement integration. The launcher comes with pre-configured gestures that can perform your favorite commands in a jiffy.
It is among the fastest Android launcher applications not only because of advertisement removal but also because of retaining relevant features. It has support for news feed integration, adaptive icons packs, themes, and hiding applications. You can hide the applications as well as place them under a biometric lock to secure your data even if you hand over your device.
Related: Best Dropbox Alternative Apps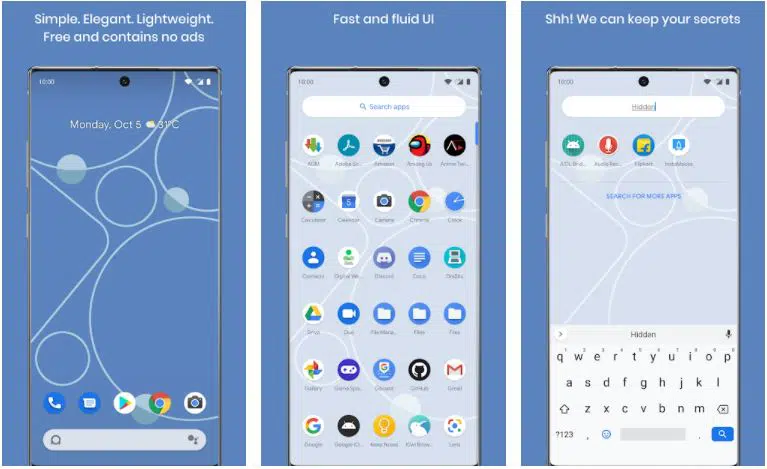 Standout Features
Biometric locking feature
Adaptive icon support
Multiple news feed integration support
Minimalistic UI
---
Hexa Launcher – cool launcher for android
Hexa Launcher is for the customization fanatics that like control over every aspect of their home screen. Despite offering so much customization it is among the fastest Android launchers on our list. The launcher comes with 6 inbuilt themes that look good and reduce the need of searching for a dedicated application for themes. You can customize icons, their size and update them to different icon packs as you wish.
Hexa Launcher features 16 different scrolling effects that can be changed as per your liking. If you think that you have excessively customized your home screen and want to revert to the default one, the launcher provides a reset feature as well.
Related: Best Apps For Secret Texting
Standout Features
Dock customization
Six inbuilt themes
Shortcut creation
---
Interactive Launcher – unknown android launcher
If you thought Nova launcher has extensive customization, wait till you use Interactive Launcher. This launcher doubles up as your intelligent assistant that can perform every basic function without requiring you to give elaborate commands. It is a voice assistant embedded on top of a home screen launcher that is equally good. For older Android devices, this is a boon as you get to experience voice assistant features.
The Interactive Launcher comes with a dedicated keyboard that can help you to access apps and perform deep searching. It can display the list of installed applications in text format which is very helpful because some icon packs make it difficult to identify applications. The launcher recommends using its inbuilt keyboard as it gets better as it learns your typing patterns and your frequently visited directories.
You can teach the Interactive Launcher skills, which help you to save time in performing repetitive actions. By adding skills, you can cut down the input voice command length, for example, "rather than saying call XYZ from this sim Card, you can map it to a word like ABC". Whenever you say ABC, the assistant will make a call to the designated contact. Whether it is opening applications, toggling features, skipping tracks, all can be done easily using skills. It is a blend of both a home screen launcher application and a smart assistant.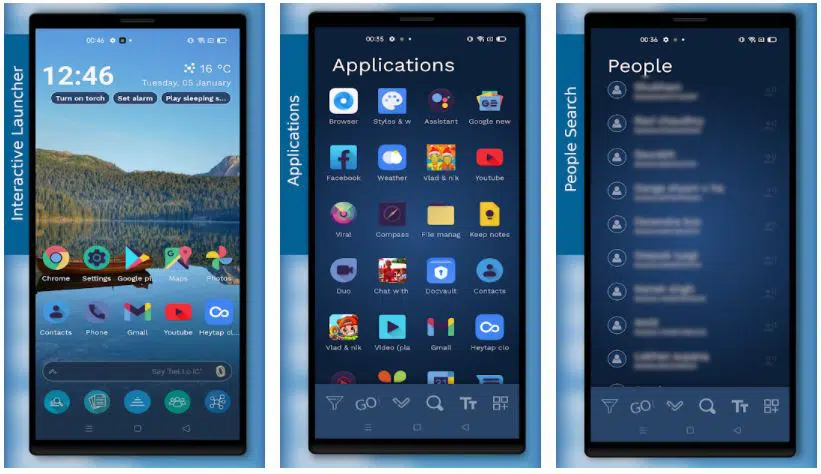 Standout Features
Skills feature
Integrated voice assistant
Textual list of installed apps
The custom keyboard for search
---
Powerful Launcher
Hyperion Launcher
Alpha Launcher
Niagara Launcher
Rootless Launcher
Arc Launcher
POCO Launcher 2.0
AIO Launcher
Total Launcher
---
Hyperion Launcher – Best Mobile Launcher
Hyperion launcher is a multi-featured dynamic Android launcher that stands out for quite many reasons. These reasons include the subdue of customizations in folders, themes, widgets, and standard wallpapers. It also provides adaptive icons that go well with almost any color contrast or brightness.
Even though, several features of Hyperion Launcher are restricted and can only be unlocked in purchasing the Pro version—such as custom gestures and changes in the launcher itself—the free version is still substantial for more than general use.
Related: Best Browser for Android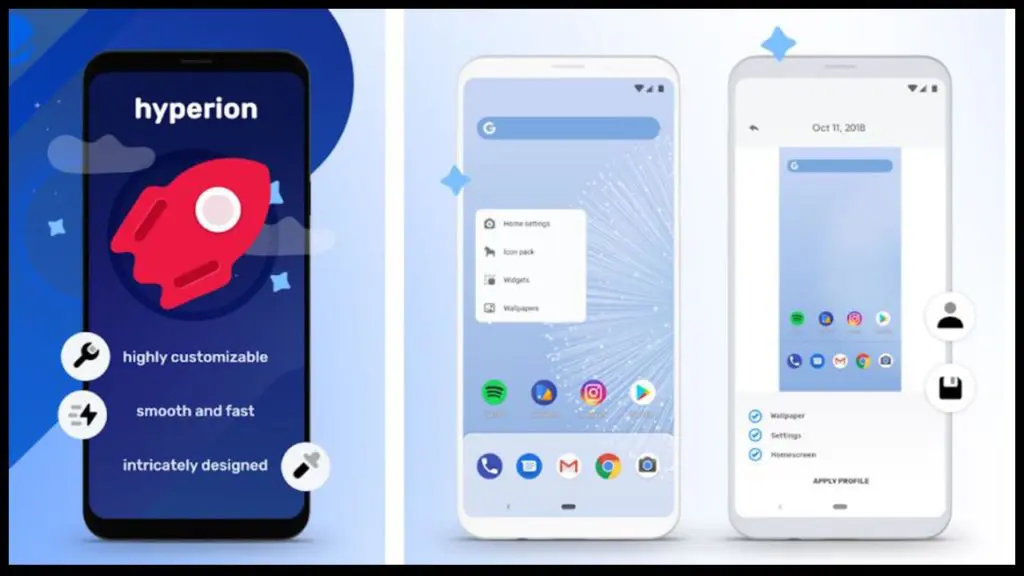 Standout Features:
Hidden apps
Wallpaper gradient adjustments
Drawer and Dock blur
Google Feed
---
Alpha Launcher – Best Android Launcher
The unique feature of the Alpha launcher is that it takes care of your privacy. The launcher doesn't save your data, rather it takes permission to show your data from the internal storage.
The app has a futuristic UI home screen interface where you have various customization options. You get appealing wallpapers and Alpha DIY customizations that can enhance the look of your home screen.
The launcher supports multiple icon packs and gestures that will help you to manage all your stuff on the screen. Your apps get sorted into 16 predefined categories that will sort the apps in an easily searchable form. The launcher supports more than 99 languages and gives you updates about the news around the world.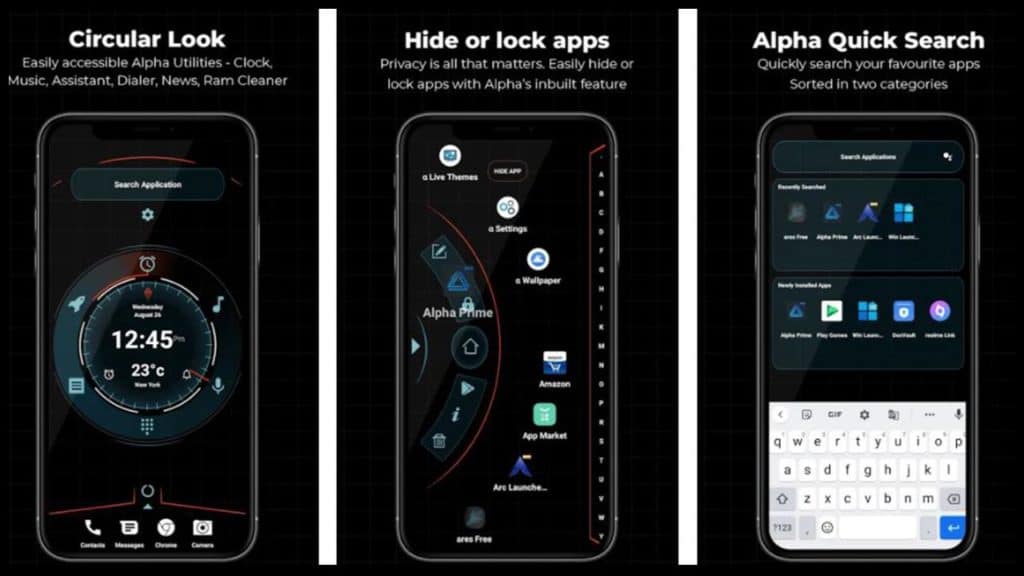 Standout Features:
Page & app drawer animations
Live themes & wallpaper
Unread notification badges
---
Niagara Launcher – Best Android Launcher 2022
Niagara's primary focus is the notification section of your phone. Based on a minimal design, it never lets you miss an important update—mitigating distractions. One of the best features of Niagra Launcher is its ability to automatically quarantine and purge spam notifications. Since it has a completely sleek design, this app is quite user-friendly and well-articulated.
Related: FREE Movie Apps
Standout Features:
All apps in a simplified list
Interact with notifications right on the home screen
Lightweight & fast
Theming
---
Rootless Launcher – Best Google Launcher
Rootless Launch is mostly intended to provide a similar experience that a typical Pixel launcher gives and that is too free of cost as it's open-source software.
Despite being highly customizable like other launchers in our list, it'll give you all the features you're most likely to get in a normal Android launcher. It's not a bad decision if you want to stick with the basics.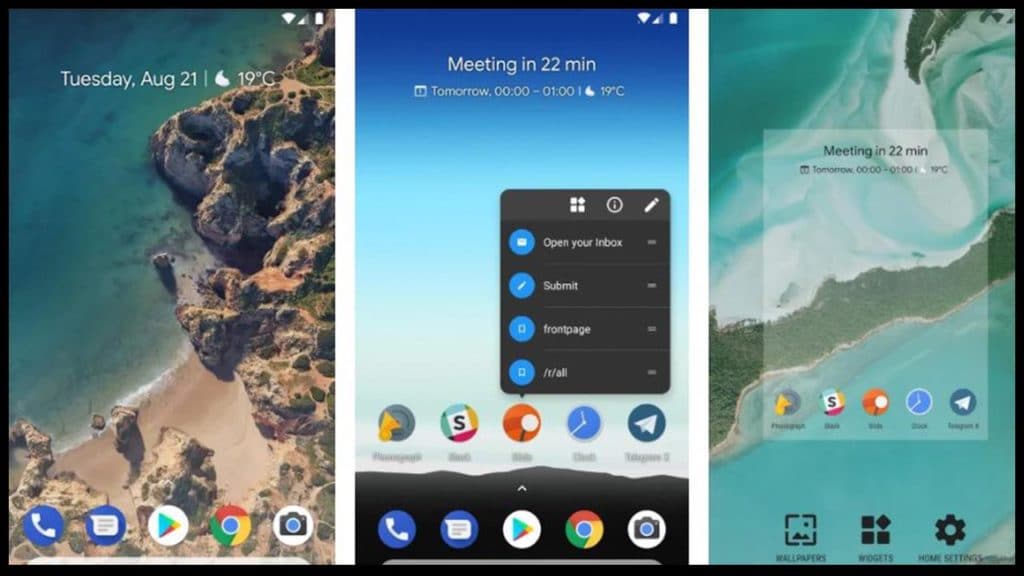 Standout Features:
Search bar at the bottom
Wallpaper based theme selection
Regular Icon Packs
Adaptive Icon Packs
---
Arc Launcher – Best Android Launcher
Arc launcher is an elegant launcher that will animate your home screen with 3D themes. The app has live, pre-made themes along with high-quality wallpapers that you can set on your home screen. The app has 3D home screen transition effects that give an interactive user experience to the users.
Arc launcher has some sci-fi themes that you will love to see on your screen. The themes mainly comprise of Superhero Art, Premium Gold theme, Royal black theme, etc. The Arc AI voice assistant will help you to perform basic tasks like changing the wallpaper and boosting memory.
The launcher supports major icon packs, so you don't need to compromise with the icon pack. The app has multi-language support that can be accessed in more than 103 countries across the globe. Additionally, you get futuristic sound effects and an inbuilt color effect flashlight in the launcher.
Standout Features:
Inbuilt App Locker feature
Arc Exclusive Futuristic Dialer
Multi-Language Support
Futuristic Sound Effects
---
POCO Launcher 2.0 – Best Android Launcher
Despite not being widely popular in the United States, Xiaomi's Poco F1 manages to give a completely fresh design to Xiaomi enthusiasts. It is handy for those who often struggle to keep their phone organized. It is smart enough to categorize apps based on their utility such as photography, notes, reminders, et cetera. We strongly recommend this if you want to streamline things and have a smooth mobile experience.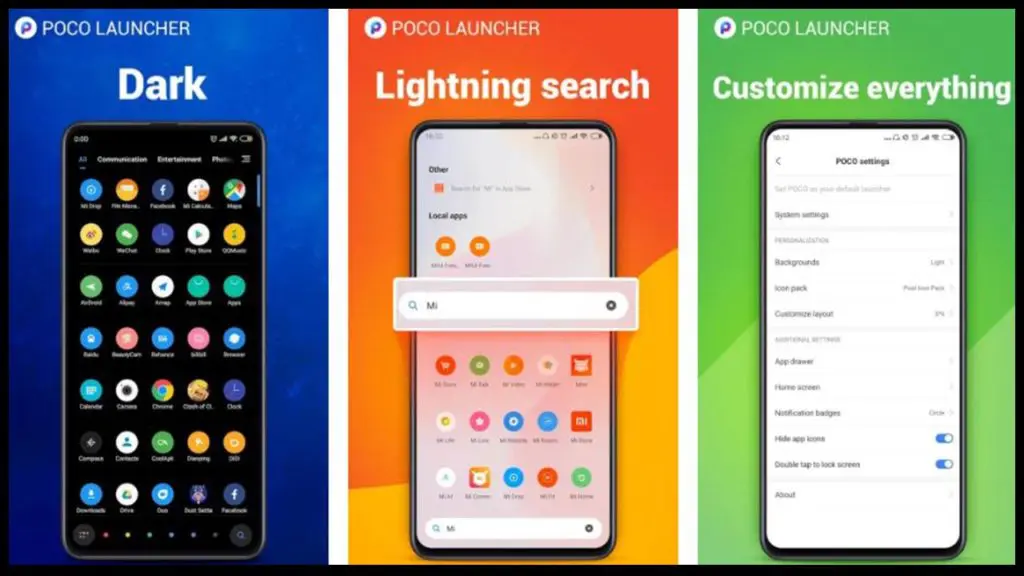 Standout Features:
Optimize
Customization
Manage with Ease
Gesture Operation
Themes to Explore
---
AIO Launcher – Best Android Launcher
AIO launcher has tried something new in terms of the launcher. The launcher does not contain colorful icons, widgets, and exquisite customization, rather it uses a screen space where tries to display maximum information. It will display the weather forecast for the last 10 days, frequently used apps, contacts, dialer, timer buttons, and much more on single screen space. The launcher can be a good choice for those who want minimal stuff.
Standout Features:
Screen Space
Minimal Design
---
Total Launcher – Best Android Launcher
The total launcher can be a good option for those who love to experiment with their smartphones. It has some crazy customizations where you can create circles overlapping each other, and place your apps on those circles.
There is no limit to the customization as you can arbitrarily modify your home screen. The themes of the app are also beautiful which is backed by rich feature widgets, that you can set to manage your day-to-day activities quickly.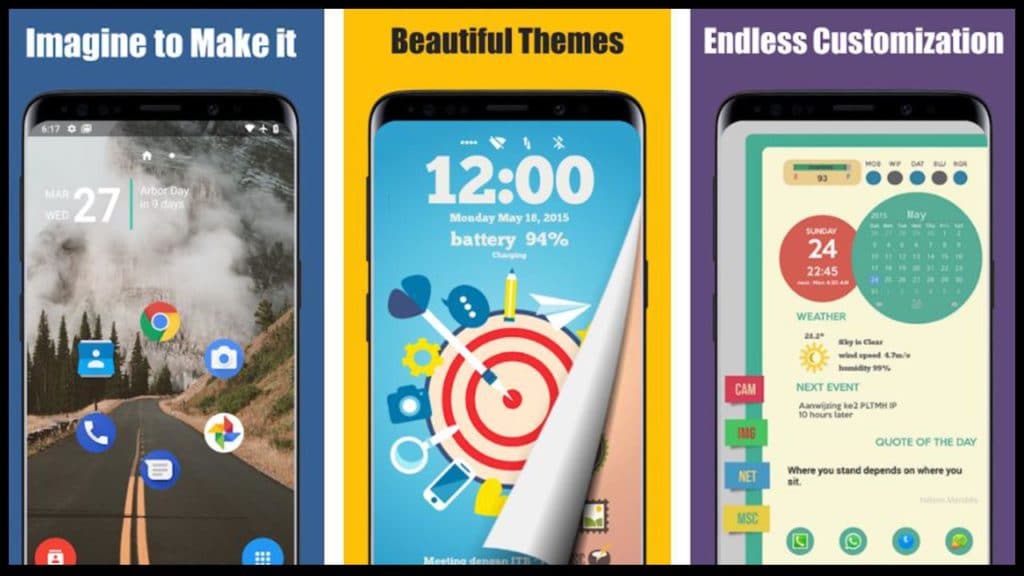 Standout Features:
Unique customizations
Rich themes
---
Minimal Launcher
Blloc Ratio Launcher
Before Launcher
Slim Launcher
A Decluttered Launcher
Lunar Launcher
Zone Launcher
Apex Launcher
---
Blloc Ratio Launcher – Best Android Launcher
Blloc Ratio Launcher is one of the recent launchers which have arrived. It has a minimalistic design with tons of customization. The launcher is offering a new way of looking at your smartphone by giving some unique types of customizations. The best part about the launcher is that it has been designed in a way to let you know about your screen time and manage it efficiently.
Your home screen is divided into two sections giving you a more profound and subtle view of your home screen. The first section consists of a "Drawers home view" where you can manage and see all your applications in an organized way. The second section of this launcher consists of "Root View' where you can manage all your relevant widgets.
In terms of customization, you can change the color of your apps, drag and drop similar apps in a sorted category, and manage some other stuff on your home screen. The launcher has a Simple and interactive UI, with some attractive themes that makes it one of the best Android launcher.
Standout Features:
Dual Screen View
Useful Gadgets
Attractive Themes
---
Before Launcher – Best Android Launcher
Though we are advancing technologically, we face distraction issues due to which our productivity decreases. Smartphones are one of the major causes of distraction, as we are frequently receiving notifications and we are induced to see and reply to them. Before launcher is the best Android launcher that can help you to get rid of this problem. It is a minimalist launcher that can save you time and decrease your distractions.
The home screen of the app is minimal and saves you from distractions, as the icons are presented in textual form without their icons. Only eight relevant apps will be displayed on the home screen, and to watch the list of all the apps you can view it in the vertical list form. All the apps are perfectly sorted and listed in an easily searchable form.
One of the most impressive features of this launcher is filtered notification, which can save you from unnecessary notifications. As soon as a notification pops out on our screen, we become creepy and want to see the notification as soon as possible and end up wasting our time. This is where this launcher is useful, as you can set a list of priority apps only whose notifications will pop up on your screen. Don't worry you can also see the notifications of those apps which are not on the priority list as they are saved and you can see them later in your vacant time.
Most of the launchers nowadays drain your battery and affects the performance of your device, but this is not the case with Before launcher. What this launcher does is that it offers you a minimalist launcher in different color options, and the developer states that choosing black color wallpaper will improve your battery life, so it can be useful for you. Make sure that you have a device with an AMOLED display, as this feature works with an AMOLED display only.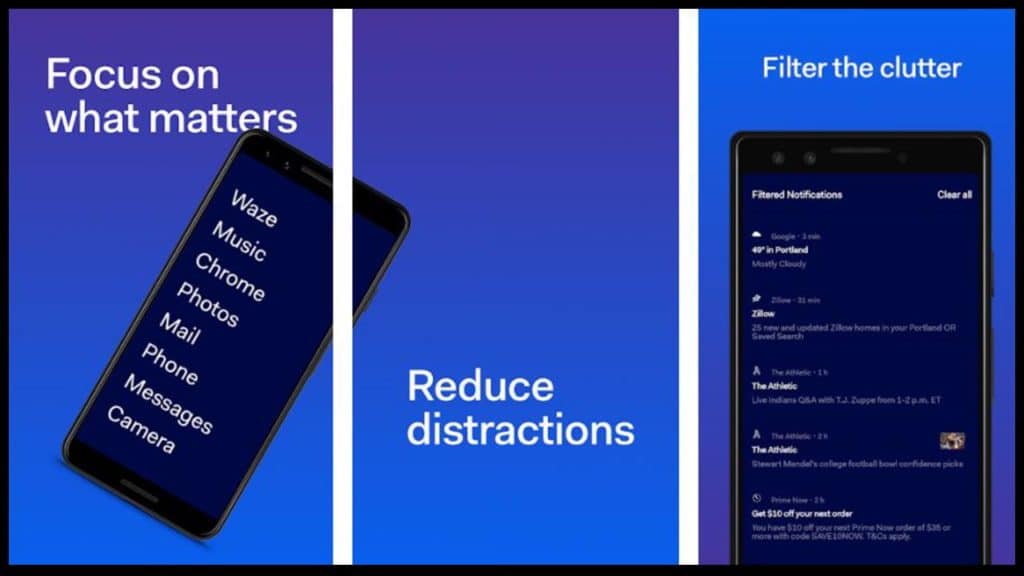 Standout Features:
Minimal homescreen
Customize the look and feel
Favorite, folder and hide your apps
---
Slim Launcher – Best Android Launcher
Certain guys want to have a launcher with minimal style and prefer to have a much simple and easily operatable launcher. if you are one of such guys then Slim launcher is the best Android launcher for you.
The home screen of the Slim launcher has been perfectly designed that can efficiently organize all your apps and activities. You get to see 7 apps on the home screen which is based on your preference and usability. All the necessary information is displayed on the home screen but if you still want to access some other apps like dialer and camera, then on the bottom of the screen you can also find them.
Color themes as an alternative for conventional wallpaper are a fresh approach, that can be eye-pleasing and at the same time battery saver. You can choose the color theme of your choice and set it as your home screen background.
Hiding a status bar is an amazing feature that eliminates distractions and improves your productivity. You can hide the status bar and you will not receive any notifications until or unless you scroll down the status bar. As notifications are one of the major causes of distractions, this feature can be a savior for you.
The annoying ad is one of the irritating things which we always see in the launchers, but the slim launcher is an ad-free launcher that can save you from distractions and disturbance.
Standout Features:
Slim only allows you to use 5 apps
No app icons on the home screen
No wallpapers
---
A Decluttered Launcher – Best Android Launcher
Decluttered launcher is the best Android launcher that you can apply on your devices to improve your efficiency and overall look. It is one of the minimalist launchers that can organize all your important stuff in one place and you can access them with a single click.
To save your time, the app has a single swipe feature that will assist you to access any app on your device with a swipe. All you need to do is to set your preferred apps on right and left swipe, and you are ready to go. Don't worry if you haven't set any preference list of apps, the launcher will randomly list the apps and you can swipe and access them. You can also search for the app after swiping simply by typing the name of the app.
The home screen of the app is minimal and you will find all the necessary information displayed in one place. Four of the most used apps can be placed on the home screen which can later be changed. The date will be displayed on the top right of the screen and by clicking on the date you can open the calendar. On the left, you get the time, by clicking on which you can launch the Alarm clock feature.
The theme feature of this launcher is limited, as it only offers you two color theme options to choose from, Black and White. You can choose the white or black color theme to set as your background theme. Though it is restrictive, it is effective in saving you from distractions. To change the theme you only need to double-tap on the bottom of the screen.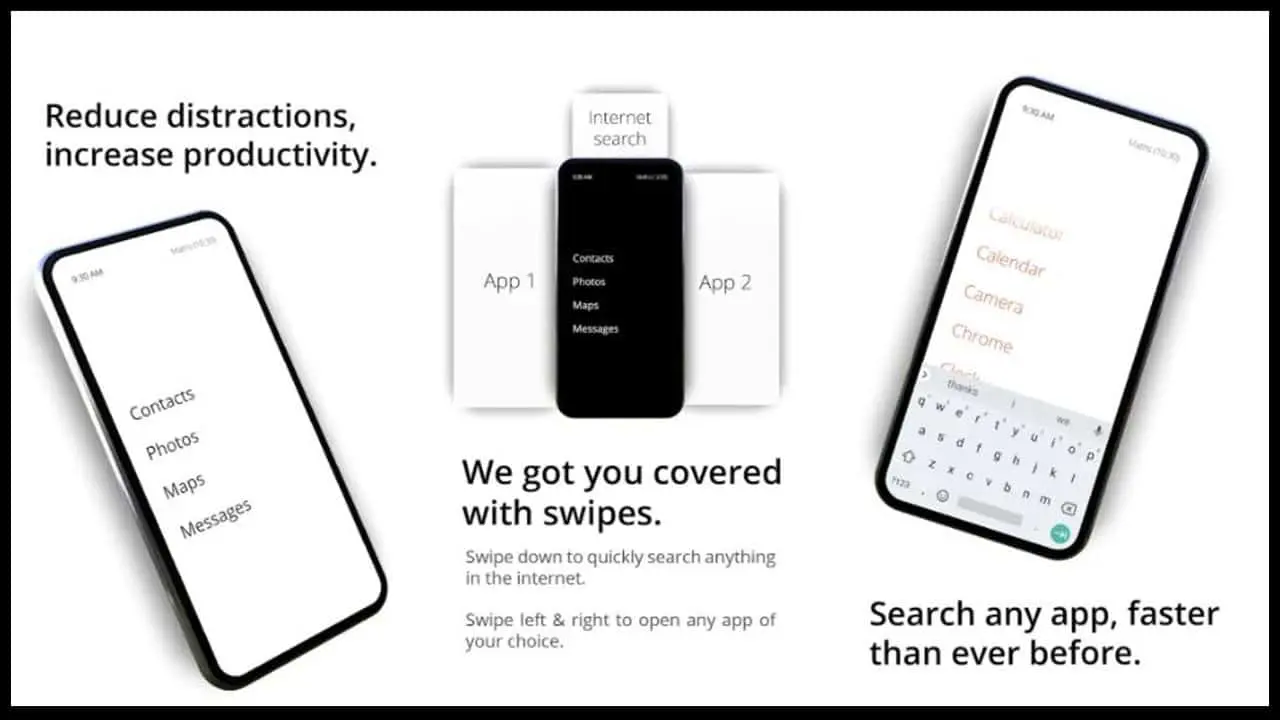 Standout Features:
Four application slots for quick opening
Double tap to access the free dark mode
Swipe up to search any app
---
Lunar Launcher – Best Android Launcher
The lunar launcher can be a perfect savior for you if you are looking for a customizable, minimal, and best Android launcher. The launcher offers you tons of customizations that can give a perfect makeover to your device in minimal style.
The lunar launcher allows you to apply wallpapers on the home screen, with some restrictions. You can choose from the light and dark background options as per your liking and set it as the background of your home screen.
You can customize the home screen as per your liking and can add the most used apps which can later be customized. To avoid distraction you can hide the app icon and only see the text of the app. To have a full view of the apps, you can swipe right where the app drawer will be displayed. To get access to the settings of the device you can swipe left and make all the necessary changes in the settings.
Though the launcher has some limitations like you do not get a search bar to search the icons and the setting background of the launcher can't be changed. But all in all the launcher can be a decent choice if you are looking for a minimal launcher.
---
Zone Launcher – Best Android Launcher
You all might be bored with the alternate launchers that are available on Play Store and will be thinking about what's different in Zone Launcher. Don't worry Zone launcher is wholly a fresh launcher that comes with some interesting features.
The app comes with an interactive and easy method to launch any application or to switch between applications. All you need to do is swipe in from the side and then slide your finger over the app icon you want to launch.
As soon as you lift the finger your desired application will be launched. You do not need to close an app and switch to another app, Your one pinch is enough to move between applications. Due to this unique UI, we have included Zone launcher on our list of best Android Customization apps.
Standout Features:
Easy to Operate
Exclusive Features
Interactive Gestures
---
Apex Launcher – Best Android Launcher
If you are easily bored with one kind of screen, Apex must be your first choice. As amusing it sounds, it provides literally thousands of themes downloadable from the Play Store in a single click. Despite the crescendo of themes and icons, it takes minimal space and provides compatibility with all sorts of devices. Moreover, it allows you to hide unimportant apps and see all the necessary information related to them including installation date, space, and usage.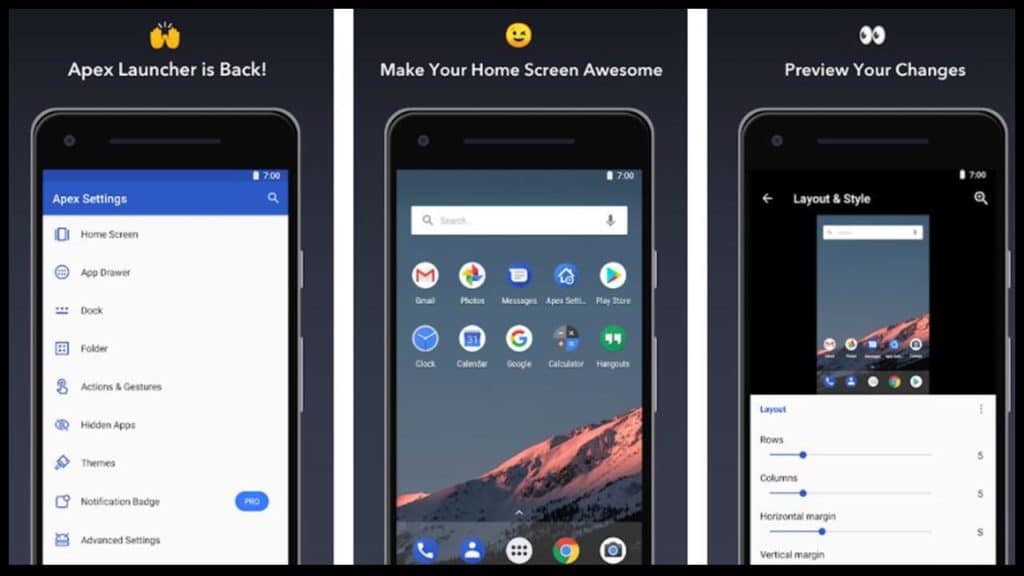 Standout Features:
Efficiency
Easy to Use
Optimize
Customization
---
Productive Launcher
Microsoft Launcher
Computer Launcher
Win-X Launcher
Uncomplicated Launcher
Launcher iOS 13
Launcher 10
GO Launcher
---
Microsoft Launcher – Android Best Launcher
Prior to the present launch, it was entitled Arrow Launcher. However, it was later changed to Microsoft Launcher. One of the cool features of Microsoft Launcher is that it allows you to download new wallpapers from Bing on the daily basis without having to forcefully download the entire packages. Much like a smart launcher, it tracks your activity and displays it in ascending order. This includes media, contacts, and other activities.
Standout Features:
Personalize Your Feed
Give your phone a new look
Continue on PC
Search the Web
---
Computer Launcher – Window Launcher for Android
If you want a desktop-like feel on our smartphones that can enhance the look of your smartphone. A computer launcher would be a good option to try if you are looking for something unique and appealing. The launcher gives you a Windows 10 theme impression on the first look.
You get some stylish-looking tiles on your home screen which can easily be customized. You can press and hold the icons to change their location and create easily accessible shortcuts. The app has an Android-style menu where you get access to useful widgets like Clock, Weather widget, and RAM info widget.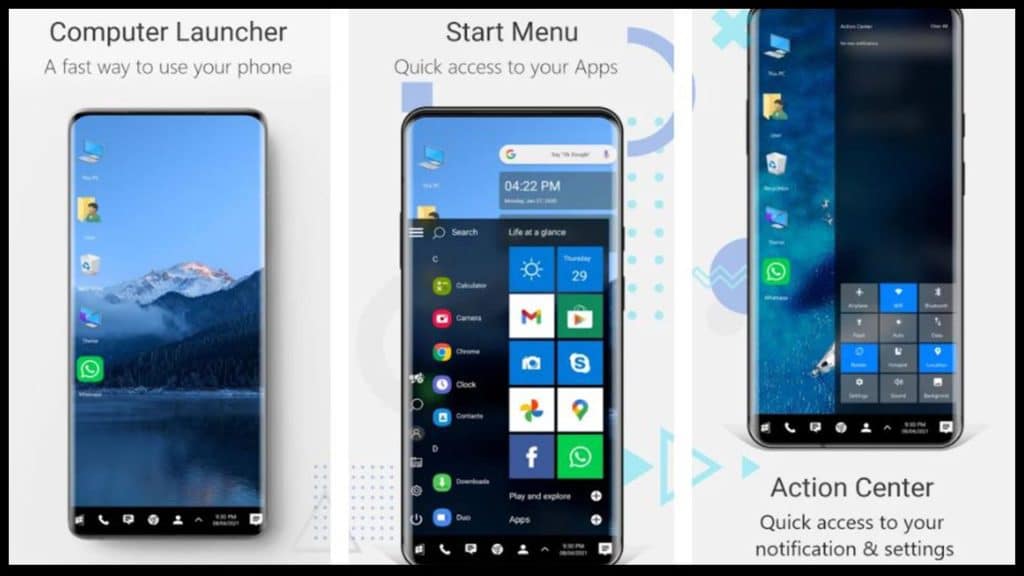 The launcher has a built-in File browser that will help you to manage the files stored on your internal storage. The launcher also comes with built-in Zip support that allows you to compress your files in various formats. Most of the features of the launcher are available in the free version of the app, while the premium version will give you access to other additional perks.
Standout Features:
Photo tiles changeable
Task-bar icons removable
Improved Themes Compatibility
---
Win-X Launcher – Window 11 Launcher For Android
Win-X Launcher has tried its hands on something new which might be appreciated by the users. The app has an identical home menu as compared to Windows 11, while the drawer menu rests inside Windows 11 style start menu. The overall look and theme of this launcher are appealing which makes it a top contender for the best launcher this month.
You can find the basic widget support on the screen which will give you an overview of your apps. The app also offers some customization options where you can play with different icon packs.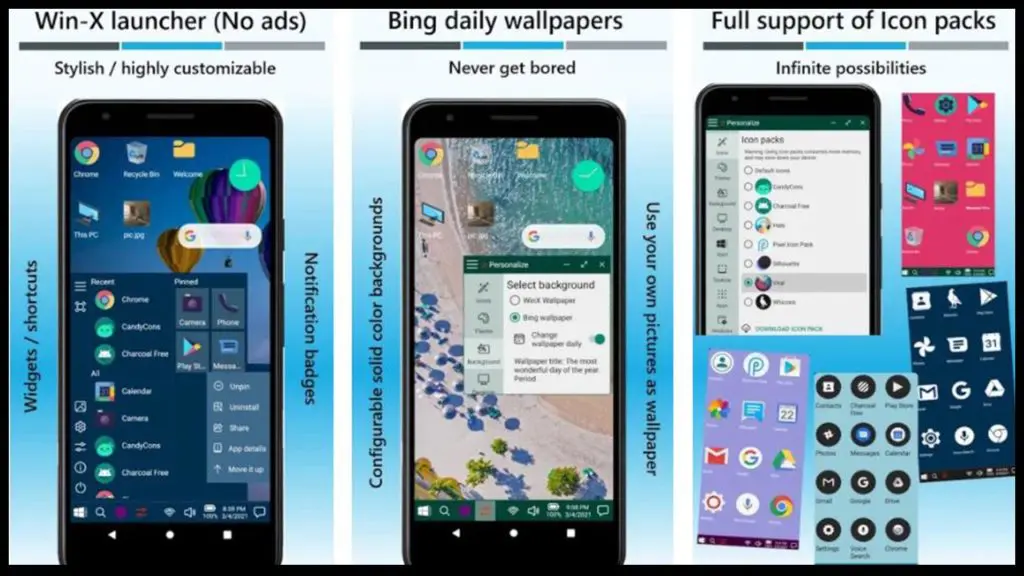 Standout Features:
Windows look and feel to the android
Wallpaper based theme selection
No Ads
---
Uncomplicated Launcher – Minimal Android Launcher
The name of the app justifies what it offers to the users. The app comes with a simple interface coupled with a plethora of theme options. The app has simple and appealing launchers that make it a red hot favorite for the users. The icon pack syncs well with every kind of wallpaper.
You can set the alarm for the important events that help you organize your day. High contrast themes would be loved by the users who love catchy themes. The app is in the earlier stages of development and we can expect better updates in the coming time.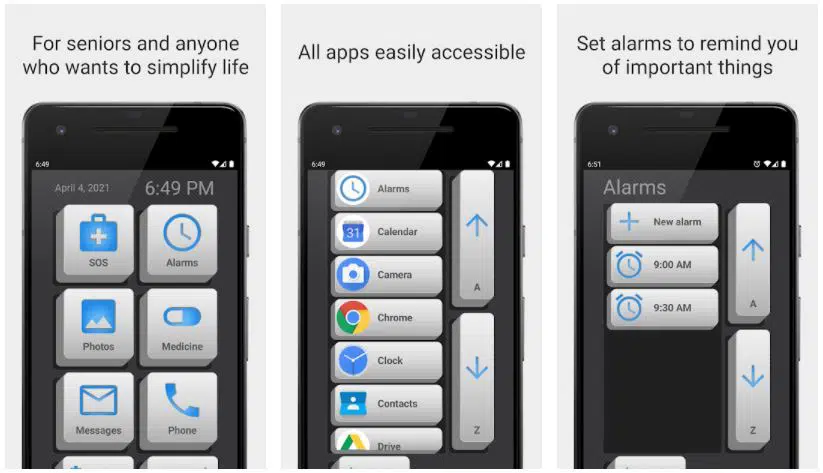 ---
Launcher iOS 13 – Best iOS Launcher
Next on the list is iOS 13 where the developer has fused an iOS 12 design with an upcoming iOS 13 launcher. it has very least ratings but it has been primarily been able to make it into the list due to its stability.
With the design of both iOS 12 and 13, it also offers the style desktops with a preinstalled file explorer and manager which has desktop identical designed features like copy, paste, share, rar, search, delete, and many more.
Almost all the aspects of the iOS have been provided in this launcher, whether its customizable desktop folders or customizable photo tiles or clock, weather, and Ram widgets with drag and drop. It has everything which you can dream of. As far as the look is concerned it has a very elegant look with multi-color transparent taskbars and menus with widgets in desktop mode. The best thing about this launcher is its speed and performance.
Standout Features:
Control Centre
Assistive Touch
Change your wallpaper like iOS 13
---
Launcher 10 – Best Android Launcher
Windows in itself is a very renowned brand and some of its users, due to the quality windows smartphones offers, are still in love with the Windows operating system smartphones.
So, Launcher 10 is for all the windows fans out there. The launcher comes with a traditional windows phone look where it combines the combination of Mosaic looks and tiles appearance. The tile user interface is loved by everyone as it is easy to operate and you can perform all your important tasks with a single click of your finger.
Though this launcher does not have too much to offer due to its fan base and quality standard I have put Launcher 10 on my list of Best Android Launcher.
Related: Best Google Play Store Alternatives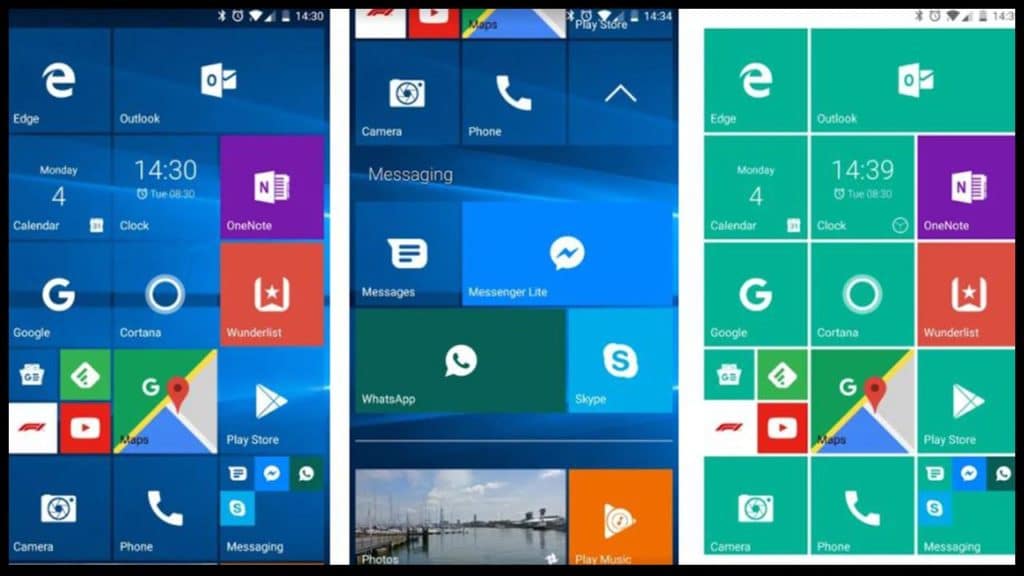 Standout Features:
Live tiles
Tile badges
Pin apps as tiles to your home screen
Icon pack support
---
GO Launcher – Launcher Theme For Android
GO Launcher needs no introduction as it is one of the most popular best Android launchers amongst the masses at the present time due to the reason that it is compatible with smartphones as well as tablets. The launcher comes with rich screen 3D effects and customization options which makes your device look classy.
The launcher provides you with a wide range of choices like it offers around 100k+ HD wallpapers alongside 10,000+ mobile themes which you can choose from. The best part about the GO launcher is that it has its own autonomous developed 3D engine which makes it one of the most efficient launchers as it does not affect the performance of your smartphone. Due to this feature, the GO launcher is my personal favorite in this list of Best Android Launcher.
Related: Free Android Apps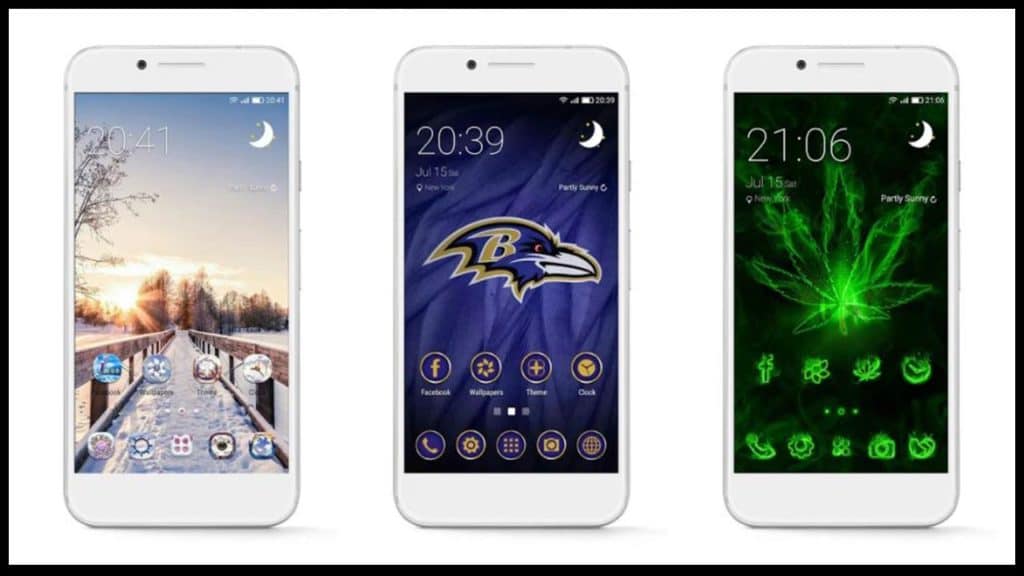 Standout Features:
GO Theme
Go Wallpaper
Transition Effect
Widget
---
Light Weight Launcher
ADW Launcher 2
Pixel Launcher (by Google)
Lightning Launcher
Buzz Launcher
BlackBerry Launcher
Lean Launcher
Big Launcher
---
ADW Launcher 2 – Best Android Launcher
ADW is the next launcher on our Best Android Launcher list. The launcher has come with its sequel ADW Launcher 2 where it has included a better and Updated UI that is compatible with all kinds of Android versions.
In ADW Launcher 2 there are lots of updates and optimization options which the developer has offered to its users. For instance, there are various colorful and rich in design widget options are thee in the launcher which makes your device look attractive. Apart from this, the launcher offers a lot of shortcut options that can ease the day-to-day task of your smartphone.
Standout Features:
Added new icons effects section.
Dynamic UI coloring.
New way to manage screens.
---
Pixel Launcher (by Google) – Best Android Launcher
Google's Pixel Launcher is my personal favorite as it brings you the best feature of the Pixel Launcher (from pixel devices) which the Android masses have not been able to avail. It has round edges with notification dots and badges while the theming has been backed by attractive icon packs, customized drawers, and fonts with gesture controls and adaptive icons. A key feature of this best Android launcher is that it supports the google feed and assistant features but you will need to put some extra effort and time to avail of this feature.
Related: Best Android Customization Apps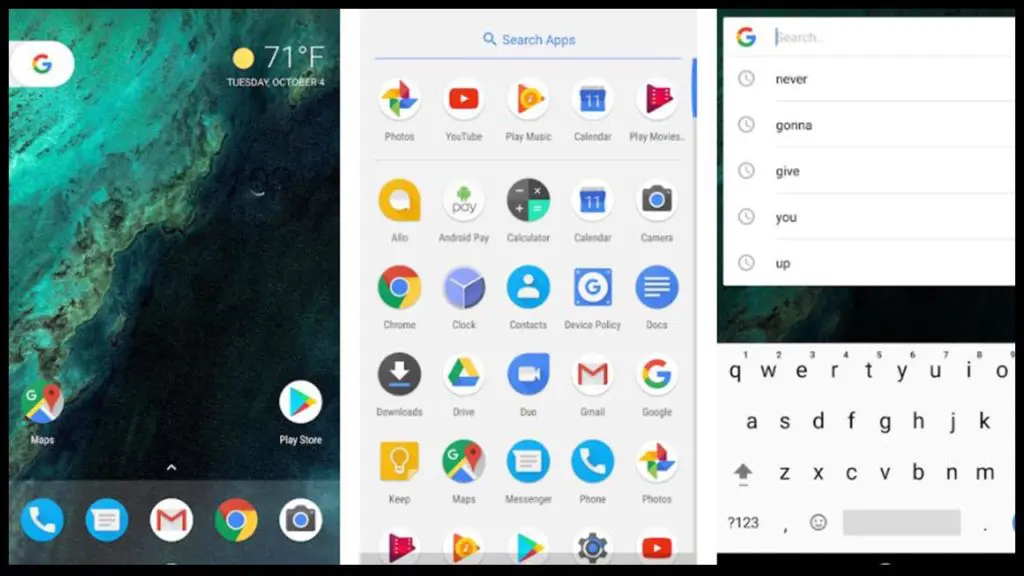 Standout Features:
Google cards support.
Quick access to Google Search.
Swipe up on the bottom Favorites row.
App Suggestions.
---
Lightning Launcher – Best Android Launcher
Lightning Launcher is the next on our Best Android Launcher. It is a traditional Launcher where you will find the best customization options. You can customize your screen icons with grid and pixel-perfect options.
The lightning launcher allows you to customize your overall look of the device by customizing styles, colors, and gestures.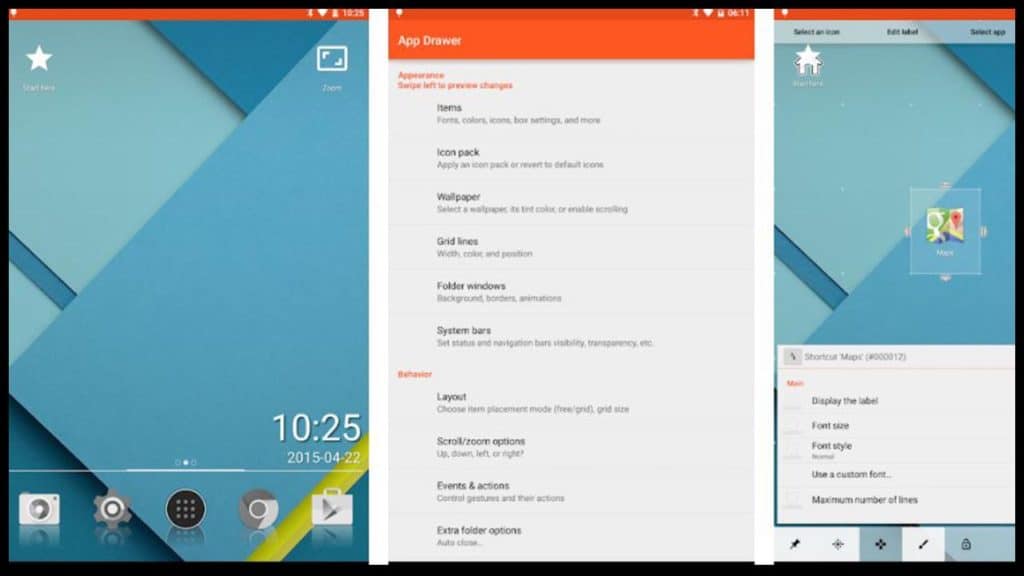 Standout Features:
Unique limitless desktop
As many desktops as needed
Combined grid and free positioning
---
Buzz Launcher – Tablet Launcher for Android
Buzz Launcher is a unique app launcher that focuses on both the appearance and the performance of your phone. Despite setting several gestures as shortcuts, it has the inbuilt RAM cleaner. It also doesn't negate your privacy as it also provides a pre-installed app locker. Somewhat like live wallpaper, Buzz Launcher provides a feature called "Screen Effects". It adds extra effects on the desktop of your phone and makes it more eye-catching.
Related: Best Wallpaper Apps for Android
Standout Features:
Launcher themes
Icons
HD wallpapers & widget in Launcher
Customise your home screen
Interface with 3D effects.
---
BlackBerry Launcher – Cool Launcher For Android
We all loved those introductory blackberry devices which had a Blackberry Messenger or BBM with the keypad. Lately but impressively blackberry has managed to make a comeback since it had switched to android by launching the blackberry launcher which can easily be availed at the google play store.
Blackberry is a stable launcher that comprises attractive pop-up widgets which will appear with the easy swipe of an icon to one of the sophisticated galleries I have experienced on any of the android launchers. Blackberry launcher is a simple launcher that will allow you to customize your device the way you want.
Standout Features:
BlackBerry pop-up widgets
Create custom shortcuts
Customize the look and feel
Hide apps
---
Lean Launcher – Android TV Launcher
Lean launcher is the next launcher that comes with an eye-pleasing look and feel. The launcher has a Dark and light theme option alongside an automatic theme option which will be generated on the basis of your current wallpaper.
There are lots of customization which this launcher offers like you can change grid counts, hide apps from drawer, change icons size and shape, and optional two-line labels.
Apart from this, you get interactive gestures to manage all the stuff on your home screen and some useful shortcuts. You also get physical animation that gives an amazing look to the overall interface of your device.
Standout Features:
Beautiful themes
Rich customization
Useful Shortcuts
---
Big Launcher – Best Android Launcher
A big launcher is a different launcher that has been designed keeping in mind the needs of seniors and visually challenged users. For convenience, the app icons have been designed in large sizes with a one-touch feature that does the job. The launcher is highly customizable which can replace the user interface on any Android phone and replace it with large buttons, icons, and texts. You also get an SOS number feature which can save the seniors in case of emergency.
Standout Features:
User-friendly UI
Adaptive
One-Click Large icons
---
Final Word:
So, these are some of the Best Android Launchers that you should definitely try according to your usage. Feel welcome to drop your favorite Android launcher and let us know which one helped you in our list of Best Android Launchers To Enhance the Looks And Performance Of your device.
Thank you for reading! Try these out too:
General FAQs