Email is the most preferred form of communication that is used by the individual as well as businesses. An Email helps you to manage all your vital messages in one place. There are various best Email apps that you can use apart from the traditional Email apps like Gmail.
We are suggesting some of the best Email apps that will get your things done in a quick time. These apps will be the best alternative Email apps for you if you are planning to switch to other options.
Excited? So, let's get started.
Why do we need a different Email app on our phones?
All the mail apps available out there will serve the basic functionalities a user want. The method to perform those basic functions is the thing that separates a good app from an average one. Functions like sending or receiving messages, attaching files, filtering the messages, and so on should not take more than a minute to get done.
The UI of the mail app should be simple and interactive to make these functions easy for the users. Control buttons of a good Email app should be easily accessible that can help you to quickly get your things done. For that purpose, our list will guide you through the best Email apps that you can install on your smartphones right away. Some apps are free while others are paid, so you can choose the best according to your preference.
Best Email Apps For Android 2021
Google Gmail
Microsoft Outlook
Blue Mail
Cleanfox
Yandex Mail
Aqua Mail
TypeApp Mail
K-9 Mail
Proton Mail
Edison Mail
Note:
This list is not based on any preferences, this list is basically a compilation of some of the best and most popular Email apps that you can try right now. We also update this list every 3 months to keep you updated with the latest apps.
---
Google Gmail is an easy to use email app which offers you some useful features. The app comes with an organized inbox that filters your mails into different categories. The app filters the message in the social and promotional categories that help to easily locate your message in the inbox.
You can compose messages, attach media files, and save them as a draft for future reference. The app blocks all the spam messages arriving in your inbox to keep your device safe from virus and malware attacks. The app provides 15 GB of storage space to keep all your messages secured on your device. You can create multiple accounts both with Gmail and Non-Gmail addresses to operate different accounts at a time.
Standout Features:
Spam messages management
15GB storage space
Multiple accounts support
---
Microsoft Outlook comes with a focused inbox that keeps your vital messages on the top for quick access. You can sync your MS Office, MS Word, and Excel accounts with the app to connect with your team. You can also create meeting rooms to start a discussion with your team members.
To keep you organized throughout the day the app has a customized calendar that keeps you updated about upcoming events. The customized calendar can be shared with the team to schedule meetings. You can use the voice search feature to find emails, contacts, and attachments.
This intelligent Email manager by Microsoft will save your time with its intelligent features. The app has a Play My Emails feature that will help listen to the important mails of the day. The app has in-built advanced protection to keep your messages safe from online threats. With so much to offer, Microsoft Outlook could be the best Email apps that can smartly manage all your work.
You may also like to read about the best icon packs for android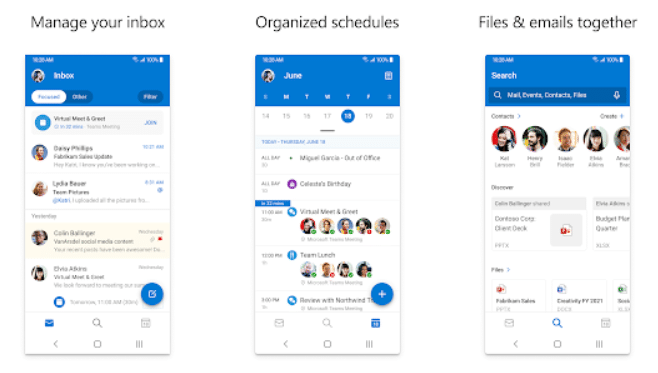 Standout Features:
Email inbox management
Calendar and file access right from your inbox
Customize email and calendars
---
[yarpp]
---
Blue Mail – Best Email Apps 2021
With a unified service and the best Email services, Blue Mail has landed next on our list of best Email apps. You can sync multiple inboxes from Gmail, Outlook, Hotmail, and Yahoo Mail in one place to make your job easy. You can integrate your calendar in the app and remain updated about upcoming events.
You can organize similar Emails in clutter for easy access in the future. The app has unified folders that give access to all your Email accounts at once. If you are concerned about the spam in your inbox then do not worry. The app has an advanced spam mechanism that blocks the probable spam source from reaching your inbox.
The app has a light and dark theme to switch between the day and night modes. You can also add a rich text signature and add your logo in the Emails. Besides varied services, the app is visually appealing which gives it an upper hand making it the best Email apps on the list.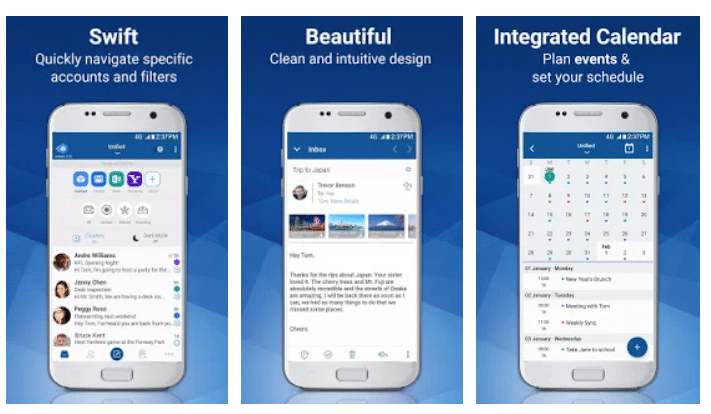 Standout Features:
Spam management
Visually appealing
Dynamic smart conversations
Configurable menus
---
[yarpp]
---
Cleanfox – Best Free Email Apps
Cleanfox is one of its types of Email services that precisely manage your emails and newsletters. Our inbox is seldom stuffed with messages which makes it difficult to filter the vital messages. This is where Cleanfox becomes one of the best Email apps.
The app filters and arranges the newsletters in your inbox based on your rate of opening them. You can then check and unsubscribe from the mails you do not think is worthy in your mailbox or delete the old conversations. The best part is when one joins with a referral code a tree will be planted to encourage environment-friendly practices. The app is free and you do not need to pay a penny to avail of its services.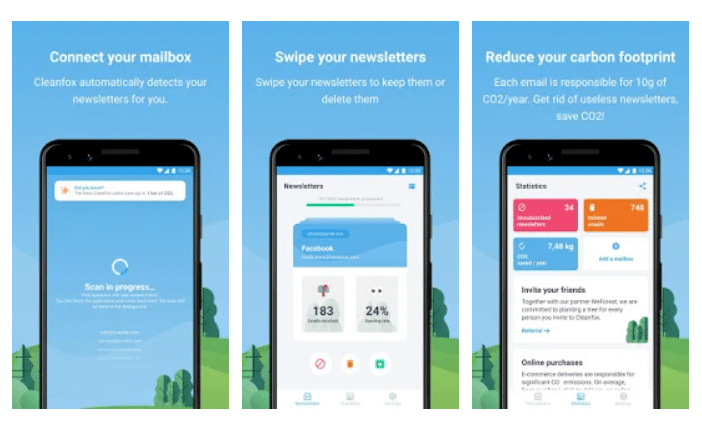 Standout Features:
Newsletters arranged according to your preference
Easy management of mails
Free of charge
Environment-friendly
---
Yandex mail has smart filtering algorithms that keep your inbox safe from online threats. You can log in through multiple accounts and view all your mails at the Yandex mail services. All you need is to switch the profile and you can check your mails from Gmail, Microsoft Outlook, and other platforms.
You can view attachments sent in the mail at a glance in your notifications. If the size of the file send in the attachment is large then it gets automatically uploaded to a Yandex disk that can be later accessed.
You can personalize the look of the mail by switching to the dark theme in the evening time. you can also hold a teleconference with your office team or family members on the Yandex. It has a simple and intuitive UI that makes it the best Email apps to watch out for.
You may also like to read Best Android Customization apps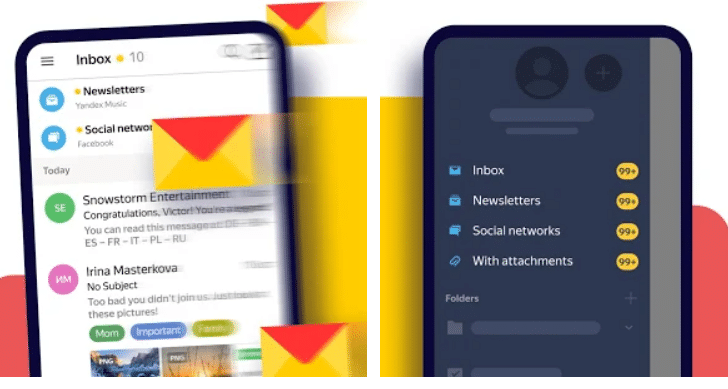 Standout Features:
View attachments at a glance
Personalize your mail
Access in offline mode
---
Aqua Mail – Best Secure Email Apps
Access all your mailboxes in one place with the help of the Aqua Mail app. Aqua mail app comes with strong SSL encryption to protect your mails from external harm. The SSL encryption offers an extra layer of protection that ensures that all your private information safe from intruders.
The app has a DashClock smart widget that includes a message counter and message list for quick access. The app offers four themes to choose from according to your moods. Besides mail services, the app has a rich text editor and formatting options making it the best Email apps.
The app lets you sync third-party apps with Aqua Mail that gives you complete control over your mailbox. All your emails from Email providers like Gmail, Office365, Yahoo, and Apple can be accessed in the Aqua Mail app.
Standout Features:
Backup and restore
Integrate third-party apps
Strong SSL encryption
---
TypeApp Mail – Best Email Apps For PC
TypeApp Mail offers you loads of features when it comes to email services. The app will give you instant push notifications based on your preference. The mail will vibrate or has custom sounds that have been preferred by you for each account.
You can customize your menu with the desired action that will save your time and give you quick access to important emails. The app supports Android wear which will help you to get the latest mail notifications on your wrist. Color coding is one useful feature of the app. You can assign colors to the account and easily get to know from which account the mail has arrived.
The app offers industry-leading encryption to protect your privacy. You can also save the important mails for offline use. The app has an appealing dark mode along with other theme options to choose from. The in-app purchases will give access to some additional perks to the users.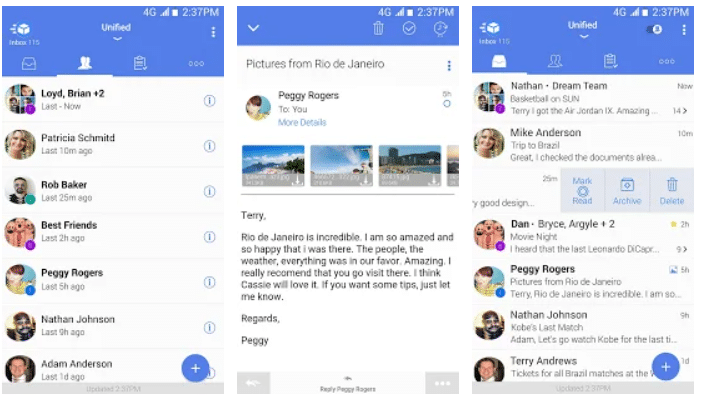 Standout Features:
Unified inbox
Calendar sync and contacts
Customizable menus
Android wear
---
K-9 Mail – Best Email Apps
K-9 mail can work wonders for the corporate people. The app is an open-sourced app that lets you create multiple identities with some cool themes. The app has multi-folder sync, flagging, filing, and signature feature that will help you in sending and receiving mails.
Apart from this, the app offers you features like per account notifications, BCC to self, and IMAP support which makes all the activities of E-mail sending easy and interactive. The unique feature of the app is that it is a community-based project where you can take part in the development of the app.
Standout Features:
Simple UI
Community-based project
---
[yarpp]
---
Proton Mail is a highly rated email service provider that offers a variety of services to users. It offers free encrypted mail services that ensure that your privacy is maintained and no third- party or person has access to your personal information. All your messages get stored inside the app in an encrypted format.
You can organize your mail with customizable swipe gestures and labels to filter them. The app allows you to set timers to self destruct the messages after it is sent which is a unique feature in Email apps. The app is free of charge and you can donate to improve the updates.
You may also like to read Best Android Launchers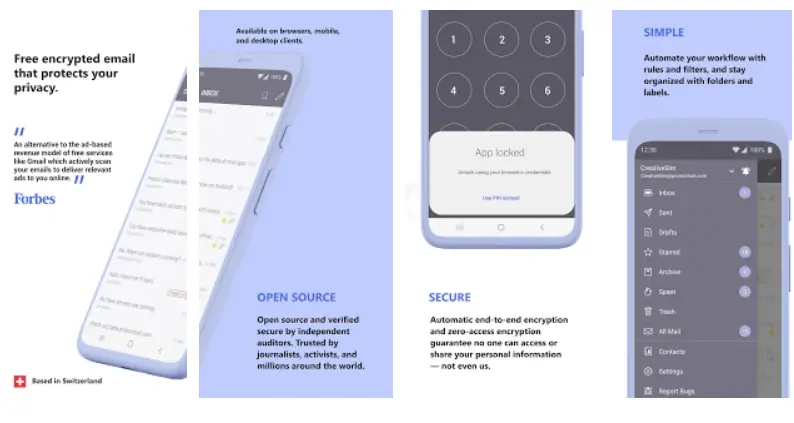 Standout Features:
Customizable swipe gestures and labels
End-to-end encryption
Self-destruct messages
---
One of the fastest email apps that have been highly rated by the critics is the next app on our list of best Email apps. It is the only Email service app that automatically blocks the read receipts tracking pixels without affecting the Email experience.
The app has an in-built AI assistant that will manage all your mail and provide real-time travel notifications. The interactive UI of the app makes it easy for you to track all your emails and subscription plans. Unsubscribe from unwanted subscriptions and delete unnecessary emails in bulk with a single tap.
The app has a full search engine that helps you to locate important emails in a quick time. You can also customize notifications by setting up personalized sound and vibration for each sender.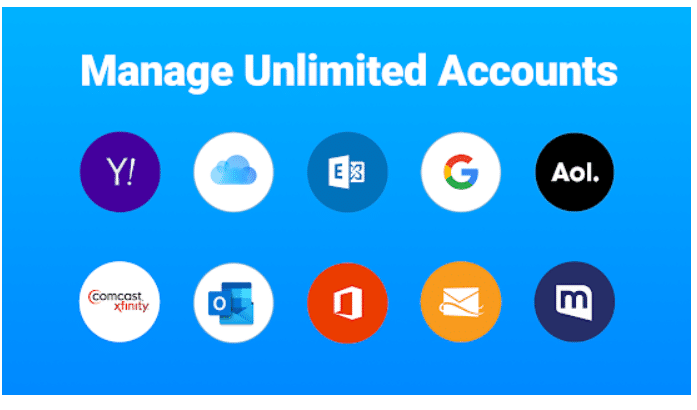 Standout Features:
Built-In AI Assistant
Customizable Notifications
Full search engine
---
Final Words
We hope this list would be helpful for you if you are looking for the best Email apps. Reach out and comment below to tell us about the most productive and useful email app on this list. Keep sharing our content so that we grow and bring you more detailed articles.
FAQ
Which are the best free Email apps?
Google Gmail
Proton Mail
Yandex Mail
Which are the best Email apps for Android?
Google Gmail
Microsoft Outlook
Aqua Mail
Which are the safest Email apps?
Proton mail
CleanFox
TypeApp Mail
Google Gmail