Music is an integral aspect of the various moments of life. It brings joy and happiness throughout a person's existence. Music is the essence of the human race and provides an immense amount of peace to our lives.
It allows us to be in touch with other people, communicate our emotions, life, and memories. It also aids many people through difficult moments and has excellent qualities of healing both emotionally and mentally.
In the vast array of musical instruments, the piano is one of the instruments that has been capturing the hearts of the people since the beginning of the eighteenth century. All you require to be a proficient player is a piano and a phone; yes, you heard it right. Thanks to experienced piano players and engineers, who have developed the best piano learning apps that aid you in completing beginners, advanced and professional lessons, and in this article we have shortlisted some of the best piano learning apps for Android that you can try right now.
Excited? So, Let's Get Started.
Benefits Of Best Piano Learning Apps
Convenience:- One big benefit of using the piano learning apps is convenience. You do not need to look for a music institute to learn piano. You can install the piano learning apps and start learning from the virtual coaches. Also, the app contains all the basics of playing the piano a beginner would require.
Plugin headphones:– You can plug in headphones while using the digital piano apps. It will help you focus better and quickly develop muscle memory. Most piano apps offer the perk of plugging headphones while learning the skills.
Best Piano Learning Apps For Android
---
Skoove, a cutting-edge and complete iPhone application that can help you develop your piano playing skills. It runs on AI, which listens to the music you're playing and provides instant feedback that helps you improve your playing skills. You can study with your smartphone, tablet, or even your computer with a microphone or Midi cable.
Skoove is the best piano learning app that pairs every lesson with a tune that's not classical. The first lesson for beginners includes the learning of finger numbers on the left hand with songs that are popular, such as Hey Jude, by The Beatles. It is also possible to learn the length of notes by practicing many songs.
Skoove gives you the chance to be part of an orchestra at the end of a series of lessons. First, it will show you the song. Then, you try it out. You then play it with your band. This easy method eliminates the feeling of having to adjust to playing a tune at the top of your game.
Related: Best SlideShow Apps For Android
Standout Features:
Free lessons are available
Power feature
The cheapest plan
Download This Best Piano Learning App
---
Yousician is an incredible self-learning application that assists piano players, ukulele players, vocalists, and guitarists to enhance their abilities. It is an excellent app for beginners and advanced players.
Like the other applications, you can choose the level at which you're a musician. One great feature it offers is Workouts. They allow you to focus on particular skills that you consider to be essential or require work. Yousician includes hundreds of missions that you have to complete. It also monitors the games you play and displays the degree of accuracy to the right notes in real-time.
Related: Best Pedometer Apps For Android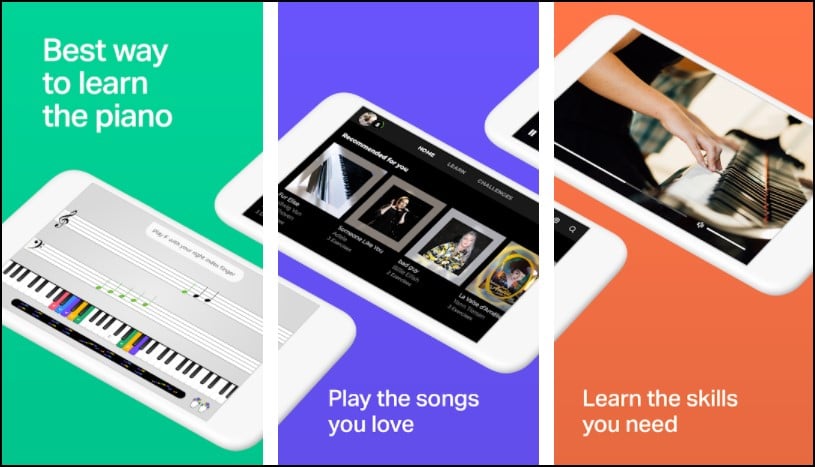 Standout Features:
Easy to learn
Easy progressive lessons
Make changes, and listen option is accessible
Download This Best Piano Learning App
---
Perfect Piano is an app that acts as a teaching tool. It has an 88-key piano keyboard that can perform multiple modes, including Single-row mode and double-row modes, two players, and chords mode.
There are two ways to play the perfect Piano: first using its built-in keyboard, which lets you tap the screen of your phone, and secondly using a MIDI keyboard, like the M-Audio keyboard, Roland F-120, or Akai professional MPK.
This Best Piano Learning App allows you to select different patterns of guidance that you can play along with your favorite songs, the classical sheet music. You can also reduce the playback speed to allow you to go through tracks at your pace: Dual-row and single-row modes to aid in understanding and learning.
Related: Best Invoice Apps For Android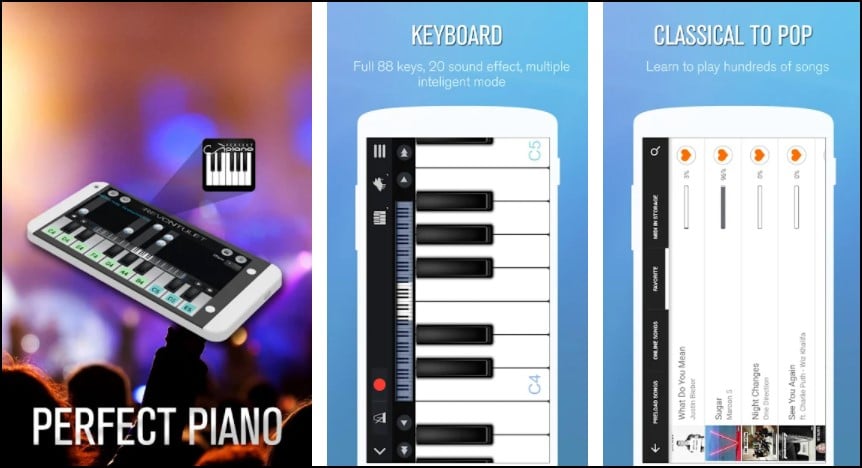 Standout Features:
Built-in metronome
Direct sharing on social media
Keys with adjustable settings
Download This Best Piano Learning App
---
Simply Piano is a comprehensive Piano teaching tool that can aid you in discovering your potential quickly and teach you the necessary skills needed for a musician. It has classes that are broken down into lessons. You can also learn a range of compositions and songs that allow you to apply what you've learned from the lessons into action.
This best piano learning app has thousands of songs and their entire tablature for learning these songs. While you are practicing on any piano, the app will monitor the sound of your instrument and inform you if you have made mistakes.
Perfect Piano is compatible with the USB MIDI keyboard, so it's possible to do it effortlessly when you decide to upgrade to a real instrument. Additionally, you can play the Piano alongside other musicians across the globe and participate in daily challenges.
Standout Features:
Find out how to read music sheets.
Play the piano built-in.
Join players from all over the globe.
Download This Best Piano Learning App
---
Flowkey is a web-based piano app that offers well-rounded piano lessons for intermediate and beginner students. The lessons are instructed with videos that display images and illustrate the concepts to test your proficiency by using your device's microphone or audio midi connection. This best piano learning app also tracks your performance and offers suggestions on how to enhance your playing.
With its beginner, advanced and pro-level courses, any musician can take their playing skills up to the next step and even further. The app has over 1500 tracks across many genres. You can even pick among the latest movie and game soundtracks. Split-screen lets you view an audio clip of someone playing music while you play the song.
Related: Best Hotel Apps For Android
Standout Features:
Split-screen feature.
More than 1500 song lessons.
Feedback system
Download This Best Piano Learning App
---
Piano Academy is another excellent app for learning Piano online, specifically for children. If you're trying to help your child learn to play the piano, it's the ideal piano app for learning. The lessons are divided by method or theory subject. It also offers an extensive selection of instructional videos taught by an instructor who can show what you're trying to master.
This best piano learning app also offers tutorial videos that teach you theoretical issues like notes, staff chords, and more, in addition to hands-on lessons. You can also play with the keyboard that is on your screen or connect to a real instrument. The app monitors each note played and provides immediate feedback to help you determine where and how you can improve.
Standout Features:
Children's rhymes.
Virtual keyboard on-screen.
Instant feedback
Download This Best Piano Learning App
---
Playground Sessions is a robust version of a piano program created by professionals. Like other platforms, Playground Sessions is an excellent option for beginners.
With a name such as Playground Sessions, it's no surprise that the lessons are a video game with your laptop and tablet to demonstrate how you're performing on the notes and in real-time. This technique is only compatible with pianos and digital keyboards.
In this app, David Sides will himself demonstrate how to cover all your piano sessions step by step. Video lessons are a fantastic feature compared to other options that depend on the application to guide you through the lessons. The beginner section contains an astounding 84 lessons. There's plenty of choices to begin.
The gamification element keeps you interested in beating you and your pals by winning the highest scores and playing songs you love and might be familiar with on the radio make learning enjoyable and straightforward. Most songs have an accompanying track, so it's like playing with the band; that's always a pleasant experience.
Related: Best Reminder Apps For Android
Standout Features:
David sides teach the lesson.
84 impressive lessons.
Play with your friends
Download This Best Piano Learning App
---
Online Pianist can be described as a learning piano application that is best suitable for players familiar with the fundamentals. It provides thousands of interactive piano lessons to help you master piano music. The app offers the option of breaking the song into smaller pieces using your hands. You can practice separately what the different indicators are doing and mix them up in the final. It is compatible with iOS as well as Android devices and also on computers with microphones.
This best piano learning app has an excellent range of songs. It has settings that control the speed and tempo and shows you the best way to place your fingers. Additionally, you get a keyboard simulator with 88 keys. Other essential features include dynamic zoom and chord progression, horizontal and vertical displays of notes, A-B repetition, and much more.
Related: Best Project Management Apps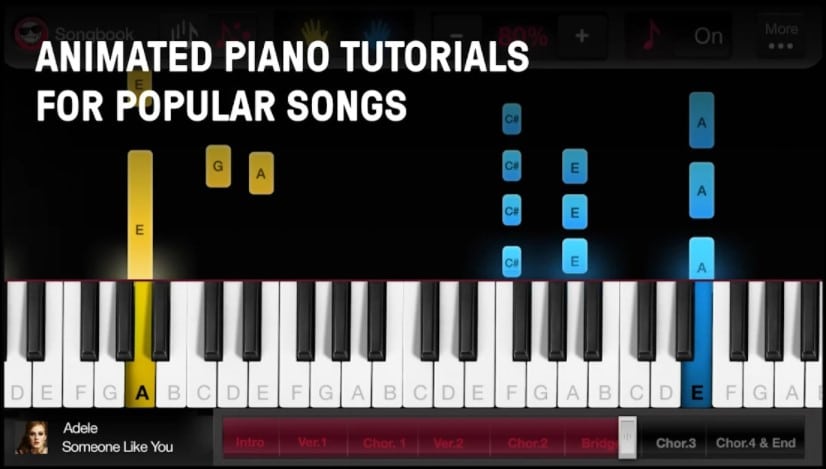 Standout Features:
A keyboard simulator with 88 keys.
Dynamic zoom.
Download This Best Piano Learning App
---
Final Word
So, if you have any interest in learning piano or you are just getting started. These best piano learning apps for Android will help you in improving your skills that will eventually lead you in playing piano like a Pro. Do you think we have missed any app or if you have any suggestions do let us know that in the comments down below.
Thank you for reading! Try these out too:
General FAQS
Are piano learning apps worth it?
With plenty of professionals to demonstrate class from beginner to a pro and with several features like feedback, playing along with the song and direct sharing in social media, piano learning apps are worth it.
Is there a free piano app?
Yes, there are many free apps both for Android and iOS. But yes, you have to pay for apps with some high-quality features.
Is it possible to learn piano online?
Not just possible, it's also effortless to learn piano online with the help of professional trainers and unique features.