You have just received a notification for an urgent client meeting. Now, you must edit, summarize, and analyze complex data from a bunch of PDFs for presentation. But here is the kicker: you have no access to your laptop or computer. Your Android is your only trusty companion. Frustrating, right? Well, no need to worry!
Enter the world of AI-powered PDF editors that swiftly scan through documents, extract relevant data, and translate foreign languages. One notable player in this arena is UPDF, which lets you edit PDFs on Android effortlessly. Plus, it is equally available on Windows, MacOS, and iOS devices.
But what makes UPDF so great? Let's dive in and find out!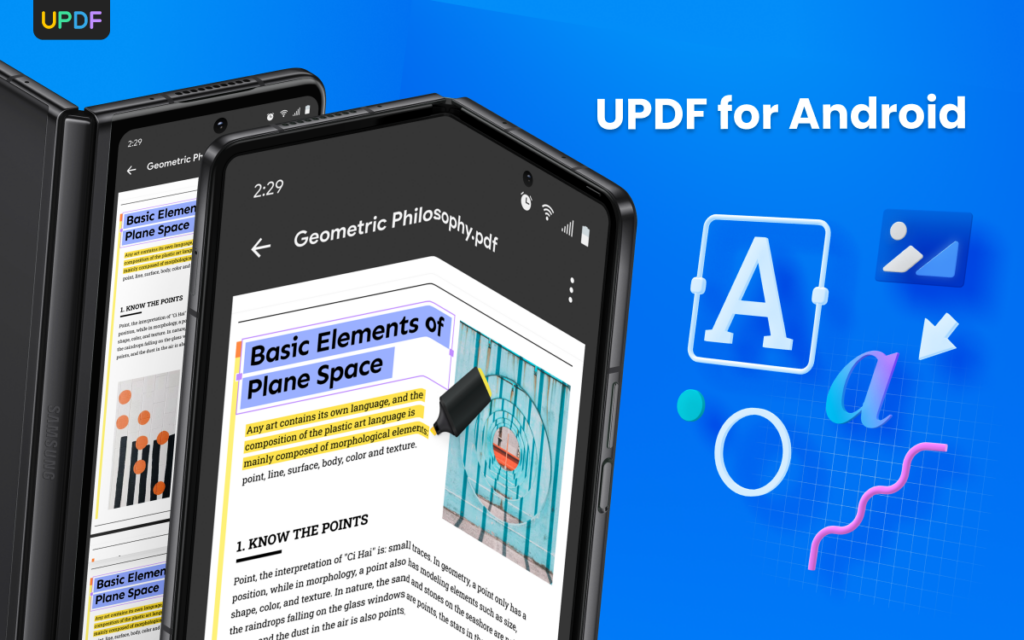 Why UPDF AI is the Best AI-powered PDF Editor for Android
While there are various AI-powered PDF editors in the market, UPDF stands tall with its versatile features to edit PDFs on Android devices. Whether you need to edit, organize, summarize, translate, or convert PDFs, UPDF is your trusty sidekick in each department.
So, what makes UPDF AI the top player in the market? Here is why:
Summarize PDF Faster
UPDF AI makes it a breeze to summarize PDFs and lengthy documents. With a deep understanding of text, it scans through the entire document in a few seconds. Are complicated charts giving you a headache? Don't worry! UPDF AI can simplify complex data charts with remarkable precision, saving you hours of brainstorming and retyping.
Translate PDF Quicker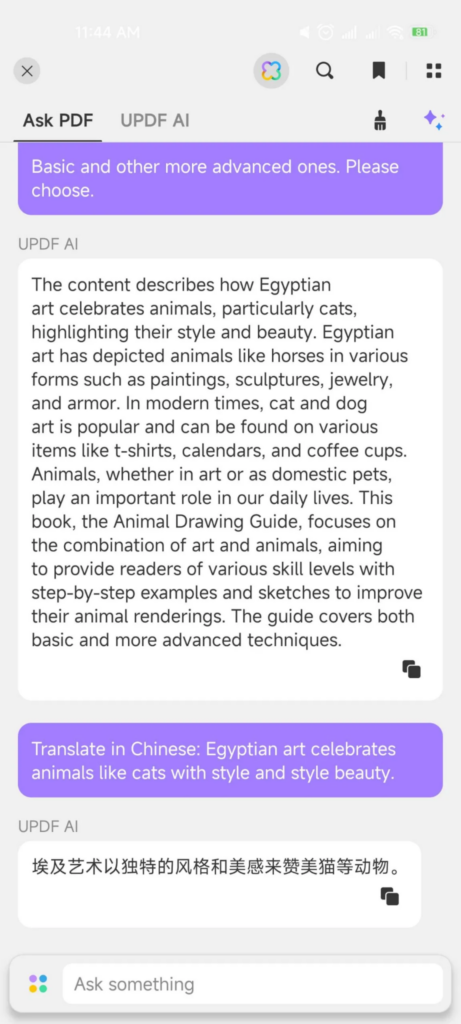 Frustrated with language barriers in your documents? There is no need to invest in a translator or the hassle of switching between translation apps. Because UPDF is about to blow your mind with its cross-lingual translational prowess. You can convert any language with extraordinary formatting and precision with UPDF instantly. So, translate and edit PDFs on Android fast with UPDF.
Explain PDF Clearer
Getting overwhelmed with complicated terms in PDFs? UPDF makes it a piece of cake to define complex words and paragraphs. But that is not all. The icing on the cake is its ability to provide detailed source materials as a bonus. Plus, you can get instant answers to any questions related to your PDF.
Write PDF Better
Leave it to UPDF AI to transform mediocre content into top-grade quality in a few seconds. Brainstorm ideas and check grammar and spelling errors all in one place, saving hours of energy and time. Need to write a project report at short notice? UPDF will compose a brand new article from scratch in a breeze.
Convert PDF with AI-powered OCR
UPDF's AI-powered OCR will convert your scanned images and documents to searchable and editable PDFs. Do you want to convert text and images to editable content or keep images as intact separate layers? You can choose whatever floats your boat. But that is not all; you can also convert PDFs to image files in the OCR opposite mode.
Ask PDF
Programmed with a vast knowledge base for your queries and needs, UPDF is your trusty companion. Feel free to go beyond the confines of your PDF with your questions and receive instant answers.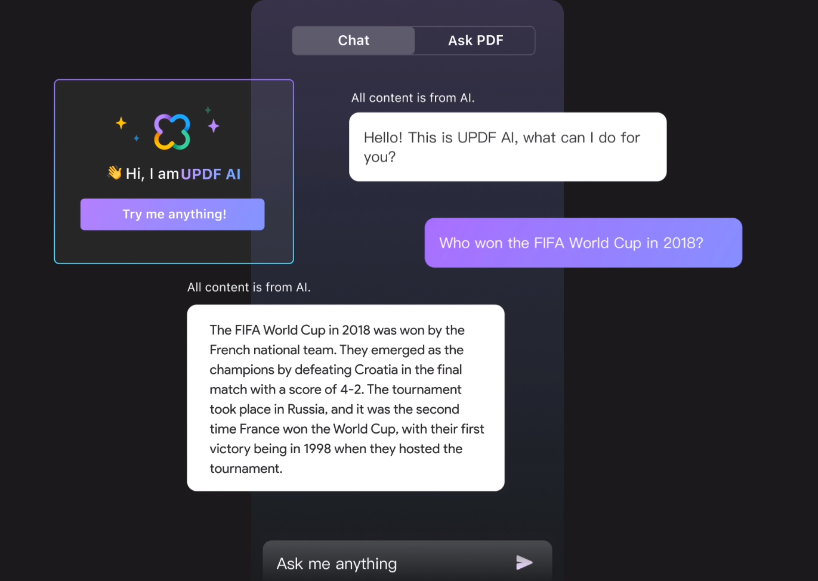 So, there you go! UPDF is not a run-of-the-mill PDF editor. It is like a reliable secretary assisting you throughout your work life. Whether you need to use it to edit PDFs on Android or any other platform, UPDF is ready to streamline your workflow on the go.
UPDF Offers Much More than PDF Editing
UPDF is not just a PDF editor. It is the powerhouse of all your PDF solutions, including PDF annotator, organizer, creator, manager, and a lot more. So, throw your worries to the wind and let UPDF handle your PDFs with remarkable efficacy.
PDF Annotator
Add Comments: Insert a new comment or reply to previous ones in a single click.
Use Markups, Shapes, Stamps, and Stickers: Draw attention to a key term by using markups, shapes, stamps, and 100+ stickers.
Share Annotated PDF: Share your annotated PDFs through shareable links, emails, or QR Codes.
Edit and Organize PDFs
Manage PDF Pages: Add, delete, rotate, crop, and reorder pages instantly with UPDF.
Edit text and Images: Add and remove new ideas and images to your PDFs.
Watermark Your PDF: Copyright PDFs by adding a variety of watermarks.
Fill and Sign Forms
Fill PDF Forms Anytime and Anywhere: Filling non-fillable and fillable forms is effortless with UPDF editing features on any platform.
Authenticate PDF Forms with Electronic Signatures: Add a handwritten, typed-in, or digital signature to authenticate your documents and forms with UPDF.
So there you have it, a perfect formula for managing your PDFs in the form of UPDF. No more spending hours on PDF editing and organizing when you could use UPDF as your one-stop PDF solution.
Comparing UPDF to Other AI-powered PDF Editors
In the world of AI-powered PDF editors, UPDF outshines all with its treasure trove of features and economical price plans. Let's shed some light on what sets UPDF apart from its competitors like ChatPDF and Foxit.
Price Plan
Foxit charges $6.99 per month, while UPDF and ChatGPT offer an economical $5 per month.
Compatibility
Both ChatGPT and Foxit are web-based PDF editors. However, UPDF is available offline infinitely on Windows, MacOS, iOS and Android.
Built-in PDF editing
Both UPDF and Foxit are equipped with built-in PDF editing, while ChatPDF offers no such advantage.
AI-supported Formats
UPDF is the sole winner in this department by supporting Visio, while neither ChatPDF nor Foxit PDF offers such support.
Chart Analysis
While all three support general chart analysis, UPDF stands tall as the only one to provide in-depth chart summarization.
For a more detailed comparison, look at the table below.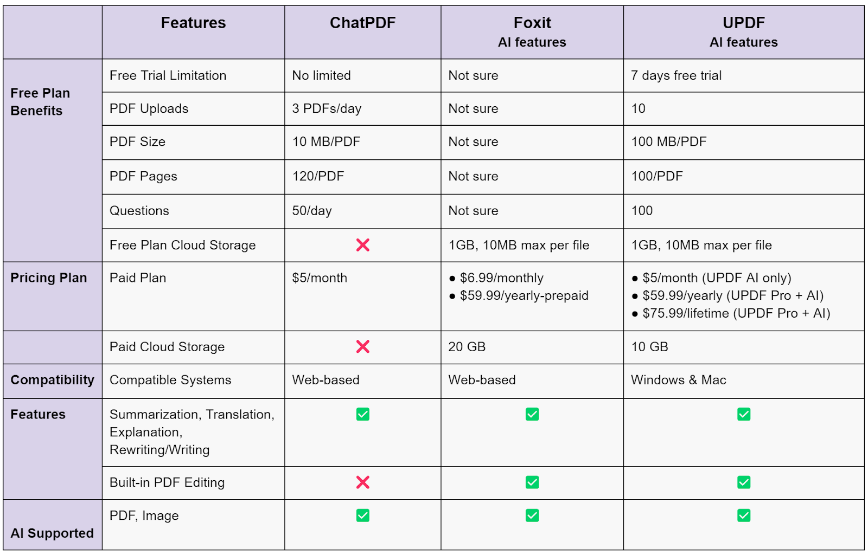 In the world of AI-powered PDF editors, UPDF is a cut above all its competitors. From pricing and compatibility to fully-fledged AI support, it leaves its competitors to dust. So, wait no more and give it a whirl to supercharge your PDF game now!
Conclusion
Do not limit your PDF editing to Windows when you can edit PDFs on Android just as effortlessly. Download now for free, or take advantage of the UPDF Halloween sale! Now you can enjoy a whopping 77% off on UPDF Pro and a chance to win the iPhone 15 and AirPods.