Every service is now available at your doorsteps. You can shop for anything virtually via your smartphones. Health has become a prime focus of individuals. If you want to meet your health goals at home, we have the best home workout app for you. Out of the plethora of options available, we have diligently compiled the best home workout apps for users.
Our listicle will make it easy for users to meet their fitness goals. You can gain weight, do weight training, lose belly fat, and build strength with our listicle of the best home workout apps. Best home workout apps can also prove a boon for women who have no spare time to go to the gym due to household work. Without any further delay, let's dive into our listicle of the best home workout apps.
Excited? So, Let's Get Started.
Benefits of Best Home Workout Apps
Suitable for all age groups: Home workout apps are suitable for all age groups and levels. Beginners, intermediate, professional, young, old, men, women all can benefit from the home workout apps. With detailed instruction videos for every workout program, it becomes easy for the learners to learn and accomplish their fitness goals.
Instructional videos: You can learn every exercise type conveniently from the instructional

videos

the best home workout apps provide. With the assistance of professional coach videos and certified trainers, you can learn all the technical aspects to achieve a fit body.
Readily available: Home workout apps have now become a norm, due to which it is readily available. Users across various platforms like Android,

iPhone

, and other OS can install and take benefit of the best home workout apps. Also, the apps come with flexible subscription plans with exclusive perks and benefits.
Best Home Workout Apps For Android
---
Home Workout
Home Workout provides you with daily workout routines that you can perform in your day-to-day activities. The app contains detailed video and animation guides that help you understand the basics of every exercise. The app offers warm-up and stretching routines that you can perform to open up your body.
You can use the app for strength training, bodybuilding, burning fat, and hit workouts. The app records your daily progress automatically to keep you motivated. You also get access to a fitness coach that will help you in professional bodybuilding. Besides this, you can customize the workout reminders as per your requirement. This complete app can be one of the best home workout apps for all level fitness enthusiasts.
Standout Features:
Animation guides
Customize workout reminders
Daily workout routines
---
Peloton
You can create a disciplined home workout routine with the Peloton app. It has over 30 professional instructors that guide you through every workout routine. You can access thousands of live on-demand videos and classes and play them on your Android smart TV, smartphones, and tablets. The overall design and UI of the app will surely impress the users at first glance.
You can access the thousands of instruction classes based on your preference from the Peloton Studio. The professional NYC instructors motivate you now and then so you do not lose track. You can also track all your activities and progress on the Peloton app. Filter the class via length, duration, and music that suits your fitness needs. Also, you can monitor your heart rate to check your health status. You can have the 30 days free trial version before taking the prime subscription.
Standout Features:
Live on-demand videos
Professional instructors
Supports heart rate monitoring
---
Aaptiv
Personalized fitness plans with 4000+ audio and video classes, the Aaptiv app has all for fitness enthusiasts. You can follow the structured weekly and monthly programs to accomplish your goals. HIIT High-Intensity Training or building muscles, all fitness goals are conveniently attainable on the Aaptiv app. What makes this app the best home workout apps is the inclusion of 30+ new classes weekly.
Fitness classes are available for all fitness levels- beginner, intermediate, and advanced. You can start the motivating team challenges to match up with the skill level of your teammates. Also, you can earn badges to level up your skills. You can download the classes and listen to them offline when you are not in the network area.
Standout Features:
4000+ audio and video classes
30+ New weekly classes
Team challenges
Earn badges
---
Daily Yoga
The daily Yoga app provides multiple session choices based on your schedule. You can choose yoga sessions ranging from 5 minutes to 70 minutes. The app has more than 20 certified yoga trainers that will guide you with proper yoga postures. You can also try the app if you are a beginner, thanks to detailed classes.
The app has 500+ asanas, 70+ yoga programs, 500+ guided yoga, and meditation sessions for yoga lovers. You can customize the difficulty level, goal, and yoga style according to your preference. The app is compatible with wearables that can help you track your health data. This multi-domain app has a lot to offer to the users, making it the best home workout app. The app is available in 7 languages English, Korean, Chinese, Japanese, etc.
Standout Features:
500+ Asanas
Customize difficulty level
20 Yoga trainers
---
Home Workouts Personal Trainer
Home Workouts Personal Trainer is designed by Fitness22, which is a popular name in the industry. The app has a detailed exercise database that can help you hit your goals. This ad-free app can be one of the best home workout apps for fitness enthusiasts.
The app contains multiple exercises with variations that help you perform the exercise with precision. You get high-res videos that will guide you to perform every exercise. You can search for the desired workout via muscle group or equipment. Besides this, you can create workout routines, modify them, and track your workout history.
Standout Features:
Exercises with variation
Achieve goals
Ad-free
---
Workout Trainer
The Workout Trainer app is ideal for home workouts, thanks to its diligent design and workout programs. World-class coaches are always available for the trainees. If you are serious about your fitness commitments, you can have 1:1 online training sessions with the coaches. Trainers provide step-by-step audio, video, and photo guides to the users. You can take the $6.99 monthly or $59.99 yearly subscription plan.
You can access 100 multi-week training programs from professional trainers. The latest update of the app lets you sync the app with your wearables. It will help you track the health of your heart and become familiar with all the heart-related matrices. You can share your experiences with the 20M+ community members of the app. This best home workout app has the potential to be your ideal fitness trainer.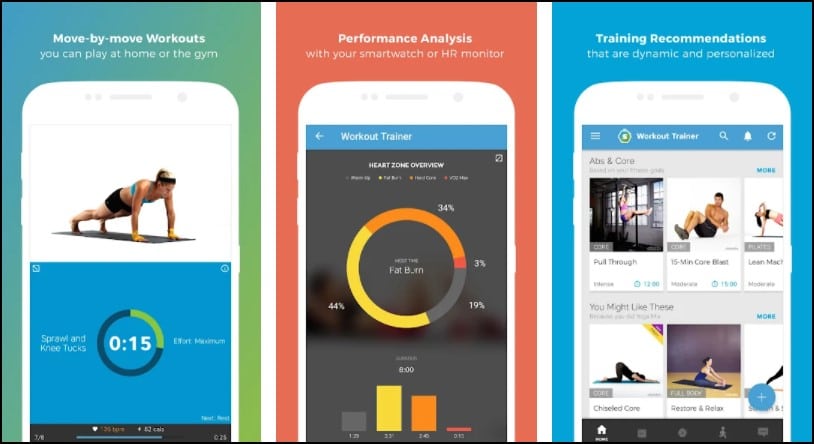 Standout Features:
100 Multi-week training programs
20M+ Community members
World-class coaches
---
Sweat
Sweat is the latter app that can be the best home workout app for all the ladies. The app has some of the best female fitness trainers that help you in reaching your fitness goal. You get challenging training programs to meet your fitness goal, burn belly fat, or achieve the perfect shape. Circuit Training, Bodyweight exercises, Powerbuilding, Yoga, Recovery, and Pilates are training programs you can opt to accomplish your goals.
You can take assistance from the 3500+ home workouts with visual instructions. To maintain consistency, you can use the planner to schedule your weekly training programs. There are also exercise substitutions if you are finding it difficult to perform a particular exercise. Additionally, the app suggests dietary plans to suit your training.
Standout Features:
3500+ Home workouts
Schedule planner
Dietary plans to suit your training
---
Asana Rebel
Asana Rebel is the next best home workout app that can help you unleash the beast within. You can attain physical and mental well-being with the high-quality workout programs of the Asana Rebel app. The app provides tailored workout programs based on your fitness goals. You can tone your body, attain agility, and build core strength, all at once with Asana Rebel.
The app allows you to filter the results via duration, intensity, and goals. Before training, you can have full video previews with exercise tutorials. The app comprises 100+ workouts to help every fitness level aspirant, whether a beginner or advanced.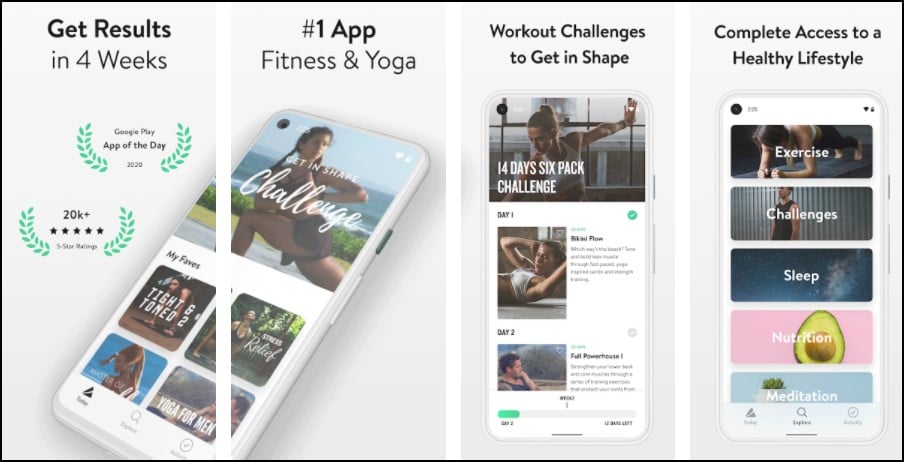 Standout Features:
Filtered results
100+ Workouts
Workout programs by experts
---
JEFIT
JEFIT is trusted and used by millions of users, making it one of the best home workout apps. The app has 1300+ demonstrations and exercise variations performed by the experts. You can set your exercise and track reps, and the app will show your performance. The app offers intuitive tools that can help you perform exercise better.
Some of the tools are interval timer, body measurement system, rest timer, and superset. You can use the customized workout programs based on your workout routine. You can set your goal before starting the journey with JEFIT. Join the community page of the JEFIT app to stay connected with the community members.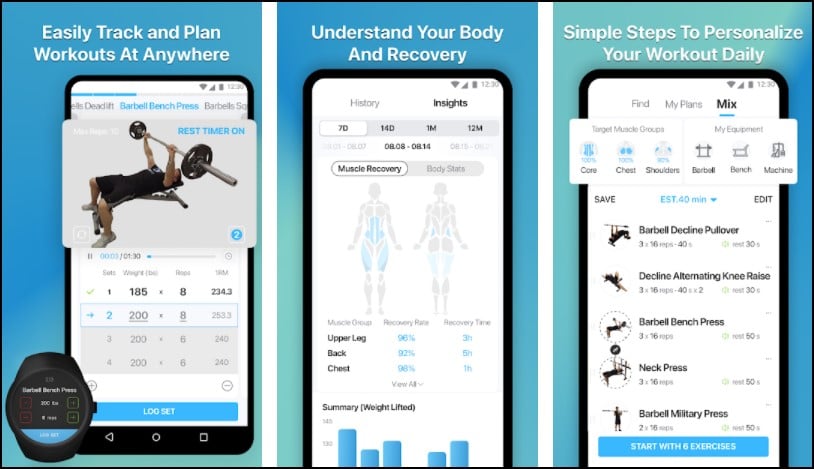 Standout Features:
1300+ demonstrations
Intuitive tools
Customized workout programs
---
Mindbody
Mindbody is a one-stop solution for all of your health-related queries, making it one of the best home workout apps. If you are looking for a proper app for your workout session or searching for the best Yoga studio, install the Mindbody app and say goodbye to all your worries.
You can look for various wellness classes at an affordable rate or book wellness services nearby without going anywhere. Mindbody has collaborated with more than 52,000 business that offers fitness services. You can search for any athletic sport on this app like Cycling, Weightlifting, Yoga, Kickboxing, dancing, etc.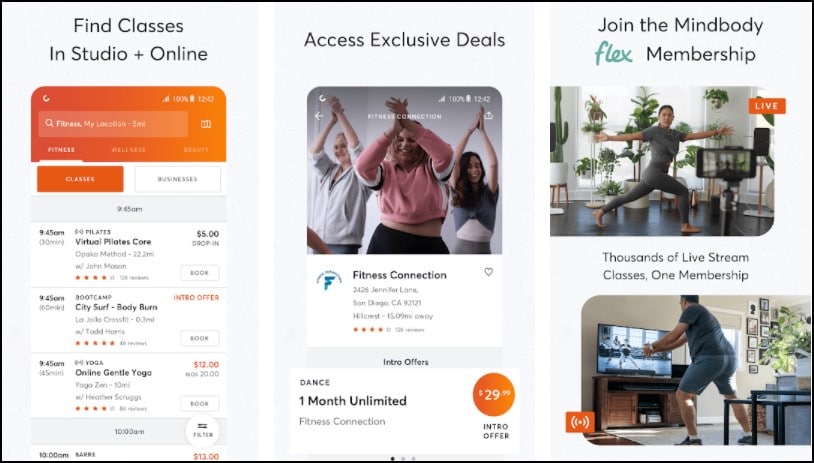 Standout Features:
Book drop-in classes at lower rates
Find local workout classes
One-stop solution
---
Fiit
Access high-quality fitness programs across 60 weekly group classes. You can access strength studio or cardio studio based on your goals. The best part about the app is that it is compatible with 25+ fitness trackers, making it the best home workout app. Different training programs are there for every fitness level individual. It has 2, 4, 6, and 8 weeks training programs that you can choose accordingly.
You can track the live stats of your programs and improve accordingly to reach the top of the leaderboard. The app comes with a 14 day trial period and offers 24/7 customer assistance. Also, it has 600+ workout programs to choose from, making it one of the best home workout apps in the circuit.
Standout Features:
600+ Home workout
60 Weekly group classes
24/7 Assistance
---
Pocket Yoga
Pocket Yoga offers 25+ different sessions with 200+ illustrated pose images, making it the best home workout app. The app also contains a dictionary where you can look for the description of each yoga pose. You can maintain a log of your daily yoga exercise to track your progress.
The app has different yoga levels that will take you to a new environment after each progress. This free and feature-rich app can be your prime choice if you are looking for the best yoga app.
Standout Features:
25+ different sessions
Voice and video instructions
Yoga dictionary
---
Final Words
Time to wrap up our listicle of the best home workout apps. We hope these 12 best home workout apps will help you reach the finishing line or achieve a perfect body shape. Your suggestions are valuable, and we would love to see them in the comment section below.
As for our picks, we recommend Peloton, Adaptive, Sweat, and Asana Rebel to fitness enthusiasts. To achieve a mental and physical balance, Daily Yoga, Fiit, and Pocket Yoga app is the option to go. You can also mention your picks on the list in the comment section below.
General FAQs
What should be the average duration for daily workouts?
Giving 30 to 45 minutes daily to your workout routine would be perfect for you. The duration can vary according to the fitness goals. Heavy weightlifters might spend long hours in the gym while beginners and intermediates will go for a moderate duration.
Is plank a good exercise to reduce waist and belly size?
Yes, doing a plank every day can yield desired results for you. Plank basically targets your abdominal and core muscles that can help you lose weight around your waist and belly.
Which exercises are good to reduce belly fat?
Cardio and aerobics are some of the best exercises to reduce the belly. walking and jogging are the best way to quickly reduce belly fat when done on a regular basis. Yoga is another simple and effective way of burning belly fat. Yoga also improves agility and mental well-being.