Everyone loves having a free meal. This can also be said when downloading a free VPN app. Why should you pay when there are many free & reliable VPNs available? We understand the desire; however, it's essential to exercise some skepticism, too. If your main reason to have a VPN app is simply getting a little bit more protection whenever you use public Wi-Fi once in a while, then you should definitely go with a free VPN app. With more and more users needing to work in a safe environment and be entertained while at home, it's no wonder that free VPN users are increasing in popularity.
This is why we've listed some of the best free VPN apps that you can use right now without any repercussions. These VPN apps are safe and before putting this list we have thoroughly tested every single app.
Excited? So, Let's Get Started.
Advantages of Best Free VPN Apps?
Secure Gateway:– VPN apps direct your search queries via an encrypted server that prevents your real location and information to be accessible by anyone.
Unlock Geo-restricted content:– Streaming services and other websites that are blocked in your region can be easily accessed by using the best VPN app.
Anonymity:– Websites put trackers that sometimes extract undue information from the visitors. A VPN app masks your real location and identity and ensures complete anonymity.
Disadvantages of Best Free VPN Apps?
Accessibility:– The premium VPNs have applications for all platforms, while free VPNs typically do not. Many free VPNs only have apps for desktop and laptop computers. The majority of Android-compatible VPNs I tested had outdated applications, which used up a lot of RAM and slowed my phone considerably.
Limitations:– The safest VPNs for free are the limited versions of premium service. They're designed to give you a trial at no cost and then encourage users to upgrade. This could mean limits on data, speeds, and bandwidth limitations or a time limit of use that is unrestricted.
Security:– Free VPNs do not have the best performance when it comes to safeguarding your personal data. A lot of VPNs use outdated encryption protocols or do not use encryption at all. This means that your personal data is available to cybercriminals.
Best Free VPN Apps For Android
This best free VPN app gives you the most secure VPN proxy services for Android users. It is available for free and has an abundance of international locations, including Singapore, Japan, the United Kingdom, the United States, etc. It doesn't require registration, and you can sign up for the paid version only if you'd like the service with no pressure on your part. The app is compatible with 3G to 5G and Wi-Fi networks, with no limitations on data usage whatsoever.
You'll get lots of features with Top VPN, and there's no doubt that it generated more than 10 million downloads from the Play Store to date. It has an entirely encrypted system to keep all your data safe from hackers and intruders alike.
Related: Best Anime Apps For Android
Standout Features:
Unlimited data usage
Built-in VPN kill switch
No payment details required
Download This Best Free VPN App
---
The next best free VPN app is Proton VPN. The Free version of ProtonVPN does not have any data limitations that are unique among the free VPN providers. Also, it doesn't come with restrictions on speed. That means you can make use of this VPN for as long as you wish for anything you want to do online.
Another benefit of ProtonVPN is that it works effectively across all devices. They're known for their emphasis on privacy and security, which is evident in their free services. If the VPN connection is active and secure, you'll be safe.
Even though ProtonVPN's free edition doesn't come with an upper-speed limit, it is infrequently slow. This is logical, considering the number of users who utilize the Free ProtonVPN servers. Internet speeds may slow down because the servers are unable to manage all the traffic.
Additionally, ProtonVPN doesn't support torrent downloads. It's not possible to download files from torrent websites when connected to a no-cost ProtonVPN server. ProtonVPN's free service will not provide you with access to Netflix — but you'll be more successful in unlocking the foreign Netflix libraries using the ProtonVPN premium server.
You can utilize ProtonVPN for free on just one device at one time. However, since ProtonVPN is a free service, you can theoretically sign up for multiple accounts using separate email addresses. So you can secure each device you own by having one ProtonVPN account.
Related: Best Photoshop App For iPhone
Standout Features:
Unlimited data usage
Fast download speeds
'Always On' feature
Download This Best Free VPN App
---
Hide.me is a complete VPN that offers top-quality security, fast speeds, and bulletproof security features. It surpassed my expectations in all aspects and has an easy-to-use interface for every one of its apps. This best free VPN app is available as both a paid and free service. The tests we conducted revealed that the two versions of Hide.me are pretty quick, with solid security and reliable customer service.
A free variant provides just five VPN servers and restricts the use of VPN to 10GB per month. This amounts to approximately the equivalent of 10 hours of streaming. Although it's not a top VPN for P2P streaming or file-sharing over the internet, Hide.me is still an excellent VPN. It has all the security features required to conceal your IP address and secure your information when using a public network.
Hide.me keeps a record of the connection's data to help troubleshoot issues. This records the random creation of usernames and internally assigned IP addresses. The connection information is deleted every couple of hours. Your location, IP address, and browsing history are not recorded or monitored; this means that your actions cannot be traced back to you.
Related: Best Pedometer Apps For Android
Standout Features:
Really fast same-country speeds
Built-in VPN kill switch
No payment details required
Download This Best Free VPN App
---
Next up we have on our list of best free VPN app is VPN Hub. And yes, the VPN is indeed a result of the pornhub. But don't get fooled by the parent company because VPNhub can offer an extremely safe VPN service that's as welcoming to families as any other service.
The most appealing feature VPNhub provides is the unlimited bandwidth when you sign up for the free plan. And the fact that there are not many VPN providers which offer this kind of feature. There is, however, one caveat: since the free plan can only be utilized on iOS and Android, you'll have access to just one US service.
Since this VPN is still relatively new, it doesn't come with many features, particularly considering its price at the top of the line. If you sign up for the Premium plan, you'll enjoy faster speeds, more excellent connectivity for Windows and Mac and iOS and Android, as well as the ability to connect to more than 48 countries.
Related: Best Free Scanner App
Standout Features:
Provides protection from online malware
It does not store any activities
Encrypt your network connection
Download This Best Free VPN App
---
Hotspot Shield provides 500MB of free data each day. It's enough for browsing, checking your email streaming in high definition for up to 30 minutes. It's not necessary to provide the details of your credit card to sign-up.
This best free VPN app uses 256-bit encryption and adheres to the strict policy of no logs. Free versions are ad-supported and only allow two servers. Through my testing, I noticed that the connections are stable, but they are slow. I had some buffering issues while watching YouTube videos.
Upgrade to the premium service provides unlimited data and more than 1,800 servers spread across 1,800more countries. You can try the premium service on your own with the trial for seven days and a 45-day money-back assurance.
Related: Best Flashcard Apps For Android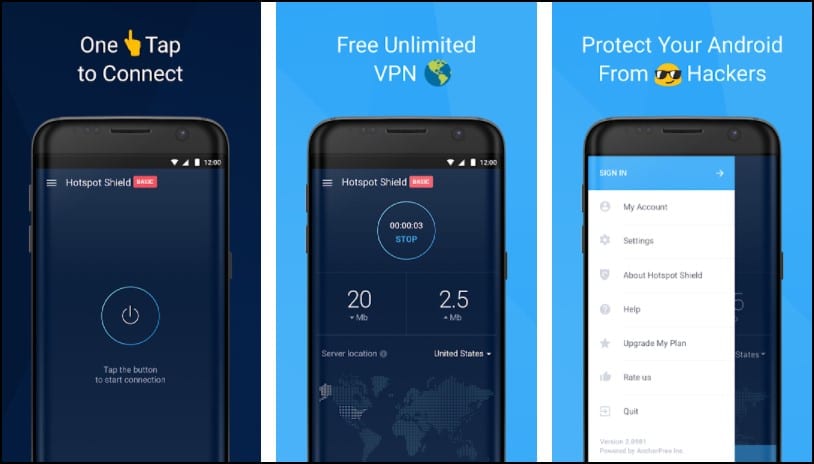 Standout Features:
Free 500 MB per day basic plan
Torrenting is supported
Encrypt your network connection
Download This Best Free VPN App
---
Windscribe gives you 10GB of data for free per month. It's enough for 20 minutes of television per day. You could earn 5GB per month for tweeting about the company. It employs security of military-grade, strict no-logs policies, a built-in advertisement blocker, and malware blocking.
This best free VPN app is light and straightforward to use. Windscribe is compatible with P2P connections and split tunneling; however, the free version isn't able to unblock Netflix.
The service is also limited to 10 servers per location. The upgrade will give you unlimited data and access to servers across 60 countries, which includes streaming-optimized servers. When I was trying out Windscribe, I discovered that my connection speed was unsteady. Also, sometimes the free servers can get overloaded, which will eventually slow down the connection.
Related: Best Fasting Apps For Android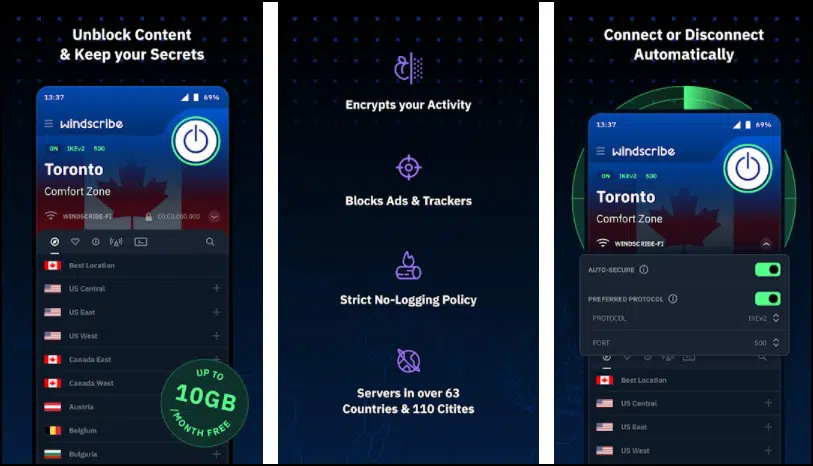 Standout Features:
Fast same-country speeds
Unblocks 10 Netflix regions
No credit card/payment details required
Unlimited simultaneous connections
Download This Best Free VPN App
---
We love Avira Phantom's low log policy, which means that none of your online activity is tied to your particular Android device. The thing we like, however, is the wide selection of servers. The presence of 52 servers in 38 countries distributed across the globe is an excellent choice for a no-cost Android VPN.
We were able to deblock US Netflix in various US servers that are even more impressive. The most significant issue is Phantom's limiting 1GB monthly limit on data, limiting the amount of data you can access online. It's initially 500MB; however, once you sign up for your account, the limit increases too.
There's no VPN kill button on Avira's free Android application, but we appreciate that it uses a highly secure VPN connections protocol. Avira Phantom will perform what you need if it's an Android user searching for a free basic VPN service that you can occasionally use. With the data limit, you'll need to track how often you utilize it, however.
Related: Best Meal Planning Apps
Standout Features:
Beginner-friendly Android app
52 server locations in 38 countries
No payment details on signup
Download This Best Free VPN App
---
Final Words
So, these were some of the best free VPN apps you can try right now, all these apps are thoroughly tested in terms of performance and safety and if you don't want to spend your hard-earned money on a premium VPN then these best free VPN apps will get the job done.
Thank you for reading! Try these out too:
General FAQs
Are Free VPNs for Android Safe?
Millions of users use VPNs that are potentially dangerous as well as Android could be the one with the riskiest free VPNs. In reality, you shouldn't trust the majority of VPNs that are free VPN providers with the security of your private details.
Can I Use a Paid VPN for Free?
If you'd like to utilize an expensive VPN service for your Android device, There are several options to get this done without paying a dime.
Additionally, you can take advantage of the money-back guarantee that risk-free premium VPNs provide. You can utilize them without limitations for up to 45 days, and after that, you can get your refund.
How a Free VPNs Work on Android?
A free VPN is precisely the same on Android like it does for any other operating system. Instead of your web traffic being directed to a site via your ISP instead, it will be sent via an encrypted VPN server first before moving onto the destination site.
Free Android VPNs to Avoid
Thunder VPN
Snap VPN
Turbo VPN
Yoga VPN
Hola VPN