Healthy weight is a crucial aspect of healthy living. What you eat and how much you consume are essential in maintaining an ideal body weight. In the age of advanced technology, that has simplified our lives and helped us take good health care. Best weight loss apps aid users in making more informed decisions by highlighting areas they could improve, like drinking more water and limiting late-night snacking, or simply taking more steps throughout the day.
To make your diet perfect, it is necessary to know the number of nutrients you consume each day. With the help of these apps, you can monitor your progress from calories to workouts. Users can track their progress that can motivate them and hold them accountable. That's why we have shortlisted some of the best weight loss apps for Android that you should definitely give a try.
Excited? So, let's get started.
Benefits Of Best Weight Loss Apps
Virtual Coaches: You get access to a virtual coach with the best weight loss apps. The coach provides you with the best training sessions and tips to quickly burn the fat. You also get access to live instructional videos from the virtual coaches.
Cost-effective: The gym membership costs a lot to the fitness freaks. Whereas, coaching apps are less costly as compared to physical gyms. You can take premium quarterly, half-yearly, and yearly flexible subscription plans.
Best Weight Loss Apps For Android
---
Noom App
Noom is a head-to-tail a best weight loss app that assists you in setting goals and monitoring your improvement. It has three primary features: It helps you in creating a goal for weight loss and monitoring your progress; it monitors your food intake to stay accountable, and it tracks your exercise and even your out-and-about activities to help you make better decisions. One of the most popular applications for losing weight Noom's foundation is the science behind changing behavior to assist you in achieving lasting lifestyle changes that don't just a quick fix.
Noom differs from other weight loss and diet applications by taking a look at a user's diet and limiting their intake. Instead, it looks at the entire person's daily life and weighs factors such as height, age, weight, activity level and targets, history of medicine, and more. After that, in collaboration with a nutritionist and health expert, it outlines how they can achieve their objectives.
This best weight loss app is explicitly designed for Noom users, it doesn't just advise what foods to eat but also promotes physical activity and promotes healthy lifestyles. The aim is to provide users with the tools needed to gradually change their lifestyle, making tiny changes that can be maintained for a long time. This will result in better overall health and fitness and makes it a healthier choice for those who want to shed weight sustainably and healthily.
The Noom app has features that you'd expect, like the ability to keep track of food, calories tracker, and activity monitor. Each tool plays a vital role in aiding the app's health plan. The devices also provide incentives to users to get more active, however, in a more aware manner that considers the caloric intake and fitness levels and various other factors.
Related: Best SlideShow Apps For Android
Standout Features:
Limit the intake
Provide incentives
---
MyFitnessPal
MyFitnessPal is a hub in the sense of healthcare. It's compatible with tons of apps available and is here to collect data. It's a calorie-counting application and will assist you in keeping on track with your eating habits. Additionally, it can track your exercise routine to integrate your food along with your exercise routine and get the highest results.
This best weight loss app itself gives you some information as well. It offers more than 350 exercises and will show how to do these exercises. It is possible to set your goals in this app and monitor your progress in the process. There are a lot of recipes you can obtain as well as 150 routines for exercise.
Related: Best Pedometer Apps For Android
Standout Features:
Offers more than 350 exercises
Compatible with more than 50 apps
---
Google Fit
Google Fit is Google's health and fitness application. It's an activity tracker compatible with numerous applications. Google Fit will aggregate the data from different apps and reward you for the job you've done by awarding you with heart points. You'll be able to analyze your exercise routine with ease using this best weight loss app.
The application can be fully integrated to Wear OS wristwatches, which means you can monitor everything on your wrist. Google Fit can function on its own. It will track your steps as well as a variety of other parameters. The interface is clean and neat and is very familiar if you've tried other Google applications recently. In the end, Google Fit is worth having on your phone.
Standout Features:
Activities can be monitored on a wristwatch
Give reward on completing a goal
---
MyNetDiary
Losing weight requires changes to your habits such as diet, and exercise, and this best weight loss app takes the decision-making out of the former. The most powerful and nutritionally focused of the weight loss applications listed here, MyNetDiary tracks your calorie and nutritional intake, as well as your workout, to make sure you're in control throughout your journey.
Diagrams and charts provide powerful motivation by showing the progress you've made. It's also effortless to use. Just scan the bar code on packaged food items or type in the initial letters of a dish's title to search the app's database of 420,000 foods. We highly recommend MyNetDiary to users looking for the best weight loss app.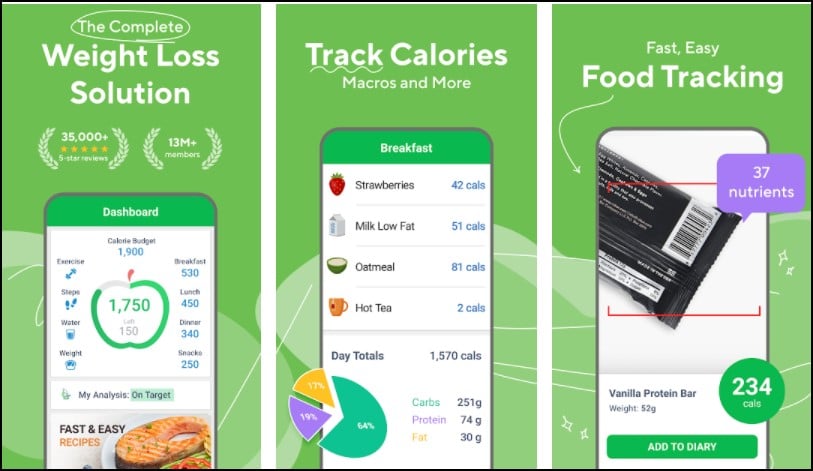 Standout Features:
Progress' diagrams and charts are available
Provides information on food by scanning bar codes
---
WW App
WW (formerly Weight Watchers) has expanded beyond its traditional IRL group structure. This best weight loss app offers a variety of membership options that includes a basic membership, with access to digital content as well as an option that offers virtual workshops and digital access. ICYDK is a WW points method (for instance, tracking calories) to help you monitor your food intake for your day and make healthier choices.
The WW app monitors how many points your meals earn, record exercises and communicate with coaches on a 24/7 basis, and connect with the community online. (And it's not just a coincidence that Oprah, as well as Kate Hudson, love it, this app for weight loss could be worth trying!). With so much to offer, it is evident that the WW app can easily be one of the best apps.
Related: Best Invoice Apps For Android
Standout Features:
Offers personal coaching option
Provides access to digital information
---
Fooducate
Fooducate helps you keep an eye on the quality of your food exceptionally. It lets you scan the barcode of the food you're eating to find details about that food's nutritional content. It then assigns the food a grade-based score that can help you understand its healthiness, making it the best weight loss app. Alongside a grade, the app will break down macros of your food and other nutritional details about the ingredients it contains, like whether it's prepared with additional sugar, MSG, and other substances.
You can use this app to discover recipes, as well as alternative healthy options for food. The app makes it easy for you by allowing you to keep track of your mood, sleep, and appetite levels. It's free to download; however, it does require in-app purchases.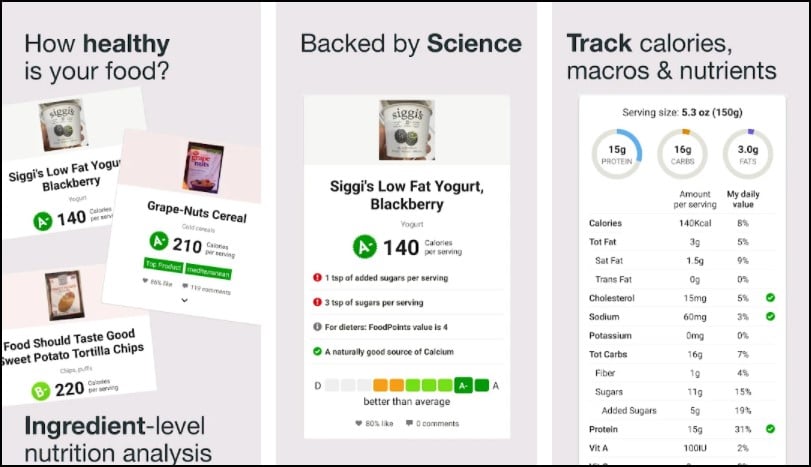 Standout Features:
Provides macros details of food
Provides information on food by scanning bar codes
---
Cronometer
The times of keeping a journal to record your 'crushes' are likely to be long gone, and your time writing down what you eat and when you eat it shouldn't be, especially if you're hoping to lose a few pounds. This is because food journals can help keep you more accountable and allow you to see your eating habits, ultimately encouraging you to make healthier decisions about food choices, suggests Price.
That's precisely why we recommend Cronometer, a food log application with a vast information database on nutrition as well as A+ quality graphics to make it easier for you to comprehend all the information provided. In contrast to the other available food journaling apps, the one we recommend is unique due to its broad scope of application. It's not only a resource for information about macros and calories. However, it also offers the breakdown of minerals and vitamins, which can be beneficial for weight loss and identifying what nutrients your diet may require, Price says.
Related: Best Hotel Apps For Android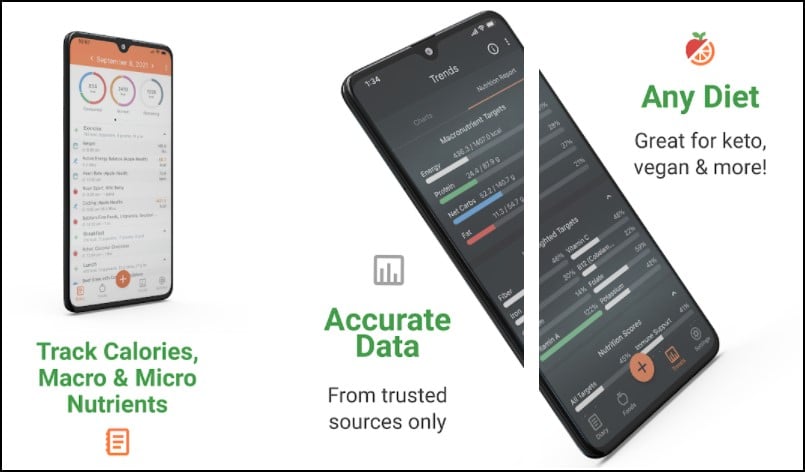 Standout Features:
A+ Quality graphics
It offers the breakdown of minerals and vitamins
---
Spartan Home Workouts
Spartan Home Workouts is designed with a method that doesn't require any equipment at all. The workouts are designed so that you can do them at your own home. This application focuses on high-intensity (HIIT) exercises to achieve the most rapid results you can get. It'll push you to the limit, but you can customize your workout and relax if you'd like.
The app includes its own AI personal trainer to help you and offer you customized training programs. As you move through various fitness levels and earn badges, you'll be able to earn them. It is also possible to communicate with the members of the community to enhance your exercise routine. This best weight loss app comes with amazing offers and a beautiful user interface.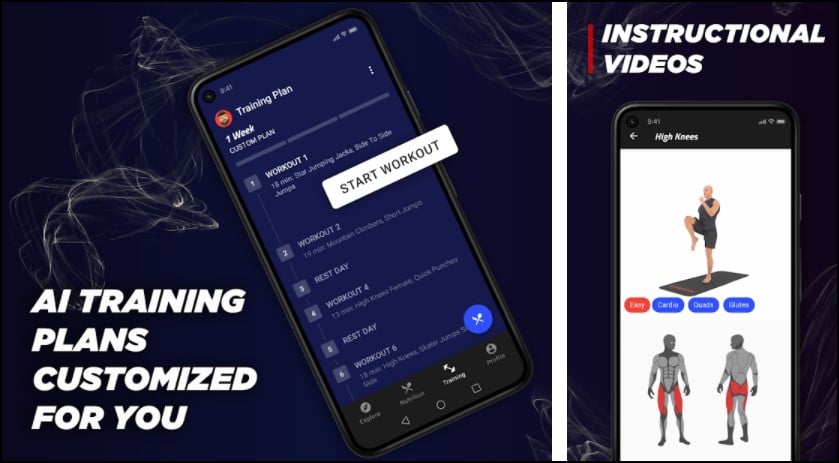 Standout Features:
Equipment-free exercises
Offers AI personal trainer
---
Lose it!
Everyone requires a different amount of calories to maintain their weight based on various aspects like age, gender, and physical exercise. A woman's needs range between 1,600 and 2400 calories a day, as per the US Department of Agriculture's guidelines for diet. To shed weight, it is necessary to reduce the calories. Cutting out 250-500 calories per day can result in a slight weight reduction.
This best weight loss app can calculate calories for you. Enter the food you've eaten (or you plan to consume), then let it handle all calculations for you. If you are looking for an app that allows you to establish a goal, monitor your daily exercise and food intake, and connect with other fitness apps for more comprehensive data.
Related: Personal Finance Apps
Standout Features:
Calculate calories
Allows establishing goals
---
My Diet Coach
My Diet Coach is an appealing design app that will keep you on track through your weight loss journey. It has a miniature avatar that shows you both your weight and your ideal weight to help you envision the place you'd like to be. Like most weight loss apps, this one lets you monitor your diet and exercise routine; however, this one provides other challenges, such as pledging to take more fluids, do more exercise, and be a reward for each craving you manage to get rid of. It also allows you to pay $5 to get extra features.
Related: Best Reminder Apps For Android
Standout Features:
Give rewards
Provides other challenges
---
Final Words
These were some of the best weight loss apps you can install to achieve your fitness goals. My Fitness Pal, Noom app, and My Net Diary are our picks on the list we recommend to the users. If you are a beginner, then Fooducate and Lose It will be some ideal apps to try your hands on. You can Hit a like and comment if you liked our content, or drop your valuable suggestions.
Thank you for reading! Try these out too:
General FAQS
Is walking better or jogging for losing weight?
Walking and jogging both have their benefits. If your aim is to lose weight, then we would suggest you jogging. It can burn twice the calories as compared to running.
Do weight loss apps really work?
Researches do suggest that weight loss apps improve the lifestyles of people across the world. Millions of people across the globe are using weight loss apps to meet their health goals.