You need the Best Productivity Apps For Android for streamlining your business processes. Communication, documentation, and time management are the 3 essential areas where these applications must be leveraged for maximum productivity.
However, there are umpteen applications available in the market. To de-clutter your search, we've listed some of the Best Productivity Apps For Android that you must try in 2021.
Why do we need Productivity Apps?
We all face issues in the proper management of time and are unable to complete our tasks within the deadline. To become productive, we need some apps and tools that can effectively and efficiently manage our tasks. Now Productivity apps are simple tools which let you track all your tasks and project regularly so that you can easily complete the tasks within the given deadline.
Now there are productivity apps that you might find on various platforms that can work as your assistant. Productivity apps perform all kinds of functions which will fulfill all your needs. 
---
Tide

– Best Productivity Apps 2021
Focus and Sleep are the two important things we need to have to get the best out of us. But often we lack these two things which ruin our whole day. Tide will help you to manage both sleep and focus simultaneously to keep you in sync throughout the day. The app has a minimal interface and will keep you away from unnecessary distractions during your work.
For those who lack focus and are not able to work to their full potential, the app has a Focus timer feature where you can track the duration you have focused continuously. For the insomniac, the app has a Sleep and Nap feature along with a relaxed breathing guide that will help you to cope with your sleep disorders.
Related: Best Smartwatch Apps
Download This Best Productivity Apps
---
Secure clips will take care of your privacy. If you are a guy who has tons of private and confidential stuff and worries about its leakage, then you must try secure clips. It is a private clipboard where you can keep your notes that can't be accessed by other apps.
All you have to do is copy to this app specifically through the Android share menu, and you'll no longer have to worry about apps potentially spying on your clipboard. This is a paid app where you need to pay around $2.5 to avail of its features.
Download This Best Productivity Apps
---
Related: Best Apps For Secret Texting
SlideScan

– Productivity App For Android
SlideScan can be a useful app for professionals who want to convert their slides into digital form. All you need to do is to take photos of your slides and you are good to go.
The app is free and you do not need to buy something to use the basic features of the app. The app is easy to use and you can convert images into digital form without any difficulty.
Download This Best Productivity Apps
---
Worried about what's your children are browsing on the internet? want a tool that can help you keep track of your child's online activity? Microsoft Family has all the answers for you. It is an app that limits the usage of Microsoft products to an extent and gives you insights about your children's usage. The app is free and contains some ads.
So if you'd like to create safe spaces for your kids while they are online by dictating with an iron fist exactly what they are allowed to see and not see, then Microsoft Family Safety is the app you're looking for.
Download This Best Productivity Apps
---
TwoBird

– Best Productivity App
TwoBird can be a fresh approach to the old school Email app. Apart from sending Emails, this app helps you manage all your important stuff in one place. You can create notes, set reminders, schedule an appointment, and collaborate on your project with friends and colleagues.
The standout feature of the app is that you can delete the spam and unnecessary emails at one go, which makes you Email managing experience easy and time-saving. The app is compatible with all the Android devices and other windows devices.
Download This Best Productivity Apps
---
To be a social media influencer you need some good managing skills to manage all your content on your social media accounts and at the same time need to stay interactive with your followers. This is easy for celebrities they have PR manager that manages all this stuff.
You can also heir a virtual social media manager, that will help you in managing all the stuff of your social media handles. Buffer helps you to schedule and track the performance of your content across all your social media handles. You will get frequent insights about your posts with the help of easy to read analytics and then, can plan and post accordingly.
Download This Best Productivity Apps
---
This is one of the best educational apps out there. The app helps you to solve problems of mathematics from every field like Algebra, statistics, calculus, trigonometry, and many more. Especially in this time of lockdown, the app will help the students to solve their queries within seconds.
Now you might be thinking Microsoft Math Solver will have complexities in its interface. If you are thinking this than you are totally wrong. All you need to do is that you have to put your problem's equation in the app and within a blink of an eye the app will solve the equation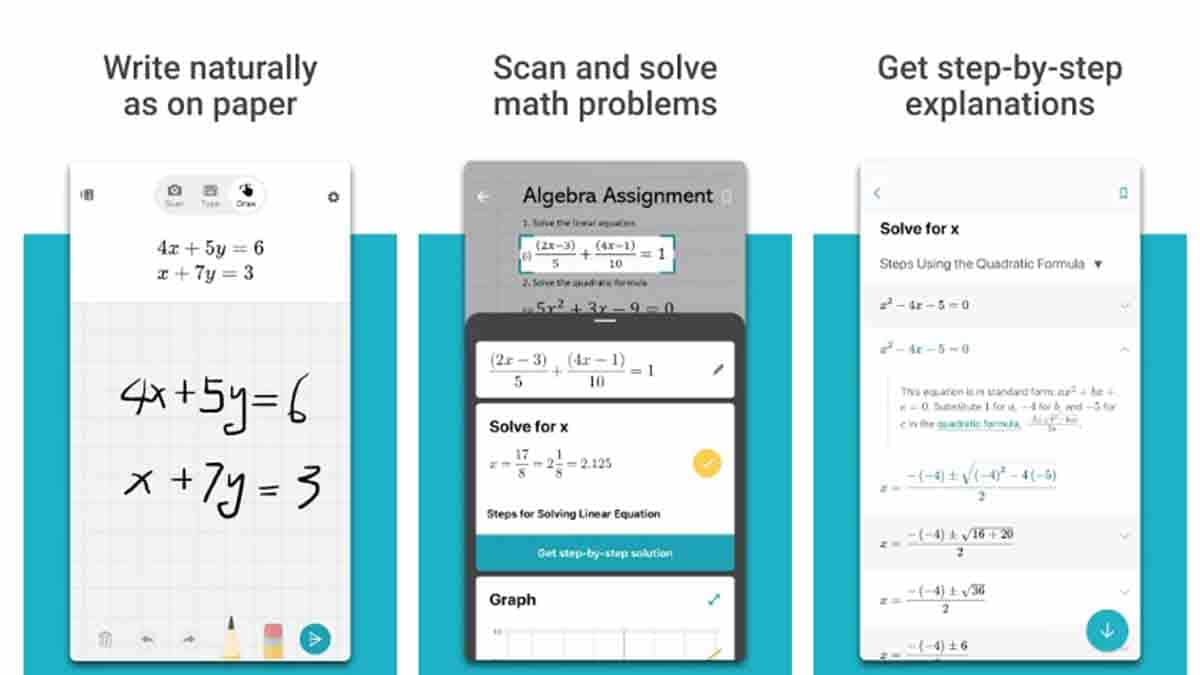 Download This Best Productivity Apps
---
Bundled Notes

– Best App For Productivity
Bundled notes is a task managing app for the office guys. The app lets you make your to-do list and track them. The app will help you to complete your tasks within the deadline. The app can prove to be very useful with its simple theme and other organization options of your tasks which it provides. The app till now lacks sync option which is one of the limitations of the app, but we can expect improvement in the coming times.
Related: Best Vocabulary Apps
Download This Best Productivity Apps
---
Trello

– Best Productivity Tracker App
Trello is a free project management application based on Kanban's philosophy. Kanban's method is breaking a project into tasks and categorize these tasks into 3 parts: 1. What has been done? 2. What is being currently done? 3. What is to be done? Therefore, Trello breaks a project into small tasks.
A user creates a "card" for each task that they can arrange into columns, renaming them to represent project phases. Each column can be arranged and moved as the project progresses. For the starters, let's suppose, there is a company that produces notebooks and it has to deliver them on a certain date.
The manager can create a Trello board with the following columns: "Binding", "Covering", "Designing", and "Delivering". Whenever a notebook undergoes the whole process, the manager can move its serial number and then move it to "delivered" section once completed.
Even though the free version of Trello makes it a strong candidate of the best productivity apps Android, you can also explore its premium version starting at $9.99/month.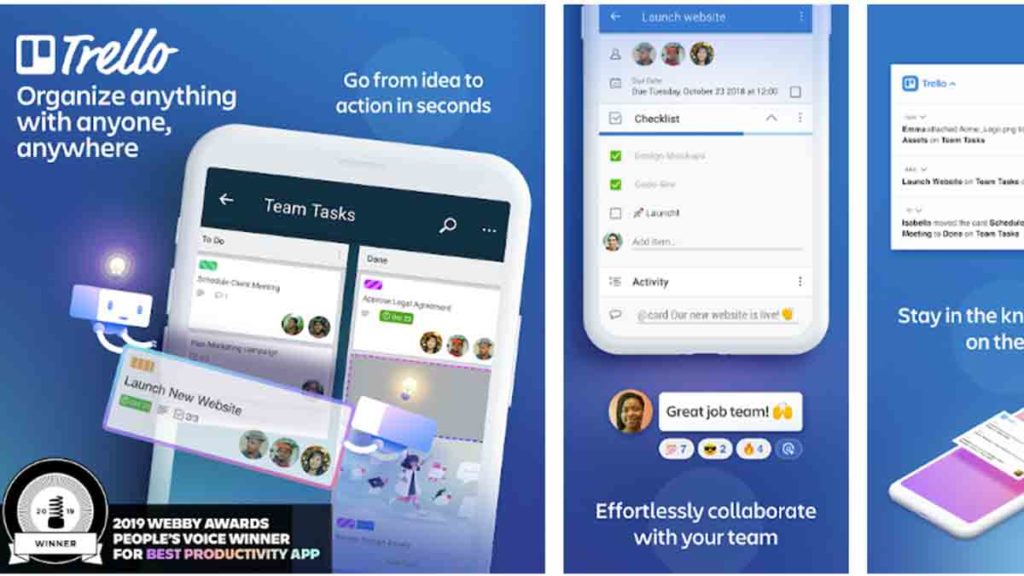 Download This Best Productivity Apps
---
ProofHub

– Work Productivity App
ProofHub is a boon for corporate people and can act as a personal assistant for Team leaders and managers. The app is a multi-tasker that will arrange a project and team meeting for you alongside team collaboration.
ProofHub is a very effective communication tool where you can easily collaborate with your team members and assign each of them the specific tasks that they need to perform. Task assigning will lead to clarity in aim and ultimately your team will become productive and achieve their goals on time. the app profoundly organizes all your tasks and track them regularly.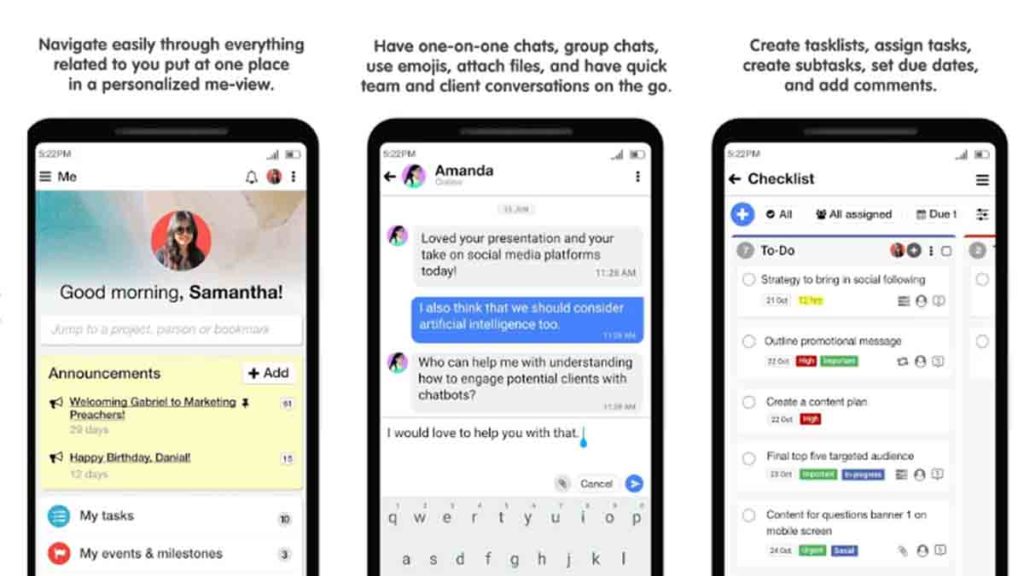 Download This Best Productivity Apps
---
You might be aware of some of the apps which will help you to get off your addiction and activities which are non-productive and you are wasting your time on such addictions. But the Loop habit tracker comes with an optimistic approach to make you more productive.
This app highlights your good habits and encourages you to perform those tasks which makes you feel happy and satisfied. Performing good habits will make you forget about your addictions and you will become more productive than before. The optimistic nature of this app has landed it on our list of best productivity apps for Android.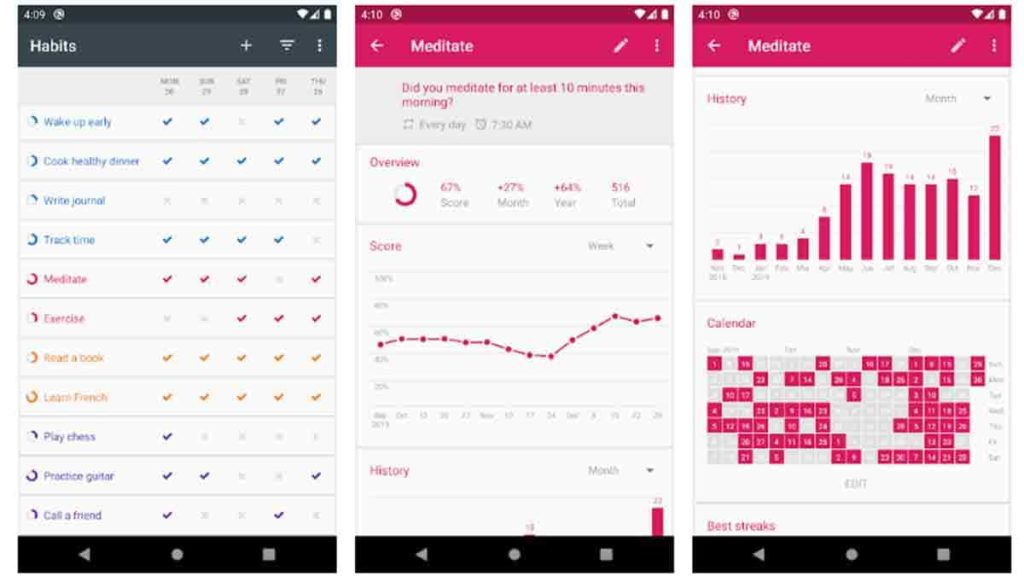 Download This Best Productivity Apps
---
TickTick

– Best Productivity Apps 2021
TickTick is a complete task manager that organizes all your tasks in a clutter that can be easily tracked. The app allows you to add your tasks, set priorities so that you are never late to complete your task, and set the deadlines to complete your task and review them before the submission date.
Further, you can categorize your tasks into smaller sub-task so that you are performing one task at a time and are not confused or diverted in different tasks. The app has a very interactive user which makes it one of the best productivity apps.
Related: Best Journal Apps For Android
Download This Best Productivity Apps
---
Wunderlis

t – Focus Productivity App
Wunderlist is a free task management application based on the cloud. You can use Wunderlist to create a comprehensive to-do list—whether it be for shopping or a project—and track its progress by adding due dates.
If you're working in a collaborative environment, you can delegate these tasks. There is an option to add the name of the individual you've assigned the task to. For clear communication, the comment section allows you to add a comment directly on the GUI. These comments can be edited and curated by the administrator.
Wunderlist is supported on the computer, smartphone, tablet, and even a smartwatch. You can create to-do lists right from a web browser and categorize them into folders, giving them relevant names. Therefore, despite being one of the best productivity apps for android, it also is a perfect choice for your company's management department.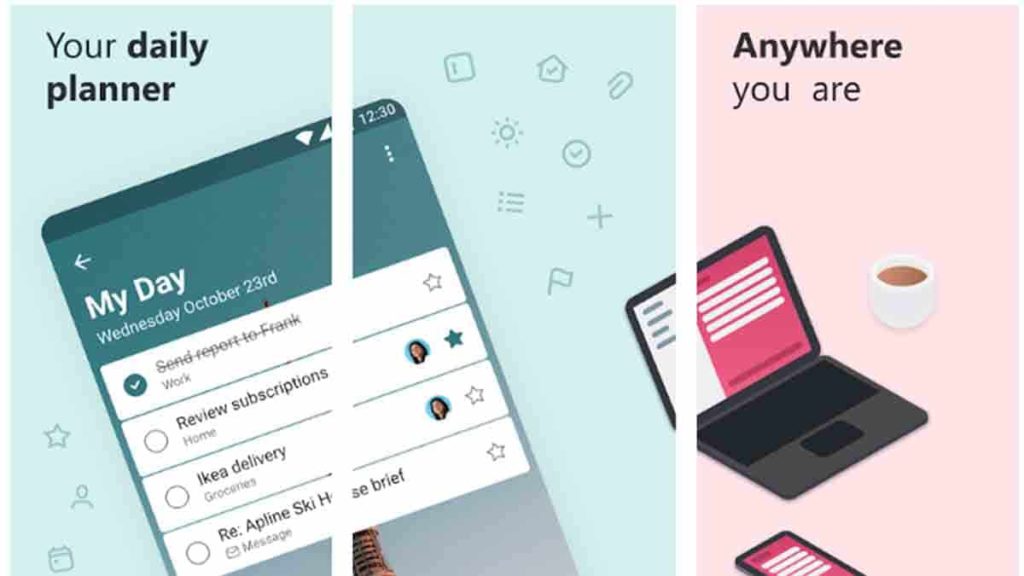 Download This Best Productivity Apps
---
Otter Voice Notes is another note-taking application, but it completely relies on voice communication. It allows you to record meetings, speeches, and ideas with 10 hours of free recording on a monthly basis. Ensuring full-time availability, it allows you to export voice notes to a text file.
You can also bookmark important points in a voice note so that you don't have to listen to the whole audio repeatedly. In fact, you can also add images with the audio that will help you recall things more effectively.
Otter Voice Notes uses your smartphone's in-built mic and Bluetooth to record articulate voice notes. You can create a desktop shortcut and start recording right from the home screen with a single click. If 10 hours are insufficient, you can subscribe to the premium version at $9.99/month and enjoy up to 100 hours per month. It is one of the best productivity apps android if your organization relies on audio communication.
Related: Best Ridesharing Apps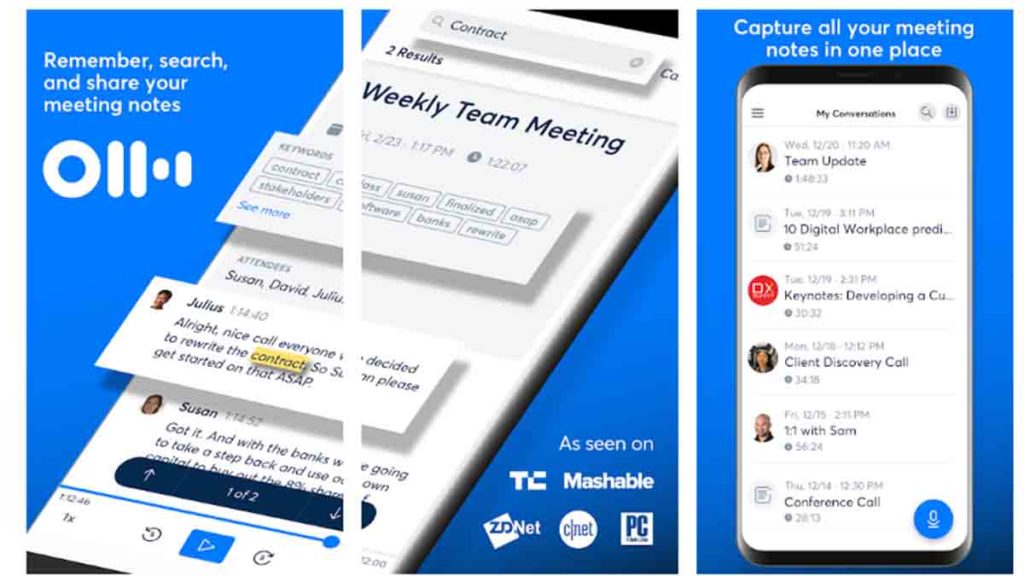 Download This Best Productivity Apps
---
Focus To-D0

– Best Android Productivity App
Focus To-Do app is for those users who are very time conscious and want to track their progression daily. The app perfectly plans and manages your day by organizing tasks of your day and frequently tracking them.
The app can also act as a performance tracker as you can track your daily progression collectively at the end of the week or end of the month. The app also lets you bifurcate your tasks into smaller ones so that your goals are easily achieved.
Download This Best Productivity Apps
---
SleepTown

– Best Productivity Apps 2021
SleepTown is one of the most needed productivity apps of this age and time. We all are addicted and stuck on our smartphones during our vacant time and we seldom do not relax our body and mind from daily stress. SleePTown will challenge you to improve your sleeping cycle and will make sure that your smartphones are out of your hands in your sleeping period.
The app challenges you in a very interesting manner by constructing buildings while you are lying on your bed and taking a nap. The less you use your smartphone, the more you sleep and your building gets bigger and better and ultimately turned into a town. This best productivity app for Android is highly recommended as we all are facing sleeping disorders which spoils our day and diminishes our productivity.
Download This Best Productivity Apps
---
TripIt

 – Best Productivity App
The next app on our list of best productivity apps is TripIt. This app can be useful for travel freaks and corporates who seldom have to travel for business meetings. Traveling in itself is a very hectic thing to do and sometimes it can get very irritating to manage your travel plans. TripIt will manage all your travel plans and keeps you updated about the status of your flights.
All you need to do is to sync your email ID with this app and it will automatically send you updates about the confirmation, cancellation, delay, and other important information that is required. The best part about this app is that it provides you detailed maps of the airport which you have arrived and get to know you about some of the important information which will be needed while you are boarding.
Related: Best Investment Apps
Download This Best Productivity Apps
---
Insight Timer

– Best Productivity Apps 2021
Insight Timer is my favorite in this list of best productivity apps due to the versatility it offers. The app can be your first choice if you are an early morning bird and want to start your day by meditation. The app has more than 15000 free meditations in different moods, music, and other categories.
Not only that you can also create your meditation moods according to your need. this app will be a perfect kickstart for your day and will keep you energized for the whole day that will improve your productivity.
Download This Best Productivity Apps
---
Toggl

– Best Productivity Tracker App
Toggl is the free time-tracking application available on both smartphone and desktop. If your employees work remotely, Toggl is the best add-on for your company. With a single click, a stopwatch lookalike tracker starts with a title section where the user can describe the task they are performing.
You can also manually add, edit, and delete Toggl entries by adding the start and end time of a project. Toggle also sends you a weekly email with the list of the tasks you performed and the time you spent on them. To ensure you don't forget to stop the tracker, it sends you an email that your tracker is running for more than 10 hours.
For the administrator, it creates a comparative graph of the time spent by team members. It also allows the admin to track the work hours of any registered user with a single click. Toggle also allows you to export the data to a CSV and a PDF file. Toggle is our personal favorite application in the list of best productivity apps android.
Related: Best Keyboard Apps
Download This Best Productivity Apps
---
Duolingo

– Best Productivity App iPhone
Duolingo is a free app to learn a language. It includes a web application, mobile application, and online assessment exam. With over 300 million users, Duolingo offers 85 language courses in 24 languages. It includes languages like French, German, Greek, Latin, Hebrew, etc. Other languages include Arabic, Bengali, Chinese, etc.
Duolingo is a facsimile of a video game for user engagement. A user gets an in-game currency called "lingots" on completing courses that they can spend on unlocking extra features. It includes character customizations and reaching bonus levels. Duolingo has a global leaderboard where you can participate in online competitions and showcase your skills. You can also earn badges by acquiring a specific skill or completing a challenge.
Chosen as the best iPhone app by Apple in the year 2013, Duolingo will add wonders in your list of best productivity apps Android.
Download This Best Productivity Apps
---
Pocket

– Best Productivity Apps 2021
Pocket is a free bookmarking application. It allows you to bookmark websites and their web pages. It also allows you to categories your bookmarks into sections.
Pocket consolidates all your favorite articles that you wish to read and the videos you must watch. The best thing about Pocket that makes it one of the best productivity apps Android is its user-friendly interface. You can add and delete your bookmarks with a single click of a mouse. It is smart enough to track the website you visit more frequently and show it in the top part of the list.
To ensure you don't miss out on important bookmarks, Pocket saves them in a secure repository. It aims to enhance your browsing experience and make you more productive.
Download This Best Productivity Apps
---
Spark

– Best Productivity Apps 2021
You often get annoyed by the unnecessary emails you receive from the unknown sources. Spark will be your perfect choice if you want to block emails from unknown sources which could be spam and can harm your device.
The app can be your perfect management apps as it has reminders, quick replies, and a built-in calendar.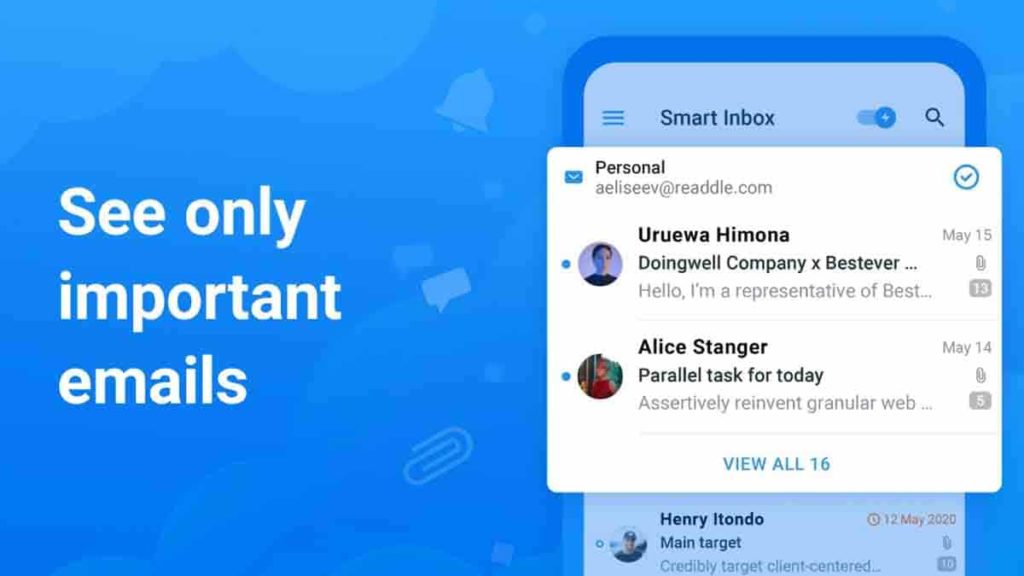 Download This Best Productivity Apps
---
Slack

– Best Productivity Apps 2021
Slack ends our list of best productivity app that is a communication effective app and manages all your communication channels with ease. All your important messages are organized in slack at a location where it can be easily accessed.
You can also create groups in this app and can interact whenever you need it. All your data will be saved and retained in the storage of the app which can be easily accessed at the time of need. Apart from this, the app has voice calls, video calls, and many other important features.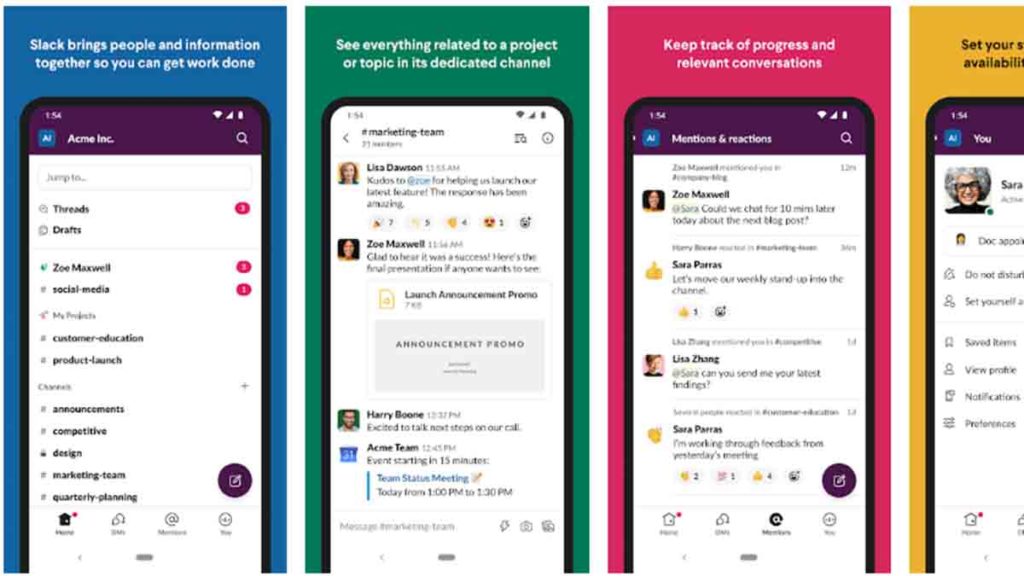 Download This Best Productivity Apps
---
CamScanner

– Best Productivity Apps 2021
As the name suggests, CamScanner is a mobile scanner application. It converts the camera of your phone into a portable scanner. It allows you to smoothly scan any document or image and convert it into PDF or JPG format. To facilitate data integrity, you can directly upload your scanned documents to the cloud. You can also share them with your friends from within the application.
CamScanner also allows you to edit your documents before you save them. It covers cropping, highlighting, contrasting, and adjusting documents. In fact, you can also scan a whiteboard and its smart scanner will read all the information precisely and save your time to a large length.
CamScanner shows advertisements to generate revenue and adds a watermark to the documents you scan/save. If you want to get rid of both advertisements and watermark, you will have to purchase the premium version of CamScanner. It will also scale its features and add things like expanded collaboration, OCR editing, etc.—making it a viable member of best productivity apps Android.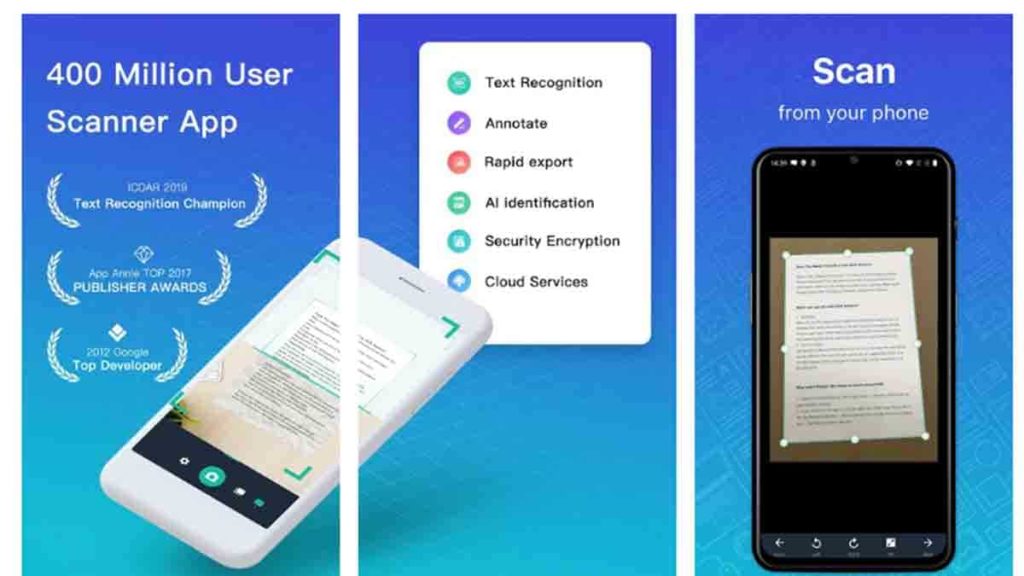 Download This Best Productivity Apps
---
ToDoist

– Best Productivity Tracker App
ToDoist—with a userbase of over 10 million users—is an intelligent to-do listing application. It automates the majority of the manual work. For the starters, you just have to enter your to-do list and ToDoist will analyze and interpret it to categorize the list based on the relevance.
If you make an entry called, "Wish Elina, Happy birthday", and it will set a reminder to send a text message/email to Elina and it will add a task in your relationships section.
Outside the personal use, ToDoist can also help your team streamline its activities. You can use it as a project tracker and delegate roles and evaluate the progress. It will help your team meet deadlines by keeping things transparent.
To use the basic functionality of ToDoist, you can download it for free. To enjoy premium features, you have to pay $36 for a year. Whereas, to delegate it for your entire team, there is a fee of $60/year per user basis.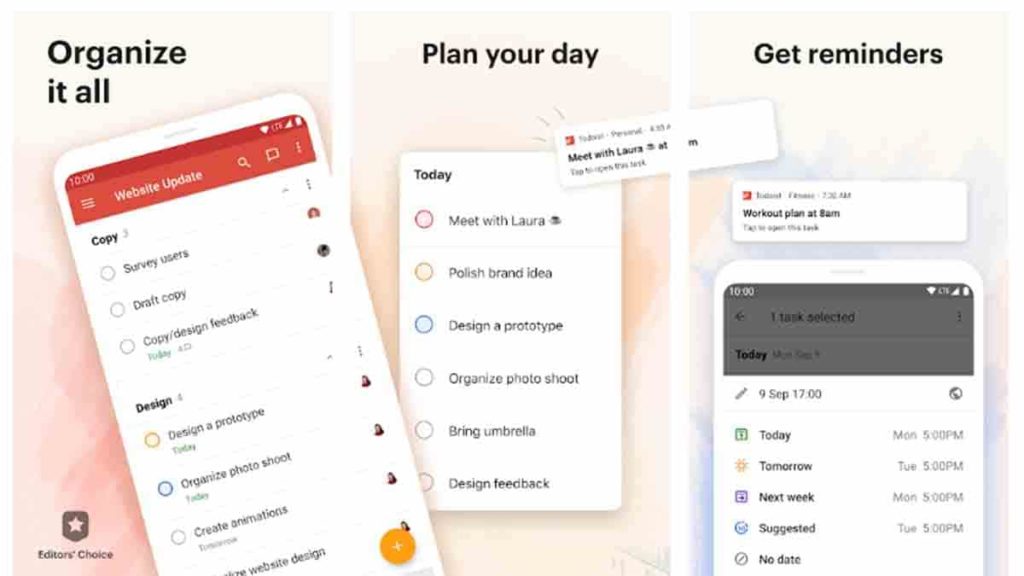 Download This Best Productivity Apps
---
Final Words
If you're struggling to have a productive workflow, these best productivity apps for Android will be a great decision for you and your organization. They cover all the important areas that need to be managed such as communication, documentation, and time management. Be productive.
Thank you for reading! Try these out too: