The guitar is among the most adored instruments of music around the globe. Players such as Jimmy Hendrix, Jimmy Page, and many more have elevated guitar playing to a whole new height and, when we see them performing live, we all would like to play as they do. The best guitar tuner app can do the job for you In terms of playing guitar, all you need is to purchase a guitar, take some learning lessons and, perhaps most importantly, tune your instrument. We've all heard that it's difficult for beginners to tune their guitar through hearing the notes, and to make this easier, smartphones have made our tasks much more accessible.
With the advancement of technology and better microphones built into phones, you can effortlessly adjust your guitar in just a few seconds. With all the top features, UI, and requirements of a guitarist, we have created a list of the best guitar tuning apps for you.
Excited? So, Let's Get Started.
Benefits Of Best Guitar Tuner Apps
Tune your instrument: Not only guitar, but you can also tune various musical instruments to a perfect tune. You can set any guitar to perfect tune with the help of the best guitar tuner apps. Also, you can take assistance from the detailed description or instructional videos to tune your instrument.
Enhance skills: You can learn professional-level guitar playing skills with the best guitar tuner apps. Start from scratch and learn step by step art of tuning and playing guitar via guitar tuner apps.
Best Guitar Tuner Apps
---
GuitarTuna
GuitarTuna is a delightful game of words. With ten million-plus downloads on the play store, it becomes one of the best guitar tuning apps on our list. It comes with elementary steps to tune your guitar. If your strings are loose, they will display (-) negative signs with numbers indicating you need to tight your string and vice versa.
It is compatible with various instruments, like the ukulele, piano, and many more. The app also features auto-tune as well as advanced tuning options and some options for customization. In addition, the app also offers some easy exercises of chords for beginners.
Another fantastic feature is that it has a chord ear trainer, which allows you to hear and answer the chord's name, which no doubt improves your hearing skills. In summary, easy tuning method, tuning number of instruments, games to improve your playing skills, all these features make it the best guitar tuner app.
Related: Best SlideShow Apps For Android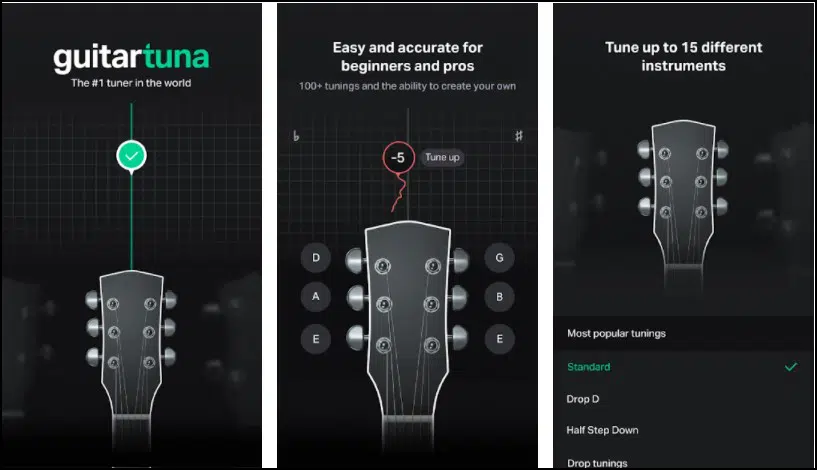 Standout Features:
Compatible with many instruments
Learn chord diagrams
Chord ear trainer
---
Fender Tune
If you're a guitar player, then you must have heard about Fender. It's one of the best guitar companies worldwide, and this time, they have come up with a guitar tuning app known as Fender tune. Talking about the features, it offers four different levels of tuning, i.e., Autotuner, Manual tuner, chromatic tuner, and Pro tuner; also, you'll find videos for tuning your guitar on this app.
In the tools tab, it offers chords with diagrams, scales, which will help you for solos, along with rhythm and metronome. One important feature of this app that makes it one of the best guitar tuner app is that it offers several songs with moving chords diagrams which will help you with progression.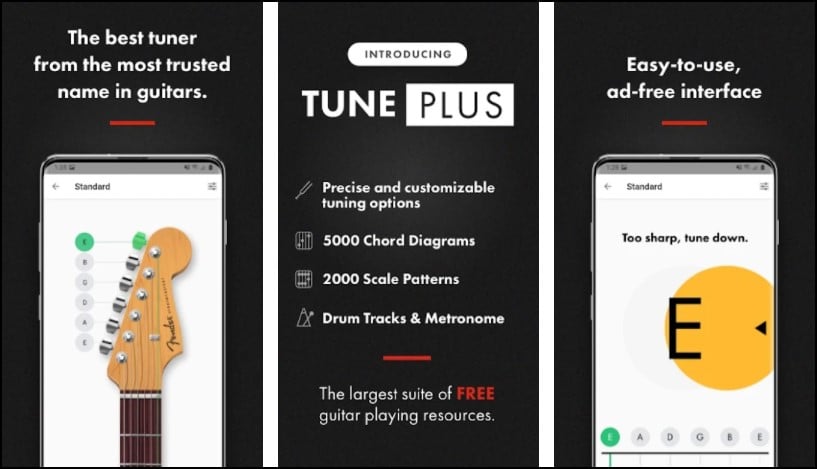 Standout Features:
Different levels of a tuner
Chords, scales, rhythm, and metronome
Playing lessons with moving chords diagram
---
Pano Tuner
Pano Tuner is described as a no-cost application that offers users an easy user experience, making it ideal for novices. It's a chromatic tuner and reasonably accurate in its detection. The interface shows the notes and frequency, which will display if you have to tighten or loosen your strings. Due to its easy-to-use method of operation, Pano Tuner is the most used app by many guitarists. To eliminate the advertisement and to get other tunings, you need to purchase the pro version.
In the end, Pano Tuner is an excellent choice due to its basic approach. There aren't too many options. However, most users appreciate the decision of the developers to make the application simple.
Related: Best Pedometer Apps For Android
Standout Features:
Simple UI
Frequency display
---
Boss Tuner
Boss Tuner is also among the best guitar tuner apps that use chromatic tuning. It has UI of guitar pedal and comes with two different skins, i.e., TU-3 and TU-3W. This app provides visual feedback to tune the guitar. You can adjust the frequency up to 880 Hz.
It is compatible with instruments like a guitar and a ukulele, bass, and many more. What makes it effortless is the automatic tuning fork which is easy to use. In this app, you can tune your instrument in various ways to get the desired sound you want. In the end, to play your instruments like a pro, all you need is a Boss tuner. Do it like a boss.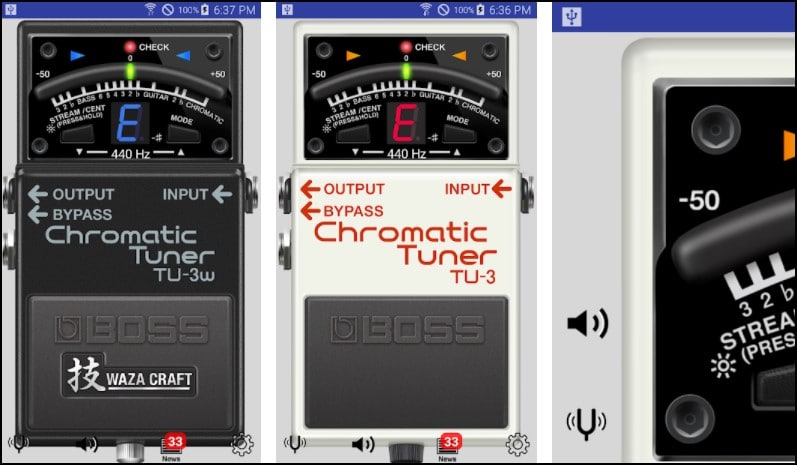 Standout Features:
Different pedal skins
Adjustable frequency and sensitivity
---
Cifra Club Tuner
Cifra club tuner is well-known in the list of best guitar tuner apps. The app is based on chromatic tuning and gives you an option to tune string by string. It has a professional UI where you can change themes, adjust noise filter, and reference pitch, i.e., frequency, but you have to purchase the pro version for some of its features.
One of the good features is that it offers sets of training to learn chords and improve your playing skills. This app is compatible with all the primary instruments like bass guitar, ukulele, and odd things such as the cavaquinho. Additionally, it will instruct you to adjust your strings to achieve the most optimal tuning.
Related: Best Invoice Apps For Android
Standout Features:
Noise filter and themes
Training exercise
---
CarlTune
CarlTune is also a chromatic tuner capable of tuning a variety of instruments. The user interface has a tuner in a dialer style, and along with that, it displays frequency, notes, and a keyboard. You can also change the background theme of your homepage; there is a wide range of colors to choose from. One fantastic feature of this app is that you can change the language of the notes in 7 different languages, including Hindi and French.
So, let's talk about the most crucial feature which makes it one of the best guitar tuner apps. It has an in-built 23 different tunings, including DAD GAD, PAPA PAPA, and many more, which are free. 
Related: Personal Finance Apps
Standout Features:
In-built 23 different tunings
Language option for notation
---
gStrings
The auto mode is employed to play a string and show how off-tune the guitar. Alternatively, the app can play a note to help you to tune by hand. Additionally, the microphone's sensitivity can be altered by using the app to reduce background noise. The app includes built-in temperaments and can be customized to suit your needs.
In contrast to most apps in the list, gStrings can be described as an application exclusively for Android. This app can be used to tune banjo, guitar, ukulele, violin cello, viola, and double bass. Like previous apps, this app also indicates the frequency.
Related: Best Hotel Apps For Android
Standout Features:
Customized themes
Built-in temperaments
---
Final Words
You can choose your favorite guitar tuner app from our listicle of the best guitar tuner apps. These were the 7 best guitar tuner apps which we have compiled for music lovers. Fender Tune, Pano Tuner, and Boss Tuner are some highly recommended and top picks on our list. You can drop your valuable suggestions and help us grow.
Thank you for reading! Try these out too:
General FAQS
Is guitar tuner apps reliable?
Without any plugins, most of the guitar tuner app gives an accuracy of 2-3 cents. To get more accuracy, one can get by connecting an external microphone or soundcard.
Can I use my phone as a guitar tuner?
Yes, high-quality microphones in our smartphones have made the majority of things convenient, including tuning the guitar. Not just guitar, you can also tune Ukulele and bass guitar effortlessly.
Is there a free guitar tuner app?
There are many guitar tuner apps for iOS and Android absolutely for free. Even, majority of apps offer free tuning for several musical instruments like piano, banjo, violin, etc.