Android's Google Play Store and Apple's iOS are certainly up to the mark of today's need of the consumers but it also has some limitations which make way for its alternatives in the market. The secondary app marketplaces which provide a wide variety of choices to download APK files are not available in the play store itself.
That's why in this article we will introduce to you some of the best possible Google Play Store alternatives which you can use in case you are feeling your smartphone is incomplete in spite of the presence of the Google Play Store.
Excited? So, let's get started
Note: Installing Apps from any other source than Google Play Store is Blocked by default. So, you need to separately enable the "Unknown Sources" from each source you are installing the Apps/apk from.
Why Do We Need Google Play Store Alternatives?
Google Play store is undoubtedly the best app downloader platform for Android users. Though it has millions of free and paid apps it still lacks some apps which are demanded by the users. In this scenario, we will need an alternative to Google Play Store from where we can download our favorite apps. So let's get started to know about some of the best Google Play store alternatives which are out there.
We will be discussing some of the best and top-rated sites and Google Play store alternatives that you can avail, of in case you are not able to download any of your favorite apps. It will include all the apps and paid games that you can download from these alternatives.
Best Google Play Store Alternatives
---
Huawei App Gallery
Huawei AppGallery presents a compelling alternative for Android users who seek a smooth app experience without Google's services. Navigating through this store is a breath of fresh air, offering a clutter-free and straightforward interface compared to the Play Store.
Boasting an impressive collection of over 2 million apps, Huawei AppGallery caters to diverse needs, including popular apps and renowned publishers. Its vast user base of over 700 million users speaks to its growing popularity.
One standout feature is the direct app downloads within the store. If the desired app isn't available, worry not! A simple tap on "get" allows users to obtain the linked APK, ensuring a convenient and hassle-free installation process.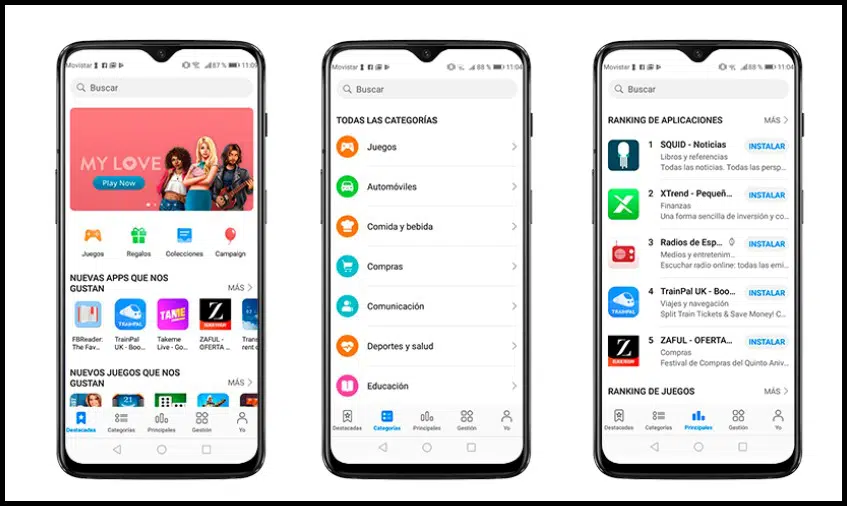 Security is paramount, and Huawei has addressed this concern effectively. The AppGallery comes equipped with robust protection and offers parental controls, ensuring a safe and family-friendly app experience.
Although not without room for improvement, Huawei continues to enhance its app store, making it a noteworthy choice as an alternative to consider. For Android users looking for a reliable option, Huawei AppGallery is a gem to keep in your back pocket.
---
Neo Store
If you're searching for a modern and feature-rich app store, look no further than Neo Store. This app delivers an exceptional experience, catering to every user with its sleek material design. The UX is intelligently crafted, giving users a sense of control and freedom while navigating the app.
Exploring new apps is a breeze with its user-friendly interface, allowing easy browsing and discovery. Finding that hidden gem has never been easier with the app's minimalist approach. Neo Store doesn't just present apps; it offers comprehensive details, the latest apps, and a wide range of built-in repositories. This wealth of information ensures that you stay informed and ahead of the curve in the app world.
The app sorting and filtering system is a true standout feature, rivaling even the Google Play Store. You can effortlessly sort apps from different repositories and categories, a unique capability that sets it apart.
Keeping your apps up to date is crucial for security and functionality, and Neo Store also delivers on this front. With its auto-update feature, you can rest assured that your installed apps remain current and optimized.
---
Uptodown App Store
Uptodown emerges as a refreshing and safe alternative to traditional app marketplaces, which impresses immediately. The best part? No sign-ups or fees are required to enjoy its comprehensive offerings.
The app store's remarkable openness deserves praise. It provides a seamless user experience globally and does not impose any regional or country-specific limitations. Moreover, you can easily access its extensive collection of apps without needing a Google Play account.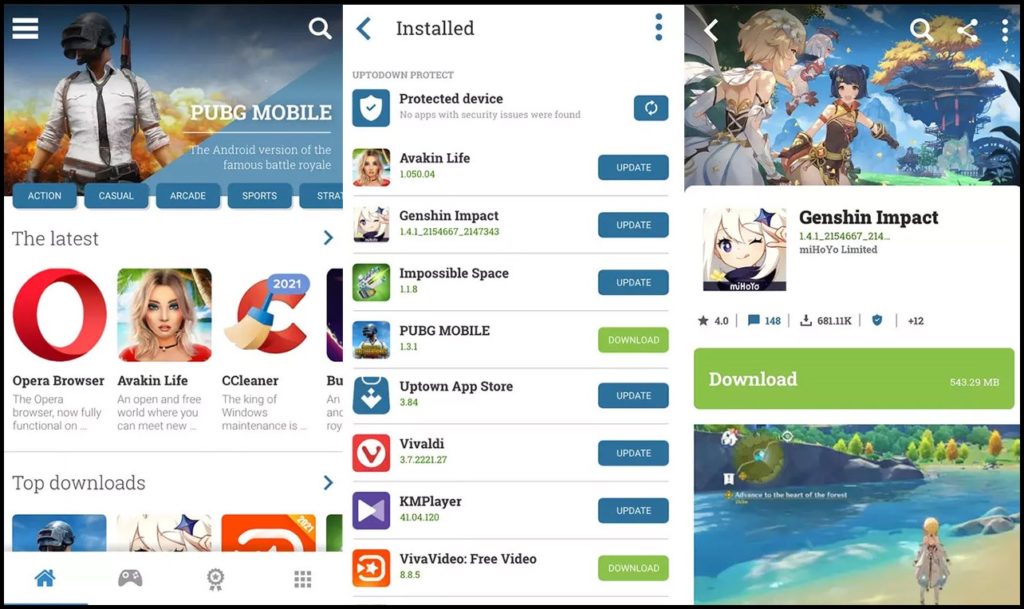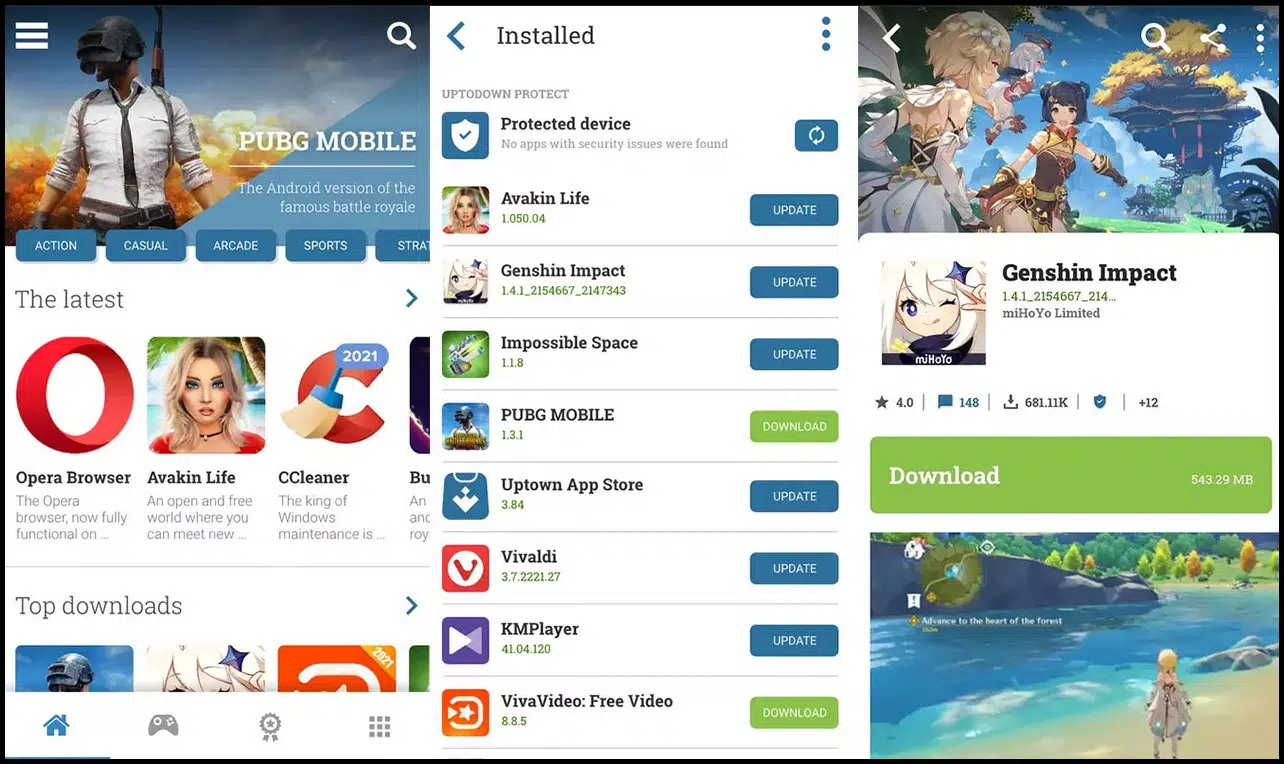 One of the most compelling features is its ability to swiftly deliver apps in APK format without compromising safety. Users can download with confidence, knowing they are protected from potential risks. It also has an auto-update feature and the option to roll back to any previous version, adding a valuable layer of flexibility for users.
With thousands of Android apps in its catalog, Uptodown App Store goes the extra mile by enriching your app discovery experience. Its editorial content, featuring in-house screenshots and videos, is meticulously curated by a team of unbiased writers, putting neutrality at the forefront of its services. So, If you crave a liberated and trustworthy app platform, Uptodown is the answer you've been looking for.
---
TapTap
For avid gamers seeking a fresh and authentic alternative to the Google Play Store, TapTap emerges as a dedicated haven solely for games. Unlike its broader counterpart, it specializes in curating a thrilling collection of games, some of which you won't find anywhere else.
Its exclusivity shines through as it showcases titles that remain unseen on the Play Store but are already available for pre-registration on its platform. This exciting prospect hints at the store's rapid growth, positioning itself as a fierce competitor to Google.
While it offers many titles on the Play Store, it goes further by tailoring game recommendations to individual tastes and preferences. This personalized approach enriches your gaming experience, ensuring you find the hidden gems that resonate with your unique gaming style.
Discovering new games becomes a breeze with TapTap's unwavering focus on gaming. Unlike other app stores where games may get lost amidst various categories, it prioritizes gaming, making it exceptionally easy to stumble upon exciting new releases.
---
F-Droid
F-Droid comes to the rescue for smartphone users searching for thrilling apps that might be missing from mainstream platforms. This exceptional app store houses a treasure trove of open-source apps, allowing one to explore a diverse array of software not readily available on the Google Play Store.
The most gratifying aspect of F-Droid is its unwavering commitment to legality and security. Unlike questionable sources, this app store strictly avoids pirated or cracked software, ensuring your device remains protected from unwanted malicious viruses.
It is undoubtedly a must-try for all app lovers seeking a vast selection of open-source apps beyond the confines of the Play Store. Its versatility in exploring new and innovative software is unparalleled and caters to the tech enthusiast's curiosity and thirst for novel experiences. So, if you yearn for a comprehensive and rich repository of open-source apps, F-Droid is the answer to your quest.
---
APKPure
APKPure has cemented its position as a popular name in the Android community and for good reason. This app has stood the test of time, gaining a massive following due to its exceptional offerings. One of its key strengths lies in providing APK files for nearly all apps on the Google Play Store, making it a go-to hub for Android enthusiasts.
The user interface of APKPure's app repository makes navigation a cakewalk, with its simplicity and intuitive design ensuring a smooth and enjoyable experience for users. Apps are neatly categorized, allowing users to find their desired software effortlessly. Moreover, most apps are free, with a special section offering discounted purchasing options.
Its vast collection of apps extends beyond what's available on the Play Store. With access to thousands of apps removed from the Play Store or those that never made it there for various reasons, users can explore a treasure trove of software not found elsewhere.
One of the most significant advantages for users is the ability to access geo-restricted apps that are not downloadable from the Play Store in certain regions. It breaks down these barriers, empowering users with the freedom to explore a world of apps regardless of their location.
---
IzzyOnDroid
For Android users seeking liberation from Google's grip, IzzyOnDroid emerges as a game-changing app store reminiscent of the F-Droid-style repository. This unique platform presents a wealth of official binaries from original application developers, sourced primarily from their repositories like Github.
In a world where many users strive to minimize their devices' ties to Google, IzzyOnDroid offers fresh air by breaking free from the constraints of Google's Play Store. This freedom to explore alternatives is a significant draw for users who seek greater control over their Android experience.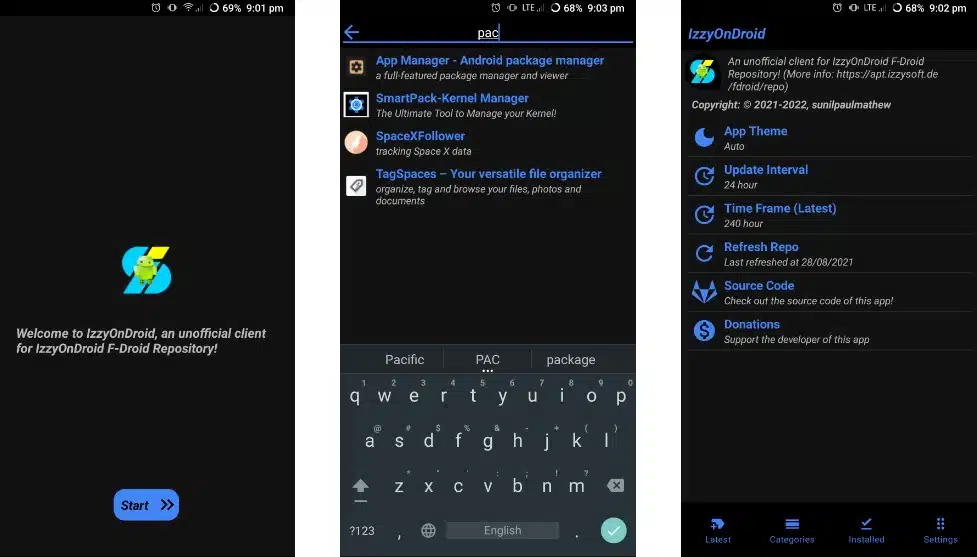 What truly sets it apart is the treasure trove of unleashed and exclusive apps it hosts. These offerings surpass the usual app marketplaces, promising many unique and innovative software choices.
The app's features are designed to enhance user convenience and satisfaction. Navigating the repository with an elegantly designed user interface becomes a delightful experience.
---
Apk Mirror
APKMirror has built a solid reputation as a top-notch alternative to the Google Play Store, gaining the trust of the Android community as a preferred option for app downloads. Though not an app, this website serves as a massive repository of Android apps, offering an extensive selection to users.
One of the standout features of APKMirror is its ability to provide the latest version of an app, even if the official update hasn't reached your region yet. For users who desire to stay abreast of the newest features and improvements, this functionality is immensely valuable.
Moreover, APKMirror is a reliable solution for downloading geo-restricted apps, granting access to software that may not be readily available in specific regions.
What sets APKMirror apart is its exceptional capability to keep track of app versions. If the latest version encounters issues, users can easily revert to a previous version from the same webpage, restoring functionality and stability without hassle.
---
Aptoid
Aptoide, ironically, had once been available on the Google Play Store until 2018, when it faced accusations of being harmful, leading to its removal. However, the truth is that Aptoide is perfectly safe and was targeted due to anti-competitive practices. Today, it stands proudly as one of the most popular independent app stores, providing a liberating experience for users.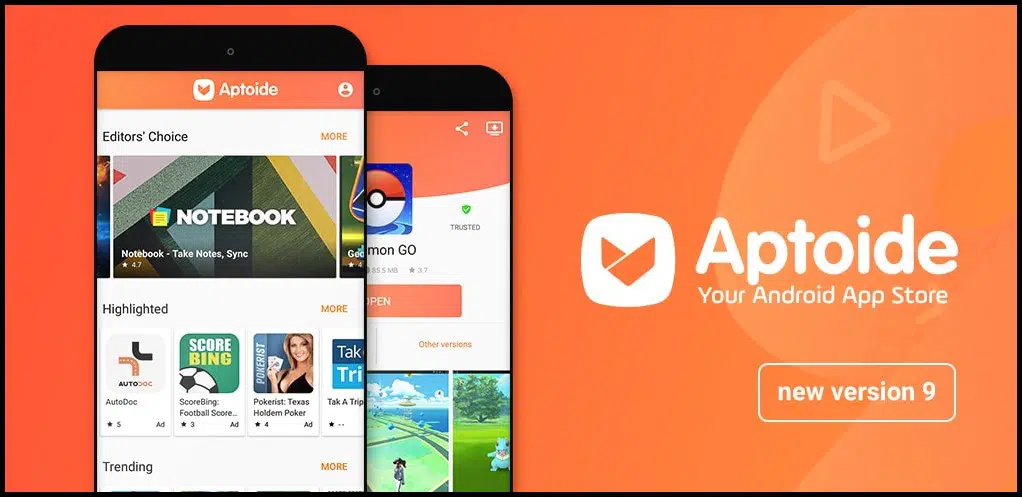 One of the most significant advantages of Aptoide is the freedom it offers. Unlike some platforms that restrict access based on geographic locations, Aptoide allows users to explore an extensive range of apps without limitations. Moreover, it hosts apps you may not find on the Play Store, making it a treasure trove for those seeking unique and diverse software.
Aptoide's user-friendly interface makes app exploration a breeze, empowering developers to upload their titles easily. Although the platform's openness offers many choices, users must exercise caution and discernment while selecting which apps to download.
---
Appvn
In a world of paid apps, finding a platform that offers freebies is a dream for many. Enter Appvn, the ultimate destination for free app enthusiasts, where you can get apps without shelling out a dime.
Originally developed as a Vietnamese application, Appvn has expanded its reach by offering an English version. This expansion opens its doors to a broader audience, catering to the needs and preferences of users worldwide.
Related: Best Live Wallpaper Apps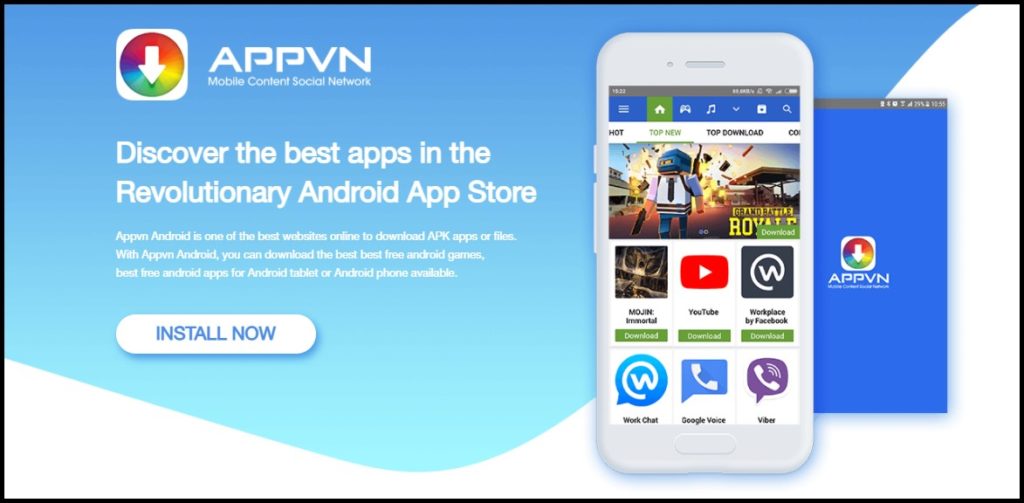 As with any third-party app store, security and protection are valid concerns. However, Appvn strives to ease these worries by updating its app content diligently. With frequent updates, users can rest assured that they can access the latest Android apps, providing instant and real-time information.
---
Amazon AppStore
The Amazon App Store presents a familiar yet distinctive experience, offering a wide range of Android games and apps. To access this treasure trove of digital delights, users must install the APK linked on Amazon and create an Amazon account if they haven't already.
The app store's interface is commendably clean and user-friendly, streamlining the app discovery process. We applaud the Amazon App Store's design for its simplicity and ease of navigation. In contrast to the Play Store, which can be cluttered with repetitive recommendations, Amazon's clean interface allows users to focus on discovering new and exciting apps effortlessly.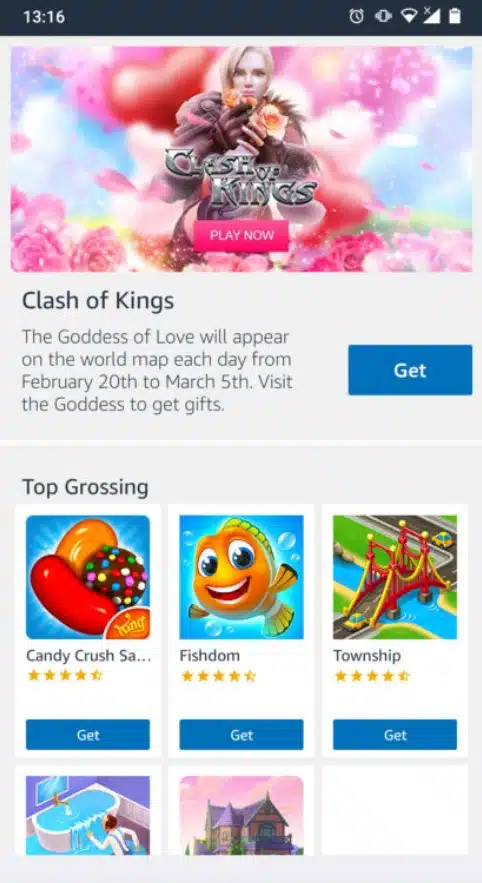 The Amazon App Store is a breath of fresh air for those seeking a refreshing alternative to the Play Store. Its diverse selection of Android games and apps and simple, intuitive interface cater to users looking for a smooth and enjoyable app browsing experience.
---
Aurora Store
Aurora store tops our list of Google play store alternatives. The app comes with a smooth and interactive UI that lets you download all of your favorite apps. The best thing about the Aurora store is that it is not mandatory to use all the Google services. You have the choice to choose which Google services you want to avail yourself of.
Aurora store provides you with a wide variety of apps, games, and other useful tools which you can download with ease. Aurora store also allows to download the of apps that have been, due to some security or other issues have been banned or restricted by Google Play Store. So apart from the common apps which are available on various platforms, you can also download the apps which have been banned.
In this store, apps, games, and tools can be easily updated and installed on your device. The presence of the Aurora App doesn't make you feel the absence of the Google Play store, as it is providing all the features which are required by the users.
Related: Best Android Customization Apps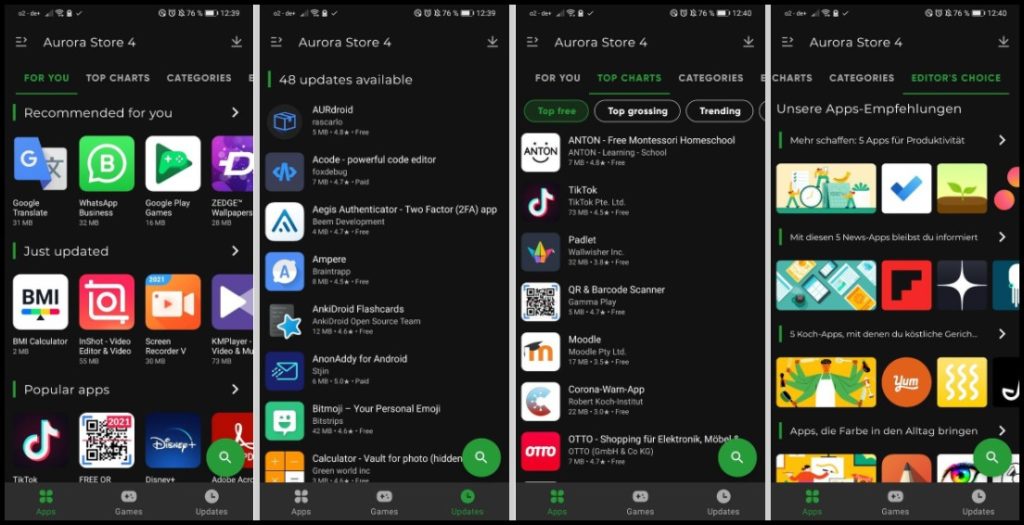 ---
Samsung Galaxy Store
Samsung Galaxy Store is one of the best and most reliable alternatives to the Google Play store. Samsung has developed its own database which is known as Samsung Galaxy apps. The platform provides you with all the best apps, games, and movies which are available for free.
To avail of the Samsung Galaxy app store, you have to create a Samsung account. Samsung also offers a discount to those users who already own a Samsung device which is a perk for the users. Samsung is also planning to develop its own operating system.
Related: Best Icon Pack For Android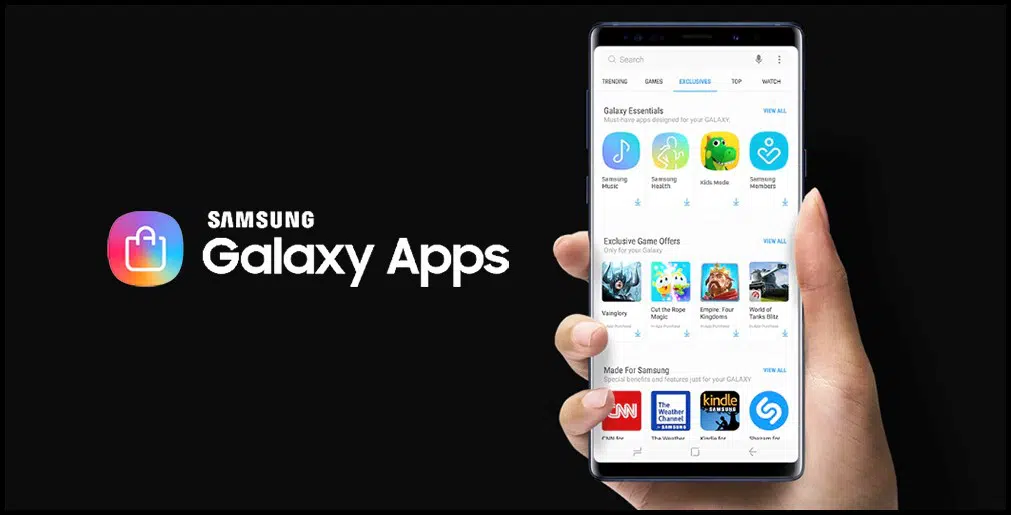 ---
AC Market
AC Market offers you to choose from a wide range of categories ranging from apps, movies, and games. This alternative has a minimal UI which makes it easier for the user to avail. You can avail of this alternative by visiting at ACMarket.Mobi.
You might face problems while accessing this alternative as it has so many apps that can spoil your experience. It is recommended that you should use an ad blocker to improve your experience.
Related: Best Android Launcher
Download Best Google Play Store Alternatives
---
9Apps
9Apps is one of the common alternatives which most users are aware of. You can download free APK versions of all the apps which are available out there. The app comes with a simple user interface and you can easily search and download your favorite apps and games. Also, they keep updating the content so that you are never bored.
Download Best Google Play Store Alternatives
---
AppBrain
The next one on this list is AppBrain, which is a one-stop solution if you are looking for premium apps and also want them for free. AppBrain can meet both of your demand that is free and premium.
Developers of this app provide free apps for a limited period of time on their website and in return of which AppBrain publicizes their app. This alternative platform will allow you to access the apps in great detail which will also provide you to gain technical aspects about each and every app and enrich your experience and knowledge about the tech.
Download The Best Google Play Store Alternatives
---
Get jar
You might have heard this name once in your life or have seen a pop-up ad while browsing. Get jar is one of the oldest players in the market which offers thousands of apps and games for free.
Due to its presence in the market for a very long time, it enjoys popularity amongst users and tech freaks. Downloading from getting a jar is sophisticated and user-friendly.
Download The Best Play Store Alternatives
---
Bemobi Mobile Store
There used to be a time when we were familiar with the keypad phones and all of us might also recall that we used opera mini as our primary browser which had a catchy icon and interesting browsing options.
Though we were and are familiar with the opera mini browser very few of us might know about an app marketplace within the opera browser which can act as an alternative for the play store.
Opera app mini store (now known as Bemobi Mobile Store) is available on all opera browsers. Purchases within the app store are secure and have huge traffic due to the large base of opera browsers in the market. It also provides the files in APk format making it sharing-friendly and easy to install.
Download The Best Play Store Alternatives
---
Slideme
Another old player in this race is safe and easy to install with user-friendly features, Slideme. Most of the Android Open source projects are preloaded with slide market.
The differentiating factor of Slideme is that, based on geographical locations and payment methods, Slideme opens up a convenient marketplace for developers. Also, this app provides premium apps in all genres and is backed by a quality process that ensures the performance and satisfaction of the users.
Download The Best Play Store Alternatives
---
Final Words
Did you find this list of Google Play Store alternatives helpful? Share your reviews and suggestions in the comments below. And if you think we have missed any app/website then do let us know. You can also suggest some topics on which you would like to see a detailed article.
Thank you for reading! Try these out too:
General FAQs
What is the best alternative to Google Play?
• F Droid
• Aptoide
• Amazon App Store
• Samsung Galaxy Store
Is there any app like Play Store?
There are a bunch of Play Store alternatives that you can download and try some of the amazing apps that are not even available on the Google Play Store. Our list of Best Play Store Alternative will help you out with this.