Whether you are a botanist or someone who generally loves nature and plants, identifying different plants can be an exciting task. Currently, there are over 391,000 different species of vascular plants and around which 369,000 species are flowering ones. Hence, it's normal for anyone to have problems with identification. Luckily, technology and innovation will have your back in the form of the Best plant identifier app.
Plants are living things, and they are divided into different categories and families. Hence, the nutritional requirements and maintenance of each species are also different. So, the first step if you want to take care of a plant is identifying its type. The best plant identification app contains a massive database with all the plants and their types. Additionally, this makes it easier to search about it, and if you decide to bring one home, you will know how to care for it.
The applications tend to be the ideal companions of gardeners, botanists. Still, when you open the play store to download the best plant identifier app, you encounter a significant problem in the diversity of choices. If you want an application for long-term usage, there is a high probability that you will opt for its premium, and if you get the wrong app, it won't serve the purpose; thus, you will end up losing time, money, and effort.
Our list contains a variety of choices that will help you conclude the winner. Thus, let's jump right into our hunt for the best plant identifier app without further ado.
Excited? So, Let's Get Started.
Benefits of Best Plant Identifier Apps
Accurate identification:- Whether you are a novice botanist or an expert, chances are you will encounter a plant that is difficult to recognize. The most significant benefit of the best plant identifier app is that it will assist you in identifying a plant. Whether it's a herb, flower, vegetable, tree, or weed that you need to remove, the app will have your back.
Grow your dream garden:- If you are a novice gardener, a common concern is lack of recognition. Therefore, you sometimes might come across certain plants that you would like to have in your garden but don't know their type, family, and how to care for them. The best plant identifier app will help you not only identify it, but you can also find the perfect ways, conditions, and environment for the plant, ensuring maximum growth
Plant diagnosis:- Plants are living organisms that often suffer problems. When your plant isn't healthy, brown leaves or declining overall health are visible. The best plant identifier app provides a feature that will let you find treatments or consult with other users to find the perfect solution. Furthermore, the application can also provide you with maintenance tips, maximizing your plant's health and prolonging its life.
Best Plant Identifier Apps For Android
---
PlantNet Plant Identification
PlantNet plant identification is an excellent choice with a massive following in features, functionality, and continence. The reason this app leads our best plant identifier app is simple, and it's accurate and straightforward. All you have to do is take a photograph of the plant using your smartphone, and it will take care of the rest for you.
The most significant feature of PlantNet is its database that can identify thousands of plant species. Whether it's a flowering plant, conifers, grass, tree, wild salads, or vines, there is a high probability that you can find them in the application's database. Although it can identify many cultivated plants in gardens and parks, that isn't the primary motive. Instead, it is created to target wild plants that are hard to recognize.
The application also claims to be a "citizen science project on biodiversity." It means that all the images that are inserted are classified into different projects, which include thematic (includes cultivated and ornamental plants), geographical (all the plants in the world), and micro-projects (which includes plants that can grow at particular regions and specific flora).
The application database contains up to 20,000 species, and the best part is that it regularly updates with the discovery of new species and breeds. You can put the app to work by taking a photo with the right quality and position (as mentioned on the app's website). After identifying a plant, the app will provide more details and show other similar ones or members of the same family.
Related: Best Guitar Tuner Apps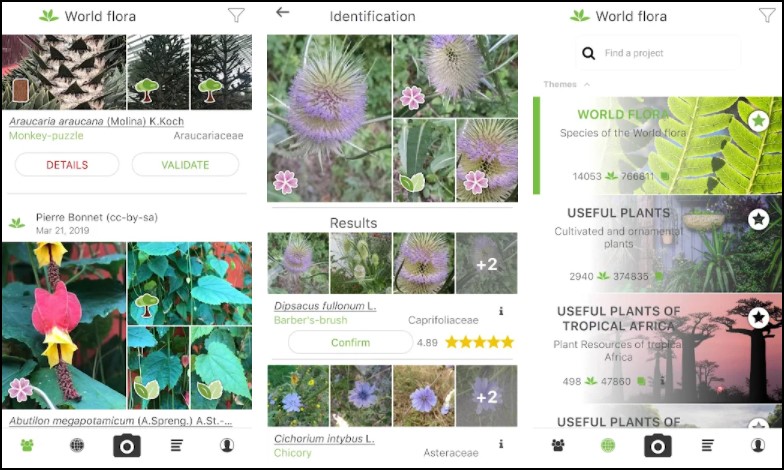 Standout Features:
Identify thousands of species
Get more information about the maintenance and family of the plant
Regularly updated
---
iNaturalist
iNaturalist establishes itself as one of the most popular choices globally and thus mentions our best plant identifier app list. The application is a regular companion for nature lovers as it's capable of helping you identify not only plants but also the animals around you. The application will connect you with a community of up to 400,000 naturalists and scientists who will enhance your knowledge about your favorite plants.
The app's contributors can record a sighting or add details about a plant thus, and its database is constantly evolving. Experts and image recognition technology will confirm the discovered specimen and its information. One of the most notable features of the application is that it allows you to browse through a vast database of species and observations, including plants, animals, and insects. The feature will let you discover the sightings in your locality and the nearby nature projects in institutes around you.
Standout Features:
Find new species of plants and animals in your area
Record and share observations
Discussion form with other users and experts
---
PlantSnap Pro
Plantsnap pro offers a digital interface between nature and people, and it's why the application is one of the best plant identification apps on Playstore. It has an enormous database with 500,000 entries of different flowers, cacti, ornamental plants, mushrooms, and succulents species. Additionally, it also contains over 150 million photos. The benefit of having an app that provides so much is that it finds the plant description for you and lets you discover other species that may interest you.
PlantSnap pro's algorithm is one of its highlights as its capable of identifying over 625,000 different types of trees, mushrooms, and plants. You can take a photo of any plant and enter it into the app to find relevant information about it. Whether you are a gardener or someone who likes to study plants, the app is the perfect technology for your requirements.
PlantSnap Pro uses AI Algorithm to provide details about the plants; however, you can also use them to find more about a particular type of leaves or flowers. Whatever you enter into the application, one sure thing is that Plantsnap pro will deliver.
Related: Best Home Workout Apps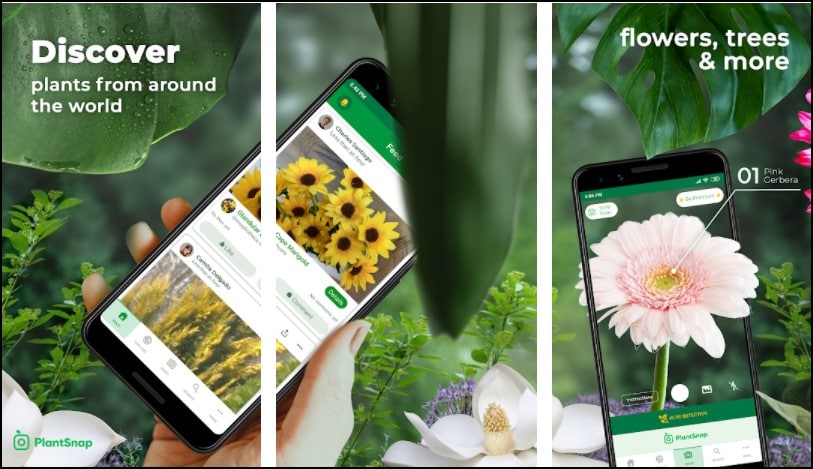 Standout Features:
Accurately identify plants through pictures
Vast Database
Easy to use interface
---
PictureThis – Plant Identifier
For nature lovers, PictureThis is the best plant identifier app. The application is a content-rich choice that can help you identify plants quickly. Additionally, apart from offering description about it and providing care tips, you can browse through its gallery, which contains thousands of plant pictures in their natural habitat. Although the application isn't free and only comes with a 7-days free trial, the premium can be an excellent choice if you want to use it regularly.
The app labels itself "a botanist in your pocket." The most significant reason for such a bold claim is its advanced AI that can help you identify up to 27 million plants from its database. The app can help you find more about the plant with up to 99% precision. In addition to its recognization, the app also offers tips on pest control, water, general care at the top of several others.
PictureThis comes with a user-friendly and straightforward interface that provides guidelines on capturing the best photo before entering it into the software. You can also share the photos with a community of like-minded people through the app. You can also build a personal collection and keep track of all the trees, flowers, and plants.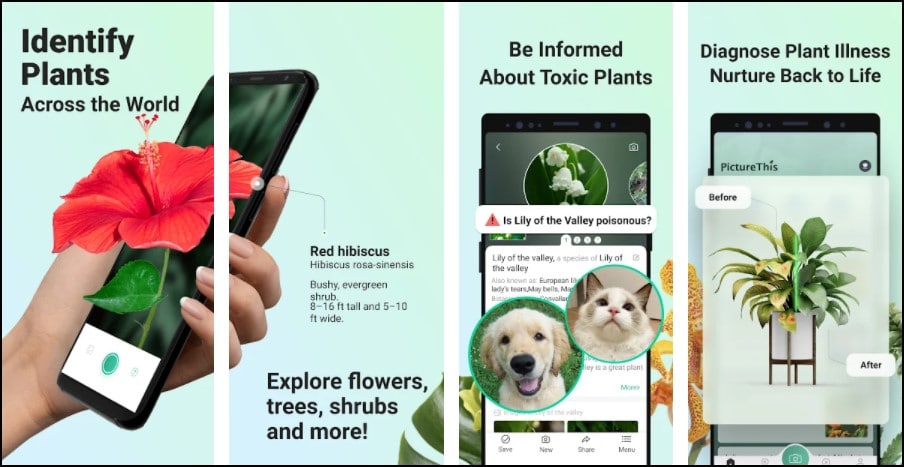 Standout Features:
Identify plants, trees, and flowers by the apps Advanced AI
Easy and user-friendly interface
Plant lover community access
---
FlowerChecker+
FlowerChecker+ is one of the most reliable choices on our best plant identifier app list. Although, the app does have a unique charging process that will charge you around USD 1 for each precise identification.
The application might not be a budget-friendly choice, but it rightfully charges the money. Unlike regular applications that use an AI-powered algorithm and interface, this one scans and sends each photo to a computer-based expert team. The specialists receive the photo and then analyze it manually, ensuring your identity is the most accurate.
Unlike the regular computer programs and AI-powered applications, this one is truly unique and is also helpful for identifying mosses, fungi, and lichens. If you are a botanist or someone who needs correct and relevant information about a particular plant, tree, or shrub, the app can be an excellent choice for your requirements.
It's also relatively easy to use. You have to create a request by inserting the photo of the plant and adding other relevant information, and then the next step is to be patient. The team will look at the photo and provide all the information. It's only after the correct identification that the app charges you; if it's unable to detect, you won't be charged anything; thus, it's practically no-risk.
Related: Best Weight Loss Apps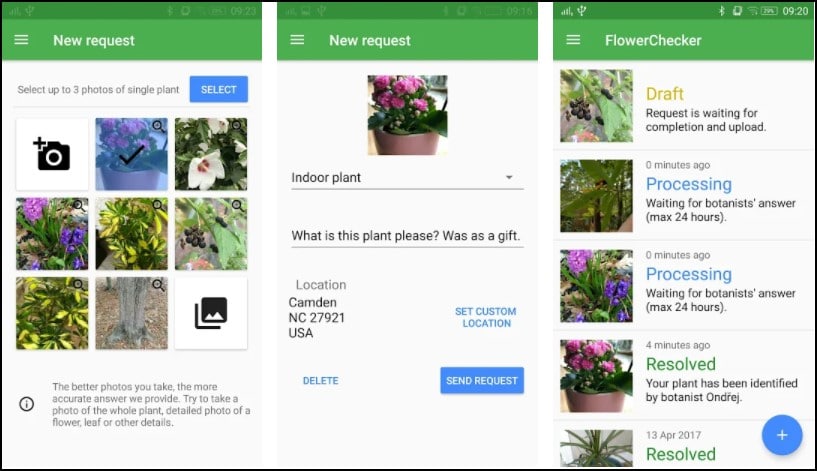 Standout Features:
Identify plants from a group of experts
Easy to use interface
Accurate and detailed identification
---
LeafSnap Plant Identification
Whether you are out on a hike or picnic with family and loved ones, if you ever encounter an attractive leaf that forces you to wonder about its type, what are your first instinct?. Many of us might take out our phones and take the matter into our own hands while others wait for their friends to rely upon. A wise individual will rely on LeafSnap Plant Identification as one of the best plant identifier apps you can get on your mobile.
The application can instantly identify up o 90% of the plant and tree species. Hence, it will most likely cover the one you find out there. The app's most notable feature is that it lets you identify any flower, fruit, or plant using its leaf while relying on artificial intelligence and a massive app database.
You can learn more about any plant or discover its photos from the massive gallery of the application. The speed and ability of the app that lets you instantly identify the trees, plants, flowers, or more and provides access to a vast plant database that regularly updates to incorporate new information and facts about the new species.
You can also create a custom collection of your favorite plants and add reminders to notify you about their maintenance instantly. Furthermore, you can also create a care calendar in the app for the particular plant.
Related: Best Sports Apps
Standout Features:
Vast database
Quickly identify plants
Create a customized calendar and plant collection
---
Garden Answers Plant Identifier
Garden Answers Plant Identifier is a revolutionary application in our best plant identifier app list. It can quickly identify up to 20,000 different plant species and provide you with correct, comprehensive information about them.
Plants and flowers are attractive and appealing, but many species aren't suitable for you, especially if you have children around the house. Thus, before planting one, you need to ensure that it isn't harmful or won't affect your children or pets in any way. The best way to find it out is by relying on the Garden answers app. All you have to do is take a picture and submit it to the application, which scans it and provides a precise identity of the plant and comprehensive details about it by horticulture experts and garden specialists.
If you already have a few plants in your backyard but are worried about a disease or insect infestation, the keyword search feature of the application can provide relief. The section contains answers to up to 200,000 plant questions. At the top of all that, the app comes with a simple user interface that keeps it to the point and functional. You can also save your favorite plants through the favorite tab.
Related: Best Credit Score Apps
Standout Features:
Simple and operative interface
Quickly identify any plant
Keyword research from the database
---
Final Words
Hopefully, you will be a lot more clear about the best choices available in the category by now. However, the debate is still quite often as the best plant identifier app depends on what you want. There are choices on our list, such as Garden Answers Plant Identifier, which provide information about pest control and diseases at the top of descriptions about them. While others such as PlantNet Plant Identification combine functionality and convenience thus, it falls on your to find your ideal companion. We recommend PlantNet Plant Identification, iNaturalist, and Garden Answers Plant Identifier as they offer various functionality suitable for many of you. Although, you can always opt for other choices if required.
Thank you for reading! Try these out too:
General FAQS
What is the best plant identifier app?
The best plant identifier app isn't just one, and our list above contains plenty of choices that you can choose. Our top picks are PlantNet and FlowerChecker+
Is the best plant identifier app free?
There are a few choices that might offer free features, while others such as PictureThis and Flowerchecker will require a premium subscription.
How can I identify a plant through the best plant identifier app?
The applications are pretty easy to use. You can enter your photo in the app and wait for the results. The app will provide you with the name, family, and other relevant information about the plant