Voicemail or Voice messages is a convenient way to deliver messages or information to anyone in your voice. The voicemail app provides a recording system that enables senders to leave voice messages for the receiver. It can process incoming and outgoing calls. There are some best voicemail apps available you can install on your phones from the plethora of options available. We have picked and chosen some of the best voicemail apps for users.
The voicemail app is a vital tool to solve modern problems. It can save a lot of time from your professional working hours and help you enhance your productivity. We are also listing benefits users can avail of from the best voicemail apps in their personal as well as professional life. Without any further delay, let's dive into our listicle of the best voicemail apps.
Excited? So, Let's Get Started.
Benefits Of Best Voicemail Apps
Store messages: With the best voicemail apps, you can store your messages in the database and listen to them in your vacant time. It helps you save a lot of time as you can overview all the important messages for the day at once. You do not need to receive every call as the best voicemail apps will store all the voice messages for you.
Saves time: Managing your calls becomes a tedious task in your busy schedule. The best voicemail apps can do the job of managing time effectively for you. Specifically, in the workplace, voicemail apps can prove to be one of the best tools in your app drawer.
Best Voicemail Apps For Android
---
VXT Web 
VXT web app can record calls, email, and visual voicemail. The app is used in Newzealand, Europe, and many other countries. You can also create an account for your whole team. This best voicemail app support recording voice messages on your landlines and smartphones. It also has a dark mode for the daytime which enhances the overall experience.
VXT web also alerts you when you receive an urgent or important message. It also has many interesting features like multiple inbox support and inbox sharing. Vxt web can also record short spoken notes and transcribe them into text for you.
Related: Best Guitar Tuner Apps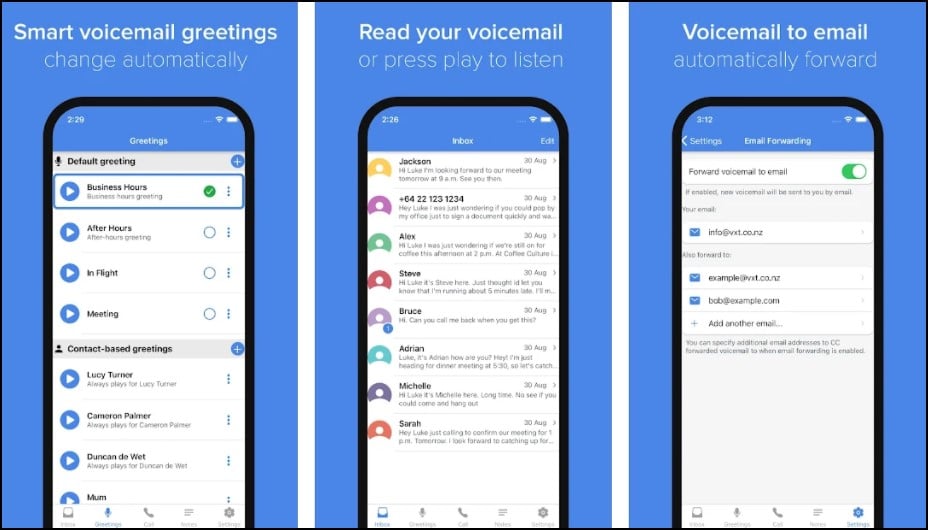 Standout Features:
Multiple inbox
Compatible with landlines
Inbox sharing
---
YouMail
You mail this app can help you answer calls better and protect you against scam call and can block them. This app has won countless awards also, making it one of the best voicemail apps. For its voicemail and spam protection, you can also join the YouMail community to stop unwanted calls. The app charges no penny and is cost-free for all users.
The app can not block robocalls and spam calls and block any number you want. It gives you hourly updates to block robocalls as it becomes active, and it keeps your voicemail and inbox safe and protected. If you don't have your smartphone, you can still check your voice mail and calls online from any web browser.  
Standout Features:
Spam protection
Block robocalls
Access from web browser
---
Insta voice
Insta Voice app gives you updates about who called when your phone is switched off or unreachable due to something or you are busy. This best voicemail app gives you a free unlimited visual voicemail, missed call alerts, voicemail transcription, and many other features. The app can work throughout the year for you without disturbing your work or anything.
 Insta voice also gives you unlimited cloud-based storage for your voice mail so you don't have to delete your voice mails. Insta voice is the only app that can delete sent voicemail messages, making it one of the best voicemail apps. It has managed over 100 million calls it also has features like miss call management, transcribes voicemail, withdraws voicemail, and you can personalize your voicemail greetings if you are bored.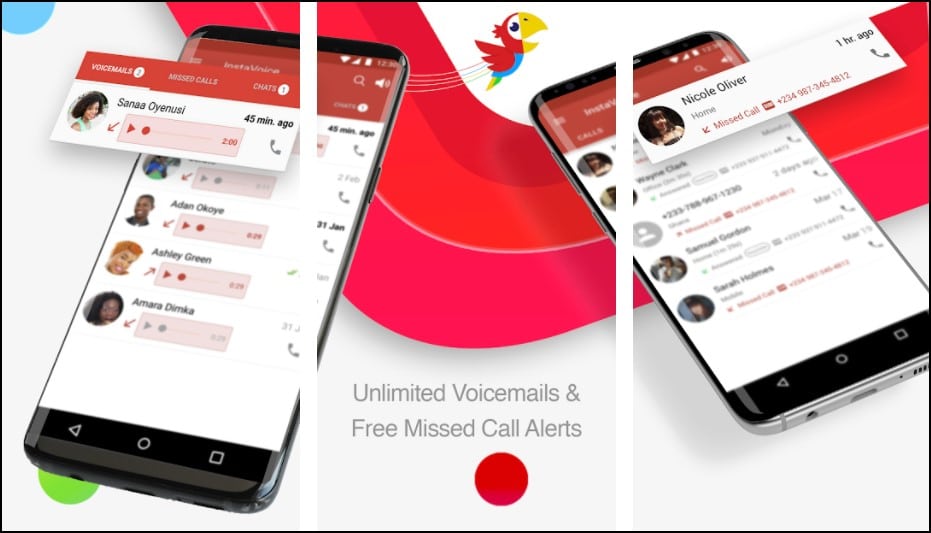 Standout Features:
Unlimited visual voicemail
Cloud-based storage
Transcription
---
Google Voice
This app works on both smartphones and computers. It gives you a number for calling, text, and voicemail. You can use this app anywhere at the office or home. The app automatically blocks unwanted numbers you don't want to hear. You can personalize the setting for forwarding calls and other visual mails.
You can also search your history because the app can store your calls, text, and voicemail and create a backup. Google Voice can also manage messages across devices so you can send and receive both individual and group SMS from all your devices. Google voice also can make an international call without extra charges at a competitive rate. 
Related: Best Home Workout Apps
Standout Features:
Personalized settings
Search history
Manage messages across multiple devices
---
Base Visual
Base Visual voicemail app allows you to view and manage your voicemail on your phone. You need to have an internet connection to enjoy this app. It can work in 2G/3G/ or 4G network or via wifi connection. You can choose which message you like to listen to, share or delete.
Base visual voicemail also supports fax mail of the base company, making it one of the best voicemail apps for the users. You are just required to be a base company customer and have a 2G/3G/4G network along with an Android-compatible device. And when you're abroad, you can still receive and send your voicemail in exchange for some pennies. It is better and we suggest you download VVM using a wifi connection because if you're downloading the VVM app on the Base company 2G/3G/4G network the user data will be charged.  
Related: Best Weight Loss Apps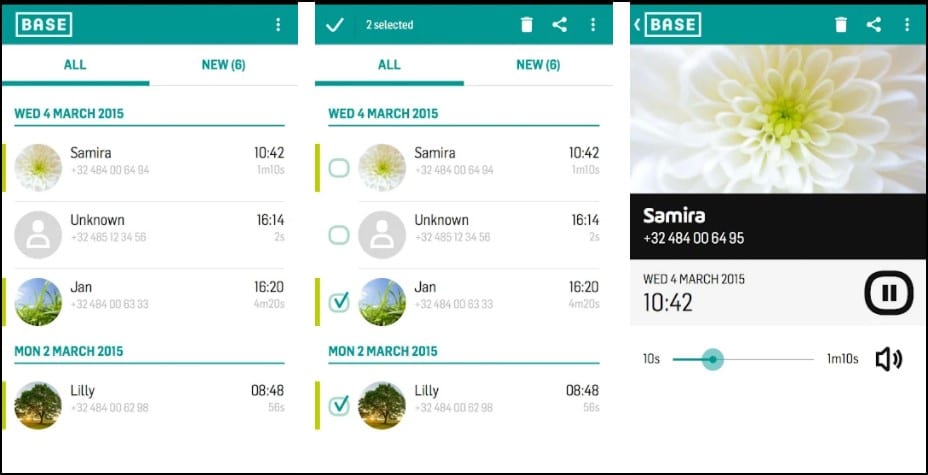 Standout Features:
Highly customizable
Compatible with Android devices
---
Hullomail Voicemail 
Hullomail app has custom greetings that can save your time. Hullomail voicemail also has an effortless call blocking feature. You can read, reply, search, play and share voicemail. You can try the two-week free trial version before opting for the premium.
The app supports reading and searching your voicemail with voicemail transcription. Also, you can protect your number with a call blocker. You can keep your voicemail forever because of unlimited usage and can forward voicemails with the help of custom voicemail greetings. You can delight callers and give them the experience they deserve. You need to sign up and create an account, and your device must support call forwarding.
The call blocker feature lets you block spam and unwanted calls. You can reply to voicemail quickly via text or SMS. Hullomail voicemail permits you to check your voicemail online or by mail if you don't have your smartphone in your pocket.
Related: Best Sports Apps
Standout Features:
Voicemail transcription
Unlimited storage
Supports call forwarding
---
Ooma home 
You can make a call with your Ooma number, receive calls, check voicemail, and do much more. You just have to make sure that this app work with the primary number on your Ooma account, nor additional numbers. If you forget your password you can reset it easily just by visiting the site.
Ooma home phones can make an international call at low rates. You just need to visit its site and purchase international calling credit. You also can add a number or set up a list of favorites for quick access. This best voicemail app gives you a new voicemail alert and listens to them on your phone. The Ooma app works with Android devices running 5.0and higher. 
Related: Best Credit Score Apps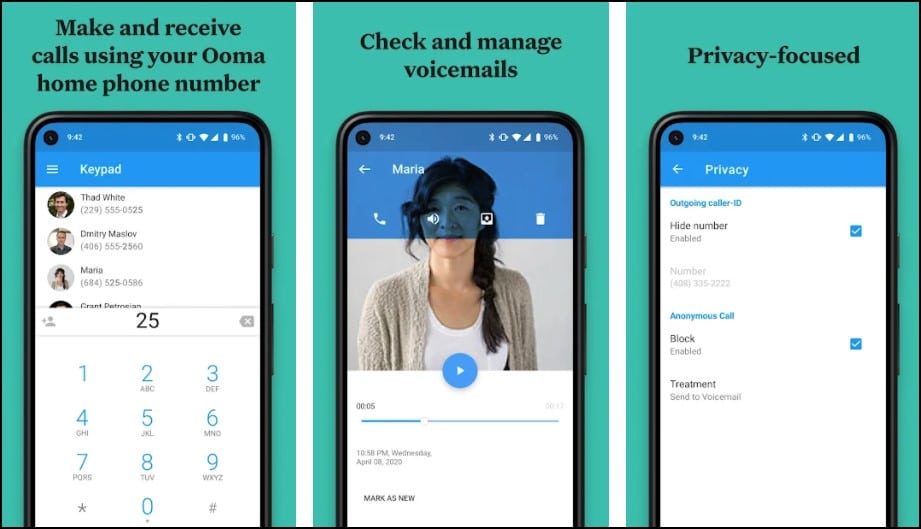 Standout Features:
Make international call at low rates
Create favortites list
International calling credit
---
Voxist   
Voxist is an app that can replace your carrier's inefficient voicemail. It can easily access your messages on your phone or via email and that's why you never miss it. This app is free and simple to use. You can also manage your voicemail efficiently. You can manage both if it is related to business or personal voicemail.
In this app, you can read your voicemail instead of listening. You can get all your voicemail on one screen and listen to the one you want in just one click. This best voicemail app allows you to read your voicemail in more than 70 different languages. You can use personalized greetings, record your greetings or write them.
This best voicemail app automatically greets your caller by name. It has unlimited storage capacity means no voicemail storage limit. Voxist has many features like visual voicemail, voicemail to text, personalized greetings, voicemail to email, unlimited storage capacity, new voicemail alert, and many more. You can enjoy it uninterrupted whether you are a paid or free subscriber.
Standout Features:
Available iin 70 languages
Manage personal and professional voicemail
---
Final Words
These were the 8 best voicemail apps that we have picked from the plethora of options available. We hope the list will be helpful for you if you are searching for the best voicemail apps. VXT Web, Google Voice, Insta Voice are some of the top picks on the list we would highly recommend to the users. Also, you can mention your top picks on the list in the comment section. You may share the content with your friends if you find it useful. Do mention your valuable suggestions in the comment section so that we keep improving.
Thank you for reading! Try these out too:
General FAQs
Does Google have a voicemail?
Yes, you can use Google Voice to record voicemail. Besides recording voicemail, Google Voice provides a number for calling and texting. Also, you can use Google Voice to record automated greetings for up to 3 minutes.
Is there any free voicemail service?
YouMail is a popular voicemail service that offers a plethora of free services to users. It can be one of the best options to record and listen to your voicemails. The app has a ringer feature that blocks unwanted calls and maintains your privacy.