Technology and innovation provide us with things we could once dream of. There are thousands of miracles that have become a norm in our daily lives. Not so long ago, having a mobile phone in our pocket that was capable of immense computing power and could also serve as our second memory while providing a gateway to limitless sources of information was impossible. Still, luckily we are living in a world where it's all possible.
Technology continues to influence every part of our lives, and one of its miracles is cameras and photos. As the vast development provides all sorts of benefits, it also brings the best out of entertainment, and one form of it is the best face swap app.
Let's face it we have all tried to look and act like our favorite celebrity. However, unfortunately, even if we can't turn into them, we can still use the face swap app to look like them, well, by its look. The apps let you switch faces with your family and friends for a picture or a video in real-time. Additionally, you can also use the applications to face swap with photos so that you can get your favorite celebrity's face in seconds.
However, the world isn't all sunshine and rainbows, and choosing the best face swap app can get a little tricky. The reason for it is diversity, and we don't want to download and try various apps since it's a waste of time, effort, and, at the top of that, our mobile data. The solution, you ask? Our list compiles several top picks to help you choose the best face swap apps.
Excited? So, Let's Get Started.
Benefits of Best Face Swap Apps
Entertainment:- One of the most notable benefits that are also the primary reason many people use the best face swap app is entertainment. The app will let you swap your face with your friends or let you take the appearance of your favorite superhero. You can easily share the photos you create on your social media platforms and be the focal point of your friend circles attention
Photo editor:- The best face swap app will also provide you with all the photo editing tools you might require. It will save you the hassle of going to your computer or getting separate software for the task. The apps feature plenty of tools that will help you add more definition and precision to the pictures and improve their overall appearance.
Effects and filters:- Although many androids provide excellent camera results, there are times when you will require effects and filters to enhance their look. The best face swap app usually comprises plenty of options to ensure you can showcase your editing skills to the fullest
Best Face Swap Apps For Android
---
Snapchat
Snapchat is one of the best face swap apps, and it's also one of the most popular ones you will find. However, it isn't limited to only providing you a tool for face swap; it offers a lot more. It's one of the most popular messaging applications as well, and if you decide to get it, you will get your hands on a lot more features.
Snapchat will let your swap your face with friends easily by using a simple filter. Its face filters are one of the most popular ones that you will come across. You can easily search for the face swap filter from the filter search bar of the app and leave the rest on it. All you will have to do is fit in the camera frame with your face and wait for the app to do its magic.
You can add various effects to the picture after capturing it. One of the most significant features of Snapchat is that it lets you easily share the picture with your friends or save it in the camera roll if you want to share it on other social media platforms.
Related: Best Guitar Tuner Apps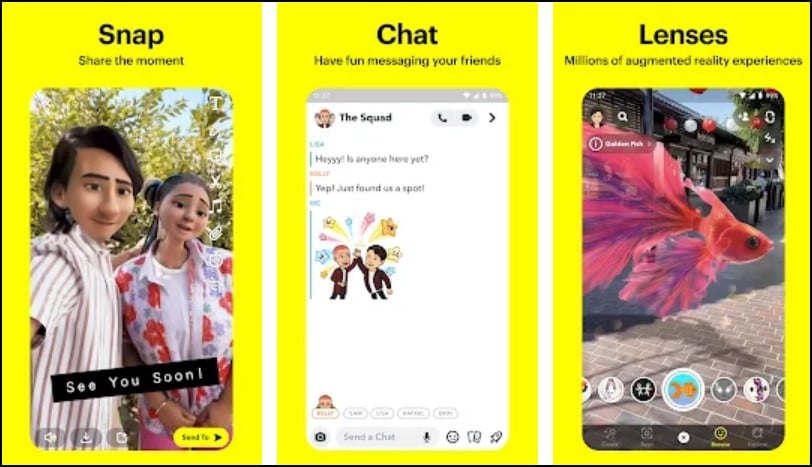 Standout Features:
Easily and quickly swap face
Add effects to the image
Instantly share with your friends and other contacts on Snapchat
---
Cupace – Cut and Paste Face Photo
Cupace is one of the unique apps on our best face swap app list. It's an efficient and convenient photo edit application that will let you cut the face from an image and then paste it at the top of another efficiently.
The application is a great way to create memes and funny photos for your friends by interchanging their faces. Furthermore, you can also add text or add stickers to the photo. Cupace Paste face feature is one of the main reasons for its popularity as it lets you manually extract the fact from any image and add it to any image. The benefit of it is that it provides you with a lot more options than a regular face swap app. Thus, you can use the cut-out image and paste it to even an inanimate object.
You can first choose the image you want to use as the background and then use another for the cut-out. For more precision and accurate cutting, the app will let you zoom in on the object to ensure the cropping is quick and precise. The app also saves a copy of the cut-out so you can use it anywhere you like hence you won't have to repeat the same process.
Standout Features:
Cut out any face from an image and paste it anywhere
Accurate cropping by zoom in or magnifying feature
It saves the cut-out so that you can use it multiple times.
---
B612 Camera&Photo/Video Editor
B612 is one of the most popular camera apps, the best face swap app. It is filled with editing tools, trendy effects, filters, and stickers that keep increasing with constant updates.
The application is a complete camera and video editing app that also lets you capture photos in HD quality. It also contains a face swap feature that lets you change faces with your friends, or you can also choose your favorite celebrity for it. You can get great results with the app and create photos that you can share on your Instagram or other social media platforms.
Apart from the face swap tool, the app also provides many other features, including several effects and filters and make-up tools; you can also create customized filters. One notable feature of the app is the color edit which lets you showcase your creativity by using different colors.
You can also use B612 for body editing, such as toning the entire body or adjusting limbs. Overall, the application delivers exceptional results and can help you achieve more than a face swap tool. Thus, making it the ideal choice for all the photographer requirements.
Related: Best Home Workout Apps
Standout Features:
Various editing tools
Trendy stickers, effects, and filters
Efficient face swap tool
---
Reface: Funny face swap videos
Reface was nominated for Google Play users choice awards, and it's a popular choice on our best face swap app list. The app is famous across users globally because it offers exceptional features such as an advanced camera combined with plenty of editing tools that will let you create funny pictures, videos, and memes.
A lot of users prefer this app because it can provide you with all the features and tools to create funny clips, GIFS, filters, effects, and a lot more. Unlike the regular photo booth apps, this one claims to be a meme creator and a photo editor in one. You can also use it to animate your pictures.
However, one of the app's most notable features is face-swapping. The application comes with an advanced AI tool that scans the selfie and cuts out the face from that image. You can then map it onto another picture easily and realistically. In a lot of the software, you might find a simple cut and paste of the photos on another. However, Reface morphed the face, adding a realistic touch and ensuring excellent results.
Apart from animating images and swapping faces, another prevalent feature is the voice swap that will let you add your voice to a celebrity. Furthermore, you can place the cut out of the face onto anything, whether it's a fruit or an object. The app makes it possible, thus providing you a free hand to showcase your creativity.
Related: Best Weight Loss Apps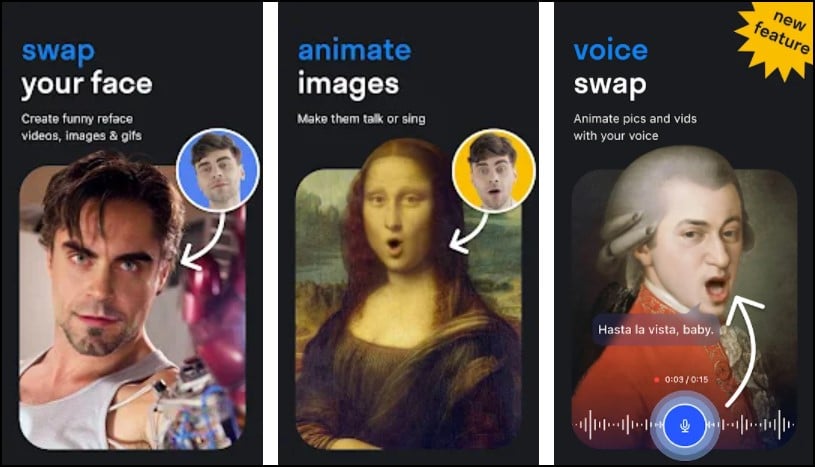 Standout Features:
Image animator
Voice swap feature
Advanced face-swapping tool
---
Face Swap Live
Face swap lives an application filled with entertaining features that ensure you have an impeccable experience. It features one of the best face swap apps due to its advanced functionality that will let you swap your face even during a live video or photo.
The real-time face-swapping tool helps create photos and videos with your friends. It goes beyond that and offers a face swap option with friends, celebrities, or with a funny picture from the internet. You can now use Face Swap live to get your face on your favorite marvel hero in seconds and use the image to create fun, entertaining memes or photos.
The app uses augmented reality (AR & ARKit) for face masks, and the live swapping feature provides endless fun, mainly when you are around your friends. Some other features that the app offers include a built-in FX & masks with more than 25 effects, a research feature for the web face mask, a face goo studio, a party mode, and a face editor. All the features diversity the usage of the application making it an excellent choice for multiple purposes.
Although the app isn't entirely free and you will have to pay to get it, it still serves you a lot which makes it a value for your money.
Related: Best Sports Apps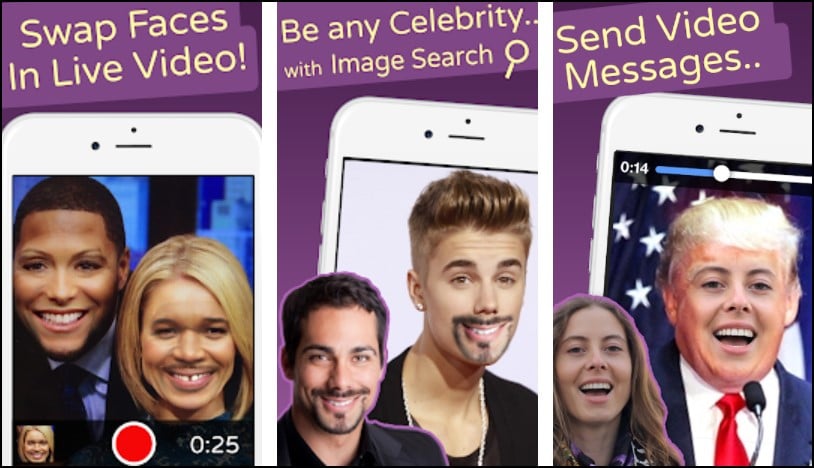 Standout Features:
Face editor tool
Accurate live face-swapping feature
Efficient user-interface
---
Face Changer
Face changer is the best face swap app for users that want more than a standard tool for swapping and instead are looking for an editor combined in one. The best thing about the application is its simple user interface that will let you edit photos instantly and effortlessly.
Once you add a photo into the software by choosing one from your gallery, it will offer all the tools. Apart from the face swap tool, the app also offers many options for face changers. It includes changing the image's limbs, such as Ear, nose, eyes, etc., and replacing it with animals or other objects. You can also swap the photos with a celebrity or share them on any social media platform like Facebook, Instagram, etc.
Face changer also lets you add text in different fonts using efficient tools. There are plenty of photo-sharing options that you can use. Thus the app is a great way to have fun with photos while messing around with different filters and effects.
Standout Features:
Face editing tool
Face swapping in photos and videos
Simple interface
---
Face Swap
Face swap is one of the best face swap apps on our list. It makes our list due to one main reason and its versatility. It lets users instantly and conveniently merge the face of various people, but you can also make things more interesting by adding stickers. Additionally, you can edit the pictures with stickers, including emojis, dog ears and sunglasses, and a lot more.
Face swap also offers a live video face swap feature that will let you swap the face with the characters in the video. Hence, the app is suitable for pictures and videos, making it suitable for a wide range of people.
Another valuable feature of the application is that it offers easy sharing options that let the user quickly share the created photos on different social media platforms such as Facebook, Instagram, and more.
Related: Best Credit Score Apps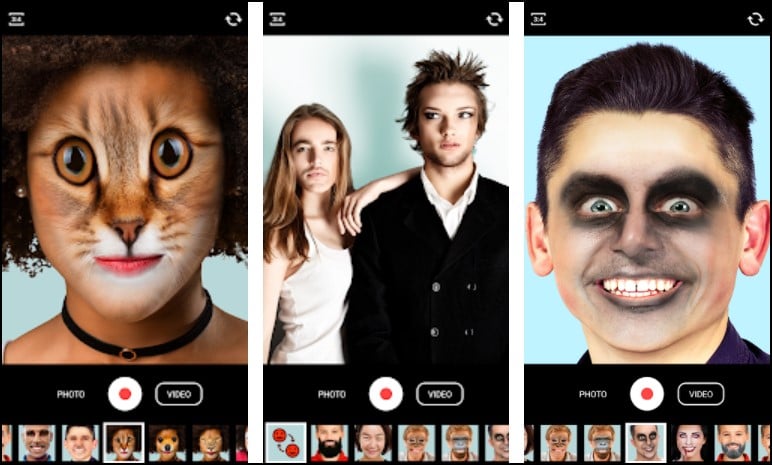 Standout Features:
Merge the face of various people
Easy and multiple sharing options
Edit photos while exchanging their faces
---
Final words
We have compiled a list based on functionality, features, and benefits. Selecting the best face swap app from here is a matter of preferences and expectations. Hence, to find the one that will benefit you in the long term, you need to keep your features in front of you and select one accordingly. As per our recommendations, Reface: Funny face swap videos and Snapchat are two popular choices on our list. However, you can also rely on one of the alternatives to do the task for you.
Thank you for reading! Try these out too:
General FAQS
What is the best face swap app?
The best face swap app is Reface, as it provides a diverse range of features and is suitable for most of the users that want a purely face swap and editor app.
Is the best face swap app free?
Many of the choices on our list are initially free, and you might get a lot from them without any cost. However, you will have to rely on the premium for the others to get more advanced functionality.
Can I face swap my face on a celebrity?
Yes, you can use one of the best face swap app for it.