Calling via smartphones is a convenient way of connecting with your loved ones. You will need to have prepaid or postpaid recharge to make a national and international call. But, you can also make calls via Wifi to your loved ones living in a distant land. For this purpose, you might be looking for the best Wifi calling apps on the Play Store. We will ease your hunt for the Wifi calling app with our comprehensive listicle of the best Wifi calling apps.
You can choose and download any app from our listicle of the best Wifi calling app based on your requirement. Some apps from the listicle are commonly used by users worldwide, while others are fresh inclusions that you may find handy. Before starting our listicle of the best Wifi calling app, let's look at some benefits you will get.
Excited? So, Let's Get Started.
Benefits Of Best Wifi Calling Apps
Cheap calling cost: If you make any international call, you may need to incur a handsome amount of money. The best Wifi calling app minimizes the calling cost for the users exponentially. You can make long audio calls to your loved ones living in distant lands with the help of the best Wifi calling apps. The app also does not charge any additional costs for making international calls.
Make Video calls: Apart from making audio calls, you can use the best Wifi calling apps for video calls. You can make instant high-quality national and international video calls with apps like Skype, WhatsApp, Text Free, and many more.
Best Wifi Calling Apps For Android
---
Text Now
With the Text Now app, you can make unlimited calls to US and Canada. The app provides you with free US and Canada phone numbers. You can save the transcription of your voicemail and store it in your internal storage. Besides voice calls, you can make video calls and picture messaging with the Text Now app. You can customize and assign a ringtone for specific contacts per your liking.
You can also add customizable backgrounds while making calls with this best Wifi calling app. To keep your messages secure, you can add signatures. You can set a home screen widget to access all the details. Also, you can use the app as a unified messaging box to receive all SMS and messages.
Related: Best Guitar Tuner Apps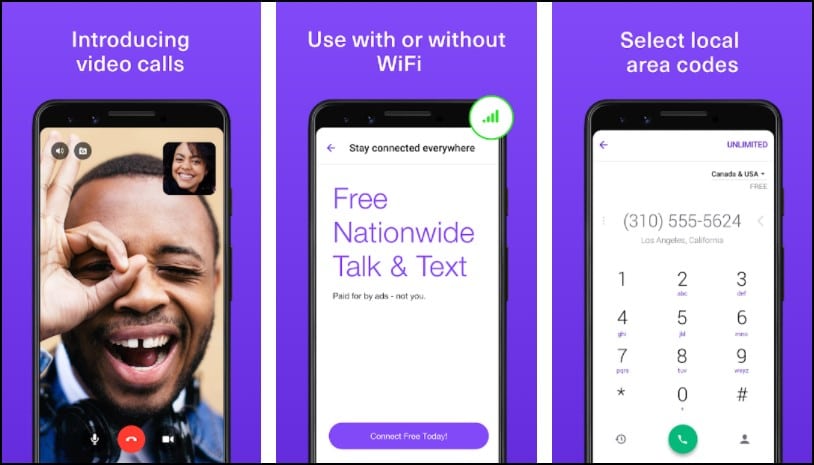 Standout Features:
US and Canada phone number
Voice call transcription
Home screen widget
Unified messaging box
---
Skype
One of the first to introduce high-quality audio and video calls on all platforms, Skype is the next app on our list. With the help of Skype, you can send messages, connect SMS and directly reply to your phone's Sms, does HD video calling with 24 members at a time, send emojis, and connect with people worldwide. You can also send images and media files with the help of this messaging app. With some cool themes and interactive UI, Skype can be your best partner for Wifi calling.
Standout Features:
SMS Connect
Reach people instantly
Save shared photos and videos
---
Google Voice
Google Voice by Google is ideal for making HD audio calls across different geographical locations. You can manage your calls by personalizing voicemail, forward calls, and texting. The app can automatically filter the spam numbers and block them from calling you. You can make international audio calls at the best prices, making this app one of the best Wifi calling app on our list. The app also offers transcriptions of your audio calls.
Related: Best Home Workout Apps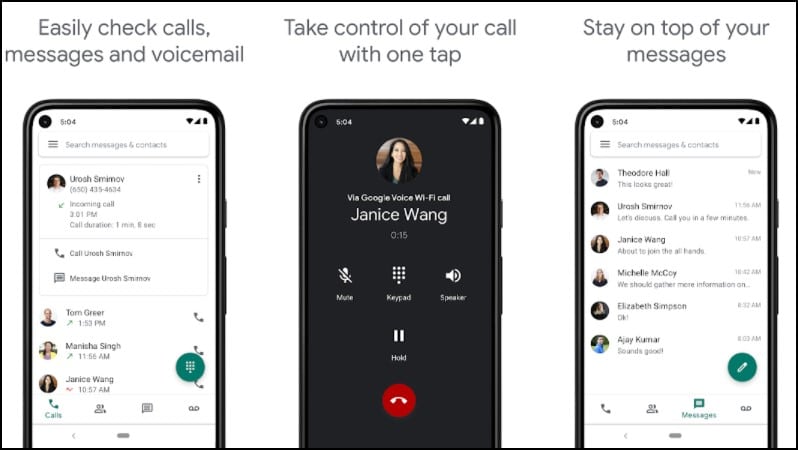 Standout Features:
Personalize calls and voicemails
Block spam numbers
Competitive prices
---
Text Free
Text Free app provides international calling to any geographical location across the globe. You can share the number with your friends and make HD voice calls. Also, you can make international calls to a recipient who doesn't have an internet connection. This best Wifi calling app comes with unique voice encryption and decryption technology that helps you maintain privacy.
You can choose US or Canadian mobile number to get started with the Wifi calling. The app is highly customizable, where you can customize contact ringtone, adjust text bubble size, and add a photo background. The app also allows you to make groups and carry group audio calls. You can enjoy clear and stable audio calling quality on this app.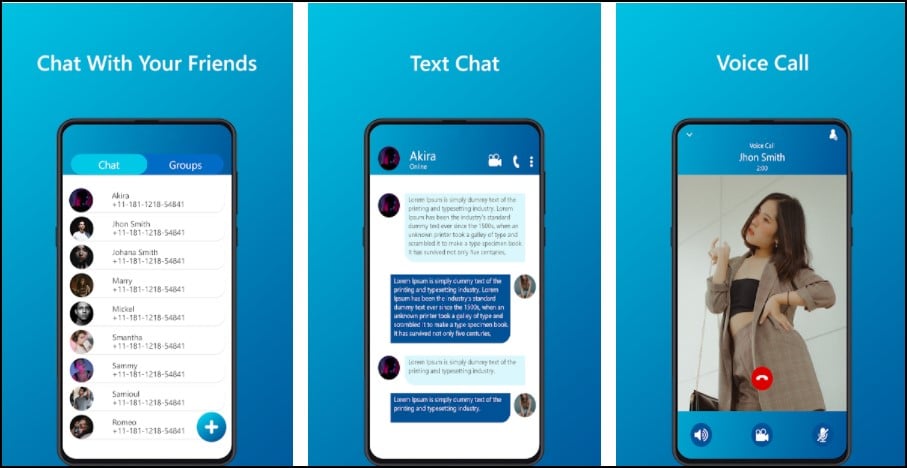 Standout Features:
Create multiple groups
Voice encryption and decryption technology
Highly customizable
---
Google Duo
Google Duo is a handy app that offers you high-quality audio and video calling. Now, the app has also increased the number of participants that can be included in a video chat to 12. You can do a group meeting in low light conditions also, so no worries if you are making a call in any random location. You can also share voice notes, photos, messages, and emojis with Google Duo. Both parties need to have an ID on Google Duo to do video calls. This can be one of the best Wifi calling app if you are looking for a reliable app for making hassle-free calls.
Related: Best Weight Loss Apps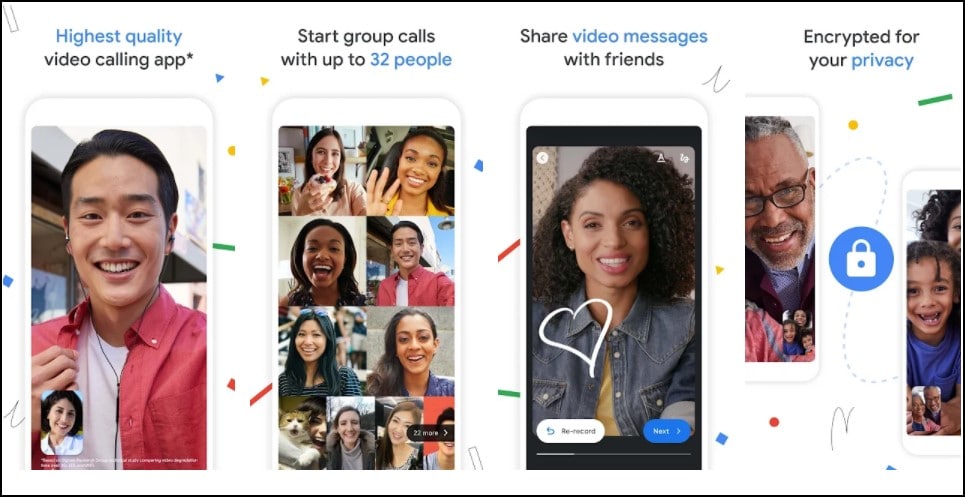 Standout Features:
group call up to 12 participants
Personalized video message with fun effects
Low light mode video calling
---
WhatsApp
The next app on our list of best Wifi calling apps is Whatsapp Messenger, which is one of the most popular messaging apps right now. The app is useful in making high-quality video calls and can connect with more than 5 participants at a time, which was not available earlier. You can also make international video calls as no charges are charged on these calls. The app is also safe and encrypted, so you do not need to worry about your data.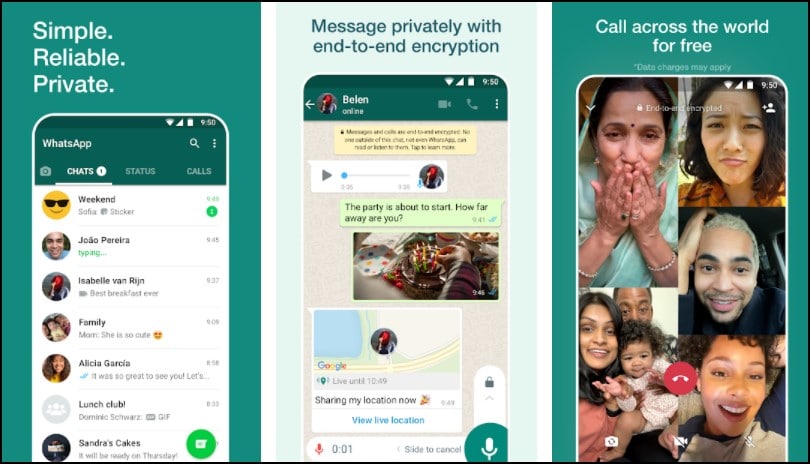 Standout Features:
Multimedia
No international charges
Group chat with more than 5 participants
---
Zoom
Zoom video calling app is useful for corporates and educational institutions as you can do cloud meetings with 100 members at a time. You can easily host an audio or video meeting and invite all the members to join the meeting with an invitation link. The best part is that you do not necessarily need to sign up and register in the app, as you can directly host and attend meetings through the invitation link. Apart from this, you can share the screen with the participants, mute them, and also add notes on the screen while hosting the meeting.
Related: Best Sports Apps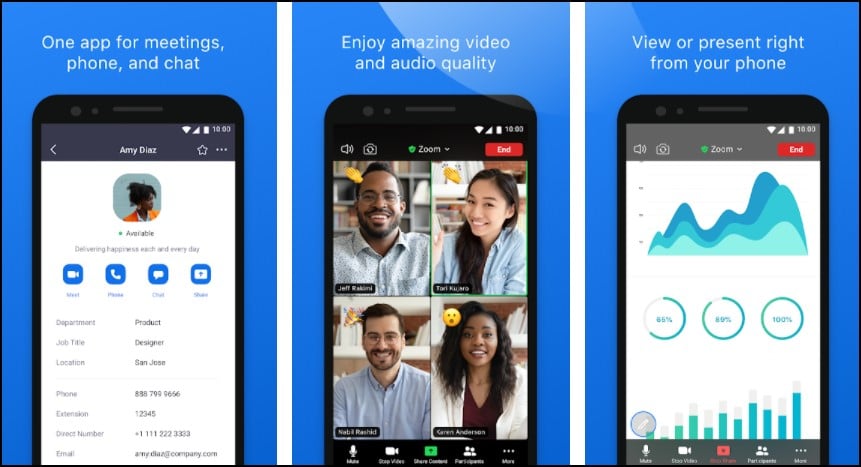 Standout Features:
Screen share photos, web and Google Drive
Contact availability status
Safe driving mode while on the road
---
Google Meet
If you are looking for something minimal, Google Meet is the ideal choice for you. You can start a video conference with up to 250 participants at a time. The app comes with Q&A polls and a Hand Raise feature that lets you arrange an interruption-free meeting. You can present slides, notes, documents during the conference for an interactive session.
One unique feature of the app is real-time captions that can further enhance communication. The user interface of the app is minimal and appeals to the users. The host has complete authority over the conference, and he can decide who can enter the meeting.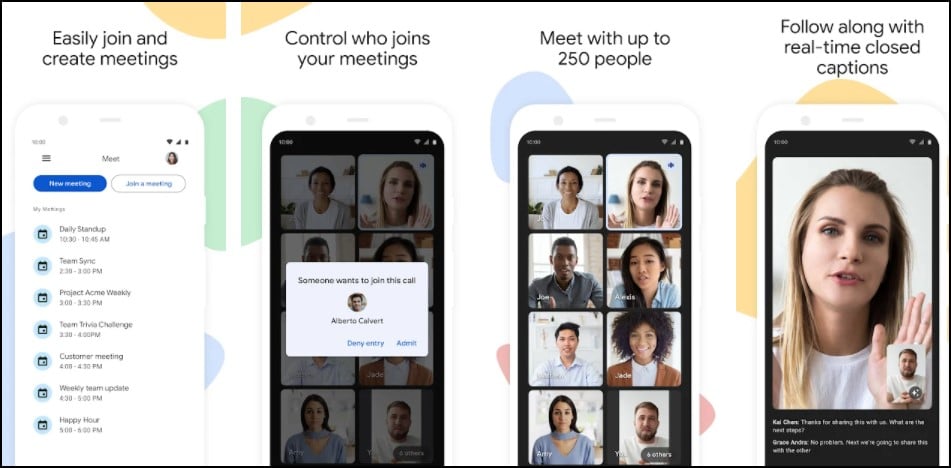 Standout Features:
Admit up to 250 participants
Real-time captions
User-friendly
---
Dingtone
Dingtone is an ad-free and best Wifi calling app that offers a plethora of features to the users. You can avail of a free international number to make calls in different countries. Countries for which you can get a secondary international number are the US, Canada, UK, Belgium, Netherlands, Australia, France, Sweden, Mauritius, Poland, Austria, Indonesia, Puerto Rico, Czech Republic, Malaysia, Denmark, Romania.
You can make free unlimited VOIP calls in high quality with the Dingtone app. Besides audio calls, you can use the Dingtone app as an alternate for text messaging. You can send free messages and texts to any number across the world. Also, you can make group chats and calls with the Dingtone app. The app is compatible with both smartphones and tablets.
Related: Best Credit Score Apps
Standout Features:
The free secondary number for calling
Group chat and video calls
VOIP call with crystal clear clarity
---
Viber
You can do free audio and video calls in high quality with the Viber app. Viber out will help you to make international calls at low-cost charges. You can also use chat extensions to use some expressive Gifs, Emojis, and stickers while chatting. You can seamlessly sync Viber across all your devices.
Viber also includes the self-destructive message feature, where you can set a timer for any chat, after the expiration of set time, your chat will get self-destructed. If you are a social guy and loves to meet and explore new people, then Viber has a community page for you, where you can interact and share your thoughts with hundreds of users. The app contains some in-app purchases and ads.
Related: Best Personal Finance Apps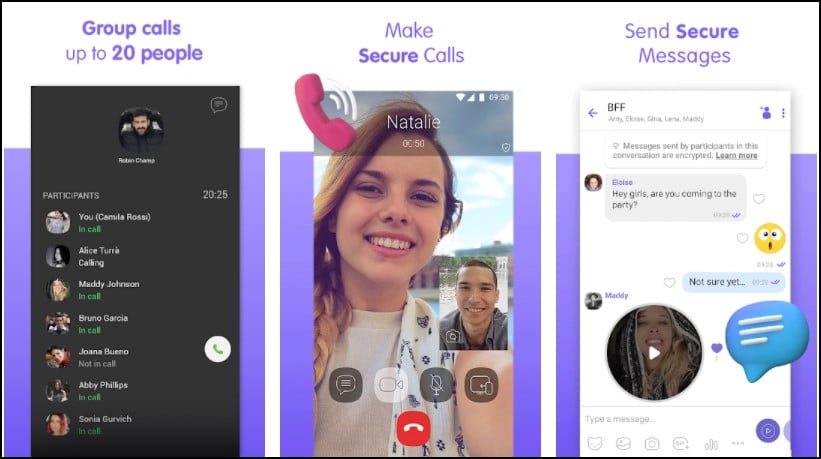 Standout Features:
Chat and Call with 100% Privacy
Chat Extensions
Viber Community with Unlimited Members
---
TalkaTone
TalkaTone app provides disposable US and Canada numbers that you can use to make international calls. You do not require any cell phone plan to make calls on the TalkaTone app. You can buy mobile calling credits to minimize international calling and roaming charges. The app is also handy for making text messaging and sending media files to international numbers.
You can make calls to countries like Mexico, Honduras, Nigeria, and Colombia with the TalkaTone app. The app is compatible with smartphones and tablets. You can opt for in-app purchases if you want to access more exclusive features of the app.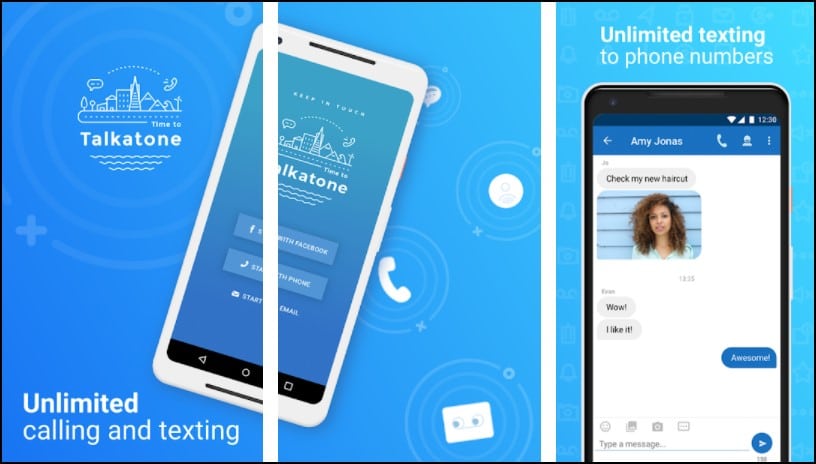 Standout Features:
Disposable international numbers
Mobile calling credits
---
Final Words
These were the 11 best Wifi calling apps we hope would be helpful for the users who are looking for the best. You can share our listicle with your friends and family so that they can eliminate the boundary and stay in touch with you. TalkaTone, Text Free, and Google Free are some top recommendations from our list. You can also mention your top picks on the list along with valuable suggestions.
Thank you for reading! Try these out too: