Getting married and starting a family means entering a new chapter of your life. Unlike the previous one, this one is a little more intense, which means a routine full of responsibility, chores, obligations, and duties. The main distinction here is that you now have to manage a family life along with a work one, and for a lot of us, things can get pretty messy. Luckily, the years of technological development now make it possible for us to use various applications for our benefit. Among countless others, the best family calendar app plays a vital role.
To ensure you share solid and healthy bonds with your family and loved ones, you need to be mindful of the critical dates, events, and gatherings. Since it can get hectic to manage work and family, you are prone to missing out on many important days, and it's where the best family calendar app comes into play.
The best family calendar app will help you be more prepared and organized, thus ensuring your family doesn't feel disconnected, as these applications come with a wide range of features that will assist you in the task.
The primary purpose of the best family calendar app is to ensure you keep track of everything and never slack off. However, one common concern among several users arises when they cannot find the best family calendar app. However, you don't have to worry about it as we have you covered with our list that will provide you an insight into them.
Excited? So, Let's Get Started.
Benefits of Best Family Calendar Apps
Reduce the stress and regret:- We live in a busy world, and it's familiar and easy to forget things. There are two principal phases with family events. The first is the stress of remembering it, and the latter is the regret in case you miss out on it. The best family calendar app will let you avoid it as you can easily mark all the important dates and instead spend that time and energy on more healthy activities.
Constant reminder:- Birthdays and anniversaries aren't the only important family events during the year. Instead, there are many others such as a friend's party with family, parent's teacher's meetings, rehearsal for the school event, etc. The best family calendar app will consistently send you reminders and notifications to ensure you don't miss out on the event.
Create your To-do:- Another notable benefit of the best family calendar app is that it provides versatile functionality. It means that you won't have to worry about getting a separate app to list all your daily tasks, and instead, you can rely on one of these applications to do it all for you. It will make the entire process more convenient as the app becomes your one-stop for more effective management.
Best Family Calendar Apps
---
Simple Calendar: Schedule App
Simple Calendar is a multi-purpose one of the best family calendar app. It contains all the features and aspects that you might expect from a beautiful and operative user interface. One of the reasons why the users find the app so helpful and it's one of the most popular choices on our list is because it offers a highly customizable pocket planner and calendar that does precisely what you want it to do. It doesn't contain complex features, annoying ads, or needless permission access.
Practical organization is one of the most significant benefits of the application. Whether you want a simple reminder for an appointment or organize everything in a lot more detail, a simple calendar is the best way to achieve it. The calendar widget offers plenty of customization options, including customizable event reminders, notifications, and calendar widgets, and you can also change the way it appears.
The user interface and usage of the application are also relatively easy and won't require much complex computing expertise or knowledge for you. All the tasks are pretty easy to perform. You can easily add daily, weekly, monthly, yearly, or even create a simple event list by pressing a few buttons. You can also change the color of the task based on its importance. The widgets ensure you are mindful of the tasks at hand or the ones you should expect soon. The final appearance of the application will align all the tasks on the calendar with the color code denoting their significance.
Related: Best Guitar Tuner Apps
Standout Features:
Customizable and attractive features
Easy to use interface
Practical and detailed scheduling app
---
TimeTree – Shared Calendar
If you and your partner want an application to add events while sharing the experience, TimeTree can be the best family calendar app. It lets the user connect and access the same calendar to add events. The method is highly effective for everyone since you share the responsibility and burdens, promoting teamwork and mutual efforts.
The app will also let you create various shared calendars making this app versatile and suitable for all sorts of purposes, thus meeting the requirements of both social and personal routines. Its invite feature will let you grant access to your calendar through SMS, WhatsApp, Facebook messenger, etc.
You can edit ad even create events for all members; however, the app goes further than that and lets you allot a color for different members and the activity, thus reducing the confusion surrounding it. You can chat and attach photos for different events with your partner; thus, planning for the event is more efficient.
TimeTree will also let you send a reminder to all the members of the groups and sync your calendar with others such as outlook and Google to diversify its usage. Other features include shared notes and to-do list creations, home screen widgets for easy scheduling, multiple calendars to manage and differentiate between various aspects of your lives. You can also use the app on your desktop as it also comes with a web version.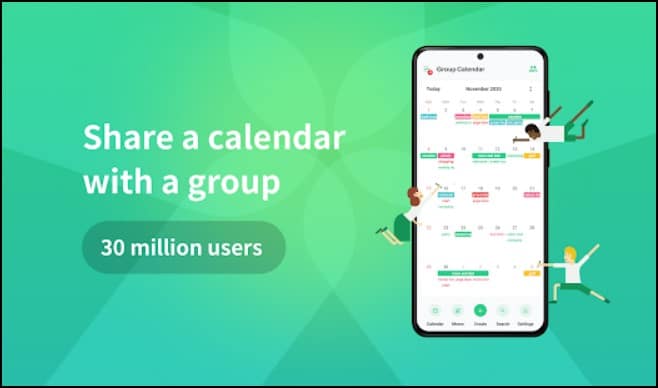 Standout Features:
Create and edit events for all the group members
Constant reminders
Widgets for convenient scheduling
---
Family Shared Calendar: FamCal
FamCal is another notable mention on or best family calendar app list. The application is quite versatile and will let you perform various tasks. Famcal is the ideal choice of family members for scheduling tasks and assignments, sharing contacts, and constant reminders of the critical dates. All of the features are combined in the app, ensuring all the family members are aware of the imminent essential events.
The most significant feature of the application is that you can use it to perform different tasks, and its functionality isn't limited to assigning tasks on a calendar. The app is also helpful for creating shopping lists, to-do lists, and memos, which means that you won't need another complementary app with it as it is capable of doing it all for you.
The family calendar feature will let you assign a different color to all the members and grant them access to the mutual calendar. The benefit is that it removes the burden from one user, and everyone can add the critical events. You can also create and share shopping lists or to-do lists with your partner. The application is the perfect way of staying connected with your family.
Related: Best Home Workout Apps
Standout Features:
Better organization
Plan and create family calendars
Efficient user interface
---
Cozi Family Organizer
Cozi Family Organizer is a simple yet effective and efficient way of managing your daily family life. This application is a popular choice for one of the best family calendar app among thousands of users because of its diversity. The app might be the only one you need to perform all sorts of tasks and manage your daily family life, and it will help you schedule tasks such as creating a shared calendar, grocery list, and daily reminders. The app is also a 3-time Mom's Choice Award Winner and the TODAY Show "must-have app" for a better life which speaks volumes of its abilities.
It features a unique and elegant yet straightforward user interface. The main concern with these applications is that sometimes they make reading difficult, but that's not the case with the Cozi family organizer. It will show you all the upcoming events with date and time. Furthermore, your partner can easily add a list of groceries and share it with you to easily remember it.
You can plan your entire month and allocate tasks for each day. Another notable feature of the Cozi Family organizer is that it will let you organize the recipes and plan your meals, which is unique as not many apps offer it. You can share the list with all the family members and give them a different color for easy distinction. You can also create to-do lists for all the family members and yourself, so everyone is accountable for their tasks.
Related: Best Weight Loss Apps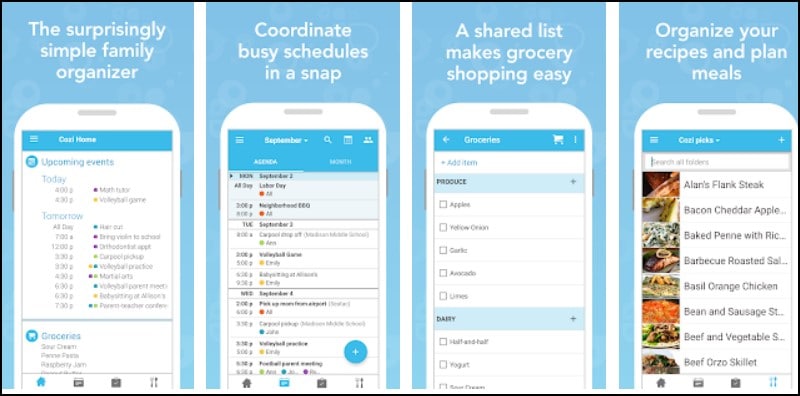 Standout Features:
Create to-do lists for your family members and yourself
Create and share shopping lists
Easy-to-use and attractive interface
---
FamilyWall: Happy Organization
As the name suggests, FamilyWall is one of the leading and best family calendar app that you will find on Playstore. The reason for it is simple, it combines all the features that you might want in a family app and offers it in an easy-to-use and efficient interface.
The family wall will provide you with all sorts of benefits, such as a mutually shared calendar, to-do lists, and a grocery list. It goes further and offers a timetable, recipe book, family locator, a joint gallery for everyone. The app will ensure that you can easily do it and perform all the obligations while spending less time in the organization. Since the app will let you access all the family members, everyone does their part to ensure closer and healthier bonds.
The app's home screen categorizes everything so you can instantly access any tab you want. It features a list option, calendar, meal planner, messages. The family calendar will let you create and plan everything together while also letting you sync it with Google and Outlook calendars.
You can create and share to-do lists or assign tasks to family members through the app. It will also let you plan family meals, store your favorite recipes and track or share all the family schedules. You can locate anyone or chat through the private chatting feature of the app.
Related: Best Credit Score Apps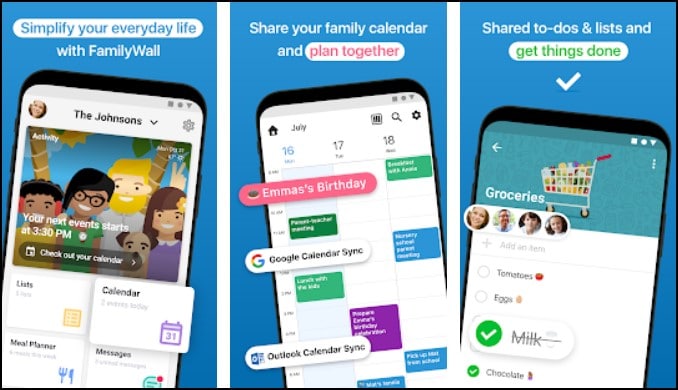 Standout Features:
Mutual calendar and to-do list
Create tasks for other family members
Locate your family members through the app
---
24me: Calendar, To-Do List, Notes & Reminders
24me is an ideal choice for people that intend on boosting their work productivity while also keeping track of things at home. The app is the best family calendar app that will let you achieve an equilibrium between your life's two most essential sides.
The application makes use of AI to help you in completing stuff. It will let you sync all the important dates on your calendar and consolidate your work schedule, thus keeping things convenient and stored in one place.
The app alerts ensure you are never late for your kid's birthday, a regular visit to the doctor, or your corporate meeting with its intelligent app alerts, which notify you of the right time to go out based on the traffic situation. You can also create and share to-do lists or grocery lists with other family members, thus keeping things clean and connected
The most significant feature of the app is micro-gifting. It will help you find the perfect gift for special occasions by simply tapping a button and selecting it. Once selected, the app links the item and sends a gift card to the recipient's email address.
Related: Best Sports Apps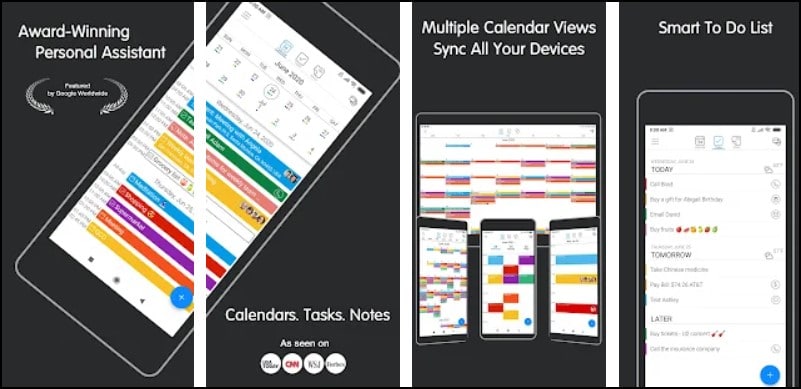 Standout Features:
A constant reminder for important dates
Micro-gifting feature
Create and share to-do and grocery lists
---
Final Words
We have created a list of some of the most practical applications, and now finding the best family calendar app is on you. Although our list contains plenty of choices, we know it's impractical to download all of them; hence, we leave the choice open for you to choose the one that fits your requirements quickly. Ultimately, choosing the best family calendar app even from our list falls on your expectations, requirements, and discretions. However, we suggest Cozi Family Organizer due to its versatility and features suitable for most users.
Thank you for reading! Try these out too:
General FAQS
What is the best family calendar app?
Many choices on our list can be the best family calendar app for you. However, we suggest Cozi Family Organizer, Simple Calendar: Schedule App, and TimeTree – Shared Calendar since they are some of the most popular choices.
Is the best family calendar helpful app?
If you want to ensure you never slack off from your family life and are there to fulfill all the obligations, this application will not only make things convenient for you but also ensure you meet the desired expectations. Hence, the best family calendar app is handy since it serves as a second memory.
Will the best family calendar app let me share data?
Yes, the best family calendar app will let you share tasks, grocery lists, or activities with other family members