Over the past decade, technology has become an essential part of our daily lives. It now finds itself playing a vital role in personal and commercial purposes. Innovation can also help you make money; you can now rely on hundreds of ways for generating cash online such as E-commerce, freelancing, and, most importantly, trading. If you are a trader, you can make a lot of money by depending on the best stock alert app, as this colossal invention is a must-have for everyone that dreams of financial freedom one day.
Investing your money in the stock market is a fancy opportunity for generating money; however, it requires excellent strategic planning and decisiveness. Whether you are trying to create a separate stream of income or generate enough cash for your retirement, building a stock market portfolio is an excellent way to do it.
The marvel of innovation is that you don't have to go to the stock market to get the share certificate or go through a lengthy procedure to sell them. You don't even have to rely on the stockbroker to do it for you. The best stock alert app will equip you with the power of selling and buying shares and stocks without any commission.
Although this is a fancy opportunity, many novice investors get scared at the idea or the prospect of scams. Since not every application is trusted, you will have to find the best stock alert app for you. It is why we are here with our list to help you decide which one will be your best stock alert app.
Excited? So, Let's Get Started.
Benefits of Best Stock alert apps
Add decisiveness to your trading:- One of the most important things when investing, and as Benjamin Graham in his book the intelligent investor stats, is decisiveness. A trader should know when to buy or sell a stock to ensure they make the most out of it, and even if it is about to go down, you sell it to minimize losses. The best stock alert app will help you monitor the value of your assets in all instances, so you can instantly sell or buy them.
Tracking:- Capitalizing on every market opportunity is the best way to make plenty of money. You will need an application that provides accurate tracking of the assets and real-time monitoring of all your potential targets. The best stock alert app will provide you with plenty of features, including precise notifications for buying or selling limits on assets.
Constant reminders:- Certain stocks will fall into your affordability range while others need to be sold to make way for more. You can also easily slack off at various instances or lose track. The best stock alert app will send you alarm reminders for when you need to take action.
Best Stock Alert Apps For Android
---
Investing.com: Stocks & News
Investing.com is one of the best stock alert apps you will encounter. It is a unique way of tracking different stocks globally. The application has it all for novice investors and experts, from functionality and features to a user interface that you can easily manage and won't make things complicated.
The most significant feature of the app is that it provides live quotes along with charts of above 100,000 stocks and covers above 70 global exchanges. Hence, it provides you control over all the financial transactions globally so that you can buy stocks of your favorite company regardless of its geographic position.
Another notable feature of the app, which is also of great use to investors, is that the app will provide you with detailed information about commodities, interest rates, options, futures, bonds, etc. It will allow you to view all the stocks you have or the ones you are about to buy in a lot more detail. Thus, your decisions and calls are more likely to be more accurate based on it.
The application also features a detailed economic calendar that mentions important global economic events. Since these events and activities can directly affect the market, you can prepare as per the situation. You can also create a customized portfolio to keep an eye on the stocks, bonds, and a lot more.
There are a lot of various stocks that you can track using the application. The investors can get customizable alerts to different covert aspects such as percentage changes, specific prices, volumes, etc. You can also alert the news analysis articles or keep track of any significant economic event.
Related: Best Guitar Tuner Apps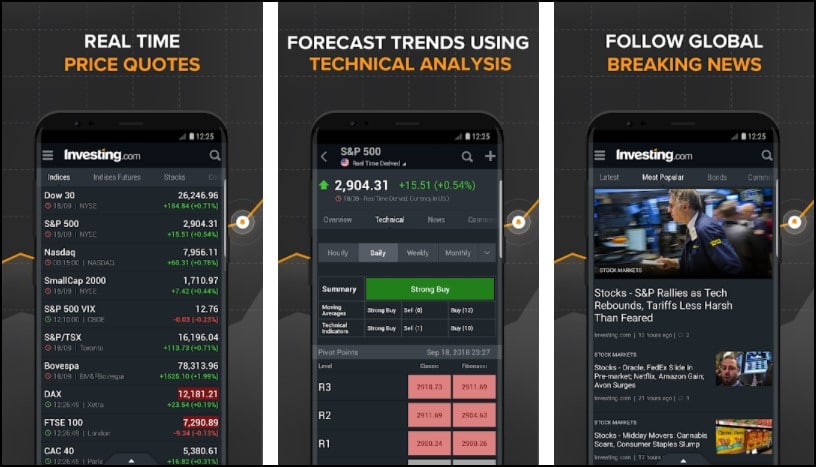 Standout Features:
Set custom alerts for stocks
Detailed stats
Easy to buy stocks globally
---
Yahoo Finance
Yahoo Finance is an established name, and it's one of the best stock alert apps for thousands of users who have had it as their default choice for years. The app is a remarkable market resource that provides real-time and accurate stock information and data. The application can track your portfolios and provide you with comprehensive data.
If you want to track particular stocks, you can insert them into the watch list to get quotes along with personalized, latest news about different companies. It will allow you to make the right calls depending on the company affairs, thus minimizing the chances and risks of a loss. You can now turn your mobile into landscape mode and get the charts on the full-screen. The feature provides more detailed data about the stocks and lets you compare various options.
Yahoo Financesisn't limited to stocks as you can use it to past track the market, thus getting information on bonds, currencies, equities, commodities, and world markets. You can also use it to follow above 100 cryptocurrencies. The Yahoo finance website contains Blocks decoded to provide more insight into the crypto coins for added knowledge. You can use the application for customizable stock alerts. Thus the app will notify you when the particular stock is about to go up or down along with other related data.
Related: Best Home Workout Apps
Standout Features:
Track different stocks and get timely alerts
Multi-purpose functionality
Efficient application
---
Stocktwits – Stock Market Chat
Stocktwits is a notable mention on our list, and it's the best stock alert app for people that apart from trading, also want to develop a social connection with other investors. The application will let you chat with other traders and investors for a better understanding of the market and get more info about the status and potential changes in the value of your stocks.
Apart from the general chat connecting traders globally, the app also has an investor chat for particular stocks. It will help you get in contact with people holding the same stock as you and get more insight into where it's headed. The app also encompasses a trending list that displays the market spectators the news surrounding the particular stocks, whether they are moving down or up or if more established investors are going for it.
The app provides automatic and customized stock lists and the highlighted news surrounding it for assistance in exploring the market. Its advantage will let you discover an investment with great potential. The app also offers a detailed cryptocurrency section with the latest earning calendar to see the stocks with impending earning rumors. You can also program the app to provide alerts about a specific stock or stats surrounding it.
Related: Best Weight Loss Apps
Standout Features:
Chat feature to connect with other investors
Detailed stats about particular stocks
Convenient and intuitive user-interface
---
Real Time Stocks Track & Alert
Real-Time stocks track & alert is a complete application that provides plenty of features making it suitable for a wide range of users. It is the best stock alert app for getting information about stock live streaming. Its also capable of creating and tracking various watch lists or stock portfolios, while the application is compatible with all the popular stockbrokers in the US.
The app has an excellent user-friendly interface that will let you sell or buy the stock by simply swiping on its name. For each stock page, the application provides a lot of information which includes technical data, stats, indicators, along with comments; thus, you can reach a more reasonable decision on whether you should buy it or not
Another notable feature of the app is its stock scanner. It will require you to input different customizable variables such as market cap, prices, EPS, and many others to calculate or find the one stock that fits all your requirements. The most significant feature of the app is that it also supports various customizable alerts. It allows users to set prices of a particular stock, which appears as the app's badge.
Additionally, if you want to improve your investing skills, it contains a separate section that targets paper trading. It will let you test the market without actually investing, and thus, you have a better idea of whether you made the right decisions or not.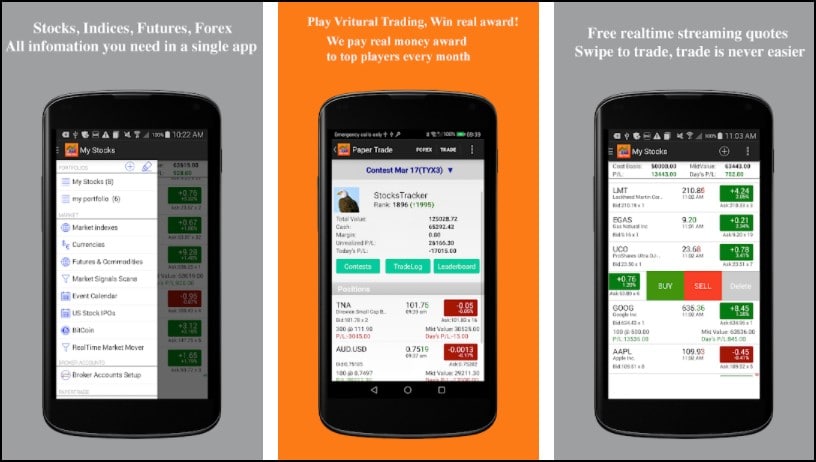 Standout Features:
Customizable alerts
Efficient interface
Paper trading to enhance your trading and investing skills
---
Bloomberg: Market & Financial News
Bloomberg is one of the best stock alert apps, and it's an iconic name among investors. The application is multi-purpose and provides an excess of useful features, making the app the ideal choice for different people.
As its name suggests, the application is ideal for creating and tracking stocks; however, you can also get awareness on other business news and aspects. It will let you create a portfolio with currencies, mutual funds, ETFs, stocks, and a lot more. The application can also provide the latest alerts on your financial status, and Thus, you get notified about any potential market fluctuations or trends.
You will get access to all the features articles, watchlist summary, and market data through a widget for all the stocks you are currently holding. The news feature will let you know what's going on in the financial world. You can listen to Bloomberg Radio without any costs as a subscription will provide access to Bloomberg TV.
Related: Best Sports Apps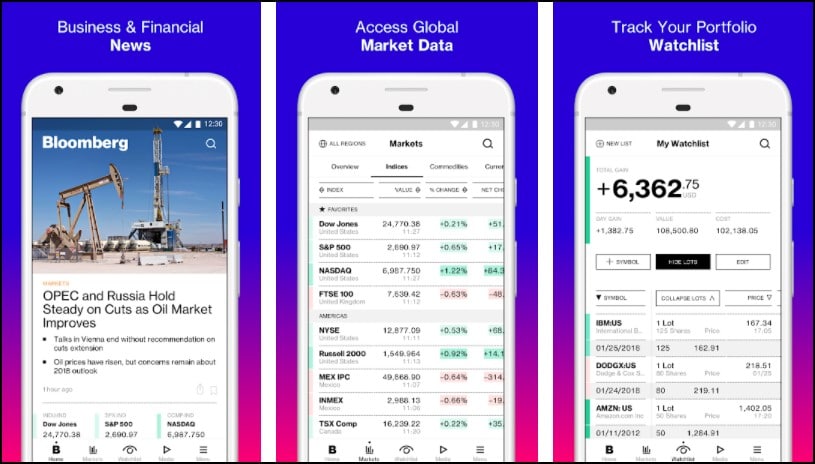 Standout Features:
Get access to the latest market data
Create a portfolio for stocks, mutual funds, etc.
Convinent interface
---
JStock – Stocks,Stock Market,Portfolio,Investment
Jstocks is one of the best stock alert apps for people who want to invest globally, as this application can track stocks in up to 23 different countries, including the US. The app will express local currency in the blue heading when considering the foreign stocks, displaying the newest exchange rates.
The application will let you manage unlimited portfolios at the top of stock dividends to get a clear insight into your current financial position. It offers charts that provide a clear and more detailed look at dividend returns and portfolios, thus making their management more accessible and efficient.
You can rely on the widgets to view the stocks on its watch list or see how the global market is performing. Another valuable feature of the application is that it offers up to 10 years of stock history chart. You can read all the stock market news with the latest news and access an annual yield form from the stock market by using the performance charts.
Jstock will also let you keep track of the stock world indices and receive market alerts. The benefit of these customizable alerts is that the app will alert you when the prices of the stock move above or below the threshold; thus, you can either buy or sell as per the situation.
Another significant feature of the application is that it provides a limitless stock number watchlist and portfolios, which will make things a lot easier for you. Additionally, you can view the foreign stock portfolio value In its local currency and based on the latest exchange rates.
Related: Best Credit Score Apps
Standout Features:
Suitable for managing stock portfolio across different markets
Get dividend from the stocks and manage it by stock market dividend management feature
Performance charts for the annualized yield
---
Final words
We have covered the best stock alert app in great detail in our list above. Our list contains different choices based on their features, functionality, constant updates, accuracy, and a lot more. Hopefully, you will have a lot more clarity by now, and you will find the best stock alert app from our list with nothing to lose. However, although we have compiled plenty of choices, it now depends on your discretion to find the best one based on your requirements, expectations, and usage. We recommend Investing.com: Stocks & News and Yahoo Finance.
Thank you for reading! Try these out too:
General FAQS
What is the best stock alert app?
There are many choices that you can select. However, as per popularity and establishment, the two famous names are Yahoo Finance and Investing.com
Is the best stock alert app useful?
Whether you want to track and catch the movement during the early morning or the day, the stock alert app is the best choice. It offers a stock alarm that will track different stocks by providing you with push notifications and alerts.
How to get notified when your stock hits a particular price using the best stock alert app?
Apps such as Yahoo Finance will let you create alerts that notify you when your stock reaches a particular price. You can also create alerts for different prices ranges as you want.