Feeding your favorite songs in memory is a complicated task. We all love to sing along to our favorite songs. It is possible to sing along to your favorite tracks with the best karaoke apps. It is a must-have app in your app drawer when music is the most preferred source of entertainment for the users. People listen to music when they want to relax after a hectic day or while traveling.
Our listicle of the best karaoke app will assist and guide you to some of the best options available out there. We present a diverse list of the best karaoke apps that users can opt for based on their requirements. Before diving into our listicle, let's look at some of the benefits the best karaoke app provides to the users. 
Excited? So, Let's Get Started.
Benefits of Best Karaoke Apps
Sing-Along: You can sing along with your favorite songs with the help of the best karaoke apps. Karaoke apps are syncable with music streaming apps like Spotify and Gaana. It can help you fetch real-time lyrics that you can sing along easily. The app can also provide real-time lyrics in multiple languages.
Memorize songs: When you repeatedly sing along with the help of real-time lyrics, you can conveniently memorize a song. Frequently repeating the lyrics will fit the song into your muscle memory. Moreover, it can help you to enhance your memorization capability.
Best Karaoke Apps For Android
---
WeSing
WeSing is a popular karaoke singing app. In this app, you can sing karaoke and also record it. You can sing party songs, romantic songs, and sad songs as well. This app also allows you to sing your favorite song in your style. You can also show off yourself just by recording a karaoke video. WeSing allows you to choose over 6 million songs. You can sing top hit songs you like. You can also sing duets with your friends. WeSing also has a live streaming feature to show off all your talents besides singing.  
You can also take challenges because WeSing has a duet challenge feature. You can join the various music activities to show off. It has more features like a KTV party room, record karaoke videos, duet with friends, music video community, interactive music activities, and much more.
You can support your favorite singer. Sing any top hit song. You can duet with your friends anytime, anywhere. You can make friends through music and you can vote for your favorite singer. WeSing has over 6 million songs and 100 million users around the world. 
Related: Best Guitar Tuner Apps
Standout Features:
Duet Challenge
Live streaming feature
100M+ users worldwide
---
Smule
You can sing and record voice and video effects with the Smule app. Also, you can perform with music celebrities. You can record and make videos with your friends with the help of this app. With the help of Smule, you can sing a duet and solo songs.
Smule has over 10 million+ songs. You can use audio effects and video filters to look your best and sound your best in your recorded videos. You can also go live and give your performance using the sing-live feature.  In this app, you can make videos and record your vocals and then add your video. Add visual effects and filters just to make your recording stand out.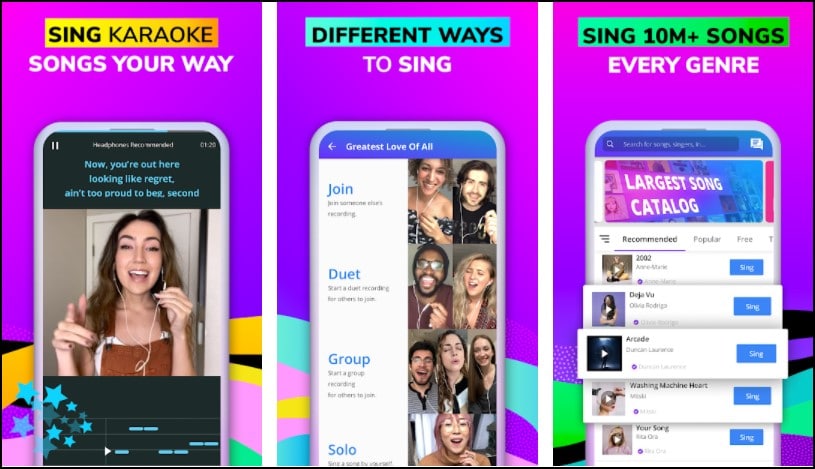 Standout Features:
Customize your background
Add visual effects
Sing live
---
Starmaker
No matter what you like slow music, pop, folk you can sing it with the help of the Starmaker app. It is a popular app with over 50 million followers. You can connect with billions of users worldwide. You can customize your favorite ringtones. It has a private place for your close friends. You can choose your favorite song in the list and also add effects.
Starmaker believes that there is a hidden singer in all of us. So this app will help us to bring out the hidden singer in you. You can also duet with top artists and sing together. You can go live and win likes and fans.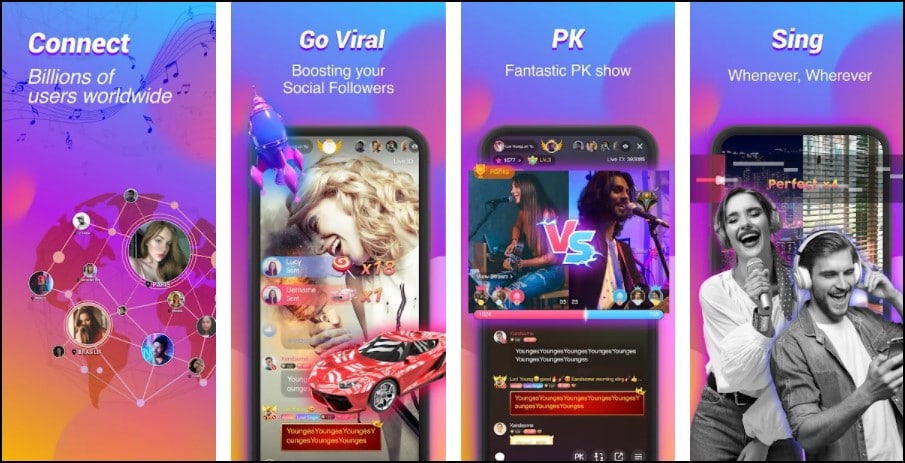 Standout Features:
Multiple genres
Sing duet with top artists
A private place for close friends
---
Musixmatch
Musixmatch is a very interesting app that has the largest collection of song lyrics. You can discover the music you love with its lyrics and also its translation. Yes, you hear it right you can also now use it to get song translation. Musixmatch lets you enjoy lyrics with music from many apps like Spotify, YouTube, Apple Music, sound cloud and google play, and many apps like that.
You can get notifications of all new songs lyrics. You can also learn different languages with fun by displaying the translation of the lyrics. You can also share your e song lyrics with amazing, interesting, and cool backgrounds with the LyricsCard feature. Play YouTube video in full screen, on landscape mode, to enjoy the floating lyrics. You can also enjoy offline lyrics.
Related: Best Home Workout Apps
Standout Features:
Lyrics translation
Floating lyrics
Play video in full-screen mode
---
Voloco
Voloco app has over 50 million users all over the world. Singers, rappers, musicians, and content creators use this app. This app allows you to autotune from your mobile phone like a professional. This app elevates sounds and lets you create recordings like a pro. This app also removes background noise automatically to make your recording amazing and clear. You can also add effects to make your recording attractive.
You can select from hundreds and thousands of beats made by producers for free. You can be creative with the voloco app with effects like reverb and auto voice tune to the vocals as a voice recorder and voice changer. This app can change your voice or any voice into a child voice or many different voices.  
Related: Best Weight Loss Apps
Standout Features:
Ideal for creative people
Easily lyrics learning
Customize your video
---
Karaoke mode
Now you can enjoy thousands of karaoke free. In this app, you can sing your favorite song in karaoke mode. You can use your headphones to record high-quality voices. At last, you can sing thousands and thousands of songs on your smartphone in different languages.
You can record, save your recordings and listen to them later whenever you want. You can create a favorite list and add your favorite songs to easily access them on the go. This best karaoke app comes with in-app purchases that you can buy to unlock amazing features.
Related: Best Sports Apps
Standout Features:
Don't let you forget lyrics
Make your video perfect
---
The Voice Karaoke
The Voice Karaoke app can help you sing karaoke to millions of songs. You can find a karaoke song you love. The voice karaoke has Rock, pop, romantic songs, kids, hip-hop, and much more like that. You can sing a duet with your friends and singers from all over the world. Share your creation with more than 100M+ creative creators to showcase your singing talent to the world.
Besides original songs, the app contains cover songs that you can sing along with and groom your singing skills. You can enhance the audio quality of your karaoke with studio-level vocals.
Standout Features:
Millions of karaoke songs
Cover songs
Studio level vocals
---
Karaoke Anywhere
All songs, all music, all fun now in your smartphones. Karaoke Anywhere is the world's first fully-featured app that can work on your Android phones. It has 5,000 songs for you to sing and record and enjoy in your free time. You can also purchase over 40,000 songs. You can sing your favorite songs in high quality. You can use wifi connection for better quality while streaming karaoke songs
The app also allows you to transfer and import audio files to any external device. The app adds 4000+ karaoke songs in its database monthly, making it one of the best karaoke apps. You can enjoy a real and high-quality karaoke singing experience with the Karaoke Anywhere app. If you want to connect with like-minded people, you can join the club karaoke section. The monthly subscription to the app will cost you $9.99.
Related: Best Credit Score Apps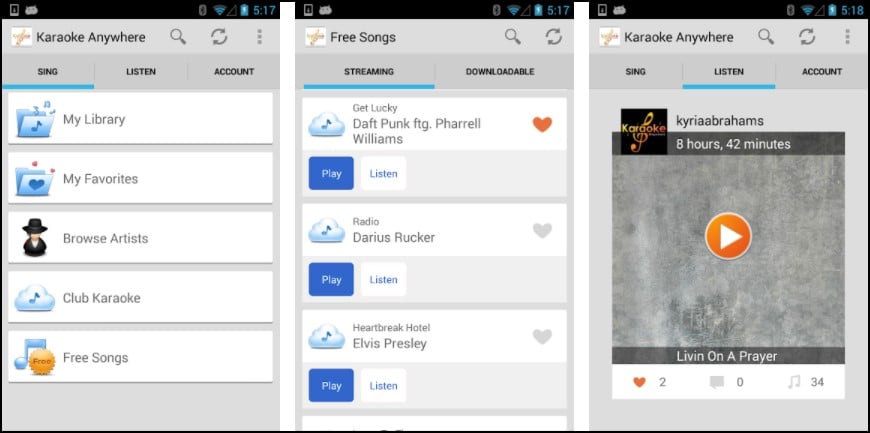 Standout Features:
Vast library
4000+ Karaoke songs updated monthly
Join club karaoke
---
iSing
Choose your favorite karaoke song from the thousands of karaoke songs on the iSing app. The app contains high-quality karaoke tracks that enhance the user experience. You can watch the karaoke recordings of the other users. The app allows you to record and publish your tracks. You can choose from the multiple karaoke animations while singing your favorite karaoke tracks.
This best karaoke app filters songs via genre so that you can easily find the track you are looking for. You get access to a new release every Friday. You can sing karaoke in 2 versions, beginner when you are a noob and Pro when you have attained perfection. You can also create your profile and subscribe to other creators to expand your social circle.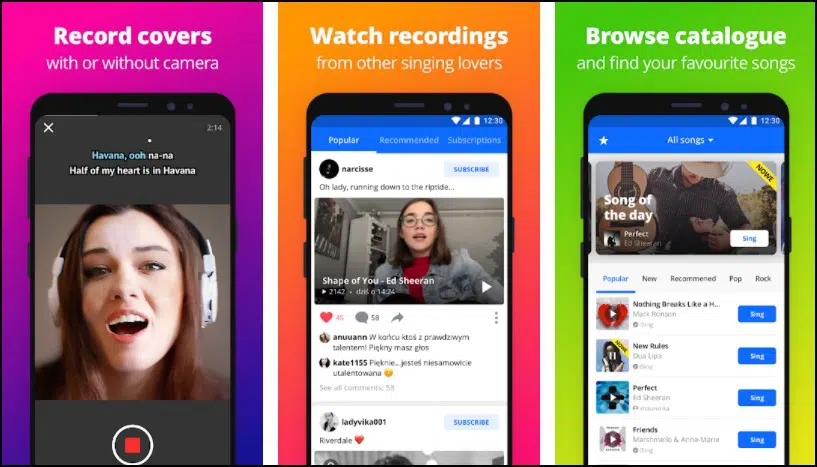 Standout Features:
Record and publish your tracks
New release every Friday
Build your social network
---
Final Words
These best karaoke apps will assist you in singing along with your favorite songs. We have diligently compiled this list of the best karaoke apps that will meet the diverse needs of the users. Our top picks are WeSing, Smule, Starmaker, and The Voice Karaoke that we highly recommend to the users. You may add your comments regarding your top picks and suggestions.
Thank you for reading! Try these out too:
General FAQs
Is Starmaker a good app?
Over the years, the Starmaker app has gained an increase in the number of users and followers. The app provides handy features to the users due to which it has achieved wide acceptance amongst the audience. The app allows you to access karaoke songs from a plethora of categories. Also, the app has rich customization features that catch the eyeballs of the users.
Can I use my mobile microphone for singing?
Absolutely yes, you can use your mobile microphone for singing. All the smartphones have a mic slot which some users may not be aware of. You can use the microphone as a mic for singing or doing any other activity.
How can I sing karaoke for free?
Well, that is what our listicle of the best karaoke app is for. You can install your favorite karaoke app from our list and start singing the karaoke. WeSing, Starmaker, Smule, and MusiXmatch are some highly popular apps you can use to sing karaoke.