In today's world of constant data breaches, maintaining the confidentiality of private messages is crucial. To ensure your messages remain protected from intruders, it's essential to use a secure messaging app. We've compiled a list of the best apps for secret texting, all of which prioritize user privacy and protection.
These apps use end-to-end encryption to scramble messages, making them unreadable to anyone except the intended recipient. Using these apps will give you peace of mind, knowing that your messages will remain confidential even if someone gains unauthorized access to your device.
Excited? So, let's get started.
Benefits of Best Apps For Secret Texting
Privacy:- There are hundreds of messaging applications on the play store. The concept of digital messaging has revolutionized communication as people now prefer a digital messaging app over other regular means such as calls. The best app for secret texting provides privacy, ensuring that your conversations remain discreet. It will provide you with end-to-end encryption that ensures nobody can get into your messaging app and access your messages.
More Features:- Another notable benefit of the best app for secret texting is that it provides added features that you won't find in regular applications. It includes different features such as self-destructive messaging, views once messages, conversation screenshot notifications, etc., that ensure complete confidentiality. Additionally, it also protects the user from getting their messages leaked. Hence, choosing one can be a great choice if you want a dedicated app.
Functionality:- You might expect the best app for secret texting to be tedious; however that isn't the case. These applications come with an interactive, user-friendly, and attractive user interface. The apps will provide you with all sorts of messaging, video, and voice-calling features that ensure you make the most out of your experience.
Best Apps For Secret Texting
---
Utopia P2P Messenger — The Best Tool for Privacy
Utopia P2P Messenger is a convenient instant messenger built into the Utopia P2P ecosystem, which provides fast and anonymous sending of messages. Each message is encrypted and no one except the recipient and sender has access to it.
The Utopia P2P ecosystem is a decentralized and anonymous platform in which there is no single server for data storage. Instead, all information is stored in special crypto containers. In addition to Messenger, uMail, Idyll Browser, Web Proxy, and much more are available inside.
Messenger is available for download on the Android operating system. After downloading, functions such as sending and receiving text messages, support for transferring multimedia files, sending various emojis and emoticons, and much more will be available.
The computer version is more extended and suitable for installation on Windows, macOS, and Linux.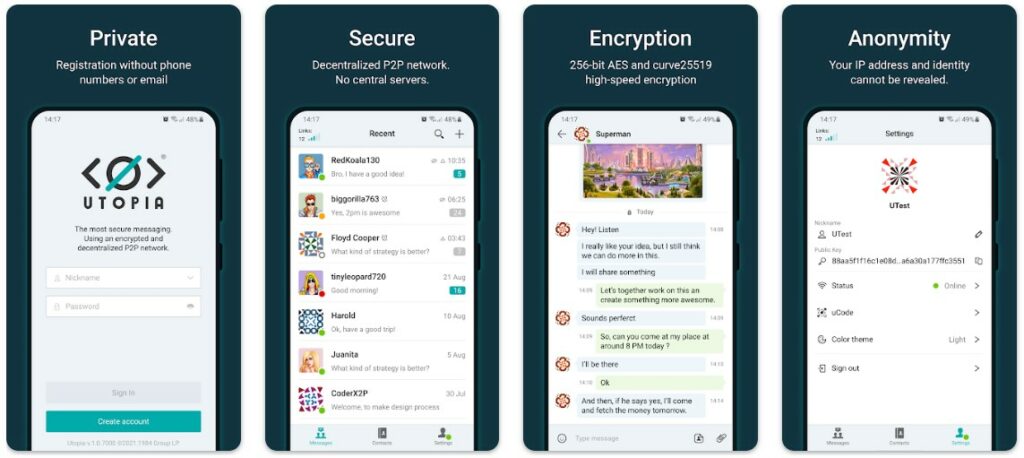 Standout Features:
Completely anonymous
Censorship and surveillance-free
No ads and spam
---
Rolo Secure Chat
Rolo is a reasonably new application, but it establishes itself as one of the best secret texting apps. One of the most significant reasons that thousands of people trust it to be their number one choice for messaging is because Rolo adds multi-layer security, which includes end-to-end encryption of the chats by the popular Blackberry core technology.
The app doesn't compromise confidentiality and privacy. It ensures that your data is never shared with third parties without consent. It doesn't even track your activity online. The developers can't access your messages; thus, you can blindly put your faith in the discretion of your private messages.
The app also incorporates many innovative features that you won't find in other messaging applications. It includes controlling who can view and download your files or photos, peaking at new messages without exiting your chats, and an undo button that instantly erases the messages and saves the embarrassment a lot more.
Rolo is not limited to chatting with a single person as it will let you add up to 255 participants and create a group chat; thus, you can all talk about a particular subject. It incorporates a message translator, thus making communication easier for people in other parts of the globe. It will let you translate the message into up to 15 different languages.
All the messaging features combined with a voice and video caller, and to top it all off, its excellent security measure makes Rolo an excellent choice. If you are looking for something that offers all these aspects, this could be it.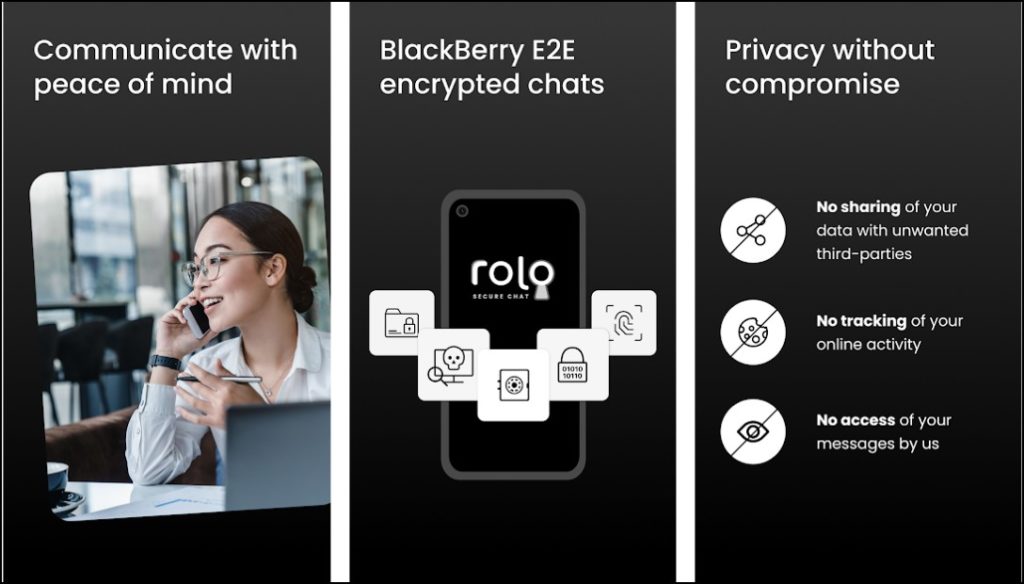 Standout Features:
Blackberry Messenger (BBM) technology
Extra privacy features
In-built message translator
---
Signal Private Messenger – Best Private Messaging App
Protected messages, self-destructive messages, and other security benefits are some key standouts of Signal private messenger. The app has been developed by a popular Non-profit organization, Signal Foundation, whose main aim is to protect against the breach of user data.
It is an open-source system that protects the files you send and receive. The screen security feature of the app will not allow the second party to take screenshots of the chat. The app is free and easy to use with a buttery-smooth UI that makes it one of the best apps for secret texting.
Related: Best Step Tracker Apps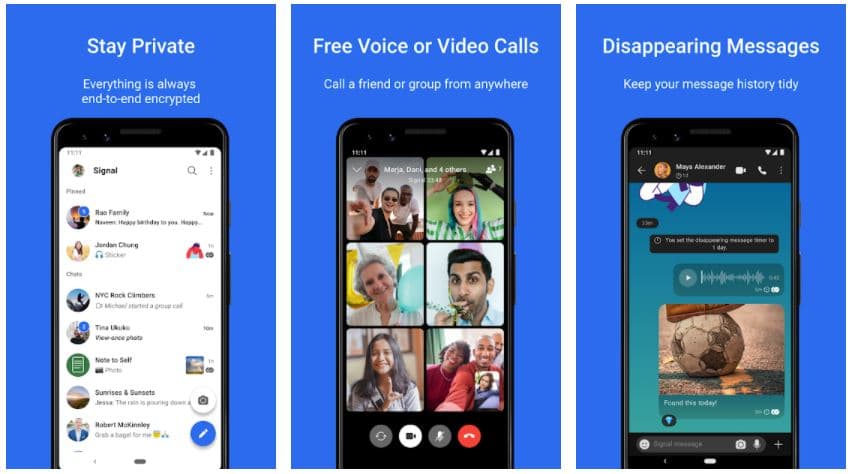 Standout Features:
keeps your conversations secure
Completely independent
Enhanced audio and video quality
---
Telegram – Best Popular Secret Texting App
Telegram is unarguably one of the best apps for secret texting, and a great WhatsApp alternative due to the features it offers. Telegram apart from messaging services offers you to create a public channel, do secret messaging, do self-destructive messaging, create supergroups, and share big-sized files. All your messages are completely protected with end-to-end encryption.
The app also provides some cool customization, where you can change the theme of your chats that includes Dark, Night, and Arctic color themes. You can create your personalized chat folder, where you can separately see that personalized folder in the chat list. The best feature of the app, which most of you might be unaware of is that it also offers you to download the latest movies, Web series, and dramas in high quality.
Related: Best Guitar Tuner Apps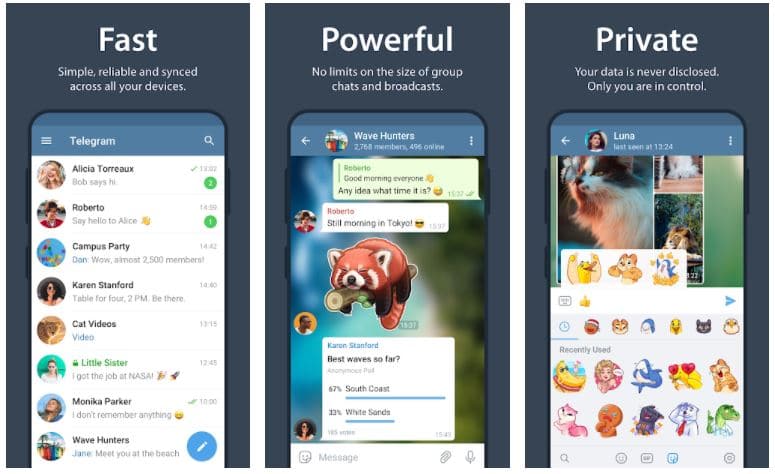 Standout Features:
Group chats for up to 200,000 members
Share large videos, documents
Set up bots for specific tasks
Anonymous polls
---
Threema – Best Secret Texting App
Here is one of the most secure apps on our list that will take care of your privacy. You do not need to register with your mobile number, it provides you with an 8-digit ID that can be used to access this app. All your messages and files are end-to-end encrypted, and you can hide your private chats. The app is handy for voice calls, Group video calls, and messaging. you can know the identity of the user by scanning the QR code.
It also protects your status message so that no one is tracking your activities. You can also limit users who can see your update. All your data are stored in your internal storage, not on the app, which makes it more secure. one additional feature this app provides is to do polls and have feedback about your chats. This is a paid app where you need to pay somewhere around $3 to use the app. The above being said, it is apparent why it is one of the best apps for secret texting.
Related: Best Home Workout Apps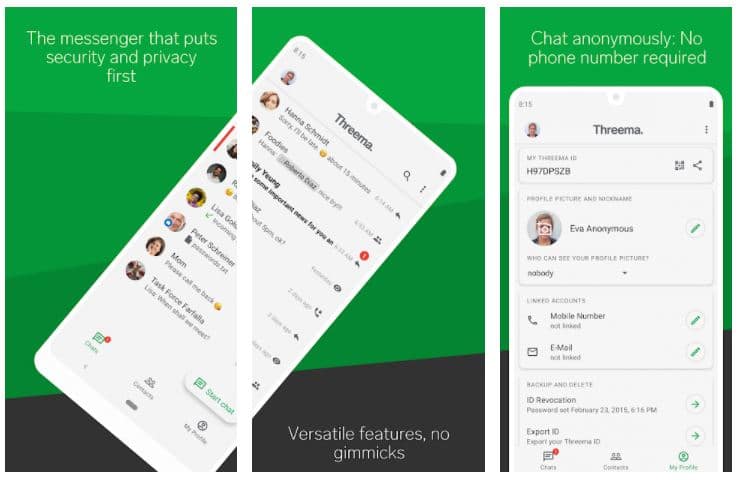 Standout Features:
Anonymous instant messaging tool
Highest Encryption strength
Conduct polls
---
Viber – Best Secret Texting App For Android
Next up we have Viber on our list, which can be your perfect partner for messaging and is encrypted. You can do free audio and video calls in high quality. Viber Out will help you to make international calls at low-cost charges. You can also use chat extensions to use some expressive Gifs, Emojis, and stickers while chatting. You can seamlessly sync Viber across all your devices.
Viber also includes a self-destructive message feature, where you can set a timer for any chat, after the expiration of the set time, your chat will get self-destructed. If you are a social guy and love to meet and explore new people, then Viber has a community page for you, where you can interact and share your thoughts with hundreds of users. The app contains some in-app purchases and ads.
Related: Best Weight Loss Apps
Standout Features:
Chat and Call with 100% Privacy
Chat Extensions
Viber Community with Unlimited Members
---
Silence – Best Secret Texting Apps
Silence is an open-source free messaging app that can protect your privacy. The app comes with Axoloti Encryption Protocol that ensures your messages are private and protected. You do not need to sign up or fill in sensitive information to get going.
All the messages are end-to-end encrypted and stored locally on your device. Your data is protected if you accidentally lost your phone. You can share documents, attachments, and much more with this app. You can use the app without an internet connection in offline mode and GB Whatsapp is another texting app that offers similar sort of features.
Related: Best Sports Apps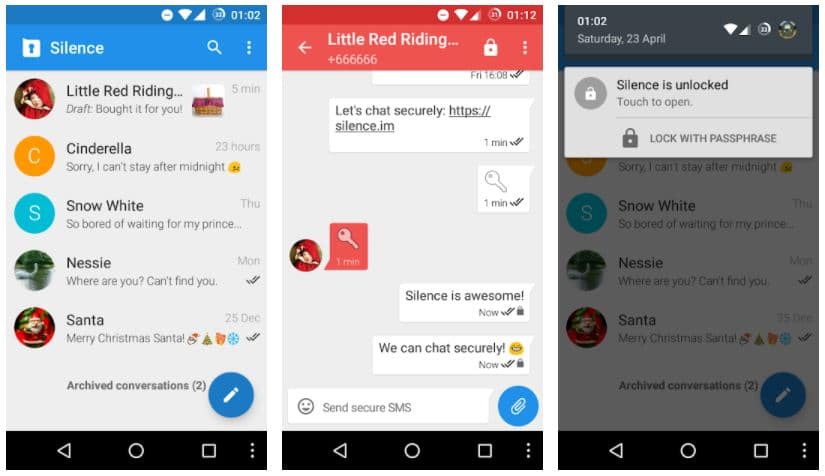 Standout Features:
Axoloti Encryption Protocol
Open-source
No internet connection required
---
Wickr Me – Best Free Secret Texting Apps
Encrypted with advanced vetted end-to-end encryption, the next app on this list of best secret texting apps is Wickr me. You can connect one-to-one or with a group of 10 friends at once with Wickr me. You can make voice calls, send voice notes, share files and attachments with the help of this messenger.
Every bit of data is protected by a new key vetted encryption. The app did not require any phone number or Email address to operate. Your address book and communication data are not stored on the servers of the app. The app is highly reliable and approved by researchers in the industry making it worth trying.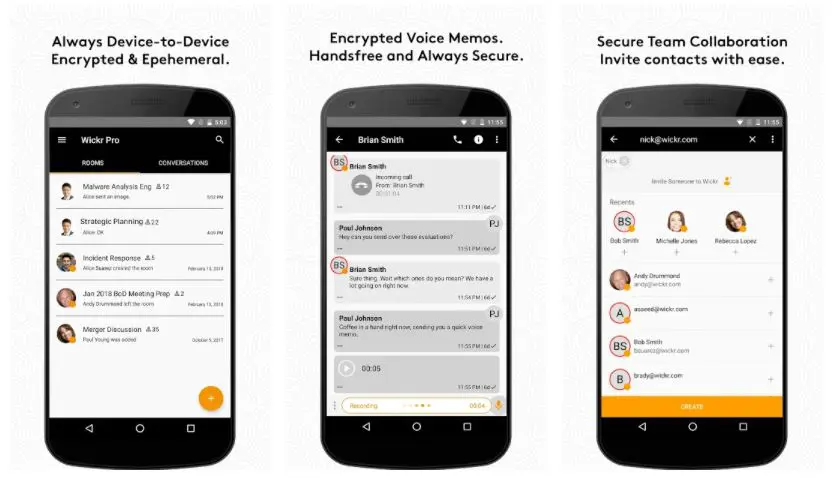 Standout Features:
Vetted encryption
No Email required
Approved by researchers
---
Dust – Best Apps For Secret Texting
Hackers and intruders will bite the dust if they plan to sneak in into your smartphones. Dust is a free messaging app protected with high-grade encryption. You can share all the sensitive data with your friends without worrying about it being breached.
You can unsend any message with dust which is a useful feature to have. The app notifies you when a screenshot is taken from any user, All your messages get automatically erased within 24 hours making it one of the best apps for secret texting.
Related: Best Personal Finance Apps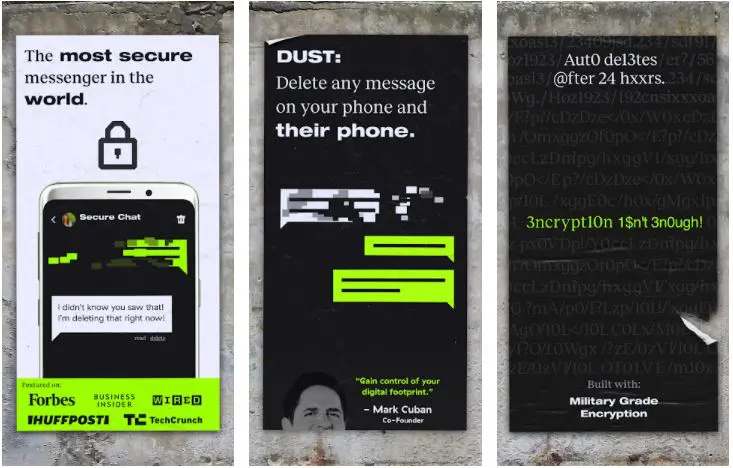 Standout Features:
Send secret texts
Auto erase
Unsend messages anytime
---
Line – Best Secret Texting Apps
Line app used to be our favorite messaging app since its inception. It is still one of the best apps for secret texting in the circuit. You can make free voice and video calls one to one, or with a group of 200 members. Share all the daily happenings on the timeline of the app with your friends.
The app contains a diverse range of stickers which distinguishes it from its competitors. You can conveniently share attachments and files with Line across different format types. The app also assists you in making high-quality international calls at low rates.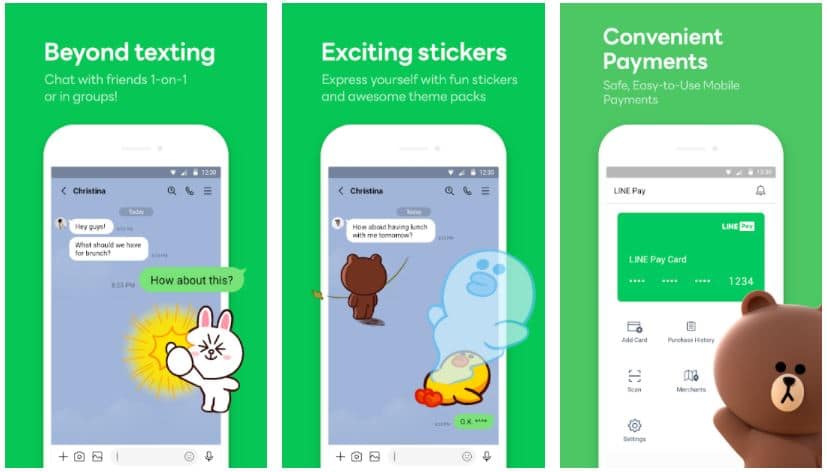 Standout Features:
A diverse range of stickers
convenient sharing
International calls
High-grade encryption
---
Snapchat – Best Free Secret Texting Apps
hough Snapchat is more about taking snaps and sharing them with your friends, it can be one of the best apps for secret texting. With some exquisite filters and lenses, you can chat with your friends which can be self-destructed within the set period.
Snapchat also allows you to make your avatar that will automatically share some funny and cool stickers of your Avatar while chatting with your friends. You can do all the basic functions that a messenger app can do. The app is free and does not contain any ads or in-app purchases.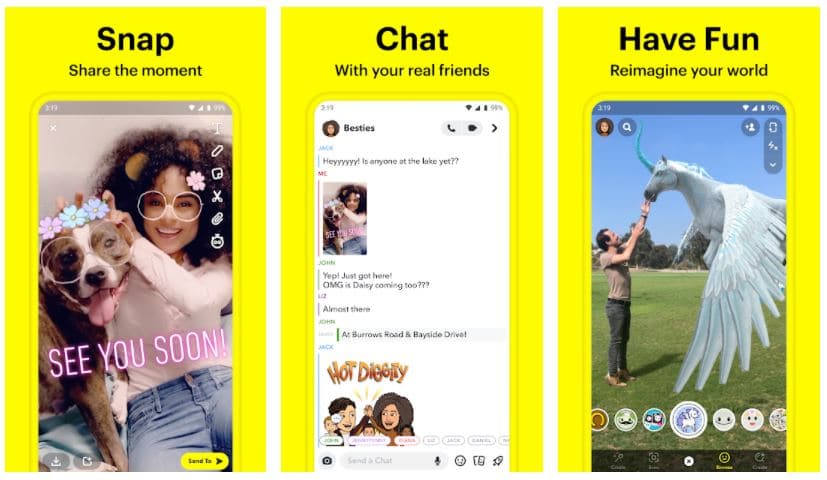 Standout Features:
Snap map
Memories
Exclusive filters
---
Cover Me – Best Unique Secret Texting Apps
Cover Me brings something unique which is a part of our list. The app provides you with a real US or Canadian mobile number that can be used to make private phone calls. It provides you with a number of different Pin codes that you can use to maintain privacy and anonymity. Messages are end-to-end encrypted and can't be accessed by any third party.
You can send disappearing messages and recall sent messages from your inbox. Besides maintaining anonymity, you can save your photos and passwords in the private vault of the apps. You can protect your security from prying eyes in public just by shaking your smartphone. Not only this you can also disguise the app with a face mask to keep others confused. The unique features of the app make it one of the best apps for secret texting.
Standout Features:
Private numbers with different Pin codes
Face mask app
Disappearing messages
---
Wire – Best Apps For Secret Texting
The wire is the next best app for secret texting that will best be suited for corporates. The Wire is an open-source app that lets you collaborate with your team and communicate with them with complete secrecy. All your messages will be end-to-end encrypted and you can have a private conversation.
You can also create guest rooms and invite your team members and clients. The best feature of the app is the one-click conference, which allows you to start a video meeting instantly. You can easily share all the files and documents, Sync them across all your corporate applications, and access them whenever you want. The app is available without any in-app purchases.
Standout Features:
A one-click conference call button
Unique guest rooms
Ephemeral messages and device fingerprinting
---
Final Words
We hope our list will help you to maintain your privacy and protect your data. Go ahead and choose any app from our list to try your hands on if you are looking for the best apps for secret texting. Your love and support will be highly appreciated, do like and share our content with your friends.
Thank you for reading! Try these out too:
General FAQ
What are some advantages of secret texting apps?
Secret texting allows you to maintain the secrecy and privacy of your messages. You can freely text with your close friends, and family members without the fear of getting sensitive information breached.
What is the best app for secret texting?
We have numerous choices on our list. However, the best app for secret texting as per our recommendations is Snapchat, Signal, and Rolo.
Is the best app for secret texting free?
The best thing about our list is finding both free and paid secret texting apps. However, there are a few applications that will oblige you to buy the premium to unlock more features.
What is the best app for secret texting that can save all my files?
The best application for this purpose is Rolo. The app contains a vault that will let you store all the files and provides a storage capacity of up to 5 GB. Hence, the app is an excellent choice for storing all the essential documents.