We all face unstable internet connection problems, whether we are using 3G or 4G networks, or any Wi-fi network. In such a case, offline apps become necessary that we can use without any internet connection.
There are lots of offline apps out there that can be useful for users. So, let's get started to know about some of the best offline apps which you can avail yourself of across various platforms.
Excited? let's get started.
Benefits of Best Offline Apps for Android
Availability:- The most significant advantage of the best offline app for android is its availability. Unlike many others, you will have access to these applications even without the internet. Since we sometimes travel to remote areas without internet services or something when the internet is down due to maintenance, the functionality of the apps won't be restricted. Thus, you can enjoy them even when you cannot connect with others.
Entertainment:- Another major advantage of the best offline app for android is that they provide an unlimited source of entertainment. Since we have plenty of offline applications on our list, such as a movie or web series player that allows you to download them, you can conveniently listen to your favorite song or watch the episode from your favorite show that you missed out upon. The best offline app for android is a great companion during unexciting times.
Assistances:- The best offline app for android can also improve your effectiveness and productivity during the day. Plenty of offline applications will help you plan your day and remind you during the day, so you are mindful of the exciting tasks you need to execute every day.
Best Offline Apps for Android
---
Amazon Kindle
For readers, Amazon Kindle is the best offline app for android. The reason is that the application not only makes it convenient to read whatever you and wherever you want, but the fact that you can also build your knowledge during the times when you have no other source of entertainment further also expresses its significance.
Amazon Kindle is a free application, although you will have to purchase books. The books you buy through the app will provide you lifetime access to them as they are stored in the storage, and thus you can easily read them anywhere you want.
Since reading is vital for building your knowledge, reducing your stress levels, and improving your brins overall functionality and health, you must spend a lot of time in it. Hence, Amazon kindle establishes itself as one of the best choices out there. furthermore, the app also comprises other features such as a night mode, etc. that make it even more interesting.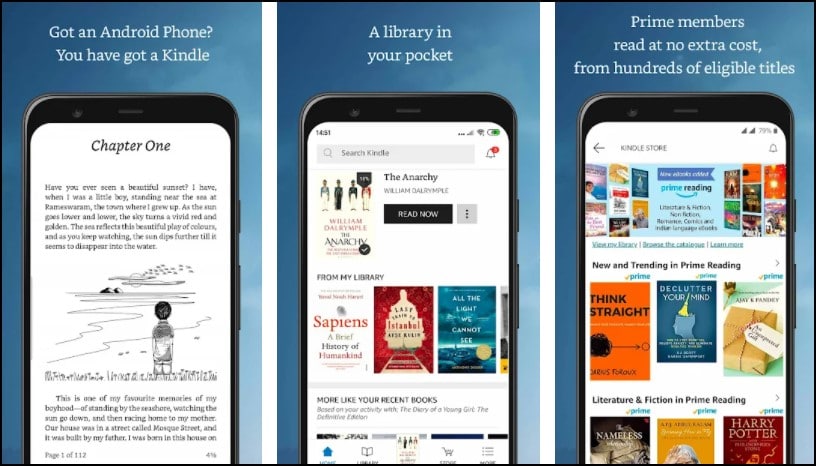 Standout Features:
Get access to your favorite book
Online storage to build your customized book collection
Easy to use
---
PlayOn Cloud – Best Offline Apps
PlayOn Cloud is a record streaming video app where you can download all your content from different streaming platforms in one place. You can download all your favorite Web series, Movies, and reality shows on Playon Cloud from NetFlix, Amazon, Disney+, HBO, and Fox. You can watch all your saved videos later when you are having vacant time.
This app is the most useful offline apps and at the same time frequently gives you your entertainment dose. The best part of PlayOn Cloud is that it schedules your downloading once you are online so you do not need to bother about the upcoming episodes.
Standout Features:
Downloads never expire
Easy access to download all streaming videos
Record and watch later
---
BBC News – Best Offline Android Apps
while traveling between long destinations, we always want to catch up with the latest news, and stories across the world. But during your travel, you might face instability in your network that can annoy you. Don't worry BBC news will keep you updated about all the happenings of the world, from the time you were online before losing your connection.
You can access all the latest news with the help of app feeds. The best part about the app is that if you are busy reading an article and your connection is gone, the app will not let network fluctuations disrupt your reading experience as no pop-ups about the network will be seen on your screen. Important articles can be downloaded and saved to read later in offline mode. BBC news can be the most useful offline apps which can accompany you on your long journey.
Related: Best Investment Apps
Standout Features:
Improved offline experience
Font controls
Photo galleries
---
Google Drive – Best Offline Apps 2021
Google Drive is one of the prime apps that is preferred by users to maintain their important documents. The reason for its wide acceptance is offline mode features.
Google Drive allows you to work on your files and edit them offline mode. This app can be useful for you if you are working in any remote location and finding it difficult to work on your important documents. All your files will be saved when you are online.
Standout Features:
Enable viewing of files offline
Edit in offline mode
Autosave documents when online
---
Google Maps – Best Offline Android App
You are having an important interview and confused with new routes and finding it difficult to reach the location on time. Besides, you are not having an internet connection, then it can be a more severe headache for you.
Google Maps can be your rescue in such a situation as you can save offline areas before leaving for any location. It will help you to find routes and download full city maps in the offline areas option. You can access all the locations of the offline areas and even navigate them in offline mode. All the offline maps will get deleted automatically after 30 days, so do not worry about storage issues.
Standout Features:
Available in 70+ languages
Comprehensive, accurate maps
---
Colour Note – Best Offline Apps For Notes
Colour Note is one of the best useful offline apps for productivity. If you are having a forgetful memory, and seldom forget important things about your meeting, then Colour Note will help you to remember those stuff.
Colour Note will help you to create a To-do list, memos, and sticky notes that can be easily accessed in offline mode. You do not need to have an internet connection to create these lists and notes. The app is super easy to use and comes with a buttery-smooth UI.
Related: Best Ridesharing Apps
---
Flym – Best Offline Apps For Travel
Flym is another news and magazine reading app, an offline reader that offers you some interesting offline features. You can easily read and save articles from multiple sources that can be used for offline reading. The app comes with an additional dark theme mode that can be used by dark theme lovers for reading. The app has an elegant UI so you can use it with ease. You can easily import and export the files between different devices.
Standout Features:
offline reading including images
Import/export the feed list
Star your favorite entries
---
HERE WeGo – Best Offline Apps
Here WeGo is one of the most useful offline apps that can help you to explore places in more than 100 countries. You can roam around your favorite places and learn about your favorite location, even if you do not have any internet connection.
You can also get transit information that will help you to better navigate between places. The app can be the best alternative for Google Maps. The app is free and you do not need to pay anything to use this app. Europe, UK, and the US are some of the countries where the app is actively used.
Standout Features:
Download maps to your device
Better guidance along the way
Public transit information for 1300+ cities
---
Podcast Addict – Best Offline Apps For Podcast
Podcast addict can be your perfect companion while traveling. You can download more than 700,000 podcasts and can listen to them offline mode. The podcasts are available in different genres, so you can choose your favorite category and save them for offline mode.
The best feature of Podcast addict is that it auto-download all the new episodes, once you are online. You can also restore and backup all the podcasts if you are planning to change your device. These can be the most useful offline apps for Podcast lovers.
Related: Best Journal Apps For Android
Standout Features:
Built-in audio effects
Variable playback speed
Multiple playlists support
---
Spotify – Best Offline Music Apps
Music can be the best way to kill your time while driving or traveling through a long journey. Spotify is one of the leading music streaming platforms that allows you to save the music in the offline mode of your favorite artists. Spotify also allows you to listen to free music, and podcasts across different genres and categories.
All you need to have is a premium subscription to Spotify to avail of all the content in offline mode. You can save all the offline data on your device and can retrieve them after every 30 days. You only need to have an internet connection to retrieve all your offline data.
Standout Features:
Personalized music experience
Offline listening
Amazing sound quality
---
Google translate – Best Offline Apps
You are stuck in an unknown location and the native people are not able to communicate with you due to the language barrier. Google translate can come to your rescue in such a situation that helps you to translate 59 languages in offline mode. Make sure that you have chosen your preferred language before losing your network connection.
All you need to do is to take a photo of the text you are unable to understand and can download it to the app, and the whole translation will be done within few minutes.
Standout Features:
Draw text characters instead of typing
Translate with no internet connection
---
Quizlet – Best Offline Educational App
Quizlet is a very handy educational app for students that can be one of the most useful offline apps for learning.
The app lets you learn new languages, concepts, and prepare for your competitive exams. App has been built considering the situations where users prefer offline mode. You can put your phone on Airplane mode and watch the content offline without getting annoying notifications.
You can also create flashcards for future reference and save them once you are online. The app has 4 phases: ' Learn', 'Write', 'Match', and 'Test' phases. The app is free, while the premium version will give you an ad-free studying and Night theme.
Standout Features:
Study material pronounced correctly in 18 languages
custom images and audio
---
Mekorama – Best Offline Gaming App
Finally, we are up with a gaming app for the gaming geeks out there. It allows you to play cool games with 3D graphics and engaging modes. The app includes over 50 puzzling mechanical games that contain charming robots alongside some cool collectible cards. So, if you are bored and want to try some new stuff in gaming, then Mekorama is here for you.
Related: Best Vocabulary Apps
---
Splend Apps – Best Offline Apps For Android
This app can be your all-in-one most useful offline app. Splend apps are a popular developer that has developed Notepad, Flashlights, Voice recorder, Sound meter, To-do List, and many other useful apps that can be used in offline mode.
All these apps can also sync your data with Google Drive and Dropbox. So if you do not want to have loads of apps on your device of different developers and want a common platform for multiple offline apps, then Splend apps are perfect for you. Some of the apps are free and other apps might cost you somewhere around $2.99.
---
Triposo – Best Offline Apps
Triposo can be your best guide if you are planning for any trip to a foreign country. The app can provide you best recommendations from 50,000+ destinations worldwide in offline mode. The app provides you accurate information regarding your trip location and keeps you updated with all the necessary information. You just need to download all the data of the country you are planning to go and you are all ready to move.
All the information produced by the app comes from crowdsourced information from Wikipedia alongside some other popular travel sites. As soon as you reach your location the app will recommend the best hotels, restaurants, and places that you can explore. The app is free with some in-app purchases for the premium version
Standout Features:
Offline maps, offline routing, and offline city walks
Discover 50,000 destinations
Currency converter
---
TickTick – Best Offline Apps For Management
TickTick is a highly rated and Editor's choice To-do list app that perfectly manages your day-to-day tasks and lets you complete the tasks within the deadline. With the help of TickTick, you can manage your time effectively, make schedules, and complete them. All these functions can be done in offline mode. You can also seamlessly sync your data across all devices with ease, once you are online. Editing and modifying the tasks can also be done in offline mode. The premium version of the app comes with an annual subscription price of $24.99.
Standout Features:
Built-in Pomo Timer
Flexible recurring tasks
---
Audible – Best Offline Apps Android
Reading hard copy books can be difficult, especially if you are planning to read them during your journey. Noise and your nearby environment can disturb your concentration and annoy you. Audible can be a perfect companion for book lovers. With the help of Audible, you can listen to your favorite books anytime anywhere. All you need is to download your audiobook before leaving for your journey and listen to them in offline mode.
With a high-quality inbuilt audio player, your listening experience will be enhanced and you can soak the content of the book in your mind like a sponge. The app provides books in all categories of some of the most renowned authors. The app is free for the first 30 days, which is a trial period, after which you need to pay some bucks.
Related: Best Smartwatch Apps
Standout Features:
Free monthly titles
Support Alexa-enabled devices
Listen to your audiobooks offline
---
NetFlix – Best Offline Movies Apps
We will be ending our list of most useful Offline apps with a popular name, Netflix. Apart from streaming all your favorite content, Netflix also allows you to download videos and watch them later in offline mode. This feature can be really handy when more than 4 People are using one account. As Netflix account has a user limit, by downloading the videos in an offline mode, more than 4 users can operate through a single account. Also, a lot of data will be saved if you are watching the content by downloading rather than streaming it.
---
Final Words
With this, we wrap up our list of some of the most useful apps that you can use on your smartphones. We have included apps of different categories and genres so that our readers have a wide variety of options to choose from. Do comment in the comment section below and let us know about your favorite app on the list.
Thank you for reading! Try these out too:
General FAQs