Singing your favorite song while driving or whispering a romantic song while you are outside is the best feeling. But memorizing each track is tedious and needs effort. We have a comprehensive list of some of the best lyrics apps you can install to sing along with your favorite song.
These are some online and offline lyrics apps that can be handy for music enthusiasts. You can enjoy lyrics in your native language and sing along. Without any further delay, let's dive into our list of the best lyrics apps. 
Excited? So, Let's Get Started.
Benefits of Best Lyrics Apps
Music for reducing stress:- Several studies show that music can help you reduce stress. Listening to your favorite music is much more than getting a dopamine spark instead, it acts as a mental workout and for the autonomic nervous system. The ANS plays a vital role in response to human stress. The best lyric app will let you listen to your favorite music and sing along with it, which can significantly improve your mood and reduce stress.
Improves your mood:- In Power of Habit, Charles Duhigg states that people often associate music with different emotions. Hence, it's why you feel motivated when listening to motivational songs and sad when the genre changes. The best lyrics app will help you visualize the lyrics in front of your eyes which can eventually help you improve your mood.
Expand your vocabulary:- A significant reason you can opt for the best lyrics app is that it can help you improve your vocabulary. If you want to improve your English vocabulary, singing along with the lyrics is a great opportunity; furthermore, listening to songs will help you improve your understanding of them.
Best Lyrics Apps For Android
---
Shazam – Best app for lyrics on stage
Shazam is a gift for music enthusiasts as it can find any song in seconds. You can discover any track along with lyrics on the Shazam app. The app offers time-synced lyrics that will help you sing along with your favorite songs. The best part is you can use the Shazam app in offline mode.
The dark theme of the app is appealing that users would surely love. You can use the Shazam pop-up feature to find any song. The pop-up will recognize any track you are playing on apps like Instagram or Facebook. You can also use the YouTube music app to stream your favorite songs.
Related: Best Smartwatch Apps
Standout Features:
Time-synced lyrics
Offline mode
Shazam pop-up
---
Musixmatch – Best lyrics app
Musixmatch is a multi-utility app that helps you fetch music from SoundCloud, Spotify, and YouTube. You can use the floating lyrics widget to get the lyrics of the current song. You can also identify any song playing around you and get its lyrics. The app allows you to search for music via title, artist, or even your favorite line from the song.
The app can also be a learning tool for users. You can use the translation feature to translate the track. The app has a LyricsCard feature that offers exquisite background while singing along with your song. The app notifies you when lyrics of your favorite track are available, making it one of the best lyrics apps. The Premium version of the app gives you perk like offline lyrics and an ad-free experience.
Related: Best Apps For Secret Texting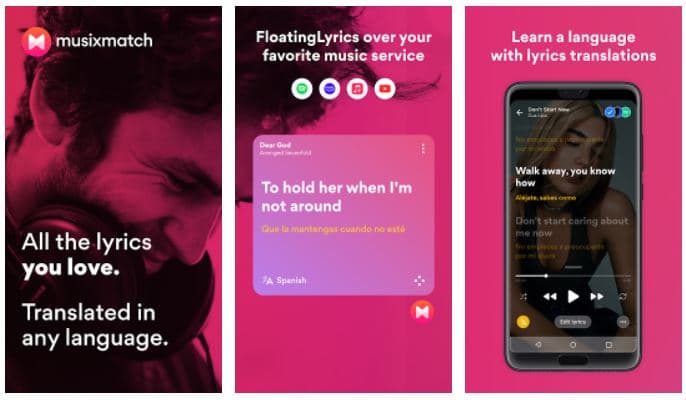 Standout Features:
Floating lyrics widget
LyricsCard
Lyrics translation
---
Soundhound – Best lyrics app for singers
Soundhound is a feature-rich app that offers you more than just lyrics. The app saves the browsing history that will remind you of the situation in which you have heard a particular song. Sounds cool, right. You can sync your Spotify account to build your playlist.
You can find all the latest tracks in different genres along with the sing-along feature. You can type the lyrics you are looking for and, the Soundhound will do the rest for you. The app has an interactive and user-friendly UI, making it more appealing.
Tap the big orange button on the app to discover the lyrics of the song playing around you. The app has a music app that helps you find all the latest chartbusters, making it one of the best lyrics apps.
Related: Best Vocabulary Apps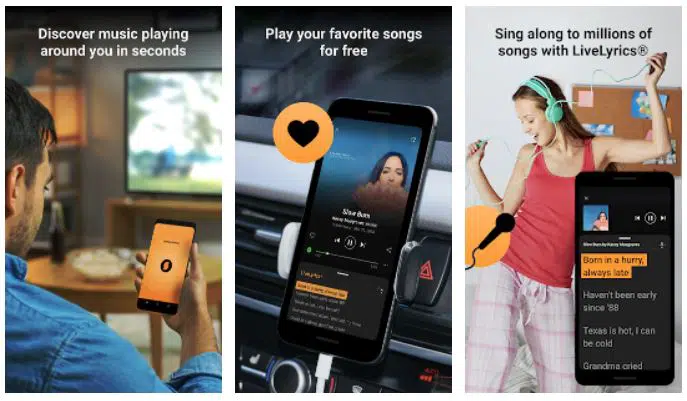 Standout Features:
Personal history page
Appealing UI
Music map
---
Genius – Best lyrics app for android
With over a million song lyrics, the next app on our list is the Genius app. You can find real-time lyrics of your favorite tracks or browse the trending tracks on the Genius community page. You can tap the highlighted lines to read the annotations and gain some knowledge.
The app can also find the lyrics of the songs playing around you, thanks to the soundwave button feature powered by ACR Cloud. The app brings story and fact behind every track, making it one of the best lyrics apps on our list. It is a crowdsourced platform and, you can use the services of the app for free.
Related: Best Journal Apps For Android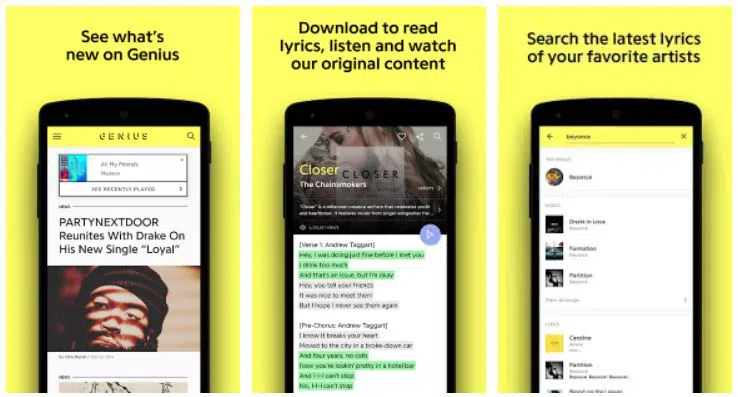 Standout Features:
Soundwave button
Track facts
Easy to use
---
GOM Audio
GOM Audio is a multi-purpose application that you can use for listening to music and podcasts, but you can also use it as a lyrics viewer. It features an excellent music player with two attractive theme designs and easy-to-access widgets to customize size, color, and functions. Thus, if you have songs on your android that you would like to play, this app is a great choice.
Another benefit of the app is that it offers a smart lock screen. It will let you play and pause songs quickly without unlocking your phone. It will also allow you to keep the screen while playing its music. One of the most significant features of GOM Audio that many people find beneficial is that it lets you sync lyrics viewer with an editor. It allows you to view the song's lyrics while playing in the background. You can also search, manage, or edit lyrics as you like, thus providing complete control and better customization features.
GOM audio provides you the benefit of optimizing sound quality for playback music. You can listen to better sound quality and 10 BANDS exclusive equalizers with different sound effects. It goes further than that to include REVERB, pitch control, and the speed control of the song. These features will allow you to change the dynamics of the songs to the ones you like the most. The podcast feature of the app will let you listen to your favorite speakers efficiently.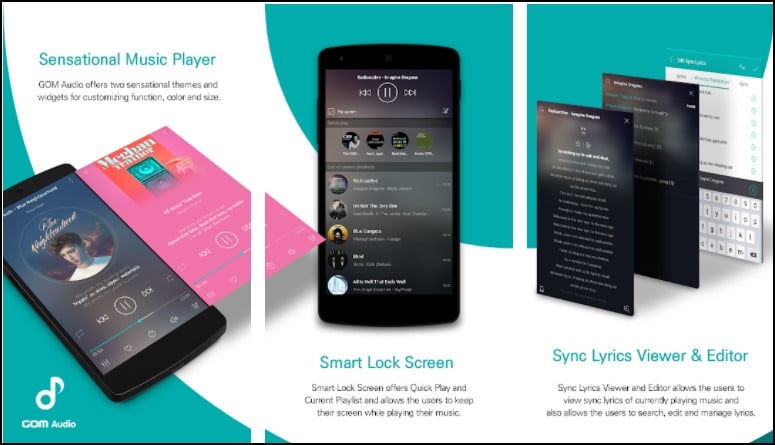 Standout Features:
Excellent music player
Lyric viewer and editor
Suitable for playback sound
---
QuickLyric – Best lyrics app for ipad
QuickLyric is one of the fastest lyrics finders out there. The app has floating lyrics widget that helps you sing along without any interruption. The synchronized lyrics enhance the user experience. You can also download the lyrics to enjoy songs in offline mode. You can add an optional notification to access the lyrics quickly.
The app is compatible with music players like Spotify, Google Play Music, Apple Music, Phonograph, and PowerAMP. The premium version of the app will give you an ad-free user experience with some exclusive themes.
Standout Features:
Download lyrics
Offline mode
Wide compatibility
---
Lyrics Mania – Best app for song lyrics
Lyrics Mania has the largest lyrics database ranging across various genres. You can search for the lyrics via title, artist name, and album. The app comes with an integrated music player that helps you enjoy a sing-along experience.
You can also fetch the lyrics if you are playing music with an external player. The app brings real-time notification that keeps you updated with all the trending tracks. The Music ID feature will detect the song playing near you and fetch lyrics.
Related: Best Ridesharing Apps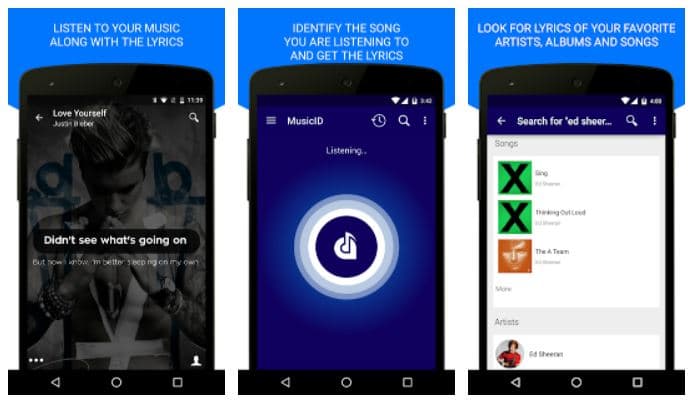 Standout Features:
Integrated music player
Real-time notification
Music ID feature
---
Lyrics Library – Best lyrics app for iphone
The next app on our list of the best lyrics apps is Lyrics Library. The app equips you with all the features to manage your lyrics. You can write, save, arrange, and share lyrics on the Lyrics Library app. You can organize your lyrics in folders to quickly locate them when needed. The app also allows you to add chords to your lyrics.
You can download the lyrics of your favorite song when you are online and save them for offline usage. The app comes with a minimal interface and has some in-app purchases. You can buy the items to unlock exclusive features of the Lyrics Library app.
Related: Best Investment Apps
Standout Features:
Organize lyrics in folder
Minimal interface
Add chords to lyrics
---
AL Song – Best app for guitar chords and lyrics
AL Song is a music player and lyrics app that can be your one-stop solution. The app provides up to 7 million lyrics to choose from. The lyrics cover a wide range of categories like Pop, Rock, classic, and melody music. The app has a unique sync lyrics function that displays lyrics according to the mood of the music you are listening to.
You can request better-synced lyrics if you do not like the current one. You can also register and edit for new sync lyrics, in case if there is no sync available. The floating lyrics widget of the app allows you to sing along while doing other functions on your smartphone.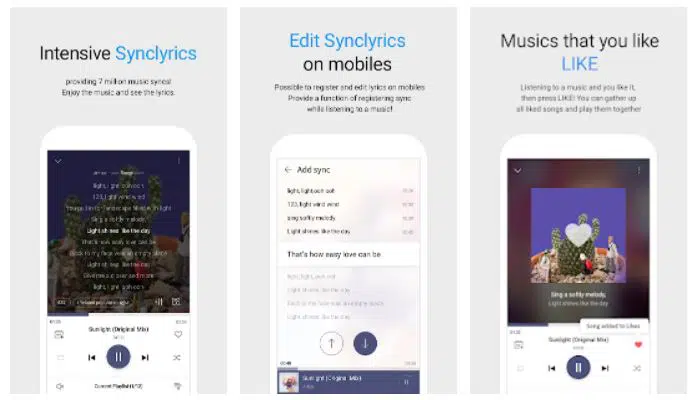 Standout Features:
Floating lyrics window
Sync lyrics
7 million lyrics
---
Learn Languages With Music – Best music app with lyrics
You can sing along and learn a new language with this app. All you need is to play the song, listen to it carefully, and fill in the missing words. The Karaoke mode will help you in learning a new language and expanding your vocabulary. The app has a bilingual dictionary that will translate the tough words of the lyrics with meaning for you.
You can challenge your friends and compete with them to show them your skills. You can learn English, French, German, Japanese, Turkish, and Swedish language with this app. This app can be a fun learning journey for the users, making it a must-try.
Related: Best Keyboard Apps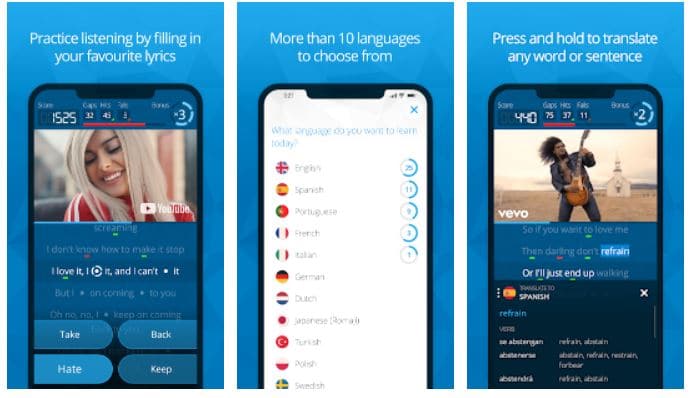 Standout Features:
Sing along in 5+ languages
Bilingual dictionary
Interactive UI
---
Karaoke – Best ipad lyrics app
Karaoke offers you to find songs of your favorite artist and sing along. The app has a plethora of karaoke songs ranging across different themes and categories. You can sing from hundreds of karaoke in multiple languages. You can use the reverb and echo effect to enhance your voice while singing your favorite song.
You can record your song with reverb and echo effects. You can share your track with your friends on the community page. The app has an interactive community page that will keep you engaged. Karaoke is a free and one of the best lyrics apps to try out.
Related: Best News Apps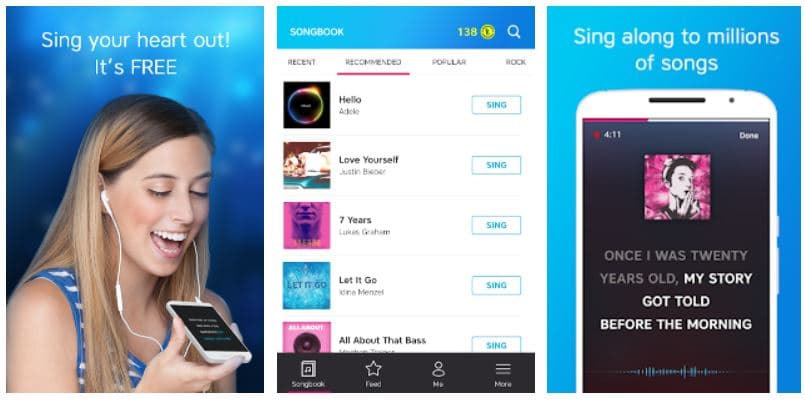 Standout Features:
Add sound effects
Record songs
Karaoke in multiple languages
---
Lyrics Mint – Best app for writing lyrics
Lyrics Mint provides lyrics from some of the latest Bollywood and non-film songs. You can search for your favorite songs across different genres on the Lyrics Mint app. The app also allows you to save lyrics of up to 150 songs. You can access the saved lyrics later to enjoy singing on your long journey.
The app has a neat and simple interface that helps you go through the lyrics of the latest tracks. You can share the link of the lyrics with your friends who are also using the app. The app is free to use and contains ads.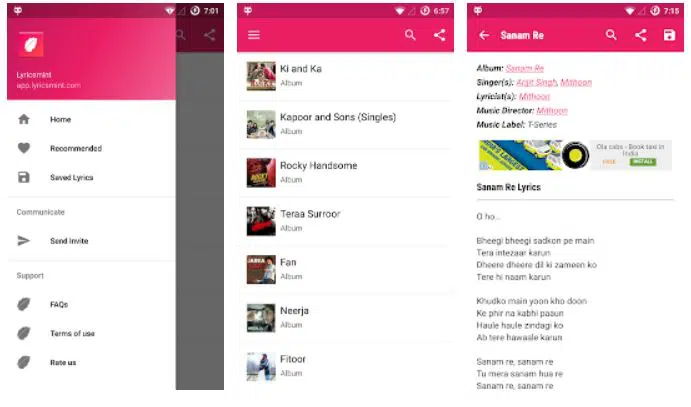 Standout Features:
Save offline lyrics of up to 150 songs
Neat interface
Neat interface
---
Music Player With Lyrics – Best android lyrics app
The next app on our list will help you see the lyrics of your favorite songs while playing music via any external player. The app allows you to see the lyrics just by swiping the left of the album art. The app automatically detects the album's art and lyrics. All the songs on your device are listed in grid or list view with correct album art.
You can edit and change the album art as per your requirement. The app has loads of themes that you can apply according to your mood. The animated background while playing the song is one of the appealing features of the app.
Related: Best Dropbox Alternative Apps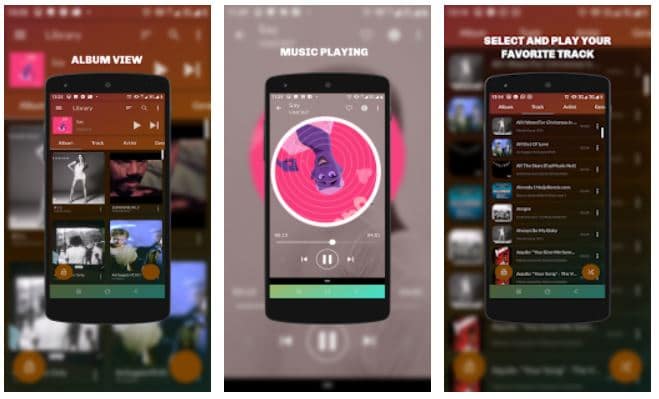 Standout Features:
Animated background
Easy to use
---
Final Words
We hope our list of the best lyrics apps would be handy for music enthusiasts. These were some of the best lyrics apps users can install on their device and sing along their favorite songs. Shazam, Genius, and Musixmatch are some highly recommended apps users can opt for. Do drop a comment in the comment section to tell us about your valuable feedback.
Thank you for reading! Try these out too:
General FAQs
What is the best lyrics app?
There are several choices on our list that you can categorize as the best lyrics apps. The preferences can vary among users; thus, no universal app is suitable for everyone. However, we recommend Shazam, Karaoke, Genius, and Lyrics Mint.
Is the best lyrics app easy to use?
Yes, the applications have a user-friendly interface that makes it easy to access all the features. Additionally, you won't have to spend much time looking for them as most are on the home screen.
Is the best lyrics app available for offline mode?
Many of the applications we have on our list will allow you to download lyrics and access them while in offline mode.