Widgets are one of the best things users have on their smartphones. Widgets allow you to access all your important apps in one glance and save time. Widgets are popular on the Android platform which is why we are bringing you some of the best KWGT widgets.
There are lots of best KWGT widgets out there that you can try. For your convenience, we are only coming with the best for you. These KWGT widgets will help you create customized widgets according to your preference.
Excited? So Let's Get Started.
What is KWGT Widget?
There is a possibility that some of you are not familiar with the term KWGT. Don't worry we will give a brief explanation of KWGT and how it works. KWGT stands for Kustom Widget where you can create a widget from the scratch. You can create desired widgets that suit your need and enhance the look of your home screen.
KWGT widgets offer a wide range of customization options. You can create basic widgets by playing with the text and images or you can opt for music or weather widgets. You can shuffle between the themes and colors of widgets to make them look appealing. You can find multiple custom widget presets on the Play Store that can assist you in making the best widgets.
---
Best KWGT Widgets For Android
---
PopIt KWGT
PopIt is a Kustom Widget Pack that offers a range of unique and customizable widgets for Android users. It has 60 stylish widgets to choose from, including the material you support for Android 12. It also comes with 25 wallpapers that match the widgets perfectly.
One of the most impressive features of PopIt is its extensive range of widgets. The app offers a wide variety of shapes and sizes, including circles, squares, triangles, and hexagons. Users can also choose from a range of colors and adjust the transparency to create widgets that suit their preferences.
The widgets in PopIt are well-designed and visually appealing, with a modern and minimalist aesthetic that matches the current design trends in mobile app development.
Overall, the widget design in PopIt is impressive, with a wide range of customization options and visually appealing widgets that are sure to add a unique touch to any user's home screen.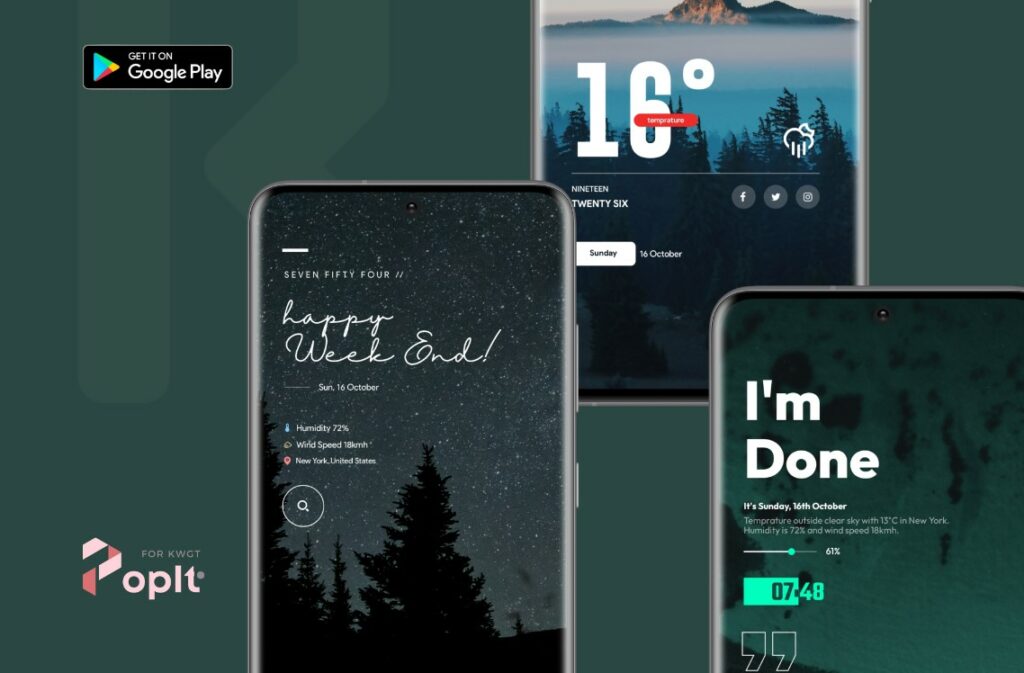 Standout Features:
60 stylish widgets
25 matching wallpapers
---
Skyline KWGT
Skyline KWGT bundles 136 widgets to choose from. Despite the sheer number of widgets, each one of them appears unique and meticulously crafted to fill in the details. Most widget options are kept transparent so that the wallpaper is not masked by the widget in use.
This clean approach lets users view their wallpaper and mix and match beautiful widgets with the wallpaper in use. The design of Skyline KWGT appears almost identical to the material design spotted on the new Pixel devices and is a great option if you are trying to incorporate widgets that exhibit the Android 12 look.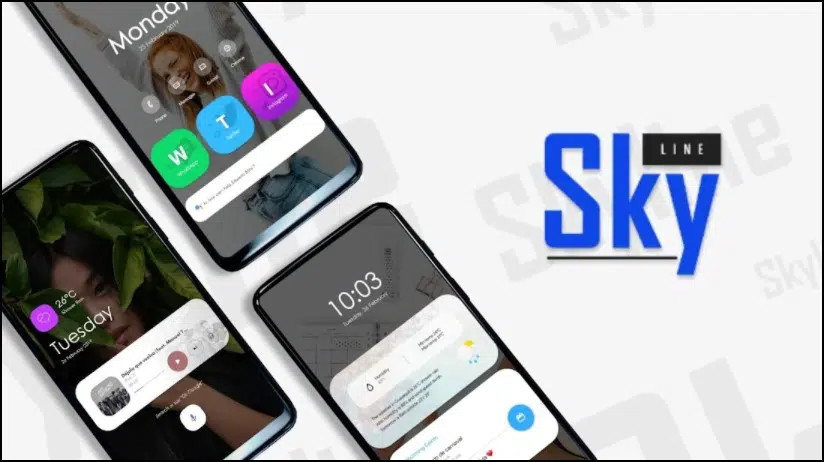 Standout Features:
136 widgets
Lifetime support
Material design
---
Clement KWGT
Clement KWGT is a compelling pack of translucent widgets that do not block the wallpaper view on your smartphone. The translucent approach keeps the font size slightly small, which is great if you are looking for widget options that are non-intrusive and take up very little space on your home screen.
Keep in mind that the Clement KWGT is best suited for backgrounds that are dark in color. You can use it with light-colored wallpapers part but the experience would not be as great, as with the dark background options. There are 61 widgets as of now and the developer issues new updates every week.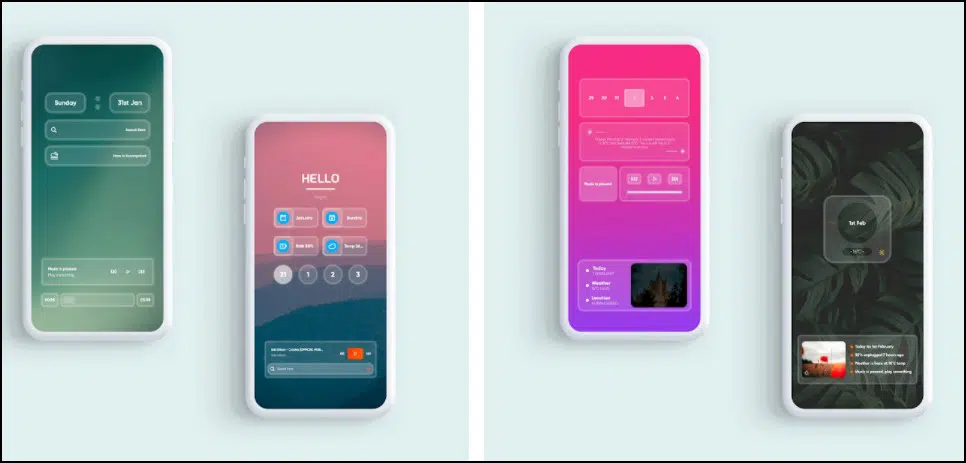 Standout Features:
Translucent Widgets
61 Widgets
---
Rocket KWGT
Rocket KWGT is bold in design and uses dark-colored widgets that look striking on the display. Unlike the Skyline KWGT widget pack, this one has a transparent background that blends in with the color of the wallpaper of your choice. the widget designs are conversational and feature bold typography which is readable even from a distance. There are a total of 95 widgets but the developer does not include any matching wallpaper along with this widget pack.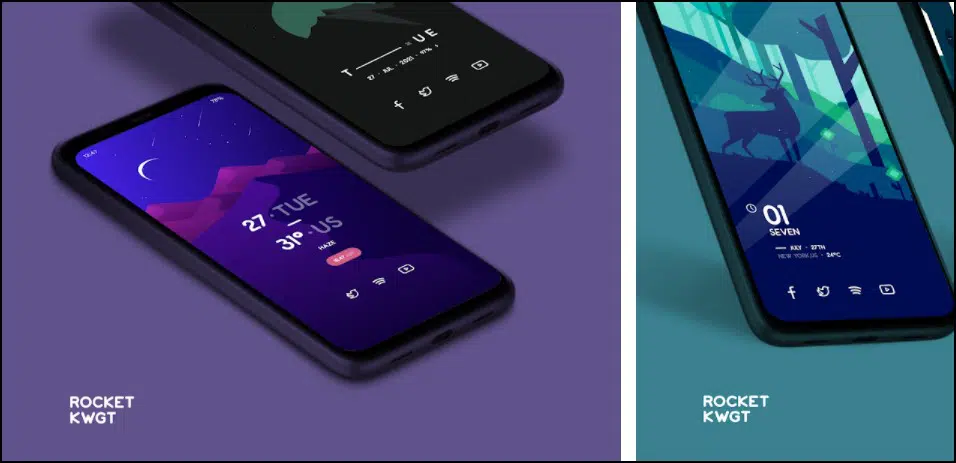 Standout Features:
95 widgets
Transparent background
---
Clock Widgets
Clock Widgets for Kwgt is a widget pack centered around clocks and clocks only. This pack contains 55KWGT clock widgets, each with a unique design and approach towards displaying a simple thing such as time.
Users who like to get creative with their clocks on the home screen will surely find at least one good clock widget from this widget pack. The collection has Minimal clock widgets, Material clock widgets, and some eye candies that are highly customizable and even support dark mode.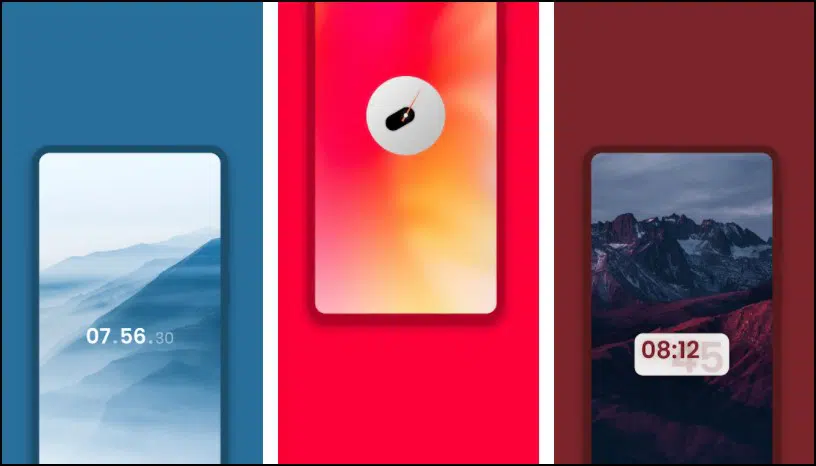 Standout Features:
Dark mode
55 clock widgets
Abundant variety in design
---
Caramel KWGT
Caramel kwgt is another great option if you love neomorphic designs and wish to build a home screen setup around that theme. It uses card-style widget designs that look stunning and accentuate the overall appearance.
There are only 35 widgets available for now but the dev assures more additions in the coming weeks. There are also a few widgets from the Origin OS that can be used if you get bored with the whole neomorphic setup idea.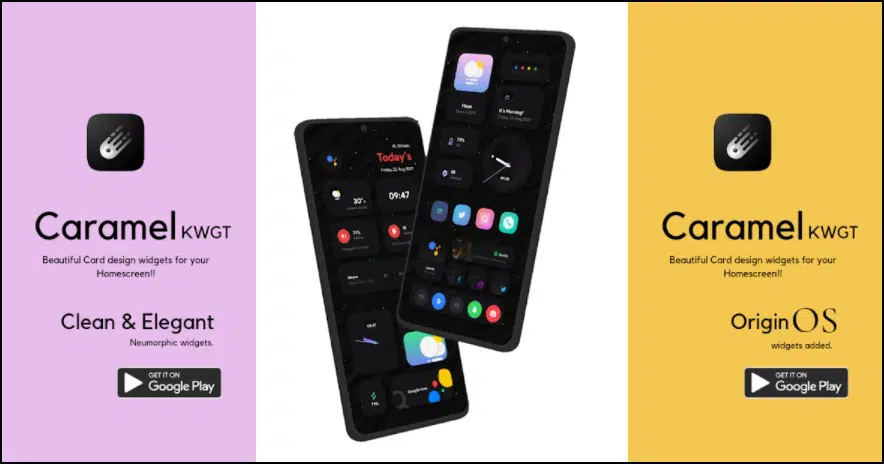 Standout Features:
35 widgets
neomorphic design
---
A12 hybrid for KWGT
A12 hybrid for KWGT is a unique blend of widgets from iOS and Android. The result is a beautiful list of 95 plus widgets that are fit for almost every app category. The widgets in this KWGT app sport rounded corners as you get in Android 12, along with the vibrant color scheme of widgets available for iOS.
The widgets can be set to transparent in case you want your wallpaper color scheme to remain dominant on the home screen. There is also a resource monitoring widget that can display your system stats in a compact manner. The dev assures of updating the widget library and even introduced a new set of widgets some time back.
Related: Best Translation Apps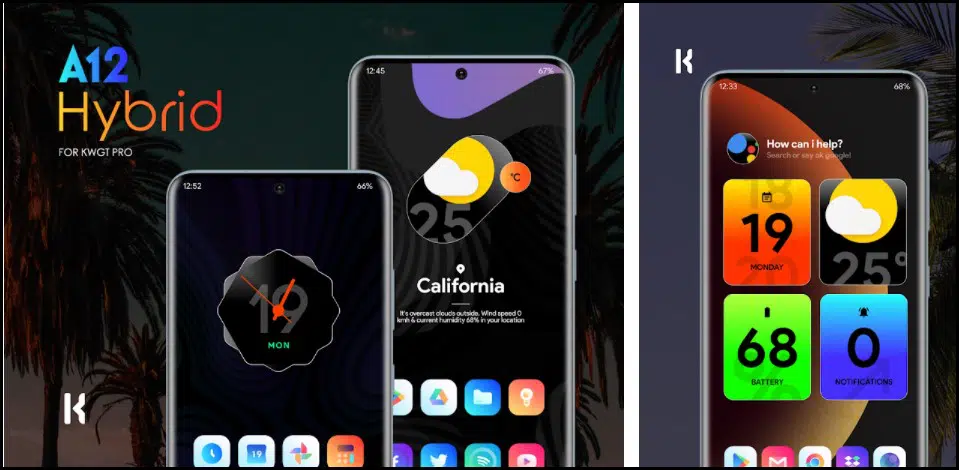 Download This Best KWGT Widget
---
Zen KWGT
Zen KWGT contains not only KWGT widgets but also comes with a KWLP live wallpaper to offer you a complete home screen setup. If you are tired of the flashy, eye-gouging KWGT widget packs, then Zen KWGT. It is absolutely simple and uses calm colors and material design that looks to offer a complete Zen experience to the users.
Zen KWGT offered 25 widgets in the initial launch but its library has now grown to 100 plus KWGT widgets. Along with so many widgets, you get one KWLP pre-set and 10 wallpapers to complement the widget designs. You will fall in love with the font used and the sophisticated clock and music app design.
Related: Best Meal Planning Apps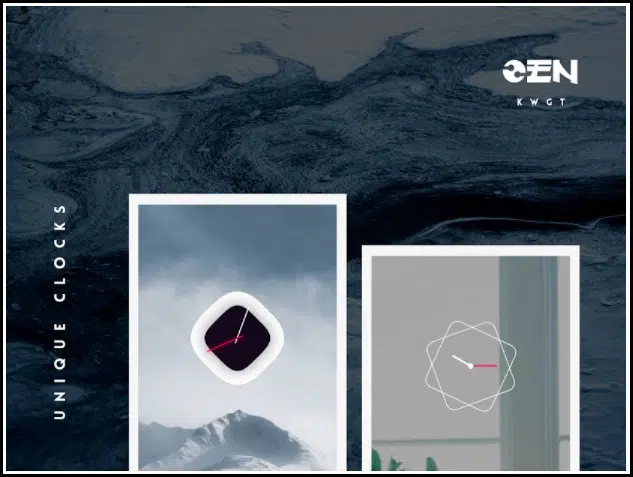 Download This Best KWGT Widget
---
Abstract Pro for KWGT
Abstract Pro for KWGT is simply mesmerizing widget pack that uses darker backgrounds as a base to house the beautiful and descriptive widgets. To complement the dark backgrounds, the widgets use white fonts that help you easily read the contents.
The Pro version comes with 51 widgets and 6 complementing wallpapers, that compel you to take a glance at your home screen every few seconds. Apart from the useful widgets like calendar, music, sleek time, date, and weather, there is also a system info widget that displays the system resources statistics.
Related: Best Scheduling Apps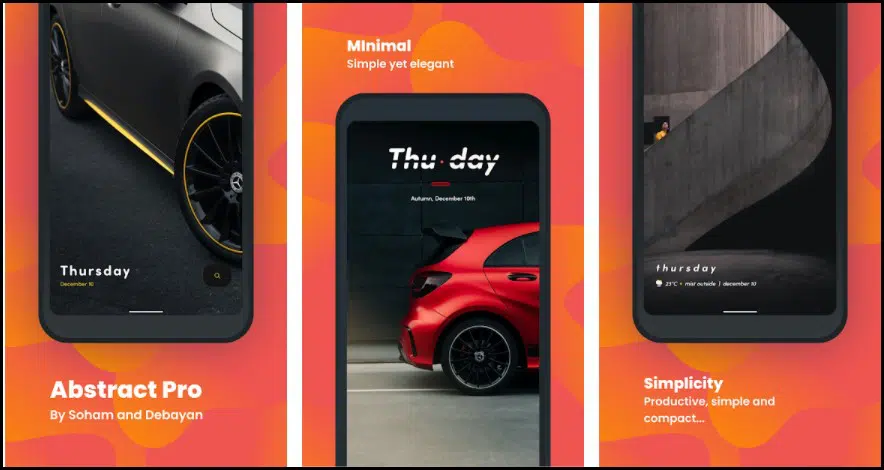 Download This Best KWGT Widget
---
Passion KWGT
Passion KWGT offers captivating widgets that take up very little area on your Android home screen. These widgets use an abstract design with bold fonts and bold colors which makes them pop out on the display. Most widgets in this app are supposed to be positioned in the bottom half of the display. Passion KWGT widgets are designed to work with mellow-colored plain backgrounds to ensure complete content visibility.
After a recent update, the widget count of Passion KWGT has increased to 70 widgets. It is a free-to-use KWGT widget app with no in-app purchases at the moment.
Related: Best Sleep Apps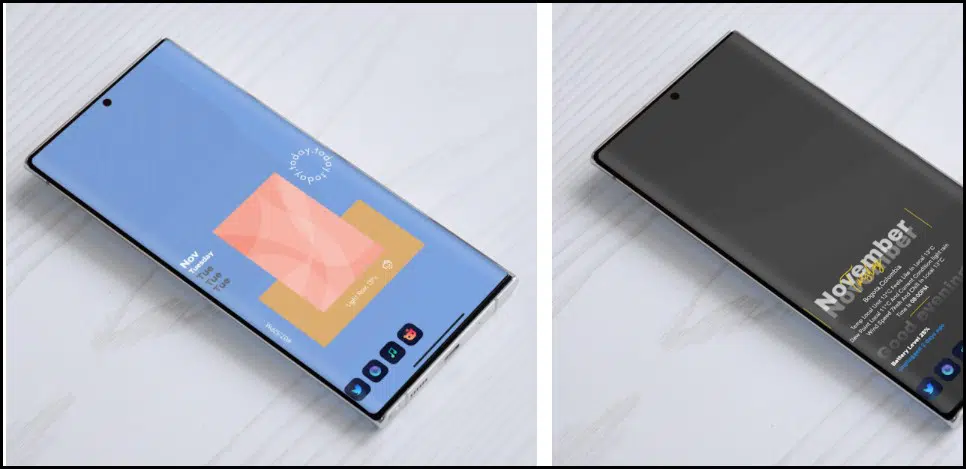 Download This Best KWGT Widget
---
One4KWGT Reloaded
One4KWGT Reloaded is packed with widgets and wallpapers and justifies its pricing for the amount of content available in it. Normally, you get a KWGT widget app centered around a single design. In this widget app, you get multiple types of widget designs including neomorphic, iOS style widgets, rea widgets, and much more.
One4KWGT Reloaded has a collection of 94 KWGT widgets and 96 wallpapers that can easily fit your extensive home screen customization needs. You can choose between dark and light themes for the widgets and even change the color of the widgets and fonts as per your liking.
Related: Best Habit Tracking Apps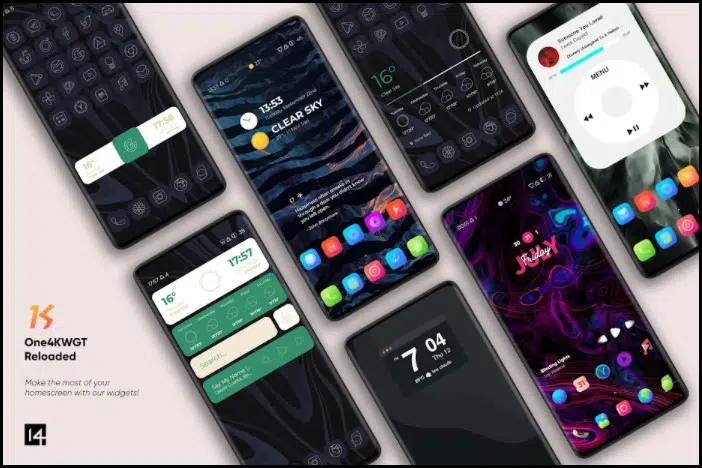 Download This Best KWGT Widget
---
Windows 11 KWGT
Windows 11 release is just around the corner (as Microsoft says) and it brings a lot of functional overhauls to the operating system. Until that releases, you can get this Windows 11 for KWGT widget packs and transform your Android phone into a Windows 11 PC look-alike with beautiful custom widgets. It retains the classic tap to open the start button to make you feel that you're using a Windows 11 device.
The widget pack comes with 9 widgets, each of which is further divided into three variants, classic, dark and transparent. Nine widgets might seem very less but considering the features packed into every single widget, you won't feel empty. The developers intend to keep adding more widgets that are compatible with Android and run seamlessly as more details emerge about the upcoming Windows 11 operating system.
Related: Best Smartwatch Apps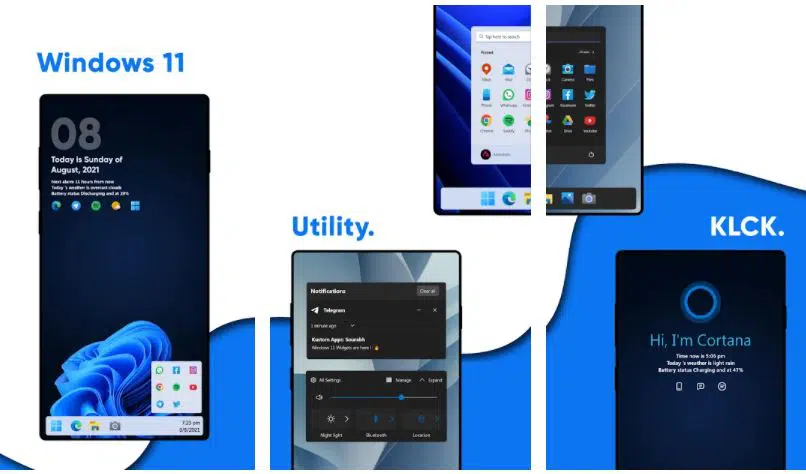 Standout Features:
20+ Widgets included
2 Lockscreens for KLCK
35+ Exclusive Windows 11 Wallpapers
Download This Best KWGT Widget
---
Android 12 KWGT
Android 12 might be far, very far from an actual stable release and might not be even supported in your current smartphone. While developers are working on a stable build, you can get the minimalistic and intuitive interface of Android 12 with this widget pack. It offers all the widgets, over 100 in total, that will be present in the Pixel devices when it updates to Android 12.
This widget pack contains alluring weather widgets, funky music widgets, lots of clocks, and interactive widgets as well. The major highlight is that every widget has rounded corners which is the theme of Android 12. It is not just limited to widgets and even comes with the latest themes and personalized widgets that you can use to give a distinct home screen look to your smartphone.
Related: Best Apps For Secret Texting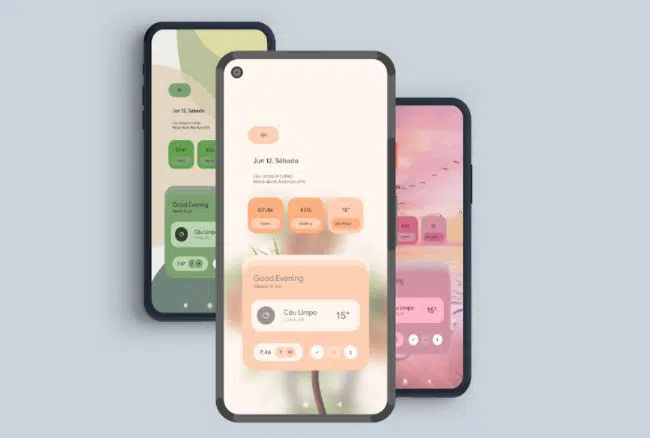 Standout Features:
98 widgets based on Android 12
Exclusive Wallpapers
Download This Best KWGT Widget
---
Sheer Widget
In the era of widgets with punchy colors and designs, the Sheer widget looks the other way. It offers an enticing set of translucent widgets that is the highlight of this KWGT widget. Pairing it with any faded wallpaper gives you the best results without any tinkering required in terms of color.
Sheer widget boasts a 100-plus set of minimalistic widgets that contains multiple options for your clocks, calendar, music, and weather. It has completely revamped the whole construct of the widget that only shows date and time and other information in a number form. Do try it out and I guarantee that you won't be disappointed.
Related: Best Vocabulary Apps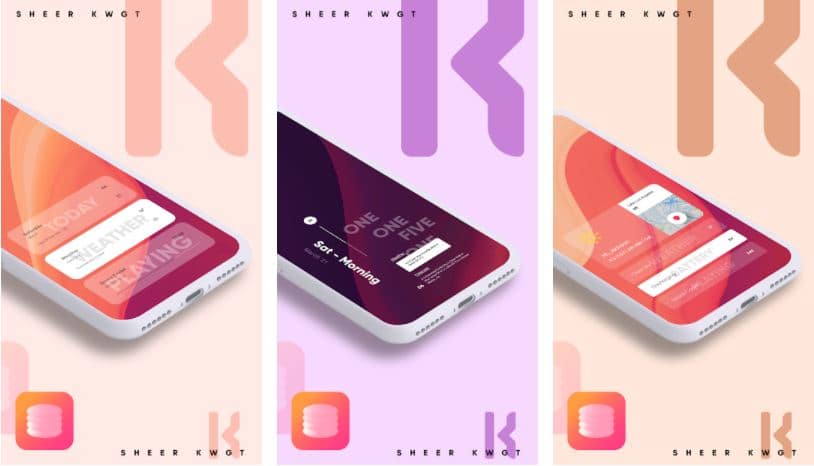 Standout Features:
100+ minimalistic widgets
Easy to customize
Download This Best KWGT Widget
---
Glass 12 KWGT
Glass 12 KWGT solves the problem of those popping widget applications that deter you from using your favorite background wallpapers. Most of the time the widgets are blurry or too striking to blend with the home screen wallpaper but not with this widget pack. It has multifaceted widgets that extract the color of your wallpaper and apply it to your widget.
The widget pack offers 48 widgets that are designed to match the Android 12 rounded widget theme. Keep in mind that these widgets are minimalistic and if you need your widgets to be more elaborate, go for the Android 12 Widgets KWGT.
Related: Best Journal Apps For Android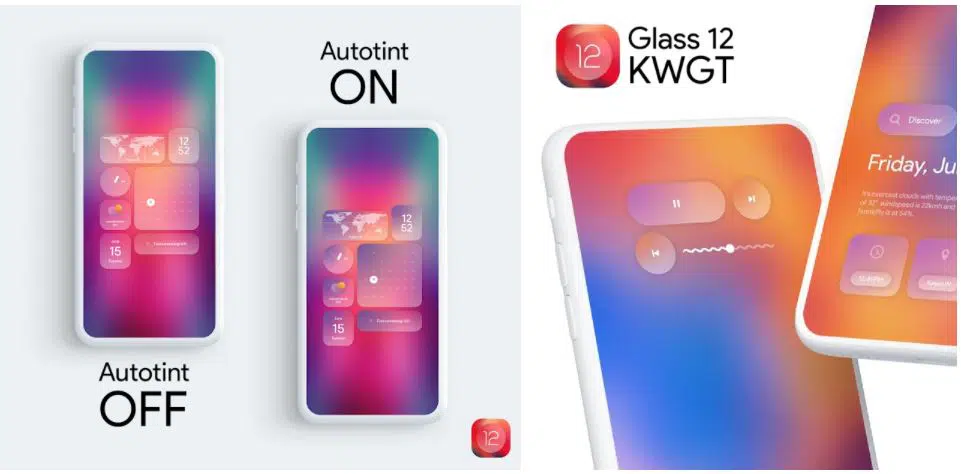 Standout Features:
Android 12 style glass widgets
Extract color from wallpaper
Download This Best KWGT Widget
---
Pastel KWGT
Pastel KWGT is the quirkiest-looking widget pack to date. Rather than opting for those bland and basic shapes for the widgets, this pack offers a beautiful widget option backed by a pastel color combination that looks great on any smartphone screen. The shapes are kept unique to help you easily distinguish one widget from another.
This widget packs works and looks best with material or gradient-based wallpaper that will certainly spruce up your home screen. Currently, the widget pack comes with 45 widgets which may increase in the future.
Related: Best Investment Apps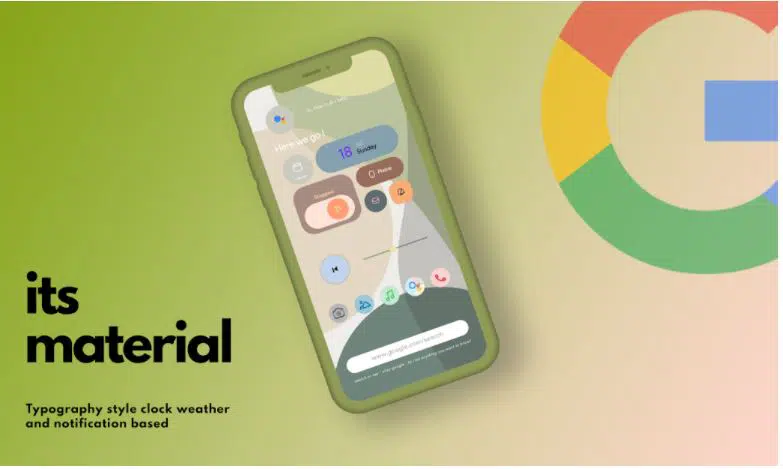 Standout Features:
Light, Dark, and gradient widgets
Compatible with most launcher
Download This Best KWGT Widget
---
Snow Cone KWGT: Best KWGT Widget
Snowcone offers the best material U design that is predominant in the new Android 12. The widget app offers impressive widget options that look equally striking but bear a subtlety to them. It has widgets that look equally good on both dark and light wallpapers.
The current widget collection comprises 90 widgets after repeated improvements by the developer. Even the battery widgets bear a huge variety which makes it very easy to obtain a home screen look that is detailed and lively to look at.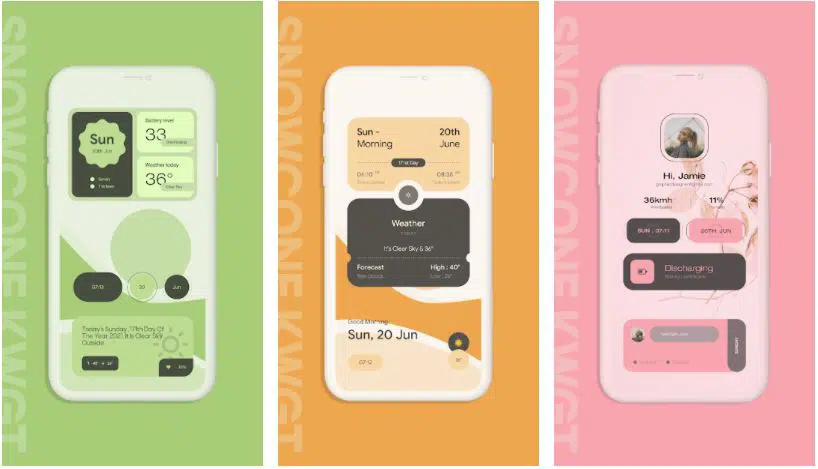 Standout Features:
40+ widgets
Crafted For Material U (Android 12)
Download This Best KWGT Widget
---
Material U KWGT: Best KWGT Widgets For Android
The new widgets in Android 12 look more appealing and are more useful. We see a consistent spread of the Google Sans font, flat icons, and cohesive color palettes, all of which together give widgets a more modern look.
Now you can get this same look using a KWGT widget app known as material U KWGT that offers 30+ fully adaptable widgets. From the new clock widget to the weather widget, this app has it all, you will get several variations of widgets that will help you in crafting your own Android 12 home screen setup.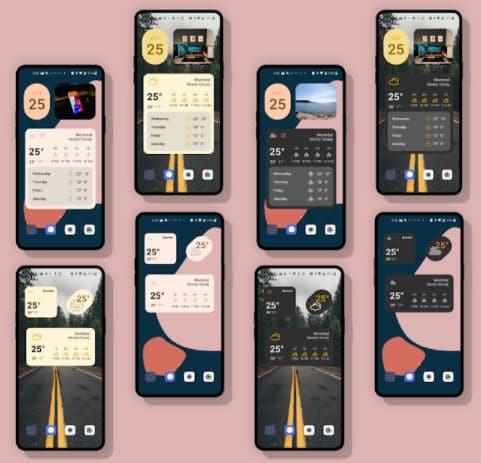 Download This Best KWGT Widget
---
---
Dune KWGT: Best KWGT Widgets 2021
Kicking off the list with the dune KWGT widget which was recently launched and I think it's a very stylish widget. It contains around 25 Widget pre-sets that boost funky colors. I know the number of widgets is quite limited but the way they are designed is to provide functionality as well as looks. I would highly recommend you try these if you want to make your home screen stylish.
Related: Best Android Launcher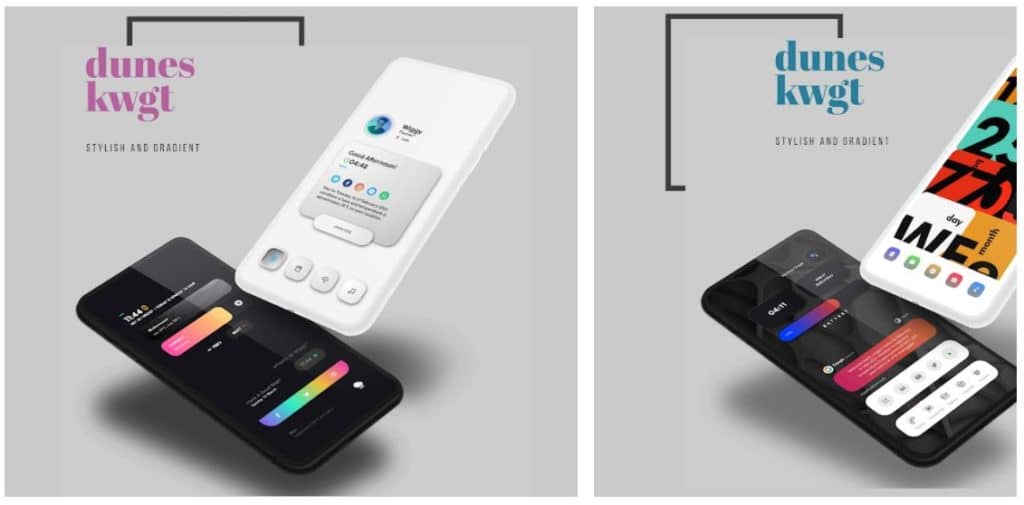 Standout Features:
25 gradient-based card-type widgets
Easy to customize
Wide support of Android Launchers
Download This Best KWGT Widget Pack
---
Rainbow KWGT: Best Free KWGT Widgets
Rainbow paints a colorful image in your mind as soon as you heard the word. This is what Rainbow KWGT will do to your home screen. It will paint your home screen with vibrant-looking widgets. The app contains the basic search, clock, and climate widgets along with some other additional widgets.
The theme and color combination of the widgets matches every kind of wallpaper. The diverse nature of the app makes it one of the best KWGT widgets. The app has more than 40 widgets along with 10 widgets to match the wallpaper on your home screen.
Related: Best Yoga Apps
Standout Features:
42 beautiful widgets for KWGT
10 wallpapers
constantly updated
Download This Best KWGT Widgets Pack
---
Shadow KWGT: Must Have KWGT Widgets
Now, if you are planning to customize your home screen in the dark theme and want to Sync it with amazing AMOLED wallpapers, then Shadow KWGT is your answer.
Shadow KWGT offers you a Music widget, Search bar widget, Clock widget, and some other widgets in pure black and white color options. You can sync all the black and white-colored widgets according to your home screen theme and can form one-of-a-kind home screen setups.
You can choose from vibrant colored widgets and can select the most suitable colored widget that can match your wallpaper. Also, this KWGT widget offers super minimal wallpapers that you can choose from.
Related: Best Icon Pack For Android
Standout Features:
58 beautiful widgets
Easily Customisable
Download This Best KWGT Widgets Pack
---
Sugarcubes KWGT: Best Paid KWGT Pack
The Sugarcubes KWGT pack is easily one of the best widgets currently available and the reason that it offers the latest iOS 14 styled widgets for your Android devices. So, if you are an iOS fan and want to try the latest iOS 14 widget this is the one you should go for.
The pack comes with 120+ well-designed widgets for you to choose from. There's a widget for everyone in the pack since you have access to a few minimalistic widgets as well as a few over-the-top stylish ones. Most widgets in the Sugarcubes KWGT pack are card-based thus they would work well on minimal backgrounds.
These card-based have bright yet pleasing to look at colors and go well with almost any wallpaper. The Sugarcubes KWGT pack is a paid widget pack and these beautiful widgets are worth paying for.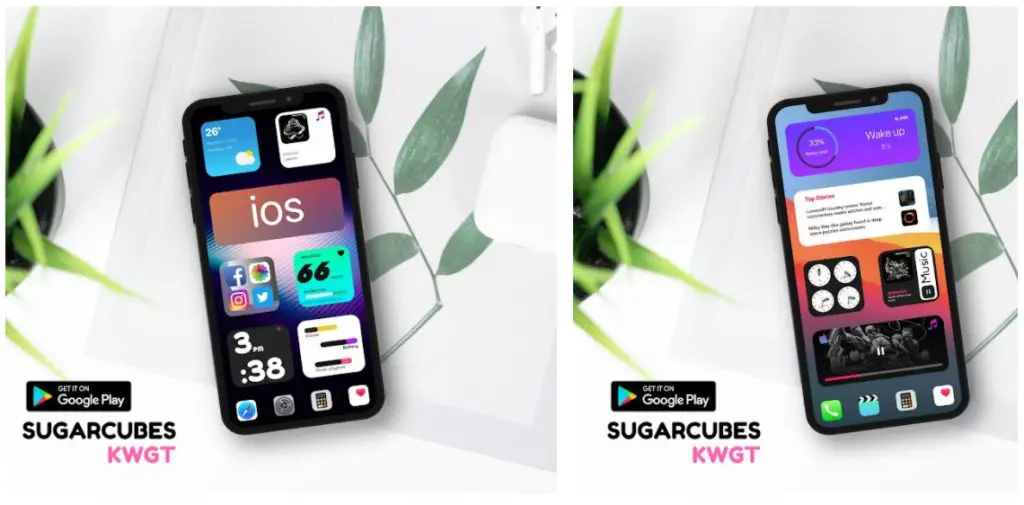 Standout Features:
26 colorful widgets
compatible with most launcher
Download This Best KWGT Widgets Pack
---
Coves KWGT: Premium KWGT Widget
For people who prefer minimalistic designs, Coves is an exceptional app. Great for AMOLED displays, this widget brings pure white or pure black-themed widgets that look stunning with contrasty wallpapers.
Once you install the pack, you'll surely love the pre-made widgets, including battery stats, clock, music control, weather, and whatnot. There are around 100 widgets to choose from also you will get 100+ hand-crafted wallpapers that will go well alongside the widgets.
Related: Best Email Apps For Android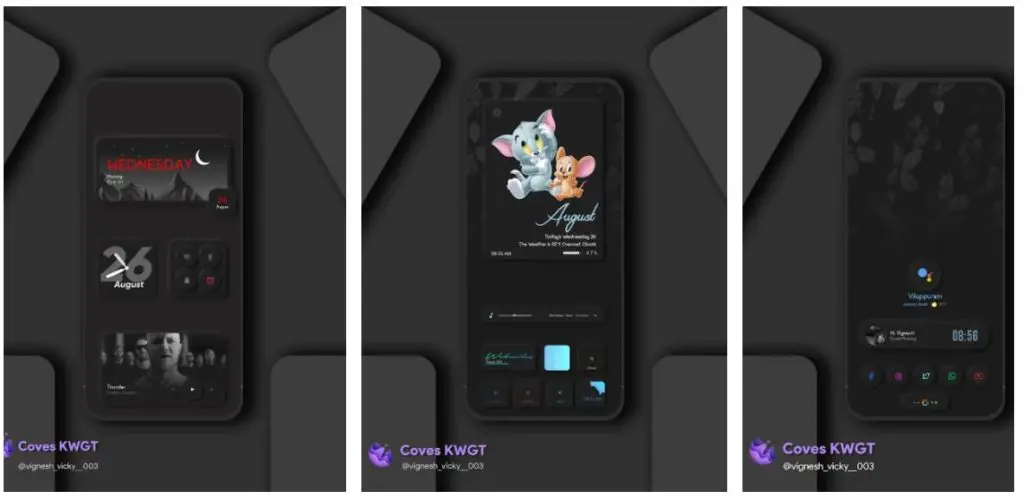 Standout Features:
KWGT based on 𝗡𝗲𝘂𝗺𝗼𝗿𝗽𝗵𝗶𝘀𝗺 style
100+ widgets
It included 125 HD walls
Download This Best KWGT Widgets Pack
---
Feast KWGT: Best KWGT Widgets 2021
Feast KWGT is the next app on our list of best KWGT widgets that can work well for you. The app has dark and light-themed widgets that can be created in seconds with your fingertips.
The app has a minimal look and some cool customization options that can help you create the best widgets for your home screen. You can switch to the Pro version of the app which will offer you more customization options on the go.
Standout Features:
50+ KWGT widgets
Works with most launchers
Download This Best KWGT Widgets Pack
---
Lucent KWGT: Minimal KWGT Widget Pack
Widgets give quick access and insights into the important stuff. For that purpose, we have Lucent KWGT app for you, which offers aesthetically minimal-looking translucent widgets that you can use on your home screen.
The app contains 130+ carefully handcrafted widgets like search bars, music widgets, text-based widgets, and much more. The translucent effect of the widget adds a touch of elegance to your home screen. The app also comes with frequent updates which keep you engaged with the new stuff every time.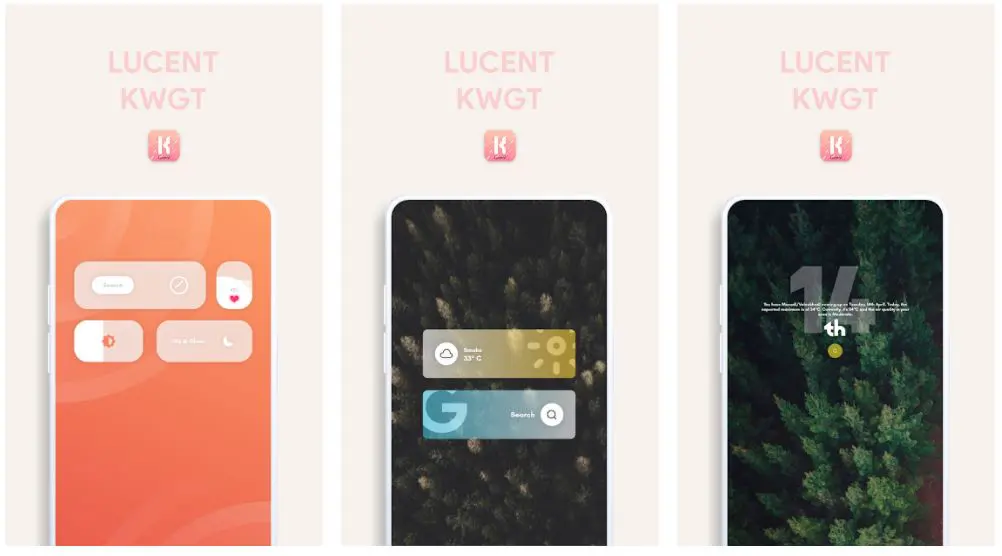 Standout Features:
135 carefully handcrafted widgets 
Many types of widgets like music widgets, text-based widgets
Cloud-based wallpapers
Download This Best KWGT Widgets Pack
---
Dusk KWGT: Best KWGT Widgets
Dusk KWGT offers you some of the best widgets in a multi-colored theme with deep blacks that are a perfect fit for your AMOLED display. The minimalistic design of the widget beautifully syncs with your contrasting home screen wallpapers.
You will surely love the widget once you install the app on your device, thanks to 60+ pre-made widgets like weather widget, music widget, and battery status widget, and much more. Dusk KWGT brings forward a set of gorgeous flat widgets that follow the material design language.
If you are a tech geek and want to go into technicalities, then you can notice how the flat widgets have been combined with round corners that customize your home screen to a pro level. The widgets fit well in both dark and light themes, which makes this app more than awesome.
Related: Best Browser for Android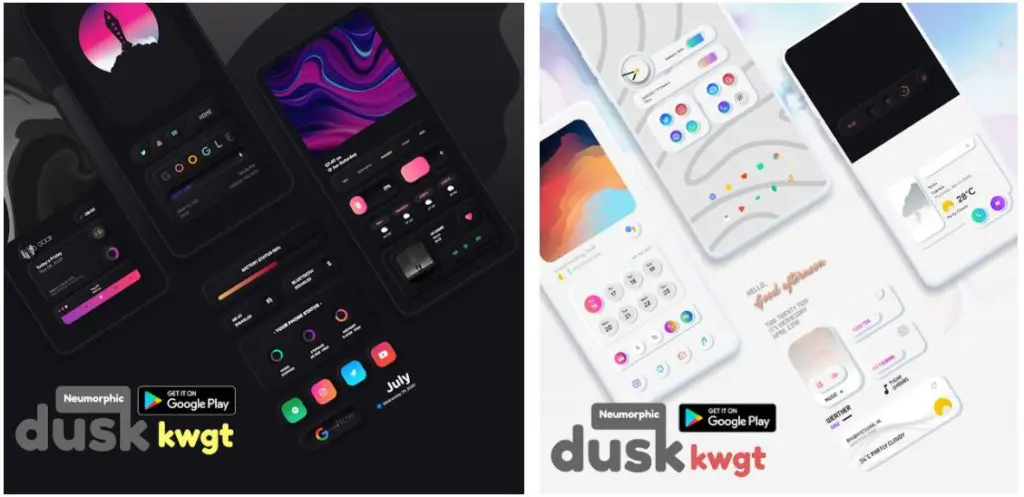 Standout Features:
25 beautiful widgets
Wide launcher support
Download This Best KWGT Widgets Pack
---
Fiction KWGT: New KWGT Widgets 2021
Fiction KWGT has a unique approach to widget customization which I loved about the app. The app has a block-based widget theme that minimizes customization efforts and saves you time. You will get the basic widgets like a clock widget, climate widget, music widget, docs widget, and much more. You can modify the basic aspects of your widget like color, font, size, type, and dimension.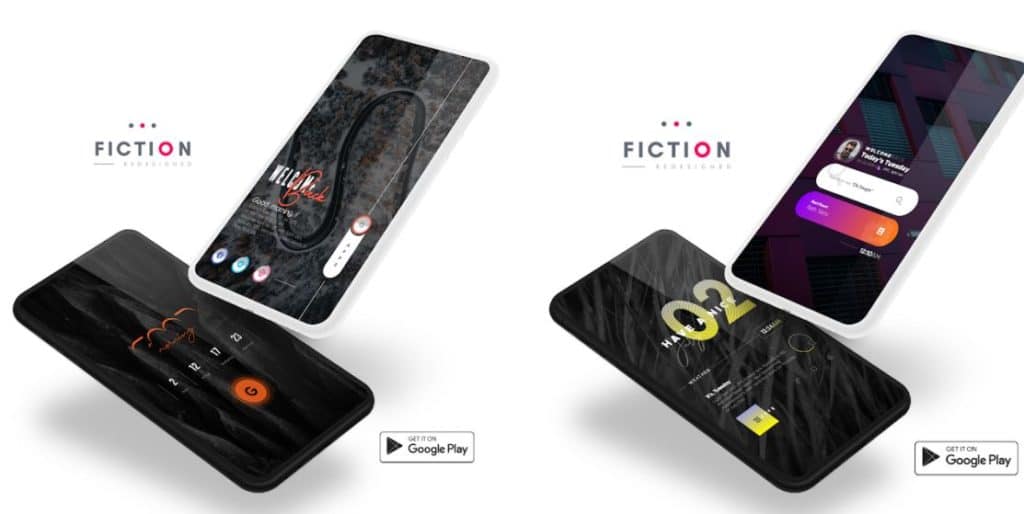 Standout Features:
40+ Widgets available
Compatible with most launchers
Download This Best KWGT Widgets Pack
---
Orca KWGT: Underrated KWGT Pack
Orca offers you the widest range of pre-made widgets that can smartly sync with your home screen. The app has more than 100 widget designs that you can customize as desired. You need to pay some bucks to avail yourself of the additional perks of the app. You also get 23 exquisite wallpapers to try your hands on.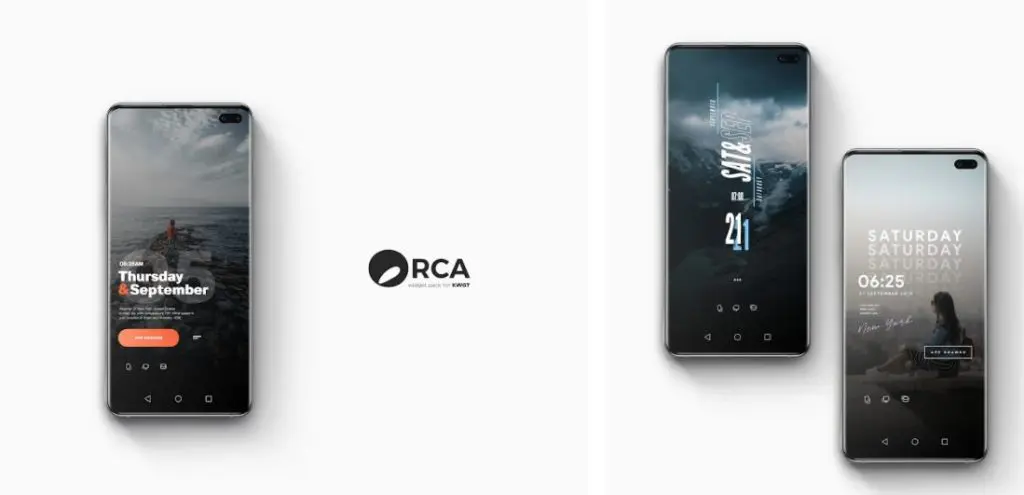 Standout Features:
100+ beautiful widgets
23 wallpapers
Download This Best KWGT Widgets Pack
---
Final Words
We hope this list of the best KWGT widgets will help you in finding the best. Our list will help you create diverse widgets according to your suitability. These best KWGT widgets also come with custom wallpaper that you can try. Do like, comment, and share our content so that our family grows.
Thank you for reading! Try these out too: