Having a vast vocabulary makes you confident and communicate effectively with your peers. It will help you express yourself and won the hearts of the people. If you want to enhance your vocabulary, our list of the best vocabulary apps will be helpful.
We are compiling a comprehensive list of the best vocabulary app that will add power to your vocabulary. We have also added apps that will make learning fun for you. It is necessary to know the benefits you will be getting after installing an app on your device. Following are some of the benefits you will get from the best vocabulary apps on your smartphones.
Excited? So, Let's Get Started
Benefits Of Best Vocabulary Apps
Learn for free: With the help of the best vocabulary apps, you can enhance your vocabulary for free. You do not need to pay for the expensive tuition classes or go anywhere to attend classes. You can install the vocabulary app and start growing your skills.
Easily Accessible: You get access to the best content out of the digital learning platform. The apps developed by experts keep in mind the convenience of the learners. You are not bound to any time as you can start learning whenever you have time. You can get easy access to the learning material on one platform.
Best Vocabulary Apps For Android
---
Vocabulary – Learn new words
Vocabulary is an excellent app that will help you improve your grip over the language. Whether you are learning for your language classes or personal growth, vocabulary is an application that can serve you quite well. It is one of the best vocabulary apps since it combines functionality through its unique algorithm with drills designed mainly for people with
The app will let you expand your knowledge of existing words and help you identify and speak new ones. It comes with a get a new word daily feature that will provide you with recommendations for new words containing their meaning. One of its most notable features that many users find helpful is that the app also uses the particular word in a sentence to provide clarity.
If you find an exciting word, the app will let you share it through messages, Instagram. You can also save it as an image for Instagram, copy text and share it manually. Vocabulary makes it easier to learn interesting words with their meaning; thus, you can develop a thorough understanding of them.
One of the most notable features of the application is its categories. It lets you choose a word through different categories, including nouns, adjectives, Spanish words, and verbs. You can also select one by topic such as human body, society, tech & science, etc. Additionally, if you find an interesting word on the internet, you can add it to the app.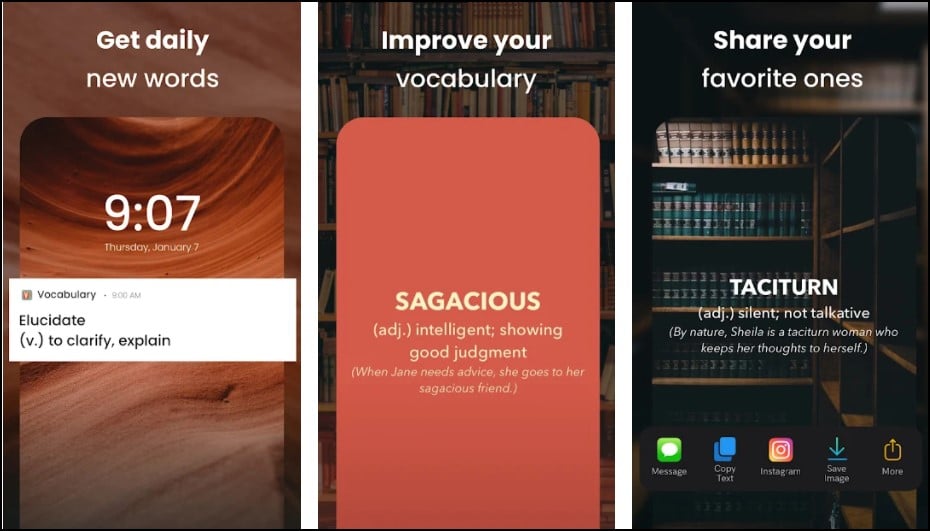 Standout Features:
Daily word recommendations with meanings
Improve your vocabulary by using those words in a sentence
Share your favorite words
---
Merriam Webster – Vocabulary Apps
Merriam Webster is one of the best platforms to improve your vocabulary. The app offers multiple ways to learn new words. You can learn new words by playing games. You can play fun fast quizzes and enhance your vocabulary by knowing synonyms, antonyms, and the linguistical history of the word.
You can learn the language in context with examples that will help you better understand the word. Besides this, the app has audio pronunciations that will improve your speaking skills. The app is free to use but, you will encounter ads while using it.
Related: Best Apps For Secret Texting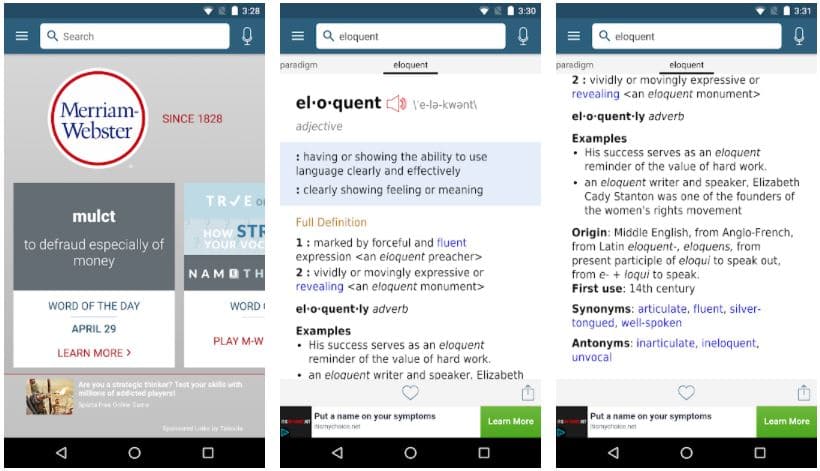 Standout Features:
Learning quizzes
Word of the day
Linguistical history
---
Word Of The Day – Best Vocabulary Apps
The next app on the list is Word Of The Day which can be a suitable platform to polish your verbal skills. You can get to learn numerous synonyms for every word that you can use in a different context. You can save your favorite word in the app. The app will give you a complete definition of every word.
Additional features of the app include word of the day that comes from trusted sources. The app has in-app purchases that vary from item to item and, you can buy them to avail of additional features.
Related: Best Shopping Apps For Women
Standout Features:
A complete definition of words
Words from trusted sources
---
Magoosh Vocabulary Builder – Vocabulary Apps
Magoosh Vocabulary Builder has helped students over the years. It has helped over 5 million students to learn and improve their verbal skills. The app is designed to make learning a fun experience for learners. It has a simple interface that will guide you through your journey of learning.
The app has 1200+ GRE vocab words curated by experts for academic learning. The app comes with 3 learning levels that you can choose as per your level. You can start from the basic level if you are a beginner or can choose the advanced level if you are an expert. You need to finish every level to unlock the latter learning stage.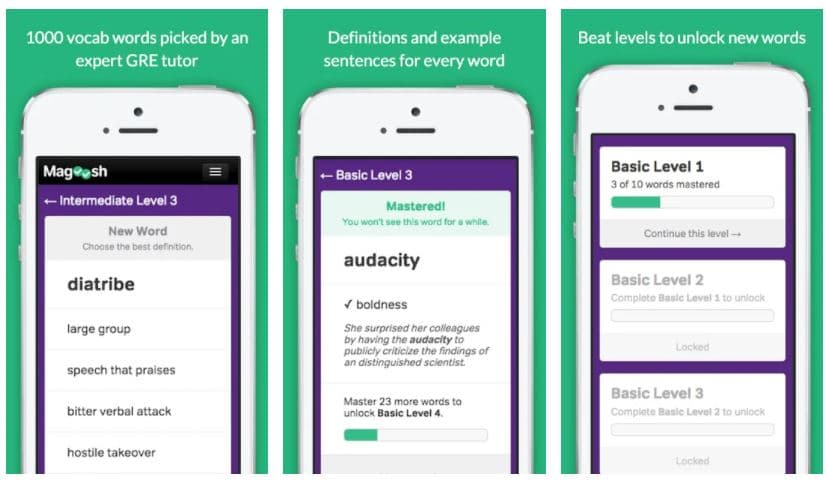 Standout Features:
1200+ GRE vocab words
Learning level
Simple interface
---
Words With Friends – Improve Vocabulary Apps
Words with Friends is a perfect app to build your vocabulary and make everyone feel your presence. You can learn words by playing crossword games with random opponents. The app offers you ample tools that will help you to improve your vocab. You can practice the skill and then play with the pro opponents and beat them. It is one of the best vocabulary apps we would suggest the users try their hands on.
Related: Best Smartwatch Apps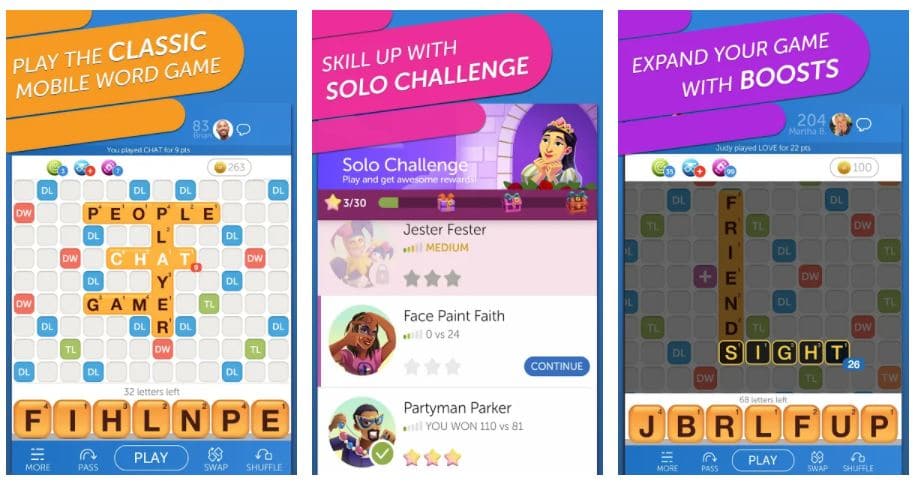 Standout Features:
Fun learning experience
Play with pro opponents
---
Words With Friends 2 – Free Vocabulary Apps
Play crossword puzzle games with your friends to build your vocabulary. You can play with like-minded friends and challenge them to beat you in the game. Complete levels and win rewards to keep yourself motivated throughout the learning journey.
You can play the Solo Challenge Mode or can have a quick play with your opponents. You can customize the tile style with stickers and profile frames to improve the learning experience. The previous version of the game is also highly preferred by the users due to which we will suggest it to the users.
Related: Live Cricket Streaming Apps
Standout Features:
Play in different modes
Customize tile styles
Earn rewards
---
Word Domination – Building Vocabulary Apps
Word domination is an international arena where you can challenge people all around the world. You can challenge users across the world and see who has the best and largest vocabulary. You get to learn unique words in this game as you are competing with the international players.
The app has monthly events which keep you hooked up with the learning process. You can challenge mascots in the game and have a fun learning experience. You can buy premium items in the app for the exclusive features.
Standout Features:
Compete with international players
Challenge mascots
Fun learning experience
---
WordUp Vocabulary – Learning Vocabulary Apps
WordUp Vocabulary app is one of the best vocabulary apps for self-assessment. The app lets you through a step-by-step learning process so that you can gradually move up the ladder. The first step of learning is to know how much you know. The next step in the learning process is to know the words you don't know.
After the assessment, you can learn the words in order of importance with a proper context. You will have native English speakers to guide you in the process. You can also improve your professional communication skills which makes it one of the best vocabulary apps to choose from.
Related: Best Browser for Android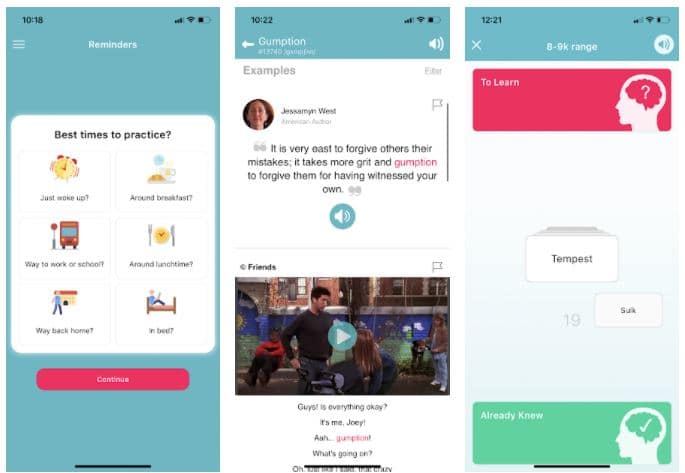 Standout Features:
Stepwise learning process
Improve professional communication skills
Native English speakers
---
AnkiDroid Flashcards – Vocabulary Apps For Adults
Flashcards are one of the best mediums of learning. AnkiDroid Flashcards is one such app that will help you enhance your vocabulary. You will be shown a flashcard and asked to recall the word shown. The app has 10000+ cards which you can choose to start building your vocabulary.
The interface of the app is buttery smooth that will enhance the learning experience of the learners. You can also download the flashcards and save them in internal storage for easy access. The app has all the ingredients to make it one of the best vocabulary apps.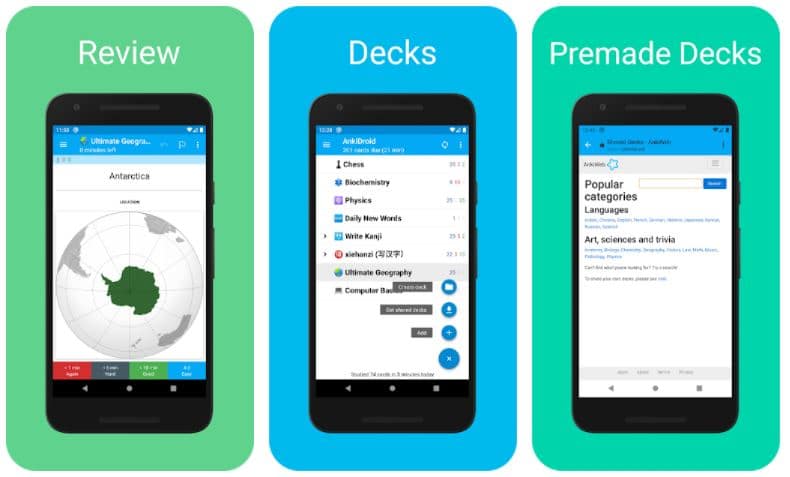 Standout Features:
10000+ flashcards
Download flashcards for offline viewing
Interactive user interface
---
A Word A Day – Vocabulary Apps For Students
Consistency and perseverance are the two essential elements for success. A Word A Day app works on the same principle that makes it one of the best vocabulary apps. You will be introduced to a new word every day and save it in your database for later reference.
The app can be productive for the students who are preparing for the competitive exams. You can use the Google voice integration feature to understand the pronunciation of a word.
Related: Best Email Apps For Android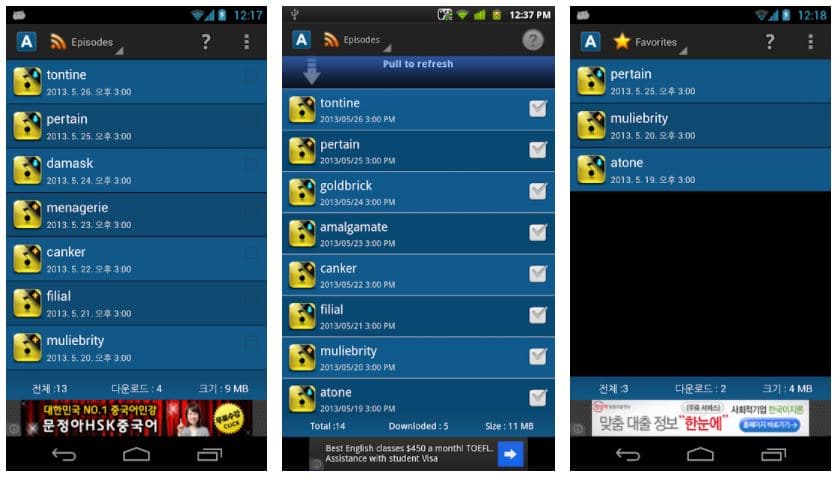 Standout Features:
Learn a new word every day
Add favourite words to the list
---
Duolingo – Best Vocabulary Apps For iPhone
Duolingo is one of the most popular apps to learn additional languages. You can also use the app to build your vocabulary. You can learn the basics of grammar and vocabulary with the help of the Duolingo app. The app has mini bite-sized lessons that will guide you through the vocabulary-building process.
The app has in-app purchases that will help you equip with additional learning tools. If you are looking for a multi-utility best vocabulary app then this app can be perfect for you.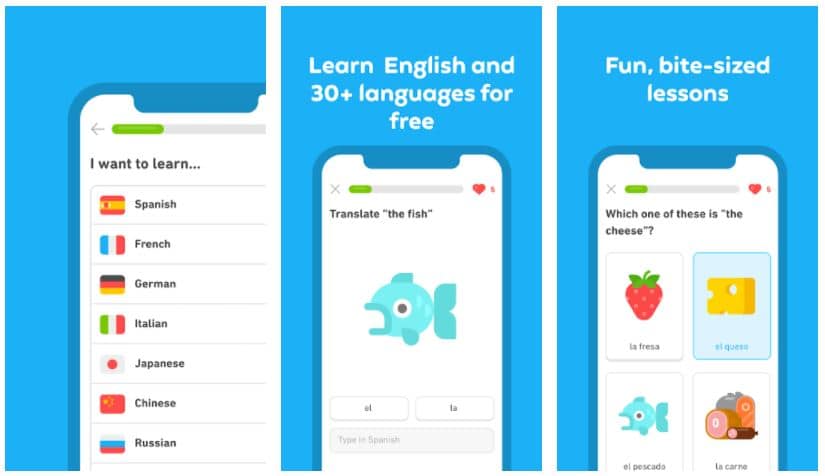 Standout Features:
Mini bite-sized lessons
Multi-utility
Reliable learning material
---
7 Little Words – Vocabulary Apps
With more than 10,000+ puzzles to build your vocabulary, the next app is 7 little words on the list. The app is available in multiple languages that you can choose before starting the game. The app has 5 difficulty levels where the difficulty increases at every stage. The theme puzzle of the app will keep you hooked on the learning process.
The app offers free puzzles along with 2 daily new puzzles. If you want to build your vocabulary via puzzles, then this app would be the perfect choice for you. The app also has filled in a blank puzzle section which users would surely love.
Related: Best Icon Pack For Android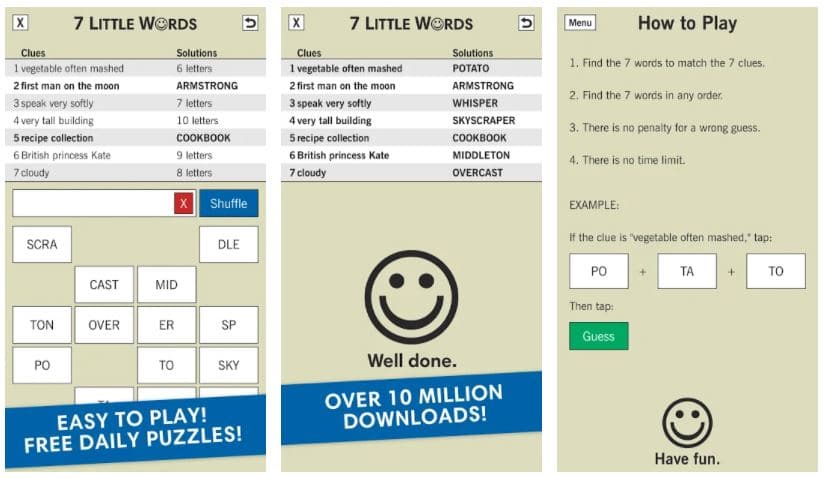 Standout Features:
Plethora of puzzles
5 difficulty level
Available in multiple languages
---
Fluentu – Best Vocabulary Apps For Android
The visual retention power of the human mind is impeccable. Fluentu will help you to build your vocabulary with the help of interactive videos. You can listen to audio from movies and understand the word properly.
You can also learn the context of the words for better understanding. It will help you use the word in a suitable context. You can track your progress and ask questions regarding the word.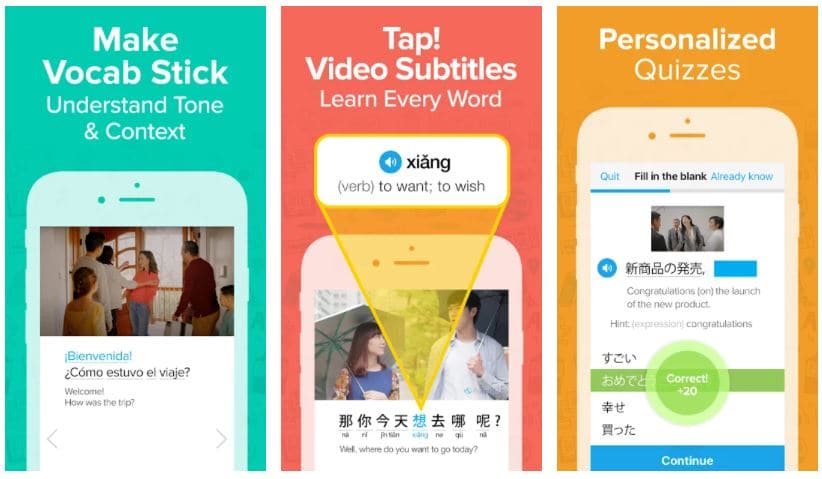 Standout Features:
Interactive videos
Listen to audio from movies
---
Final Words
We will be wrapping our list of the best vocabulary apps. Merriam Webster, Mangoosh Vocabulary Builder, Word of the day are some highly recommended vocabulary building apps. Do comment and let us know about your valuable suggestion. You can also tell us about your favorite pick on the list.
Thank you for reading! Try these out too:
General FAQ
What are a vocabulary and its types?
The combination of words used in a particular language is known as vocabulary. The 4 types of vocabulary are reading, writing, listening, and speaking
Which are the best free vocabulary apps to use?
Merriam Webster
Duolingo
Word Of The Day
What should one do to improve vocabulary?
One can improve its vocabulary by developing a reading habit. Secondly, he can choose any suitable app where he can practice and improve his overall vocabulary.
What is the best vocabulary app?
We have more than one choice in our best vocabulary app list. The best choices in our list are Duolingo and Merriam Webster.
Will the best vocabulary app improve my language?
Yes, the sole purpose of having these applications is to help you build your knowledge over new words and expand your knowledge over the existing ones