Keeping good care of your body is an integral part of a healthy lifestyle. Health is wealth, and to enjoy the luxuries of life, a healthy body is a must. You can keep your body fit via weightlifting, cardio, or doing a routine workout. Best bodybuilding apps will help you stay fit and healthy.
These best bodybuilding apps will keep a log of your workout. The app contains a detailed explanation of exercises that will help you achieve the best results. You can download any of these best bodybuilding apps if you are serious about bodybuilding. Following are the benefits of bodybuilding apps that make them a permanent app in your app drawer.
Excited? So, Let's Get Started.
Benefits Of Bodybuilding Apps
Free to use: The bodybuilding apps give you access to high-quality content without charging anything. You get workout manuals, diet plans, workout routines in the bodybuilding apps. You do not require a trainer or nutritionist to take care of your body. You can do it on your own with the bodybuilding apps.
Create a workout log: You can create a workout log on the bodybuilding apps that will help you track your progress. You can also switch your workout routines after every 6 weeks to achieve the best results. A workout log has multiple benefits that you will get via the best bodybuilding apps.
Best Bodybuilding Apps For Android
---
Pro Gym Workout
Losing weight or gaining more muscle isn't easy, especially if you join the gym first. The two most important things about bodybuilding are the correct posture and the proper workout routine. Pro Gym Workout is the best bodybuilding app for people looking to replicate the experience of a personal trainer. Whether you are working out in the gym or at home, the app will be helpful for you in all instances. It will let you select from up to 120 different experiences. It also contains nine workout plans designed to target different muscle groups: shoulders, abs, back, cardio, calves, legs, forearms, biceps, and triceps.
The application also contains 16 different workout programs that you can select. It will provide you with particular goals from beginner to intermediate levels. The app's most notable feature is letting you set goals as per your preferences. Hence, you can choose to start the workout to become a pro powerlifter or target quick belly fat loss mainly. The bodybuilding app can be customized as per your requirements.
The best thing about a Pro Gym workout is that you won't have to worry about finding the proper posture. The application will provide a video demonstration by an experienced bodybuilder. It will help you perfect your technique and form, thus ensuring more effective blood flow into the muscle to make the most out of your experience.
The app will also add your favorite exercises and customize your workout routine. Additionally, all the workouts and exercises can be accessed offline. Another thing that you need to note while working out is repetitions, sets, and the duration between them. The app comes with a helpful timer that will let you measure it conveniently. Some other features of the application that make it so valuable include the BMI calculator, calories tracker, protein calculator, a fat measurement, which lets you measure all body matrices.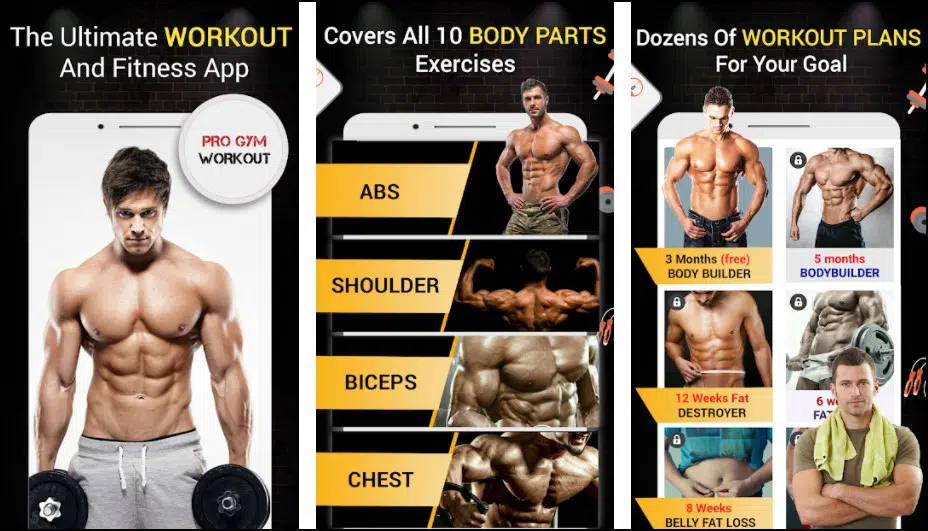 Standout Features:
Workout videos by a professional bodybuilder
Set your goals as per your preferences
Different calculators to measure body metrics
---
Home Workout – Free bodybuilding apps
Home Workout provides you with daily workout routines that you can perform in your day-to-day activities. The app contains detailed video and animation guides that help you understand the basics of every exercise. The app offers warm-up and stretching routines that you can perform to open up your body.
You can use the app for strength training, bodybuilding, burning fat, and hit workouts. The app records your daily progress automatically to keep you motivated. You also get access to a fitness coach that will help you in professional bodybuilding. Besides this, you can customize the workout reminders as per your requirement. This complete app can be one of the best bodybuilding apps for all level fitness enthusiasts.
Related: Best Apps For Secret Texting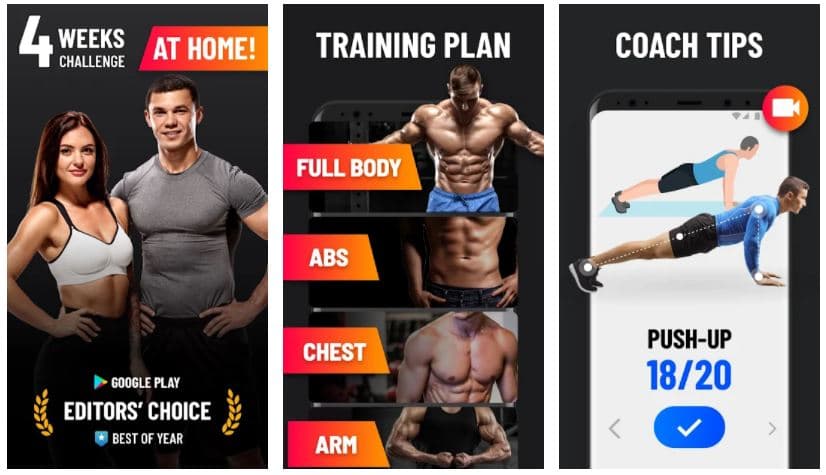 Standout Features:
Animation guides
Customize workout reminders
Daily workout routines
---
Fitness and Bodybuilding – Best bodybuilding apps
Fitness and Bodybuilding app is the next app on our list that offers a plethora of fitness assistance to users. The app provides a list of effective workouts for every muscle group. Besides videos, the app also offers text instruction that can be handy to understand every aspect of the exercise.
You can save the exercise database and track your progress. The interactive graphs in the app show your progress via weight, performance, and repetitions. The app has a built-in timer and calendar that gives you an overview of your monthly workout days. The app has ample fitness features to make it one of the best bodybuilding apps on the list.
Related: Best Shopping Apps For Women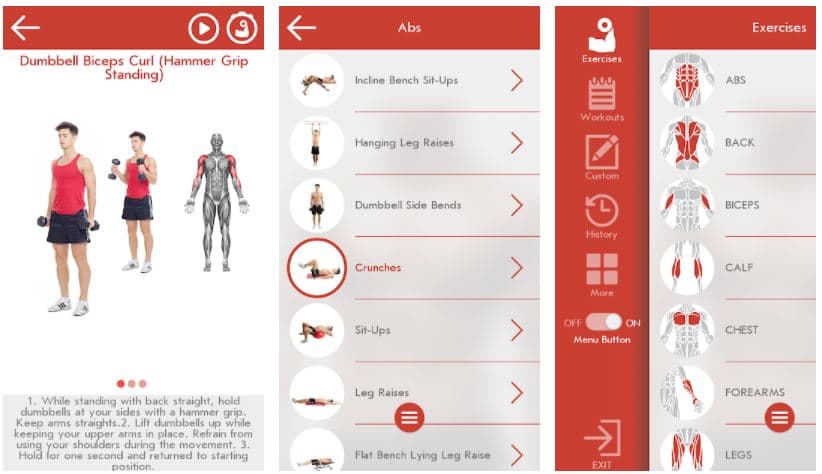 Standout Features:
In-built timer and calendar
Text workout instructions
Detailed videos for every muscle
---
Home Workouts Personal Trainer – Bodybuilding apps
Home Workouts Personal Trainer is designed by Fitness22, which is a popular name in the industry. The app has a detailed exercise database that can help you hit your goals. You can gain weight, get in shape, lose belly fat, improve upper body strength, and build muscles with this app. This ad-free app can be one of the best bodybuilding apps for fitness enthusiasts.
The app contains multiple exercises with variations that help you perform the exercise with precision. You get high-res videos that will guide you to perform every exercise. You can search for the desired exercise via muscle group or equipment. Besides this, you can create workout routines, modify them, and track your workout history.
Related: Best Icon Pack For Android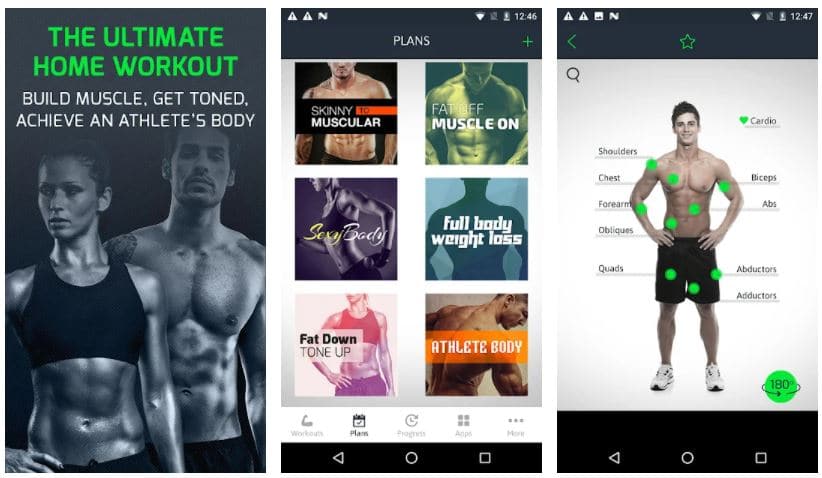 Standout Features:
Exercises with variation
Achieve goals
Ad-free
---
FitNotes – Bodybuilding apps free
FitNotes lets you create detailed workout logs that keep you in the right tone. You can add exercise to the workout log and record the weight and reps performed. You can view the saved workout log by swiping between them. The app allows you to add comments or notes along with every workout so you can make improvements.
You can create custom categories for a particular muscle that suits your goal. You can add the exercises in two categories, resistance, and cardio, based on your routine. You can edit and add new exercises when you are planning to switch your routine.
Related: Best Email Apps For Android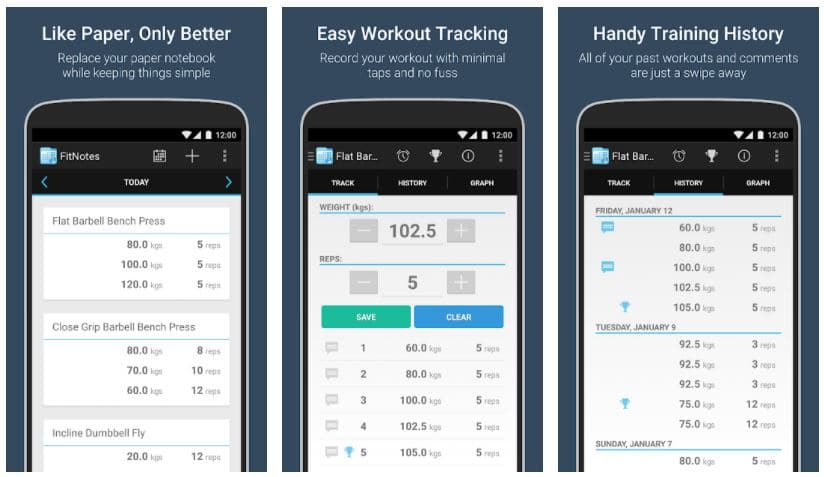 Standout Features:
Add comments
Add new exercise quickly
Track your progress
---
Strong – Best bodybuilding apps android
Strong is another workout log tracker that lets you record and track your progress. The app displays your progress via interactive charts and graphs. The app has Auto Countdown Timer that will help you record the rest breaks in between your exercise. All your data is automatically synced, and you can access it across various devices.
The app offers a comprehensive range of exercises to develop cardiovascular muscles and strength training. The app has a built-in body measurement tracker making it one of the best bodybuilding apps to try. A body measurement tracker helps your record your weight and other essential body details. You can tag the set as a warm-up, failure, and drop set to keep a close track of everything.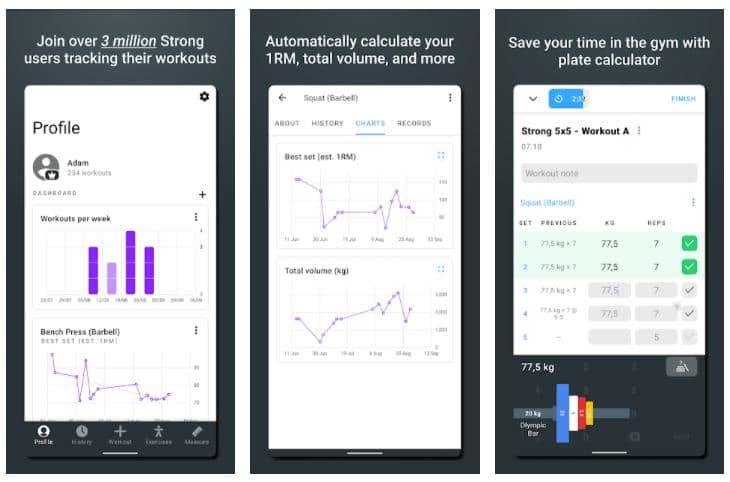 Standout Features:
Body Measurement Tracker
A comprehensive range of exercise
Auto sync feature
---
JEFIT – Best bodybuilding apps 2021
JEFIT is trusted and used by millions of users making it one of the best bodybuilding apps. The app has 1300+ demonstrations and exercise variations performed by the experts. you can set your exercise and track reps and the app will show your performance. The app offers intuitive tools that can help you perform exercise better.
Some of the tools are interval timer, body measurement system, rest timer, and superset. You can use the customized workout programs based on your workout routine. You can set your goal before starting the journey with JEFIT. Join the community page of the JEFIT app to stay connected with the community members.
Related: Best Browser for Android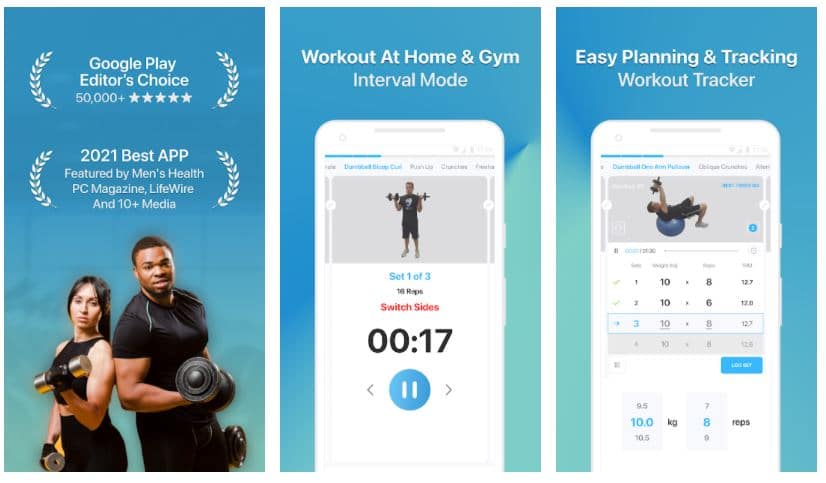 Standout Features:
1300+ demonstrations
Intuitive tools
Customized workout programs
---
Fitness Buddy – Best free bodybuilding apps
Fitness Buddy helps you achieve your fitness goals with its detailed HD videos. You can choose the part you want to train and, the app will help you with its video tutorials. The app offers exercise routines for weight gain, fat loss, and muscle gain.
You can choose from customized routine plans based on your workout schedule. The app also allows you to track body measurements and metrics before starting your fitness goal. The app has in-app purchases that you can buy to avail of additional features.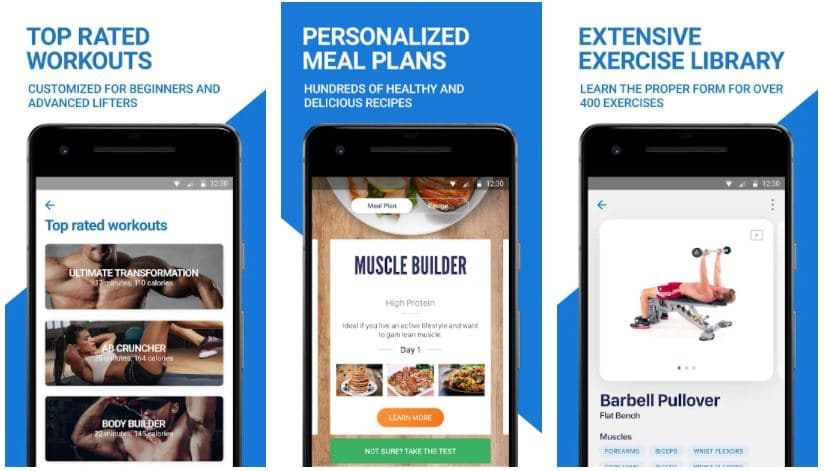 Standout Features:
Detailed videos
Customized routine plans
Track body metrics
---
Power Lifter – Bodybuilding apps android
Power Lifter will help you keep a log of your weight lifting history. You can track your scores and improve your AMRAP or As Many Reps as Possible with the powerlifter. You can customize the number of weeks you want to set in your lifting cycle. You can set up to 10 weeks in a lifting cycle.
The app suggests warmup sets so that you can open up your muscles. It has a rest timer to let you know how much you should rest between the sets. The app has interactive graphs that will give you a quick overview of your performance. It can be one of the best bodybuilding apps for weight lifters who are planning to build strength.
Related: Best Smartwatch Apps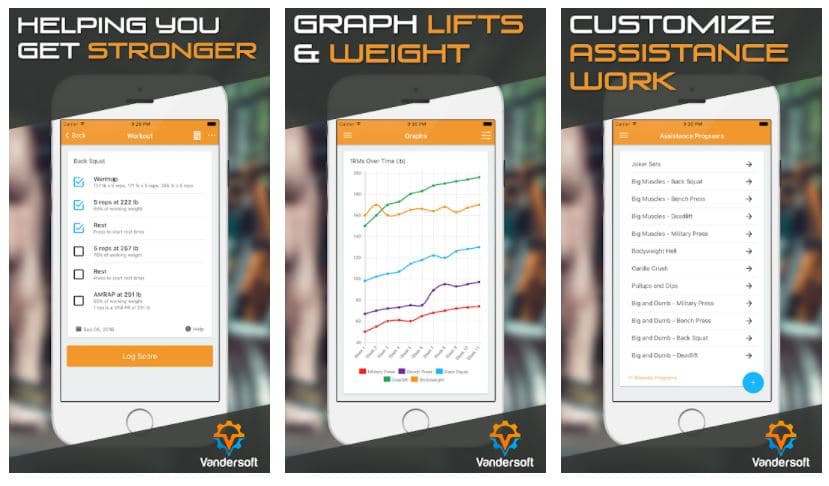 Standout Features:
Track lifting scores
Interactive graphs
Helps build strength
---
Bodyspace – Bodybuilding apps for iOS
Bodyspace has hundreds of fitness programs that offer guidance to fitness enthusiasts. The app has thousands of community-built fitness programs you can choose from based on your preference. You can choose the program according to your age, gender, level, and goal.
After choosing a suitable program, you can apply it in the Bodycalendar that gives you frequent reminders. The app suggests the perfect exercise according to your muscle group and equipment. You can follow the step-by-step instructions or watch videos to get started. This complete app should be in your app drawer if you aspire to achieve your fitness goals.
Standout Features:
Hundreds of fitness programs
Step by step instructions
Give frequent reminders
---
AtletIQ – Free bodybuilding apps
AtletIQ is the next app on our list of the best bodybuilding apps that you must try. The app has 600+ weight gain and weight loss exercises. You can choose your fitness goal and find the suitable training program you want to start. The app has 100+ verified training programs curated by experts.
The app has detailed videos and photos that will guide you on your fitness journey. The fitness programs are designed for both gym and home, making it one of the best bodybuilding apps to try. The app offers in-app purchases that you can buy for additional features.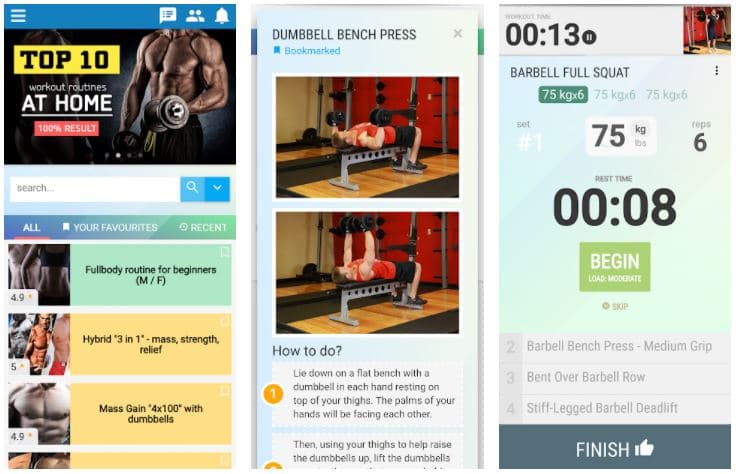 Standout Features:
600+ weight loss and weight gain exercise
100+ verified training programs
Ideal for both gym and home training
---
Final Words
These were some of the best bodybuilding apps fitness freaks can opt for based on their goal. Home Workout, JEFIT, Fitness, and Bodybuilding, are some of the best and most complete bodybuilding apps users can install on their smart devices. You can use FitNotes and Power Lifter to create a log of your workout routine. Do drop a comment below to let us know about your favorite app on the list.
Thank you for reading! Try these out too:
General FAQ
Do bodybuilding/exercise apps really help to achieve the results?
Yes, past research has shown that people with exercise apps tend to achieve better results as compared to those who do not. These apps help you create a routine and maintain your workout momentum
Which are the best apps for home workouts?
Home Workout
JEFIT
Strong
Fitness buddy
Do these bodybuilding apps provide nutrition assistance?
Most of the bodybuilding or fitness apps offer a personal coach, which you can avail of in the premium version. A personal coach will help you with the nutrition according to your fitness goals.