Health is wealth, this statement might be making more sense to you in this pandemic. As we all are sitting in our homes and can't follow our normal routine, here are some of the best fitness apps that you can use to maintain your fitness. If you are a gym freak or an early morning bird who is more into running and improving your stamina, we have got apps for everyone on this list.
Also, if you want to do some more productive tasks in this lockdown time, you can read our article on the best language learning apps here.
Excited? So, Let's get started.
Benefits of Best Fitness Apps
Create customized workout plans:- The best fitness app for android will allow you to create customized workout plans. Research shows that if we train the same muscle with similar exercises every day, as time passes, our body will stop responding to it. Hence, it's necessary to keep a workout plan and train separate muscles every day. Since creating a plan by writing it on paper isn't the ideal thing to do, you can use the app to create plans that you can implement while working out
More tracking:- If you want to make progress and get that perfect physique, the best fitness app is the best choice. These applications will track all your movements, such as walking, running, etc., and tell you the exact calories you have burned during the day.  Also, you can integrate it with a smartwatch and accurately record all the physical activities during the day.
Video routines:- One of the most important things when working out, whether you are doing it in the gym or at home, is the correct posture. Whether you are new or experienced, the chances are that there is still room for improvement. The best fitness app contains short clips to help you improve your exercise posture and target any specific area or muscle.
Best Fitness Apps For Android & iOS
---
adidas Running App Run Tracker
Adidas running app tracker is one of the best fitness apps. Considering that running is one of the most effective cardio to help you lose weight and build more muscle, the app will assist you. The application also provides valuable stats such as the distance you have covered, the duration, calories burned, and the average pace. Additionally, you can also track your route.
It maintains the stats by compiling them on a graph that will express your progress. The benefit of detailed statistics is that you can track your improvement. Another notable feature of the app is shoe tracks that will show you how much you have traveled with the particular runners and notify you when to replace them.
The application uses GPS tracking to find your running path and provides recommendations. You can add the duration and distance target and put your headphones on. The app is also compatible with smartwatches which is an added benefit. You can also take on virtual races and compete with other users around the globe, thus igniting the competitive spirit.
Related: Best Step Tracker Apps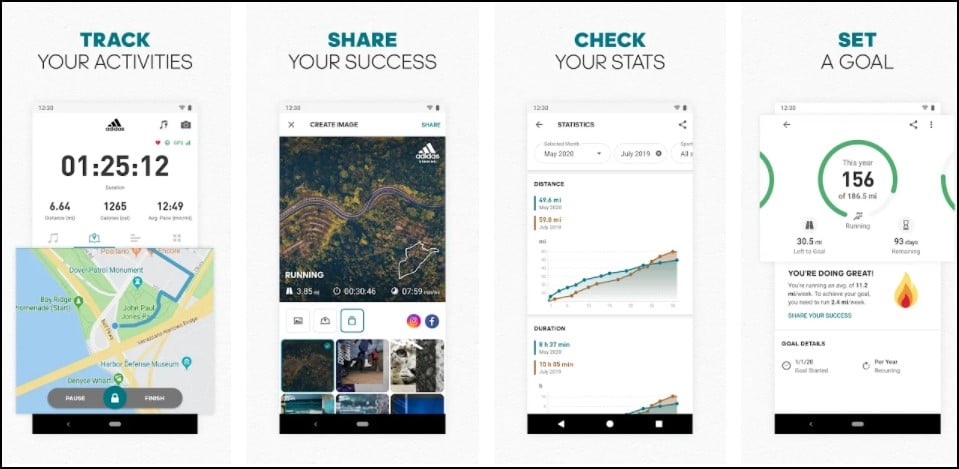 Standout Features :
Accurate GPS tracking
Detailed stats
Participate in virtual races
---
Google Fit
Google Fit is a popular name in the fitness segment as it is used by fitness freaks to track all their health-related data. It is one of the best fitness apps that can be integrated with your smartwatch and can give you accurate data about your current health condition.
The app counts all of your daily movements whether you walk, jog, run, or go for a bike ride. You can track all your data and see your progress to achieve the goal at the desired time.
Related: Best Guitar Tuner Apps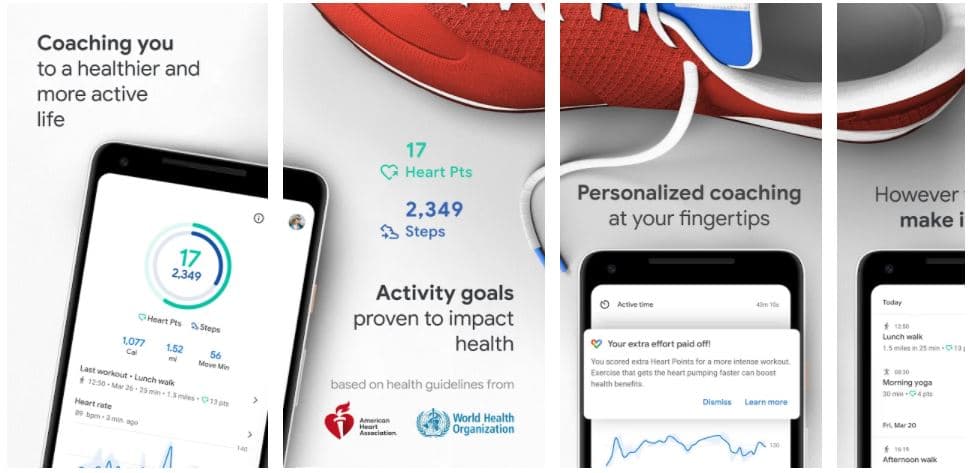 Standout Features :
Count all your movements
Easily integrate with your smartwatch
Compatible
---
Home Workout
with over more than 1 million downloads and high-rating, the Home workout app has earned the second spot on our list of best fitness apps. The app has home workout routines that are portrayed through interactive animated graphics.
This app can be useful in this period when you are stuck at home, as no equipment is required to do the exercise. The app has freestyle exercises for all your body parts. The app has a workout plan for your chest, abs, legs, arms, etc.
This highly-rated app is our pick of the list as it has all the features that will help you to give a kickass start to your exercise routine and keep you going.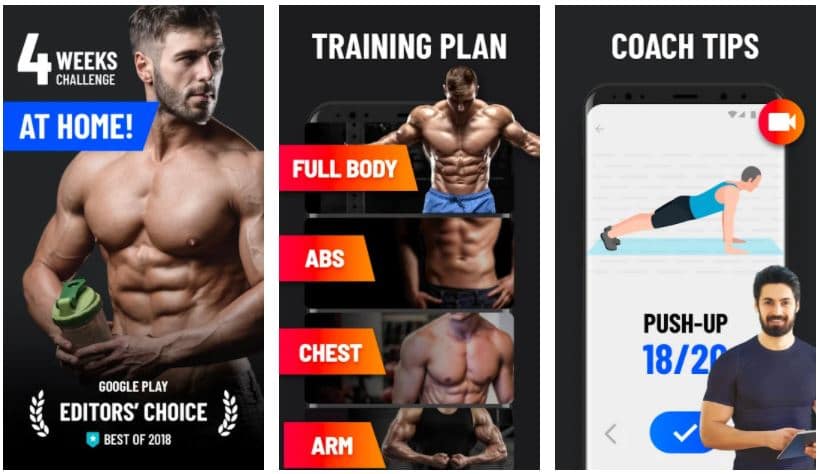 Standout Features:
Warm-up and stretching routines
A chart to track weight progress
Detailed video and animation guides
Customize your workout reminders
---
Stronglifts 5 x 5
Stronglifts 5 x 5 is an effective gym workout planner that has a sophisticated way of delivering useful workout routines. The app helps you to know how much weight you need to lift on weekly basis to hit your goal.
The weight lifting program of the app can be useful for beginners as it gives you a clear insight about your exercise, track them, how much you need to rest between the exercise, and monthly overviews about your progress. This can be one of the best fitness apps for those who want to gain weight and build muscles through high-intensity weightlifting.
Related: Best Home Workout Apps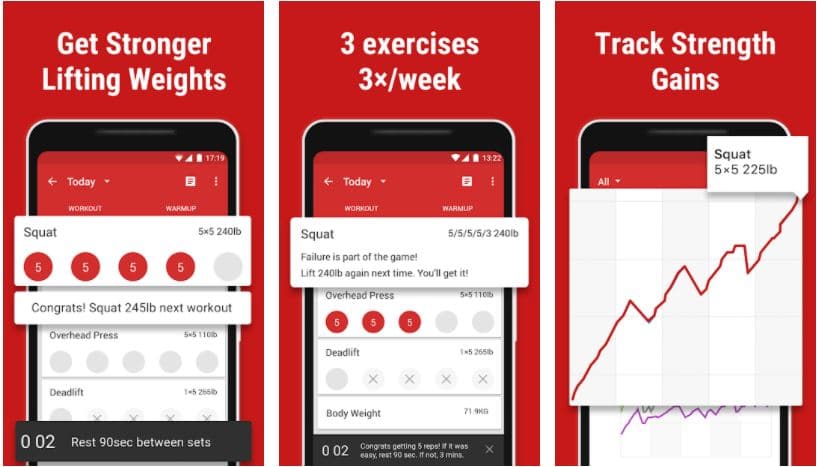 Standout Features:
Interactive workout planner
Weight lifting programs for beginners
weekly and monthly overviews
Graphs & tracker to view your progress
---
MyPlate Calorie Tracker
Struggling to meet up the calorie intake with your exercise. Gymming is not all about lifting weight, but a proper diet ensures the quality of your workout. MyPlate calorie tracker helps you to track your daily calorie intake that will make you aware of the Dos and Dont's of eating.
The app has a database of more than 2 million food items alongside custom food options that you can create on your own. You can set meal-time reminders, set your calorie intake according to your goal, track water intake, create a custom exercise, and much more.
The free version of the app offers most of the basic features that you need but if you want to avail of some exclusive features you can opt for the Gold version of the app. You can take a monthly, 6-month subscription, or yearly subscription depending on your requirement.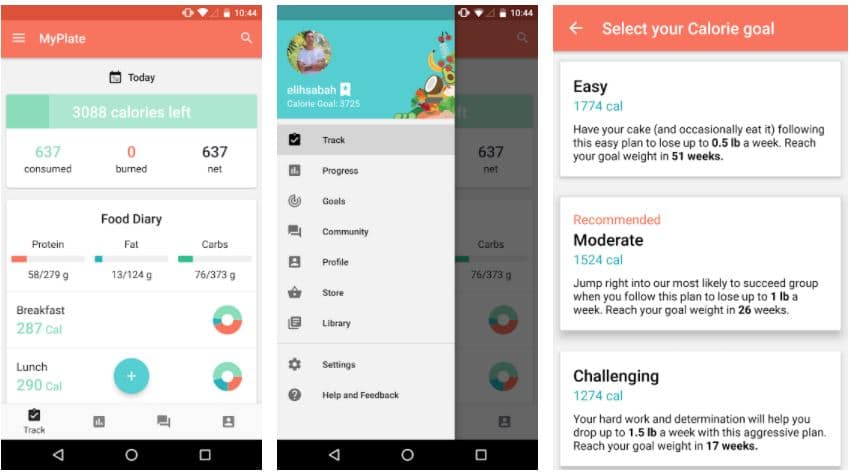 Standout Features:
Personalized daily calorie goal
Review detailed data
Set meal-time reminders
Create custom exercises
---
FitNotes
Finding it difficult to track your workout log? Not able to hit your goals at the desired time. We have FitNotes for you that will keep track of the workout which you are doing.
You can create a category of a particular part like Chest, Back, shoulder, etc and feed exercises under that particular category. You can attach notes on the exercise so that you can improve your sets, re-order the exercise, and much more.
You can also maintain the Exercise Database, create routines, mark important dates on the calendar, and backup all your data. If you are looking for one of the best fitness apps that can keep all your notes at a place then this can be a good choice for you.
Related: Best Weight Loss Apps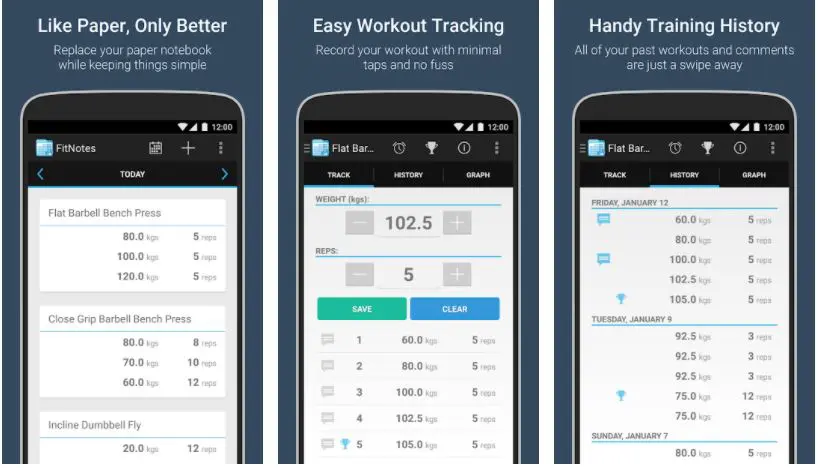 Standout Features:
View and navigate daily workout
Add new exercises
Create a routine
Assign exercises to a particular day
---
JEFIT Workout Tracker
JEFIT Workout trainer is another popular and one of the best fitness apps that will be a handy addition to your app list. The app has well-scheduled workout routines that will guide you through your workout journey. 
The app has a 1300+ exercise instruction database that makes sure that you are hitting the right muscles. You also get intuitive tools that can be handy in your fitness journey.
The highlight of the app which makes it one of the best fitness apps is its customized training programs in 3, 4, and 5 days split. Training Programs have been designed for different levels, from beginner to advanced and Sports training to Weight training you get all kinds of programs.
Related: Best Sports Apps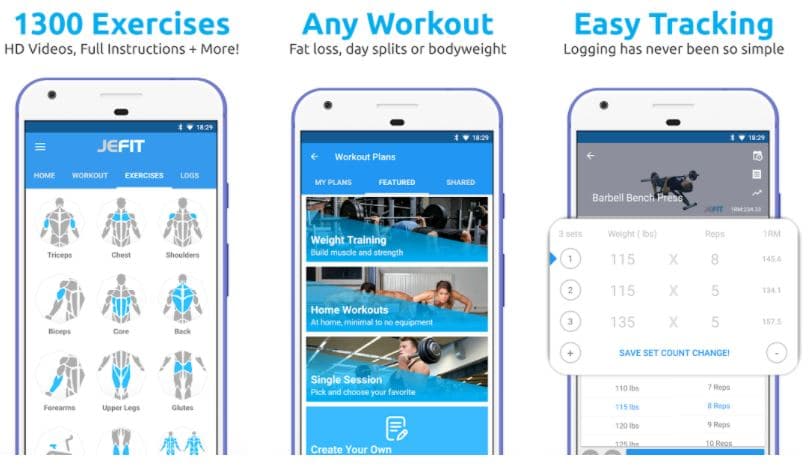 Standout Features:
1300+ HD videos
Personalized charts
Weekly summaries of progress
---
MyFitnessPal
MyFitnessPal is a calorie counter that lets you track what amount of calories you are intaking in the whole day. The app shows a detailed breakdown of the macro and micronutrients of your food. The app has more than 2 million downloads which makes it the top contender for one of the best fitness apps.
The app offers 11+ million food items databases across the world or you can also create your recipes and add them to the food database of the app. The app accurately tracks all your nutrients and gives you a profound stat of your eating habits. If you are dedicated to reaching your goal then this app will help you to achieve it.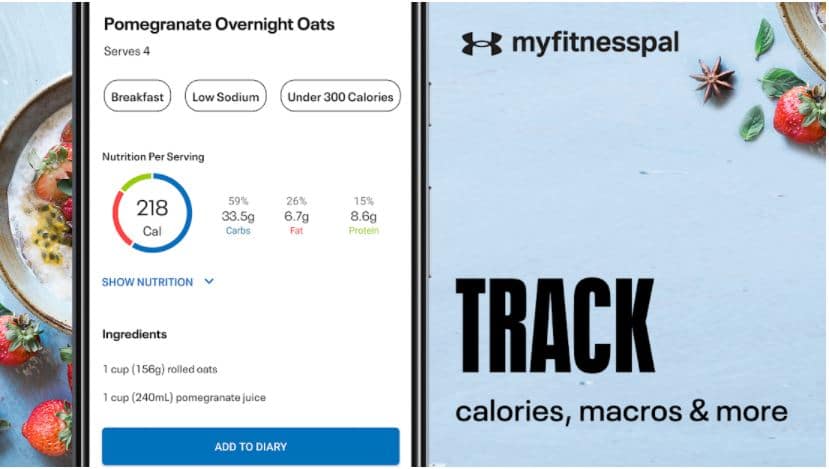 Standout Features:
Personalized Experience
Macro Tracker
Track All Nutrients
Water Tracking
---
Fitbit Coach
Fitbit Coach is the next app on our list of best fitness apps that can assist you in your daily workout routines. The app gives you personalized workout recommendations that are suggested according to your suitability.
So if you are not able to hit the gym or have a busy schedule, then this app is here for your rescue. The app offers you a workouts routine ranging from 7 to 60 minutes and you are good to go. You also get interactive video workouts that will help you to do all the exercises properly.
Related: Best Personal Finance Apps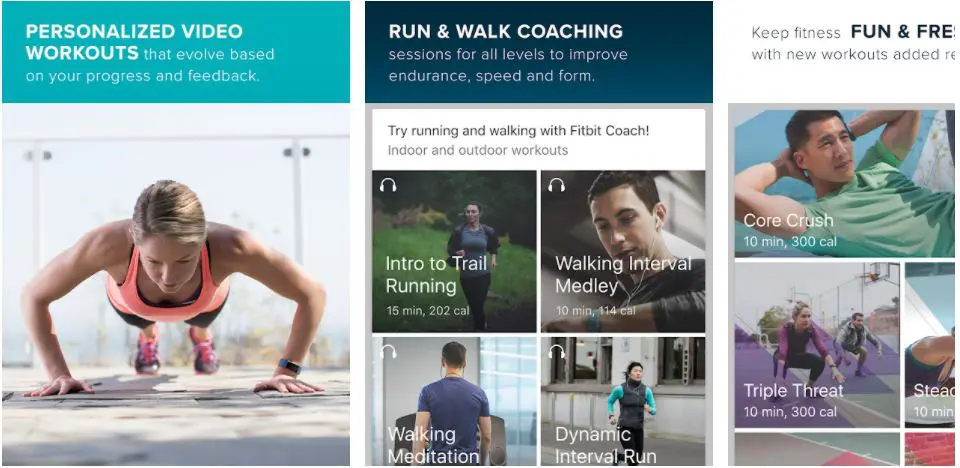 Standout Features:
Personalized Workout Recommendations
Adaptive Workouts
Customized Coaching
---
Mindbody
Mindbody is a one-stop solution for all of your health-related queries which makes it one of the best fitness apps. If you are struggling to find a proper app for your workout session or are annoyed searching for the best Yoga studio, then just install Mindbody and say goodbye to all your worries.
Mindbody has collaborated with more than 52,000 business that offers fitness services. You can search out for any kind of athletic sport on this app like Cycling, Weightlifting, Yoga, Kickboxing, dancing, etc. 
You can look for various wellness classes at an affordable rate or book wellness services nearby without going anywhere.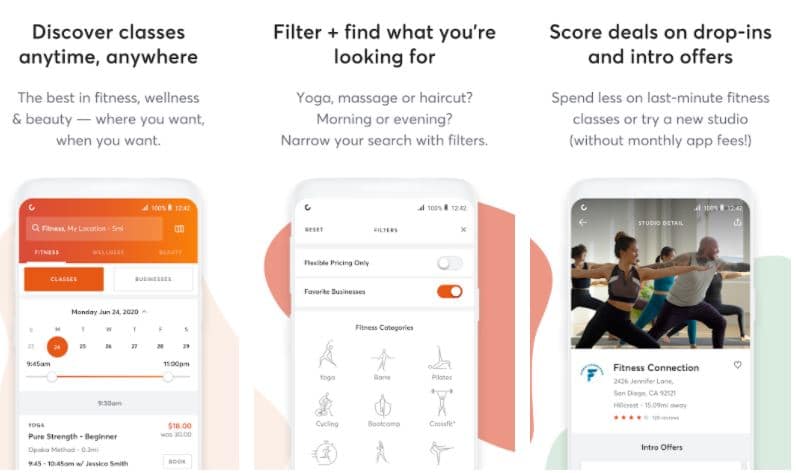 Standout Features:
Book drop-in classes at lower rates
Find local workout classes
One-stop solution
---
Nike Run Club
If running is your primary goal in fitness and you want to sweat it out to achieve the best, then you can choose Nike Run Club from our list. The app contains all the tools that will help you to run better and achieve your goals.
You can track your running pattern, running pace, elevation, GPS route, and heart rate. Keep track of your daily running data and see the areas where you can improve. Apart from this, you also get personal coaching plans, challenges. leaderboard, and trophies to celebrate your achievement.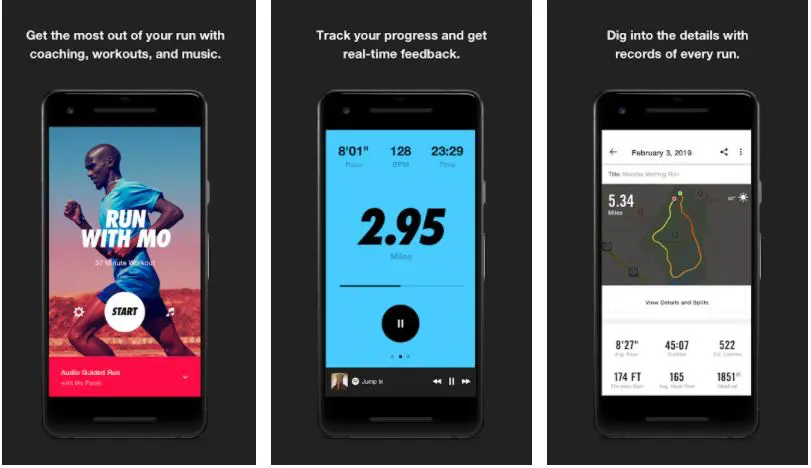 Standout Features:
Personalized coaching plans
Challenges
Badges and trophies
---
J & J official 7-minute workout
J & J official is one of the most sophisticated apps that offer an easy way to maintain your fitness.
The app has 22 preset workouts that are designed in a way to fit every kind of schedule. The app contains 22 workouts and 72 exercises each varying in duration.
You can also create custom workouts for a body part you want to target. The app provides a 72 HD video tutorial to properly learn the exercise. If you want one of the best fitness apps that can give you quality results in a short period, then you can choose this app.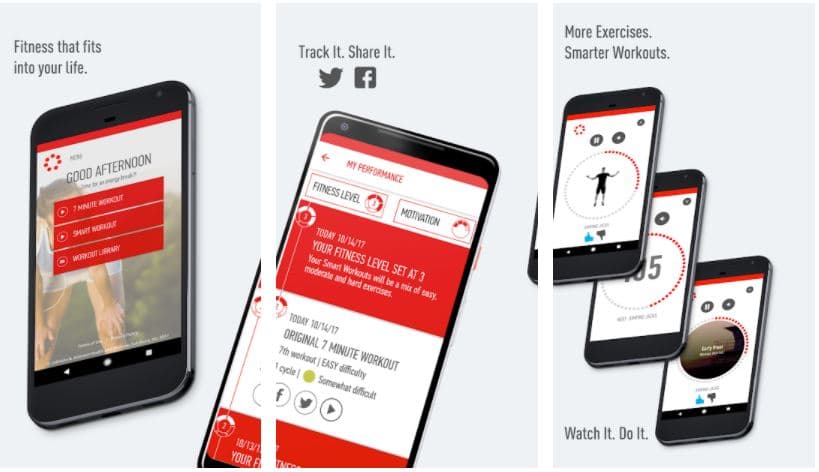 Standout Features:
22 workouts and 72 exercise
Create custom exercise
72 HD video tutorials
Set workout reminders
---
Couch to 5K
Feeling lazy and don't want to go outside for your running session. The app has a simple schedule that will motivate you to reach your goal. All you need to do is to take 20 minutes thrice a week for nine consecutive weeks and you will reach the 5K mark that is around 3.1 miles.
You get 4 virtual coaches that will help and motivate you throughout your fitness journey. You can also share your progress with the community page of the app and inspire others through your achievement. So get up from your coach and install this best fitness app on your smartphone to get started.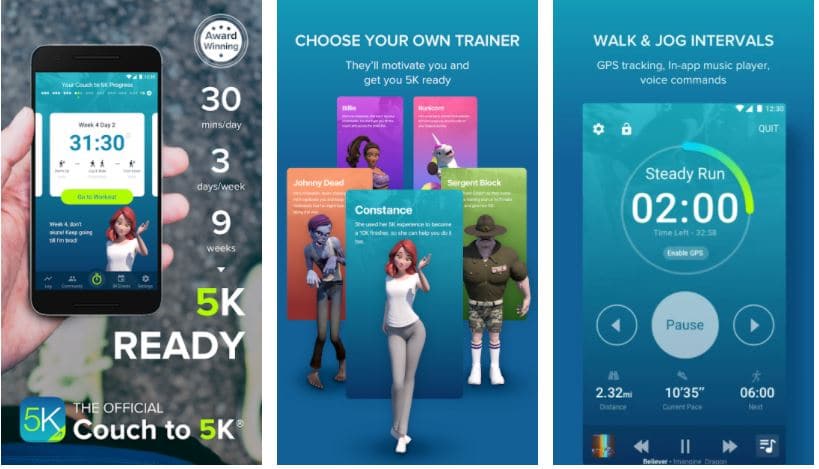 Standout Features:
User-Friendly Interface
Calculate your distance & pace
Virtual coaches
---
Keelo
The last app on our list of best fitness apps is Keelo, which is an all-rounder and is aimed to give your body an overall development. The app has smartly designed workout programs that will improve your stamina, increase your strength, and build your muscles.
So if you want to develop an overall body that is flexible and can do all the heavy tasks with ease then this app is for you. The app HD instructional video can be easily understood by experienced as well as beginners. The premium version of the app offers the feature to chat with the coach personally, so if you want to have this feature and some other exclusive feature then go for this app.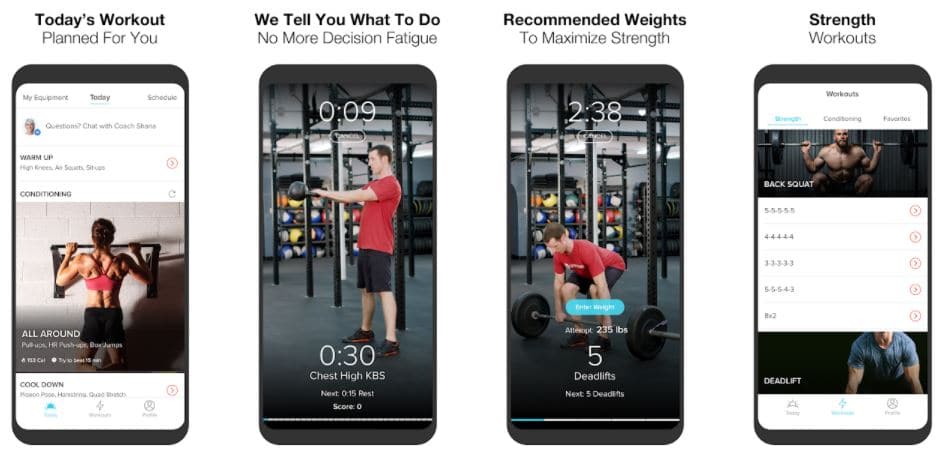 Standout Features:
Full Body Workout
Overall Body Development
Personal Coaching through mail
---
Final Words
We are signing off our list of best fitness apps with Keelo. Reach out and comment below to tell us about your favorite app on the list which you will be downloading on your smartphones. You can also share our useful content with your friends, whom you think are struggling to get motivation for fitness. Stay home, stay safe, and keep suggesting innovative ideas so that we keep you updated.
Thank you for reading! Try these out too:
General FAQs