Fitness tracking is easy if you have a smartwatch or a fitness band on your wrist. But if you lack the budget to purchase one, or simply do not need a gadget dangling on your wrist all the time, a best step tracker app can help you in logging your daily walking sessions. A step tracker app works as a pedometer, that can use your phone to count the steps taken daily by you. It is an inexpensive method of doubling up your phone as a pedometer.
The best step tracker app leverages your smartphone's inbuilt sensors to calculate the steps. This post will help you learn about the advantages of step tracker apps, and will acquaint you with the options that are available on the Google Play Store.
Excited? So, Let's Get Started.
Benefits of Best Step Tracker App
Affordable – The best step trackers apps for smartphones are moderately priced and are within the reach of most users. Some of them are absolutely free and lack any kind of premium tier whatsoever. So, you can pick one and use it to calculate your daily fitness achievements, without worrying about investing hundreds of dollars on a fitness tracker.
Accurate – The step tracker apps make use of the inbuilt sensors to precisely calculate the number of steps you take. Moreover, you can view your stats within the app, to adjudge your daily progress and make minor adjustments to your walking regimen, if required.
Accessible – You may forget your fitness tracker but you most certainly won't forget to carry your phone, while stepping out of the house. The best step tracker app eliminates the need for wearables and your data is accessible via the app. The pain points of charging your fitness tracks, battery drain, and short life are avoidable if you use a step tracker app.
Best Step Tracker App For Android and iOS
---
Google Fit
Google Fit has been around for many years and has consistently improved itself as a pedometer cum fitness tracking app. It is more than a pedometer app at this point, which may be a turnoff for users looking for a basic pedometer app. Google Fit can help you count and log your steps in a day and displays all the data in a neat pictorial format. This best step tracker app introduced the concept of heart points a few months back, which encourages and rewards you with points when you make a conscious effort of working out.
Google Fit is integrable with Lifesum, Wear OS by Google, Withings, Xiaomi Mi bands, Nike+, Runkeeper, Strava, MyFitnessPal, Basis, Sleep as Android, and more. It means you can view all of the fitness logs from other apps, and do not need to manually jump into each one of them. The main selling point of Google Fit is that it is smart, intuitive, and completely free for both Android and iOS users. So, if you are dry on funds but need to track your fitness, the Google Fit app is a befitting choice for you.
Related: Best Guitar Tuner Apps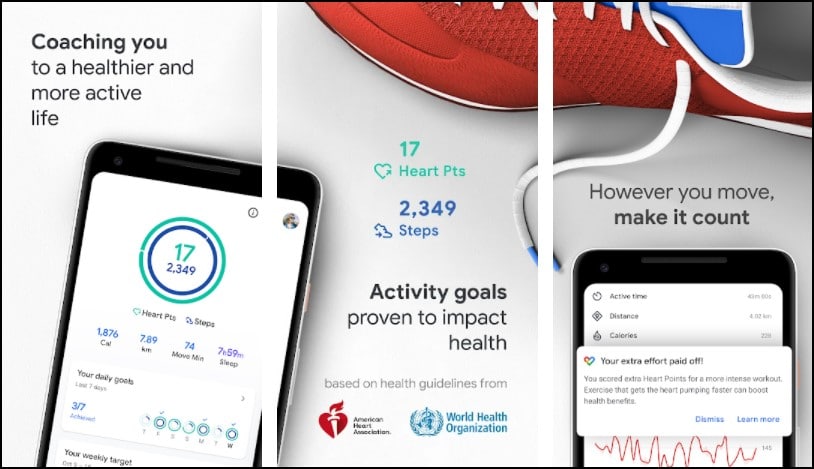 Standout Features:
Integrable with many fitness apps
Free and does not contain ads
---
Pacer
Pacer is another great recommendation for users searching for the best and free step tracker app for their smartphones. It bundles additional useful features alongside an efficient step-tracking app that can count your steps. You have the option to adjust the step counter and its sensitivity as per your walking pattern. This tweakable aspect is the main highlight because of which you can get precise workout monitoring results with Pacer.
Pacer can count steps, calories, distance, and active time and displays the data which helps to obtain insights into your walking and other workout patterns. You can view the data aggregated by Pacer into your favorite fitness tracker apps such as MyFitnessPal and get a holistic view of your overall health. Pacer has a lot of other features such as daily workout plans by experts, guided workouts, and a GPS activity tracker that tracks your activity outdoors. Its pedometer feature is completely free but you may need to shell out money for a few of the additional features.
Standout Features:
Daily workout plans by experts
Guided workouts
Free and integrable with MyFitnessPal
---
Fitbit
Fitbit is another popular entry on the best step tracker app list due to its extensive fitness tracking features that are encased in a lightweight app. This best step tracker app calculates steps and distance and presents the stats that reflect your efforts and achievements. Fitbit is compatible with over 3000 plus popular fitness and health tracking apps and can sync data to these apps for deep insights.
Fitbit has a plethora of free workout programs available which are useful to mix up your workout regimen and try new activities. This best step tracker app also has a huge community that encourages you to keep grinding, take part in daily or weekly challenges, and compete with peers and friends. Although Fitbit is free, it has an optional premium tier that unlocks valuable and tailored workout programs, descriptive audio, and visual programs along with deep insights into your physical wellbeing.
Related: Best Home Workout Apps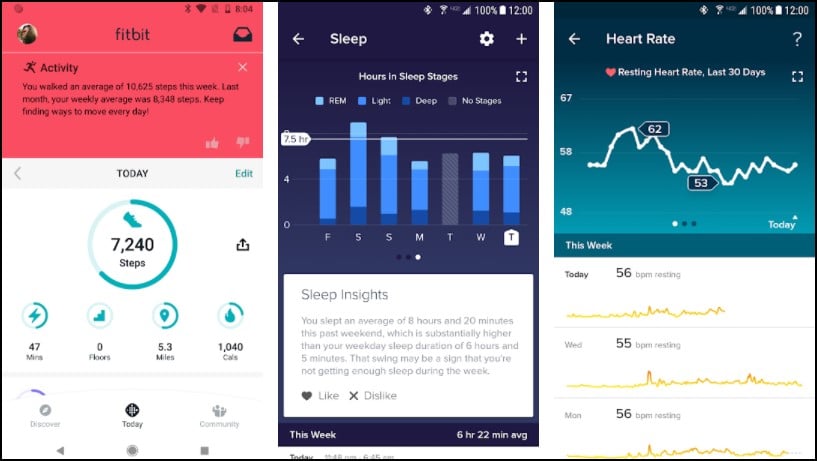 Standout Features:
Free workouts and nutrition programs
Sync your data to 3000+ apps
Inspiring community
---
Leap Fitness Step Counter
Leap Fitness Step Counter focuses only on the step measuring aspect and is among the best intuitive step tracker app for avid walkers. This best step tracker app uses phone sensors and not GPS for calculating the number of steps, which saves a lot of battery juice. Leap Fitness Step Counter is an all-in-one walking planner that helps you to set up schedules and maintain your fitness goals. The sensitivity of the pedometer is adjustable which helps users calculate their steps with precision.
The report graphs are a commendable feature of the app and let you visualize your workout stats and calories. On top of that, you get the ability to apply themes and personalize the appearance of the app. Leap Fitness Step Counter is a freemium app that lets you access every feature but showcases ads frequently. The distraction is avoidable by opting for the premium tier that eliminates ads from the picture. It is only available for Android users at the moment and iOS users have to make do with other free alternatives for the best step tracker app.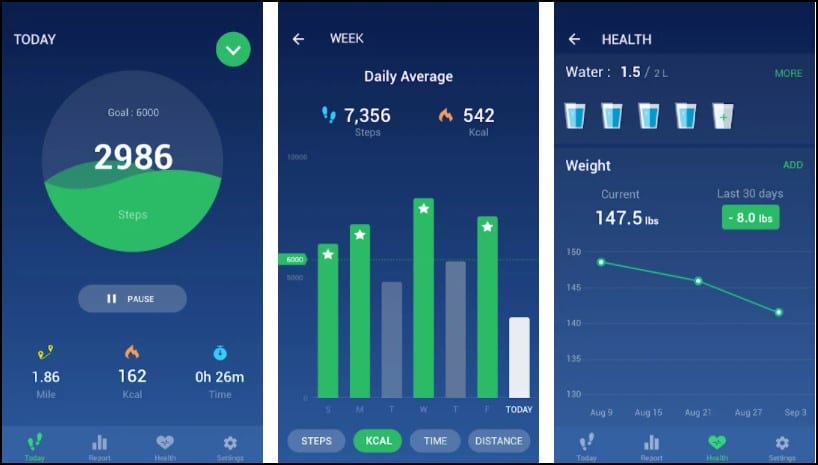 Standout Features:
Colorful Themes
No locked Features
Saves power
---
Map My Walk
Map My Walk is a collaboration between Under Armour and the app dev brand, which works as a functional step counter and a fitness tracker app. It needs internet connectivity to measure your steps which is useful but decimates the battery life pretty quick. The workouts can be tracked using the GPS sensor which presents accurate results. This best step tracker app can help you find walking and training routes nearby.
Map My Walk has a community section that motivates you to join and adopt a healthy lifestyle. You can take part in challenges and earn achievements that can be compared against the leaderboards. Users can also share their workouts and get inspired by the feed section which displays motivational posts by titans of the fitness industry. Map My Walk is free to use as a pedometer but if you need deep insights, tailored coaching plans, etc. the premium tier is worth a try.
Related: Best Weight Loss Apps
Standout Features:
Find walking and training routes
Accurate step counting
Active fitness community
---
Pedometer by ITO Technologies
Pedometer by ITO Technologies can help you achieve your daily walking milestones and record them without asking for a penny in return. This best step tracker app is absolutely free and only has minor ad placement to recover its operating cost. To begin counting, you just have to tap the start counting button. Pedometer by ITO Technologies eliminates the need of logging in and ensures utmost privacy by storing your data on your device.
This best step tracker app allows the adjustment of the pedometer sensitivity to be able to measure steps accurately. Pedometer by ITO Technologies does not have additional features such as workout plans, community section, or the data sync feature. This may bother users who need deep insights and additional support during their workouts. If you need a no-frills step tracker app and are willing to sacrifice additional features, Pedometer by ITO Technologies is a must-try. iOS users need to find something else as the app is only available for Android devices at the moment.
Related: Best Sports Apps
Standout Features:
Adjust Pedometer sensitivity
No login required
---
Zombies, Run! 10
Zombies, Run! 10 is a different take on step-tracking, that tries to solve the problem of the monotonicity of workouts. If you are among the individuals who need the motivation to complete daily workout milestones, the Zombies, Run! 10 step tracker is the perfect best step tracker app for you. Its concept is that you are a protagonist in a post-zombie apocalypse world where you have to run to save your life by performing any physical activity such as walking on running.
While running, the app generates eerie voices and guiding dialogues that help you to keep your pace and even make an extra effort as zombies close in on you. You collect rewards and supplies after completing levels which can be used to build your faction and exercise stronghold. Zombies, Run! 10 is an excellent implementation to make walking and running fun for users. You can try this best step tracker app for free and can try the optional premium tier which connects you with a helpful and fun online community.
Related: Best Credit Score Apps
Standout Features:
Laud-worthy idea
Detailed stats and insights
---
StepsApp
StepsApp is another simple yet effective step tracker app to count and tabulate your daily efforts. It discards stuffing useless clutter and promotional content and focuses only on step counting and distance tracking. You can easily customize the appearance and choose from six vibrant themes in the app. You can also add a home screen widget and quickly glance at your stats without opening the app.
The StepsApp looks better in comparison to other step tracker apps, that appear bleak and pale. Its accuracy is not a matter of concern as the stats match the efforts, most of the time. You can view your workout stats in the weekly or monthly view, and can set targets for the upcoming weeks as well. Moreover, you have the option to share your charts with everyone and can even customize their appearance before sending them out. StepsApp is available in 20 languages and its free tier is more than enough if you want to count your steps. The premium tier weeds out the ads and lets you explore each feature without restriction.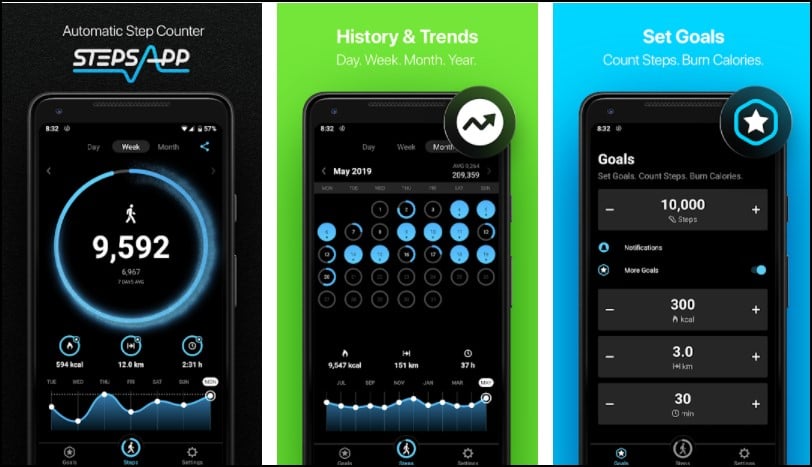 Standout Features:
Automatic step counting
Google Fit integration
Social media sharing
---
ActivityTracker
ActivityTracker is a visually appetizing step tracker app available for both Android and iOS devices. This best step tracker app sheds the reliance on GPS to count steps and uses the motion processor for all the counting. The result is long battery life as GPS isn't running in the background and eating up the battery anymore. ActivityTracker has a descriptive widget that displays all the stats on your home screen.
You can easily sync all your data from Google Fit and view it in the ActivityTracker app to obtain insights and find out the lackluster efforts made by you. The app has the option to remind you about target completion and abandonment but the feature is confined to the PRO version only.
Related: Best Personal Finance Apps
Standout Features:
Descriptive widget
Gorgeous UI
Uses motion processor
---
Conclusion
These were the best step tracker app that will help you keep track of your walking and running attempts. Google Fit and Pacer rule our list because of their wide integration and a working free tier, that accurately calculates the steps along with community support. If you need something motivational to start your run or jog, the Zombies, Run! 10 is a must-try step tracker app. Lastly, if it is a freeware that you crave and only need accurate step counting, ActivityTracker, and Pedometer by ITO Technologies are two worthy recommendations.
Thank you for reading! Try these out too:
General FAQ
What app can track my steps?
Every best step tracker app mentioned above can calculate your total steps covered in a day.
Are phone step trackers accurate?
Phone step tracker apps have become more accurate and log precise results. Best step tracker apps like Google Fit and Pacer are as good as a NY dedicated pedometer or fitness tracker.
What is the most accurate step counter app?
Google Fit, Pacer, and ActivityTracker are some of the best step tracker app available for Android and iOS.