Listening to music is indeed one of the most common hobbies of people. Most of the phones have an inbuilt music player, however, the default app lacks a lot of features and necessary tools that are frequently needed in any app.
Nowadays people have shifted to online music apps because of a significantly vast collection present on these platforms along with the ability to create and share an entire playlist. This article will help you with the 20+ best music players for android that you should try.
Excited? So, Let's Get Started.
Benefits of Best Music Player For Android
Listen to your favorite songs anywhere:- When it comes to music, the most important thing is that you have it with you during all instances, notably during the times when you don't have internet. Unfortunately, most of the apps restrict access to music without it. The best music player for android will allow you to download songs and save them so you can conveniently listen to them without any limits.
Discover the latest most popular music:- A significant problem with music is that you never have enough of it. Thus, at times it might seem that the music you are currently listening to isn't exciting anymore; the best music player for android will have you covered with its discover feature. You can find the latest songs from top artists, so you never run out of choices.
Functionality and convenience:- Many people prefer to listen to music in their wireless headphones. When you are in that comfort state, you need an app that can provide you with an interrupted stream of music that never runs out. Since the disturbance is annoying and unnecessary, the best music player app for android provides enhanced functionality to access unlimited music.
Best Music Player For Android
---
AIMP – Best Music Player For Android
We start our list of best music players for Android with AIMP. The app comes with material design, simple themes, and interactive UI. The app supports all types of music files whether it's MP3, MP4, or Flac format.
You can also customize some of the features of this music app according to your liking. The app provides versatile equalizer options that let you adjust the sound for different tracks. Overall, App has a pretty decent design and ample features to impress you and make you add this app to your device.
Related: Best Investment Apps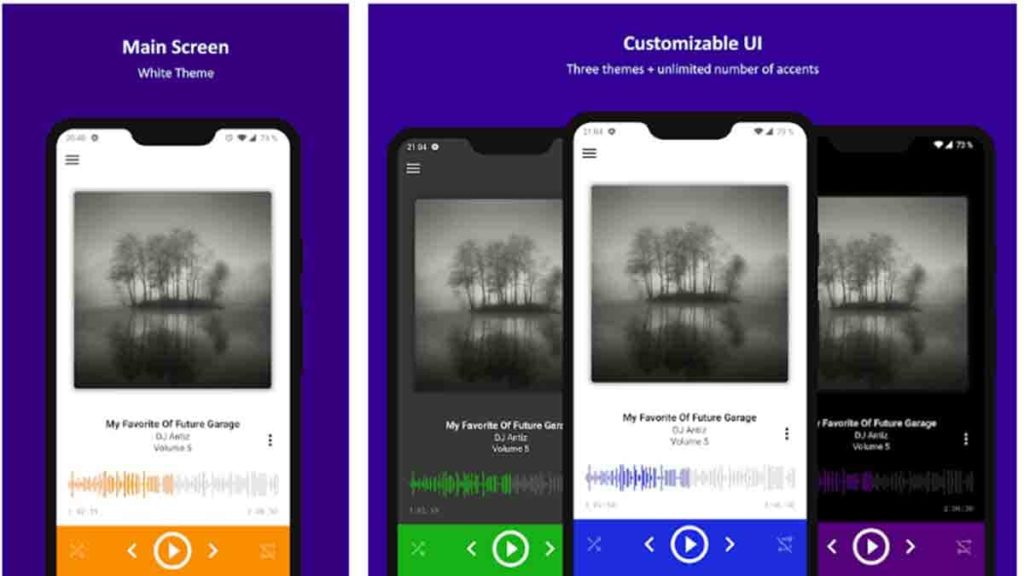 ---
BlackPlayer EX – Best Android Music Player
BlackPlayer EX is a feature-rich best music player for Android, which provides you a tab-like design to control your music. You will get a bass-rich equalizer, tag editor, widgets to customize your music player.
The thing which I loved about this app is that the app contains very fewer ads as compared to some other paid music apps out there. You will get access to most of the features of the app in the free version but to get some more premium features you need to pay some bucks.
---
Spotify: Music and Podcasts
Spotify is the most famous music streaming platform, and it's also one of the best music players for android. The app comprises the best music tracks from all the famous artists around the globe. Furthermore, the app also has plenty of entertaining remixes and mash-ups, which means you can spice things up if they get dull.
However, there is one downside to Spotify, and it's that you will have to get the premium version of the application to unlock the most exciting and enjoyable features truly. The premium will eliminate all the annoying ads and grant you access to the world of music with unlimited swipes and the latest tracks.
Spotify will also let you create a playlist and download songs. The benefit of this feature is that if you ever run out of internet or move to a no-service area, the app will have you covered. It's also quite convenient with an intuitive user interface that allows users to operate without any boundaries easily.
---
JetAudio HD – Best free music player
JetAudio HD will be a treat for those guys, who loves to experience the tracks with different equalizers. The app contains 32 preset equalizer that allows you to play and experience the different genres of music. From Rock to Pop, and Flat to Jazz, you will get all the equalizer presets in JetAudio HD.
Apart from this, the app also features some audio enhancements options in the form of plugins that can further improve your listening experience. The app is available both in freemium and premium versions. You can avail of the premium version of the app if you are annoyed with irritating ads.
Related: Best Keyboard Apps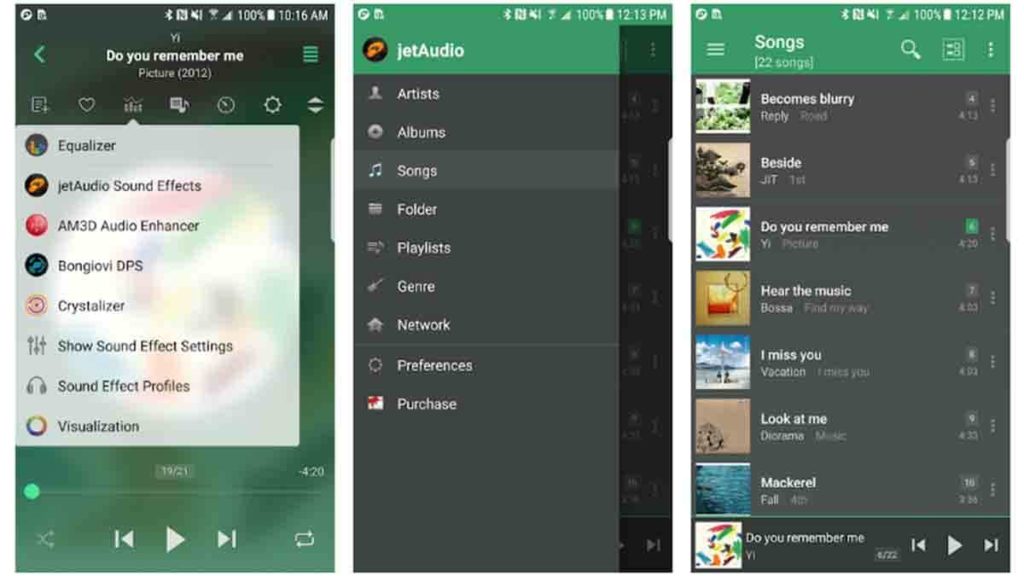 ---
PI Music Player – Best Music Player For Android
PI Music Player has all the features that are required by anyone in their music player. The app starts with giving the user an option for a theme in which they could select out of its four given options.
Its top features include a sleep timer, ringtone cutter, widget support, and an inbuilt 5 band equalizer presets bass boost, virtualized, and others which makes it one of the best music players.
Related: Best Ridesharing Apps
---
Pixel-Music Player – Best Music Player App For Android
This is a unique user- friendly application for Android. Its common features include automatic notification, a screen-locking system, and also it has the ability to enter metadata like title, album cover artist, etc.
There are 3 themes from which you can choose your preference. Moreover, it has 5 band audio equalizer, bass boost, and a 3D sound with headphones or earphones.
---
Neutron Player – Best Music Player Apps
The next app on our list of best music players for Android is Neutron Player. Many of you might not be aware of this music player, as is not so popular but the app possesses some cool features due to which we have included it in our list. The sound rendering of 32/64 bit enhances the sound quality and enriches your experience.
This music player also supports every kind of file format which even includes MPC and Flac formats. So, if you have some issues with the file format of your track then you can choose this music player. The app is available in the free trial version and after the trial version is expired you need to pay $5.99 to get access to exclusive features.
Related: Best Journal Apps For Android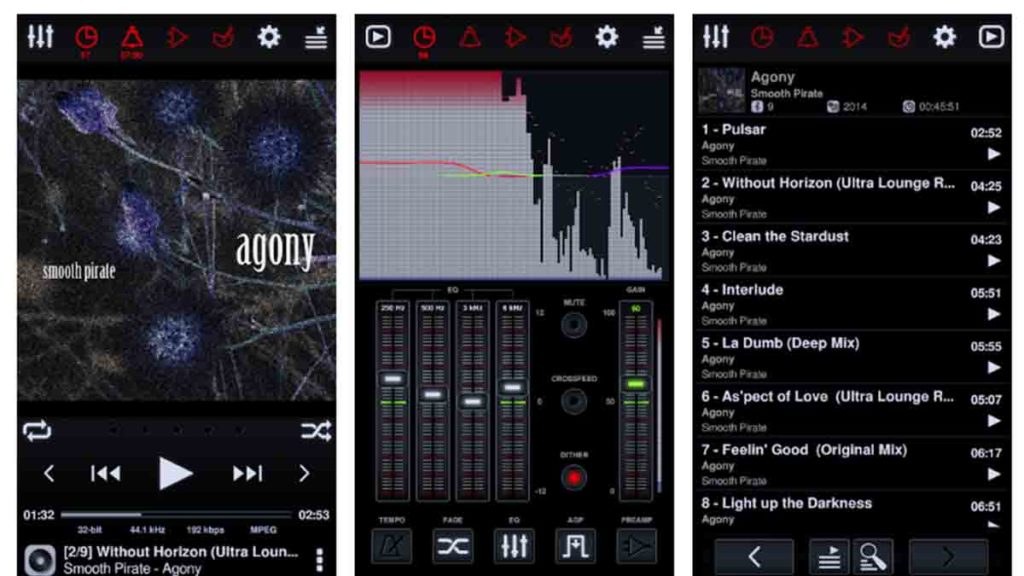 ---
Phonograph – Best Music Player Android
The phonograph is one of the sober and best music players for Android which is highly recommended for music enthusiasts. The app has a simple UI, tag editor, customized playlist, preset equalizer, and much more. The UI is pretty simple and you do not need to hustle here and there using this app.
One of the best features which this app is that it is an open-source music player app and does not contain any in-app purchases. You can avail all the features of the Phonograph for free. You can also make an optional donation to help developers keep improving the app.
---
Musicolet Music Player – Best Hi-Res Music Player
Musicolet is a basic music player with a lot of features. It has a handy control system where you can give most of the commands by not even touching the phone and directly by earphone buttons only. Its unique GUI system provides easy access to tabs and folders and albums.
Its special features include the likes of lyrics support, tag editor, and Android auto, and probably only one with a multi-editor queue that counts in all essentials.
Related: Best Vocabulary Apps
---
N7 Player – Best digital music player
This music player is known for its elegant user interface. The app has amazing features like bass, tag editor sound virtualization effects along with other basic functions. Though it is not free, still it is worth a buy for a genuine music lover for unlimited ad-free listening.
Moreover, it has an advance 10- band equalizer with multiple presets, and also it supports Chromecast, AIRplay as well which are included in best music player applications.
---
PlayerPro Music Player – Best Free Music Player
if you want diverse skin that can help you to customize your music player, then the PlayerPro Music Player app is perfect for you. The app contains some cool skins which you can apply to your music player. It supports all kinds of audio files and can play tracks of any format.
The unique feature of this app is a rare ten band equalizer that cannot be found on usual music players. Chromecast support, Audio effects, scintillating equalizers, and elegant themes are some of its additional features. You can try the demo version of the app that can later be purchased at $4.99.
Related: Best Apps For Secret Texting
---
Poweramp Music Player – Best PC Music Player App
Poweramp is one of the most common music players which is being preferred by the mass. It offers you a wide variety of themes that you can use to customize your music player. The app is light in storage, fast in performance, and Pro in customization.
The app offers crossfade and gapless playback that makes it preferable and appealing to the users. You can easily download all your favorite themes from Play Store. The app is available in the free version while the paid version will cost you $3.99.
---
Pulsar Music Player – Best Lossless Music Player
Pulsar Music Player is my favorite music player on the list. The app offers you exciting features that include a sleep timer, gapless playback, tag editing, and Chromecast support. in terms of design, the app has a minimal and material design that would be loved by everyone.
The best part about this best music player for Android is that both the free and paid versions contain no ads, which will enhance the user experience.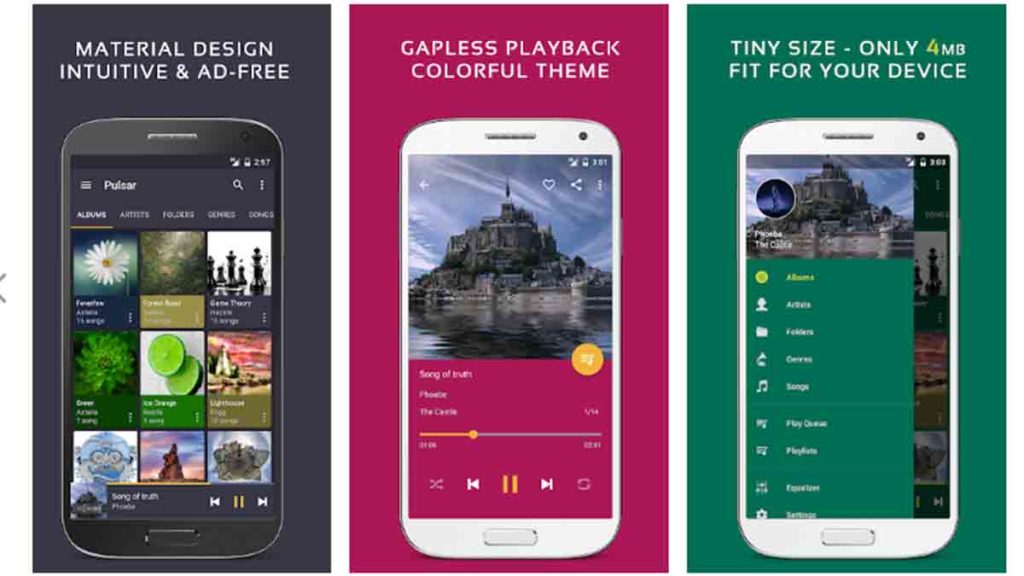 ---
Rocket Music Player – Best Music Player With Equalizer
Rocket Music Player is one of the oldest players in the market. with time, we have seen some major improvements in the app, due to which it has become popular.
This music player provides you with Tag editor, playlist manager, preset equalizers, 10 band equalizer, and some more interesting features. This is a paid app and to access more premium features you need to pay some bucks.
Related: Best Smartwatch Apps
---
Music Player (by Inshot inc.) – Best Music Player For Android
Inshot inc. Music Player is one of the most popular music apps and where you can play an audio file of any format whether it is MP3, MIDI, WAV, etc. Moreover, it has a decent in-built equalizer, bass boost, and decent reverb effects.
You can choose your desirable theme or can set simple color theme options. You can easily set ringtones from offline music, search songs by keywords, and operate it on the lock screen with a sleep timer and widget-supported system.
---
Dub Music Player – Best Android Music Player
This music player has a well-balanced audio system that will enhance your music experience. The inbuilt 5-band equalizer with 9 predefined presets will improve the sound quality and it also has a special ability to save custom presets.
DUB Music Player can let you browse music by songs, albums, artists, playlist, and genres with a visualization of music played including a home screen and lock screen widget.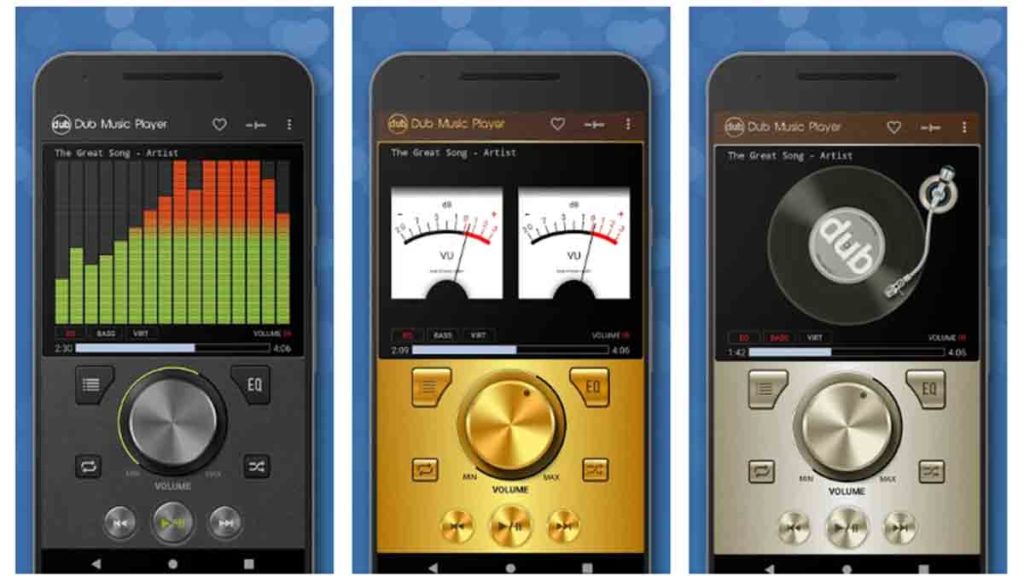 ---
BOOM: Music Player – Android Best Music Player
You can enhance your music experience through BOOM: Music Player no matter which app you're using to play your favorite songs. Whether you are using Tidal or Spotify, you can stream all its music through Boom which will give blast effects to your music app or you can listen to your stored music as well.
BOOM uses a distinctive patent-pending 3D audio technology that gives a realistic music experience on any headset and what makes it the best is the 22 predefined equalizer presets.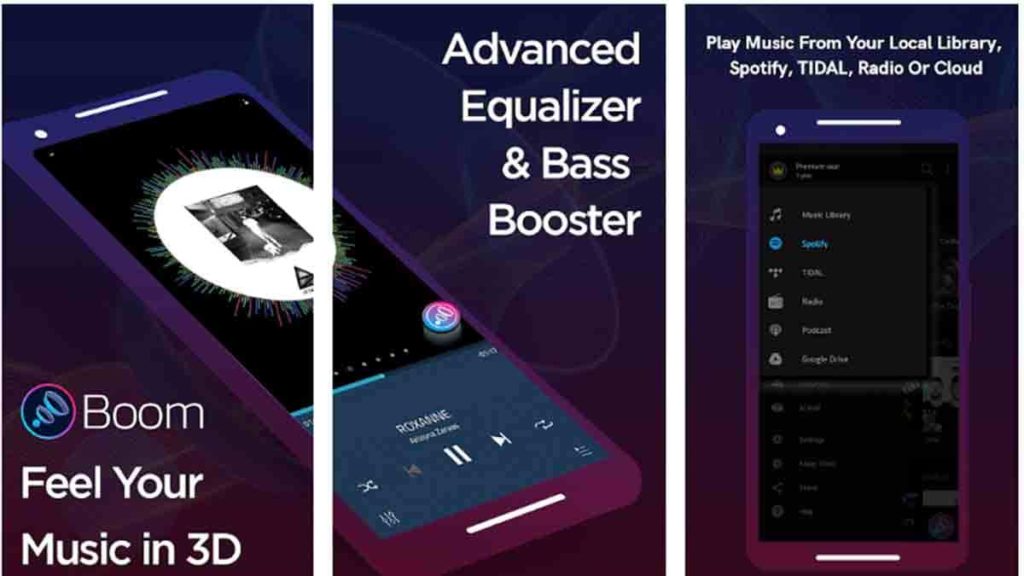 ---
Musicana Music Player – Best Equalizer Music Player
Musicana is an amazing ad-free music app with a friendly user interface. The app provides a decent 5-band equalizer, custom presets, reverbs, and strong tunable bass for a flawless music experience.
In addition to that, Musicana Music Player also supports an online music library, online lyrics support, cool widgets and the best part about it is real-time music identification. Create your own playlist and set it with a sleep timer.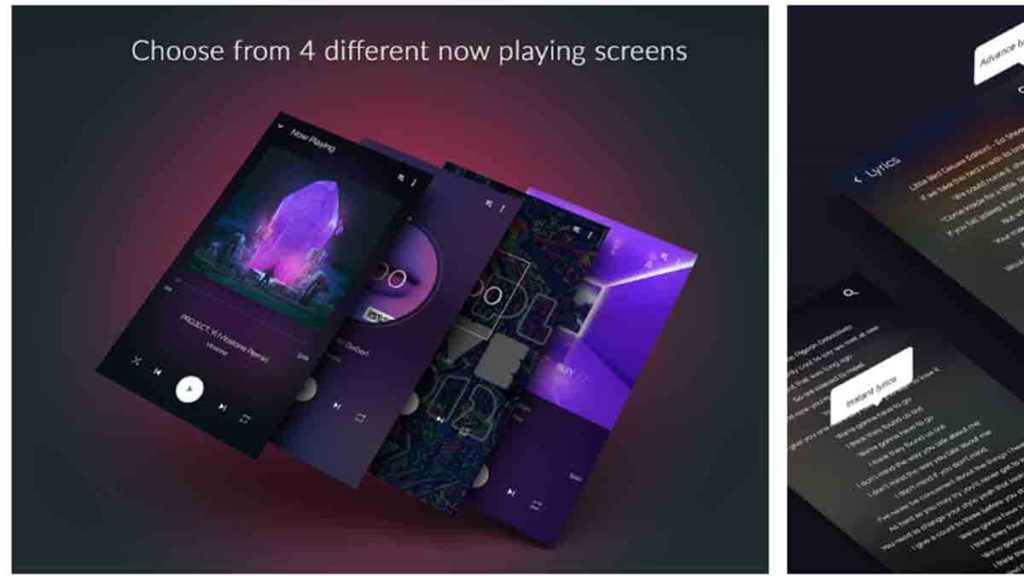 ---
Impulse Music Player – Best Music Player For Android
The impulse music player is recommended for those who are a bit lazy or love to use gesture-based apps. The app will help you to manage your music player with the help of some easy gestures. Apart from this app contains a quality bass boost with some musical preset equalizers.
The app also offers automatic album art download for your missing albums. Music visualization is also one of the attractive features of the app alongside metadata editing. The Premium version of the app will get you access to some more exciting features, while the free version is also decent and offers almost all the necessities of a quality music player.
---
BlackPlayer – Best Portable Music Player
BlackPlayer is the next best music player for Android on our list. The app comes with gapless playback, easy and simple UI that is backed by some cool themes in the black color option. The design is very clean and minimal which can be customized easily.
Apart from this, the app provides Scrobbling, a Sleep timer, preset equalizers, and a cool music visualizer. The Premium version of the app contains more customization options, so if you want to avail some additional perks and benefits, then you can purchase the app.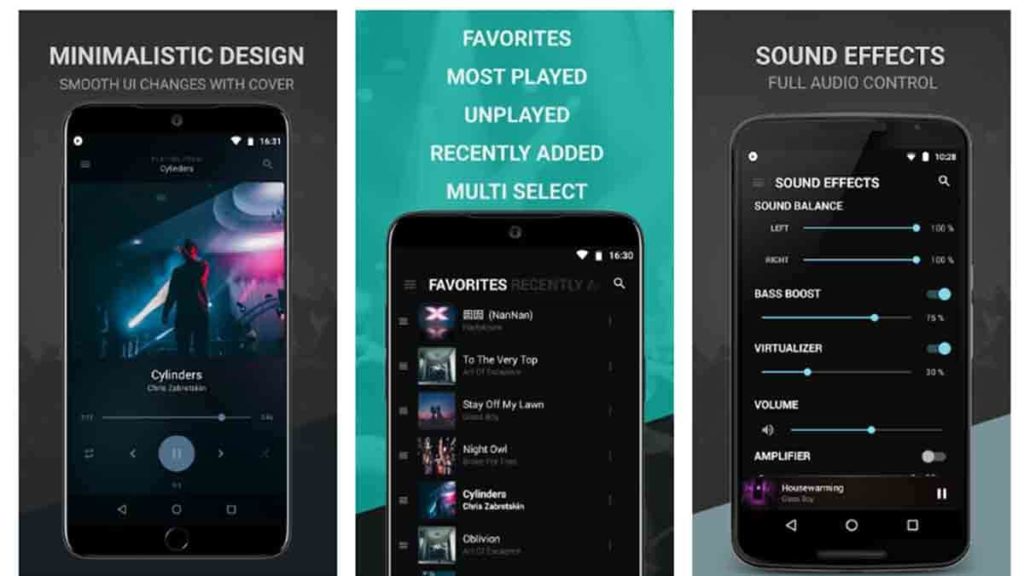 ---
Shuttle Music Player – Best Music Player App
Shuttle music player is another music player that provides tons of features at the disposal of its users. The app comes with gapless playback, a six-band equalizer, and a sleep timer. The app contains all the basic features to be used as a cool music player. The app is free with some in-app purchases.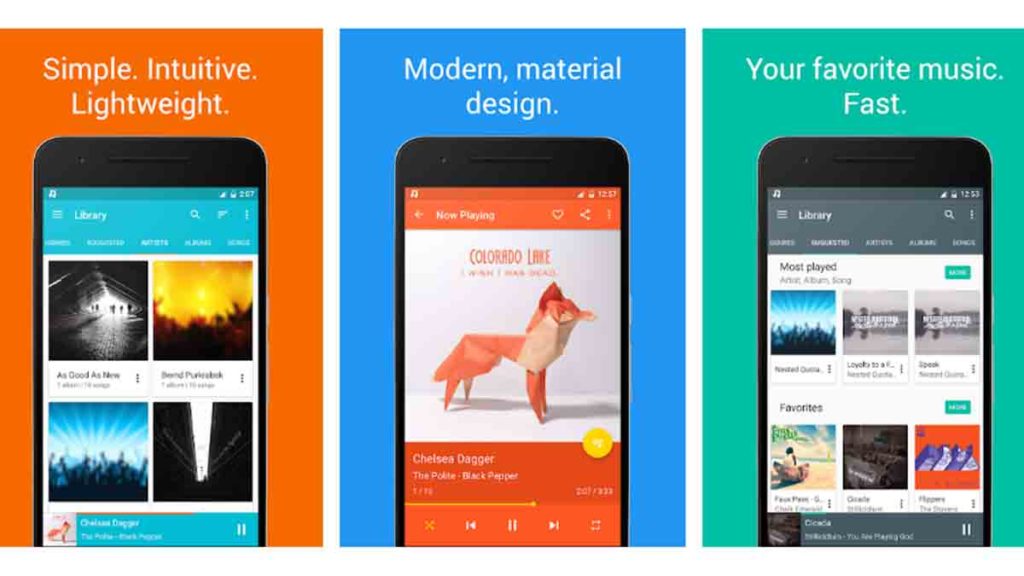 ---
Musixmatch – Best Android Music Player 2021
Musixmatch is a lyrics-based music application. Its lyrics widget can help lyrics synced in real-time whether you are listening on Spotify, YouTube, or any other app. The unique quality of this app is that it identifies lyrics of songs playing in your surrounding.
Other than that it has all basic features like song-by-playlist, genre, albums, and also it supports Chromecast and WearOS.
---
FlipBeats – Best Free Music Player For Android
FlipBeats has an intuitive and customizable Flip user interface available with numerous other advanced features. It has two modes Basic and Advances Mode where the Basic one provides 22-equalizer presets and 2 FlipBeats Pro EQ presets.
Whereas the Advance mode has 5 User Memory Settings and an in-built EQ engine that supports bass boost, balance control, and Room Size Configuration. Both of them are supported by the Pro Reverbs engine.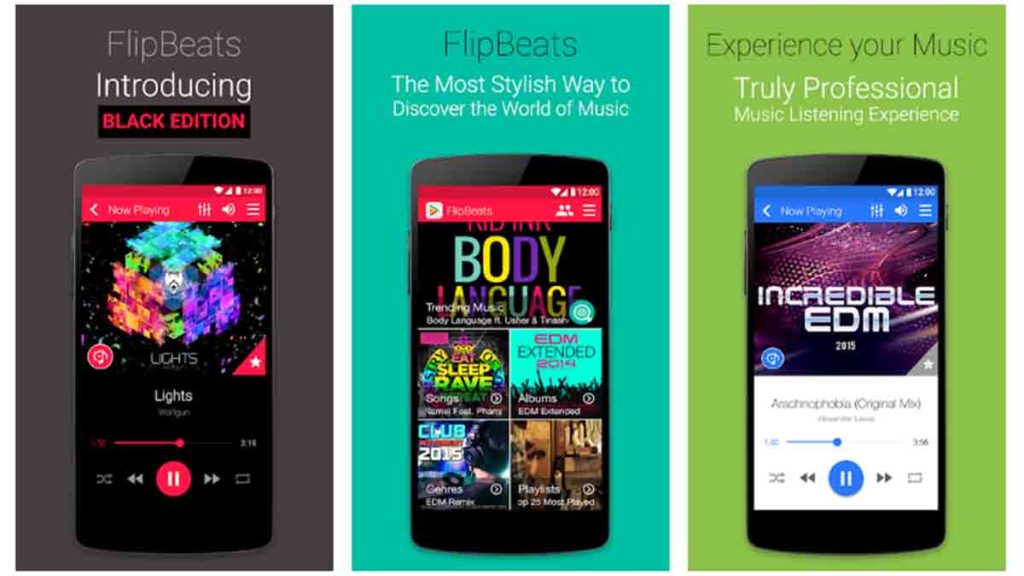 ---
Amazon Music – Best Desktop Music Player
Amazon Music can be handy for existing Amazon features as the subscribers of Amazon premium can get easy access to unlimited music both in online and offline modes. You can listen to your offline songs with the help of Amazon music and can even connect them to your speaker for an enhanced listening experience.
While the online mode offers you tons of songs to choose from which can be played on the go. The app includes a preset equalizer, metadata editor, bass boost, etc. You can get an annual subscription plan of $99 of this app to avail of premium features.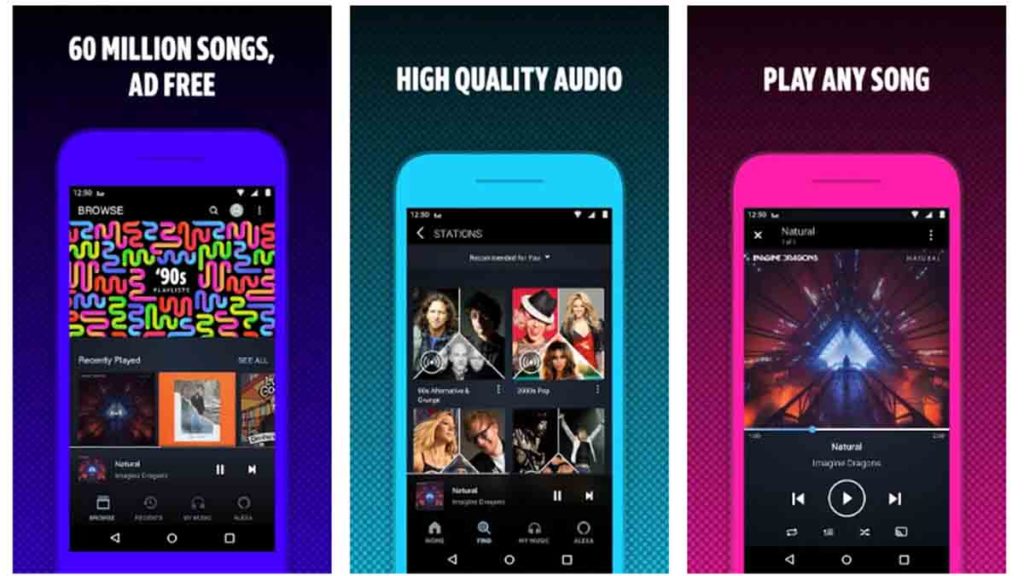 ---
DoubleTwist – Best Android Music Player
DoubleTwist is a free music player app for Android that is unique in terms of the features it provides. one of the most unique features of this app is that it has Magic Radio, with the help of which it generates another library-based on your listening history.
Sounds interesting right, you will get an auto-generated library based on your liking. You can also pair your device with Bluetooth speakers, PS3, and Xbox 360 using this music player app.
---
Media Monkey – Best Music Player For Android
Media Monkey is the next music player apps on the list that you can install on your device to manage the library. You can sync the app and get access to all your playlist in one click. From small to large-sized files, you can play all in the Media Monkey Player.
You can navigate the music from Album, Artist category, or via different folders where your media file is stored. You can play high-quality audio files, videos, and audiobooks on this app. The app has a Playlist management hierarchy feature that lets you smartly sort all your files. You can cast the app to Google Chromecast to enjoy the music on bigger output.
---
Final Words
I know there is no limit to music player/ streaming apps in this age, but we have compiled a list of some of the best music players for Android out there. Feel free to comment and let us know about your favorite app.
Thank you for reading! Try these out too:
General FAQs