The rise and the popularity of smartphones over the past two decades is nothing short of immense. Today, mobiles are a daily essential, and they have a say in almost every aspect of our lives. The wallpaper on your iPhones home screen is the first thing you come across, thus looking at the same wallpaper constantly will make it boring. It's where the best wallpaper app for iPhone comes into play and brings the attractive factor back, thus giving your mobile a fresh look.
iPhone does offer some choices, and it's also pretty easy to open Google and search for your favorite spots and put their picture as your wallpaper. However, one thing that it does lack is creativity. Even looking at your favorite places from different angles can get tiresome. So, the ideal way to tackle this situation is by finding the best wallpaper app for iPhone that will present you with hundreds or thousands of choices.
If you are looking for the best wallpaper app for iPhone but can't seem to find any because you are confused between the plethora of apps on the App Store, you are in the right spot. We have extracted a list of some of the best apps to provide you with choices that you can't say no to.
Excited? So, Let's Get Started.
Benefits of Best Wallpaper App For iPhone
More Choices: The best wallpaper app for iPhone can generate a lot of options for you. A significant benefit of this is that you won't have to wonder pointlessly on Google trying to find the best choice for you. Instead, what you can do is find the best wallpaper that blends into the background of your iPhone, which makes it convenient and diverse.
Find what interests you: Most wallpapers apps will provide you with a filter or a choice to choose the type of wallpapers you want to see. Furthermore, if that doesn't satisfy you can hop into one of the more generic categories and choose one that interests you the most.
Choose the correct resolution and sizes: This is one of the most significant benefits of wallpaper apps. When we find the wallpaper from Google, it simply doesn't fit our iPhone screen. It has bad pixel quality. To tackle this situation, a wallpaper app is a great choice. Since it provides wallpapers tailored for the iPhone home screen, you won't have a size or resolution problem.
Best Wallpaper App For iPhone
---
Whether it's a painting of an old willow tree or classic scenery, if you love classic portraits, Art Wallpaper by Artpaper is the best wallpaper app for iPhone that will help you find one. The application will cost you $4.99, but it's a value for the price and will provide you with mesmerizing wallpapers.
The main idea behind the application is to take a different approach to wallpaper. Most people often like to put up sceneries captured by powerful cameras and plenty of filters, and this app offers artworks. You will find 1300 choices crafted by some of the finest artists on your iPhone. You will be able to download a painting from the best museums and galleries across the globe, which features the likes of Fuji Tokyo, East side gallery berlin, Alte Nationalgalerie, etc. Furthermore, you can also set reminders to notify you when you should change wallpaper. IT also features a custom app icons pack.
Standout Features:
Features paintings from the best galleries globally
Hourly, weekly, monthly, and daily update reminders
High-quality crystal clear photos
---
If you want to find and create the best quality wallpapers for your iOS device, Clarity wallpaper is the best wallpaper app for iPhone. Apart from downloading attractive and high-quality wallpapers from different categories such as scenery, mountains, ocean, red, black, text, etc., you can also contribute by using your creativity.
The app comes with automatic widgets and an editor that will let you adjust various effects inside the photo. Whether it's changing the brightness or the color code of the picture, this app will have you sorted in all aspects. It offers three topics weekly that will let you edit and curate the wallpapers.
If you are into live wallpapers, Clarity has a separate section dedicated to it.  One of the most notable features of the app is an intelligent search that uses image recognition indexing.
Standout Features:
Create and find the perfect wallpapers
In-built photo editor
Categorization for finding wallpapers efficiently
---
Apart from being one of the best wallpaper app for iPhone based on functionality, features, and performance, this app also incorporates a noble purpose. For every user, the developers plant a tree, and they have previously been responsible for planting up to 100,000 trees in Africa. Although the cause isn't the only reason for its immense popularity, it's the impeccable performance.
The app offers up to 1000+ wallpapers options that are available for you in Ultra HD Quality. Additionally, the wallpapers are aligned correctly in categories, so you don't have to wander mindlessly in it and find precisely what you are looking for in minutes. It also has a custom wallpaper creator that will let you make wallpapers using your imaginations. You can opt for the premium subscription of the application for $2.99 per month.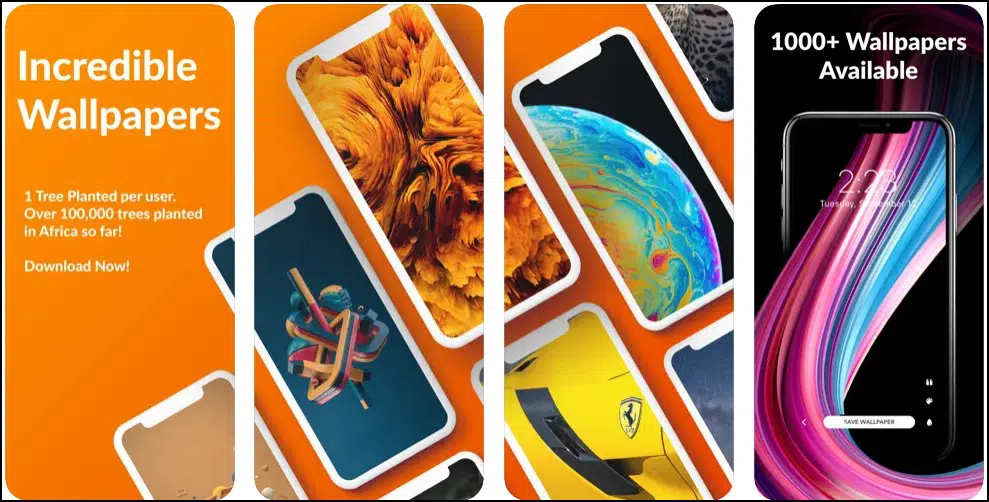 Standout Features:
1000+ HD and 4k wallpapers
Easy to use the app
Custom wallpaper creator
---
Vellum Wallpapers: Best Free Wallpaper App
Vellum Wallpapers is the best wallpaper app for iPhone to offer artistic wallpapers. The app is top-rated and for all the right reasons. It offers high-quality and breath-taking wallpapers at the top of having an attractive interface.
The app contains hundreds of artistic wallpapers in high definition. It features incredible wallpapers from designers and artists that organize neatly and in the ideal size to fit your iPhone screen. The app will let you browse through a broad category of choices, and it's also constantly updated to incorporate new designs and ideas.
Vellum Wallpaper's hand-curated HD wallpapers will give your iPhone an artistic appearance, increasing its attraction. Furthermore, it also features an in-built blurring tool that will turn any image into a blurred, custom gradient which appears excellent on your home screen. The daily wallpaper features come with new choices every day.
Although there is a free version of Vellum, you can also opt for the premium one that would cost you around $1.99 in a one-time purchase. It will eliminate all the ads for you and provide you access to a vast collection of daily wallpapers.
Related: Best Navigation App For iPhone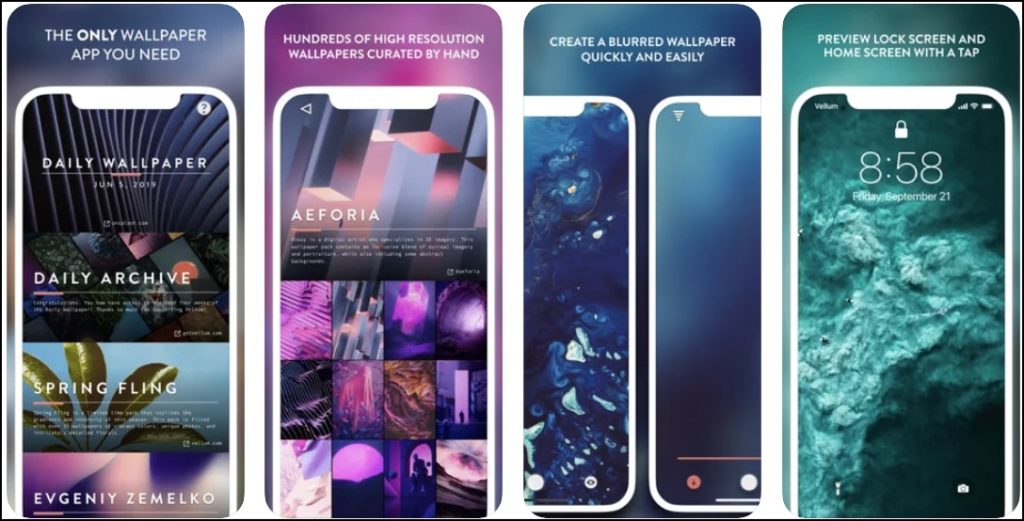 Standout Features:
Wallpaper previewing feature without exiting the app
You can apply the blur filter on the wallpaper through the in-built tool
The wallpapers are organized into different theme packs for better convenience.
---
Everpix: Cool Wallpapers
If you want to have a wide variety of attractive wallpapers in 4k HDR, HD, and Retina, then Everpix is the best wallpaper app for iPhone that can serve you. The app offers a huge gallery with thousands of HD wallpapers for every interest and occasion. It will let you browse through the collection by theme or category. Furthermore, if you aren't sure how the wallpaper will look on your home screen with the app icons or the timestamps, the app will let you test it before applying.
Everpix's collection of wallpapers is also increased every day with new choices added onto it; thus, the chances of you finding something that interests you are pretty high. One of the most exciting things about Everpix is the categorization that provides a lot of clarity. Since you can choose one of the categories and wallpapers will emerge, that will help you filter it out quickly. Some categories that you can expect to see are popular cities, spaces, nature, abstract, animals, quotes, and flowers, etc.
Although the app is free to download, you might see ads popping up on it. If you want to see more from it, you can opt for the premium subscription for $1.99 per week or download the Pro version for $4.99 (one-time cost).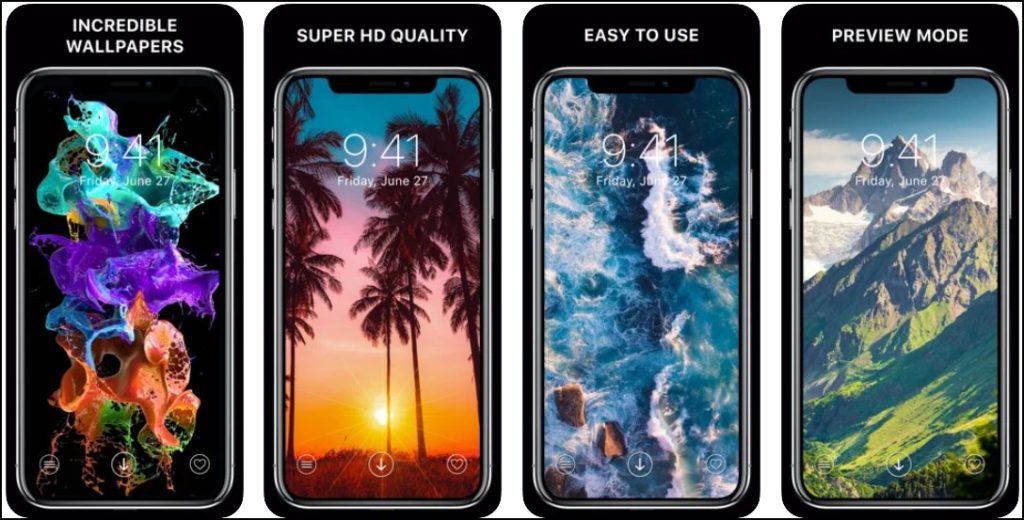 Standout Features:
Detailed categorization of the wallpapers
Easy to use the app
Wallpapers in HD, 4k, and Retina qualities
---
Kappboom: Live Wallpaper app
Kappboom is one of the highest-rated wallpaper applications on the app store. What makes it one of the best wallpaper app for iPhone is that it offers a vast library with up to 200,000 stunning wallpapers. Whether you are looking for wallpaper with beautiful scenery or facts and quotes, the app will give it all.
Kappboom also makes it easier to scroll through its massive library by applying filters, and it will access the particular category using the keyword. Some of the most popular ones that you can add include cars, dogs, 3D, anime, games, vintage, etc. It also has an online image search option to help you find the best quality wallpapers online
Furthermore, it also features an editor which lets you create collages and add effects to your photos through the app. All the wallpapers that you can get through the application are in high definition. It comes with a slideshow feature that will allow you to view all the wallpapers in a particular category and find the best one. Its hold and drag option will let you change the wallpaper's background and find and share images with your friends.
Related: Best Photo Collage App For iPhone
Standout Features:
Collage maker and photo editor
Photo gallery with 200,000 pictures
Excellent categorization and sorting features
---
If you are looking for an application that provides exclusive themes and wallpapers in HD, the Wallpapers & background: HD is a perfect choice. The app will assist you in unleashing the unlimited visual potential of your device. You can choose from a wide variety of stylish themes and create a stylish and pleasant look for your lock and home screen.
Wallpapers & background: HD is packed with classy images and weekly updates of backgrounds and themes, making it one of the best wallpaper apps for iPhone. Moreover, there are multiple categories that you can choose from and up to 50 stickers and frames.
Whether it's themes, backgrounds, or wallpapers, it is one of the best wallpaper app for iphone if you are looking for an application that provides diversity, functionality, and excellence.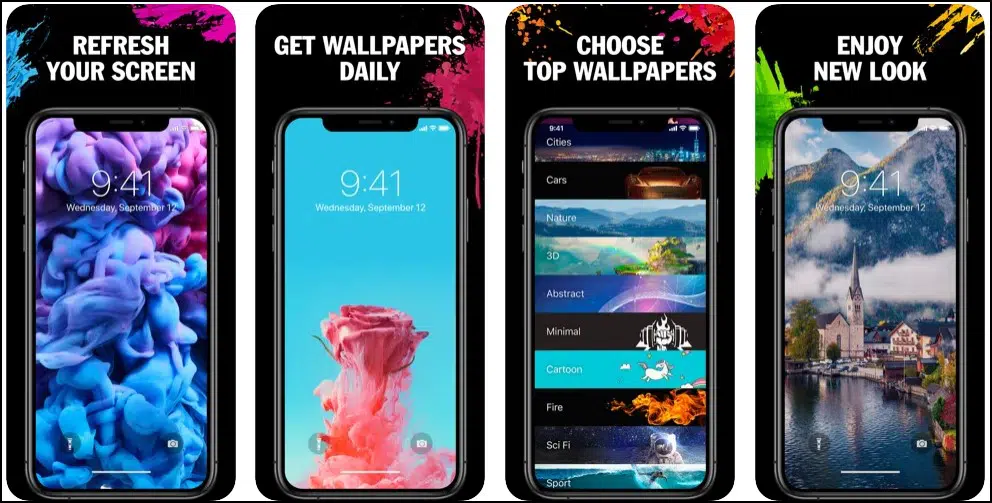 Standout Features:
Provides themes, backgrounds, and wallpaper options
High-quality images
50 stickers and frames
---
Atlas apps aren't your typical wallpaper application; in fact, it's a combination of exclusivity and distinctiveness, which makes it one of the best wallpaper app for iPhone. Instead of providing you with different wallpaper choices, this app's developers intend to use maps as the primary source.
Yes, you heard that right, you can use Atlas Wallpaper to create wallpapers of maps from any part of the world. Whether it's a city or a particular position, all you have to do is search for it and press save. You can change the color and contrast of the map before saving it on your iPhone.
Standout Features:
Search any city in the world
Create map wallpapers
Customize the wallpaper with inbuilt tools
---
The background is one of the best wallpaper app for iPhone as it offers everything. Some of its most notable features include a beautiful and well-designed user interface that lets you access and browse through curated and high-quality photos. The developers also update every day to ensure you don't ever run out of options.
The images you save through the app are usable for other purposes since they fall under the creative standard zero licenses. It means that you can distribute copy, modify or use the photos without any costs, which even include business and commercial purposes without fearing a copyright claim from the photographer
You can access four main screens through the app, including search, newest, favorite photos, and settings. Although for most of them, you will have to get a Background premium subscription.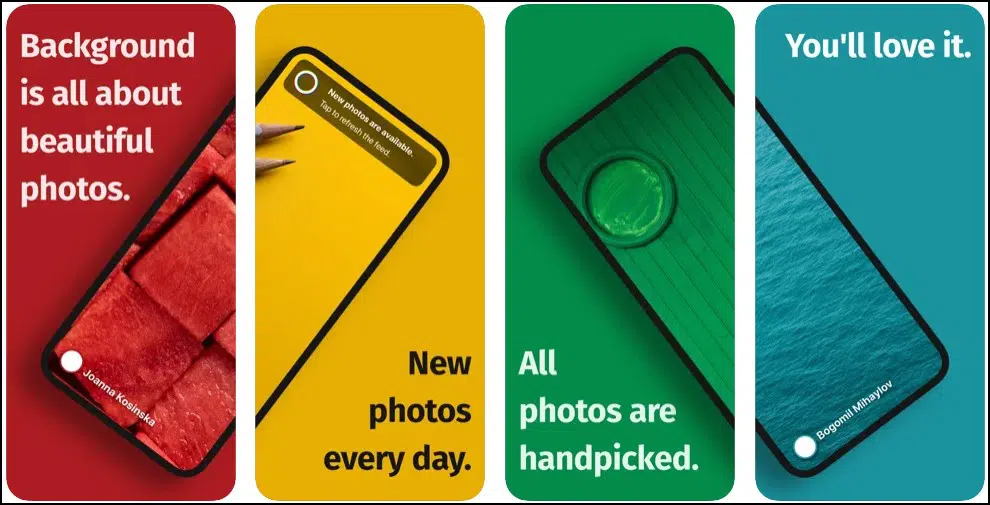 Standout Features:
Use the photos anywhere
Modify the pictures through the in-built tool
Regularly updated app
---
VIBE Aesthetic wallpaper 4K is another application that takes a different approach from the regular perspective when it comes to wallpaper applications. It makes our list of the best wallpaper app for iPhone because it encompasses a distinctiveness factor in it, which is its atmospheric wallpapers. You won't always find scenery or an incredible waterfall but instead more stylish selections.
The wallpapers and content available on the app are HD quality and match your screen dimensions, making it easy to download and set as a home or lock screen. You can also go through up to 26 different categories with accurately selected pictures in the app. Furthermore, you can download any wallpaper without cost. Although there is a premium available, this will provide you access to even more content.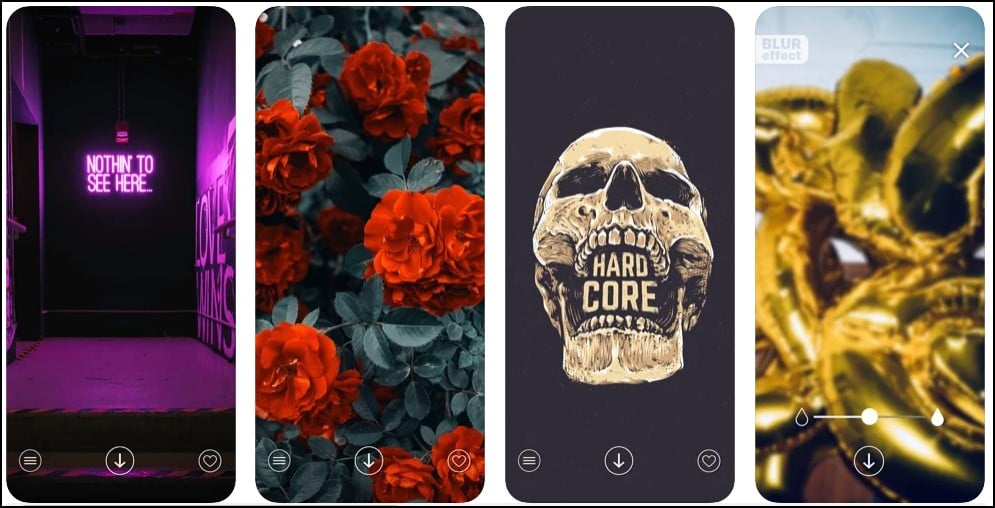 Standout Features:
Unique and stylish wallpaper collection
Easy to download any wallpaper
Daily updates
---
Zedge will let you get your hands on thousands of live and other unique wallpapers, making it one of the best wallpaper app for iPhone. One significant feature of the application is that you can explore thousands of creators through the app, and although they might be far from the spotlight, they might still provide you with some exquisite creations.
Another exceptional feature of Zedge is the aesthetic custom app icon pack. The feature will let you customize the regular app icons so you can make them more attractive. Zedge is an excellent choice, especially if you are looking for an app to offer inspirational images, spectacular scenes, and abstract art for each holiday. The app will let you download any image quickly and efficiently and set it as your lock screen or home screen.
Standout Features:
Attractive icon pack
diverse wallpaper categories
Easy to set any wallpaper as home or lock screen.
---
Live Wallpapers for Me
Looking for an app that will provide you with live wallpapers for iPhone? There aren't many better choices out there than live wallpapers for me. Unlike the regular ones, live wallpapers appear more buoyant, and the app can provide you with a massive collection comprising a thousand wallpapers.
You can customize your home screen with striking time-lapse sceneries through the app. Furthermore, there are new dynamic themes and animations added weekly to the application. Another significant advantage of the application is its live wallpaper maker tool, which lets you turn the videos into amazing live wallpapers and preserve happy memories through the device's lock screen.
The application's user interface is intuitive, but you can also access it in various languages, including French, English, German, Thai, and Japanese. Live wallpapers, for me, is one of the best wallpaper app for iPhone due to its vast choices of dynamic backgrounds. You can choose to get the premium version of the application, eliminating all the ads for you and providing you with a better experience.
Related: Best Free Video Editing App For iPhone
Standout Features:
The app is constantly updated weekly
4k wallpapers
Detailed categorization for convenience
---
Papers. co Wallpapers: Best iphone wallpaper
Papers. Co is one of the most highly rated applications on the best wallpaper app for iPhone list. There are numerous reasons for its popularity, and one of the prominent remains in its functionality. The application offers an extensive collection of wallpapers. Additionally, the categorization of the stunning pictures makes it easier to go through a particular collection of pictures and find the best one.
All the wallpapers are divided into categories such as art, spring, space, texture, sunset, games, etc. So, if you are looking for a scenery wallpaper or a space one, you can easily apply the filter and jump to the choices you want to see.
Papers. Co also offers a preview feature to see the lock screen and the home screen with the applied wallpaper. It will ensure that your desired wallpaper blends with apps and other choices. It also has dark theme wallpapers which look attractive on ios devices.
Standout Features:
Convenient user interface
Daily updates
Up to 500,000 wallpapers are available
---
Walli: Best Wallpaper app for iphone
Let's face it, not all of us want to have applications that only show one particular wallpapers category. If you want an application that provides wallpaper options from artists and comics, Walli is the best wallpaper app for iPhone.
Unlike the other choices we have mentioned in our list, Walli has its exclusive artist community. The artists that create wallpaper and contribute towards the collection can earn money after approval. Thus, it motivates the community to keep contributing with creative and attractive wallpapers.
Since people can showcase their talent through the app, the creative factor in it is incredibly high. You can browse through 3 main sections: Recent, popular, and featured that contain that own set of unique wallpapers. Hence, Wallis is an exceptional choice for getting high-quality, selective, and creative wallpapers. You can apply a variety of filters and select your favorite ones.
Related: Best Call Recording App for iPhone
Standout Features:
Get wallpapers by graphic artists from across the world
Different wallpaper sizes to choose from as per the device
Follow your favorite artist
---
Unsplash: Best Free wallpaper app
Unsplash is one of the best wallpaper app for iPhone. A significant advantage of the app is that it is an open platform that lets you customize everything without any cost, and you can also create and upload designs on the app.
The application will let you browse various categories, including editorial, wallpaper, travel, nature, fashion, film, health & wellness, etc. Every category has its collection of the most attractive and creative wallpapers. The wallpapers that you discover through the application in all the categories are high-quality and have the right size to ensure they fit well with your lock and home screen.
There is also a search feature on Unsplash that lets you find a particular image through it. It's also relatively easy to download, like, and collect images through Unsplash. Since you can also upload various designs through the app, you can join the community. Following and connecting with a particular creative is relatively easy, and you will be constantly reminded of their uploads.
Standout Features:
Explore and download beautiful images
Find wallpapers within particular categories
Simple and quick usage
---
Superhero Wallpaper HD
Whether you are a Marvel or DC fan, the Superhero Wallpaper HD can be the best wallpaper app for iPhone to find such a collection. You can use the application to find superheroes wallpaper in HD and 4k quality.
The wallpapers are exceptionally designed to fit nicely on your iPhone screen. The primary benefit of the app is that it is constantly updated every day to provide fresh designs and creative ideas, so you can keep your ios device updated and keep it interesting
Superhero Wallpaper HD will provide high-quality content daily. All the choices that it provides ensure that they have the accurate dimensions to fit the screen. Since you get plenty of diversity on the app, you will never run out of wallpapers of your favorite superheroes.
Related: Best Free Scanner App for iPhone
Standout Features:
High-quality wallpapers
Find your favorite superheroes
Updated daily
---
Final Words
Hopefully, your search for the best wallpaper app for your iPhone will be reduced to the apps we have listed above. All the apps that we have selected are based on functionality, convenience, and usage. However, in the end, the user will have to select the app based on their expectations and likings. Some of the most popular applications are Vellum Wallpapers, Everpix Cool Wallpapers HD 4K, and Papers from our list. Co Wallpapers HD.
Thank you for reading! Try these out too:
General FAQS