Among the countless benefits of technology, digital navigation is a prominent name on the list. If you are a traveler or an explorer, chances are you will be aware of how beneficial a navigation application can be; in case you aren't, well, let's say they ensure you don't get lost during an adventure.
We don't live in a domain where we need to ask strangers for directors or use a compass when out in the woods. Instead, a more efficient, precise, and convenient technique in Navigation apps has replaced these outdated methods.
A navigation map will allow you to pinpoint your location in a map and accurate distance from your destination while also mentioning the best route to get there. You don't necessarily have to rely on the layman approach as navigation apps have you covered all the time.
However, like any other application on the Appstore, there is plenty of diversity. There are hundreds of navigation apps. Although the variety is an excellent thing since you get plenty of options, the bigger problem arises when you can't choose which one will be the best for you. To resolve the issue and certify that you downloaded the best navigation app for iPhone, we researched and created a list of the top 8 apps you can download on your iPhone.
Excited? So, Let's Get Started.
Benefits of Best Navigation app for iPhone
Better accuracy: – Precision is one of the best aspects of technology, and the best navigation app for iPhone is not an exemption. Since a satellite guides the apps, the margins for a mistake drop drastically; the apps will help you find the desired location with a lot more accuracy than the regular guesses.
Time-saving: – Comfort and time are two primary pillars of innovation. Time is a

valuable asset

, especially when you are living in a modern, advanced world. Thus, you shouldn't waste it looking for directions. Navigations app will equip you with a tool that instantly finds the desired location and the best route for it, saving plenty of time.
More effortless connectivity: – If you are going on a camping trip alone or traveling on a dangerous road, keeping your friends or family aware of your location is the safest thing to do. Navigation apps provide you with the benefit of instantly sharing your exact location with anyone.
Best Navigation App For iPhone
---
Google Maps is among the most popular and hands down the best navigation app for iPhone for daily usage. It has millions of downloads and everyday users that use it in different parts of the world to find the best directions of their location.
The best thing about Google Maps is that it operates for every type of transportation. It allows you to search your desired location easily after it tracks yours. Once you enter the place you want to travel to, the Google maps application will find the best route, the traveling time, and the traffic issues.
The route planning and the traffic condition feature are pretty accurate, making the application a beneficial one. You can also preserve a list of all your favorite places on the map so you won't have to enter it again. You can also download maps if you want to use the app offline tho the accuracy of the best routes might vary.
Google maps will also let you check the situation of parking at the required destination while also remembering where you have parked your vehicle. Overall, Google maps is one of the most used applications globally as it's convenient and accurate.
Related: Best Free Music App for iPhone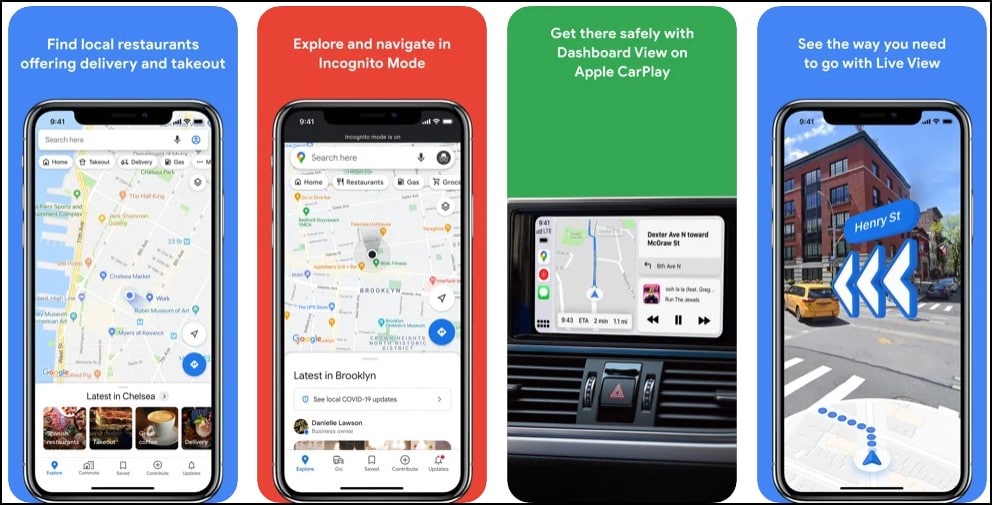 Standout Features:-
Route planner feature
Allow you to track the traffic conditions
Highly accurate navigation
Download This Best Navigation App For iPhone
---
If you are searching for the best navigation app for iPhone that provides the most detailed and accurate traffic information, Waze is the best choice. The most notable and fan-favorite feature of the application is that it allows you to track everything happening on the road. It includes any accidents, police, construction sites, road closures, etc. The main advantage of this is that you can choose a route on the map as per the situation, so you end up in a blockage.
The users can also share the latest gas prices. The app will also allow you to change the route and escape any heavy traffic instantly; the feature will find the most efficient way to get you to the destination in the shortest time possible. Waze has a very accurate ETA that uses the live traffic data to find the exact duration of your journey.
You can connect the application to your social media, such as Facebook, and post your location to let your friends know you might be in their vicinity. 
Related: Best iPhone Themes For Customization
Standout Features:-
Detailed road and traffic information
Accurate ETC based on the live traffic statistics
save time by instantly finding the best route to your destination
Download This Best Navigation App For iPhone
---
Apple Maps for countless apple users is the best navigation app for the iPhone, and rightfully so, considering it provides matchless functionality and convenience. The app is an official part of the iOS operating system; thus, it's free and available to all iPhone users.
The app has an intuitive user interface and an appealing design that makes it ideal for walkers, cyclists, and drivers by its turn-by-turn spoke directions and precise maps. It also provides pretty accurate arrival duration by calculating it through the latest traffic information and the updated speed limit on the road.
You will access essential transportation information in countless cities across the globe with live arriving and departure durations of the user's train or bus. You can also find the locations of hotels, restaurants, and restrooms pretty efficiently.
One of its most notable features is the Flyover mode and the 3D city view, which will give you an experience like Google Earth. So, you can explore any city with a 3D view before actually visiting while adding your favorite locations.
Related: Best Camera App For iPhone
Standout Features:-
Detailed maps of the city
Immersive walking directions and step-by-step guidance
An updated transit experience
Download This Best Navigation App For iPhone
---
MapQuest comes with a pretty simple and easy interface, making it the best navigation app for iPhone notable for novice users. Overall, the app is an excellent choice since it will provide you with the most accurate driving directions and a clear view of the maps, thus allowing you to travel a lot more securely. It also offers traffic information and a turn-by-turn navigation system, making it easy for you to find any location.
The app's major benefit is that it will present you with multiple routes, and you can choose the one that seems the shortest and quickest. The app is also pretty efficient as it will provide you with the latest and the best gas prices and the information of the fuel stations along the way.
The app has you covered if you are traveling somewhere abroad or to a different city that you don't know very well. You can search for hotels, restaurants, and restrooms that suit you according to your route and destination.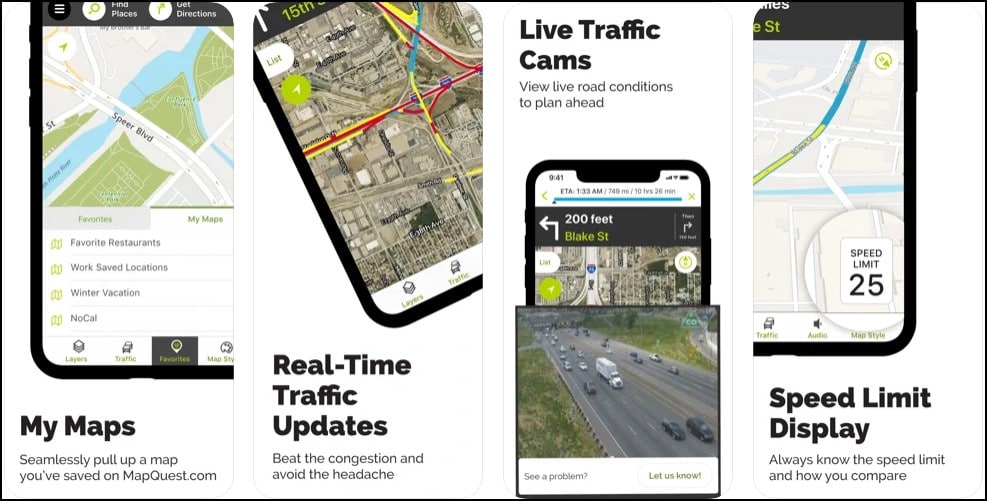 Standout Features:-
Accurate driving directions with turn-by-turn navigation
Notifies about gas stations and the best prices
Find hotels and restaurants with ease through the app
Download This Best Navigation App For iPhone
---
The VZ Navigator app is famous for the detailed 3D imagery that encompasses all the 3D maps of main US cities, thus making it one of the best navigation apps for iPhone in the US. It also contains other attractive features such as real-time traffic updates and audible traffic signals.
VZ navigation has a SmartView feature that allows you to choose from various views, including 3D, sky views, dashboard, list, and virtual city. It offers roadside assistance based on the GPS positions, thus making it easier for you to find the desired location in the shortest period.
The app recognizes the voice address input before integrating it with Facebook, making it easier to share your location on the social handles. It will also let you find the best gas prices and the nearest stations.
Related: Best Live Wallpaper Apps for iPhone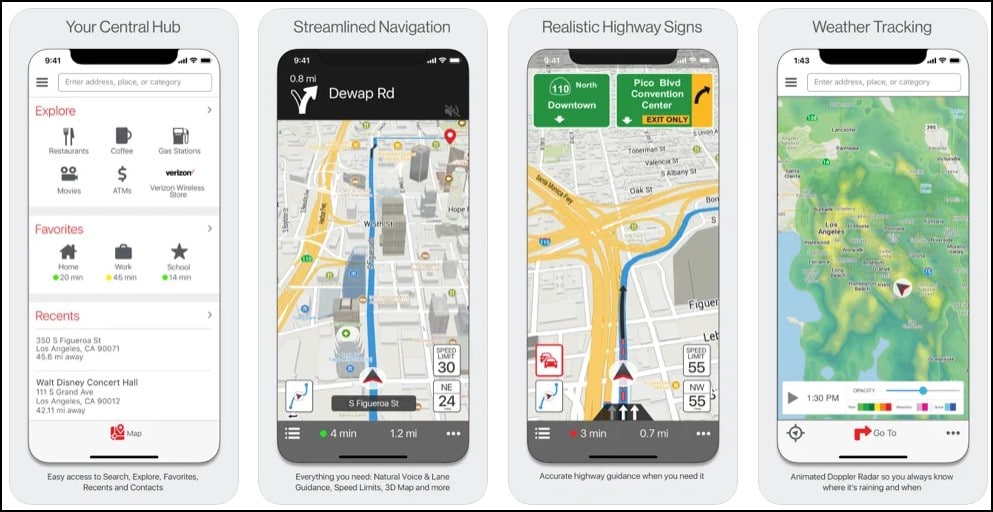 Standout Features:-
Accurate roadside assistance
Simulated visions of main interchange and exits
Day and night mode
Download This Best Navigation App For iPhone
---
Gaia GPA initially started as a backpacking application; you know the type of app you have on your phone when on a camping trip?. Eventually, it expanded its functionality to every kind of outdoor recreational activity. If you love the outdoors, Gaia GPA is the best navigation app for iPhone, most notably for your purposes.
The best thing about the app is that you can customize it according to your interests, whether it's camping, mountain biking, skiing, hiking, or hunting. The app has a discover tab that will help you locate yourself and find the nearby trails and hikes. If you are a biker, you can mount the Gaia GPS app to your bike handlebars for a better and safer experience. At the same time, hunters can easily differentiate between private and public land through state-by-state hunting information.  The app offers a pretty robust functionality that will allow you to use it for various purposes.
Related: Best Icon Pack For iPhone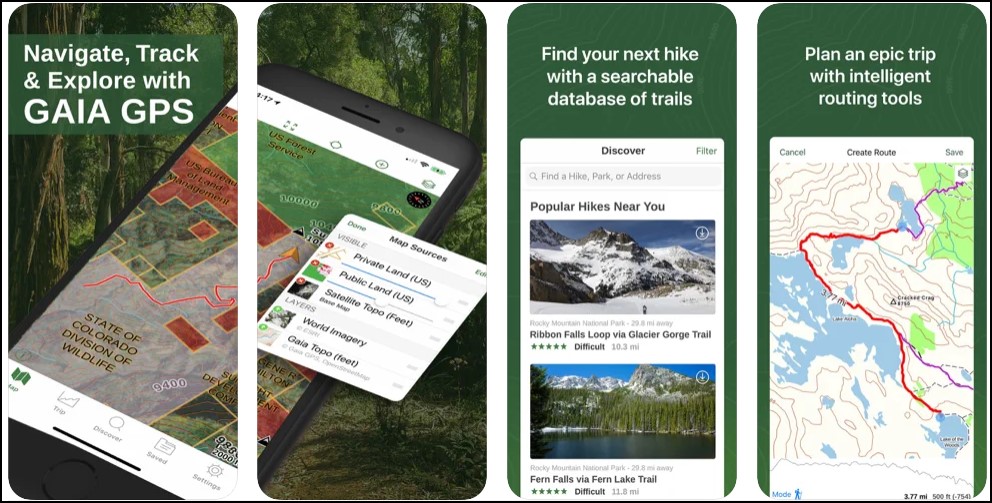 Standout Features:-
Offers Topographic and satellite maps for offline usage
You can measure the altitude, distance, and changes in elevation
Provides updated weather forecast
Download This Best Navigation App For iPhone
---
The Karta GPA navigation application is the best navigation app for iPhone if you use it offline mode. It's an entirely free app that will allow you to customize it with different navigation icons and voices while choosing the one you like the most.
The application also offers excellent functionality as you can calculate the routes using its accurate traffic information system and provide turn-by-turn directions. It is a perfect way to ensure that you reach your destination quickly, and let's face it, we don't want to be late for work or a meeting. One of its exciting aspects is that it will warn you of any potential speed-controlled zones along with the traffic alerts.
The Karts GPS navigation application will also assist you in finding the best parking spot while also pinpointing any tourist attractions sites or restaurants nearby. These app features ensure that you get maximum benefits while saving you time, effort, and energy.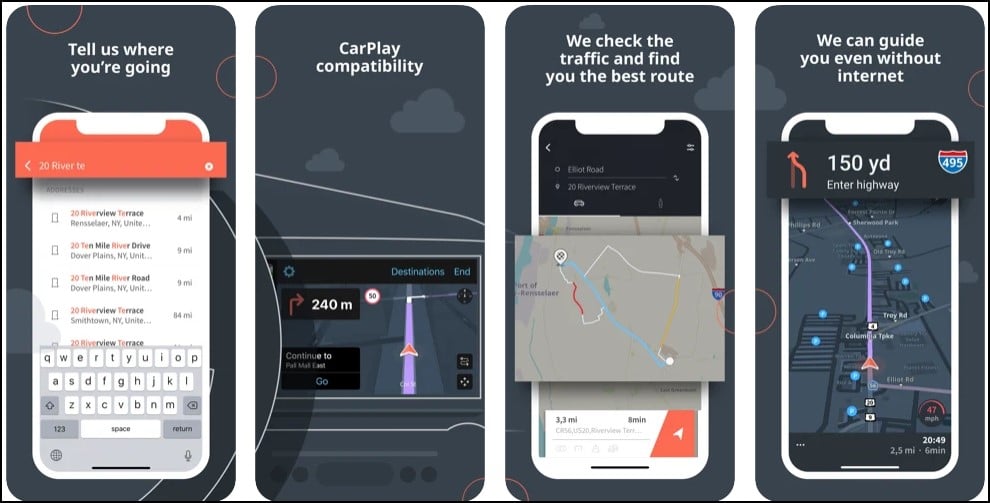 Standout Features:-
Offline mode
Detailed turn-by-turn directions
Find the best parking spot, tourist attraction, and restaurants.
Download This Best Navigation App For iPhone
---
The TomTom Go Navigation application combines slick navigation features with one of the most accurate traffic information systems, making it a popular choice on the best navigation app for the iPhone lists. You can find the most convenient and best route available through the precise, real-time traffic data that the app provides, ensuring you reach your destination quickly.
TomTom Go navigation app is equipped with several beneficial features, but the tone of its standout feature is the lane guidance. You won't miss an essential turn due to driving in the wrong lane. The app has speed camera monitors to ensure that you are within the speed limit all the time and not breaking any traffic law.
You can also download any map for a particular region; you can use the offline maps if you find yourself on the route without an internet connection. The Quick Search feature will allow you to locate your destination instantly. You can also choose a particular destination to be your favorite, making it easier to find it later.
Related: Best Weather App for iPhone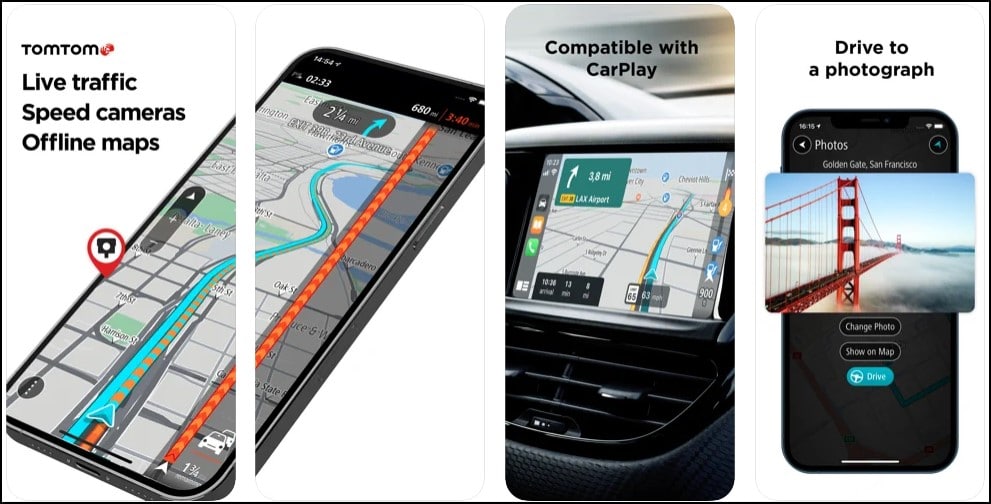 Standout Features:-
Accurate GPS and directions
Quick search to instantly locate the destination
Easy and convenient user interface
Download This Best Navigation App For iPhone
---
Final words
Whether you are a traveler roaming across different parts of the globe or visiting a new city, the best navigation app for iPhone will be your ideal companion that ensures you don't end up lost. Although the eight apps we have listed above all excel in convenience and functionality, the most popular choice are Google Maps and Apple Maps, which is quite understandable since they are from the official source. Nevertheless, if you want versatility, you can choose any app from our list, and we are confident it won't disappoint you.
Thank you for reading! Try these out too:
General FAQS
What is the best navigation app for iPhone?
There are plenty of applications that provide excellent performance. The most popular ones include Google Maps, Apple Maps, and Waze.
Are all the navigation Maps completely free?
Although most navigation apps are entirely free, others might charge you after providing a primary program without any costs. A premium plan will ensure that you can use all the features efficiently and without any delay.
Does Google Map work on iPhone?
Yes, Google Map is available for iPhone. You can use it efficiently with all the latest features and also update it regularly.