The iOS users are now content with the iOS 14 release that allows them to customize their home screen as per their wishes. Before that, iOS users had to make do with separate apps for wallpapers applications, icon packs and had very minimal support for widgets. iOS 14 comes with native support for widgets and a workaround for using custom icons. It still isn't as easy as customizing your home screen on Android, but at least you have an option to make the smallest changes to your home screen setup.
Who knows, maybe in the future, the customization experience on iOS becomes as seamless as it is on Android. I have listed the best iPhone themes that you can use to customize your iOS home screen setups and make your iPhone and iPad look distinguishable from the rest.
Excited? So, Let's Get Started.
Best iPhone Themes in 2021
---
This best iPhone theme uses pastel-colored backgrounds with high-quality pastel icons to give a somber appearance to your home screen setup. This theme is designed using the aesthetic Pastel iOS App Icons that come with 100 + high-resolution icons and six matching pastel background wallpapers. You can either choose the icons and backgrounds of the same color or mix and match to play with pastel colors, and create the most ravishing home screen setup for iPhone.
Related: Best Weather App for iPhone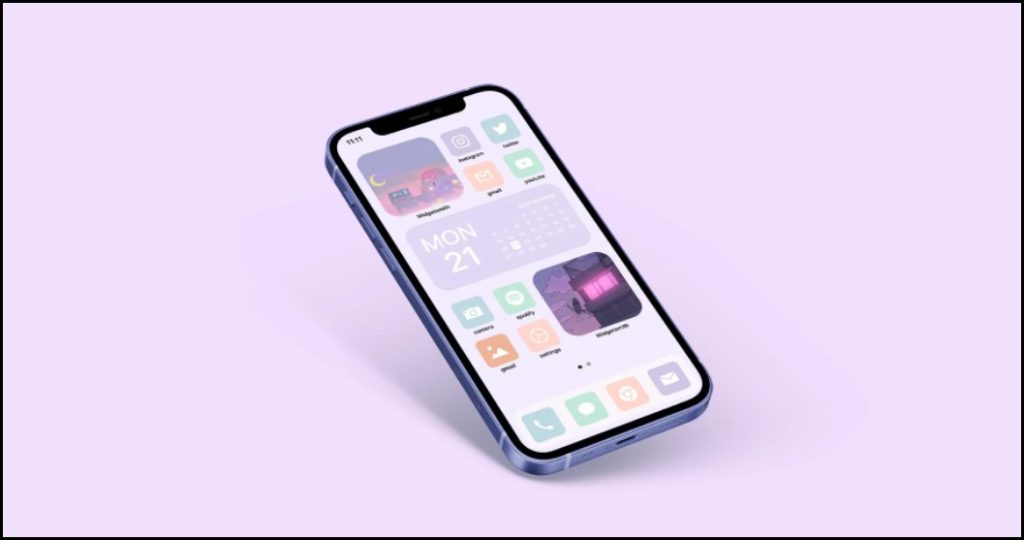 Download this Best iPhone Theme
---
This best icon theme is achieved using black and white icons from the Traf icon pack to obtain the sleekest home screen setup. The icons are monochrome and are available only in black and white colors. since the items are bold and in a single color, a dark wallpaper will justify the overall theme of the home screen setup. The three best background colors suited for this best iPhone theme are black, white, and red.
Related: Best Dating App for iPhone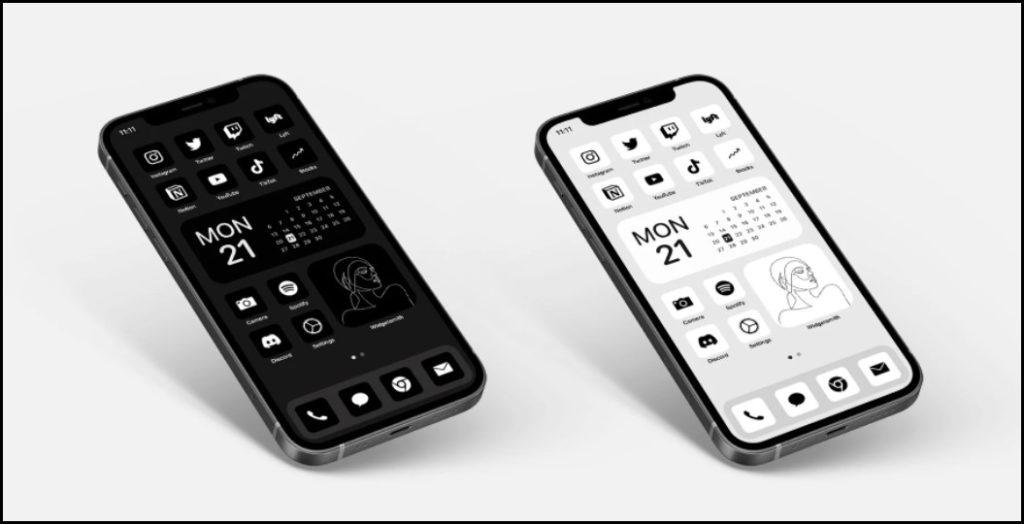 Download this Best iPhone Theme
---
This home screen setup is made up of the very popular icon pack, "limitless" along with a few minor changes here and there. The appeal of this home screen setup is amplified by the fact that the color scheme of the icons, especially their borders, matches the color of the background wallpaper. Limitless has abundant options both in terms of color schemes, and icons that can help you achieve your desired home screen setup look within minutes. There are also custom bundles available for limitless that contain icons, background wallpapers, and widgets as well.
Related: Time Management Apps For iPhone
Download this Best iPhone Theme
---
Recreate the festive vibe on your iPhone with this Halloween home screen setup that makes use of subtle festive-themed icons etched on a beautiful light-colored wallpaper. It does not use the dark, scary icons found in most Halloween icon packs and instead uses custom images as icons. Depending upon the background wallpaper, you can use a white-colored icon pack or go with a transparent icon pack. All in all, it is a neat-looking home screen setup for users that hate clutter on the home screen.
Related: Best iPhone Music Player App
Download this Best iPhone Theme
---
Among Us shot up to popularity with its quirky game mechanics and level design and has now spawned off to a great home screen setup for iPhone as well. To achieve this home screen setup, you have to choose a pitch-black background, preferably studded with stars, and use the themed icons from the Among Them icon pack. It uses the same colors that are used in player creation, to create icons that look exactly like the game. The icon set is limited to 130 icons only but you can play smartly and place only those apps on the home screen which have a designated icon available.
Related: Best Scanning Apps For iPhone
Download this Best iPhone Them
---
This artistic color theme for iPhone comes with a hand-drawn background wallpaper and hand-drawn icons. The overall visualization appears artistic in nature and looks bright and inviting to the eyes. This best theme for iPhone uses hand-illustrated icons and wallpapers from the Aesthetic hand-illustrated icon pack app, which comes with 70 plus icons and 9 illustrious wallpapers. You can choose the nude, yellow, or pink aesthetics as per your preference, and make the best iPhone theme using the contents of this icon pack.
Related: Best Podcast Apps For iPhone
Download this Best iPhone Theme
---
This best iPhone theme is best suited for sneaker lovers who love Nike Air Jordans and Yeazys. It can be a little confusing for normal users, but for sneakerheads, it is just a wonderfully executed shoe-themed home screen. The icons belonging to this home screen are borrowed from the Jordan Sneaker Icon Pack that contains 150 plus variants of your lovable Nike Air Jordans as icons. Along with the icons, you also get 20 befitting solid color and abstract wallpapers, and a handful of necessary widgets. There is even a sneaker shelf wallpaper included in the collection, that allows you to place the icons as if they were placed on display in a shoe rack.
Related: Best Email Apps For iPhone
Download this Best iPhone Theme
---
iOS 15 Neon Theme is among the quirky themes that can help you relive the night city experience of Cyberpunk 2077. Every element of this neon theme is designed to exhibit the vibe of the night city. It uses the Tokio Neon icon pack that supplies both day and night time icons. The little details in each icon set, like the dangling wires which are visible in broad daylight, makes it one the best neon icon pack so far. It also bundles three wallpapers that match the color scheme of your neon hone screen setup.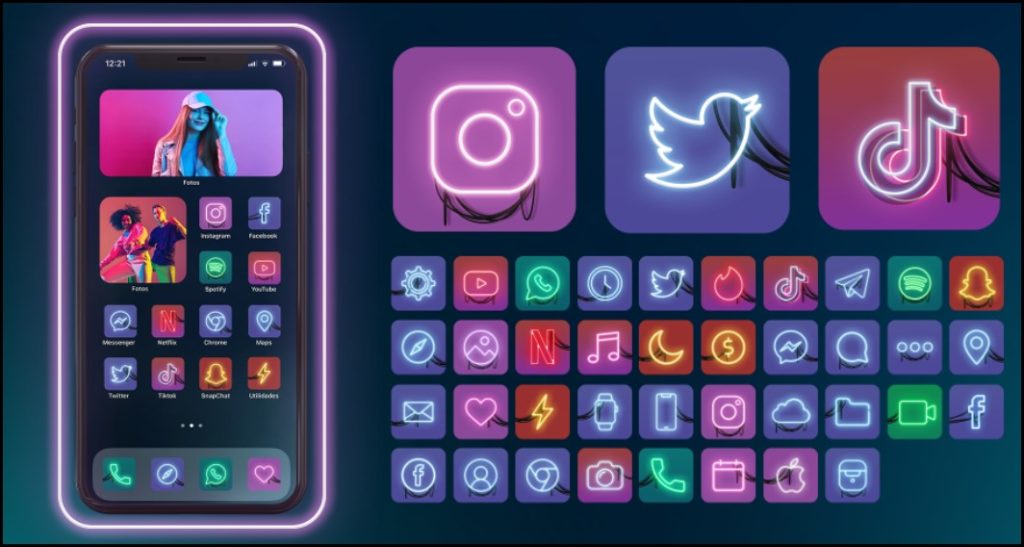 Download this Best iPhone Theme
---
macOS Big Sur looks stunning with its well-spaced widgets and icons and now you can recreate the same experience on your iPhone. This bets iPhone themes uses the Color & White set icons to replicate the same icon to appear on your iOS devices. The icons are available in both white and colored sets and also have a few wallpapers within the icon pack. The intention of this theme is to go for that sleek macOS look with minimal widgets which looks great on the retina display.
Related: Best Productivity Apps For iPhone
Download this Best iPhone Theme
---
this unique-looking iPhone Home Screen setup uses a split-colored wallpaper and a ton of useful icons and widgets to create the perfect-looking home screen setup. The split color wallpaper uses a combination of two solid colors arranged in a vertically split design.  the icons for this split color theme are supplied by the Aesthete icon pack for iOS 14, which comes with minimal-looking icons along with 42 different wallpapers. The result is a neatly arranged, accessible home screen that looks quite pleasant. Do remember that the USP of this best iPhone theme is its simplicity which works best with solid color backgrounds.
Related: Best Antivirus Apps For iPhone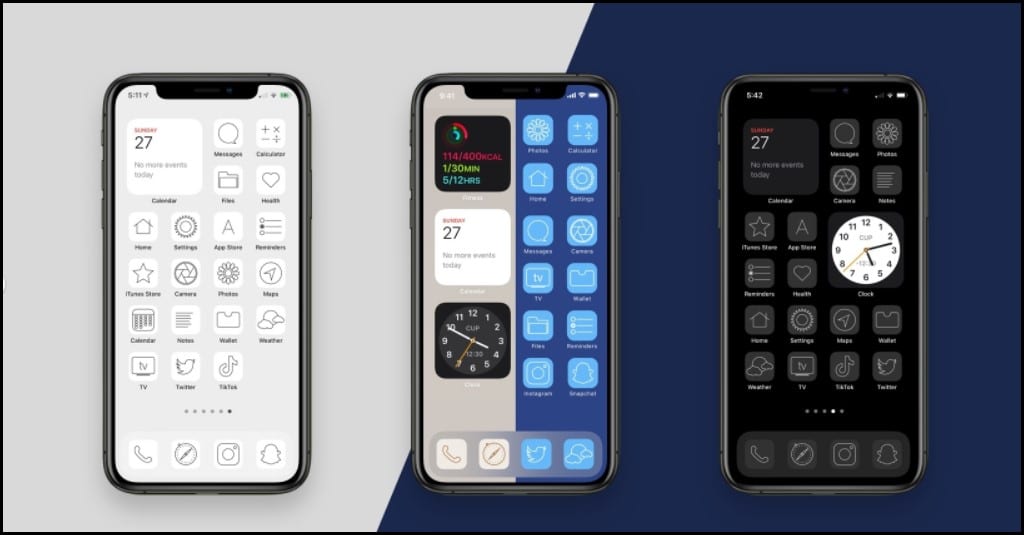 Download this Best iPhone Theme
---
Kawaii has its fair share of excitement by many iOS users and this unique home screen design can make it extra cute. Kawaii means cute in Japanese and usually denotes fun and loving character with unique head shapes and disproportionate bodies. To achieve this best iPhone theme, you have to search for Kawaii icons and use a few pastel-colored backgrounds. The effort on this home screen is slightly more but the result is absolutely gorgeous.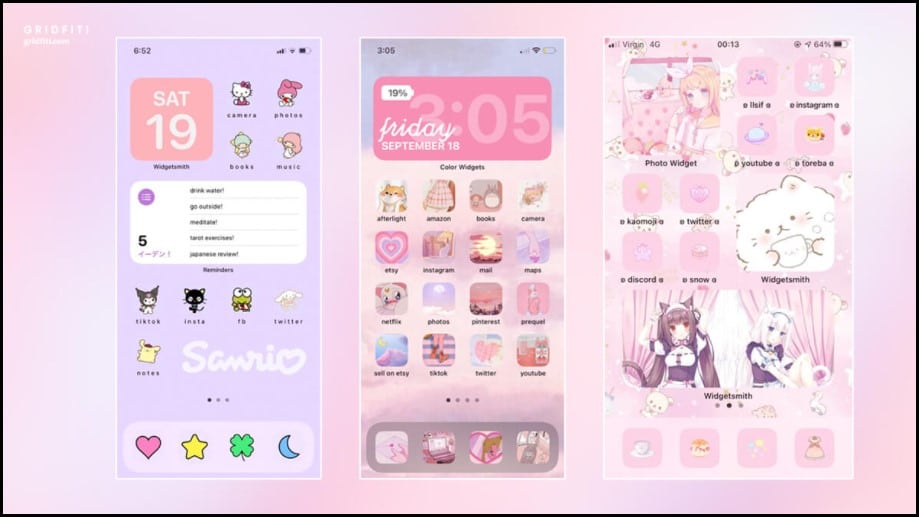 Credits: @edenamarosa, @nicolexsolero, @omoonbunnyo
---
Retro Pixel Art Home Screen takes you back into the era of games belonging to Atari and GameBoy. Everything, including the icons and the background wallpaper, is pixelated to maintain the retro vibe of the beginning of the era of console gaming. This best home screen for iPhone uses the Squixel icon pack that comes with befitting 1100+ icons. You have to put in extra effort for the pixelated wallpapers as they are not supplied with the icon pack. Try this Retro Pixel Art Home Screen to experience the nostalgia of your childhood gaming.
Related: Best language learning apps for iPhone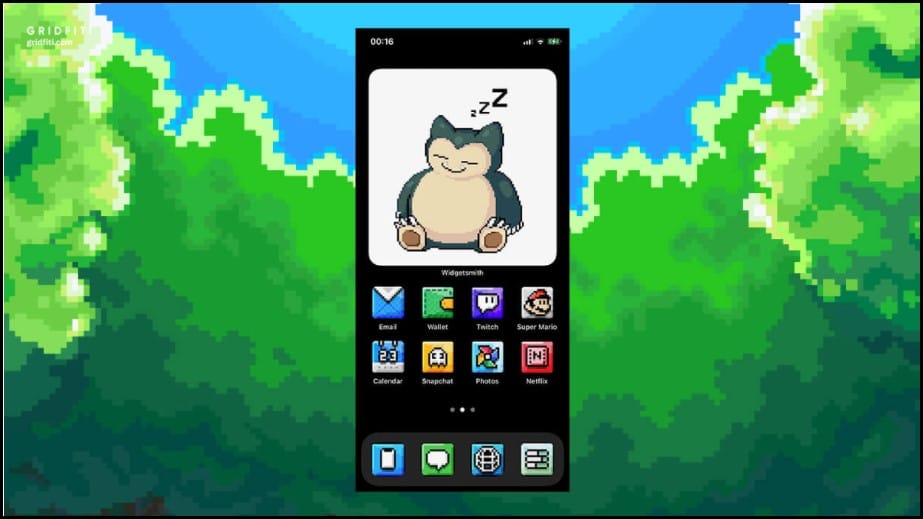 Download this Best iPhone Theme
---
Final Words
These were the best iPhone themes that you can use to personalize your iOS home screen. Don't be afraid to mix and match icon packs and widgets and subdue your idea of obtaining a certain home screen look. My preference still remains the Aesthetic and Minimalistic themes, which are the two elegant-looking best iPhone themes.
Thank you for reading! Try these out too: