Video editing is the handling and organization of different video shots to increase their attraction and engagement. The demands for video editing increase with each passing day as more and more content creators need it. Previously, users required a desktop with various specifications that were compatible with video editing software. However, luckily we live in a much more advanced world, and now you have access to numerous video editing apps on your phone.
Nearly all content creators need a video editor; a good video editing app is mandatory for startups and E-commerce businesses since video ads are an emerging trend responsible for plenty of sales. Although you might make a simple search on the App store for video editing apps, and plenty of them would pop up, one question that may leave you scratching your head is which one you should download?
Considering the diversity out there, we decided to take the matter into our hands. This article will provide you with an insight into some of the best free video editing app for iPhone that you should try right now.
Excited? So, Let's Get Started.
Benefits of Video Editing Apps For iPhone
Spend Less get more: – The most significant benefit of free video editing apps for iPhone is that you don't need a PC with advanced specifications to create your video clips. You can now create compelling and attractive content from your mobile with better efficiency
Saves your precious time: – Time is valuable, and with an iPhone video editing app, you can ensure that you don't have to sit in front of the screen for editing a video or creating a clip. The app will allow you to use plenty of essential to advanced features with a lot more convenience
Easy to use: – One of the biggest problems with complex video editing software on PC is that they can be pretty hard to get your head around. Instead, a free video editing app for the iPhone will save you stress as they are a lot easier to use.
Best Free Video Editing App For iPhone
PowerDirector is one of the best free video editing app for iPhone. One of the main reasons several content creators use it is its user-friendly interface, which allows users to avail all the features with plenty of ease. The mobile app contracts the functionality of the desktop version into an efficient interface which is ideal for mobile.
It provides plenty of useful features such as 4k editing and the multi-track, which adds a professional tint to your videos, thus allowing you to stand out among your companions on social media. The powerful and professional features combined with the intuitive interface allow you to create videos even if you don't have previous editing expertise. It offers a pretty linear timeline that will enable you to combine clips and use the audio mixer to add your favorite sound or music to the videos.
One of the most notable features of PowerDirector is that it offers a 720p Output; however, it's also possible to export the videos in 4K (if you upgrade to its pro version). It also allows creators to upload their videos directly on Facebook or YouTube. Although there is a pro version, the free video editing tool also provides plenty of options. It is enough for most users, thus making it an excellent free application for video editing.
Related: Best Free Music App for iPhone
Standout Features:-
Multi-track editing features in High-resolution
Add various professional effects and transitions to the video
Offers hundreds of free effects, filters, templates, backgrounds, sounds, and music
Download This Best Free Video Editing App For iPhone
---
KineMaster is a popular name; in fact, numerous content creators call it the best free video editing app for iPhone, and rightfully so, if you consider its functionality. It's also one of the two apps on your list that support editing in 4k 60FPS and exporting the videos directly to YouTube, saving the user plenty of time.
The precise controls of KineMaster are among the best features of the application as it allows you to cut, trim and tweak various clips on a frame-by-frame basis. It also applies to audio tracks, so you won't need any extra software or apps to do that for you.
KineMaster does not have a traditional timeline that you come across in regular apps; instead, all your clips will overlap instead of going on a distinct track. It also allows users to pile on video effects, text, and images to create a refined final product. Its other excellent features include chroma key, transitions, lighting adjustments, and blending. The interface is pretty straightforward to navigate, thus making the app suitable for novice editors.
Related: Best iPhone Themes For Customization
Standout Features:-
Accurate editing controls
Free to download
Professional standard tools
Download This Best Free Video Editing App For iPhone
---
When looking for the best free video editing app for iPhone, iMovie is one of the choices that lie at the top of the pecking order. The iMovies is the default app for crafting video clips with plenty of editing tools and several other features for numerous iPad and iPhone users.
iMovie's streamlined design and spontaneous interface let users create trailers and clips like never before.  It offers 14 trailer templates with striking graphics from some of the best film creators. The user can also customize the movie studio logos and cast names or credits. Thus, if you want to create a Hollywood-style video clip, this app is the best choice.
IMovie is an excellent choice for professional and novice video editors. It supports video creation in 4k and allows multi-track editing, contains numerous filters, and allows the user to insert free music that automatically adjusts the length of the video.
Another reason for iMovie's hype is its suite of themes. Some of its most striking ones include Sports, Comic books, travel, neon, and photo album. Every option comes with a unique set of music, text overlays, and transitions, thus saving you plenty of time and effort.
Related: Best Camera App For iPhone

Standout features:-
User-friendly and Simple Interface
Professional customization options
A wide selection of filters and soundtracks
Download This Best Free Video Editing App For iPhone
---
InShot associates itself with content creation mainly on social media. The iOS version of the software comes with plenty of essential editing tools that you might require to showcase your creativity along with a convenient learning curve. It even comes with some unique features such as speed adjustment that you won't find in another best free video editing app for iPhone. Thus, it adds a touch of exclusivity to the editing application.
One of the major benefits of Inshot is that it will handle both your image and video editing requirements. It contains several pre-made templates that are beneficial for users notable for social media content creation channels like Instagram and TikTok. The interface is pretty sleek yet straightforward, making it easy to edit, import, and customize your video clips even without previous editing experience.
Although Inshot might not offer the complete professional tools and options such as 4k editing or multi-track, this might be a downside. However, the shortcomings are irrelevant if you only create posts and video clips for primary purposes as it can easily handle the barebones requirements of the users.
Related: Best Dating App for iPhone
Standout features:-
Best choice for Instagram and TikTok
Easy to use interface
Provides Video and image editing features
Download This Best Free Video Editing App For iPhone
---
Since video editing in mobile is becoming more and more prevalent, Splice offers an opportunity for newcomers to get their hands on it. The platform is highly rated for its functionality and simple usage, thus putting it on the user's ratings as one of the best free video editing app for iphone.
For instance, if a user intends on creating a highlight reel of their recent camping adventure, this app becomes the perfect choice. The user will upload the clips and put them on the right tracks, while the app will allow them to crop and trim them with only a few simple steps. Therefore, you will have smooth, clear, and clean footage at your disposal tho you won't be able to edit in 4k using Splice.
For users that love adding music and sound effects to their videos, luckily, this app excels for the purpose with its extensive library with thousands of free tracks. To add the track, you drag it to the required spot on your tools timeline. Adding transitions, video effects, and sharing the video directly to social media are other notable features of Splice.
Related: Best Live Wallpaper Apps for iPhone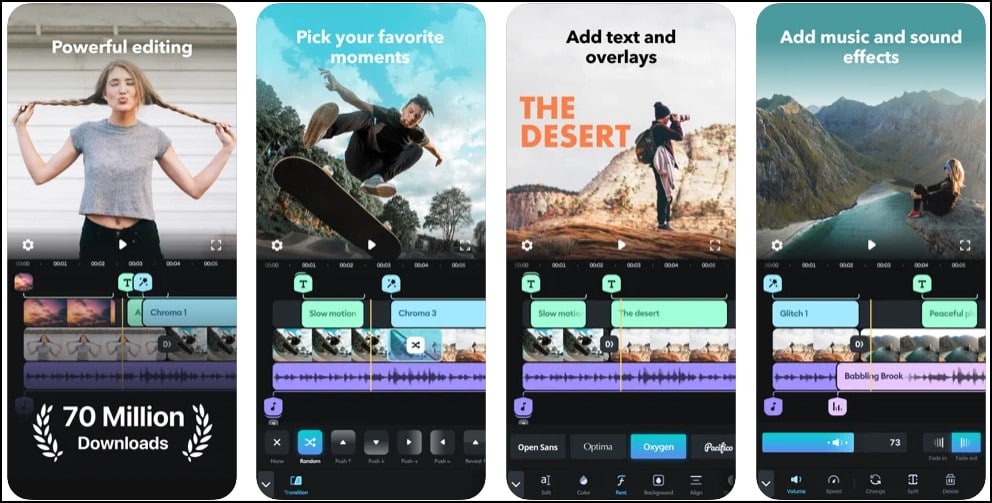 Standout features:-
The ideal choice for basic video editing options
Users can export the produced clip directly to their social media platform
A massive library of music and sound effects
Download This Best Free Video Editing App For iPhone
---
If you are looking to create videos in various orientations, Videorama is an application that can help you achieve it. Most users prefer the application, particularly for creating highlight reels and videos for Instagram. It offers users to make them in three different orientations, including square, portrait, and landscape (Square being the preferred choice for Instagram).
Although the app provides various beneficial features, one of the most remarkable is the application's ability to download free photos and videos from Pixabay. Furthermore, you can also download sound effects, video effects, and music (copyright-free).
It has a class editing timeline that you would expect with such an app with all the editing tools located at the bottom of the screen, including the add photos, text, filters, and music options. If you tap the video slider visible at the top of the screen, you will see four more tools on the screen. These four editing options include:-
Edit the clips
Remove it
Duplicate it
Add various transition effects
Videorama's feature makes it the preferred choice of many users who also label it the best free video editing app for iPhone. It allows them to create a short video in 720p tho you'll see a videorama watermark.
Related: Best Icon Pack For iPhone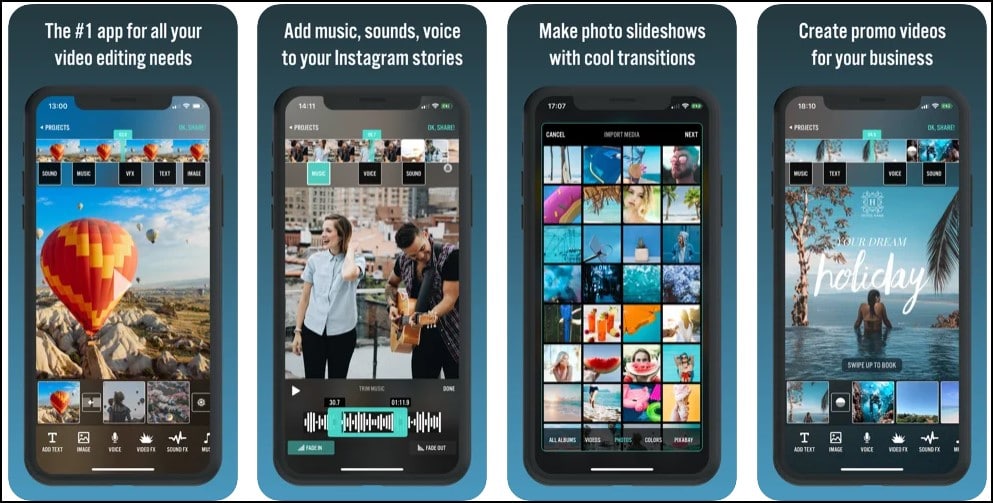 Standout features:-
Professional-grade editing options
a huge effects, themes, and soundtrack library
Easy and free to use
Download This Best Free Video Editing App For iPhone
---
When choosing the best free video editing app for iphone, many users would like to have a tool that offers professional-grade video editing, and it's where Filmmaker Pro comes into light. The app provides advanced tools that will help you create videos by expressing your full creativity. It will give you complete control even if you want to edit the clips with a green screen or toggle the chroma keys.
Although you won't find a multi-track editor, Filmmaker Pros make up for its shortcoming in countless other unique ways. You can customize 4k video clips in up to 30 different filters and with 17 transitions. The audiometer of the app allows you to include voiceover in the video within minutes.
Related: Best Icon Pack For iPhone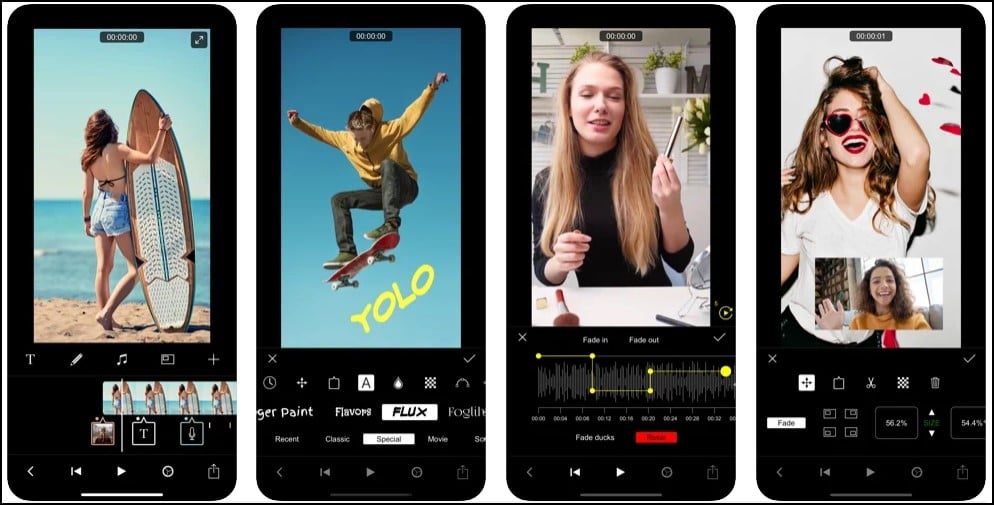 Standout features:-
Green screen editing option
A lot of diversity in filters, transitions, and fonts
Built-in audiometer backed voiceovers
Download This Best Free Video Editing App For iPhone
---
Let's face it, not all of us might need the best free video editing app for iPhone to create videos and clips for professional usage. Plenty of people seek a reliable video editor to create posts for social media. Magisto video editor & maker is ideally suited for people that want the app to handle the editing all by itself. It uses AI to combine photos, music, effects, filters, and videos to create an attractive clip. Thus, Magisto has an exclusive feature that makes it the ideal choice among users who don't want to spend time creating videos and instead rely on clips that the tool generates.
Before importing all the required media files, the user will have to select one editing style, such as travel, caring moments, or memories. The app will then allow the user to choose their favorite tune from the music library. Once the clip is crafted, the user can easily share it to their social handles like Twitter, Instagram, Facebook, etc., with only a simple tap.
Related: Best Weather App for iPhone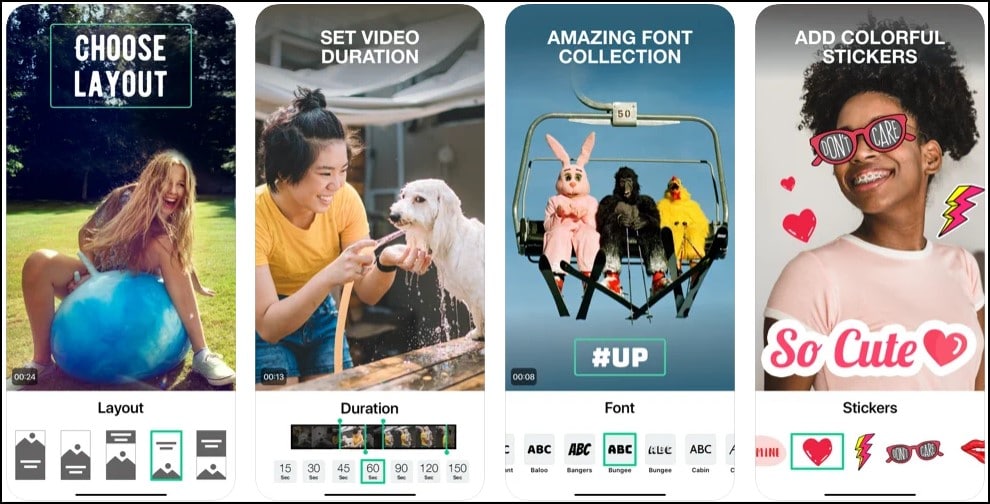 Standout Features:-
The app uses AI to create the video clip
Easy to use
Ideal for social media websites
Download This Best Free Video Editing App For iPhone
---
Final words
Whether you are looking for the best free video editing app for iPhone to create clips for your social media handles or for business-related stuff (like creating ads or product descriptions); chances are one of the apps we listed above will match your criteria. All the apps are pretty versatile and provide matchless functionality. PowerDirector, KineMaster, and iMovies are some of the best choices on the list.
Thank you for reading! Try these out too:
General FAQs
What is the best free video editing app for iPhone?
It depends on the user's preferences, but iMovie, PowerDirector, and KineMaster are popular names with a massive user base. These apps will provide you with all the tools that you require to display your creativity through video creation and produce interesting yet attractive content
Are the iPhone apps for video editing easy to use?
Yes, most of the applications are pretty easy to use, and you probably won't require a guru to help you get through them since the tools are available on the screen and all the customization options. It's pretty easy to get your head around it.
Are all the apps completely free to use?
Although most of the apps offer plenty of features in their free version, you can choose to increase their functionality and features by getting the premium version.