The old-fashioned method of downloading your favorite tracks from iTunes is not a requirement anymore. Downloading songs has two problems, it consumes a lot of physical storage of your smartphone and confines you to a tiny library that gets boring over time. There are many free music streaming apps available for iPhone that provide access to a vast and diverse music library, without requiring payment for every single track.
I have listed the best free music app for iPhone that provides access to most genres of music and can satiate your music requirements.
Excited? So, Let's Get Started.
Best Free Music App for iPhone
---
There aren't many music streaming apps for the iPhone that can match the versatility of Spotify. It is the most popular music streaming app that dominates on every platform, be it a mobile, tablet, desktop, PlayStation, Chromecast, TV, and many more. The best part is the enormous music library that has every track you may want to listen to. Spotify uses a dark theme by default that looks way better than any music app with a bright white theme.
Apart from providing access to millions of songs, it also has a dedicated section for podcasts which are gaining popularity amid the audience on Spotify. The free tier is limited to 15 playlists and allows music shuffling with persistent ads in each track. The premium tier unlocks access to offline downloads, unlimited playlists, improved sound quality, and skip tracks without having to listen to repetitive ads.
Related: Best iPhone Themes For Customization
Standout Features:
Vast music library
A popular platform for Podcasters
Offline downloads are possible
Download this Best Free Music App for iPhone
---
Apple Music comes pre-installed into every iPhone and supports Dolby Atmos music playback, which makes the aural experience mind-blowing. It supports searching music by name and also by typing in the lyrics that you remember. This best free music app for iPhone can create automatic playlists depending upon your music history. With a massive music library of over 50 million tracks and three radio stations that play music by emerging DJs and voice artists, nothing is missing from this app.
However, the app only comes with a 90-day free trial after which it requires a monthly subscription to use the app. You cannot play songs after your 90-day free trial has expired. Apple can improve their pricing but hey! When did Apple start caring for pricing?
Related: Best Weather App for iPhone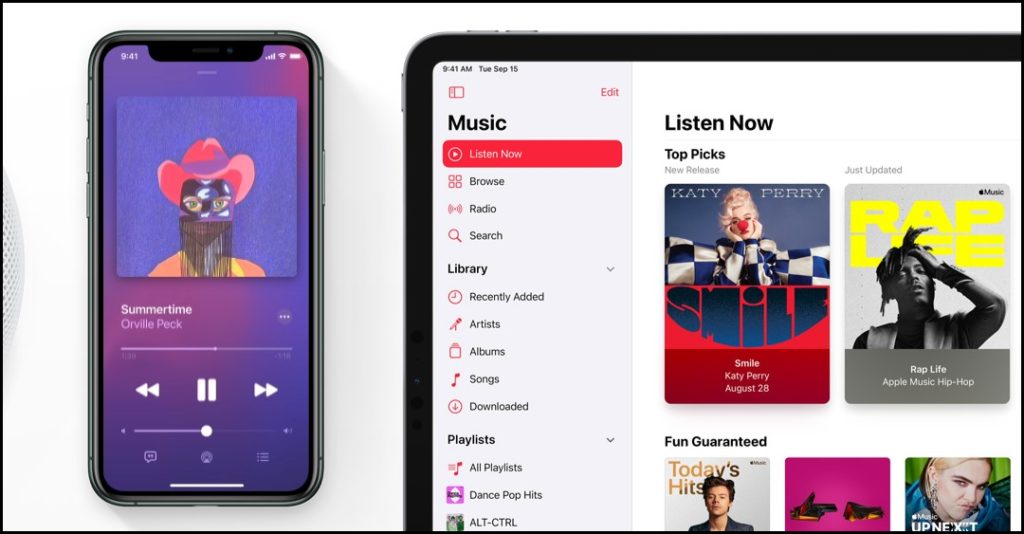 Standout features:
50 million-plus music tracks
Support for Dolby Atmos and spatial audio
Offline music playback
Download this Free Music App for iPhone
---
Pandora offers a lucid method to find your favorite tracks and create an automatic playlist without manually selecting the songs. It creates a music playlist based on your previous tracks and allows you finite skips that you can make in an hour. The free version is filled with ads like you hear on a normal radio station. Pandora lets you rate music track recommendations in a playlist so that it can refine your recommendations.
There are two pricing tiers for this best free music app for iPhone, which includes a 4.99-dollar plan which comes with unlimited music skips, 4 custom radio stations, and zero ads. If you can shell out double the amount, the app allows you to create unlimited radio stations and listen to them offline.
Related: Best Dating App for iPhone
Standout features:
Radio-like music experience
Automatic music recommendation
Download this Best Free Music App for iPhone
---
iHeartRadio provides access to all the popular radio stations across the country and lets you live stream any station of your choice. Rather than wasting time searching for music, you can just tune into a radio station and listen to fresh releases. Apart from music radio stations, there are also news, comedy, sports, talk show stations. iHeartRadio also has a proprietary podcast feature that enables you to tune into the popular podcasters available on the app. The free tier is restricted to these features along with playlist creation.
Anything more than that entails a monthly subscription fee and unlocks a few useful features such as unlimited gifts, playing any music of the choice, repeating the music you just heard on the radio, and offline music playback. The best part about iHeartRadio is that it is completely devoid of any advertisement.
Related: Time Management Apps For iPhone
Standout features:
Hundreds of radio stations
Variety of radio stations including music, comedy, sports
No advertisement whatsoever
Download this Best Music App for iPhone
---
This best free music app for iPhone has the largest collection of music that you can find. YouTube Music has a powerful recommendation algorithm that suggests music based on your current playback. The free tier lets you listen to music tracks and even watch in-app music videos for supported tracks.
But, basic features like offline playback and continuous playback after the screen is locked, are present in the paid version. Its user interface has a lot of room for improvement and needs to be priced a little lower because of the average audio quality.
Related: Best iPhone Music Player App
Standout features:
Powerful recommendation algorithm
Offline playback
Vast music library
Download this Best Free Music App for iPhone
---
TuneIn is a radio station streaming app that lets you access more than100,000 radio channels across the world. You can easily listen to the NFL and other popular sports broadcasts using this best free music app for iPhone. There is a humongous podcast library available for users without any added cost.
TuneIn has intense advertisement placement that sometimes becomes exasperating to endure. You can opt for the premium tier to access more than 600 commercial-free radio stations and unlock educational content as well. The only thing missing from the app is the ability to create personalized music playlists.
Related: Best Scanning Apps For iPhone
Standout features:
100,000 radio channels
Humongous podcast library
16 educational content programs
Download this Best Free Music App for iPhone
---
Amazon Music is among the best free music app for iPhone that is free for Amazon Prime subscribers. If you are one of them, you automatically get a subscription to the Amazon music app. The app has a comparatively smaller music library but delivers impeccable audio quality. Amazon Music does not contain any ads and also displays the lyrics of the current playing track. It also allows up to six users to use the music streaming service from a single account.
If you have purchased any physical media or digital media from Amazon, they are included in your music library as well. It also supports Alexa integration and can directly play tracks after receiving a command from your smart speaker. Amazon Music needs to expand its music library so that it can measure up with preferred music applications like Pandora and Spotify. 
Related: Best Podcast Apps For iPhone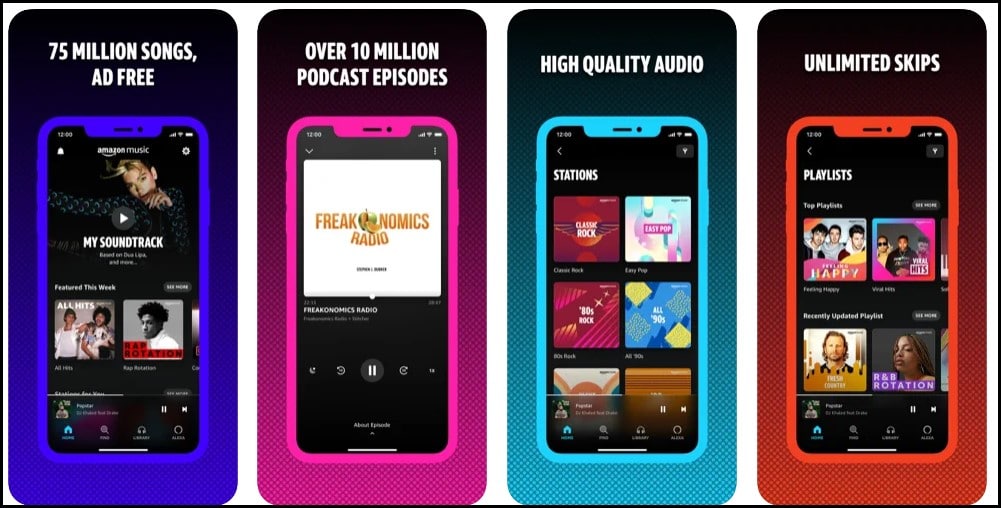 Standout Features:
Alexa Integration
No ads
Up to six users
Download this Best Free Music App for iPhone
---
SoundCloud is more than a music app as it provides a platform for independent artists to present their creations, and slowly when the hearts of the audience. SoundCloud has over 120 million tracks in its library and allows you to create playlists of your favorite music tracks. SoundCloud has a feature to upload your songs on the website but it is not available directly.
You have to migrate to SoundCloud Plus to upload tracks. This music app lets you explore not only popular singers but also upcoming artists who possess great music and voice skills. Ads are prominent in SoundCloud and you need to upgrade to the paid version to remove ads and use offline music playing.
Related: Best Email Apps For iPhone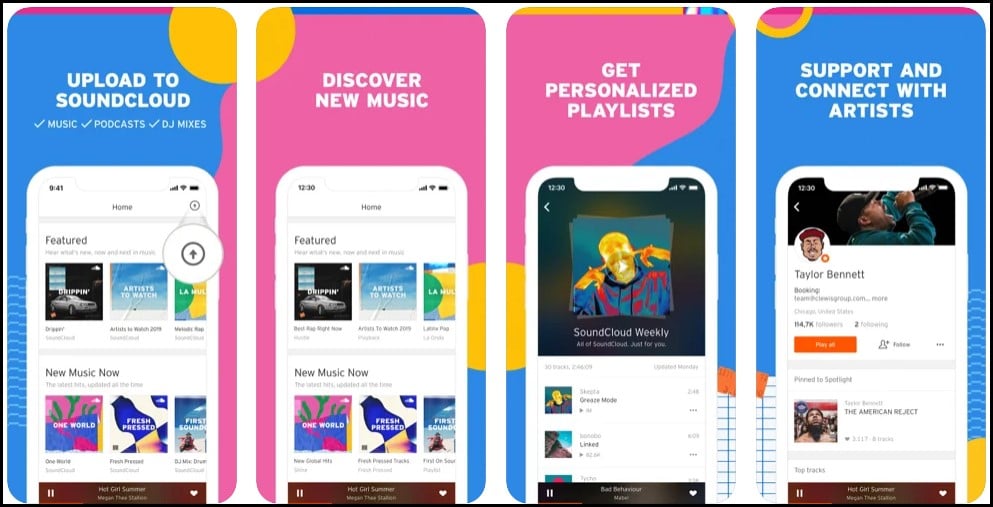 Standout features:
Over 120 million tracks
Easy to use
A vast collection of independent artists
Download this Best Free Music App for iPhone
---
Uforia primarily focuses on Latin music along with English music as well. If you are in search of a good music app that is free and has a good collection of Latin radio stations, Uforia is the best app for you. Navigation of Uforia is pretty easy and there are no additional features like offline download custom requests for a song. You can choose from the available list of over 65 radio stations, among which some are exclusive to Uforia.
You can sort stations by city, genre, language and can narrow down playlists that suit your mood. Ads are a common sight because it is a free-to-use music app but you will never fall short of options for radio stations. It also has a car mode that makes the app usable while driving, by enlarging the icons.
Related: Best Productivity Apps For iPhone
Standout Features:
Abundant Latin radio stations
Car mode
No purchase or add-ons
Download this Best Free Music App for iPhone
---
if you are tired of finding decent playlists on music apps, 8tracks can solve your problem by delivering more than 2 million curated playlists by artists and sponsors all over the world. Unlike the other best free music app for iPhone mentioned in our list, this one doesn't charge you a penny for accessing playlists.
It is a great app to explore Indie music labels and find hand-crafted playlists. It also ensures that there are minimal song repetitions across playlists. If you want to remove the ads and support independent artists, you can choose the premium version which also issues badges and permits using gifs to customize your playlists.
Related: Best Antivirus Apps For iPhone
Standout features:
2 million curated playlists
Indie music labels
Minimal song repetitions
Download this Best Free Music App for iPhone
---
Deezer is among the most reputed music apps with an ever-growing library that currently houses 73 million tracks. It offers a high-quality audio experience with HD sound, personalized playlists, and top-notch recommendations. The shuffle mode ensures that you do not encounter any repetitions while listening to a playlist and it also can help you identify tracks with the SoundCatcher feature.
Deezer's other useful features include song lyrics display, sleep timer function, social media sharing options, and customizable playlists. Listening to radio stations, audio channels, and podcasts is possible with this best music app for iPhone. If you want to get rid of the ads and experience superior sound quality, then opting for the premium tier is a must.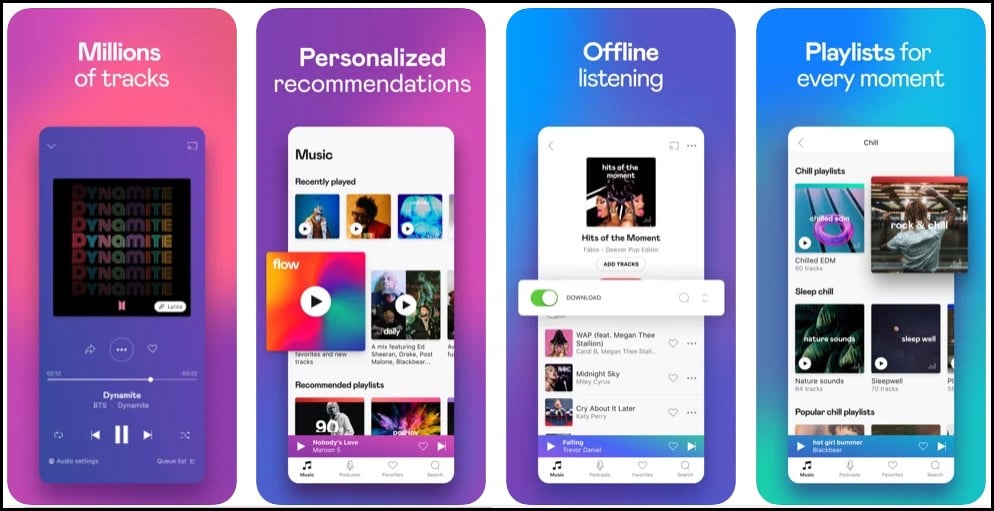 Standout Features:
Personalized playlists
73 million tracks
Radio stations and podcasts
Download this Best Free Music App for iPhone
---
Over the last decade, LiveXLive has been both an online broadcast network and a pioneering technology company specializing in live streaming. Users can choose their channels within each category of music genres as well as being able to provide commentary of what they are viewing in real-time.
LiveXLive also offers unique experiences such as watching sports with other fans and live video streams of festivals and concerts. It has a very simple user interface that's easy to navigate and use daily. On-demand access to millions of songs is possible with the subscription plan that removes ads, increases audio quality, and adds unlimited skips.
Related: Best language learning apps for iPhone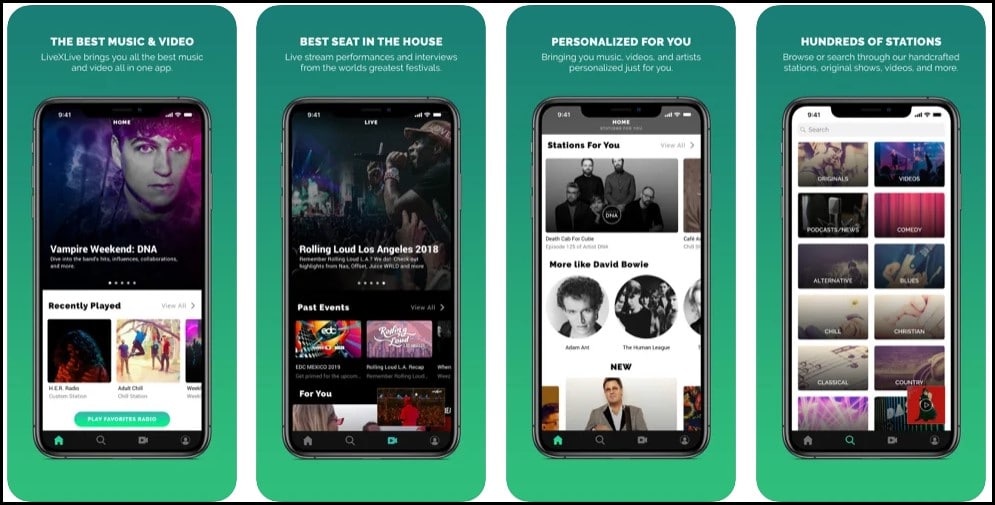 Standout Features:
Concert and festival live streams
Watching sports
Simple user interface
Download this Best Free Music App for iPhone
---
Wrapping Up
These were the best free music app for iPhone that let you listen to a huge library of the latest as well as popular releases without prying for a purchase. Spotify and Pandora lead the race with ample tracks, both old and new along with a powerful recommendation system and hundreds of playlists. For radio lovers, iTunes radio, LiveXLive are befitting choices.
Thank you for reading! Try these out too: