The famous relationship phrase," there is plenty of fish in the sea," is valid to some extent. However, finding the "plenty of fish" is a laborious endeavor and is becoming increasingly difficult. Thankfully, software developers jumped into the development of dating apps that made finding partners and future companions relatively more accessible than before. In the last decade, online dating has witnessed a surge in demand for seeking companions online. Finding a partner whose interests match yours is made super simple with the help of complex algorithms used by the best dating app for iPhone.
I won't delve into the details of how the best dating app for the iPhone works. This article will focus on helping you narrow down the best dating apps that you can use to find a befitting relationship partner.
Excited? So, Let's Get Started.
Benefits Best Dating App for iPhone
Faster: Dating via an app on your smartphone is as fast as it can get. You can find and initiate a conversation with the person who matches your interests and get a prompt reply.
Convenient: You can quickly scroll down from the list of persons that match your interests and can do this without having to meet anyone face-to-face. You can use the best dating app for iPhone to even find partners while slouching on the couch.
Safe: Modern dating apps have multiple security layers that protect your profile info, which only appears in search results for other verified people in the app. There is no room for scams and spammy messages that are a common sight on orthodox dating websites.
Best Dating App for iPhone 2021
---
Tinder – best dating app
Tinder needs no introduction, as it is a renowned dating application that has continued to stay on the top for the last 5 years. According to the latest reports, Tinder has matched up to 30 billion people so far and is the world's hottest dating app for a reason. Tinder has a record of matching more than 26 million people per day, and you can rest assured that it will match you with the right person.
Tinder presents a simple date-finding option that displays a catalog of images one by one. You can swipe right for liking a person and swipe left for passing a person. If the swiped right person likes you back, then it's a match. Tinder recently introduced a double opt-in feature so that two people only match when there is a mutual interest. There are also premium plans such as tinder Plus and tinder gold that allow you to use 5 Super likes per day, use boost, rewind, send unlimited likes, etc.
Related: Best Weather App for iPhone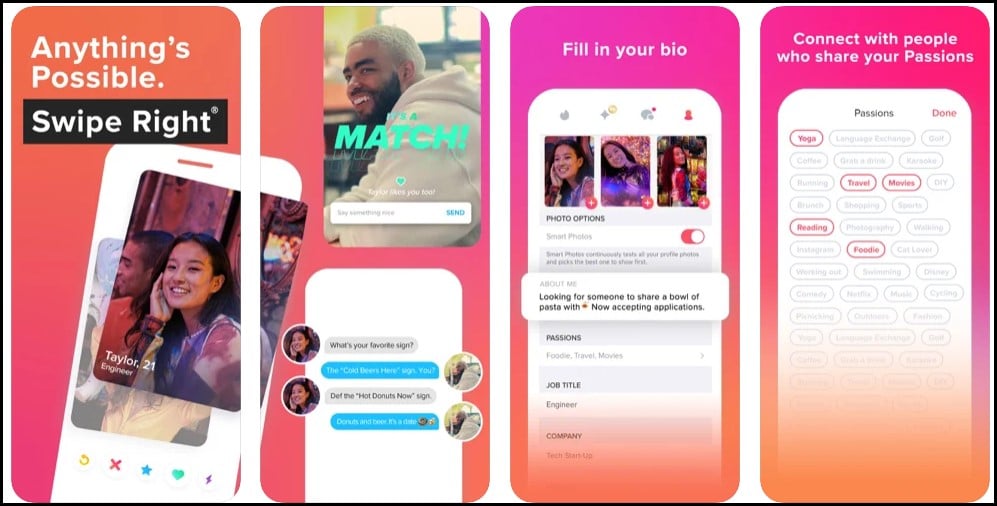 Standout features:
Double opt-in
Swipe right to send likes
Rewind
Download this Best Dating App for iPhone
---
Bumble – best dating app for free
Bumble is more than a dating app where you can find friends and make business connections as well. You can choose from the Bumble date mode, Bumble BFF mode, and Bumble Bizz mode. In terms of dating capabilities, Bumble provides the option for women to make the first move, and if the person responds within 24 hours, then the dating can begin. Otherwise, the connection expires, and you have to re-try again.
Bumble encourages users to shed their fear and introverted nature and approach a partner and make the first move. It is a free-to-use dating app that has optional subscription packages as well. You can choose from weekly, monthly, quarterly, and half-yearly subscriptions that give you additional benefits like spotlights and super swipes.
Related: Time Management Apps For iPhone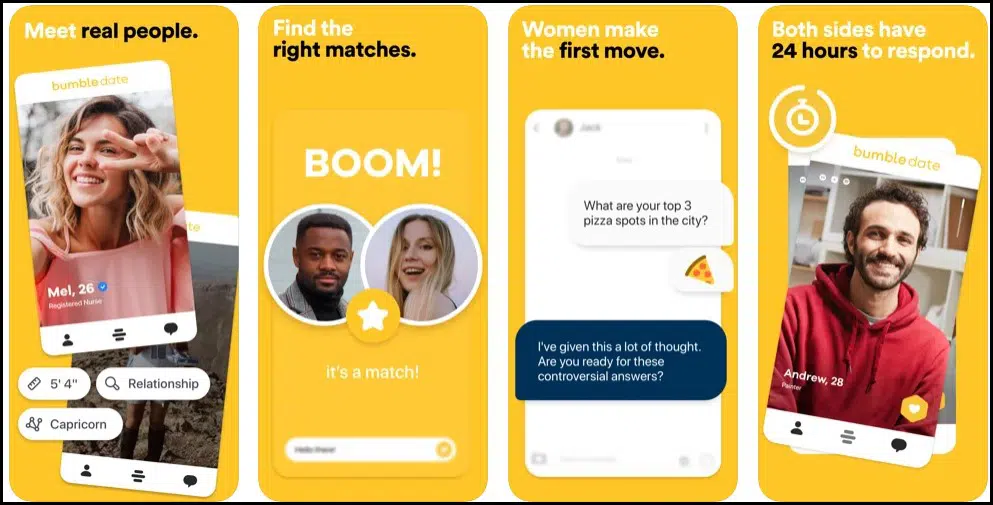 Standout features:
3 connection modes
24-hour response window
No ads
Download this Best Dating App for iPhone
---
OkCupid – best dating app 2021
OkCupid is the best dating app for singles that helps form better connections and find a compatible partner. This best dating app for iPhone doesn't confine itself to heterosexual matches and supports matching of all genders and sexuality. Unlike Tinder, it can be used by heterosexual people and the LGBTQ community people as well. This feature is a strong point of OkCupid that needs to be present in all the dating apps.
You can connect to local singles and chat using the inbuilt messaging system that is way better than sending likes. This dating app asks you unique questions to map your preferences and display relevant date results for you. You can meet single individuals who are nearby and plan a date night if it suits you. OkCupid is also free to use but has a premium subscription, which removes the ads from the app and presents you with advanced filters.
Related: Best iPhone Music Player App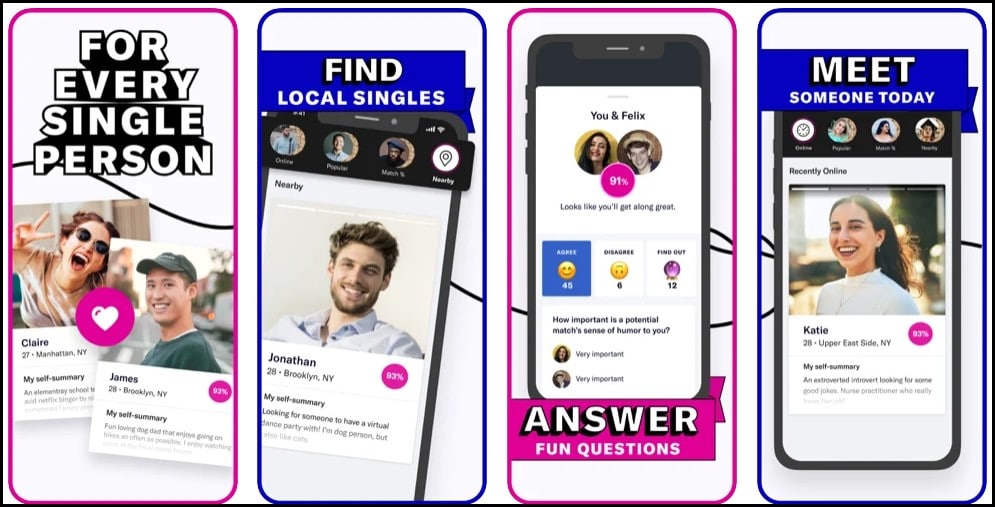 Standout features:
Supports date finding for LGBTQ users
Unique messaging system
Advanced filters with the premium subscription
Download this Best Dating App for iPhone
---
Coffee Meets Bagel is for individuals who are looking for a serious relationship rather than a meaningless fling. The app supports personalized matchmaking that sets you up with possible matches every day. It reduces your frequent swiping sessions as you get recommendations for people that match your interests. The app also supports virtual dates, making it possible to interact with your date match via online video dates. Virtual dates also help you learn more about the date and not meet them in person straight away.
Coffee Meets Bagel also has a suggested module that helps you find daily matches, or you can take control and explore profiles in the discover mode. The app has a premium subscription plan which allows you to read receipts, study activity reports, and avail of more than $50 worth of in-app items. Coffee Meets Bagel is the best dating app for iPhone that helps you find your perfect match while keeping your safety the priority.
Related: Best Scanning Apps For iPhone
Standout Features:
Read receipts
Study activity reports
Participate in online video dates
Download this Best Dating App for iPhone
---
Hinge – best dating app for over 40
Hinge is among the best dating app that wants you to get off dating apps for good. Surprising, right? Hinge aims to find your perfect partner so that you can get off the online dating scene and move on to real-world meetings and dates. 3 out of 4 times, a matched couple on hinge goes for a second date, and it is among the best dating app for singles yearning to find a lasting relationship.
Hinge tries to learn your preferences and your type to refine the potential date search results. You can comment on a specific section of someone's profile which acts as a conversation starter. If both parties find it beneficial and exchange numbers, then real-world dating begins. Hinge is the best dating app for iPhone that is free to use for all iOS users and provides advanced preferences setting for premium users.
Related: Best Podcast Apps For iPhone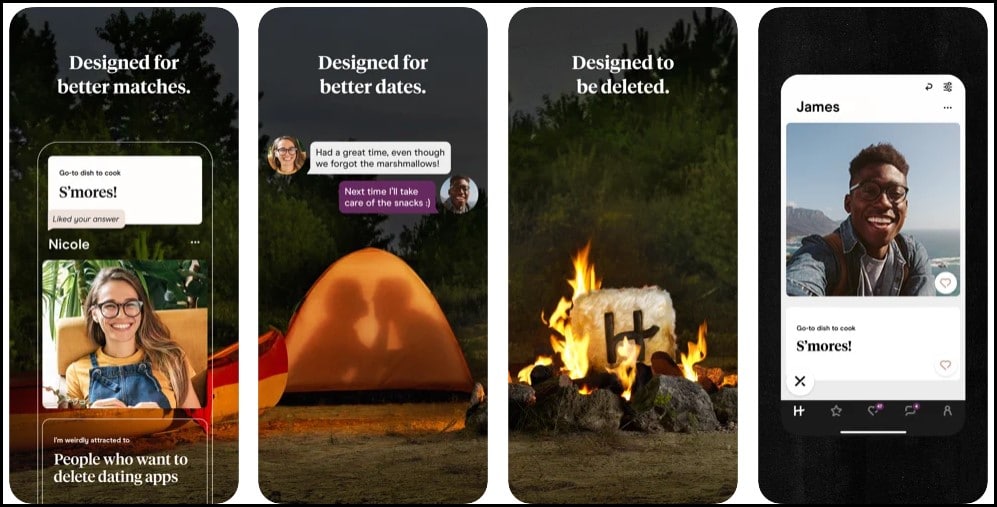 Standout features:
Comment on profiles
Initiate a conversation
Accurate profile suggestions
Download this Best Dating App for iPhone
---
Match – Best Dating App for iPhone
Match is relatively new in the dating apps section but comes with many useful features that help your online dating sessions be more accessible. Finding a match is relatively easy, but the app wants you to interact with potential partners rather than blatantly swiping left and right. It provides ice breakers to help you overcome the initial hurdle of making the first move. Match also has an in-depth search feature with filters to narrow down your future partners if you don't like the recommendations.
Rather than engaging in text messages, you can also use the in-app video call feature to conduct virtual dates and have a face-to-face conversation with your partner. If you cannot find a suitable match, you can ask a dating expert to help you find your first date. Match is free to use dating app for iPhone, but you can obtain boosts, top spots, and other nifty features by opting for the premium tier.
Related: Best Email Apps For iPhone
Standout features:
Date Check-in
Consult with dating experts
Virtual events
Download this Best Dating App for iPhone
---
eharmony – best dating app usa
eharmony has been around for almost two decades and is among the most reliable dating apps for iPhone. Using harmony is not a chore, and you can find matches after following a series of steps to understand your requirements. It starts with a compatibility quiz that collects your information to create a Personality Profile, an informative report about your character.
The app lists all the possible matches, and you do not have to search for relevant matches unless you need to manually. The list is updated automatically and informs you as soon as a new member matching your interests joins the platform. You can learn about the steps to initiate the first conversation with your partner and chat with them using the in-app messaging system. The virtual dates feature is introduced in the wake of the pandemic, and you can feel more connected by conversing via in-app video call. If you want more control over the searching matches, the premium version of eharmony has all the tools you need.
Related: Best Productivity Apps For iPhone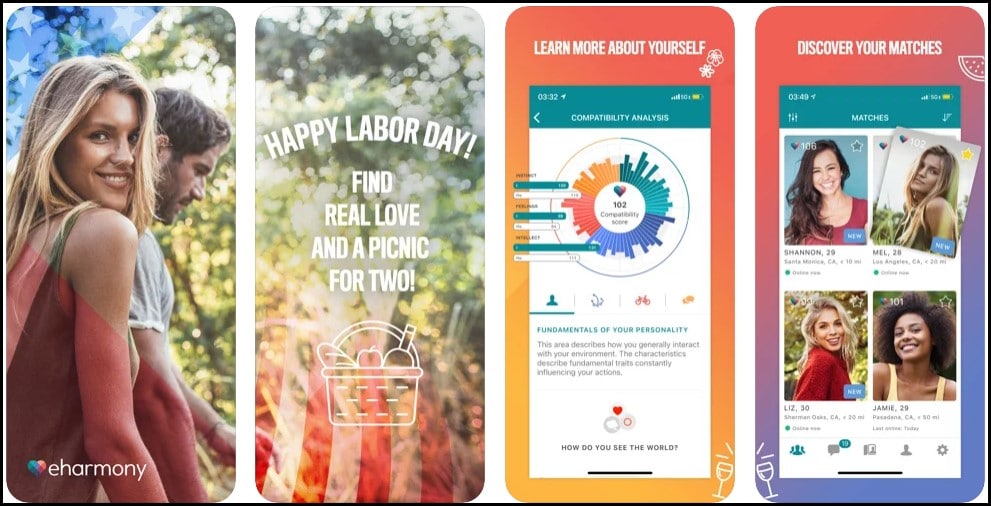 Standout features:
Maps your personality profile
Automatic matches
Virtual date support
Download this Best Dating App for iPhone
---
XO – best dating app for serious relationship
XO is among the best dating app for iPhone that tries to make online dating more interactive and does not limit it to liking a profile. You have to play a game to start a meaningful conversation with the matched person. The games are relatively simple and can help you unravel the personality of the person behind the profile picture. You can also take personality quizzes and see how much your interests are along with the matched person.
XO also comes with an inbuilt assistant, "Shasha," that guides you through the process of dating using this app. Sasha is an AI assistant, so you cannot expect precisely human answers for complex solutions. You can also set up a blind date for maintaining the surprise level and even invite a friend to double date. The premium feature of XO lets you see who liked your profile and permits you to send an unlimited number of likes. Plus, you can escape from ads that linger in the free version of the app.
Related: Best Antivirus Apps For iPhone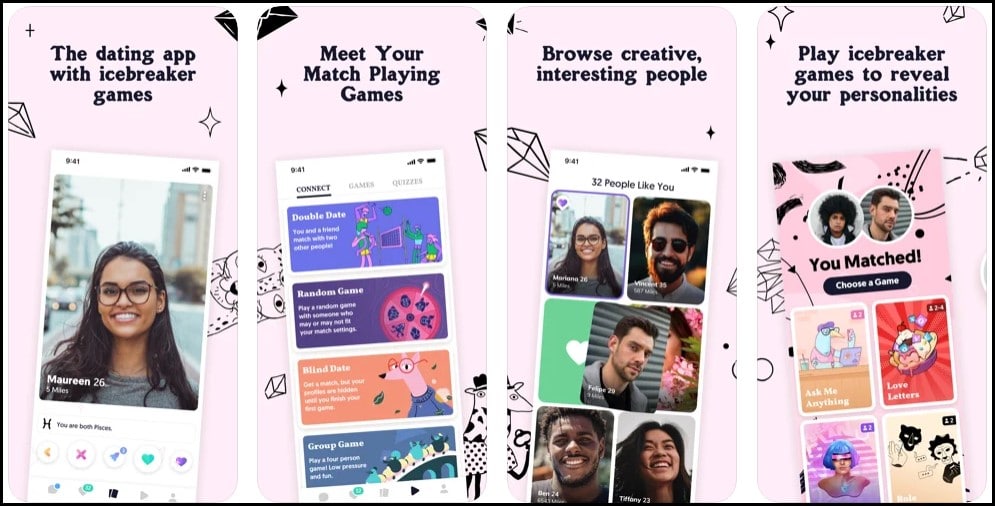 Standout features:
Set up a blind date
Play games to know more about the person
AI assistant
Download this Best Dating App for iPhone
---
Once – best dating app for over 50
Once is a dating app that removes excessive swiping, and profiles views out of the picture. As soon as you enter the app, you are asked to fill up a set of questions that shape up your profile. The app sends a new match every day based on your profile. After receiving a match, you have an acting window of 24 hours to initiate a connection and begin dating.
This best dating app for iPhone allows you to set your matching preferences and add fun questions to your profile. You will receive a new match daily and do not need to pay anything for that search result. The premium tier of Once allows you to learn more about people who like you and a few other features such as receiving 4 automatic matches daily. You can also select the maximum range of your matches not to be restricted to a particular area for matchmaking.
Standout Features:
Automatic matching
One match every day
Add recent photos and fun questions
Download this Best Dating App for iPhone
---
SwoonMe

– Best Dating App for iPhone
SwoonMe is a dating app that sheds reliance on photos for finding a match. You have to upload a single image that is converted into a cartoon version that hides your identity. The next step is to navigate through avatars and listening to audio clips uploaded by the avatar. If the voice and way of talking appeal to you, you can initiate a conversation via audio messages.
As the conversation moves forward, you can request the person to reveal an accurate picture of themselves. The approach might seem cumbersome as you cannot see someone unless you engage with them. But if you have enough patience and do not base your selection entirely on the photo of someone, SwoonMe is the perfect dating app for you.
Related: Best language learning apps for iPhone
Standout Features:
Audio conversations
No swiping matchmaking
Cool cartoon avatars
Download this Best Dating App for iPhone
---
Happn – Best Dating App for iPhone
Happn does matchmaking with the people you've crossed paths with, someone whose persona made your head turn. Just register on happn and see the other registered users who are in your location. You will know the time and location of when users crossed paths with you. happn does not allow you to connect with anyone directly and only allows a connection when the feeling is mutual.
Being a location-based dating app, it is suitable for single individuals looking to meet someone in their city. It doesn't have advanced search filter options like Tinder but allows you to send a "hi" along with a few other statistics in the paid version.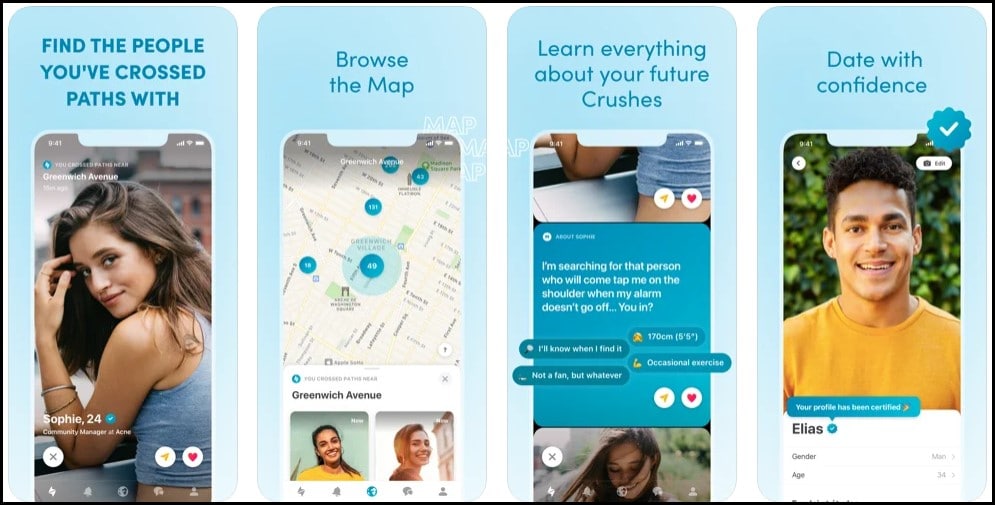 Standout Features:
Location-based matchmaking
Conversations begin only after mutual liking
Free to use
Download this Best Dating App for iPhone
---
Final Words
These were my list of the best dating app for iPhone that will help you find your perfect match without subjecting you to endless profile scrolling. Tinder is the best app in the game, but other options like Bumble and OkCupid are slowly catching up. My top recommendations for the best dating app for iPhone would be Bumble and OkCupid. If I have missed any dating app that you think deserves the spotlight, please mention it in the comments below.
Thank you for reading! Try these out too:
General FAQ
Are dating apps any good? 
Yes. Dating apps have evolved from essential apps with stored profiles to apps capable of powerful search and filtering that can find you your perfect match in an instant. 
Are dating apps safe? 
Yes. Modern dating apps like Tinder, OkCupid, Bumble, etc., put your safety on top priority and ensure that you do not disclose your confidential information. These dating apps also focus on verified profiles and suggest matchmaking only from those to keep you away from catfish scams.
Which is the best free dating app for iPhone? 
Dating apps have a free tier that has a Limited number of matchmaking and profile suggestions. But if you want to unlock the full features of a dating app like Tinder, or Bumble, you have to shell out some extra money.