Sleep plays a vital role in one's daily life. A sound sleep is necessary for a healthy lifestyle. Nowadays, people have stress which seldom affects their sleeping patterns. Also, people are stuck on their smartphones and stay awake late. To lead a healthy life and achieve sound sleep, here are some of the best sleep apps users can try.
These best sleep apps can be handy to achieve deep sleep and stay productive throughout the day. Without any further delay, let's jump into our list of the best sleep apps. Before getting started, let's look at some benefits best sleep apps offers.
Excited? So, Let's Get Started.
Benefits Of Best Sleep Apps
Achieve sound sleep: You can achieve sound sleep with these best sleep apps. Sleep apps have soothing sleep sounds that will help you fall asleep on time. The apps also offer guided meditation that will be handy in releasing stress and achieving a deep sleep when you go to bed.
Guided meditation: Meditation can be a handy practice that can help in achieving deep and sound sleep. The app offers guided meditation that you can practice daily. Meditation can also help achieve mental as well as physical well-being.
Improve focus and productivity: Once you are in a good state of mind, you can improve your focus and accomplish your targets on time. A proper sleep fills you with positive energy and helps you stay productive during the day.
Best Sleep Apps 2021
---
Headspace promises to minimize your stress and maximize your productivity. The app comprises guided meditation courses that will help you develop a healthy sleeping pattern. You can opt from the various sleep meditations available to sleep soundly after a stressful day. The app allows you to create an ideal atmosphere for sleep.
You can listen to the sleepcasts where you will be getting original stories coupled with relaxing sounds. Fitness freak can take help from the guided meditation that is handy in preparing your body for a peaceful sleep. You can also choose soothing music from the sleep music section of the app. Besides sleep management, Headspace can help you manage anxiety, stress, physical and mental health. The premium version of the app gives access to features like mini-meditation and Headspace library.
Related: Best Cryptocurrency Apps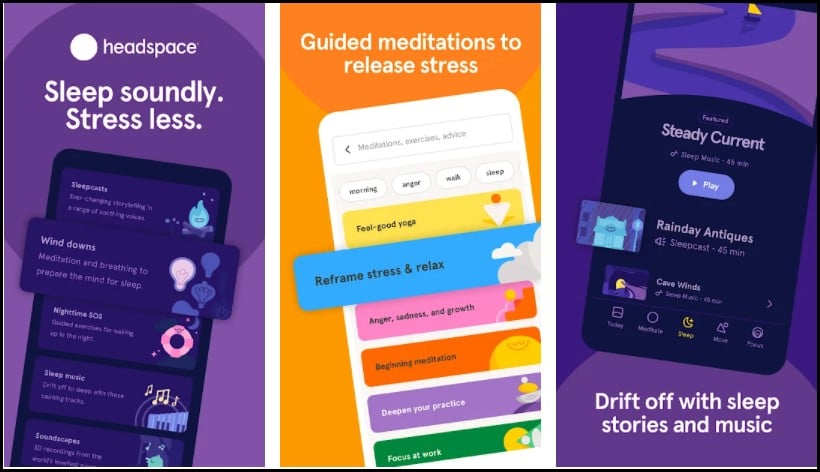 Standout Features:
Sleepcasts
Sleep music
Guided exercise for sleep
Meditation courses
---
Sleep Cycle – best sleep tracker app
Sleep Cycle app uses the scientific way that helps you achieve proper sleep, making it one of the best sleep apps. The app uses sound analysis or an accelerometer that can identify the sleep cycles. The Smart Alarm feature of the app gently wakes you up when you are in the light phase of your sleep.
Using the app frequently will help you achieve consistent sleeping patterns that ultimately improve your health. The app equips you with sleep data and reports that can help you analyze sleeping patterns. The app is available in more than 150 countries, and millions use it to improve their sleeping pattern.
Related: Best Journal Apps For Android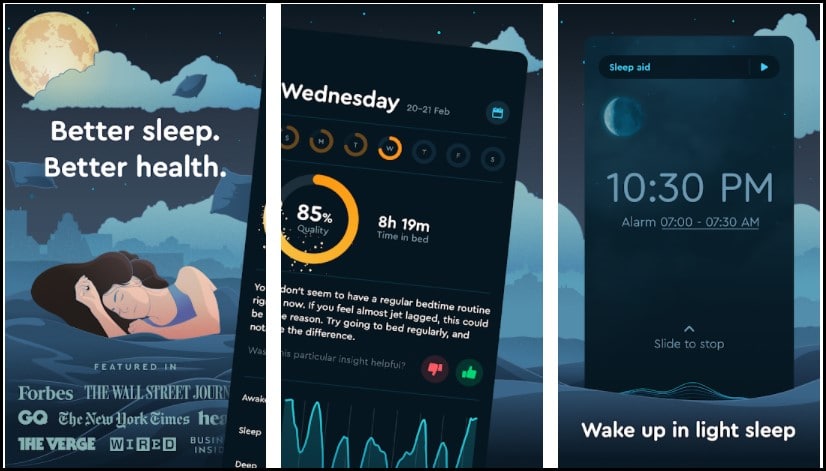 Standout Features:
Unique sleep tracking
Smart alarm
Accelerometer
---
Learn mindful meditation for better sleep with the Mindfulness.Com app. The app has video coaching and micro-practices that can help you release stress. You can learn from world-class coaches to start your journey. Guided sleep meditation and soundscape will help you attain a healthy sleeping pattern.
You can listen to talks, courses, and guided meditation sessions from the best coaches. Nature soothing sounds are the perfect companion when you are going to your bed for sleep. The UI of the app is user-friendly, making it one of the best sleep apps.
Related: Best Apps For Secret Texting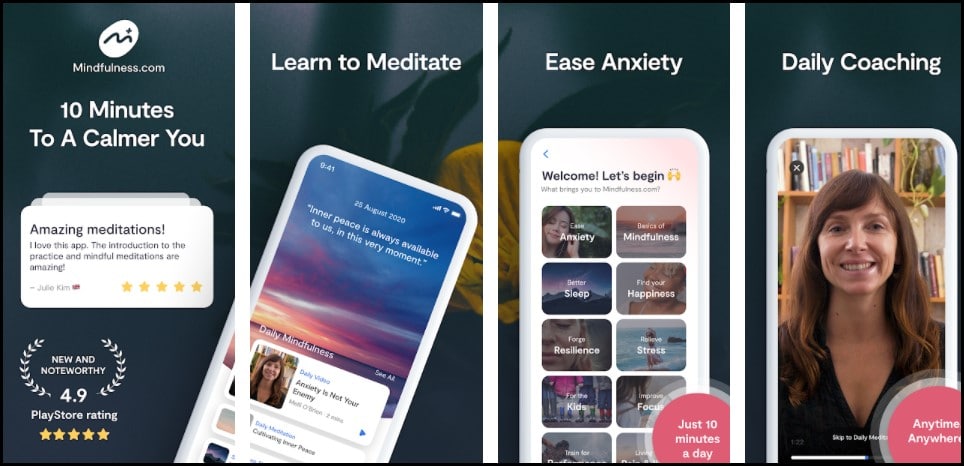 Standout Features:
Sleep meditation and soundscape
Nature soothing sound
World class-coaches
---
External noise and distractions often disturb your sleep. White Noise Lite app blocks all the external noise that can hamper your sleep. The app has 40+ looped sounds ranging across wide frequencies that block and cut the external noise. You can record and listen to new sounds that you think will be ideal in achieving sound sleep.
You can create new soundscapes by mixing multiple noises at a time to block the distractions. The app has an alarm and timer system that fades audio in and out according to your sleep phases. You also get a full-screen digital clock that keeps you aware of your sleeping time. You can navigate the sound collection with swipe gestures. This feature-loaded app has all the ingredients to make it one of the best sleep apps.
Related: Best Investment Apps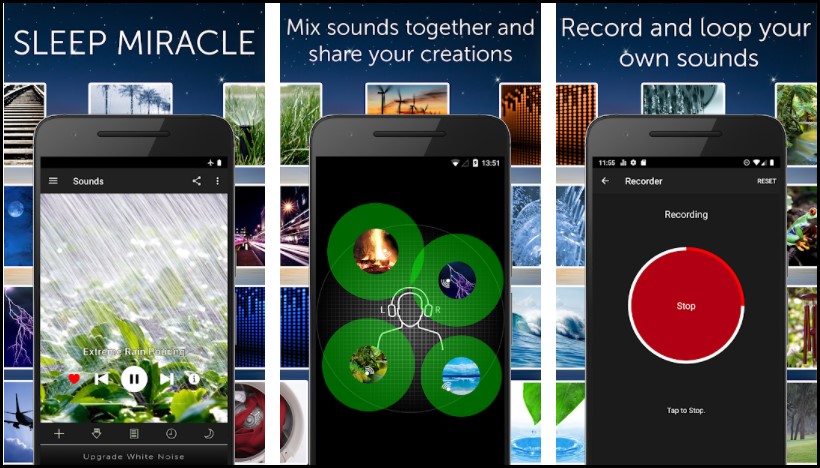 Standout Features:
40+ Looped sounds
Create new soundscapes
Timer system
---
Noisli

– best sleep meditation app
With the Noisli app, you can create ambient sounds to release stress before going to bed. You can mix different sounds and make tailored sounds to match your needs. The app offers the sound of rain, thunderstorm, water stream, relaxing waves, fans, rumbling trains, and more.
You can mix the nature sound, lay back, and fall asleep quickly with the Noisli app sounds. The app also offers offline sound, making it one of the best sleep apps. You get a timer with a fade-out function that can also be handy to achieve a consistent sleeping pattern.
Related: Best Keyboard Apps
Standout Features:
Mix nature sounds
Offline sound
Fade-out function
---
Calm

– best sleep tracking app
The calm app offers guided meditation sessions that are available in different duration. The meditation session starts from 3 min and ranges up to 25 minutes. These dedicated meditation programs will help you calm anxiety, break habits, improve self-esteem, improve focus and concentration, and so on. The feature which we liked about the app is a daily new 10 minutes program added to keep you hooked with new things.
The app has 100+ sleep stories for sound sleep, 30+ nature relaxing sounds to keep you focused and motivated, and breathing exercises to help you relax. Track your progress with daily streaks to keep yourself motivated. If you are looking for one of the best sleep apps, you can try your hands on the Calm app.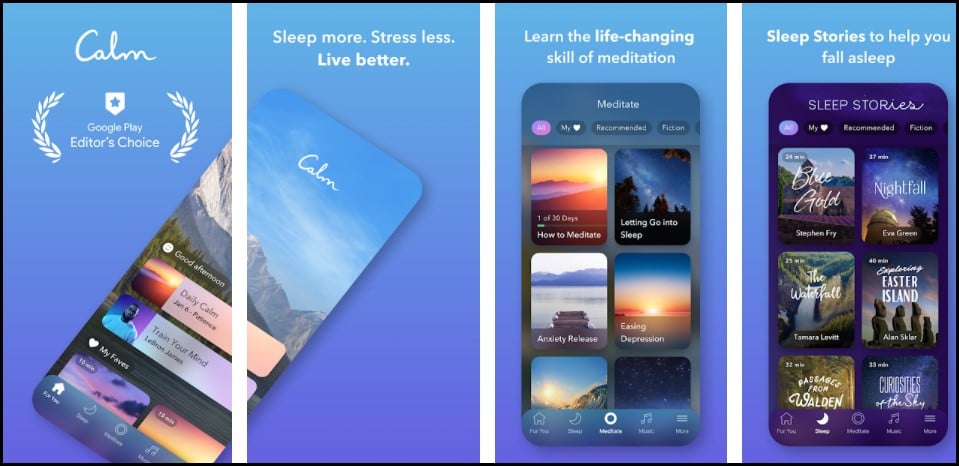 Standout Features:
100+ sleep stories
7 and 21 days meditation programs
Taught by world-renowned experts
---
Relax Melodies

– best sleep tracker app iphone
With over 50+ million downloads, Relax melodies offer content and techniques you can use to enhance the bedtime experience. The app offers Nature Sounds, Bedtime Stories, Brainwaves, Body-Mind Exercises, and Breathing Techniques to reduce stress and improve sleep quality. You get an audio library comprising white noise, water sound, and meditation music that will help you fall asleep quickly.
The app has 150+ meditations that can help you relax and slip into a deep slumber of sleep. You can overcome Insomnia, Night-Time Anxiety, and Tinnitus with the sleep meditation of Relax Melodies app. Meditation themes you will be getting in the app are Restful Sleep, Visualization, Gratitude, Deep Sleep, and Napping. Bedtime stories with soothing voices can also help drift to a deep sleep stage.
Besides this, you get Sleepmoves, a series of mind-body exercises to improve your mental state. With in-app purchases, you can get access to more exclusive features of the app.
Related: Best Unknown Android Apps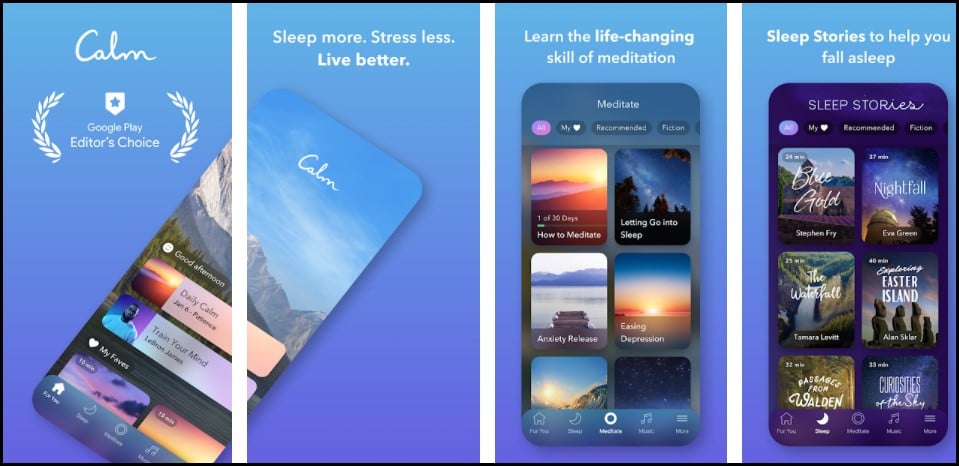 Standout Features:
150+ sleep meditations
Sleepmoves
Mind-body exercise
---
Pzizz

– best sleep app android
Pzizz comes with sleep-optimized music that can calm your mind and help you attain a deep sleep phase. The app has a sleep module and nap module that can be handy in specific conditions. In the sleep module, you can customize your bedtime experience. You can add a 3D voice to release all your stress during the day.
The energetic wake-up music of three and a half minutes will kickstart your day with positive energy. You can also customize your naps with tailored nap narrations and music. You can also opt for Focus Module to improve your focus and productivity at the workspace.
Related: Best Running Apps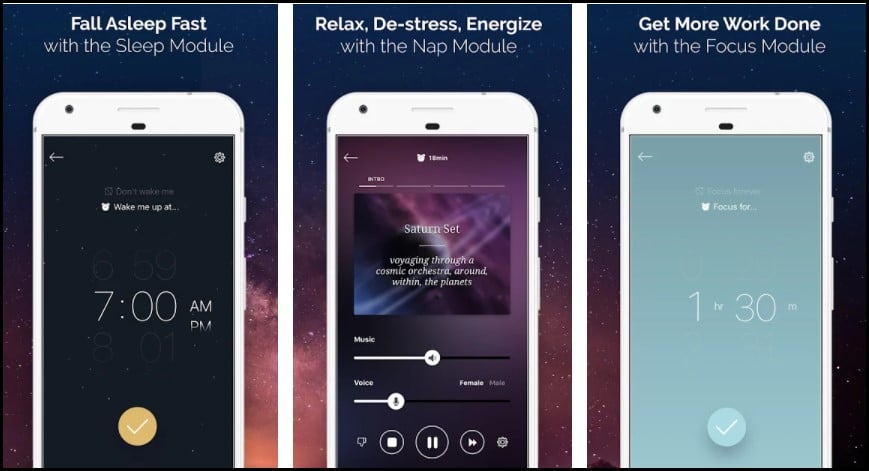 Standout Features:
Customizable sleep module
Track sleep and nap history
Focus module
---
Sleep sounds can help you improve mood, insomnia, and tinnitus, making it one of the best sleep apps to try out. You can create custom mixes and adjust the volume level according to your mood. You can play the sound mix in the background to quickly fall asleep on your bed.
Sleep sounds allow you to set a sleep timer where the sound mix will automatically stop. The high-quality soothing sound of the app makes it a perfect companion to improve your bedtime experience. The app has an intuitive and appealing design that makes it a standout app from its peers.
Related: Best News Apps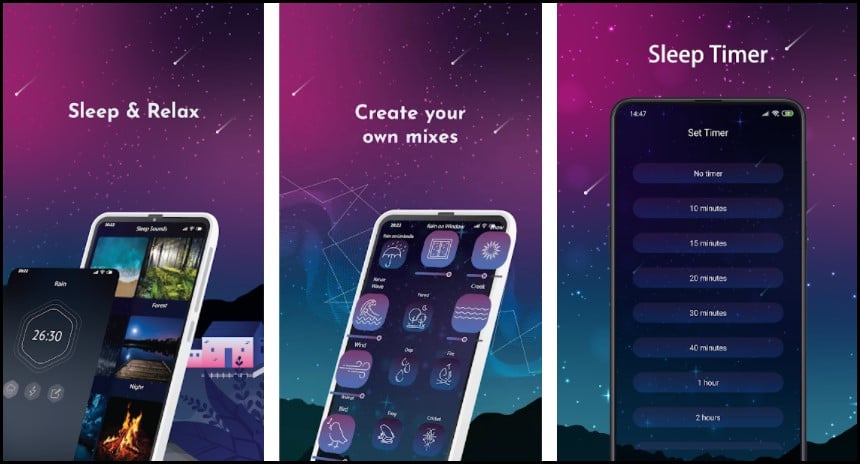 Standout Features:
High-quality sleep sounds
Create custom mix
Appealing design
---
Relax and Sleep Well app uses hypnotherapy with sounds at an accurate frequency to make you fall asleep in deep slumber. The app includes six free tracks with 29-minute hypnotherapy. The intriguing voice of the narrator sends a feeling of relaxation to your mind.
The background sound effects are good enough to transfer you into a state of hypnosis and slumber. You also get additional free tracks in the app to release anxiety and improve your inner wisdom. Stereo-echoed affirmations make it one of the best sleep apps on this list. You can create multiple playlists of your favorite tracks on the app.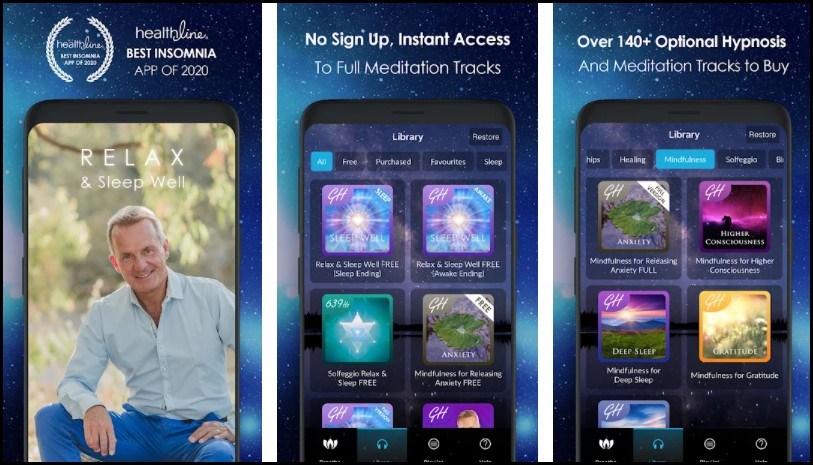 Standout Features:
29 Minute hypnotherapy track
Stereo-echoed affirmations
Create multiple playlists
---
Moshi

– sleep sounds app
Moshi has 85 hours of original audio stories, sleep sounds, meditations, white noise, and relaxing music, making it one of the best sleep apps. You get original sleepy stories every week to quickly fall asleep. 95% of the parents agreed that using the Moshi app gives them stress-free sleep.
Audio only soothing sleep sounds and white noise track makes your sleeping experience peaceful. You can use the loop function to play soothing sounds until you are in a deep sleep. You can explore a tailored playlist for different sleeping situations like nap time or bedtime. The meditation helps you improve mindfulness with positive emotions like kindness, gratitude, and positive thinking.
Related: Best Yoga Apps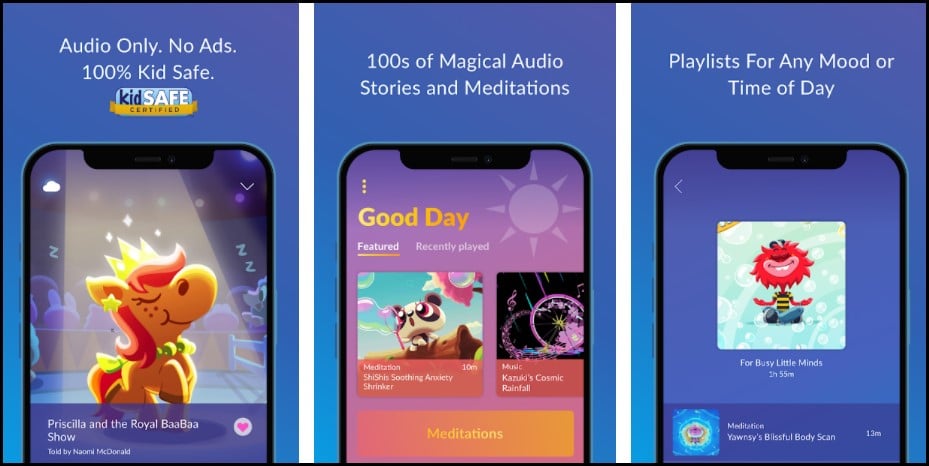 Standout Features:
Original sleepy stories
Loop and replay functions
Create personalized playlists
---
The name of the app is enough to make your day. Ten Percent Happier is the latter app on our list of best sleep apps you can try your hands on. A sound and deep sleep will keep you energized the whole day. A dedicated sleep section of the app will help you fall asleep quickly.
The app has a collection of more than 500 guided meditations ranging across different categories. The app has stress management meditation sessions, parenting sessions, and sessions to improve your focus. The app contains video and meditation combos that can help you kickstart your day.
Standout Features:
Dedicated sleep section
Stress management meditation session
500 Guided meditation
---
Final Words
We will be wrapping our list of the best sleep apps with the Ten Percent Happier app. We hope this list will be helpful if you are looking for consistent and healthy sleeping patterns. Headspace, Sleep Cycle, and Mindfulness.Com are some highly-rated apps we recommend to the users. Moshi and Sleep Sound app comprises high-quality soothing sleep sounds, due to which you can opt them from our list of the best sleep apps. Drop your comment and suggestions that can help us improve.
Thank you for reading! Try these out too:
General FAQ
Do sleep apps really work?
Yes, sleep apps are designed keeping in mind the sleep requirements of the users. Studies have also suggested that sleep apps have helped users to improve their sleep quality and improve sleeping patterns.
How do sleep apps measure the quality of sleep?
Sleep apps have an accelerometer that is used to quantify the quality of your sleep. The accelerometer records your movement while you are asleep and extracts useful data for analytical purposes.
Which apps have the best sleepy sounds?
Relax and Sleep Well
Sleepy Sounds
Moshi