There is no shortage of useful Android applications for multiple Android devices. Android users enjoy easy access to a lot of useful applications via the primary application repository of the Google Play Store. But some best unknown Android apps aren't available on the store despite offering a great feature set. Even if they are available, they do not appear in most recommendation categories.
Google Play Store is the one-stop-shop for the best Android apps but due to its cumbersome approval process and stern policy, many great apps get sidelined and remain unknown to Android users. I have searched for these best unknown Android apps, and have compiled a list of useful apps that deserve the spotlight.
Excited? So, Let's Get Started.
Best Unknown Android Apps
---
Antistalker
Ever since the internet has become more accessible, the dark side has also seen a massive rise, thus putting you at risk of potential data theft or privacy evasion at the hands of hackers and stalkers. Luckily, there are two sides to a coin, and applications such as Antistalker can provide a huge relief. The app is created by three women that hold a Ph.D. with one purpose that is to protect the user's privacy. Sometimes we often download files and download unconsciously from the internet that contains malware or viruses that provide access to stalkers.
As the name suggests Antistalker ensures privacy protection, preventing anyone from breaking into your device. The application operates quietly in the background when it's installed as it sends a notification when an app uses the microphone or device camera. It is the only application that provides a real-time estimate of the apps that have accessed your microphone or camera along with the duration they have used it for, which makes it convenient for you to track it. The detection will allow you to react quickly; thus, the stalker has little to no power over your privacy. You can also add applications to the Whitelist. When they become part of the exception list, the trusted apps will prevent unnecessary blocking of access to the camera and microphone, thus saving you the hassle.
Now when Antistalker detects microphone or camera usage, it provides you with two choices. You can either swipe left on the possible detection or add the app to your whitelist, making it a trusted application. On the other hand, you can report it and allow the app to block it every time it tries to access them. You can also customize the notification as you like to ensure that you end up having your phone beeping all the time.
Another significant feature of the app is its user interface. It's designed to provide accessibility which allows you to benefit from the features without indulging in any complex operations. The app contains all the features on the home screen, such ON or OFF button, the monitoring console, monitoring settings, Permission manager, data monitoring, and mute microphone which makes it easier to access anyone of them. It's also one of the few privacy apps out there that do not collect data. Antistalker is also more reliable and effective than the new privacy features introduced in Android 12 since its secret detection technology isn't available in the regular safety features of the software.
Download This Best Unknown Android App
---
Mr.TV – Best TV Streaming App
Mr.TV is a free streaming app based on IPTV protocol that lets you watch all the TV channels live, on your Android devices. This best unknown android app is free to use and comes with negligible ad placement to let you consume video content without any disturbance. All the latest TV shows, the latest Bollywood and Hollywood movies, and even old movies are available for streaming. If you are on a metered connection and cannot stream currently, you can download the content to your device to watch it later.
Mr.TV constitutes a navigable user interface that quickly lets you find your favorite movies, tv shows, and live TV channels. There is also a dark mode option for users to change between bright and dark themes, to comfortably watch shows and films at night. There are no subscription tiers or one-time payments to install Mr.Tv. If you need to stream your favorite TV channels and watch live shows, this is the best app for you.
Related: Best Hotel Apps For Android & iOS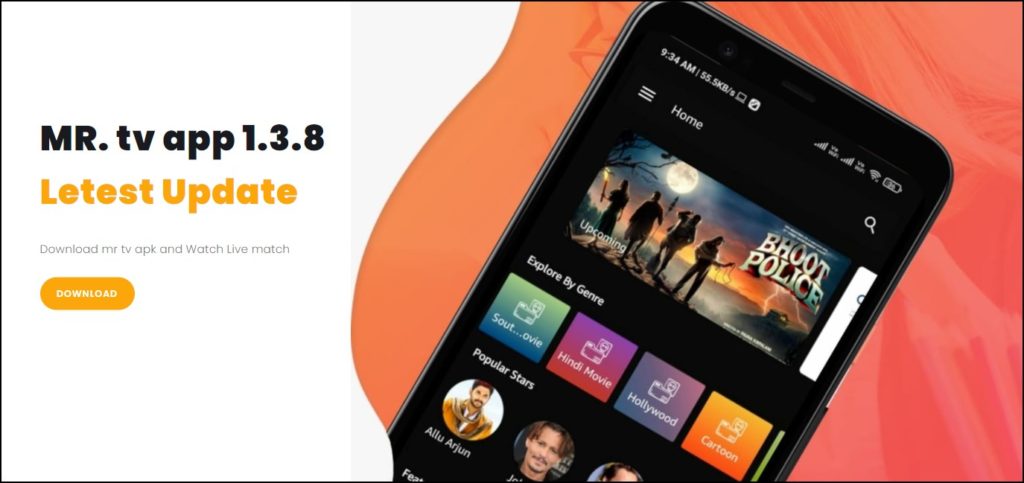 Download This Best Unknown Android App
---
Crunchyroll is among the best unknown android apps which have been the top anime streaming app for over a decade now. It is also available on the play store and offers more than 1000 anime titles to choose from. Apart from popular anime series such as One Piece, Naruto, Boruto, Hunter X Hunter, the latest anime titles such as Dr. Stone, Tower of God are also available to stream
The free tier of Crunchyroll has intense ad placement that can be bothersome while watching your favorite anime titles. Content availability is not an issue on this best anime streaming app, but the ads are a bit too much. You can opt for the premium plan to remove every advertisement and get instant access to streaming the episode after it releases in Japan. There is also a feature for offline viewing along with the ability to stream on six devices at once. Crunchyroll offers a free 14 days trial of its premium tier, so you can easily judge if the app is worth your money.
Related: Best Fasting Apps For Android
Download This Best Unknown Android App
---
SuperFreezZ

– best productivity app
If you are annoyed with the background process running on your Android smartphone, then SuperFreezZ can effectively stop all background activities with a single click. The app automatically freezes all apps that have not been used for more than a week on YOUR Android smartphone. It even provides the option to freeze all background activities as soon as your display is turned off. On top of that, it even has the option to freeze itself, when not in use. You can easily whitelist apps that you don't want to freeze and adding or removing apps from the list is quite easy.
SuperFreezZ is among the best unknown android apps that are completely open-source and free software that does not charge you for using it. Neither does it have persistent ads, that pop up every time you open the app. If you use SuperFreezZ, it will take up to 3 seconds to de-freeze the apps and get them running. Thus, you have granular control over apps and background activities and can save a lot of battery by disabling the unused apps.
Related: Best Budgeting App For Android & iPhone
Download This Best Unknown Android App
---
Midori Browser is a lightweight browser for Android devices that comes with an inbuilt adblocker. Most mobile browsers cannot block advertisements but the Midori browser can block ads, and also the trackers placed by any website that you visit. Midori Browser can be customized as per your preference and supports changing the color scheme, moving the navigation bar, adding removing bookmarks, and many more such features.
Midori Browser is one of the best unknown Android apps that deserve more recognition for its seamless browsing experience and rich feature set, that lets you browse the internet in peace. It is free to use and comes with private browsing features to maintain your anonymity on the internet. Midori Browser is completely open-source and if you are a developer you can contribute the words improving the app experience.
Related: Best Meal Planning Apps
Download This Best Unknown Android App
---
XClipper

– best clipper app
XClipper is a clipboard application that lets you view your clipboard history, especially if you need to access the previously copied text. It is among the best unknown Android apps that let you find a workaround to enable the clipboard monitoring service.
Apart from accessing your clipboard history, the app lets you sync your Android and Windows clipboard. You can also shorten links using a tiny URL and directly text a number without adding it to your contacts list. The app lets you share clipboard history and also export it to Google drive.
Related: Best Translation Apps
Download This Best Unknown Android App
---
Stealth – best Reddit Alternative
If you love using credit on a frequent basis and are annoyed by the pop-ups in the official Reddit app, Stealth can help you to navigate credit in the best possible way. Unlike the official Reddit app that forces you to sign in every time you are viewing a feed, Stealth requires no sign-in at all.
The user interface is far better than the original Reddit app and features a much cleaner app layout with slightly purple color accents. You can even apply an NSFW filter and it can stop spoilers from playing automatically. It even has dark theme support but the app looks best if you use it on default theme mode.
Related: Best Forex Trading Apps For Android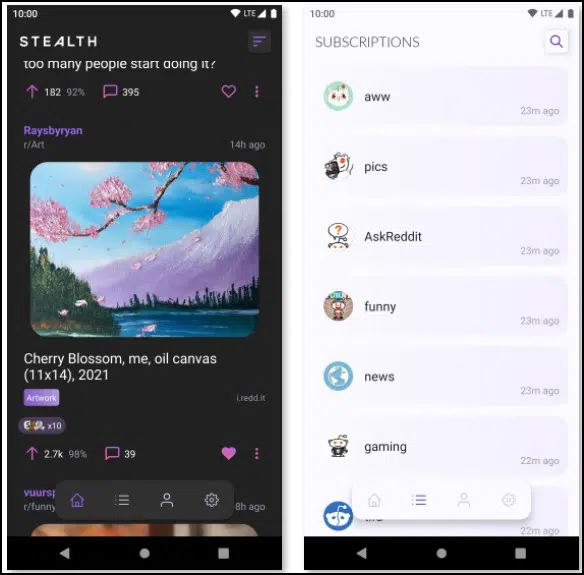 Download This Best Unknown Android App
---
Momix

– Best free movie App
Momix is one of the best unknown Android apps that is a mother lode of streaming videos, movies, and TV shows. The application has a small storage footprint as it is a streaming application but you can also choose to download your favorites. It requires an upfront registration and access to your storage before you can enter the application. The registration is clumsy sometimes but once you are logged in, there are no issues after that.
Momix is among the few best unknown Android apps that offer categories based on streaming networks, languages, and genre. The application's layout is super convenient to choose from trending movies and TV shows. Momix provides you with the option to browse what different streaming services have to offer and also allows sorting by genre. The search function is super detailed and allows you to refine your search by filtering release years, category and more relevant filters.
There are four sections, namely Home, Movies, Series, and My list. My list is a section where you can mark your favorites to watch later. Just click the favorite icon and the movie or series will be added to your list. When you click on a title, you get the description and its playback time among other useful details. The video playback is decent and is capped at 720 HD resolution. There is no option for 1080 pixels playback as it is a free application that charges nothing for the content.
Keep in mind that Momix is one of the best unknown Android apps that provide free content but it is not licensee to display any of it. The application is safe to install and doesn't need any undue permissions. It also has a dedicated reporting feature to lodge your complaint with the application developer.
Related: Best News Apps
Standout Features
Sort by genre, network, and language
Lightweight
Simple user interface with reporting feature
Download This Best Unknown Android App
---
Vectorify da Home is among the best unknown Android apps that are on Google Play Store but still lack the attention it deserves. Unlike traditional wallpaper applications, Vectorify da Home presents you with the option to construct your wallpapers using vector graphics. It is simply awesome and is best suited for users that are tired of the wallpaper repetitions.
The application directly presents you with a category, with a vector image. You can change the vector graphics and the background color at this stage. There are some recommendations for color combinations below that you can choose. Vectorify da Home has a lot of categories of vector graphics to choose from. I liked the nerdy and tech category but you have many other options as well. Once you are done with the vector coloring, click on the large tick button to move to the next stage.
Here, you can preview your creation, shift the vector in any direction, increase or decrease its size and even preview it. The application provides the option to save these wallpapers to your gallery and use them. Currently, there are over 400 plus vector graphics available and the developer is working on increasing the catalog. Vectorify da Home is therefore one of the best unknown Android apps that is teeny tiny in size.
Related: Best Keyboard Apps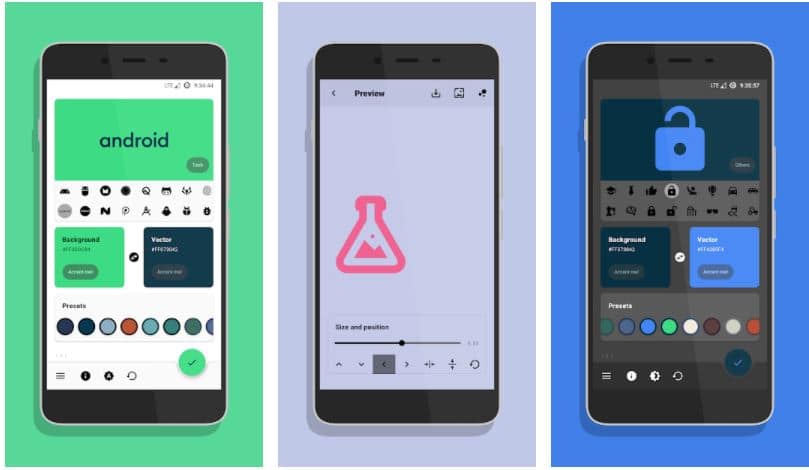 Standout Features
400 plus Vector graphics
Preview your wallpaper
No advertisements
Download This Best Unknown Android App
---
Photok – Best Gallery App
Photok acts as your photo vault to secure your personal photos from unauthorized access, sharing, and copying. Despite being available on the Play Store, it is one of the best unknown Android apps that needs a dedicated user base. The app itself is pretty simple. You just have to import the photos that you want to store in the application and encrypt them.
The application uses the AES-256 bit encryption standard to encrypt the images and is unbreakable. The encrypted photos are only accessible by opening the application and can be viewed inside the application itself. The application requires you to create a strong password that prevents unauthorized access by any other person using your phone. It also has an option to create and restore backups so that you can safely create a backup for your other devices as well.
Related: Best Investment Apps
Standout Features
AES-256 bit encryption
Photo vault
Backup and restore
Download This Best Unknown Android App
---
Infinity for Reddit is an Android application that simplifies the clutter present in Reddit. It is a passion project by the developer to provide a clean Reddit browsing experience for the readers. Infinity for Reddit is one of the best unknown Android apps that is a refined version of Reddit that provides more control to the user.
The application support for dark theme and presents three sections that display your subscriptions, popular posts, and all of the posts until now. You can register or even browse anonymously without ever worrying about forced sign-ups. It comes with filters to sort the posts by category that includes hit, new, rising, top, and controversial. Also, there is a lazy mode option that scrolls the feed after 2.5 seconds.
Infinity for Reddit has an NSFW and spoiler feature that ignores all the posts containing such content. You even get the option to change post layout to simply text and gallery mode. This is one of the best unknown Android apps that come with well-thought features that actually make browsing through Reddit posts easy.
Related: Best Dropbox Alternative Apps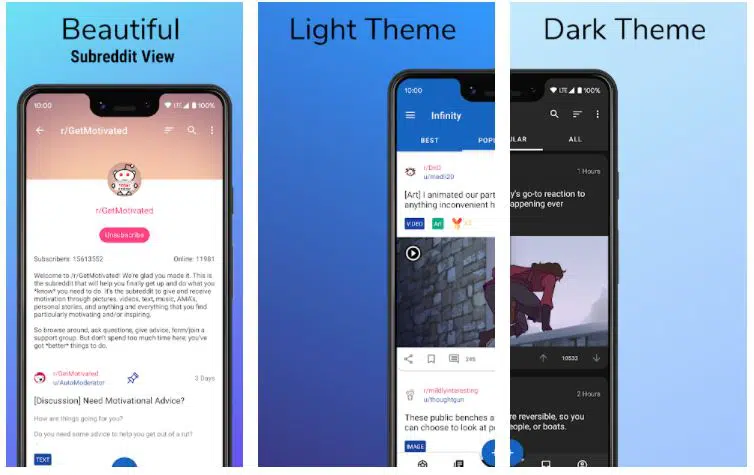 Standout Features
NSFW and spoiler filter
Changeable Layout
Lazy mode
Download This Best Unknown Android App
---
Tsacdop – Best Free Podcast App
Tsacdop is a simple and elegant Android app that is unknown to most podcast lovers. The application is entirely free with zero ad placement and microtransactions. It supports accent-colored themes to make it more comfortable for your eyes. Tsacdop is surely among the best unknown Android apps that are slowly becoming popular among avid podcast lovers.
Tsacdop allows you to create a sleep timer, and manage podcast groups. It also has playlist support that has auto-syncing in the background. There is a podcast download feature that also contains auto-download and deletes podcasts from your device. Moreover, the application lets you skip the bits that have no audio and also alters the playback speed if the narration is slow as per your standards. The latest update has reduced the memory utilization of the app so it can easily run on Android devices with minimal resources.
Related: Best Ridesharing Apps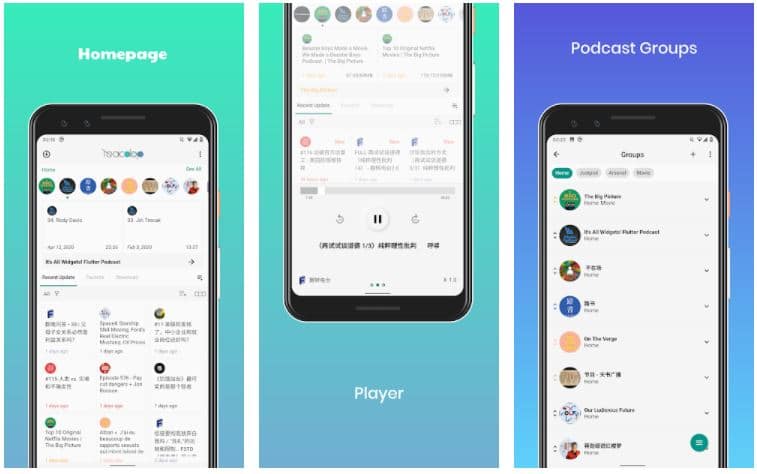 Standout Features
Skip silent parts
Boost the volume
Change playback speed
No advertisements
Download This Best Unknown Android App
---
Everybody loves gifs. The usage of gifs to convey messages has increased on social media platforms. Gif Live Wallpaper is among the best unknown Android apps that allow you to set your favorite gif as a live wallpaper on your Android device. Even the conversion of the gif into a love wallpaper is very easy. You just have to select the gif inside the application and then just resize the live wallpaper as per your preference.
This application is fully open-source and doesn't charge a penny for its services. Currently, I did not encounter any advertisements which is also a major step for a free application. You do not need to root your Android device to use this live wallpaper application. To save the battery drain, the application stops the gif playback when the device is turned off. It still needs some fine-tuning but for a free app, it is admissible.
Related: Best Apps For Secret Texting
Standout Features
Power saver mode
Easy conversion
Small application size
Download This Best Unknown Android App
---
Omega Launcher takes a lot of inspiration from the LawnChair launcher and retains most of the best features. This launcher is perfect to help you customize your home screen, app drawer and even hide applications on your Android device. Omega Launcher supports changing search engines for the search bar. If you like anything other than Google, setting it as the default search engine is easy.
This launcher has five sorting modes for the applications in the app drawer. You can also pin the Google news feed services to stay updated. Omega Launcher supports a variety of icon shapes that can be toggled from the icon settings. There are a few inbuilt themes as well that can also change the notification shade and color.
Omega Launcher supports dash settings which are quick action shortcuts to perform mapped functions. Hiding applications are also easy and you get a variety of gestures to choose from. The gestures can pose a problem in older Android devices but slowly the updates are fixing these minor issues. All these attributes make Omega Launcher one of the best unknown Android apps hidden from many users.
Related: Best Journal Apps For Android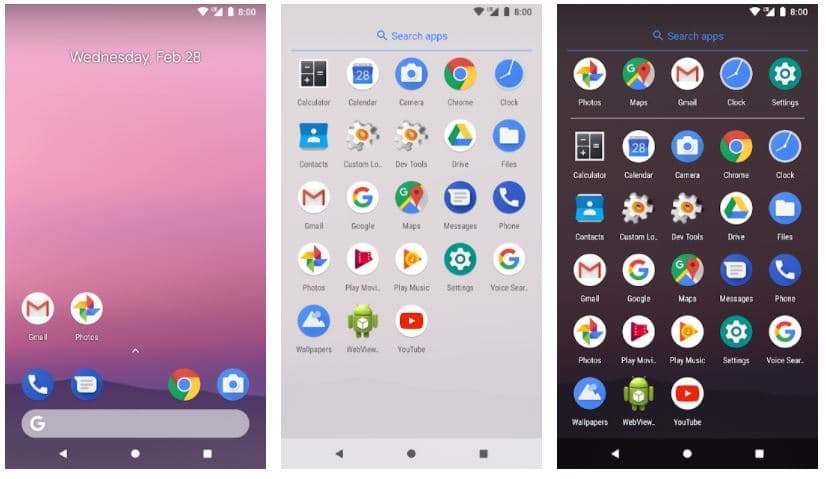 Standout Features
Gesture support
Icon resizing and reshaping
Quick action settings
Customizable search engine
Download This Best Unknown Android App
---
Google implements a lot of trackers into the Android operating system. After that, you have the custom ROMs and all other applications that slowly monitor your every activity in the background. To curb this blatant misuse of personal information, you can use Tracker Control. It is among the best unknown Android apps that can effectively stop each application from tracking you.
Tracker Control has an inbuilt directory of more than 2 million applications that implement hidden tracking into the Android device. You can let the application block tracking for you or you can set custom preferences about select apps. Tracker Control is an attempt to help raise awareness about the privacy and misuse of data by many applications. There is also a feature to request your personal data stored on their servers.
Related: Best Vocabulary Apps
Standout Features
Effective ad-blocking
Granular control
Easily find troublesome applications
Download This Best Unknown Android App
---
Blue Line Console is a simple keyboard-based launcher application that finds apps using text queries. It saves your time spent scrolling through the vast app library and also is more accurate than the search bar found in Android launchers. This app doesn't have anything else to offer except precise search results.
Blue Line Console facilitates themes and drag and resizes options after the latest update. It also understands more languages than it could do in previous builds. You can input the following name types and commands-
Part of application name (e.g. Blue Line Console)
Part of package name (e.g. net.nhiroki.bluelineconsole)
URL
Calculation formula (e.g. 2 3*5)
Available commands:
help
config
date
bing QUERY
duckduckgo QUERY
google QUERY
Wikipedia QUERY
yahoo QUERY
ping HOST
ping6 HOST
Related: Best Cryptocurrency Apps
Standout Features
Precise search results
Less than 1 MB storage requirement
Supports input in multiple languages
Download This Best Unknown Android App
---
Circo – Best Free Icon Pack
Circo is one of the best unknown Android apps that is essentially an icon pack with high-resolution icons. It has over 500 vector icons that can easily be applied to all the major app icons. The icon pack is entirely free and does not support base system launchers such as pixel launchers and other Android skin launchers.
Circo icon uses masking and backing techniques to provide icons for apps not found in its collection. The resulting icons easily blend in with the rest of the apps. The icon pack also has a huge collection of alternate icons that you can apply. It is available on the Play Store free of cost and does not contain any advertising.
Related: Best Weather Apps For Android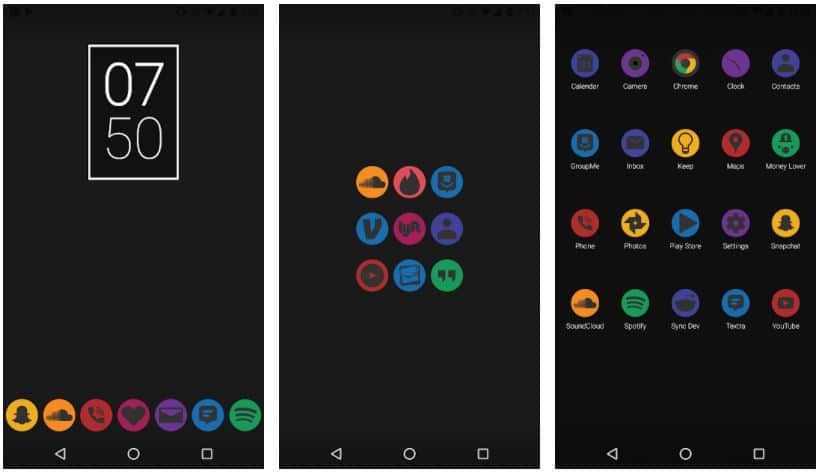 Standout Features
High-quality icons
Alternative icon set
Supports most Android launchers
Download This Best Unknown Android App
---
BootBoi – Best Productivity App
BootBoi is an Android app designed to help remotely access all your devices on a network. It is a simple application that relies on SSH and the Wakes on Lan feature to turn the device on and off and also access it via your mobile device. There is a lot of configuration required in your computer and other devices before you can begin using it remotely with BootBoi.
This is one of the best unknown Android apps that can quickly let you access a file that you left on the home computer. Also, you can keep tabs on the system especially while a download or installation is in progress. BootBoi has a minimalistic user interface that doesn't entertain any kind of advertising or a premium pricing tier.
Related: Best Running Apps
Standout Features
Easily access your devices
Secure connection
Clean user interface with no ads
Download This Best Unknown Android App
---
Blokada

– Best Ad Blocker App
Blokada is one of the most useful apps, which is not available on the Google Play Store. The app is a free and open-source Ad-blocker compatible with both Android and iOS devices. The app is easy to operate, as it does not have a complex matrix. All you need to do is to open Blokada, and you are good to go. Not only the browser but the app blocks ad across all the installed apps on your phone that will save the user's mobile data.
Standout Features:
No rooting or Jailbreak
Compatible with iOS and Android
Open-source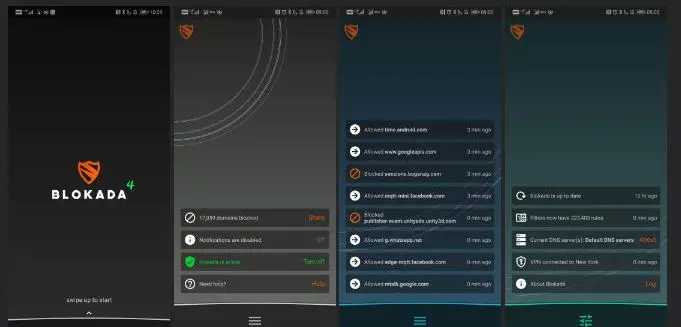 Download This Best Unknown Android App
---
Final Words
As you can see, there is no dearth of the best unknown Android apps that are equally good but not popular. My list is an attempt to cover at least a few of them that can help you make your Android experience better. Most of the applications mentioned above are absolutely free and do not contain forced advertising and subscription modules.
Thank you for reading! Try these out too:
General FAQ
What are the most unique apps for Android?
Momix, BootBoi, and Gif Live Wallpaper are some unique android apps mentioned in our list of the best unknown Android apps.
Are paid applications better?
No. It depends entirely on the developer and his revenue model. Paid applications just unlock a few more features that are available to a freemium user.