Stock market trading and investment have witnessed a huge surge in the number of traders. To facilitate seamless stock market trading regardless of whatever device you are using, there are several stock-trading apps available for iPhone. Using these stock trading apps for iPhone you can easily buy and sell your favorite stocks without calling your broker or visiting the website. I have rounded the best stock trading apps for iPhone that can make trading on the go an easy task.
Excited? So, Let's Get Started.
Benefits of Best Stock Trading Apps for iPhone
Convenient: Stock trading apps are super convenient to use and do not require a dedicated setup like a desktop or a tv screen to monitor stocks. You can easily make great decisions and obtain detailed info from these apps.
Fast transactions: Using stock trading apps, it is possible to do swift stop trading and fast transactions. Mobile trading platforms ensure that you can buy or sell your favorite stock in one go.
Secure: Stock trading apps for iPhone are completely safe and secure to do stock transactions and keep your data safe within the app. If you are not redirected to any portal or an intermediary website to do trading transactions.
Best Stock Trading Apps for iPhone
---
Firstrade – best stock trading app
Firstrade enjoys a 4.6 rating on the app store only because it is simply the Best Stock Trading Apps for iPhone in every possible aspect. Firstrade has been in existence since 1985 and is among the reliable stock trading firms globally. It is also among the top free trading apps that don't charge commission for trading in stock options and mutual funds. It has zero contract fees and does not include any hidden charges. The app has improved its user interface that is less cluttered yet informative.
You can easily review your portfolio dashboard and view real-time market data to know about trending stocks or stocks that hold potential.  Transferring funds is seamless and you can easily send money into your savings account. Not only this, but you also get access to up to two years of account history and access to financial events and research analysis, within the app. Firstrade also allows you to view the complex charts in landscape mode that helps you to filter information and use indicator overlays.  Overall, Firstrade is the best stock trading for iPhone that you can get right now.
Related: Best Weather App for iPhone
Standout Features
0 commission fees
Control over multiple accounts
Real-time data and landscape mode chart view
Download Best Stock Trading Apps for iPhone
---
M1 finance – best stock trading app uk
M1 Finance is a befitting app for investors that like to double between automatic and manual stock purchasing and selling. You can create a portfolio with any stock for ETF, without any charges and can use automation tools provided in the app for scheduling purchases. M1 finance allows you to borrow money for emergencies after you cross a certain threshold of stock investment. M1 allows you to build an automation rule that is unique to your trading account and helps you to swiftly trade stocks.
M1 Finance has both free and premium tiers but if you want more control over your stock trading account, I suggest the m1 plus app version. There are multiple cashback offers rolled out every month that can help you save quite a bit on your purchase.  The app tries its best to neatly arrange your finances so that stock trading is super convenient. To sum it up, M1 finance is built for traders that like more control over their purchases.
Related: Time Management Apps For iPhone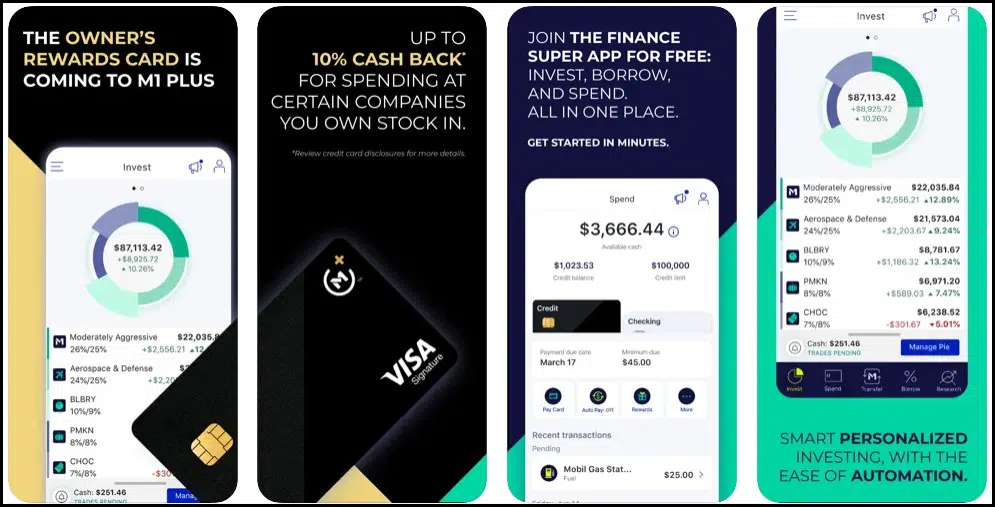 Standout Features
Seamless money transfer
Free portfolio creation
Money borrowing option
Download Best Stock Trading Apps for iPhone
---
Investing.com – best stock trading app canada
Investing.com offers real-time market data and life quotes for over 100 thousand financial instruments. You can easily track the changes in major Global indices along with stocks bonds, options, etc. This best stock trading apps for iPhone offers an economic calendar with live updates based on wheel time market movements. You can add all your financial holdings and create a personalized portfolio that can be accessed 24/7. This stock trading app has an alert system that let you have alert about any change in the stocks that you are following.
Such great features obviously come at a price and if you opt for the alert system you must shell out extra. It also allows sharing articles to your Facebook, Linked In, and other popular social media accounts with ease. Ads are a major part of the free version and if you want to experience this stuff trading and information app with full functionalities, then the $30 upgrade is worth considering. You cannot trade stocks on this app but can only monitor the stock market.
Related: Best iPhone Music Player App
Standout Features
News and analysis access
Multiple useful financial tools
Real-time economic calendar
Download Best Stock Trading Apps for iPhone
---
Acorns – best stock trading app for beginners
Acorn is a simple investing app that lets you invest spare change from stock trading to give you maximum bang for the buck. It is aimed at novice users and individuals that like to make every penny count and is relatively simple to use. Earn rewards while using Acorns and grow your knowledge of the financial market by watching customized financial literacy content delivered by CNBC. Acorns have earned worldwide recognition from popular celebrities and news firms for being the easiest option to convert spare change into long-term savings.
It is among the Best Stock Trading Apps for iPhone that has no hidden fees and has multiple tiers that can help you invest the spare change on rewards and grow your financial knowledge on the go. The topmost plan is priced as high as $5 per month that is nothing compared to your savings in the long run. Overall, great automatic tool to take small steps for future savings.
Related: Best Scanning Apps For iPhone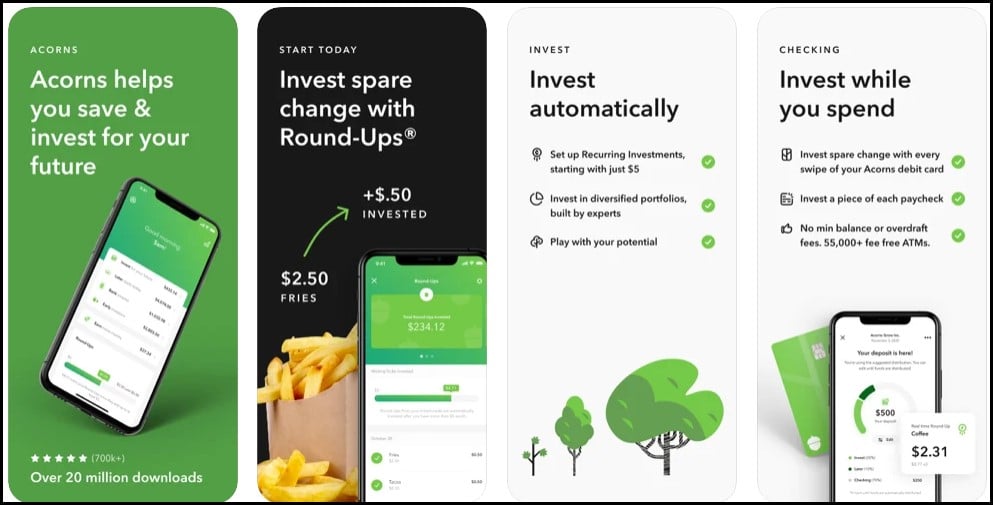 Standout Features
Educational content
Customer support option
No charge to open an account
Download Best Stock Trading Apps for iPhone
---
Stash – stock trading app
Stash is a great trading app for beginners who like to explore the basics of stock trading. Stash comes with its own stock trading card that gives you stock options whenever you make a purchase using that card. It does not have any minimum account fees but charges heavily on even small stock purchases. The UI is intuitive, and the app doesn't include a lot of charts and metrics straight on. Stash has three pricing options that are designed to suit your investment scenario.
Stash helps you save big on banking transactions and helps you invest that money in stocks and ETFs. It supports automated investing so that you can easily make stock purchasing decisions. If stash waives or reduces the fee on small stock purchase options, it can become the leading stock trading app for beginners.
Standout Features
Automated investing
No account opening charge
Proprietary stock trading card
Download Best Stock Trading Apps for iPhone
---
Webull – best online stock trading app
Webull is often considered as a rival to the Robinhood stock trading app and for good reason. For starters, the app does not believe in charging any commission for stock purchases and tries to make the investment process as seamless as possible. You can trade in stocks, options, and ETFs along with crypto as well. Webull launched just three years ago but has sold in popularity due to its rich real-time market analysis data and a reliable stock trading platform.
Webull has made it easy to invest as little as you like. You can invest a minimum of $5 and purchase stocks in any company of your choice. Cryptocurrency purchases are also supported so you do not have to separately install another application for making trade in Crypto. Webull supplies powerful charting tools that are up to date with the latest info on the rise and fall in stock prices. There is a slight learning curve to Webull which is why I wouldn't recommend it to beginners.
Related: Best Podcast Apps For iPhone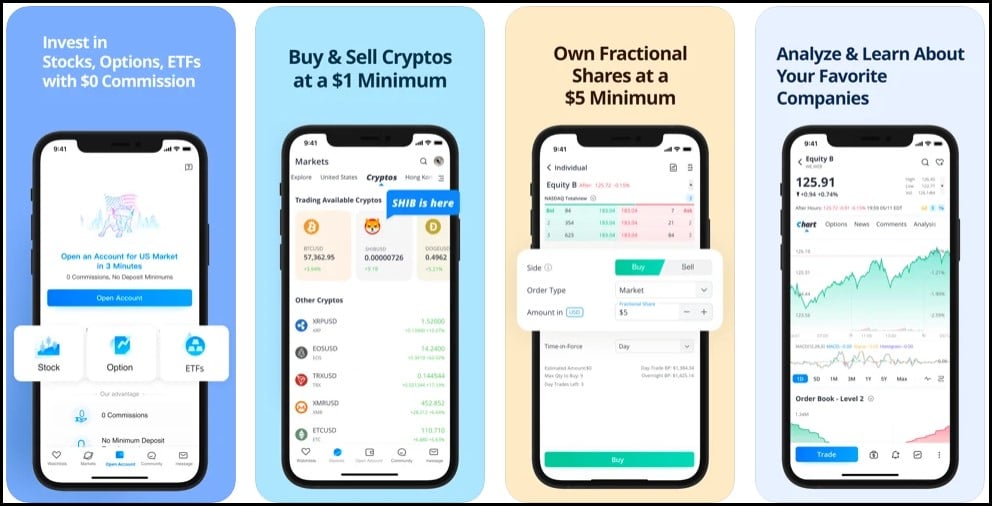 Standout Features
Supports the fractional stock purchase
Real-time market data
Exchange in Cryptocurrencies
Download Best Stock Trading Apps for iPhone
---
TC2000 – free stock trading app
TC200 has a frame layout but it provides minute details about stock positions in the mobile app. This Stock trading app comes with a dark mode by default that makes chart viewing Easy with indicator overlays. The app has 70 Plus Indicators including the money stream by the stockbroking firm. These features make TC 200 one of the best stock trading apps for iPhone available today.
The only problem or rather an inconvenience is that you have to have a gold or Platinum service to use this app on your iPhone on Mac devices.  All the sorting and scanning of charts is done in real-time to avoid any mishaps in stock trading decisions. If you are looking for a reliable stock trading app, TC200 won't disappoint you.
Standout Features
70 + technical indicators
Built-in watch lists
Dark mode UI
Download Best Stock Trading Apps for iPhone
---
Robinhood – best free stock trading app
Robinhood Is one of the top stock trading apps used by millions of readers worldwide. Apart from investing in stocks options and mutual funds, you can also invest in trending cryptocurrencies such as Bitcoin, Dogecoin, etc. Robinhood has a neat layout that enables you to comprehend charts and Statistics easily.
This Best Stock Trading Apps for iPhone does not charge any commission for the stock purchase but levies additional taxes and charges associated with each purchase. Robinhood Supplies many trading tools to help you analyze real-time market data, read news and articles and make your own predictions about the stock's value. Despite having so many features, Robinhood needs to improve its customizability options for trading accounts.
Related: Best Email Apps For iPhone
Standout Features
Access to real-time market data
Clean user interface
No commission
Download Best Stock Trading Apps for iPhone
---
Yahoo finance is among the reliable stock trading apps that have been around for quite a while. The major advantage of using yahoo finance is that it supports integrations with multiple brokers that are popular and most used. Popular brokers like Robinhood, vanguard, etc are supported by default. Yahoo finance provides you with relevant news pieces, both in video and text format to make your stock trading decisions easily. This Best Stock Trading Apps for iPhone has no dearth of market statistics and trading data.
Yahoo finance has many features like tracking portfolio performance, following stocks, discovering financial information like ESG ratings, and stock comparison features. You can also create multiple watchlists and enable notifications for price alerts off your favorite stocks. It also supports multiple cryptocurrency trading and is good for crypto traders that like to shuffle between different digital currency trading options.
Related: Best Productivity Apps For iPhone
Standout Features
Access to personalized news
Effective tracking option
Easy stock comparison
Download Best Stock Trading Apps for iPhone
---
StockTwits – Best Stock Trading Apps for iPhone
Stocktwits started as a social media platform for stock traders where traders could easily share their tips and tricks and observations of the market. Stocktwits does not allow any direct stock trading by default and is more of a monitoring tool to learn more about the performance of your investments and the discussions going around trending stocks.
Without the stock trading feature, StockTwits lacked the core functionality to appeal to stock traders. It recently teamed up with Robinhood to allow cross-platform functionality that would enable the users to trade stocks and learn about them from promising stock options. Stocktwits allows you to track the market sentiment, as a social feed section and earnings calendar to help you learn more about the earnings reported by a particular company. You can also create your personalized chat rooms or even enter premium rooms. The app displays advertisements from time to time and it is best to use my opting for the premium version.
Related: Best Antivirus Apps For iPhone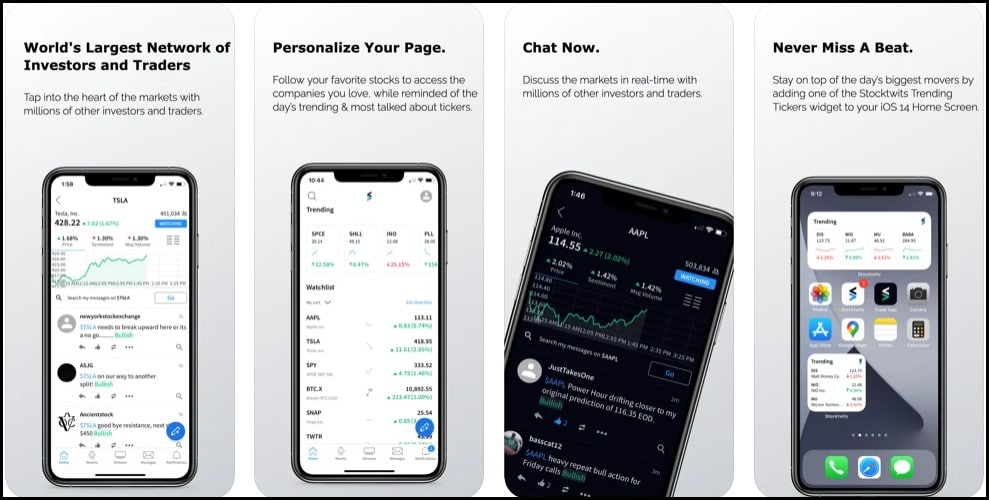 Standout Features
Understand market sentiment
View earnings calendar
Access social feed and premium rooms
Download Best Stock Trading Apps for iPhone
---
Stock screener – Best Stock Trading Apps for iPhone
The stock screener is among the Best Stock Trading Apps for iPhone that is free to use. It does not deliver real-time stock market data but rather relies on charts from finviz that are updated at the end of the day. You can use the stock screener to search for stocks that hold some potential and are perfect for day trading.
It is not a technical analysis app and can only act as a stock screener to keep your eye on promising stock options. It supports a lot of popular technical indicators and stock chart patterns that can be used to filter promising stock options. Season traders will find the app features to be very basic as it does not allow any actual stock trading.
Related: Best language learning apps for iPhone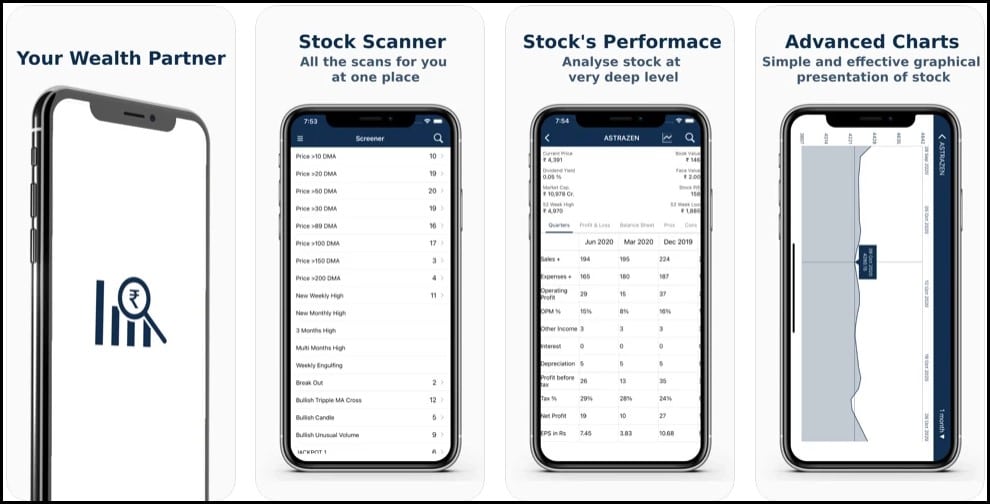 Standout Features
Free to use
Stock charts by Finviz
Multiple technical indicators
Download Best Stock Trading Apps for iPhone
---
Final Words
If you want to use the best stock trading apps for iPhones, you can go for Firstrade or M1 Finance. For simple investing, Acorns and Stash are equally good and have an admissible pricing tier. If you only are interested in monitoring the stocks, stock screener, and investing.com are your two suitable options.
Thank you for reading! Try these out too:
General FAQ
Is stock trading safe on iPhone?
Yes, stock trading is practical and safe on iPhone and can let you invest in stocks while you are on the move.
What are the best stock trading apps for iPhones?
First trade and M1finance remain my top 2 recommendations for the best stock trading apps for iPhone.
Are all stock trading apps free for iPhone?
No, most of them are free but you must pay for additional features. I have included some free stock trading apps for iPhones in this list.