Passwords are the most important piece of the puzzle to unlock your details stored in an account. A decade back, there weren't as many online services and websites and you could make do with a single or a small collection of passwords. Growing security concerns on the internet led to the incorporation of unique passwords for each account, even if they belong to the same individual. Creating strong and unique passwords, and remembering them is a challenge for the present age.
This problem is effectively solved by the best password manager app that can easily store, suggest and encrypt your passwords for each account. I have rounded up the best password manager app that can store your passwords, act as a password backup tool, and help you swiftly login into your favorite apps and websites.
Excited? So, Let's Get Started.
What Is a Password Manager App?
The best password manager app is an application that saves your passwords for different websites and apps and lets you access those passwords when needed. A barebones password manager app can only save passwords and let you login into different apps but a modern password manager is capable of imposing more security mechanisms.
Why Do You Need the Best Password Manager App?
A password manager might feel like an unnecessary addition to your app library but its importance is growing day by day. You need a password manager app to store all your confidential credentials and hide them from prying eyes. Moreover, you can examine the weak passwords from your existing password library and then replace those with strong ones. A password manager makes it easy to access different apps and helps you remember your credentials, no matter how long or complex they are.
Advantages of Best Password Manager Apps
One-Click Login: A password manager app can help you log in to any app or website with just one click. No need to type in long passwords or keep correcting them due to mistyping.
Strong Password Suggestions: The password manager app relieves you of the worry of creating a strong and unique password for every new app. You can just enable the password suggestion tool and the app will create a unique password that has optimum length and strength.
Password Analyzer: A password manager app also comes with a password analyzer tool that lets you analyze a single or multiple password batch and identify the weak ones. You can easily replace these with an automatic password suggestion tool and secure your account. It can also mark the passwords that have been compromised in the past and should not be used for any account.
Password Storage and Backup: The best password manager app saves your passwords in an encrypted format. It can be on the device as well as on the private cloud server of the application. You can easily export your passwords into a CSV file and store them on a flash drive for additional backup.
Best Password Manager Apps For Android
---
RememBear – Password Manager and Secure Wallet
RememBear is one of the best password manager apps that lets you create, use and store passwords easily across different devices to ensure online safety. You can also use the app to store credit card credentials to make online shopping quicker while protecting sensitive notes with more security features.
The most significant feature of the app is that it will allow you to remember all your passwords. Whether for Gmail, YouTube, or any app, the app will have you sorted. The autofill log-in features are also compatible with credit cards, and the best part of it is that all your passwords remain secured in one place. The app is designed to ensure that only you have access to your data. It also offers reliable end-to-end encryption and a RememBear security audit to certify advantages and safety.
Another notable benefit of the app is that it's convenient, and it will let you instantly access the log-in detail from inside other apps. The passwords are synced for your phone, computer, and tablet. The app initially comes with a 30 day of premium subscription, and if you like it, you can upgrade permanently to the version of the app.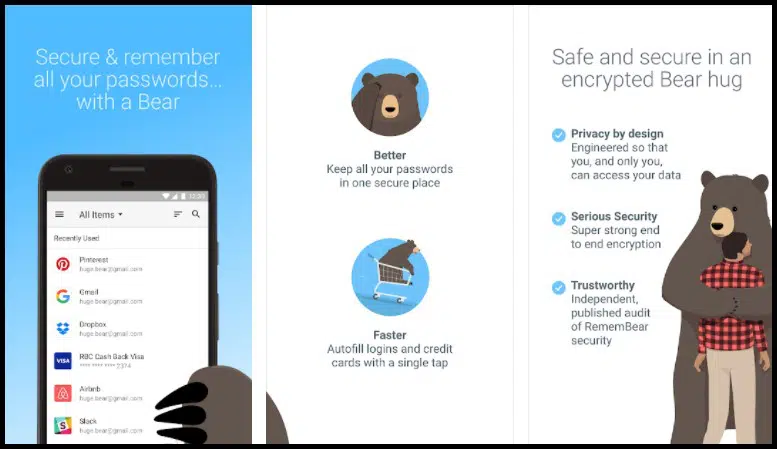 Standout Features:
Sync for various devices
Stores all the passwords in one place
Compatible with credit cards
---
1Password – password manager app
1Password is undoubtedly the best password manager app that comes with a complete set of necessary protection features for passwords. It is a ubiquitous solution for all your password management needs and comes with a password manager and password generator tool. The app has the option to divide and arrange your passwords into different categories, including logins, credit cards, addresses, notes, bank accounts, driver licenses, passports, and more.
1password allows you to share your passwords with your family and easily migrate information from one account to another. You can also search for passwords and apply different search filters as per your requirement. This best password manager app uses end-to-end encryption so your passwords are safe and secure. The app also supports fingerprint unlock and can be locked automatically if your device is stolen or lost.
Related: Best Cryptocurrency Apps
Standout Features:
Password categories
Password generator
End-to-end encryption
---
aWallet – best password manager app
aWallet is another great option for the best password manager app due to its multiple encryption standards and the support for biometric login. aWallet doesn't have the best layout that you would expect in a modern app but its features transcend the overall UX appearance. The app comes with a password suggestion and storage tool. You can easily define custom categories to segregate your passwords and can also create and export the files and transfer them to a USB drive.
A usable feature of aWallet is that it can auto-lock itself at certain time intervals set by the user. The app also supports auto-destruction of the data file if numerous attempts are made by anyone with an incorrect master password. aWallet has two pricing tiers and the paid one allows you to easily unlock any app with face unlock or fingerprint. This best password manager app displays ads that can be turned off by making a one-time purchase of the premium tier.
Related: Best Journal Apps For Android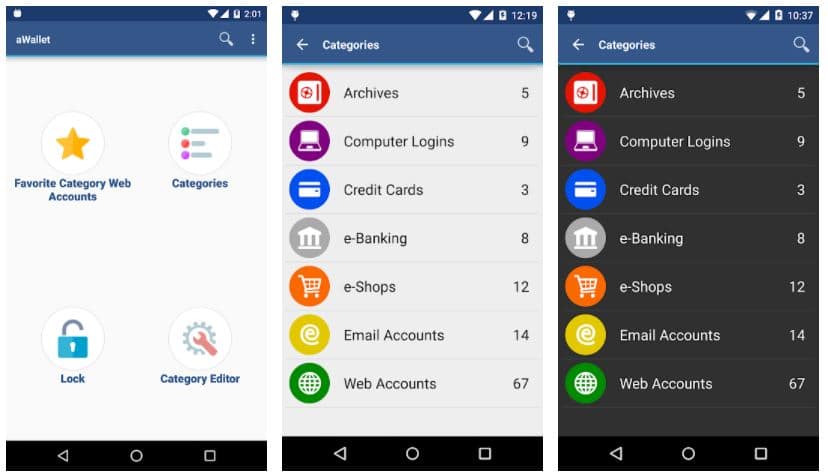 Standout Features:
Multiple encryption standards
Face and fingerprint unlock support
Auto-lock feature
---
BitWarden – free password manager app
BitWarden is a trusty and open-source password manager that packs some serious features to protect your passwords. This best password manager app has a clean UI design with the support for the dark theme. It allows you to manage, store, secure, and share unlimited passwords. The best part is that it doesn't have any cap on the number of devices and you can easily send encrypted plaintext and files to anyone.
BitWarden uses three encryption algorithms that include AES-256 bit, salted hashtag, and PBKDF2 SHA-256, all of which make a password a lot difficult to crack. Apart from this, all the basic features of a password manager like password generator, one-click autofill, and login are also present in the app.
Related: Best Apps For Secret Texting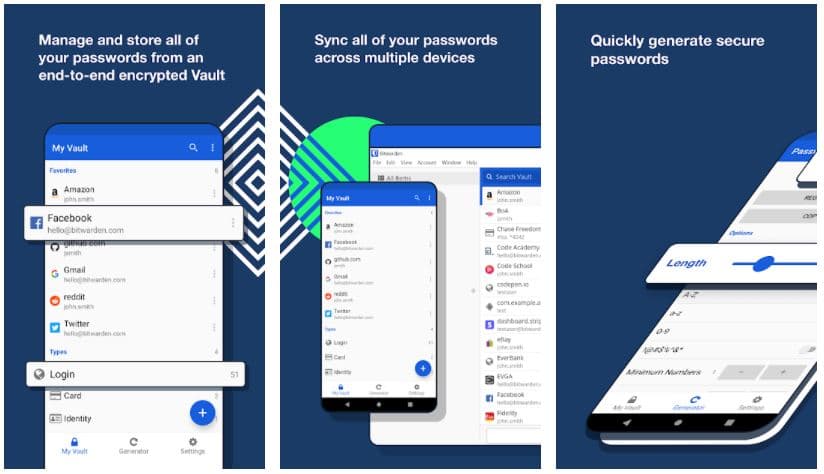 Standout Features:
Advanced end to end encryption
Password generator
Password sharing
---
Dashlane – best password manager app for android
Dashlane is among the best password manager app for Android because of its advanced breach monitoring tool. The app lets you create and manage passwords and share them across multiple devices. You can also export passwords but that can be only done using the chrome browser.
Dashlane has the password sync feature which makes it easy to use across different devices. The app comes with a dark mode button and the option to see what passwords have been compromised so far. The app also has an inbuilt VPN service so that you can secretly browse the internet while saving on a VPN subscription.
Related: Best Investment Apps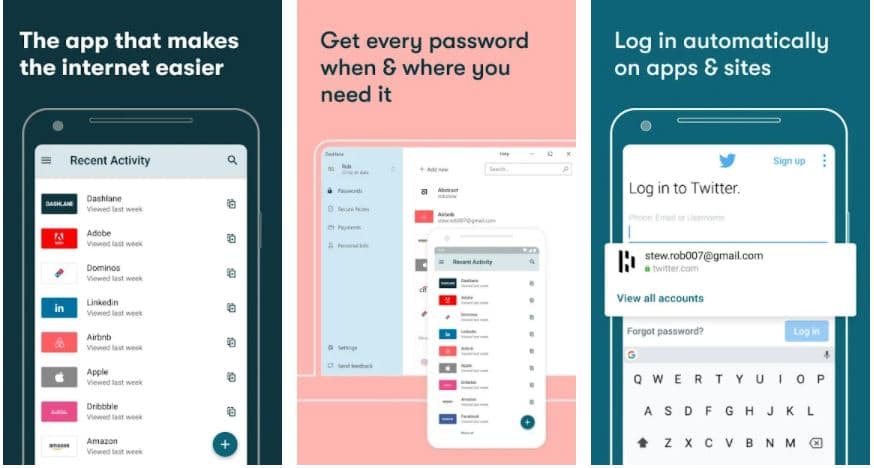 Standout Features:
Inbuilt VPN
Password syncing
Password suggestion
---
Enpass – best free password manager app
Enpass focused more on data security and is among the few password manager apps that do not store your passwords. This best password manager app is a convenient solution to create and save your passwords offline and sync them across your different cloud storage accounts including Dropbox, Google Drive, One Drive, etc. The app can generate strong and unique passwords in an instant and can also help you log in using face and biometrics.
Enpass has a robust breach monitoring feature that alerts you about a new breach on any of the websites or apps that you use. It provides multiple vault features so that you can create vault categories and separate your work and banking passwords. Enpass also has an inbuilt password audit feature that can help you find weak passwords and then help you replace them with strong ones. It also facilitates password import from other applications and lets you flip the app into the dark theme.
Related: Best Keyboard Apps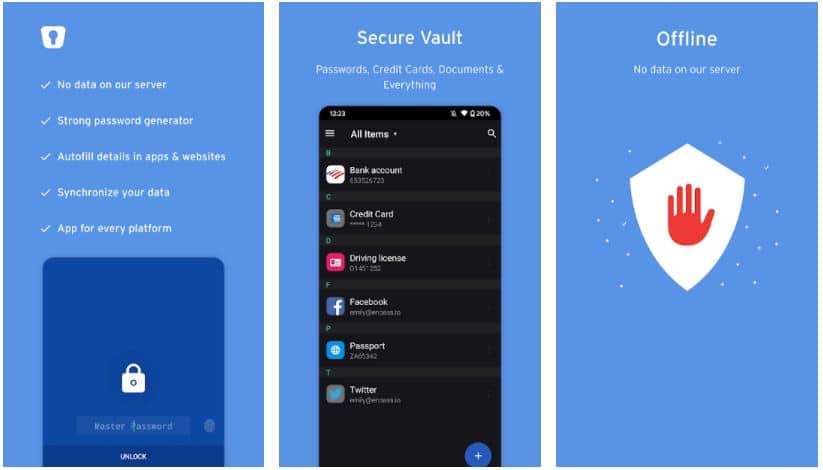 Standout Features:
Multiple password vaults
Breach monitoring
Password audit
---
Keepass2Android – password manager app android
Keepass2Android is a relatively simple best password manager app that lets you save your password in either offline or online mode. You can create password backups and synchronize them by connecting your Google Drive, OneDrive, etc cloud storage accounts. The UI of Keepass2Android reminds me of the 2015 android app designs but being a free password manager app, I can look past the minor flaw.
The vault is encrypted and you can enable the auto-fill feature to log in on any website using this app. It comes with the support for fingerprint unlock which can be used after entering the master password once. It is an open-source password manager app that is absolutely free to use.
Related: Best Running Apps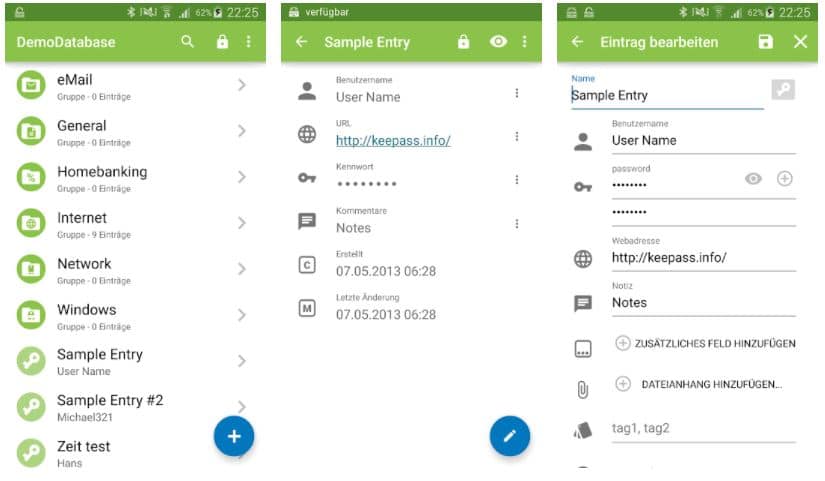 Standout Features:
No ads
Free to use
Password vault
---
Keeper – best password manager app android
Keeper is among the top-tier password manager apps that frequently roll out updates to stay above the competition. The app comes with unlimited password storage along with an encrypted vault. It allows you to sync and access passwords across many devices including browsers and different operating systems. Keeper comes with an auto-fill feature called keeper fill that can easily input your username and passwords with one click.
Keeper comes with a breach wall feature that continuously monitors the dark web for password leaks and breaches and audits your password against them. it allows up to five users to use a single account and access passwords, a scenario that perfectly fits a work environment. It also comes with a two-factor authentication generator to reinforce your account security. Keeper is made with Zero-Knowledge security architecture that cannot see your passwords as they are stored in encrypted form on their servers.
Related: Best News Apps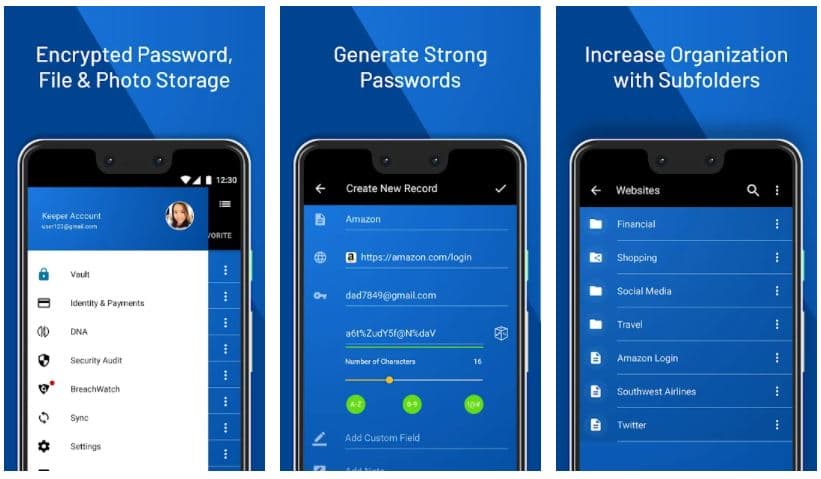 Standout Features:
Zero-Knowledge security architecture
Up to 5 trusted users
Flexible pricing
---
LastPass – password manager app iphone
LastPass is probably the biggest name in the password manager industry you've heard of. It was and still is among the best password manager app that you can use. The latest update and segregation of price tiers may have deterred the free users but that doesn't mean it is inferior to any password manager app. It comes with a strong password generator tool, password sync support, automatic password saving for android devices with Android 8 or above.
This best password manager app also supports login via fingerprint and comes with an encrypted password vault and password suggestion tool. The free tier has limited storage space for passwords and can be used only by a single user. Its premium tier includes a 1 GB storage space, unlimited password sharing, and priority tech support. In my opinion, even the free version comes with adequate features except for the storage space.
Standout Features:
Priority tech support
Auto-fill and store passwords
Store photos and audio notes
---
Password Safe – best password manager app 2022
Password Safe is an offline password manager that doesn't store your passwords on a private cloud server. The company has zero knowledge about your passwords and all credentials are stored on the devices. The app doesn't have or require access to the internet to work. This approach to security makes it one of the best password manager app that you can install on an android device.
Password Safe supports custom fields for additional information and provides many categories to organize your passwords. It comes with the options to change themes, a password strength indicator, a password vault, and other interesting quirks. it can store passwords on your preferred cloud storage service and supports most major services as well. The pro version brings a variety of import and export features, biometric login, self-destruct, etc.
Related: Best Unknown Android Apps
Standout Features:
Password Generator
Secure storage
Backup and restore passwords
---
Google Smart Lock – google password manager app
Google Smart Lock is embedded into the android operating system and has significantly improved over time. It can store your passwords into the google account, show the auto-fill suggestions. The majority of work is done online and the passwords are synced to your Google account. You cannot make any changes or audit the passwords offline, you have to go to the password manager setting in your google account to perform tweaks. It is the best password manager app that is completely free and has no ads.
Related: Fastest Android Launchers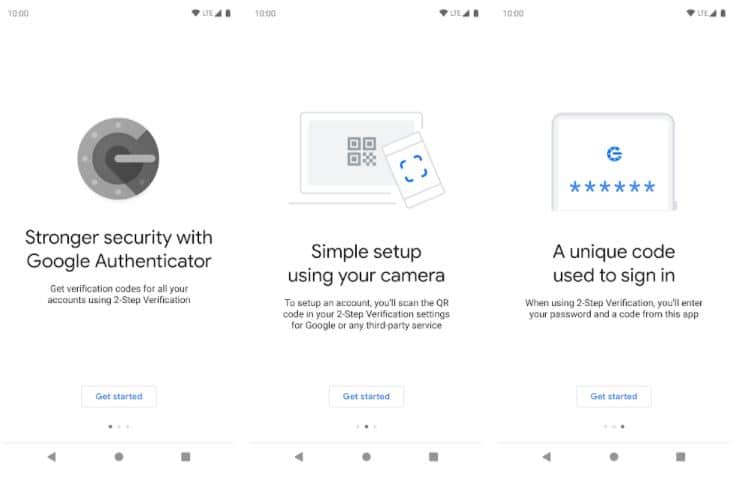 Standout Features:
Auto-fill suggestion
Password suggestion
Password audit
---
Microsoft Authenticator – Free password manager app 2022
Microsoft Authenticator started as a simple 2FA application for the edge browser and slowly evolved into a standalone app with the best password manager app features. It focuses more on security than on other features that have both 2FA and MFA authentication features for secure login. It supports cross-syncing of passwords and can easily connect with one drive, dropbox, and other cloud storage services.
Related: Best Parental Control Apps
Standout Features:
2FA and MFA authentication
Simple UI
---
Final Words
These were the best password manager app suggestions that will help you enhance your account security. 1Password, a Wallet, and BitWarden are my top three suggestions for the best password manager app. If you like offline password managers, you can check out Password Safe. Lastly, for users that do not want to install an additional application for password storage, Google Smart Lock is the best app for you.
Thank you for reading! Try these out too:
General FAQ