Android is preferred because of its extensive customization features. These features allow you to make your Android device as unique and appealing as possible. It is impossible to change devices every few months but the user experience can be changed by opting for fast Android launchers.
You may be wondering about why the need for the fastest Android launchers. A basic or high-end Android device comes with a pre-installed launcher that is most likely provided by the custom ROM present on the device. These launchers look decent but eat up your system resources thereby making your Android devices sluggish and unresponsive.
It is a persistent problem that can be solved by using fast Android launchers that consume minimal backgrounds resources while not compromising on the features. I have curated a list of the best available fastest Android launchers on Google Play that will help to customize your Android device to the bone.
Advantages of Fastest Android Launchers
Minimal resource consumption: The fastest Android launchers consume very few system resources to provide a fast and fluid user experience. They are designed to work well with most Android devices, even the ones with bare minimum system resources.
Small storage footprint: The fastest Android launchers have a tiny footprint and minimal service inclusion. Small installation size is great for conserving system storage and making it fast and responsive.
Customization: The fastest Android launchers allow you to create a unique smartphone look by offering extensive customization features. You can adjust everything including fonts, icons, labels, widgets, and much more.
Best Fastest Android Launchers
---
HiOS Launcher – best android launcher
HiOS Launcher is a fresh release from an independent developer that brings interesting features to your home screen with a fluid and seamless experience. It comes with a zero feed screen that displays the current happenings around the globe along with a recently used icon section.
HiOS Launcher is one of the fastest Android launchers that comes with an intelligent music recommendation engine called smart scene. The next pane displays a discovery page that lets you choose the latest games and wallpapers released for Android devices in the recent few weeks. It also comes with numerous quirky rolling effects that come into effect when you swipe from one home screen page to another.
It is a fresh release so be prepared to encounter a few bugs once in a while. That being said, you will be surprised by the variety hidden in this tiny launcher for Android.
Related: Best News Apps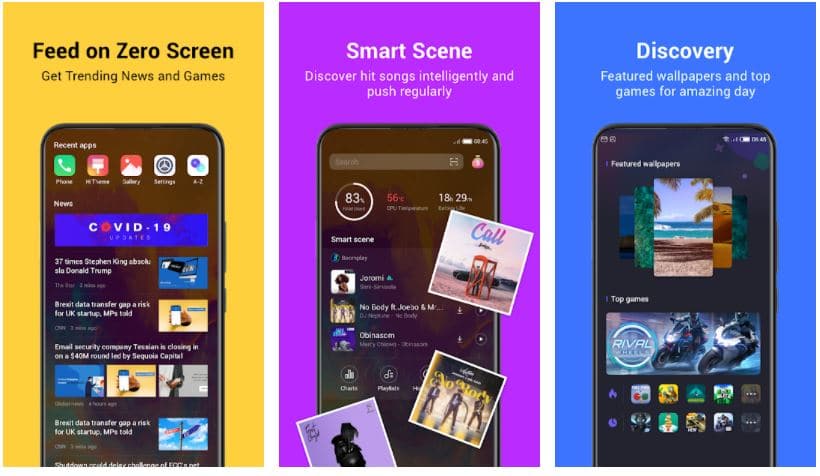 Standout Features:
Discovery screen
Multiple Rolling effects
Smart scene music recommendation
---
Shade Launcher – Best launcher for android
Shade Launcher is one of the well-thought-out fastest Android launchers that aims to solve the problems faced by many users. The biggest change is that the launcher rotates the home screen and lets you use the phone in landscape mode. This feature is absent in many top-notch best Android launchers.
This launcher for Android devices comes with support for numerous icon packs, a news feed screen, transition animations, and font change feature, to name a few. Evey information, be it the music playback, current charging status, everything is displayed whenever active on the top part of the home screen. The developers label it as 'smart unread'. Everything about this launcher is wholesome and it doesn't have any noticeable flaws of undue customization.
Related: Best Keyboard Apps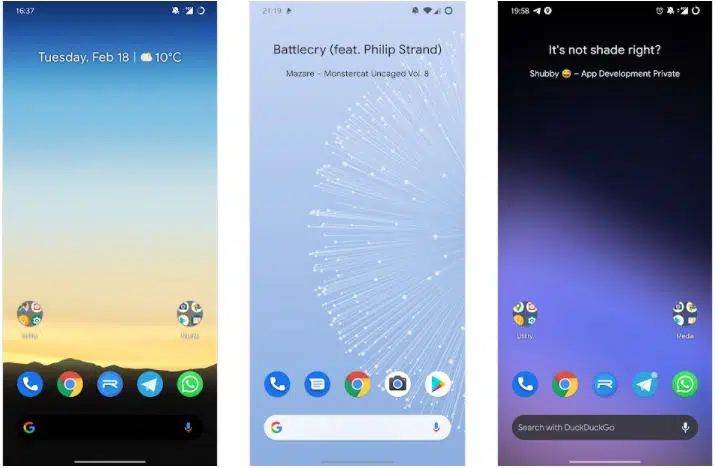 Standout Features:
Adaptive icon pack support
Rotatable home screen
Newsfeed integration
Smart unread to display important notification
---
Hyperion Launcher – Best launcher for themes
Hyperion Launcher is one of the fastest Android launchers that has a captivating UX/UI design. Everything about this launcher is customizable and color accents are just icing on the cake. The available color palette is so vast yet well thought out that no matter what color you choose, the result is always a sight to behold. The launcher allows gesture mapping for folders and even allows you to hide the folder with a different icon.
This Android launcher supports adaptive icon shaping and typography adjustments as well. It means that you can change and resize both the icons and fonts. It has the option to integrate the Google news feed and to also lock the apps using the fingerprint reader. It also supports custom gestures as well as a profile manager to visualize your changes before applying.
Related: Best Investment Apps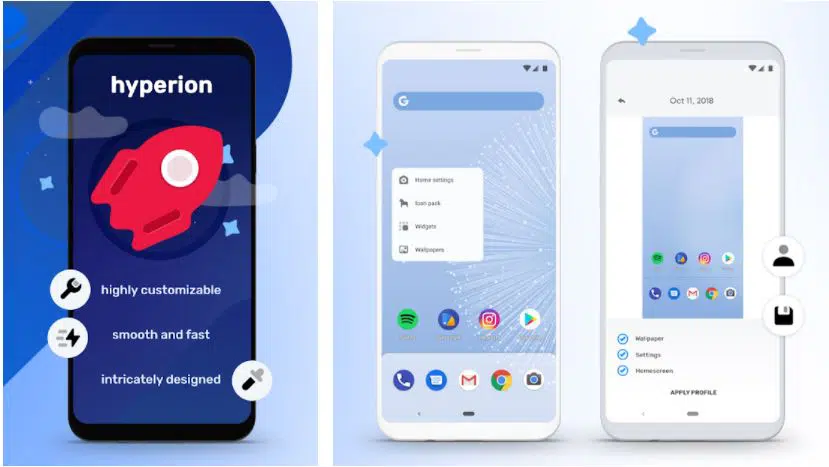 Standout Features:
Profile Manager
Google news feed
Adaptive icon support
Folder masking using icon change
---
Ruthless Launcher – Android best launcher
Ruthless Launcher is a fast and fluid, advertisement-free proposition that will easily become your preferred Android launcher. It packs a super clean and minimalistic UI and its speed is increased by avoiding advertisement integration. The launcher comes with pre-configured gestures that can perform your favorite commands in a jiffy.
It is among the fastest Android launcher applications not only because of advertisement removal but also because of retaining relevant features. It has support for news feed integration, adaptive icons packs, themes, and hiding applications. You can hide the applications as well as place them under a biometric lock to secure your data even if you hand over your device.
Related: Best Dropbox Alternative Apps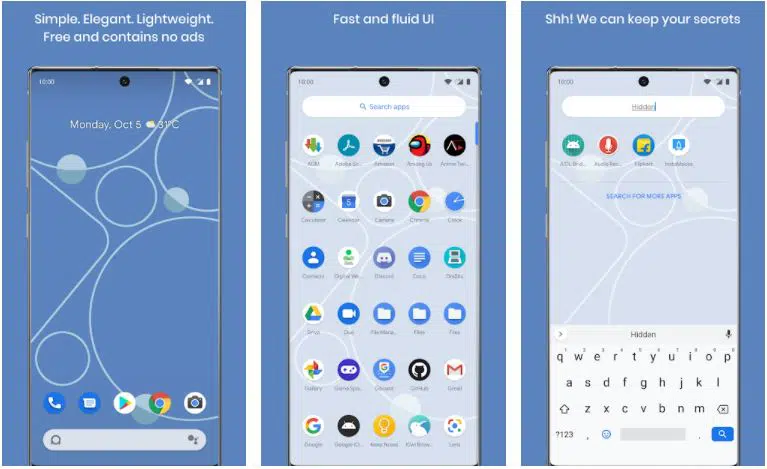 Standout Features:
Biometric locking feature
Adaptive icon support
Multiple news feed integration support
Minimalistic UI
---
Action Launcher – Best launcher for android
Action Launcher takes a colorful approach to Android customization and presents a ton of options to customize every tiny aspect of your home screen. Despite these heavy customizations, it is one of the fastest Android launcher applications that is free but has advertisement integrated into it. For starters, it supports Google discover integration to deliver your preferred news feed at your fingertips.
This Android launcher comes with a glance widget to view the weather, date, and next calendar appointment with a single tap. Its quick theme feature can help your theme to automatically adjust to the color of the wallpaper. Icon resizing and quick suggestions for alternatives are also available. Overall, it is an award-winning fastest Android launcher that deserves to be on your Android device.
Related: Best Ridesharing Apps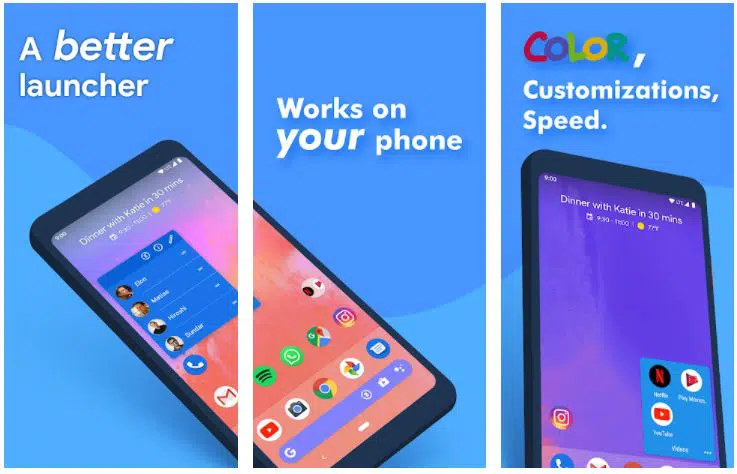 Standout Features:
Quick theme feature
Smart icon resizing feature
Folder covers
---
Hexa Launcher – Cool launcher for android
Hexa Launcher is for the customization fanatics that like control over every aspect of their home screen. Despite offering so much customization it is among the fastest Android launchers on our list. The launcher comes with 6 inbuilt themes that look good and reduce the need of searching for a dedicated application for themes. You can customize icons, their size and update them to different icon packs as you wish.
Hexa Launcher features 16 different scrolling effects that can be changed as per your liking. If you think that you have excessively customized your home screen and want to revert to the default one, the launcher provides a reset feature as well.
Related: Best Apps For Secret Texting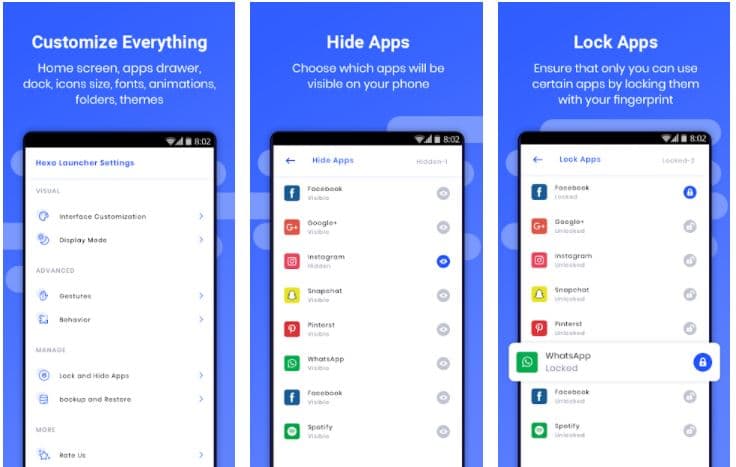 Standout Features:
Dock customization
Six inbuilt themes
Shortcut creation
---
Creative Launcher – Best customization launcher
Creative Launcher offers a great set of features and additional inbuilt applications. This makes it a versatile launcher that curbs the need of installing additional applications for your Android device while being one of the fastest Android launchers. The only downside is that it has too many ads which can be fixed only by opting for the paid version of the Creative Launcher.
This launcher provides an integrated themes store with thousand plus themes and wallpapers. Also, it comes with a toolbox feature that provides convenient access to the inbuilt tools such as memory cleaner, T9 search, gestures, and many more features. It even has three color modes including an eye comfort mode to reduce the blue light. You can also hide your personal applications from prying eyes without any problem.
Related: Best Journal Apps For Android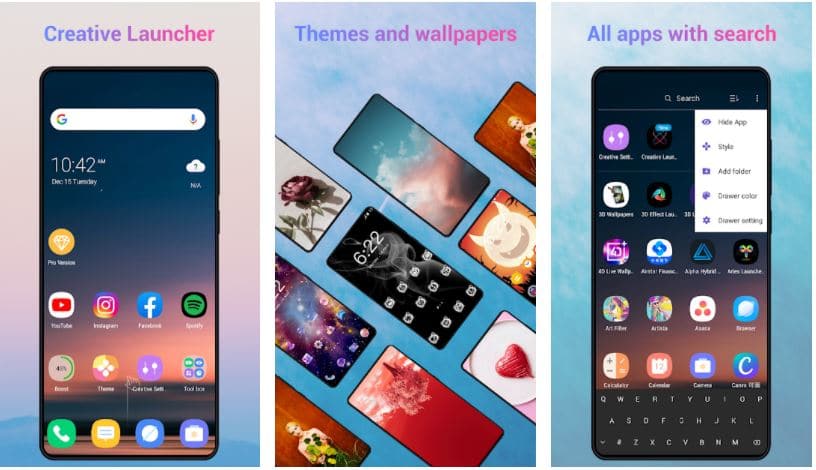 Standout Features:
Inbuilt theme store
Inbuilt memory cleaner
Search function
Hidden applications
---
Niagara Launcher – Best minimal launcher
Niagara Launcher is a beautiful launcher that is blazing fast and avoids the childish customization that most Android launchers offer. It is one of the fastest Android launchers with a no-nonsense design and useless feature bundling with the application. Even the home screen is kept minimal to avoid any distractions.
The reason Niagara Launcher is one of the fastest Android launcher applications is that it has a limited number of home screen pages and a very simple layout. You get your notifications arranged in the descending order of arrival with a completely ad-free layout. One minor drawback is that you cannot use widgets unless you pay for the Pro version.
Related: Best Vocabulary Apps
Standout Features:
Inbuilt widgets
Clean and minimalistic design
Fastest Android launcher with zero ads
---
Lawnchair Launcher – Customization rich launcher
Lawnchair Launcher offers the features of pixel launchers for the devices that run on Android 7 or less. It aims to give the older devices the functionality found in Android Oreo and above. The launcher has all the functions including glance widget, dock search bar, swipe-down notifications, and much more.
The launcher doesn't include an advertisement at any stage and is fairly lightweight. These features make it one of the fastest Android launcher applications. Sadly, the launcher was put down from Play Store and is now back with a new version.
Related: Best Cryptocurrency Apps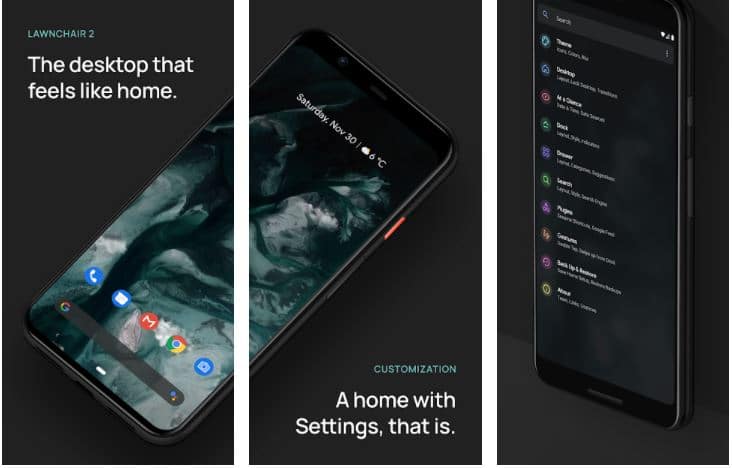 Standout Features:
No advertisement
Icon and widget customization
At a glance widget
---
Rootless Launcher – Pixel experiance launcher
Rootless Launcher is one of the cleanest launchers available for Android that comes with a new interface and the 'At a glance widget. The launcher supports home screen rotation, a feature that is still missing from Android. It has the option to integrate the Google app when you swipe left on your home screen, much like the Google Pixel launcher.
This fastest launcher comes with default themes including the dark theme that is not available on devices running older versions of Android. You can customize icon sizes and shapes but fonts settings are not available in this fastest launcher for Android.
The next best feature of this launcher is to select between static wallpapers and live wallpapers, an option that is present in very few Android launchers. Also, there are five theme options to choose from, which also include the dark mode theme. Rootless Launcher is by far the next best thing to the stock launcher present on Google Pixel smartphones.
Related: Best Weather Apps For Android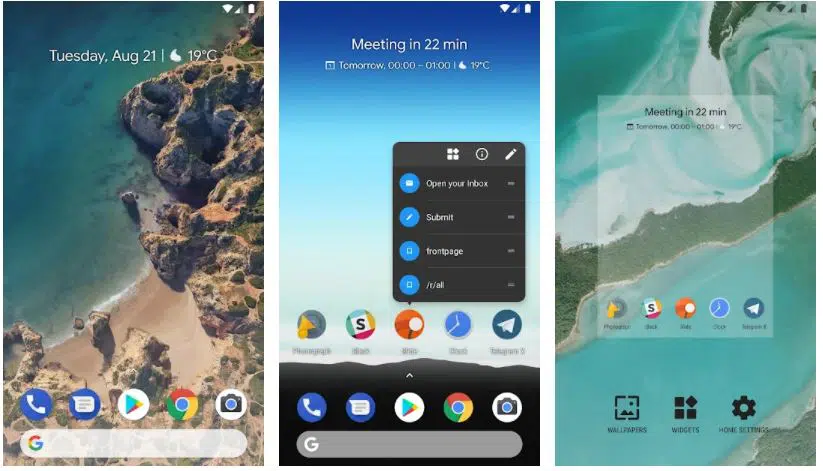 Standout Features:
Live wallpapers support
Dark mode integration
At a glance widget
---
Nova Launcher – Most powerful launcher
Nova Launcher is a pioneer in android customization that is unbeatable in terms of rich feature-set. It has been around for as long as Android devices were a thing and have consistently upgraded itself as the operating system updates. That being said, it is one of the fastest Android launchers that can run in older and newer Android devices without affecting its speed.
Nova Launcher has recently upgraded itself to Nova 7, an Android launcher that is still in the works but is available in closed beta. It retains all the quirks of the previous version along with upgraded gesture support for new devices and a direct widgets access panel. You can add widgets by just a swipe-down gesture to get into the widget options.
This fastest Android launcher also adds a new search section that can be configured with any search engine that you like. The feature works most of the time, as long as you enter the correct URL of the search engine. Also, extensive haptic feed customization options are waiting for you in the settings menu. Currently, it is in the development phase but even the previous version is equally great considering the performance and the clean interface.
Related: Best Running Apps
Standout Features:
Haptic feedback
Search engine settings
Gesture support
Direct widget menu access
---
Blloc Ratio Launcher – Unique android launcher
Blloc Ratio Launcher or just Ratio Launcher adopts the same approach as the Niagara Launcher. The Android launcher tries its best to keep things as simple as possible due to which it has only three views. These three views help you to manage communication, access apps, and stay updated with news and other informative widgets.
Ratio launcher's USP is its clean user interface that has no room for persistent advertisement and unnecessary customization. Even the widget design is kept minimal so that they are informative but do not canvass the screen. It implements auto-organization of applications based on your usage patterns so that you can get to an application in no time.
The best this about this fastest launcher is a separate conversation pane that displays all the conversations from different applications. These conversations are sorted by time so that you can easily connect or resume an unintentionally ignored conversation. Ratio launcher has only three modes namely the dark mode, light mode, and sun mode. It uses black and neon as the only two colors which give it a plain yet compelling appearance. You do not get to play with colors in this launcher but still, get abundant features to upgrade your home screen.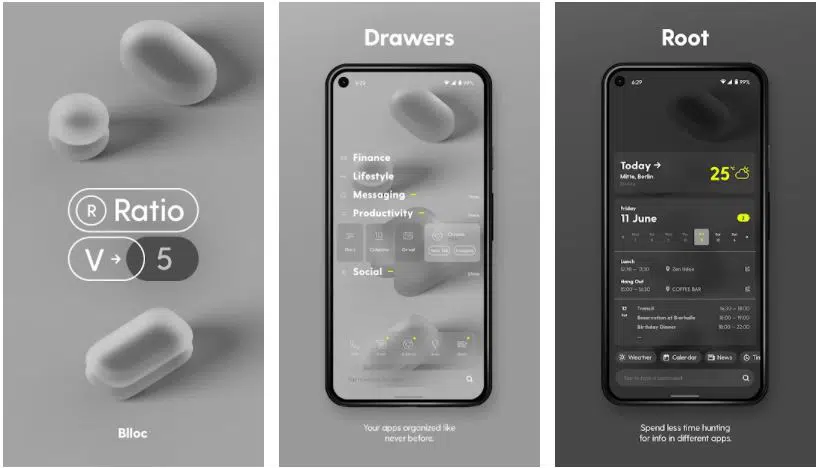 Standout Features:
Three color modes
Inverted icons and toggles
Separate conversation pane
---
Interactive Launcher – Unknown android launcher
If you thought Nova launcher has extensive customization, wait till you use Interactive Launcher. This launcher doubles up as your intelligent assistant that can perform every basic function without requiring you to give elaborate commands. It is a voice assistant embedded on top of a home screen launcher that is equally good. For older Android devices, this is a boon as you get to experience voice assistant features.
The Interactive Launcher comes with a dedicated keyboard that can help you to access apps and perform deep searching. It can display the list of installed applications in text format which is very helpful because some icon packs make it difficult to identify applications. The launcher recommends using its inbuilt keyboard as it gets better as it learns your typing patterns and your frequently visited directories.
You can teach the Interactive Launcher skills, which help you to save time in performing repetitive actions. By adding skills, you can cut down the input voice command length, for example, "rather than saying call XYZ from this sim Card, you can map it to a word like ABC". Whenever you say ABC, the assistant will make a call to the designated contact. Whether it is opening applications, toggling features, skipping tracks, all can be done easily using skills. It is a blend of both a home screen launcher application and a smart assistant.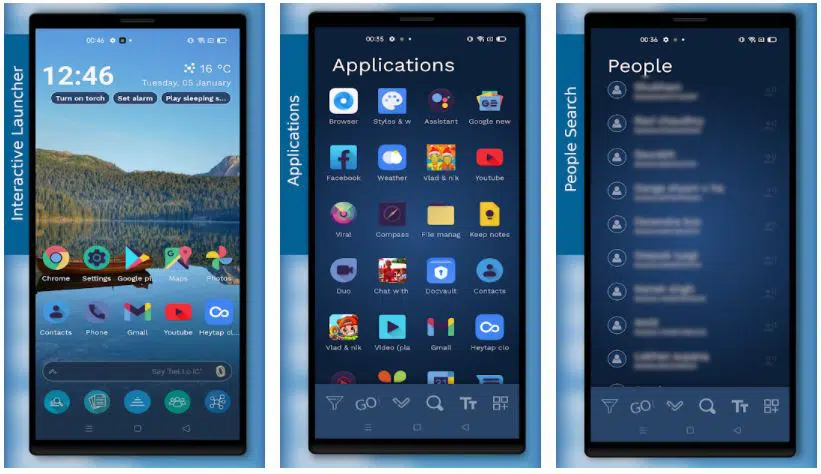 Standout Features:
Skills feature
Integrated voice assistant
Textual list of installed apps
The custom keyboard for search
---
Apex Launcher – Top launcher for android
Apex launcher is one of the fastest Android launchers that almost toppled the Nova launcher in its prime. It comes with more features than what you get with a basic home screen customization launcher and also includes security and backup features.
The primary notable feature is the availability of personalized themes and an icon pack center that lets you map icons and themes for shortcuts and folders. It supports automatic icon arrangements up to the size of 10 icons per page and an infinite scrolling option for the home screen, and dock. Gestures are also embedded into the launcher so you can perform quick actions with ease.
AppLock feature is available to secure individual applications without the installation of a third-party security app. There is also a timer set the feature to help you lock an application for a specific time duration. This fastest Android launcher also supports rolling back to its original state and comes with both backup and reset options. You can also preview your changes before applying them on your Android phone.
In recent updates, the Apex launcher has introduced advertisements that make it impossible to avoid useless suggestions. The pro version can help you get rid of the problem but costs an additional few bucks to keep it simple and clean.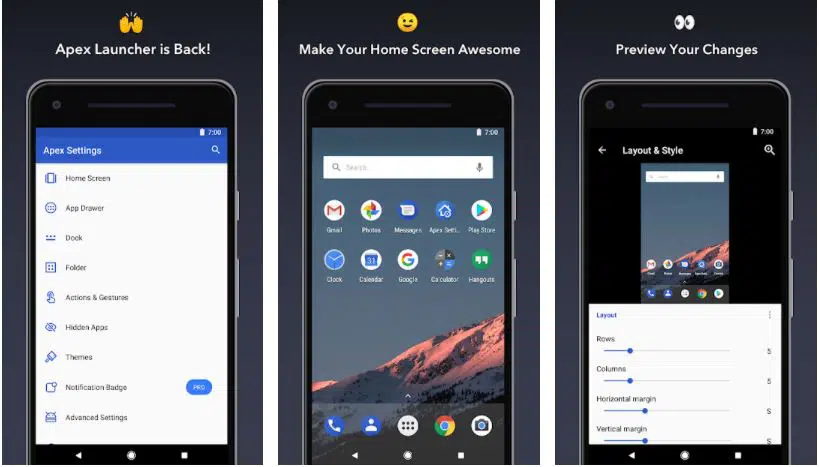 Standout Features:
Preview pane
App lock features
Set lock timer
Inbuilt themes and wallpaper store
---
BlackBerry Launcher
The blackberry launcher is one of the best fastest android launchers. It is incredibly efficient and can help you impeccably organize your entire screen. The customization and organization of the launcher are second to none as it will organize all of your phone applications, shortcuts, widgets, etc. You can put all the apps on the home screen panel for quick access. Convert two-step actions such as calling your loved one or email into a single click operation.
You can use the blackberry pop-up widgets to view any app's widgets by conveniently swiping across the icon. You can also instantly add the shortcuts on the home screen for tasks, contacts, calendars, and notes. It allows you to create customized shortcut keys for speed dial, Google maps, etc., to open the app and use it instantly.
The most significant feature of the app is that it lets you customize the entire lock screen by various methods, including using icon packs, ringtones, and wallpapers or changing the grid layout of the screen. You can hide any apps from the home screen or conserve the data and battery usage through wireless shortcut networks and Bluetooth or WiFi.
If you have a blackberry device, the application is entirely free for you. However, if you don't have that and still want to use the app, it will require you to purchase a monthly subscription that will unlock a variety of features for consistent usage. Overall, the app is an excellent choice that provides you with a great experience. If you ever get bored of the regular and traditional designs, opt for the blackberry launcher and experience exclusivity.
Standout Features:
Organize widgets, apps, and shortcuts
Blackberry pop-up widget feature
Easy to use the app
---
Wrapping Up
These were our best picks for the fastest Android launcher applications that will transform your Android device appearance without slowing it down. Nova, Ratio, and Niagara are three distinct yet fastest Android launchers on our list that you must try. Users that are looking for voice assistant support can try out the Interactive Launcher. Lastly, Apex launcher and Lawnchair launcher are the fastest Android launchers that are worth a try.
Thank you for reading! Try these out too:
Video Guide
General FAQs