Besides the stock and default dialer apps, there are plenty of other dialer apps you can use. Some best dialer apps offer more than the default dialer installed on your smartphones. These best dialer apps come with appealing themes, handy features, and a user-friendly interface. We will be presenting some of the best dialer apps you must install and try on your smartphones.
Before moving further, let's look at some of the benefits these best dialer apps can offer you. These could be some main reasons you would like to switch from the stock dialer on your devices.
Excited? So, Let's Get Started.
Benefits Of Best Dialer Apps
Additional Features: Best dialer apps offer many additional features than the default dialer. For instance, it has many themes, types of dialers, different dialing options, and many more. You can try the dialers if you want to give your dialer a new and refreshing look.
Caller Identification: You can get to know the identity of a caller from an unknown number with dialer apps. Truecaller is one such dialer app used by millions of people to identify unknown numbers.
Spam protection: The most notable benefit of the best dialer app is that it provides spam protection features. One of the most common annoyances is to get spam calls constantly. The default caller provides no strict protection against it, and when you don't want your phone to ring constantly, you can get a dialer app. These applications will ensure that only relevant calls make it to your attention.
Best Dialer Apps For Android
---
Truecaller – Best android phone dialer apps
Truecaller is one of the leading names in the dialer industry that offers handy features. The app has a caller ID feature that will identify the caller before answering them. You can record the calls and save them to your phone for later reference. The app allows you to backup all your contacts, messages, and call history to Google Drive.
The app can identify telemarketers, scammers, fraud, sales, and harassers and auto-block them. You can also get Truecaller personal loans with convenience and minimum documentation.
Related: Best Smartwatch Apps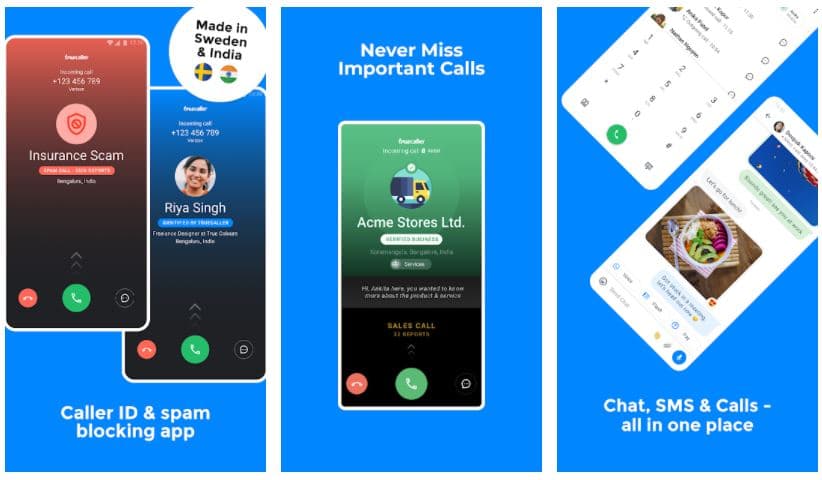 Standout Features:
Auto-block spam
Caller ID
Record and backup calls
---
Dialer
If you want a simple application that provides features and an iOS-style interface, Dialer is a great choice. It is one of the best dialer apps for people that want simple customization and an interface that resembles iOS. The best thing about it is that it is entirely free and does not feature any ads while also being compatible with two Sims.
There is one thing that Dialer priorities and its privacy. The app is designed to be open-source. Thus, it does not ask for unnecessary permission; in fact, it doesn't even access your internet connection, which ensures that it works like a regular Android dialer.
One feature that a lot of users demand and find interesting is customization. The app provides an interface that you can customize with various colors. Furthermore, you can change the icon, text, and background color to look more attractive and spice things up. The most significant feature of Dialer is its number blocker which is necessary to block unwanted and annoying calls. The quick-dial feature will allow you to call anyone through your phone instantly, and you can also maintain a call history with the app.
The application is an excellent way to make things more interesting. It copies the original iOS design and transforms it to suit your Android device; thus, you can feel similar. It also contains a simple UI that ensures that it doesn't confuse you with unnecessary things and performs everything quicker and better.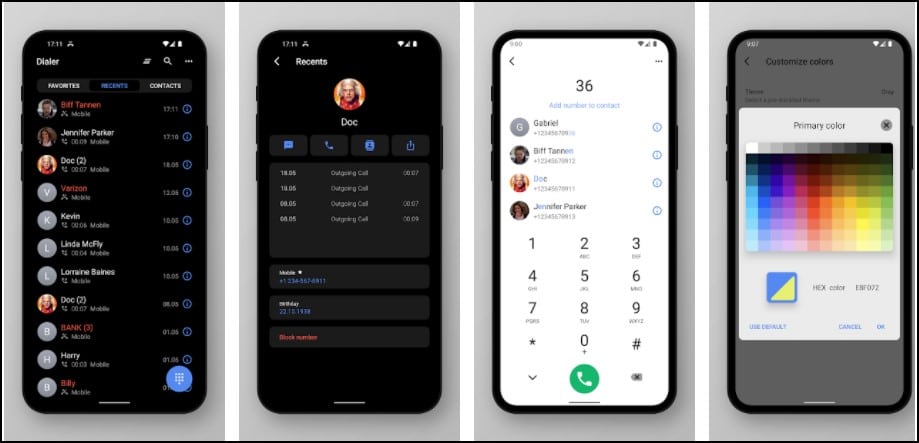 Standout Features:
Various color customization options
A design that resembles iOS interface
User-friendly UI
---
Phone By Google – Android best dialer apps
The official dialer app by Google, Phone By Google, lets you connect with your friends and family members. The app has an intuitive interface that makes it one of the best dialer apps. You get a powerful spam protection mechanism that will protect you from scammers and spammers. You can switch the dark mode of the app to save your battery.
Google's extensive caller ID lets you know who is calling you. The app can filter the unknown numbers and reveal the identity of the caller. You can play voicemails and read transcriptions with the help of this app.
Related: Best Apps For Secret Texting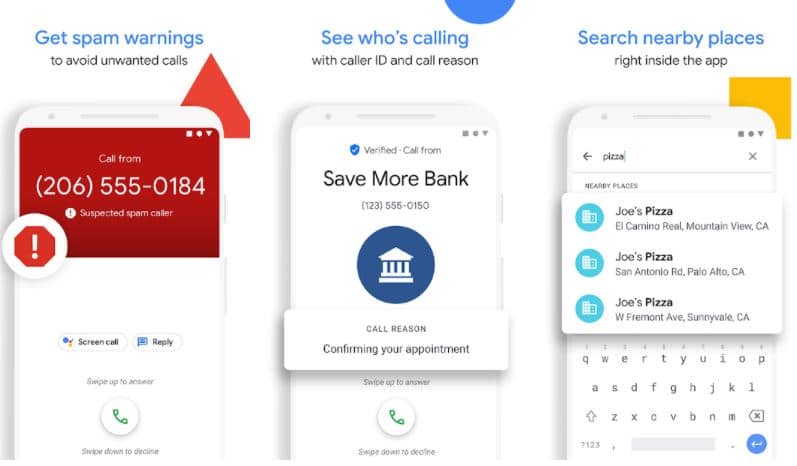 Standout Features:
Extensive caller ID
Powerful spam protection
Dark mode to save battery
---
Drupe – Best dialer apps for android
Integrated call blocker, in-built call recorder, unified feed, and missed call managers, you will be getting all this in the Drupe app. The app has a smart caller ID tracker to track the unknown and spam numbers. Spammers are added to the blacklist. You can avoid unwanted calls, thanks to the 'who is calling me feature'.
With the help of a built-in call recorder, you can record all the incoming and outgoing calls. You can add animated GIFs to the outgoing calls based on what you want to convey. The app allows you to set contact-based reminders that make it one of the best dialer apps. The unified recent feed track the recent communication log.
Related: Best Vocabulary Apps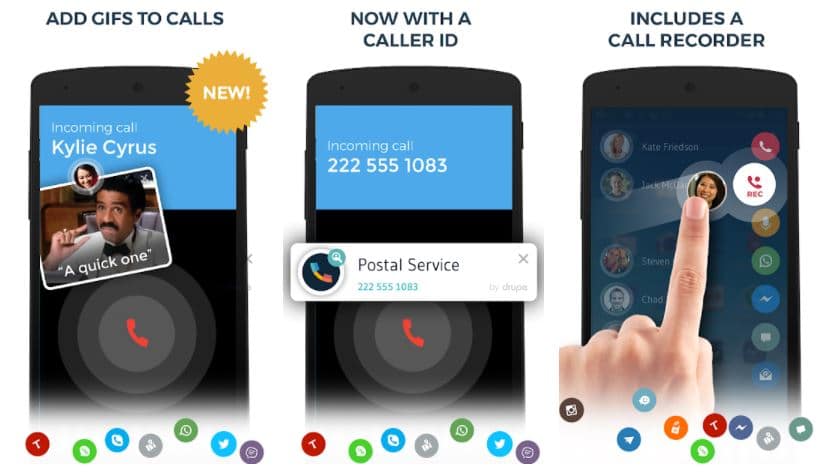 Standout Features:
Unified feed
Animated GIFs
Smart caller ID tracker
---
True Phone Dialer – Best dialer apps
True Phone Dialer is a highly customizable and easy-to-use dialer app. You can customize the design and appearance of the dialer. Besides the caller information, you can see information like notes, jobs, and upcoming birthdays. The app also allows you to record the calls, both incoming and outgoing.
The app has smart recent calls grouping that lets you manage everything effectively. You can choose from the multiple themes offered to change the look and feel of the dialer. You can keep your contacts organized with the help of powerful suggestions.
Related: Best Journal Apps For Android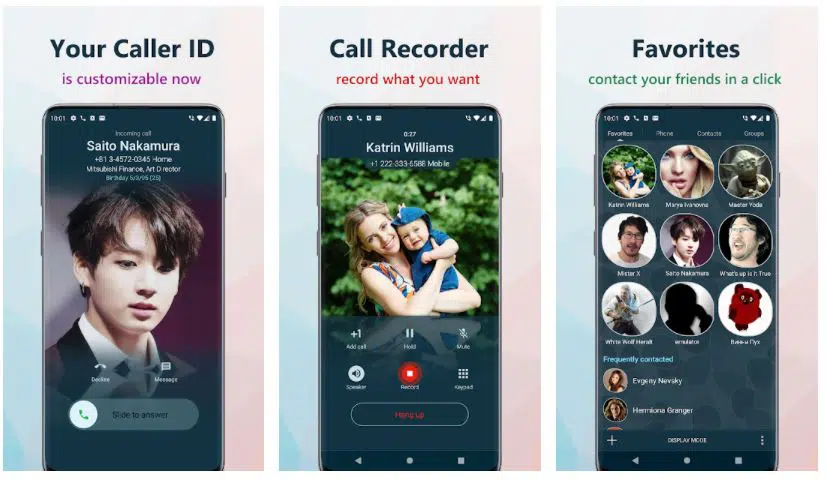 Standout Features:
Contact manager
Highly customizable
Fascinating design
---
Zen UI Dialer – Best dialer apps app
Zen UI Dialer is an all-in-one call log manager that helps to remain close with your friends and family. You can add speed dial of the contacts your call frequently. You can set up to 8-speed dial numbers. The app has a smart blocking feature that lets you block spammers, unknown, and private numbers.
You can set a password in the dialer app to protect your contacts and call history from unwanted eyes. The app is available in 5 languages, making it one of the best dialer apps. You can also link the same contact data from different accounts with the Zen UI dialer. The app offers a number of themes that can be applied to the dialer.
Standout Features:
Speed dial
Available in 5 languages
A plethora of dialer themes
---
Contacts+ Pro – Best dialer apps 2022
Contact+ Pro is a cloud-based dialer that lets you create descriptive contacts. You can add photos and social accounts to your contacts with the help of Contact+ Pro. You can manage the contacts and social profiles of the users all in one place.
You can also add tags to the account to the group and find similar contacts easily. You can sync the app across multiple devices, making it one of the best dialer apps. The app lets you share contact with the whole team, so you can collaborate instantly. You can unlock additional features in the premium version of the app.
Related: Best Ridesharing Apps
Standout Features:
Add descriptive contacts
Share contact with a team member
Sync across multiple devices
---
Eyecon – Auto dialer apps
Eyecon is a visually appealing dialer app that makes it one of the best dialer apps. The app comes packed with 30+ themes that you can apply as per your preference. You can create a photo-based address book where you can add contacts and social media channels. The caller ID will block spam and anonymous phone calls.
You can sync the dialer app with WhatsApp, Facebook, Viber, Messaging, Skype, Linkedin, and Email. The app organizes the contacts based on your usage frequency and displays communication icons. You can log in by adding your phone number without feeding your personal information.
Standout Features:
30+ Themes
Photo-based address book
Sync social media channels
---
Simple Contacts Pro – Best android dialer apps
Simple Pro Contact offers you tons of features which is the reason why we love the app. You can create and save backups of your contacts easily with the Simple Contacts Pro app. The app also helps you to manage emails and events, making it one of the best dialer apps.
You can save contacts in groups and name them. You can customize every information of the contact as per your preference. The app has handy buttons that will let you make calls and messages in seconds. You also get many other useful customization options in the app. It is a paid app and doesn't cost much as it will cost you 29 INR.
Related: Best Investment Apps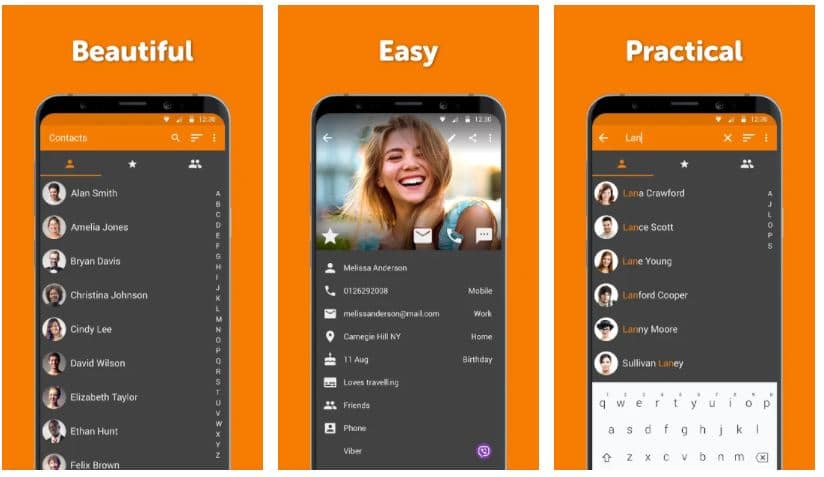 Standout Features:
Handy customization options
Quick buttons
Appealing theme
---
Simpler Dialer – Dialer apps for android
Available in more than 15 languages, the next app on our list of best dialer apps is Simpler Dialer. The app has a clean and intuitive design that appeals to the users. You can easily block unwanted calls to avoid spammers and scammers. The T9 dialer helps you quickly search by name and number.
The app has 40+ themes to try that you can change according to your mood. The powerful search engine of the Simpler Dialer lets you quickly find the contacts. You can also try the dark mode of the app during the night time which saves your eyes from straining.
Standout Features:
40+ Themes
T9 dialer
Powerful search engine
---
Contacts+ – Auto dialer apps
Contacts+ is a popular dialer app that helps you sync up to 5 source accounts. The app has an intuitive user experience that lets you effectively manage all your contacts and call history. You can use the swipe feature to make a call, text, and Email immediately.
You can add tags to the contacts for an effective organization of all the contacts. Your contacts are always synced and every change made will appear on all the address books. The theme of the app is minimal and light which we loved. The app has in-app purchases that you can buy for additional features.
Related: Best Keyboard Apps
Standout Features:
Sync up to 5 source accounts
Easy to use
---
Dialer+ – Dialer apps android
The next app on our list of the best dialer apps is Dialer+. You can create and save customizable contacts on the Dialer+ app. You can choose what information to be displayed about the contact. The powerful caller ID of the app lets you identify unknown numbers before answering.
You can create advance backup and sync your contacts so that you do not lose any important information. The app also helps you to block calls and SMS from spammers. It is a free app that contains ads.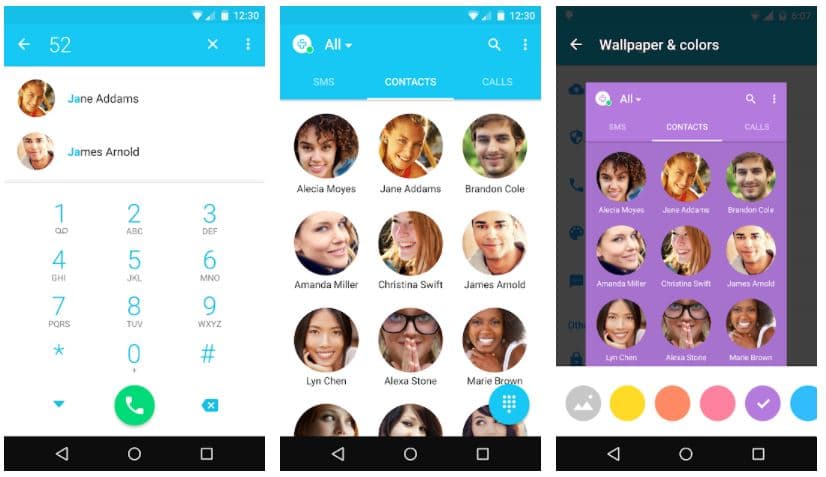 Standout Features:
Highly customizable
Block calls and SMS
Advanced backup
---
Final Words
These were some cool and best dialer apps you can use besides the default dialer. You can use these best dialer apps to effectively manage and organize all your contacts. You can also sync other social media accounts with these dialer apps. Truecaller, Phone By Google, Zen UI Dialer, and Drupe are some highly recommended apps on the list. You can comment below to tell us about your pick of the list and valuable suggestions.
Thank you for reading! Try these out too:
General FAQs
What is the best dialer app?
There are a lot of choices on our list. One Important thing to note here is that there isn't one universal application you can regard as the best dialer app since all of these differ in features. However, our two top picks in the category are True caller and Phone by Google.
Is the best dialer app free?
The best dialer app isn't completely free, although there will provide you with plenty of features without any cost. If you want to truly unlock the application and access every feature that includes premium themes, you will have to pay for it.
Can I block spam and unwanted calls with the best dialer app?
Yes, it's possible to block unwanted and spam calls through the app. It is a significant benefit of having the app.