iOS Is all fun and games until you wander into the customization of your iPhone or any iOS device for that matter. Unlike Android devices, which have a plethora of customization options, iOS devices lack extensive customization options. With iOS 14, Apple gave some breathing room for customization fanatics to transform their home screen setup and icons on the iOS devices according to their will.
It is still not a super-efficient method to change icon packs on iOS, but it is better than not having the option at all. I have rounded the best icon pack for iPhone that will help you to spruce up your theme and change icons on the fly.
Excited? So, Let's Get Started.
Best Icon Pack for iPhone in 2021
---
Depth is the perfect solution to flat icons found on the present iOS devices. The icon library is reminiscent of the older generation iOS icons that had a slight 3D effect on the design. Depth carries that concept for the and presents a themed icon library for 409 different apps and up to 2400 items in total. The depth icon pack for iPhone comes with six variants for an app icon. Yes, you heard that right.
The creator of this icon pack went to extreme lengths to provide you with as much variety in each app icon pack as he could. There is also a limited selection of docked items along with icon assets to create your own depth icons. The library is updated frequently but if you cannot find your favorite app icon in the library, the developer is always open for suggestions.
Related: Best Weather App for iPhone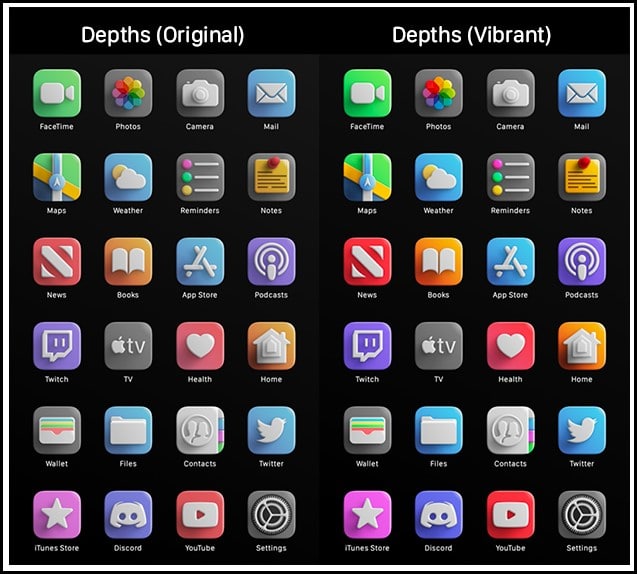 Standout features:
Over 2400 icons
Unique 3D design
Icon creator module
Download this Best Icon Pack for iPhone
---
Limitless is among the best icon pack for iPhones because of its extreme customization options for the icon present in the library. The icon design is kept minimalistic with subtle artwork in white color based on a dark background. There are 6 backgrounds in the highlight pack to choose from, among which the highlight pack looks stunning in my opinion.
Limitless icon pack has over 420 icons that are high resolution with different background colors. The developer assures free lifetime icon update and allows you to choose either from the base pack or the highlight pack, which allows you to pick anyone highlight color of your choice for the icons. There is also a gradient/custom pack that looks distinct from the base pack icons.
Related: Time Management Apps For iPhone
Standout features:
420 plus items
Frequent icon addition
Gradient pack icons
Download this Best Icon Pack for iPhone
---
CMYKons Is based around the Apple fitness widget design that looks absolutely beautiful with neon, green, and yellow accents. The icon library of this best icon pack for iPhone isn't as huge as compared to the Depth icon pack but has the icon options for the most popular apps.
CMYKons offers a free tier, as well as, the complete CMYKons customization package that contains 150 plus icons, five personalized iOS wallpapers that amplify the look of applied icons with a contrasting background. CMYKons is a must-have icon pack for iPhone users who love dark-colored themes and icon packs.
Related: Best iPhone Music Player App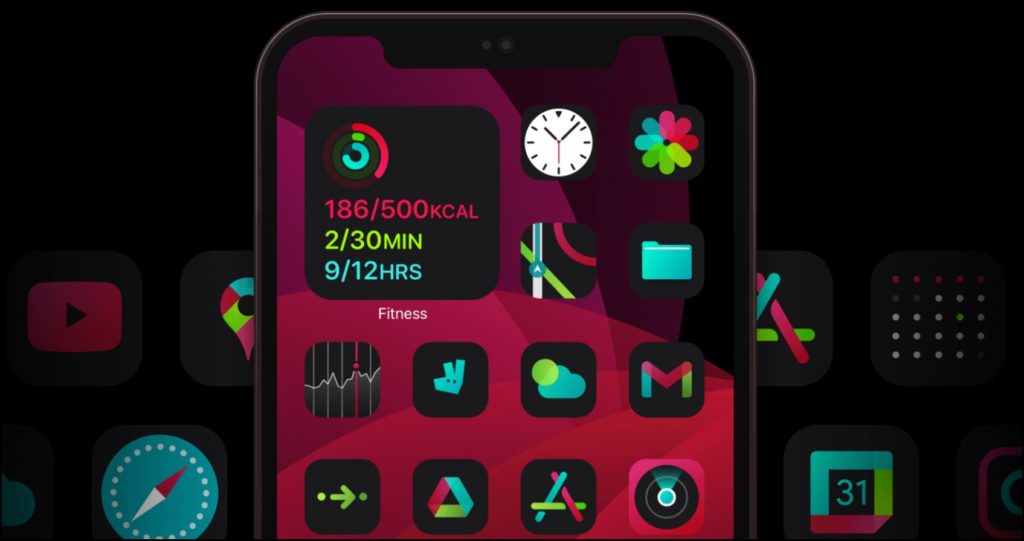 Standout features:
150 Plus icons
5 personalized wallpapers
Fitness centric design
Download this Best Icon Pack for iPhone
---
Flaticon is an icon pack publishing website that provides multiple captivating icon packs that look great on your iPhone. rather than going for excessive experimentation. Flaticon keeps it simple which is the USP of this best icon pack for iPhone. I love the black and white icon design that goes best with an abstract wallpaper and looks gorgeous on iOS devices.
The icon library is vast and the icons are grouped into numerous categories such as black and white, material, flat icons, etc. On top of that, most icon packs are free to use, so you won't have to shell extra money just to spruce up your iPhone home screen and icons.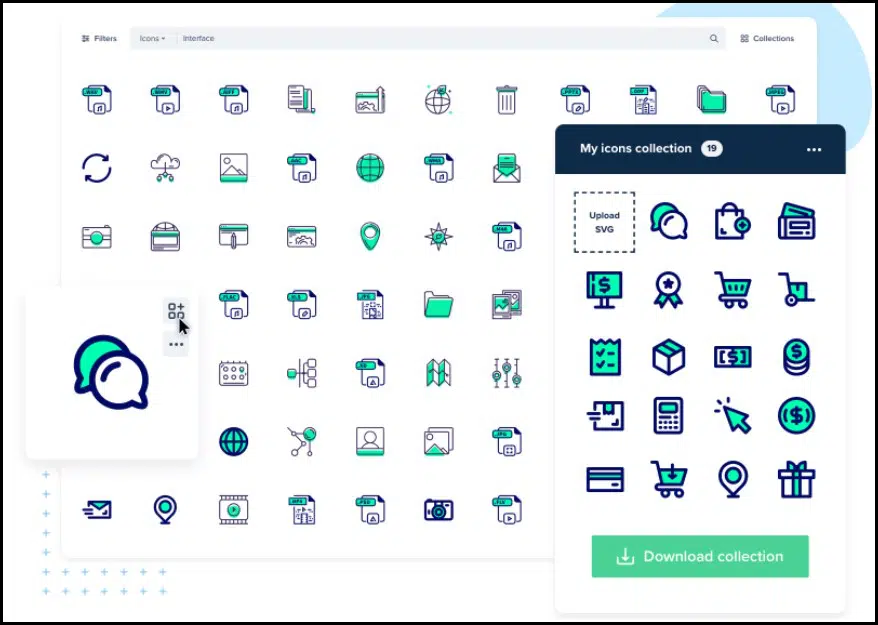 Standout features:
Multiple designs
Well-thought-out categories
Free to use icons
Download this Best Icon Pack for iPhone
---
Iconscout is a vast library of royalty-free icons and illustrations that has almost every category of icons that you can imagine. The icons are clubbed into different categories such as music, people, payment apps, etc which makes finding your desired category easy. Most of the icons are black on white designs but colorful icons categories are present as well. Iconscout is free to use as long as you do not use the icons for any commercial purposes. You get to choose from over 3,000 icons, of which only some belong paid to the paid category.
Related: Best Scanning Apps For iPhone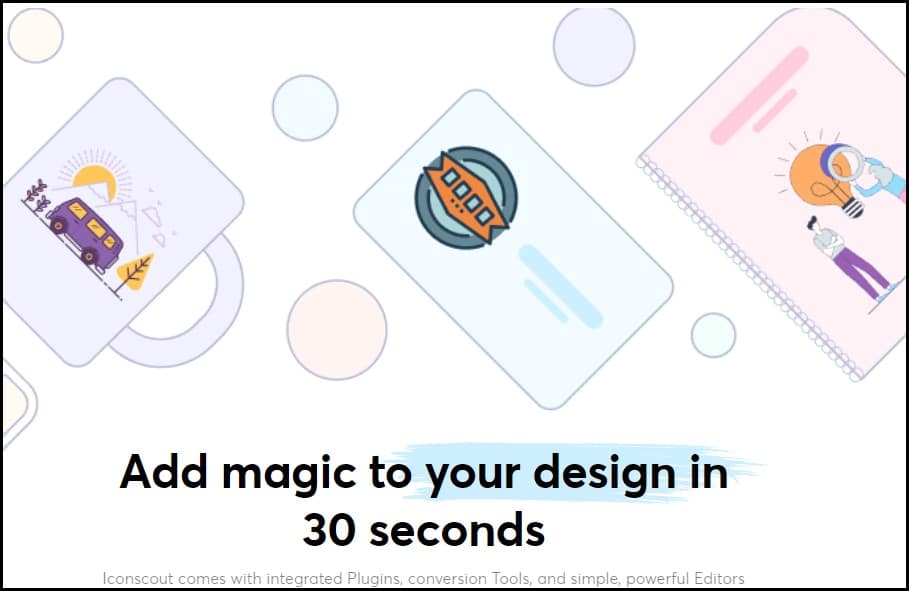 Standout features:
More than 3000 icons
Mostly free
Neat categorisation
Download this Best Icon Pack for iPhone
---
Design shack has a simple approach towards iOS customization and has a limited library of 150 items at present. The 150 icons might seem a little short in contrast to other vast icon pack apps. The library of Design Shack consists of the icons for those apps that are widely used in the iOS ecosystem. The simple black background icon pack of 150 icons is absolutely free for iOS users.
If you want to change things and are searching for colors other than black, the app offers red, green, blue, teal, and yellow background icons as well. It is nothing extraordinary but the design resembles the approach iOS icons. You can also suggest icons if you feel that the 150-icon pack library falls shorts of your expectations.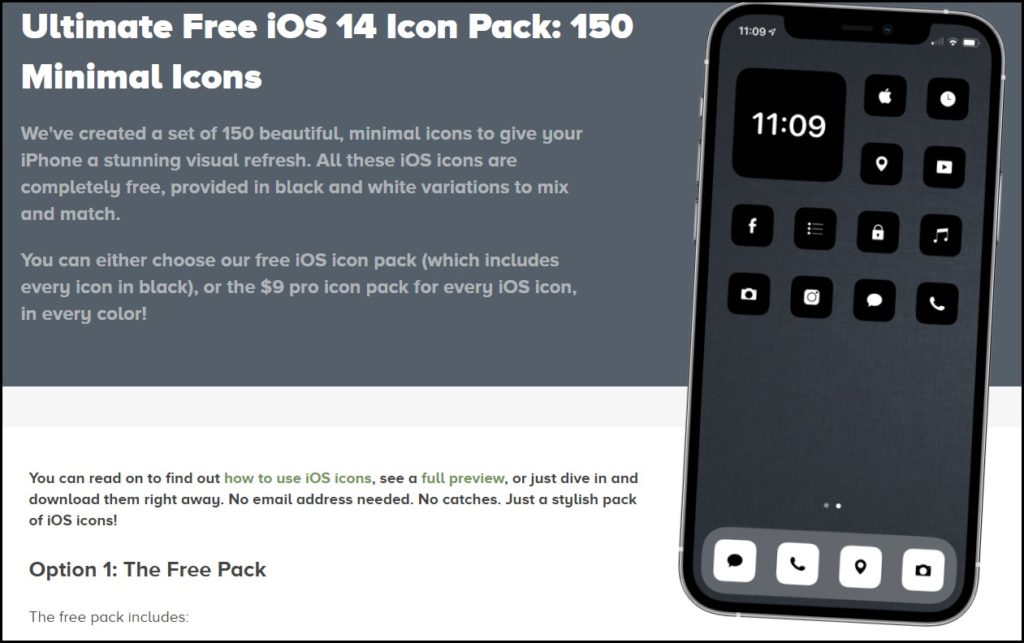 Standout features:
150 icons black background icons
Free to use
6 different background colours
Download this Best Icon Pack for iPhone
---
Dark Mode iOS App Icons are created by "u/Drone_better", a developer who is adept at designing iOS icon packs. This icon pack is free to use and contains 60 items for iOS devices. Some icons have multiple versions which is a plus point considering the fact that it is a free icon pack. The creator has designed these icons to blend in perfectly with dark color themes and wallpapers and if you are in search of something plain yet striking to match your home screen, this icon pack is best for you.
Related: Best Podcast Apps For iPhone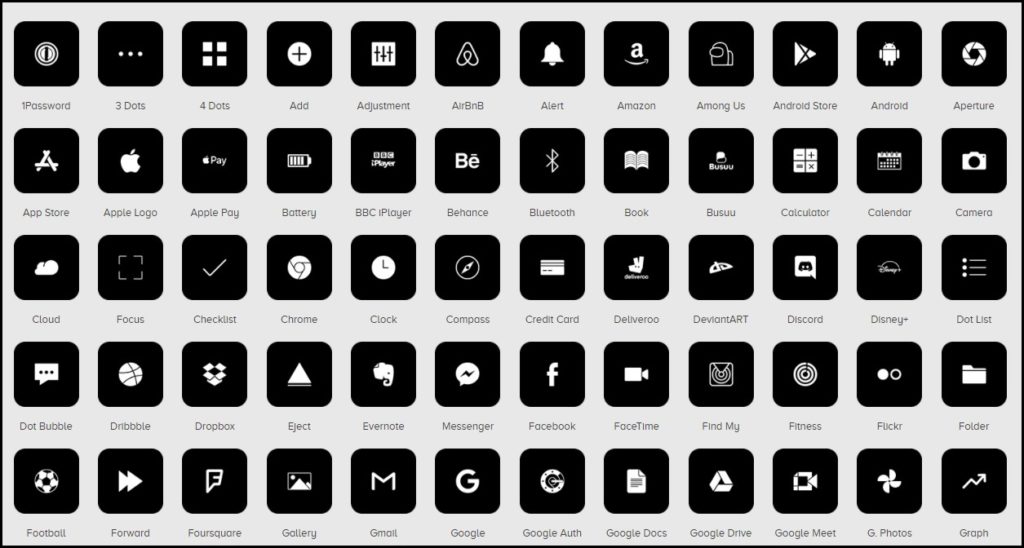 Standout features:
60 icons
Multiple versions of some icons
Free to use
Download this Best Icon Pack for iPhone
---
Traf is a simple approach to iOS customization and comes with a beautiful set of minimalistic icons for iOS devices. The color options are confined to four color schemes including black, slate, cobalt, and white. The icon pack is certainly not as vibrant as the iOS icons but it is a befitting option for minimalistic home screen setup users.
Even the popular YouTube creator MKBHD praised this best icon pack for iPhone for its subtle approach to revamping the home screen icons. It is certainly a pricey option for iOS users as the developer charges a 28-dollar one-time fee for or lifetime access to the icon library. You also get the assurance of lifetime updates if you go with this icon pack.
Related: Best Email Apps For iPhone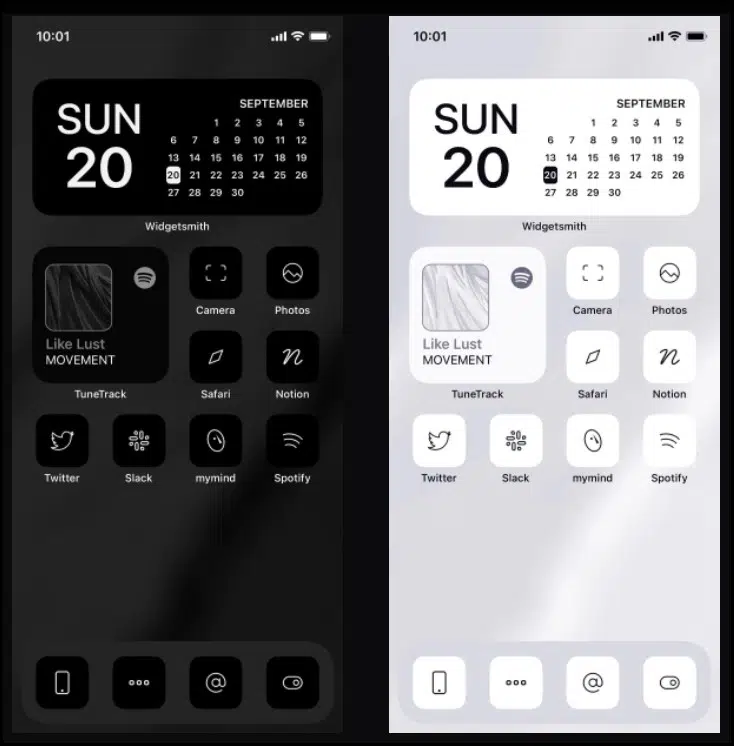 Standout features:
4 colourways
120 beautiful icons
Lifetime update guarantee
Download this Best Icon Pack for iPhone
---
Aesthete is the creation by a popular customization developer Vidit Bhargav who has created an immensely detailed icon pack for iOS devices. Aesthete contains icons to suit different themes including minimalist, realistic textures, abstract, and gradients. Each icon has its back story and displays the effort put in by the designer to create such vivid icons for iOS devices.
This icon pack has over 200 unique iOS app icons and is growing day by day.  The price of this best icon pack for the iPhone is on the higher side, but it is worth every penny if you love icons that convey more than just the app name.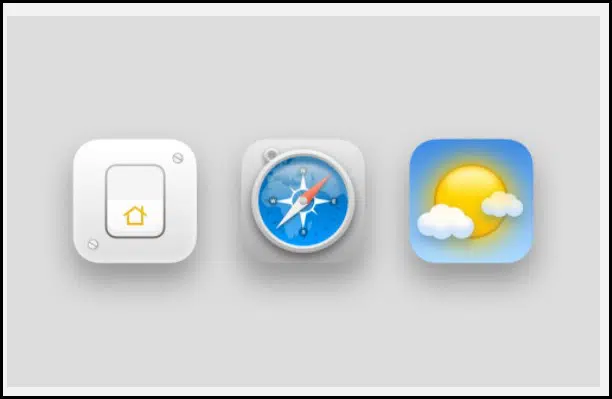 Standout features:
200 beautiful icons
Predesigned themes
Download this Best Icon Pack for iPhone
---
The neon Icon pack is exactly as the name indicates. It is a suite of 300 + icons in a neon design scheme that combines different colors to exhibit the Neon effect. The icons can appear confusing to use at first but the trouble fades away as you continuously begin to use them. This icon pack is priced at $5 and is relatively cheaper for the number of icons that it offers to iOS users. If you do not find the icon for any app installed on your iPhone, you can request the developer to update the icon library.
Related: Best Productivity Apps For iPhone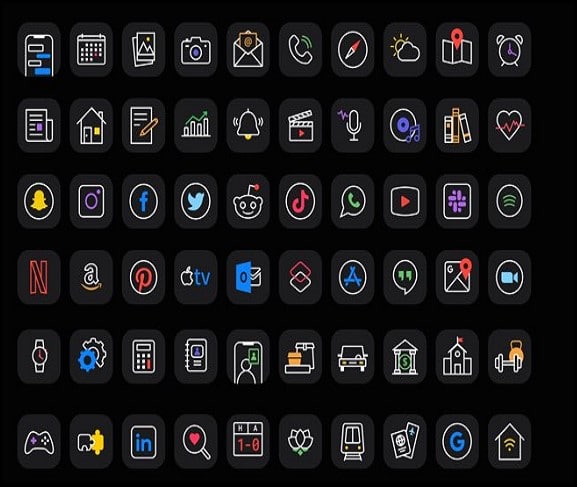 Standout features:
300 Plus unique items
Neon themed icons
Economical pricing
Download this Best Icon Pack for iPhone
---
App Icons provides not only icons for iOS devices but also has numerous wallpapers, live wallpapers, and widgets to completely customize your home screen setup. You can choose wallpapers from the categories of abstract, nature, extreme, and fire. The app will add more categories in the future and the current library of over 200 icons is large enough to customize items of most applications on your iPhone. The icons have a solid color background that helps you identify apps easily. App Icons uses a subscription-based model and has 1, 3, 6, and 12-month subscription plans.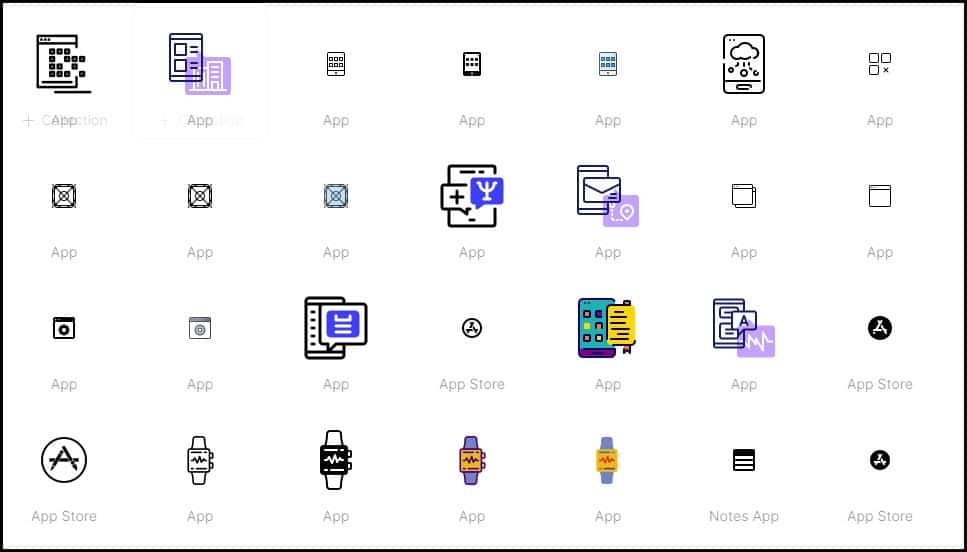 Standout features:
200 + icons
Solid colour background
Widgets and live wallpapers
Download this Best Icon Pack for iPhone
---
Custom Neumorphic is a dark-themed icon pack for iOS devices that uses a neuromorphic design. The result is a stunning library of 100 high-resolution icons for the iPhone. With this icon pack, you can complete your dark home screen setup without searching for any other icon pack. There is also a free version of this icon pack that comes with only 10 icons for apps.
It isn't much but gives you an idea of how the icons will look on your home screen. The icons are available in two styles, namely rounded and square with a 3D appearance. Custom Neumorphic is a one-time purchase with the guarantee of lifetime support, and updates and is the ultimate choice for users looking for a dark icon pack.
Related: Best Antivirus Apps For iPhone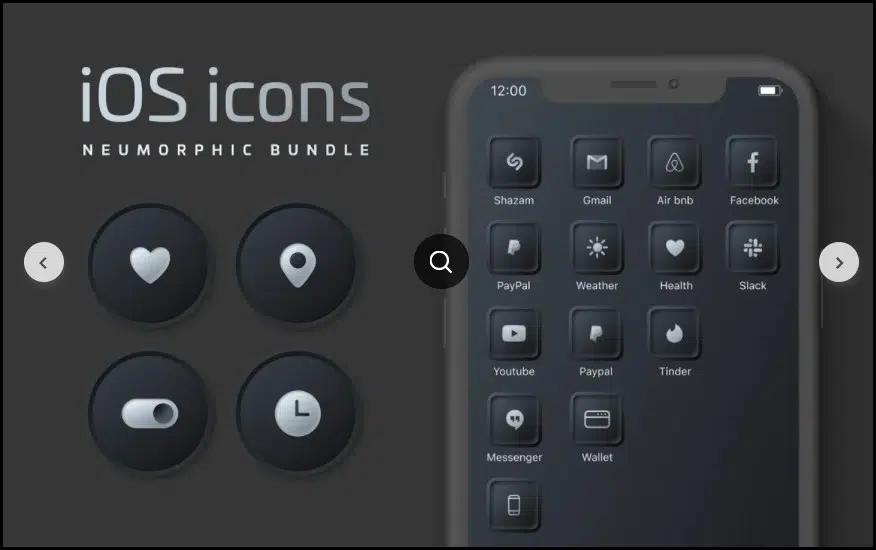 Standout features:
Hundred high-resolution icons
Rounded and Square icon designs
One-to-one support
Download this Best Icon Pack for iPhone
---
Halloween icons, as the name suggests, are icon packs based on the theme of Halloween. The icons have a dark background with the app icon in vibrant colors that pop out on the home screen. The icon library is huge on Halloween icons and has over 1200 unique-looking icons for different apps. You can choose between two styles, outline and filled, and can also cycle between six color options. Purple and Orange look best in my opinion, and with the guarantee of library up-gradation, Halloween icons are a decent choice for customizing your iPhone home screen.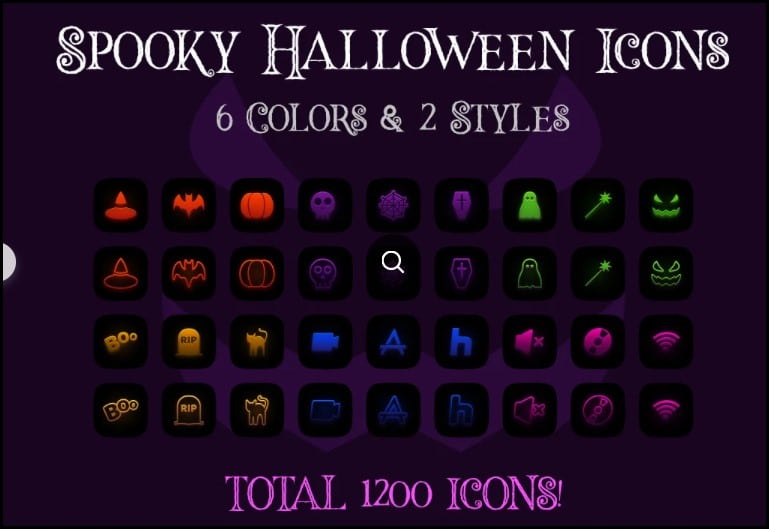 Standout features:
1200 unique looking icons
6 colour options
2 style options
Download this Best Icon Pack for iPhone
---
360º Noir has a 50-icon set for iOS that is circular in shape and is designed to complement dark backgrounds. The icon library isn't vast but considering the fact that it is a free icon pack for iPhone, there shouldn't be any complaints. It might not have icons for the latest launched apps, and games but has icons for popular messaging, social media, and music apps. The credit of this icon pack goes to Parker Ortolani's design of this beautiful icon pack for iPhones.
Related: Best language learning apps for iPhone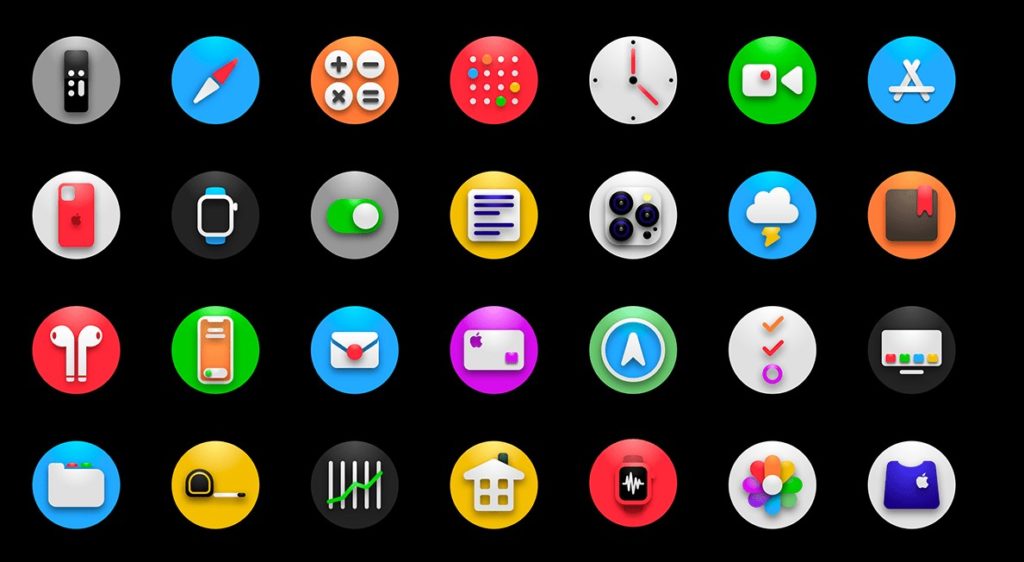 Standout features:
Rounded icons
Designed for pitch-black wallpapers
Free to use
Download this Best Icon Pack for iPhone
---
Bold Icon pack for iPhone packs a rich library of vibrant colored icons that look good on the retina display of the iPhone.  Bold icon pack doesn't fiddle much with the design of the icons and rather focuses more on making the icon visually appealing to the users. Bold also has a Bold dark and Bold Light icon pack that you can try, if you like dark screen setup. It is priced at 5 USD and comes with 67 icons that comprise all necessary IOS app icons and a few third-party apps too.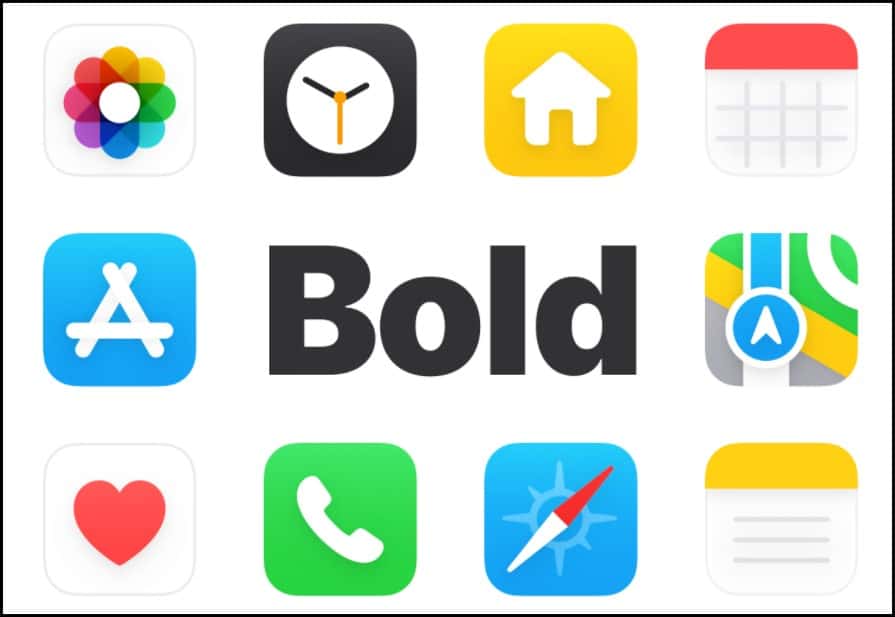 Standout features:
67 icons set
Bold colour scheme
Download this Best Icon Pack for iPhone
---
Final words
The above-mentioned list has all the best icon packs for iPhone that can help you achieve your desired home screen setup appearance, and get rid of those boring iOS icons. Depth and aesthete are the two must-have icon packs for the iPhone that I would personally recommend to all of you. I have also covered a few dark mode icon packs of which 360 Noir and Halloween icon packs are my two best picks.
Thank you for reading! Try these out too:
General FAQ
Can you get icon packs on your iPhone?
Yes. Just download them and navigate to your settings to create shortcuts using the best icon pack for iPhone.
Where can I find free iPhone icons?
You can find free icons on the App Store, as well as, on websites like Iconfinder, Icons8, etc.
How do I change app icons on iPhone without shortcuts?
It can be done but is supported by third-party apps, and also be a few ones available on the App Store.