The world is swiftly moving towards digital documents and the rise in the number of scanner app for iPhone are a testament to that statement. The best free scanner app for iPhone solves most of the problems associated with physical documents and digitizes them in just a few clicks. Most of these scanner apps for iPhone use the OCR technology to capture a great level of detail and convert the scanned document into a widely supported file format.
There is no dearth of the best free scanner app for iPhone on the App store, and I have listed out the best-rated, widely used, and reliable scanner apps that will facilitate easy conversion of your physical documents into digital format.
Excited? So, Let's Get Started.
Benefits of Best Free Scanner App
Instantly digitize physical documents – By using the best free scanner app for iPhone, you can instantly digitize physical documents in just a few steps, and view the result on your mobile phone.
No need for other PC peripherals – The best free scanner app for iPhone lets you scan the physical document using the OCR technology, and does not require an additional computer peripheral such as a scanner or a printer.
Easy access to documents – Digital documents are easy to share and sort, and can be stored on the iPhone as well as in the iCloud. You can access them at any point in time, and do not need to visit the office for home, which is the case with physical documents.
Best Free Scanner App for iPhone 2021
---
Scanner Pro is a highly acclaimed document scanning application that has been featured in many popular publications such as CNET and MacRumors. It is among the few mobile scanner applications that offer a complete package, with most of the features available in the free version as well. It uses OCR technology to scan any image or document and convert it into digital copies. The app lets you map a workflow that automates every function that you perform after scanning, These automated workflows can help you save precious time, and only require a single click after scanning a document.
Scanner Pro supports over 25 languages, so there is no limitation that it can only convert the text written in the English language. You can perform a deep search by typing in the document's name as well as any text that is present inside the document. You can also share the scanned documents with your contacts and on instant messaging services, and even auto-upload your documents to the iCloud by default. There is a feature to password protect your scanned documents folder, along with a backup folder that saves the original scanned document, before your make annotations to it.
Related: Best Free Music App for iPhone
Standout Features:
Auto-upload to cloud
Protect your PDFs
Share your scans
Download this Best Free Scanner App for iPhone
---
Adobe Scan is among the best free scanner app for iPhone on the market right now that delivers impeccable digitized documents using OCR Technology. This scanner app allows the conversion of a physical document into a PDF file or an image file. Users can also enhance the scanned document and make annotations to it, along with cropping out the unnecessary parts. Adobe Scan can automatically extract the contact information from documents and save it to your device.
This best scanner app for iPhone can extract every bit of text present in the scanned document, which can be reused in other documents as well. You can even resize and reformat the text present in the scanned document if it appears illegible or crammed. The app allows easy organization of all your scanned files into different folders that can be accessed easily. It can even auto-convert the existing documents and receipts in your gallery folder, into PDF file format. The premium version unlocks the document merging capabilities and increases the limit of pages or documents that can be scanned.
Related: Best iPhone Themes For Customization
Standout Features:
Quickly find documents
Scan any document
Save and organize documents
Download this Best Free Scanner App for iPhone
---
Microsoft Lens offers a little more variety of file formats post the conversion of an image or a document. You can choose from four different file formats, namely PDF, Word, PowerPoint, and Excel files. Its implementation of the OCR technology can easily extract text from receipts, whiteboards, contact forms, business cards, and handwritten text. This best free scanner app for iPhone lets you import images and convert them into the desired file format, in a few easy steps.
Furthermore, the users also get the option to save the documents on the iPhone or back them up to OneNote or OneDrive. All the scanned documents can be organized and annotated in Microsoft word and OneNote. The best part is that it is free with no in-app purchase is required whatsoever. You can scan unlimited documents without worrying about exhausting the scanning limit or battling persistent advertisements.
Related: Best Camera App For iPhone
Standout Features:
Scan handwritten or printed text
Save as PDF, Image, Word or PowerPoint
Scan and upload all your physical documents
Download this Best Free Scanner App for iPhone
---
Prizmo 5 is a fairly new Scanner app on the App Store that packs an overwhelming set of features that can be used to fine-tune your scanned documents. It automatically flattens the documents and adjusts the curves, so that it looks like a system-generated PDF file. You can make and annotations and can even extract images from the PDF file. It even has an automated system built-in, that can be used to quickly capture and process scanned documents.
This best free scanner app for iPhone supports a wide variety of formats and can export the document in searchable PDF, Microsoft Word DOCX with original layout, TXT, PNG, JPEG. The app allows exporting the important information of business cards into contacts or as a vCard that can be shared with others. You can set the auto-upload option, which uploads the copy of the scanned document to a cloud storage service of your preference.
The app also provides support to read the text aloud using iOS voice, and you can also adjust the playback speed of the audio. It can capture documents in 300 plus DPI that contain more detail and do not appear blurry after processing. There is multi-page support in the Pro version which lets you perform batch processing on a series of pages. For the best experience of the cloud plan and the premium features, you have to shell out extra money for a monthly or yearly subscription plan in this best free scanner app for iPhone.
Related: Best Dating App for iPhone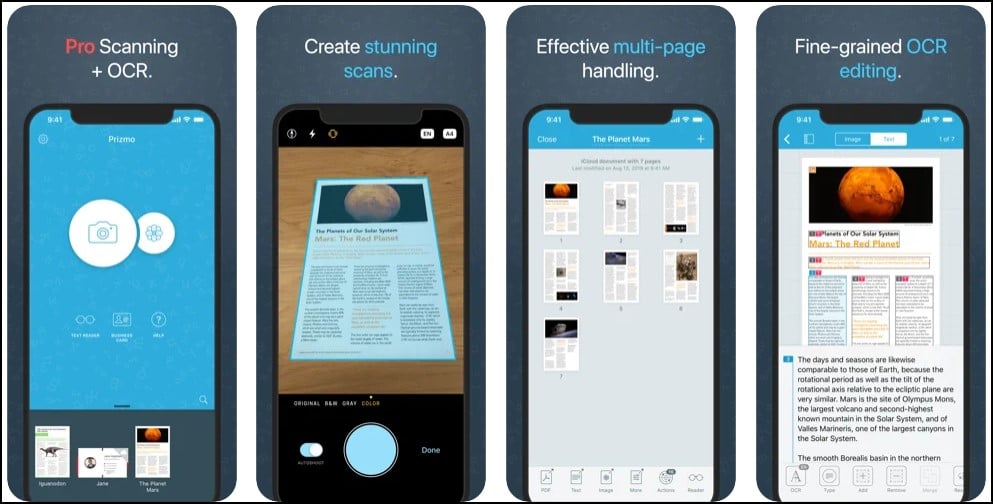 Standout Features:
Batch editing
Read text aloud
Multi-page support
Download this Best Free Scanner App for iPhone
---
CamScanner is one of the most installed applications by iPhone users because of its consistent improvement in features and being a free-to-use application. This best free scanner app for iPhone has revamped its user interface which makes it easy to scan and convert documents into PDF files. The primary feature is the OCR-based document scanner that can convert any image into PDF or JPG files. It also has a PDF converter feature that lets you convert files into PDF format.
The list of features doesn't end here and it comes with a handy document editor and a file manager that lets you access and protect your scanned document using a password. You can easily share documents on WhatsApp, iMessage, Microsoft teams and can even collect feedback on those documents. The app also has useful screening modes that can easily convert your ID card, passport, business card, etc. into a digital format. QR code scanner is embedded into the application as well. CamScanner is free to use but you may need to purchase a subscription to bypass the imposed limit of a few premium features.
Related: Best Live Wallpaper Apps for iPhone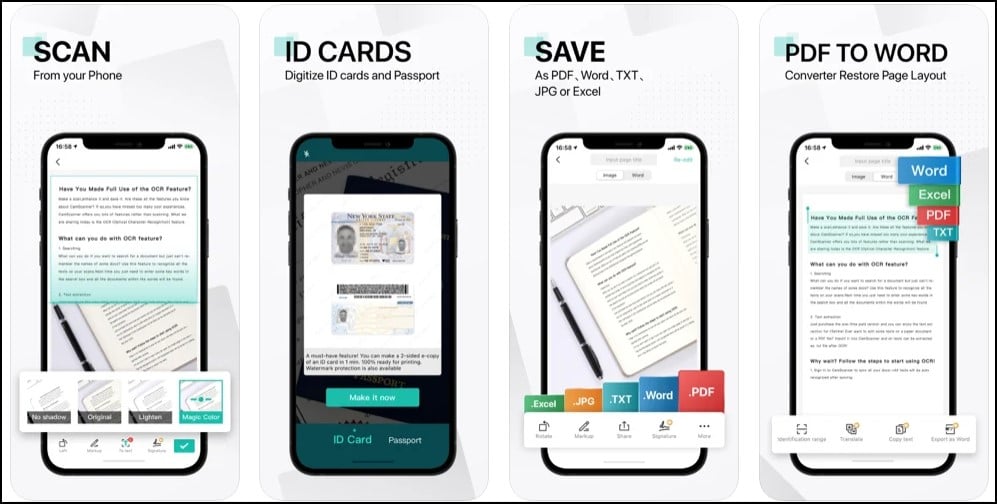 Standout Features:
Scan documents and share them
Upload scanned documents
Read any QR-code
Download this Best Free Scanner App for iPhone
---
QuickScan is a completely free-to-use scan application for iPhone, that comes with all the important features minus any ads whatsoever. The developer does accept tips and you can donate if you want to. Using QuickScan is very simple, just open the application and scan the physical document within the app. The app showcases a preview immediately after scanning the document. Here, you can make annotations and even change the color scheme of the document.
It even tells you the expected size of the final PDF file, which can then be exported to your phone storage, or any cloud-based storage service of your choice. QuickScan automatically names your files so that you don't have to rename every one of them. It currently supports 7 languages and the text recognition of other languages is a bit clunky in the application. QuickScan facilitates the free conversion of documents into PDF files and does not log your data while doing so.
Related: Best Icon Pack For iPhone
Standout Features:
Export the text in .txt format
Apply image filters
Export anywhere
Download this Best Free Scanner App for iPhone
---
Genius Scan is another popular scanner application for iPhone that is not stuffed with unnecessary features. It is capable of completely removing the background from the document and generates crisp and legible digitized documents which can be exported to the local storage or an email address or cloud storage service. This app comes with the support for document organization which supports document tagging, renaming, and multi-device sync (which is a paid feature).
Users can also apply filters and correct the distortion from the document. Advanced features such as multi-device synchronization, cloud storage service integration, password encryption for PDF files, are exclusive to the premium version only. That being said, Genius Scan is one of the best free scanner apps for iPhone.
Related: Best Icon Pack For iPhone
Standout Features:
Distortion correction
Shadow removal
Most features are free to use
Download this Best Free Scanner App for iPhone
---
Evernote Scannable does not have any hidden purchase and is a completely free-to-use application that can help you to convert long textual notes, scripts from textbooks, and reference material into PDF format. It can easily recognize the text in the image and even work with light and dark backgrounds. Users can share the scan documents via email or save them to their phones.
This best free camera app for iPhone can easily convert business cards into contacts and save you the hassle of manually and protecting every new contact. You can apply simple filters and adjust the color tone of the document along with a few tools to crop and resize the final document as well. The app is most beneficial for students who cannot spend a large sum on a scanner app with a monthly subscription plan.
Related: Best Weather App for iPhone
Standout Features:
High-quality scans
Convert business cards into contacts
No in-app purchase needed
Download this Best Free Scanner App for iPhone
---
Final Words
Scanner Pro and Adobe Scan are the two premium scanner apps, that have a freemium version that lets you capture and convert all your physical documents into digital format. If you need completely free scanner applications for iPhone, CamScanner and Evernote Scramble come with all the necessary features without forcing you to upgrade to a premium plan. If you think I have missed any of the popular free-to-use scanner apps for iPhones, feel free to drop their names in the comment section below.
Thank you for reading! Try these out too:
General FAQ
Is there any free scan app for iPhone?
Yes, there are multiple free scanner apps for iPhones that are mentioned above and do not have any hidden costs.
What is the best free scanning app?
CamScanner is the best free scanner app for iPhone that does not have any sort of advertisement integration and has an optional premium tier.
Does iPhone have a built-in scanner?
The Notes app on iPhone has an inbuilt scanner that can simply scan documents, and extract text from them.