Technology innovation has provided numerous modes of communication, it can become difficult to keep track of all the information. If you have a busy schedule and your days often get hectic, keeping track of all your conversations can be a tiring task. It's where another miracle of technology and invention comes into play in the form of the best voice recording apps. Whether you intend on recording your conversations for personal usage, work commitments, or business relations, a voice recorder can be more valuable than you might initially think. Furthermore, these apps also provide several editing features that will let you cut, trim, and save calls.
The innovation provides us with voice recording apps, thus reducing the time, effort, and energy you would otherwise require in recording discussions through physical audio recording equipment. Since, in the digital world, we come across so much sensitive information that it can get hard to track. For students, a discussion about a particular topic either with the teacher or among a group study would benefit from a voice recorder since you can save it for later. In business, a voice recorder plays the vital role of recording any customer feedback. It ensures that your customer doesn't go back on their words and verifies that your employee effectively deals with the issue.
The best voice recording app for iPhone will let you track all the data and thus increase your efficiency. Whether it's interviews or meetings, everyone has a chance of benefitting from these apps. The next task, which can prove quite exhausting, is finding the best voice recording app for iPhone. Although there are plenty of choices on the App Store, it requires careful consideration of several factors before finding the ideal app.
We know many of you don't want to go through the pain of downloading different apps and trying them out. Thus, we have got you covered. In the article, we have a list of the best voice recording apps for iPhone.
Excited? So, Let's Get Started.
Benefits of Best Voice Recording App For iPhone
Editing and sharing: One of the most significant benefits of the best voice recording app for iPhone is that it will provide you with plenty of customization options. You can edit, cut, trim, and share a particular part of the conversation with your friends.
Increased efficiency: – Since you can record the discussions through the app and hear them later, it reduces the chances of missing out on any critical information. Thus, you can save the audio recording, whether a meeting or a lecture; the app will have you covered for revision.
Better business monitoring: A significant benefit of voice recording apps is for business purposes. You can use the app to track your employee's behavior over customer service. Furthermore, you can also record client calls which will help you improve the quality of your services and record feedback.
Best Voice Recording App For iPhone
---
Voice Memos
For loyal iPhone lovers, Voice memos are the best voice recording app for iPhone. The reason for it is pretty simple; the app provides functionality and convenience packed with an easy-to-use interface. Furthermore, the app has built-in in-app devices; thus, you won't even have to spend your mobile data downloading one.
The app has a pretty simple yet intuitive interface that will let you easily record any conversation. A significant benefit that it offers are the editing options that let you cut, trim, save and delete a particular part of the conversation. The pinch and zoom feature of the app will let you edit with a lot more precision. You can replace and resume the recording to fine-tune it. A significant benefit of it is enhancing the recording, which reduces the background noises and the room reverberation by a simple single tap.
You can also maintain a directory of all the recordings. Since Voice memos let you save the recordings with any title you want, this helps categorize, so you don't have to play them all to find the one you want. Once the voice recording is ready, you can share it with your friends or save it to iCloud to use in sync with other devices.
Related: Best Navigation App For iPhone
Standout Features:
Several editing options
Easy to use
Diverse recording options
---
AudioShare
If you are looking for the best voice recording app for iPhone that can provide professional functionality, AudioShare is the choice. The app is ideal for musicians and other creative workers who want to create audio files in a large number.
The app offers plenty of features that make it an excellent choice. Apart from its powerful tools for file management that will let you transfer any file from the app to a computer or another application, it also offers an audio recording through an external microphone. Furthermore, there are also plenty of customization options. The app will let you choose from a wide variety of bit and sample rates or records and let you play the recording at various play-back qualities.
Furthermore, you can also use AudioShare for customization, as importing a clip in the app along with trimming, fading in, fading out the recordings is pretty straightforward. Once you have finished editing, you can use the app to export the files to any app that AudioShare supports.
Standout Features:
Exceptional voice recording abilities
File management is easier
Professional-grade features
---
Voice Recorder & Audio Editor
Voice Recorder & Audio Editor is the best voice recording app for iPhone for students that want an app to save their lectures or informative discussions. A significant benefit is that it offers a recorder and a transcriber combined in a single app.
If you are worried about the length of lectures or discussions, then worry no more as Voice Recorder & Audio recorder will look after it. It doesn't impose any restrictions on recording; thus, it depends on whether you want to record for a few minutes or a long discussion.
Perhaps the most significant advantage of the app is that it comes with a transcriber. You can use the app to add text to the notes or transcribe the call through the app's premium version. However, the free version still offers plenty of features, such as choosing the file format for the audio files, altering the playback speed, or cutting out the parts you don't need.
Related: Best Photo Collage App For iPhone
Standout Features:
Limitless recording time
Transfer recordings using Wi-Fi
Voice recorder and transcriber
---
Awesome Voice Recorder
Excellent Voice recorder comes with a classic appearance and impeccable functionality. For interviewers and students, AVR is the best voice recording app for iPhone due to its convenient usage.
You can use the app to record extended interviews or lectures; all you have to do is select the recording quality you intend to create and choose whether you need a stereo or mono recording before choosing the file format, i.e., MP, M4A, or WAV.
You can also add various tags that will assist you in highlighting essential bits of the recording or let you resume recording sessions after a pause (the max duration is around three minutes). The background noise, mainly when recording in a busy place like a school, is a constant problem, impacting the output audio quality. Awesome voice recorder offers background noise elimination features that ensure you have a clear voice output in the final creations.
Related: Best Free Video Editing App For iPhone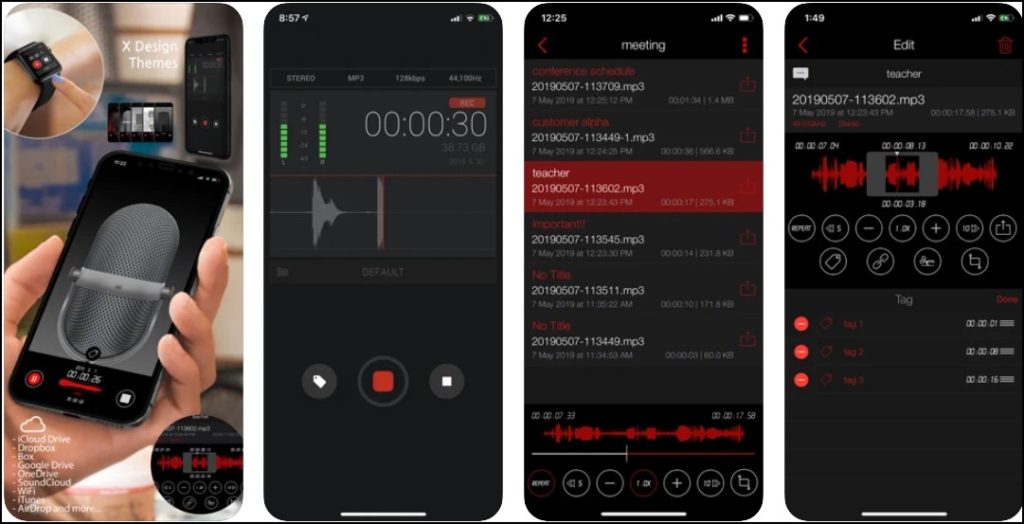 Standout Features:
Plenty of versatile voice recorder tools
Easier and quicker file management
Background noise elimination
---
Voice Record Pro
Voice recorder Pro is a popular choice on the best voice recording app for iPhone list. The app comes with a unique and classic interface, excellent functionality, and versatile features, making it useful for everyone looking for a reliable voice recorder.
All you would require is a few simple tips to begin a voice recording process. A significant benefit is that it lets you capture all the voice recordings in different standard file formats while also enabling you to convert the files in any format you want. Furthermore, you can also add photos, bookmarks, and notes to the recordings or use the merging feature to combine multiple recordings into a single file.
You can also use the app to adjust the playback speed, audio boost, and play-back volume. The recordings are sorted by dates, and you can also create categories to ensure you find the exact recording quickly. Voice Recorder Pro also offers plenty of export options that let you upload the voice recording to a cloud storage service quickly and efficiently.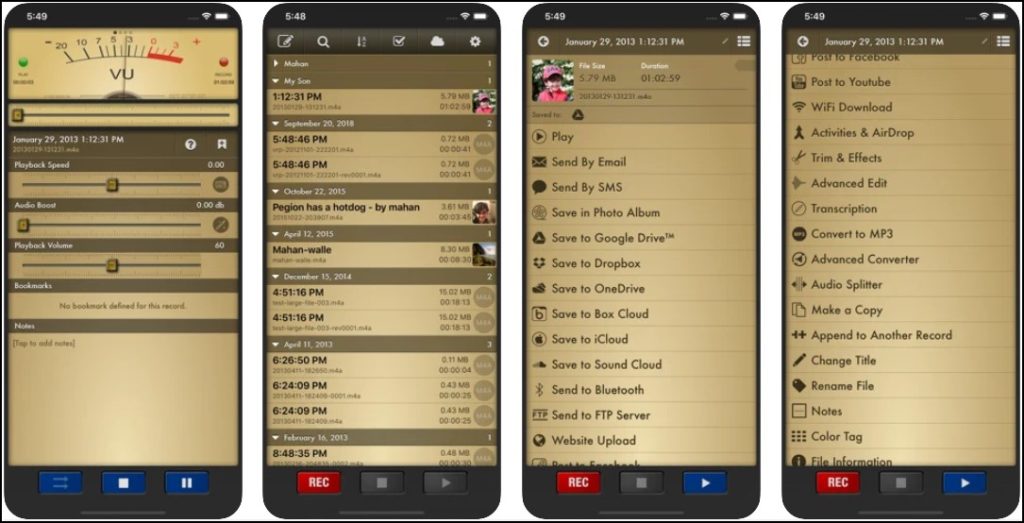 Standout Features:
A broad spectrum of file export options
Create high-quality audios while offering customization options
Easy categorization of the recordings
---
Voice Recorder – Audio Record
The Voice Recorder- Audio Record is one of the best voice recording app for iPhone despite being a paid application. Although you will have to spend $3.99 to get it, the app is value for the money when you consider its excellent features.
It has a user-friendly and intuitive interface that lets you easily record and save it in the voice memo so you can access it whenever you want. For iPhone users who cannot record audio from close proximity, this is an ideal choice since it can pick up the voice and sound from a distance of 300 feet.
The application will let you choose the recording quality and select a format for the audio file. Furthermore, you can also connect it with an external microphone and pause or resume recordings after calls. Voice Recorder- Audio record also supports different standard sharing options and automatically saves the recordings to Dropbox.
The application also offers editing options such as audio trimming, cutting, sharing, etc., to ensure you can enjoy a much more versatile functionality. Overall, it's an excellent choice to record the lecture from a distance.
Related: Best Call Recording App for iPhone
Standout Features:
Record voices by using an external microphone
Pick up sounds over a distance of up to 300 feet
Supports all the standard sharing options
---
Otter: Transcribe Voice Notes
For students, journalists, and busy individuals who don't have time to write everything after recording a critical conversation, Otter: Transcribe Voice Notes is the best voice recording app for iPhone. It saves you time and effort, which you can utilize for other tasks with greater importance.
You can record business meetings, interviews, or lectures and transcribe them with exceptional accuracy. The app's Artificial intelligence can recognize different speakers after some training which means that you can quickly transcribe any voice recording with near perfection and great accuracy.
The voice recorder of the app is also great, and it records the audio in high-quality, ensuring you won't have a problem transcribing it later. You can also highlight, add photos or copy a particular part of the text. Another exciting feature of the app which makes it ideal for groups and teams is its collaboration options. You can create groups with different members and share the transcript live among them while inviting them to view it.
Related: Best Free Scanner App for iPhone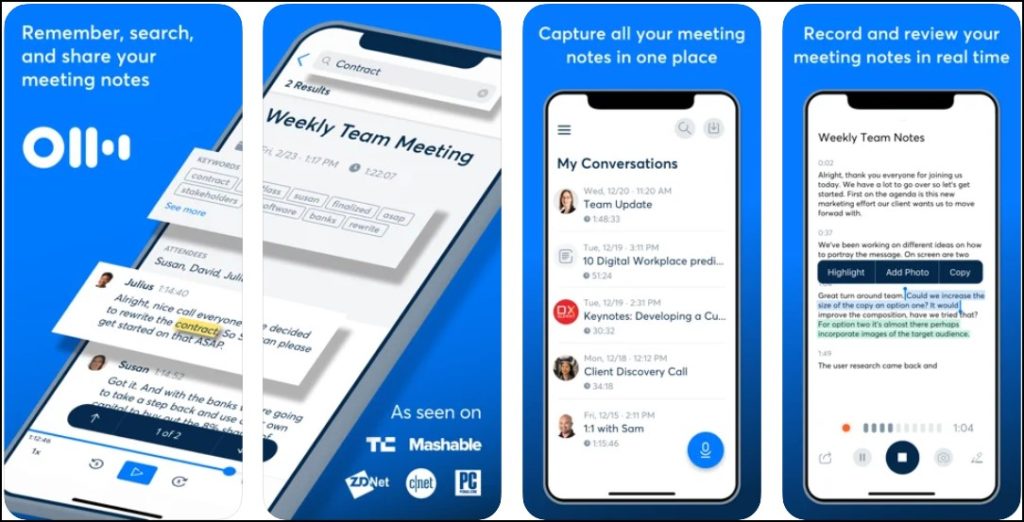 Standout Features:
Automatic transcription
Different collaboration options
Create Notes and edit them
---
MultiTrack DAW
If you are searching for an application with advanced functionality and some extra features, MultiTrack DAW is the best voice recording app for iPhone that you can benefit from. It is a powerful app that will let you edit audio files in different ways. Although it's not a free one and will cost you around $9.99 to get all the features, it provides a value for the fee after considering its functionality.
MultiTrack DAW has a free version that will give you access to eight stereo tracks, and if you make a purchase, the count increases to 8 or even 16 tracks. It also offers multiple input options that will let you connect an external microphone to the app and record sounds and other voices. It is an essential feature since you can connect a microphone during a meeting to ensure the highest sound quality.
The app also offers editing tools and options. It includes non-destructive and non-linear editing's through regions and bins. It has a built-in EQ with two parametric bands and two bands shelving with a track compressor. Furthermore, there is also a stereo delay and sweet reverb option available for more advanced settings.
Related: Best Photoshop App For iPhone
Standout Features:
Power recording and editing features
Different input and output file format support
Ideal for professional performance
---
Final words
Since there is a massive collection of voice recording apps on the App Store, searching for the one that will benefit you in all situations is a challenging task. Thus, you can choose one of the best voice recording app for iPhone from our list. Although they might differ in functionality, the final result choice should be made after considering your requirements and expectations.
For users that can afford paid software and are looking for something to deliver more advanced functionality, MultiTrack DAW is the ideal choice. However, if you are looking for a simple voice recorder, Voice Memos and AudioShare are two great choices. if you want a transcriber and a voice recorder, you can opt for Otter: Transcribe Voice Notes.
Thank you for reading! Try these out too:
General FAQS
What is the best voice recording app for iPhone that doesn't cost money?
There are many free choices in our best voice recording app for iPhone lists. Starting with the in-built voice recorder of the iPhone in voice Memos, AudioShare is another excellent choice.
Can a voice recorder also transcribe?
Although not every voice recorder offers the feature, a few will help you transcribe the recording. The two notable examples on our list are Otter: Transcribe Voice Notes and Voice Recorder & Audio Editor
Is it easy to record using the apps?
Yes, it's relatively easy to record using one of the apps above. In some applications, you will find external microphone support, which further simplifies the task by increasing the range and clarity of the audio.