Every developer has their unique style, design, and aesthetics to create an icon pack. This statement is apparent as we can observe different icon packs in leading smartphone brands like Samsung, OnePlus, Xiaomi, and Oppo. Besides the default icon packs, you can install a custom icon pack.
Free is not attached to most of the custom icon packs which makes it difficult to find one. Our list of best free icon packs will be a helping hand if you are planning to install a custom icon pack on your device that's free.
Excited? So, let's get started.
Best Free Icon Packs For Android
---
Pix You Dark
Pix You Dark is hands down one of the most impressive icon packs I've come across recently. Its minimalist design, attention to detail, and an array of features make it a must-have for anyone looking to give their device a sleek and clean makeover.
The icons are meticulously designed with a minimalist approach and high-definition, flat icons give your device a refreshing and modern appearance.
The vast selection of over 7500 icons, featuring the latest and popular ones, is awe-inspiring that I have yet to encounter in a free icon pack. The use of vector graphics ensures that the icons look crisp on any screen size and contributes to the overall quality of the pack.
---
Taco Taco
As an avid customization enthusiast, I seek unique and creatively designed icon packs. And I recently stumbled upon Taco Taco, and I must say, it's an absolute delight!
When I installed this icon pack, I was greeted with an explosion of colors and fun. The attention to detail is astounding – each icon is carefully crafted, showcasing an imaginative fusion of design and culinary art.
It doesn't just settle for the ordinary; it reveals its uniqueness. Despite the playful design elements, Taco Taco maintains a sense of coherence that enhances the overall visual experience. The consistency in design and the use of a unified color palette prevent the icons from feeling disjointed, even with the diverse range of designs available.
---
Kecil Icons
Kecil Icons stands out as a breath of fresh air in a digital world dominated by flashy designs and overwhelming visuals. This icon pack has charmed its way with its minimalist approach and attention to detail. If you appreciate simplicity and elegance, this treasure is waiting to be discovered.
Kecil Icons proves that less is more. The collection embraces minimalism with open arms, offering a clean and clutter-free aesthetic. The icons' simplicity doesn't compromise on quality – each icon is a masterpiece in its own right, reflecting the perfect balance between artistic expression and functional design.
Although the focus is minimalism, the icons must catch up in variety. With a wide array of icons covering popular apps and essential tools, this icon pack caters to every facet of my digital life. The consistency in style ensures that no matter how diverse the apps, they all blend harmoniously within the device's interface.
---
Letters-Minimal Icons
In a time when smartphones are crafted to seize our focus through vibrant icons, stumbling upon an icon pack that prioritizes simplicity and concentration is undeniably invigorating.
Letters is not just another icon pack; it's a mindful movement that understands the value of our time and attention. Replacing attention-grabbing icons with simple letters might seem unassuming, but its impact is profound. With this icon pack, your device's interface transforms into a serene landscape, free from the constant clamor of flashy app visuals.
The beauty of Letters lies in its minimalism. Each letter icon is thoughtfully crafted, providing a clear and uncluttered representation of the app. This approach lends an air of sophistication to your device's interface, emphasizing functionality over distraction.
---
Material You Light/Dark Icons
The Material You Light/Dark icon pack presents a revolutionary method of dynamically altering icons to align with both Light and Dark modes, reshaping the landscape.
The concept of icons seamlessly shifting between Light and Dark modes is nothing short of brilliant. It proves that personalization can go beyond static design. Watching the icons effortlessly transform to suit the device's way is a visual treat that adds a touch of dynamism to the user experience.
The app doesn't stop at icons alone; it goes the extra mile by offering over 3000 exclusive thematic wallpapers. This is a pleasant surprise, allowing users to extend the customization beyond icons and create a cohesive visual environment on their devices.
---
UX led
The UX Led icon pack is a true testament to the power of minimalism and creative design. With its vibrant linear lines and stunning colors, this icon pack has breathed new life into your device's interface. It's a visual feast that combines simplicity with artistic flair, making it an essential addition to any customization enthusiast's toolkit.
It has managed to achieve the delicate balance between minimalism and colorfulness. The linear lines that form the icons are both elegant and eye-catching. The beautiful colors add a touch of playfulness without overwhelming the overall design, resulting in icons that stand out while maintaining a cohesive look.
Boasting over 3000 icons, "UX Led" offers an impressive range of choices that cater to various app needs. The inclusion of cloud wallpapers adds an extra layer of customization. The wallpapers perfectly complement the icon pack's style, creating your device's unified and polished appearance.
---
Desaturated Icons
The Desaturate Icons app has truly transformed the way we perceive customization. With its ingenious blend of striking colors and elegant desaturation, this app has created a visual symphony that elevates the device's appearance to new heights, offering a harmonious fusion of artistry and functionality.
The concept of desaturating colors to retain only red and orange tones is a stroke of brilliance. The result is an icon pack that exudes sophistication and subtlety, with a tasteful hint of vividness where needed. This unique approach ensures that icons are visually captivating without being overwhelming.
The high-quality iconography is evident in every detail of the icons. Each icon is a masterpiece, showcasing the meticulous attention to detail that went into their creation. Including matching wallpapers is a delightful bonus, creating a seamless and visually pleasing device interface.
---
Vinty Icon Pack
The Vinty Icon Pack" has taken me on an enchanting journey through time, immersing my device in a nostalgic and vintage aura. With its impeccable attention to detail, shapeless design, and an array of unique vintage wallpapers, this app has redefined how we customize our devices.
The fusion of classic hues, crispness, and meticulous intricacy within every icon is a testament to the developer's artistic perspective. The Icon Pack goes beyond evoking nostalgia; it encapsulates it with unmatched accuracy. The vibrant and sharp icons emit a feeling of familiarity while retaining a contemporary edge.
The vintage wallpapers that accompany the icons are nothing short of exquisite. With over 3,500 Vinty Icons and a user-friendly dashboard application, this icon pack proves its dedication to providing a holistic customization experience.
---
Moonrise
The "Moonrise Icon Pack" has beautifully captured the enigmatic allure of the night and the moon, translating it into an exquisite collection of icons. Each icon reflects the perfect blend of serenity and sophistication, creating an ambiance of celestial elegance.
The choice of colors and design philosophy in "Moonrise Icons" is nothing short of captivating. Each icon is a visual representation of the harmonious interplay between the moon and the night.
Boasting over 1050 premium icons, "Moonrise" ensures no app is left behind in its quest for excellence. The 60 premium wallpapers, with the promise of more to come, are a testament to the app's comprehensive approach to customization.
Its unique blend of colors, premium icons, and a growing collection of wallpapers has carved a niche among the top-tier icon packs.
---
Halo Icon Pack
The "Halo Icon Pack" gracefully merges pastel filters, serene, ethereal glow, and sleek iconography. It's not merely an icon pack but a symphony of aesthetics that imbues the home screen with refinement and an elevated essence. Boasting a true-to-stock shapeless design and many customization possibilities, the "Halo Icon Pack" has firmly established itself as a trailblazing standard-bearer in icon packs.
The pastel filter and the airy glow effects in "Halo Icon Pack" are mesmerizing. Each icon exudes a delicate yet vibrant radiance, creating a visual masterpiece that adds a touch of elegance to my device's screen.
---
Watch The Video
---
Lux Icon Pack
Lux is another visually appealing icon pack that combines modern looks while also adding a creative factor to it. If you are more of a minimalist and color-date, you will love the Lux icon pack and how it customizes your icons.
It offers a dark, grayish background with icons that look excellent, particularly when you match it with the darker shade wallpapers. The overall color combination is quite bright, and they also stand out pretty well, which makes it convenient to identify the icons without any labels.
The icons also add an eye-catching contrast level when compiled with a black background, particularly on the OLED displays. This icon pack also offers a decent wallpaper library which will complement the overall look of the new home screen.
---
Juno
When it's about customization, it's impossible not to talk about icon packs and if you want an icon pack that looks similar to iOS then the Juno icon pack could be an ideal choice.
The icon is in a class of its own as it offers over 2,500 icons in high resolution with plenty of bright colors. It also grants access to some KWGT widget presets you won't find elsewhere, which is an added benefit.
Furthermore, the icon pack also provides appealing backdrops while ensuring minimalism to enhance the overall charm of the icons.
It is also compatible with nearly all modern launchers, and you can also request free icons for apps that aren't present in the icons section.
---
OxyPie
OxyPie excels in terms of versatility, and it's more of a universal fit that users of different interests find interesting. OxyPie does not modify icons significantly; instead, it provides a flat yet straightforward look with symmetry being its utmost priority.
Each icon pack has a circular background as the app icon is placed in the center in the flat, material-style look. The added element is the finishing touch to these icons, which is the shadows of the main icon that extend to each circle's boundary.
---
The Grid
If you are in search of a modern and cyberpunk-style home screen that provides glowing icons, then the grid will assist you in achieving it. The Grid comes with a distinctive set of icons that look futuristic and cool.
If you combine this with matching neon-ish-looking wallpaper and widgets, it will give your home screen a sci-fi look. The icons also have a 3D look attached to them.
---
Rugos
Rugos icon pack offers a crayon-like look that will provide your home with a vibrant look, unlike other icon packs. However, Rugos is different regarding the persistent background for each icon which adds an aspect of symmetry and consistency to it.
If you have OCD, particularly with shapes and icon sizes, you will appreciate the uniform squircle. Icons also appear as tiny bits of crumpled paper, providing a slightly cartoonish look. You can pair it up with colorful wallpapers and get a funky look.
---
Oriels Icon Pack
The Oriels icon pack is a fresh collection of icon packs that are inspired by the Android Oreo theme. The app offers you some exquisite-looking icons that can sync with any set of wallpaper.
You get more than 1100 high-quality icons. This icon pack supports most of the basic launchers that you might be using on your smartphones.
The 192 x 192 pixels resolution icons go well with any color wallpaper. Besides this, you get Candybar Dashboard, Dynamic calendar support, and an Icon request tool in the app. The app introduces fresh icons frequently which makes it one of the best that you can try.
Related: Best News Apps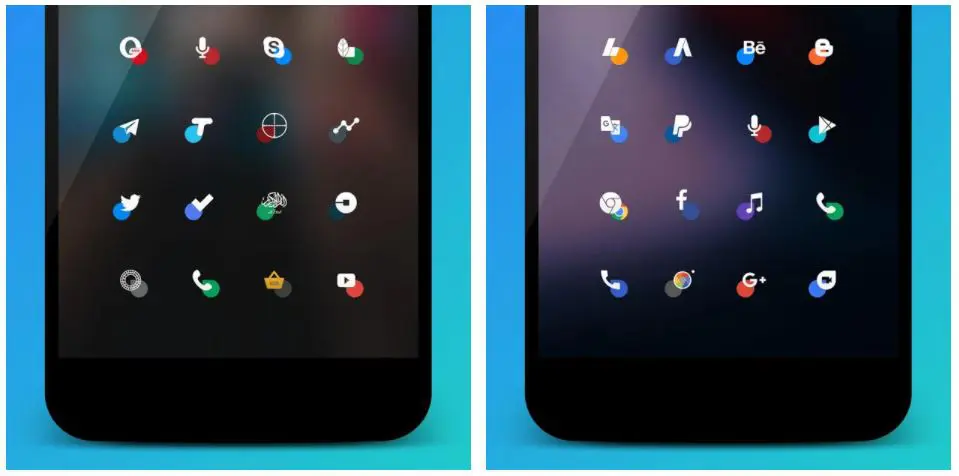 Standout Features:
1100+ Extremely high-quality icons
CandyBar Dashboard
Dynamic Calendar support
---
Delta
Delta is one of the most popular icon packs amongst the Nova Launcher themes out there. Delta offers you a wide choice to choose from. It offers you a 2000+ icon that is compatible with multiple launchers.
Its popularity speaks for itself, as Delta has over 1 million download, courtesy, of its compatibility with different kinds of launchers and is one of the main reasons it has managed to make it to our best Android icon pack.
The icons are perfectly poised which suits every kind of color contrast especially display with the bright color combination.
Related: Best KWGT Widgets For Android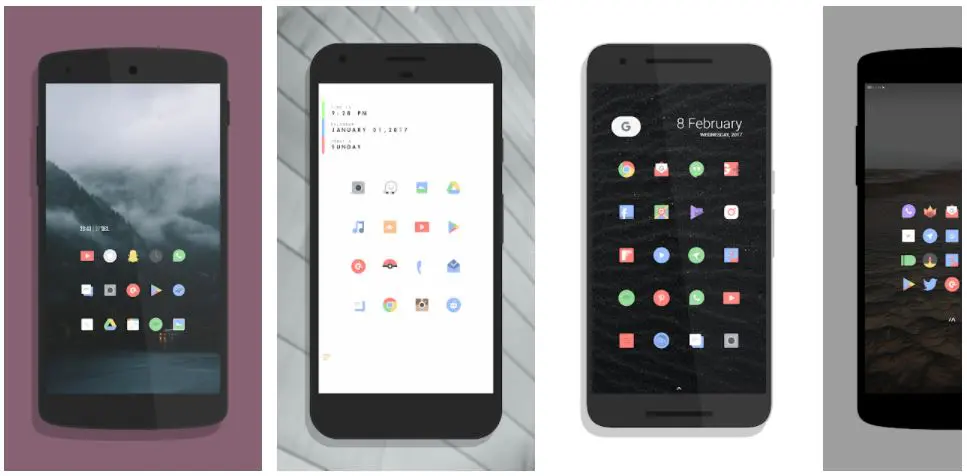 Standout Features:
Includes more than 2800 hand-designed Icons
Supports 20+ launchers
---
Appstract
The name of this icon pick sounds similar to the words Abstract, and that is the main focus of this icon pack. Each of the icon packs of Appstarct is a unique abstract clone of your existing icon.
The best part about this icon pack is that it keeps updating its slot of abstract icons every three months. You also get minimalist and catchy backgrounds in this icon pack which makes it more appealing.
Related: Best Keyboard Apps
Standout Features:
Includes several minimalist backgrounds
500+ Icon support
Works with most major launchers
---
Moonshine
The moonshine icon pack comes with a material design blended with some of the most vibrant color combinations. The app offers more than a thousand symbols to flip your default icon with the new ones.
There are multiple icon shapes you can choose to use as your default icon. The custom-designed wallpapers sync well with the theme of the app. This is one of the best free icon packs you can use to upgrade the look and feel of your smartphone. 
Related: Best Audiobook Apps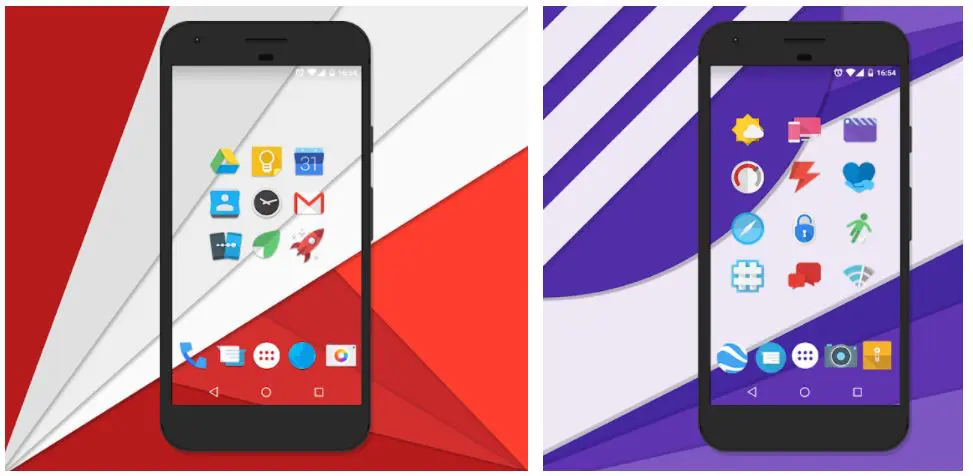 Standout Features:
Material Design Dashboard App
Muzei Wallpaper Support
925+ vector-designed icons
28 homemade wallpapers
---
Candycons
Bringing you more than 1000 icons, Candycons can be one of the best icon packs for Android users. If you are a follower of Google's material theme design then this Candycons will surely be your top priority. Each icon is crafted with a unique color combination that adds flair to the set of icons it offers.
Finding a suitable wallpaper with custom icon packs is a tough job, but not with Candycons. The app has 20 wallpapers that you can choose to match with your ideal set of icons. You can also make icon requests for the icons which are unsupported on your device. 
Related: Best Investment Apps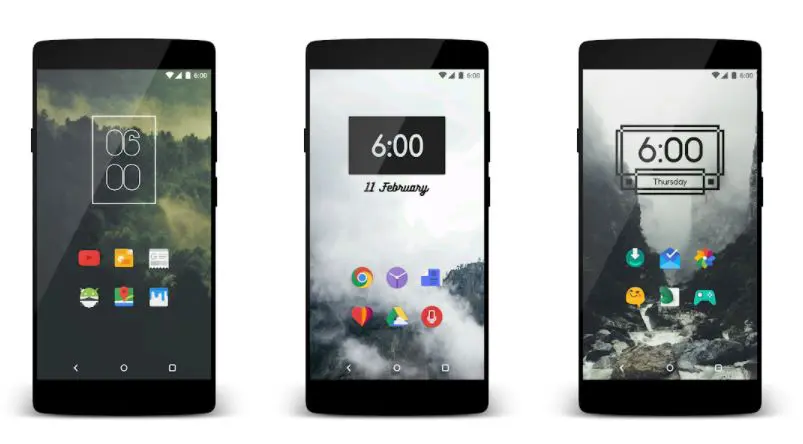 Standout Features:
1127 icons
Dynamic Google Calendar
20+ Wallpapers
---
Voxel
The voxel icon pack is the next on our list. This icon pack is all about squares, simple colors, and long shadows. Every icon has a colorful square with a white icon casting a beautiful long shadow that matches every home screen wallpaper and gives it a minimalist look.
Voxel has around 3000 icons and the list keeps on increasing every day as the developer is always busy introducing new icon designs.
Related: Best Ridesharing Apps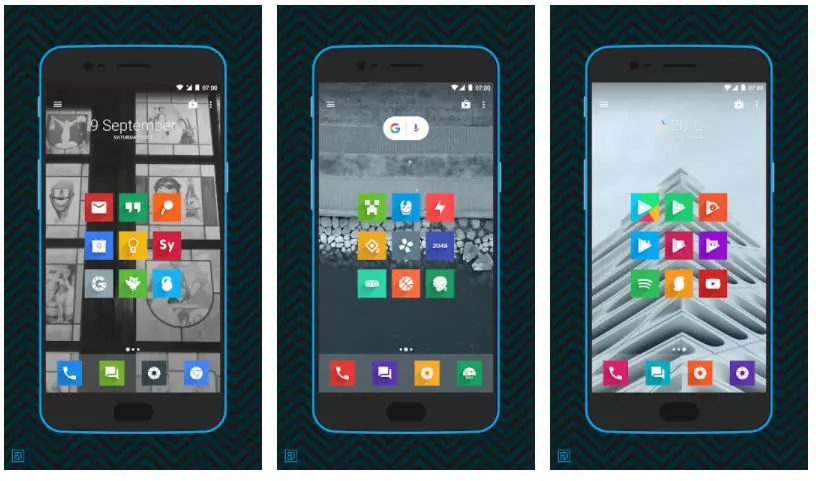 Standout Features:
5000+ 192×192 HQ & HD icons
20 wallpapers
25 different icon categories
---
Circo
Circo is one of the best unknown Android apps that is essentially an icon pack with high-resolution icons. It has over 500 vector icons that can easily be applied to all the major app icons. The icon pack is entirely free and does not support base system launchers such as pixel launchers and other Android skin launchers.
Circo icon uses masking and backing techniques to provide icons for apps not found in its collection. The resulting icons easily blend in with the rest of the applications. The icon pack also has a huge collection of alternate icons that you can apply. It is available on the Play Store free of cost and does not contain any advertising.
Related: Best Weather Apps For Android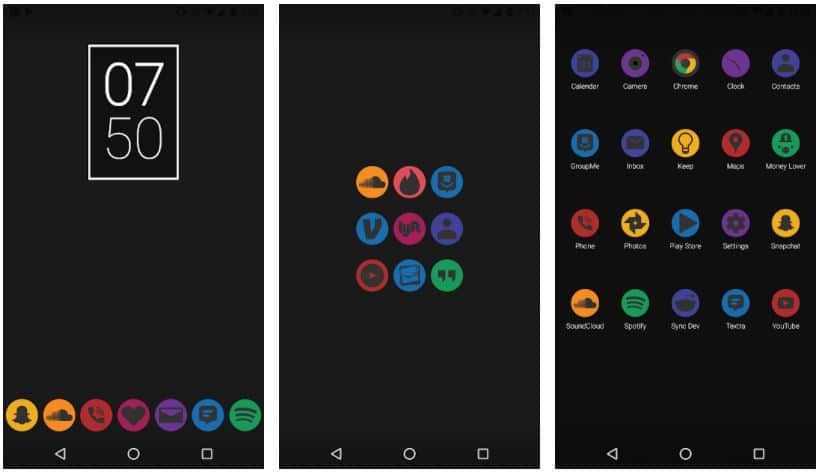 Standout Features
High-quality icons
Alternative icon set
Supports most Android launchers
---
Pineapple
Pineapple is a versatile icon pack that can offer you all the kinds of stuff that you need. It offers you 256 x 256 high-resolution icons that can be used with all the leading launchers. This icon pack has a collection of more than 1144 HD icons that you can apply to your devices. The icons are subtly designed in a minimalistic design that enhances the look of your home screen.
The icon pack also provides Icon request support, Cloud-based wallpaper support, and dynamic calendar support. You need to have a custom launcher before applying this icon pack.
Related: Best Email Apps For Android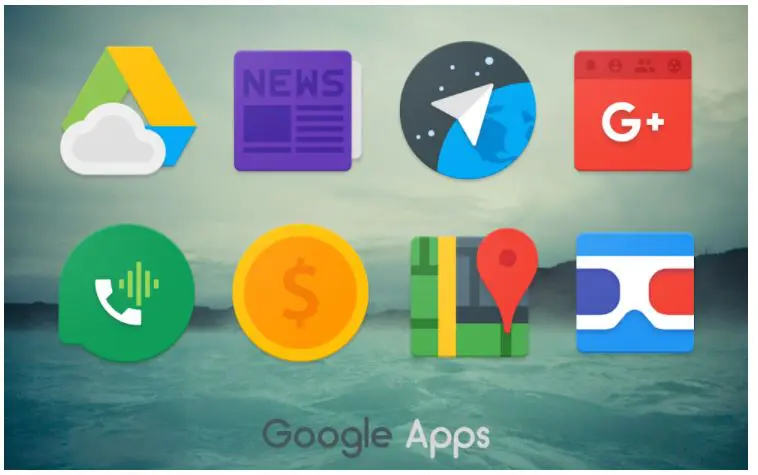 Standout Features:
1144 HD icons
Cloud-based wallpaper support
Dynamic calendar support
---
Viral
The viral icon pack is for those who love dark themes. This best Android Icon pack is designed to suit dark theme devices and it offers 4000+ icons to choose from.
Viral also provides 200+ HD wallpapers from where you can choose the best-suited wallpaper for your home screen. This icon pack also allows you to customize wallpapers according to your taste and suitability.
Related: Best Apps For Secret Texting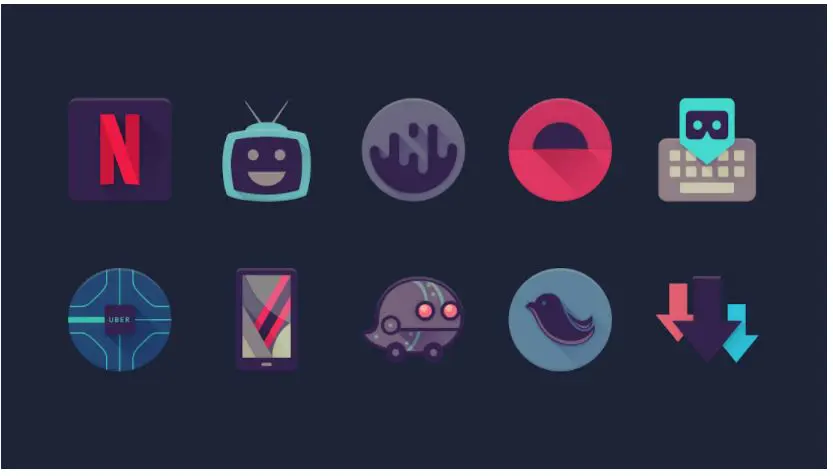 Standout Features:
200 matching wallpapers included
Professional highest quality design
30+ launchers supported
---
Unicorn
The unicorn icon pack would be a perfect choice for those who love experimenting with their home screen. The app comes with appealing icons in shades of blue, purple, and pink colors. The app offers hundreds of gradient wallpapers which eliminates your worry about finding suitable wallpaper for this icon pack. You can search for your favorite icons with the help of sorted and easily accessible categories.
You can auto-apply the icons to the preferred launcher and it supports up to more than 30 launchers. You can request the icons you wish to theme. The multi-colored unicorn icon pack make it one of the best free icon pack for Android.
Related: Best Journal Apps For Android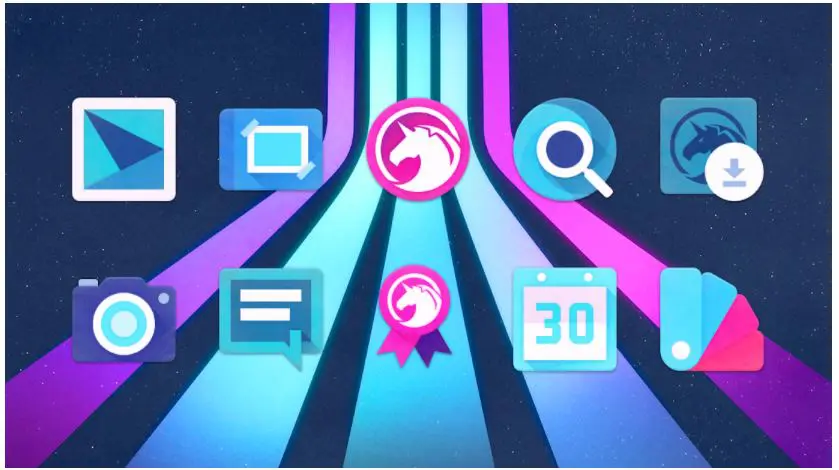 Standout Features:
200 matching wallpapers
500+ Icons
---
Lines
Transparent icon packs do add flair to your home screen. Lines will be an ideal icon pack for you if you are fond of transparent wallpapers. The app has more than 2400 HD icons that come with frequent updates. Along with 2400 icons, you get 200 custom wallpapers to match with. The icons are available in flat and clean outline shapes that look elegant when set on the home screen. The icon pack is compatible with all the major launchers where you can use the quick apply feature.
Next on our list of Best Android Icon Pack is the Revolution Icon pack. This icon pack includes a 1500+ HD quality icon pack collection from which you can choose.
The icons come with a circular design so that you can properly utilize the space of your display and place a maximum number of icons on a single display page of the screen.
Related: Best Travel Apps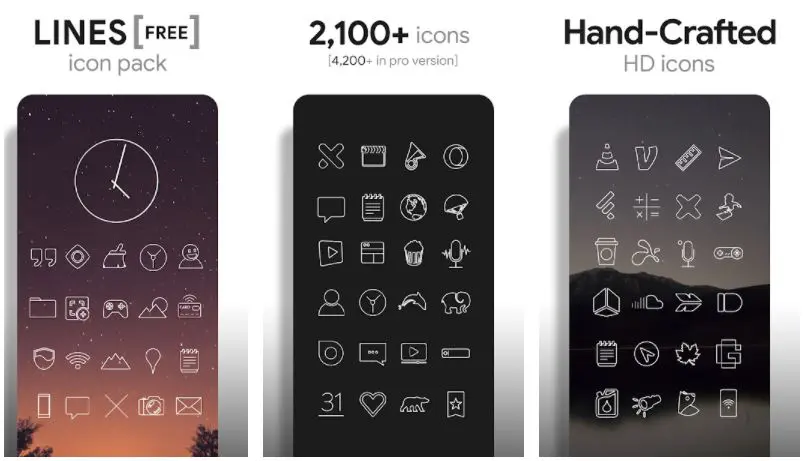 Standout Features:
2,100+ hand-crafted icons
200+ modern wallpapers
---
Pix UI Icon Pack 2
Pix UI Icon Pack 2 could be one of the best Android icon packs. The app offers you a vast collection of diverse icons to choose from. The 6100 icon packs in the app offer an alternate icon for every app installed on your smartphone.
The app also has an icon masking feature which is useful for unsupported icons. These materials design set icons could go well with any kind of wallpaper you are using. The icons are suitable for light as well as dark theme backgrounds.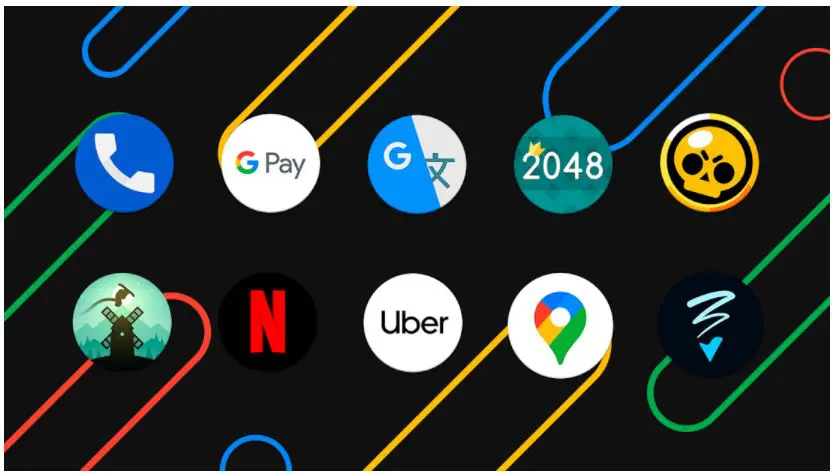 Standout Features:
More than 10,000 icons
Dynamic Calendar
Material Dashboard
---
Rondo
Rondo is a minimalistic icon pack that you must try your hands on. The 3500+ icon packs are designed with a plethora of vibrant color combinations to suit your requirements. The HD icon pack comes with an icon masking feature that can theme the unthemed icons.
The icons are sorted into 25 easily accessible categories that can help you locate icons in seconds. The icon packs are frequently updated so that you do not lag behind the latest trend.
Related: Best Vocabulary Apps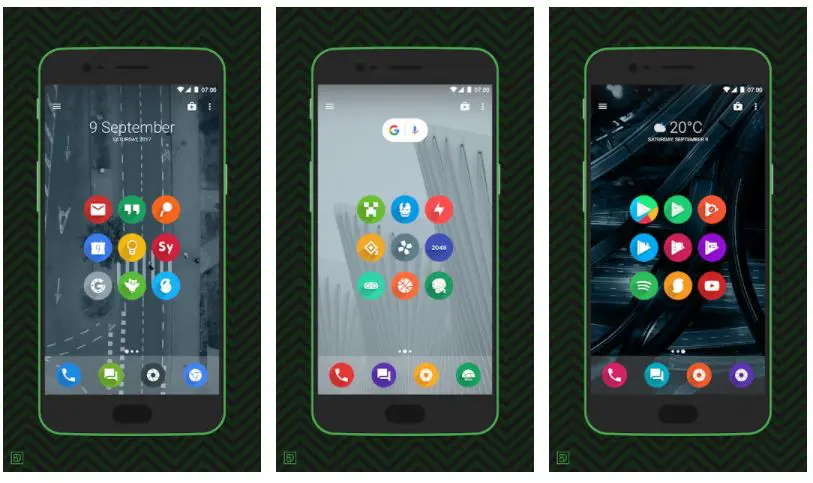 Standout Features:
5000+ 192×192 HQ & HD icons
25 different icon categories
20 wallpapers
---
Polycon
Polycon is another Google Material design icon pack, so if you are wandering around for such an icon pack then you can consider this. The app has more than 800 vector-based HQ icon packs which you can use on your home screen.
You also get 20 brand-new wallpapers that match the default icons of the app. One unique feature of the app is that it also offers folder icons making it the best icon pack on the list.
Related: Best Note-Taking Apps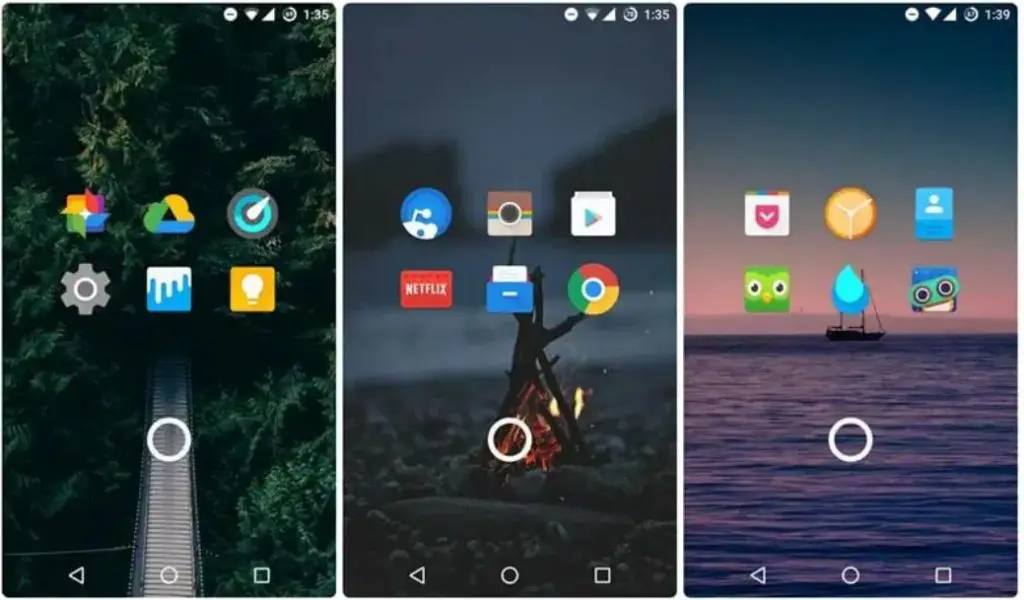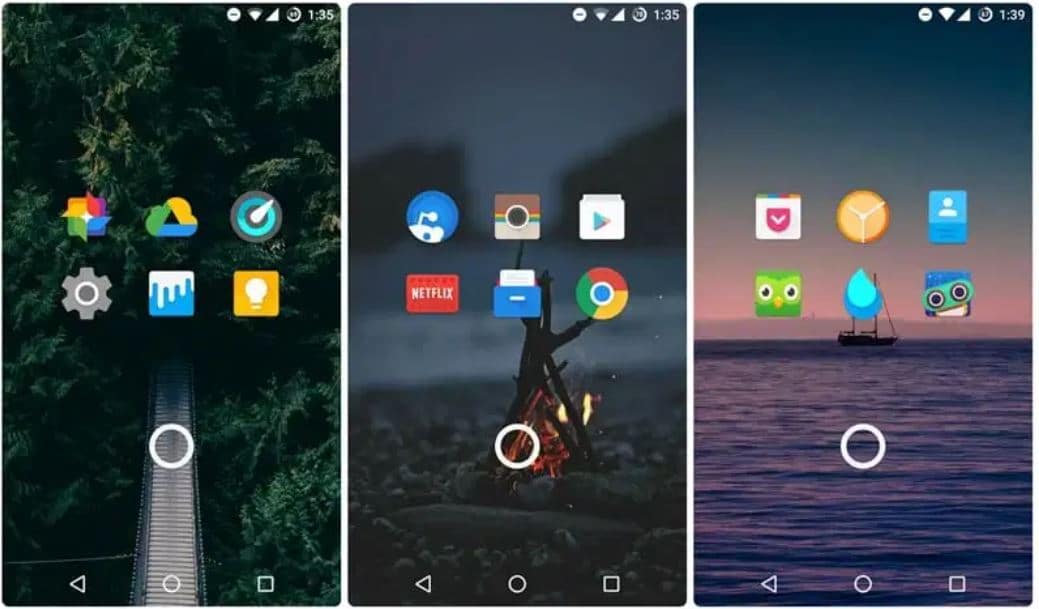 Standout Features:
20 High-resolution wallpapers
800+ Vector icons
---
Whicons
Whicons perfectly fits into the definition of minimalism. The app offers 290K+ app icons to choose from along with cloud-based wallpapers. The app has 5000+ icons across different categories that you can set on your home screen.
The app has dynamic calendar support and mask theming which is one useful feature to have in your bucket.
Related: Best Cryptocurrency Apps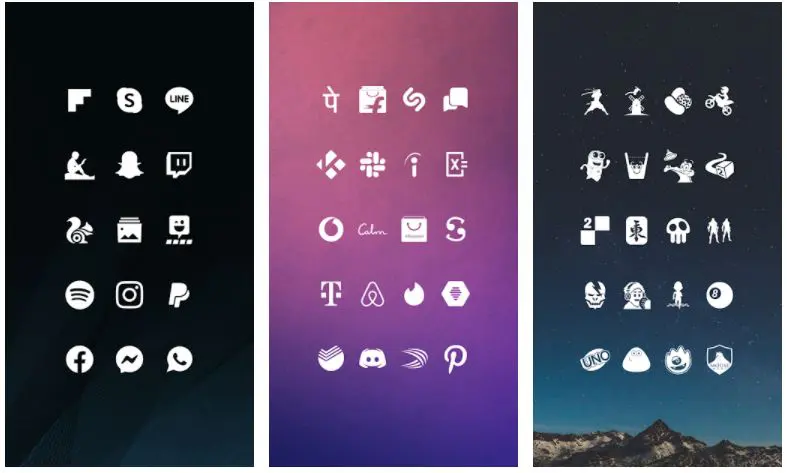 Standout Features:
---
Saturate
Saturate is the next icon pack on our list which you must give a try. The saturated-colored icons look appealing and give a retro-type feel to your home screen.
Along with hundreds of unique handcrafted icons, you get 200 wallpapers. You get the basic theming feature and can request your favorite icons on the app.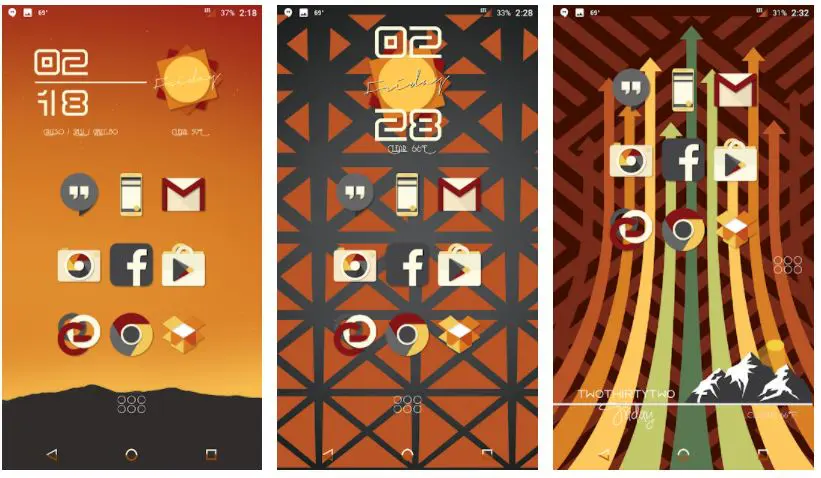 Standout Features:
Over 200 matching wallpapers
1550+ Icon support
---
H20
You can witness a slight variation in the H20 as compared to other squircle icon packs on the list. The app comprises 3500+ icons that are handcrafted in a minimal hydrogen OS theme.
Besides the custom icon packs in the app, you get an icon pack from some of the popular smartphone brands like OnePlus, Huawei, and Motorola.
Related: Best Weather Apps For Android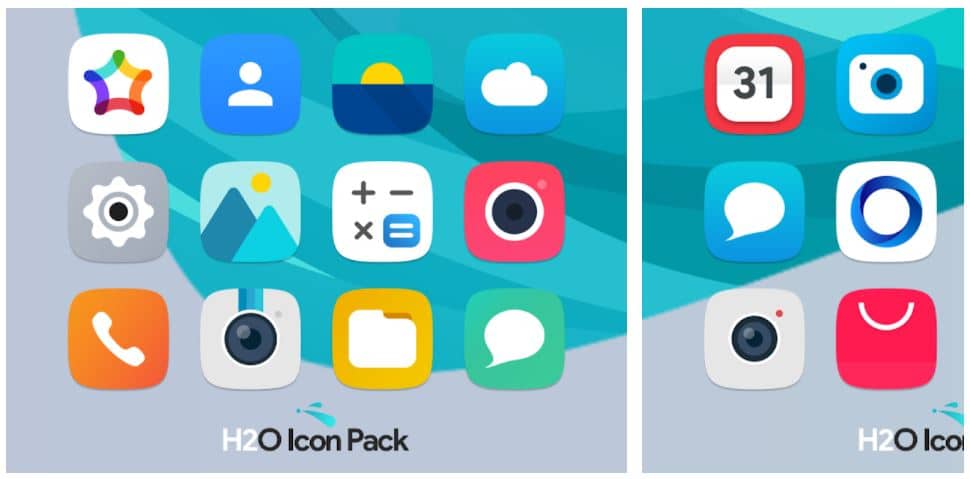 Standout Features:
4430 handmade icons
30+ Launcher support
---
Wrap up:
So, these were some of the most popular free icon packs that you should give a try. Do you think we have missed any icon pack that should have made it to this list? Do let us know your thoughts and suggestions in the comments below.
Best Free Icon Pack Video:
Thank you for reading! Try these out too: