Audiobook apps are the most useful apps that one can use to increase his knowledge. It saves your time and helps you go through your favorite books while driving, lying on your couch, and doing household chores. But you need the best audiobooks apps to have the best listening experience of your book. For this purpose, we are compiling a list of the best Audiobook apps that will help you to listen to your favorite books on the go. 
Excited? So, let's get started?
Benefits of Best Audiobook Apps
There are a plethora of reasons why users opt for audiobooks on their smartphones. Users do not need to carry books and hard copies to read their favorite books. These are some of the benefits of an audiobook that makes it a must-have app on your device:
Convenience: Audiobooks are convenient you do not need to carry any hard copies to go through your books. You can listen to your book on these audiobook apps while doing any other activity. Listen to your favorite books while driving or doing your household chores.
Diverse choice: You can listen to a wide variety of audiobooks at your fingertips. Select from the diverse choice and you are good to go. All these things are just a click away. You do not need to visit stores or have a shelf to make your collection.
Saves Time: One of the most vital reasons that users opt for Audiobook is it saves time. We can listen to the books with our daily routine schedule and do not need to switch to a different timetable. We can continue with our normal routine and still increase our productivity.
Best Audiobook Apps For Android
---
Amazon Kindle – Best Audiobook Apps
Amazon Kindle is one of the most popular and the best audiobook app for android. It is one of the most used ebook platforms globally, and it's fair to say that it also excels in providing the best audiobooks. Amazon Kindle is a standout category due to its functionality and notable choices. The app offers millions of audiobooks and regular ones.
Although the app is initially free to download, you will have to purchase the books separately. Amazon kindle has an excellent interface that makes it easier to read, download or save any part of your reading. It's like a mini library in your pocket; however, the only difference is that it will let you search for your desired book quickly and efficiently.
If you are a regular reader and want something to last for a while, Amazon Kindle Unlimited is an excellent choice. It will provide you access to millions of regular and audiobooks for only $9.99 each month. The premium version removes all the restrictions, thus making it easier to listen to any ebook.
The audio reader for the app allows you to play or pause the book at any instance you like. Additionally, you can rewind it or take it forward for a few seconds with the press of a button. If you can't find a book out there that you would like to read, Amazon Kindle already has it in store. All you have to do is download it and read it as you like. Furthermore, it adds to the convenience since you can take your phone anywhere.
Related: Best Guitar Tuner Apps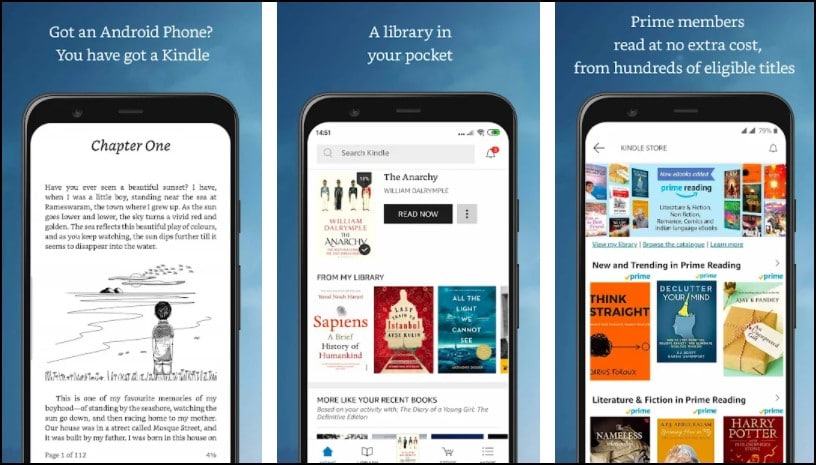 Standout Features:
Access to unlimited books in the premium version
Millions of audiobooks
Convenient
---
Audible – Best Audiobook Apps
Audible is a popular audiobook and Podcast platform which is owned by Amazon. The app has something for everyone where you can choose your favorite genre and start your audiobook. The app offers books in the fiction and non-fiction categories that you can listen to in the voice of some prominent names. A wide collection of audiobooks makes it the best audiobook apps on this list.
Based on your search history and looking, the app recommends a list of audiobooks that you can opt for. The app offers a 30 day free trial period to do the quality check and get yourself satisfied. The premium members get features like unlimited access to Audible original podcasts, Swap any audiobook, and save up to 80% on every audiobook.
Related: Best Home Workout Apps
Standout Features:
Simple and Interactive UI
Prominent speakers
Monthly recommendation based on your interest
Wide choice
---
Google Play Books – Best Audiobooks App
Google Play Books is a multi-platform compatible Audiobook that offers you some premium features. The app has a collection of millions of E-books and audiobooks to choose from. You can choose from the audiobooks collection available on Google Play.
Before buying, you can preview the sample of the Audiobook to ensure quality. The app has a pleasant dark-themed UI that lets you smoothly go through your books. Create your library of audiobooks on Google Play Books and enjoy favorite stories on the go. It is apparent why this app is one of the best audiobook apps you can opt for.
Standout Features:
Preview free samples
Multiple-platform compatibility
Switch between dark and light theme
---
Kobo Books – Best Audiobooks Apps for Android
Kobo Books offers you a curated list of the best audiobooks that give you access to all the latest content on the web. The app has a simple UI that always keeps you updated about the status of your audiobook. You will earn Kobo points on every purchase you make on the app. 
You can search for your audiobooks by title, genre, or topic and get started to listen to them. The app gives you recommendations based on your liking so you do not waste your time by searching for audiobooks. You can do login via multiple devices and access the app wherever you want.
Related: Best Weight Loss Apps
Standout Features:
A curated collection of audiobooks
Easy to use player
Discover recommendations
---
Scribd – Best Basic Audiobooks Apps
Download Scribd if you are hunting for the best audiobook apps on your list. The app has a collection of millions of audiobooks that can be accessed just in one tap. You can search and select from the options available and start listening to your favorite audiobooks.
Audiobooks can also be downloaded and can be listened to in offline mode during your vacant time. You can sign up for the app and have a free trial period to ensure the quality of the app before investing your bucks. You can customize the narration speed of your audiobooks and set a sleep timer in this app. The app will cost you $9.99 per month that gives access to all the premium features.
Related: Best Sports Apps
Standout Features:
Listen in the offline mode
Customize narration speed
Millions of titles
---
Smart Audiobook Player – Best Audiobook Player Apps
One of the most affordable audiobooks that users can opt for is Smart Audiobook Player. It is an app specifically designed for listening to audiobooks. For easy access to your audiobooks, the app sorts them according to the reading status.
You can manually create a list of characters in your audiobook for easy reference. The app also contains a widget that lets you control the audio player from your home screen. The app automatically pauses the book when you fall asleep. You get all the features just at $2, which makes it the best audiobook apps.
Standout Features:
Application widget
Classification of books
Playback history
Automatic pause
---
Librivox Audio Books – Best Audiobook Apps
Librivox Audiobooks is a highly rated app on the app store that can be a good option for audiobook lovers. The app offers you more than 2400 free audiobooks to listen to. You can look out for your favorite audiobook in seconds with one simple search button.
You can also look for the audiobook read by your favorite narrator and access them in this app. Besides this, the app has thousands of old-time radio dramas that you can listen to in your free time. The apps support Google Chromecast and you can take your audiobooks wherever you want.
It offers its users new releases every day that keeps you hooked up with this app. The app has in-app purchases that will not put much of a load on your pocket. The app has all the necessary features an audiobook lover might look for. If you are looking for one of the best audiobook apps, then this can be the answer to your hunt.
Related: Best Credit Score Apps
Standout Features:
24000+ free audiobooks
Unlimited bookmarks
Google Chromecast
---
Hindi Audiobook Story – Best Unique Audiobook Apps
The app has tried something new in this category that's why it has earned a spot on our list of the best audiobook apps. The app lets you listen to your favorite audiobooks in both English and Hindi languages. The app also provides audiobooks in Hinglish for selective content.
You can listen to your favorite audiobooks in prominent voices from across the globe. The speaker has an engaging storytelling style that keeps you hooked with your audiobook. The app has a dedicated book summary section where you can look for your favorite books in audiobook form.
The app can also be a good option for the e-book reader as it offers tons of books to read and download. Most of the features of the app are available for free which is also a good reason to opt for this app.
Related: Best Personal Finance Apps
Standout Features:
Audiobooks in English and Hindi
Book summaries
Voice of prominent artists across the globe
---
mAbook Audiobook Player – Best Audiobook Apps For Organizing Files
mAbook Audiobook player is another impressive audiobook app that offers tons of features for free. The app has a blend of dark and light themes that look appealing. The app contains a folder-based audiobook library that can be accessed in one click. You get playback speed control and a customizable auto rewind feature.
You can bookmark your favorite audiobooks for quick access. Besides this, the app has an appealing equalizer and reading statistics that give you insight into your reading history. The app is ad-free but contains some in-app purchases that can be bought to avail more premium features.
Related: Best Anime Apps
Standout Features:
Customizable auto rewind
Dark and light themes
Widgets
Chapter select
---
Serial Box – Best Android Audiobook Apps
With a gorgeous audio player and some best stories narrated in immersive voice, Serial Box is next on our list of best Audiobook apps. The app has audiobooks from some of the best-selling authors that keep you engaged in your listening experience.
To keep you hooked up with the audiobook, it offers you an appealing audio player with handy features. The audio player has 5 optimized typefaces and 6 color combinations in dark and light themes. You can have a sample of your favorite audiobook for free or download them to listen in offline mode.
The app offers the latest web series in the voice of prominent that you listen to during your vacant time. The app contains in-app purchases that you can buy to avail of additional perks.
Standout Features:
Best selling authors audiobook
Dark and light theme
Appealing audio player
---
Voice Audiobook Player – Best Audiobook Apps
Voice Audiobook Player is a simple audiobook player that manages all your files in a rooted folder that can be easily accessed later. You can add your audiobooks in the Audiobook folders where each folder will display one audiobook.
The app has a beautiful material design that is available in dark and light theme options. The simple audio player of the app lets you adjust playback speed and remember the last position. The app has a sleep timer that will auto-pause the audiobook in case you fall asleep. The app is free and you do not need to pay anything to avail of its features. You can also buy audiobooks on rent in this app which makes it the best Audiobook apps.
Related: Best Free VPN Apps
Standout Features:
Beautiful material design
Light and Dark theme
Sleep timer
---
Downpour – Best Audiobook Apps
Downpour app contains well-designed playback functionality that lets you easily manage all your audiobooks. You can also rent Audiobooks on this app which is one useful feature of this app. Download your audiobooks and start listening to them in the interactive audio player of the app.
The remaining audiobooks will get downloaded automatically in the background while you are enjoying your audiobook. You can log in through multiple devices and sync your data on smartphones and PC for quick access. You can also adjust the playback speed of the audiobooks and save the non-rental book on your internal storage.
Standout Features:
Audiobook rentals
Interactive audio player
Easy to manage the audiobooks
---
Final Words
Go through and choose your best audiobook apps from our list. Suggest to us some other topics on which you would like our helping hand. Keep sharing our content so that we keep coming with more awesome content for you.
Thank you for reading! Try these out too:
General FAQS