Saving money is a real tough job rather than earning it. It mainly happens as we do not structure our monthly expenditure. You can save money when you start managing your monthly expenses. To start saving your money and managing expenses, we are compiling a list of the best money-saving apps that will help you in doing so.
Download these best money saving apps to start tracking your expenses and the grey areas where you can save money. Let's dive into our list to know what these apps have to offer.
Excited? so, let's get started.
Why You Need Money Saving Apps?
We often lack money-saving skills and end up accumulating nothing at the end of the month or year. That's where money saving apps can come into play in everyone's life. The following could be some of the reasons to install a money saving app on your device:
Manage your expenses: To save money, first, you need to manage your expenses. You need to assess the areas of spending and explore the area where you can make savings. These money saving apps help you manage expenditure and help you allocate your money. area
Prepare budgets: After assessing the area of expenditure, you can prepare your monthly budgets. You can allocate your income efficiently on the essential items so that you are not making unnecessary spending.
Coupons and Rewards: Money-saving apps reward you with coupons once you hit your saving goal. You can redeem those coupons by buying your favorite shopping products at the nearest stores.
Best Money Saving Apps For Android
---
Save.ly – Savings Goal Tracker
Save.ly is one of the best money-saving apps as it allows you to keep track of your money and create financial goals for savings. Although it does offer similar functionality to some of the apps we have on our list, it does excel in design despite preserving the general promises, and it helps you achieve it exclusively.
In his book Compound Effect, Darren Hardy states that you first need to start tracking your finances to gain control of your finances. Save.ly is the best choice as the app's design will let you easily add even the slightest of tasks that you have spent on your money. Additionally, it attractively presents them to ensure that you are mindful of them.
Another significant advantage of using the app is that it will let you create financial goals. Since, without goals, we'd be lost without making any parallel or horizontal progress, this app is an ideal way to store all your goals. It includes keeping track of the money you have saved, your goal, and the remaining budget. Furthermore, the app will also provide you with a prediction based on your data as to how much time it will take to save money.
Save.ly also maintains the records about your recent transactions. It is a beneficial activity since you can track even the menial things you have spent money on hence keeping a clean slate.
Related: Best Guitar Tuner Apps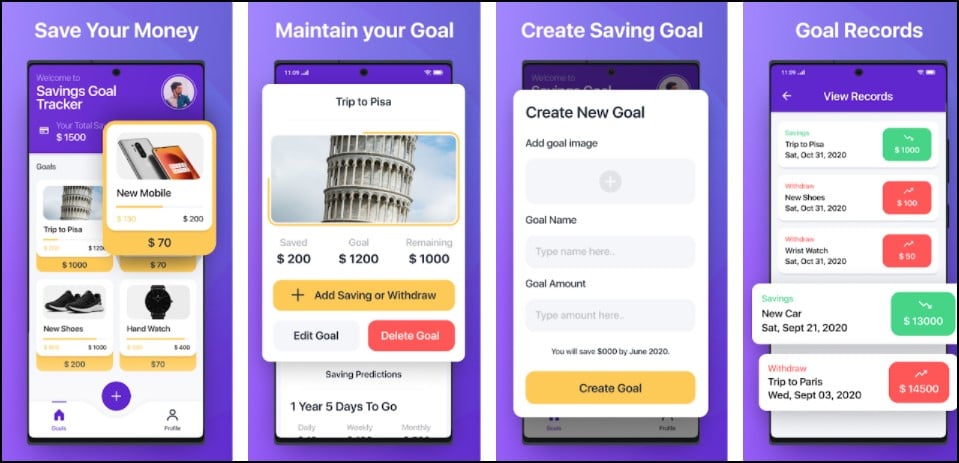 Standout Features:
Goals record
Create unique and detailed saving goals
Attractive user-interface
---
Mint – Best Money Saving Apps
Mint is a smart financial planning app that will manage your money in one place and keep track of your spending. The app brings together your bank account details, credit card details, and investments that help to know your financial position. The app gives you monthly bill reminders to pay your bills on time.
The app suggests actionable saving tips that will help you to reach your goals. You also get recommendations to prepare a healthy budget based on your spending history. The app suggests a weekly and monthly budget that will help to save bucks.
You can also learn some tips about your credit scores that will be handy in calculating your creditworthiness. This all-in-one financial app could be one of the best money-saving apps if you are hunting for one.
Related: Best Home Workout Apps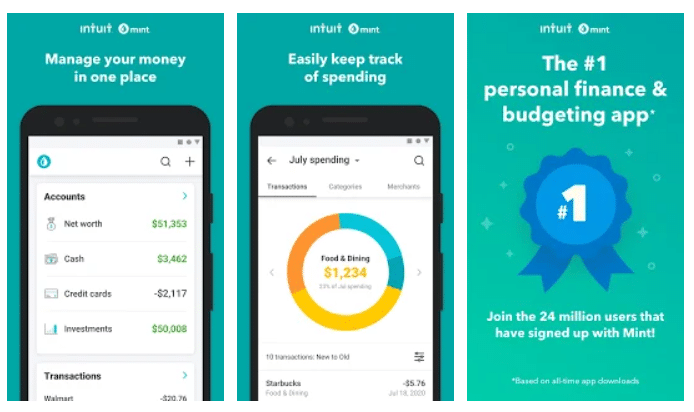 Standout Features:
Actionable saving tips
Suggests weekly and monthly budgets
Gathers all your data in one place
Provide Tips to calculate credit score
---
Goodbudget – Best Money Saving Apps
To plan your budget and get started with saving, Goodbudget can be a perfect app. This app offers a unique grandma's envelope that encourages you to prepare a budget. You can set goals to save money in the future and get it done with this app.
You can schedule transactions to track when and on which items you are spending money on. You can see your areas of spending with interactive pie charts. Practice conscious spending with the help of this app every time you are making transactions. The app offers you insightful reports that make it the best money saving apps.
You get a Spending report, Income versus Spending report, to know your position at the end of every month. You can upgrade to the premium version of the app to get more useful features.
Related: Best Weight Loss Apps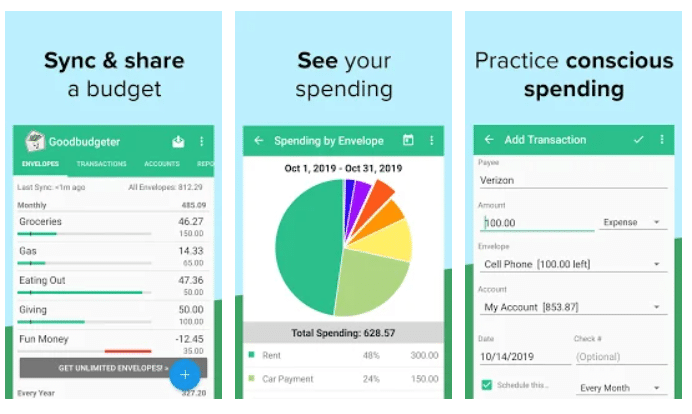 Standout Features:
Virtual envelopes
Plan finances
Location-based widget
Schedule transactions
---
Wallet – Best Money Saving Apps For Android
The wallet app can be a personal finance manager that can gather all your financial data in one place. The app controls your expenses and encourages you to make savings. You get continuous insights about your financial positions so that you are aware of your spendings.
To allocate the budget to a specific member of your family, you can share the monthly reports. The app has more than 3500 participating banks in its ecosystem making it a red hot favorite for the users. The app will automatically update you about the transaction you recently made.
The app offers you flexible budget options that you can use to prepare your monthly budget and allocate expenditure to every item. This market-leading personal finance manager can be the best money savings apps for you if you are looking to save bucks.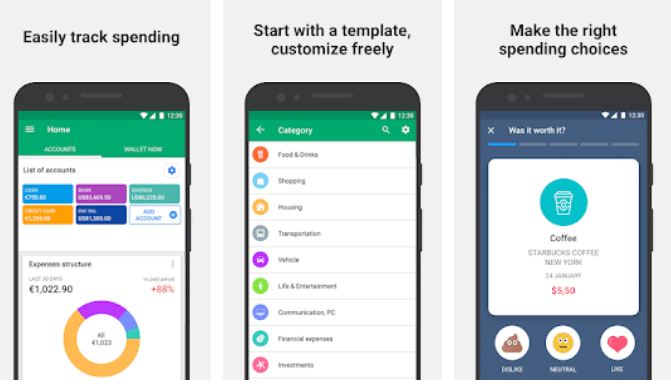 Standout Features:
More than 3500 participating bank
Detailed reports
Flexible budget
Automatic bank updates
---
Monefy – Best Money Saving Apps For Budget Planning
To prepare a healthy budget and effectively allocate all your monetary resources, you can opt for the Monefy app. With its simple and intuitive UI, you not only can manage your wealth but can save bucks to buy your favorite stuff. You can record new transactions immediately so that you do not miss anything.
You can track your spending distribution via interactive charts to assess the grey areas of saving. The app also offers some useful widgets that give you a quick insight into your spending pattern. You can protect your data inside the app with a passcode so no third party can access it.
The in-built calculator will help you to sum up all your spendings quickly. You can sync all your financial data on Google Drive or Dropbox to keep it safe. You can also use multiple accounts in this app that is one useful feature to look out for.
Related: Best Sports Apps
Standout Features:
Supports multiple currencies
Passcode protection
Use multiple accounts
---
52 Weeks Money Challenge – Best Money Saving App
Slow and steady wins the race. This phrase applies to this app. 52 Weeks money challenge is one of the best money saving apps that slowly and steadily encourage you to save money. The app challenges you to save bit by bit every week make it a habit.
Starting from $1 in the first week, you need to increase the saving with each passing week. 2nd week $2, 3rd week $3, 4th week $4, and so on till the 52nd week. At the end of the 52nd week, you will be able to accumulate a handsome amount of money in your account.
The app can make saving a habit for you by challenging you. It will also help you to control unnecessary spendings. The app works on the science of saving, which makes it the best money saving apps.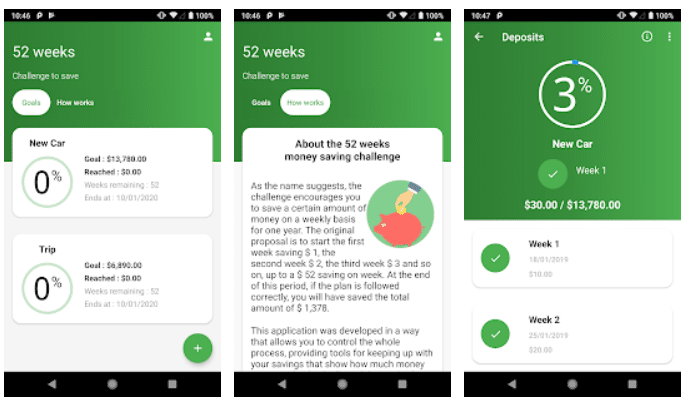 Standout Features:
Make saving a habit
Control impulsive buying
Weekly reminder notifications for deposits
---
Money Manager – Best Money Saving Apps For beginners
A bookkeeping app that will take care of all your finances, Money Manager is next on the list. Expense is the first thing to look for before you start saving. The app tracks your daily expenses with its budget system. Once you are familiar with your spending pattern, you can eliminate unnecessary spending.
The app makes a budget for you within which you need to spend. It will help you to avoid compulsive buying and stay within your budget. Set your financial goals and hit them with the help of the Money Manager app. Your account balance is automatically updated after a transaction.
You can create multiple accounts and manage multiple wallets in this app. The app has an intuitive graph that makes sure you do not miss anything.
Related: Best Credit Score Apps
Standout Features:
Multiple account and wallet
Intuitive graph
Customizable category
---
Shopkick – Best Money Saving Apps For Shopping
We usually save money to buy something from our favorite stores. Shopkick can be one of the useful and best money saving apps if you are one of them. You can use the app to earn gift cards that can be later redeemed at your nearest stores.
With the help of the gift card, you can earn free deals and discounts. By availing of these discounts, you can save money. All you need to do is to scan your receipts which will yield your gift cards and rewards. You can shop and redeem your rewards at popular stores like Amazon, Starbucks, and Kohls.
To earn more rewards you can watch online videos. Earning rewards and saving money has never been so easy, thanks to the Shopkick app. If you are a shopaholic and want to save money then this can be the best money saving apps for you.
Related: Best Personal Finance Apps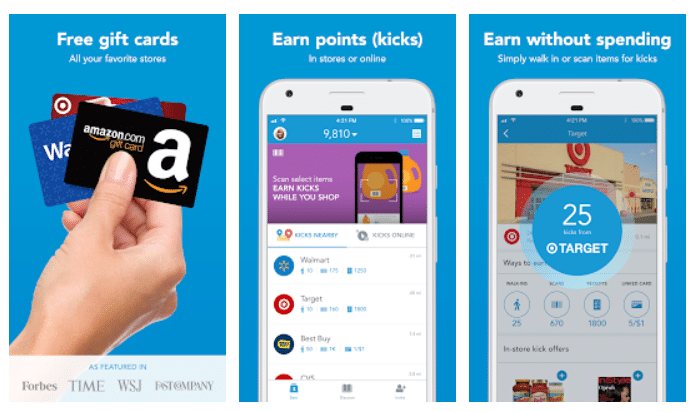 Standout Features:
Earn rewards and gift cards
Save with the discount offers
Earn rewards by watching online videos
---
Piggy Goals – Best Money Saving Apps
Piggy banks are the most common name when we talk about savings. Piggy goals is a money saving app that lets you save money in two different modes. You can choose either of the two modes depending on your preference.
In the piggy bank saving mode, you can deposit or withdraw money from your account anytime you want and keep a track of it. The piggy goal mode is more challenging where you need to set your financial goal.
After setting up the goal, you can save on a daily, weekly, and monthly basis to reach your goal. The app sends you frequent push notifications to make sure that you do not miss your goal.
Standout Features:
Graphs and animations
Supports multi-language
Two saving modes
---
Thriv – Best Free Money Saving Apps
Thriv is purely a money-saving app that tracks every aspect of saving. The app can act as a saving bank for you and help you to save more and thrive on your goals. You can add up to 5 saving goal trackers and two wallets to start saving your bucks. 
Customize your savings goal by adding more details to it and adding different progress colors to pick from. You can track your savings record on a list or a calendar and get an overview by viewing the summary. The app sends you custom reminders to remind you of your financial goal. 
Besides saving and tracking your saving pattern, the app is also useful in making monthly budgets. You can save all your data on Google Drive for easy access. This app can be useful for you if you are finding it difficult to save money.
Related: Best Anime Apps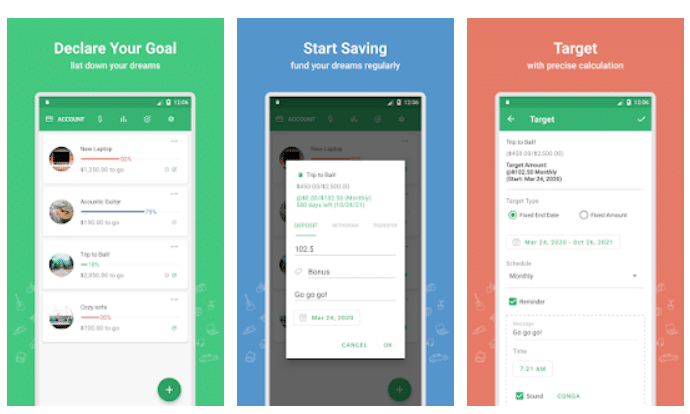 Standout Features:
Summary of saving targets
Custom reminders
Various target types
Analyze performance with line bar and pie chart
---
You need a budget – Best Money Saving Apps
You need a budget, yes you need to prepare a healthy budget to smartly manage your finances. YNAB is one such app that will help you to manage all your monthly finances and accumulate savings for the future. The app offers you detailed trend reports of your expenses that help to determine your financial position.
You can set your goals on the app and track them to see how frequently you are hitting them. Sync all your bank accounts and stay updated with all your transactions. You can also access your data across multiple devices so that you do not miss anything. The app offers four rules that are proven to save your bucks. You can do a quality check of the app with the 34 days free trial period.
Related: Best Free VPN Apps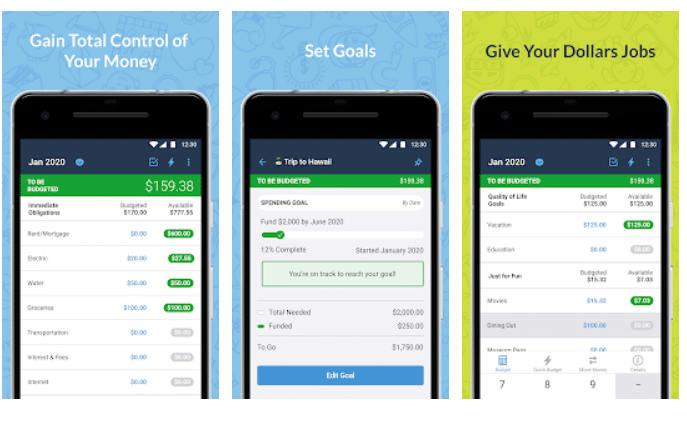 Standout Features:
Goal tracking
Detailed visual spending report
Transcation matching
---
Final Words
We hope this list will help you to hit your financial goals and make savings for the future. Download any of these best money saving apps to start saving today. You can appreciate our work by liking and sharing the content so that we keep coming with more awesome stuff for you.
Thank you for reading! Try these out too:
General FAQS
What is the best money-saving app?
The best money-saving app on our list are Mint, YNAB, and Save.ly
Is the best money-saving app worth it?
Yes, the apps are critical in keeping track of your spendings. It will help you carve out a spending plan and remember where you have spent your money.
Is the best money-saving app easy to use?
Yes, the best money-saving app tends to be quite convenient with a user-friendly interface, allowing you to create goals and save records instantly.