Collage coalesces not one but many beautiful memories into one single image. It serves as a recollection of your better times and the moments worth reminiscing. Manual collage creation was a pain even with larger screens, and it was a painstaking process on mobile devices. But the best collage apps are now able to auto-arrange and touch up your images in a single click and require no manual intervention in creating a perfect collage unless you need to.
These best collage apps can help you create a beautiful visual concoction of your images instantly. After extensive research, these are the best collage apps that fit the bill and are brimming with features that will help you create distinct and eye-catching images.
Excited? So, Let's Get Started.
Benefits of the Best Collage Apps
Intuitive – Collage apps are super intuitive and are usable by anyone, even without a background in the photography app. There are visual cues everywhere to help you reach your preferred collage design. Moreover, helpful tools let you touch up your images, alter them, reposition and resize them without creating a mess.
Lightweight – Most of these apps consume very little system resources. They do not strain your mobile phone's battery and often do the image processing offline, thereby eliminating the need to connect to an external server for processing images.
Free – Most of the best collage apps offer a free tier which is adequate for 90 percent of the users. However, if you need to explore every little feature and use it to amplify the collage presentation, you can opt for the paid tier. It is wise to stick to the free tier unless you are a media house that requires collages for business purposes.
Best Collage App for Android and iOS
---
PicCollage
PicCollage rules the collage app list because of the variety that it offers to the users. It is among the best collage apps because of its vast template library that makes every collage design a unique affair. All you need to do is select and import the images into the app, and let it do the grunt work. If you don't like the selected or pre-defined template, there is always an option to choose grid layouts and templates from the library.
PicCollage offers stickers and cards that can be integrated into the collage to make it lively and unique. You can also add doodles to highlight and point towards a specific event or person in the collage. If you find the pre-determined templates lacking taste, there is also an option Freestyle mode which gives you a black canvas to work with pictures. PicCollage is free to use app available for both iOS and Android. If you want to remove watermarks from the collage and get access to the humongous library of stickers, templates, and cards, upgrading to the premium tier is cost-effective.
Related: Best Step Tracker Apps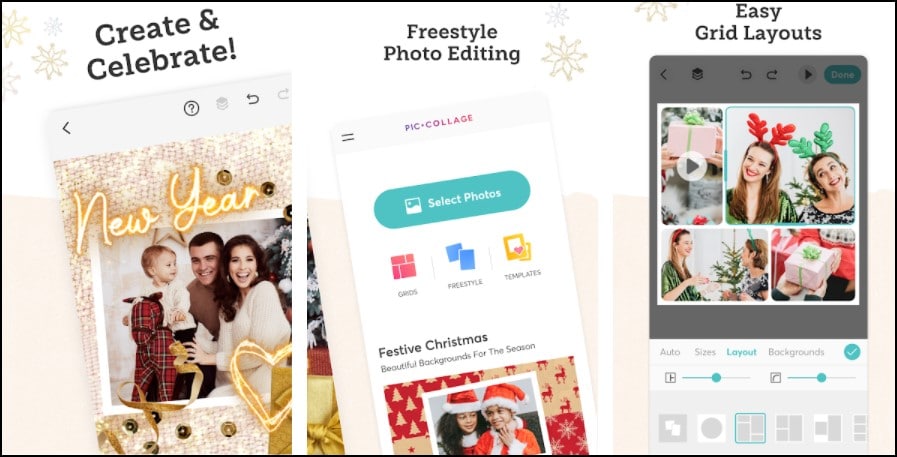 Standout Features:
Add doodles, stickers
Freestyle Mode
Intuitive UI
---
Moldiv
Moldiv is one of the best collage apps for handheld devices that contains a staggering number of collage layouts. The best part about Moldiv is that you get the option to edit individual images in the collage without creating a separate copy and then importing it. You can pick from over 300 collage templates, most of which are free to use. Another interesting quirk is that you can adjust each grid of the template manually which gives you even more options to work with.
Moldiv allows you to change the background of the collage, make annotations such as stickers, emojis, text, and even change the font style of the text to your liking. Each image can be edited directly without moving back to the gallery and can be exported in the quality of your liking. Moldiv is one the best collage-making that offers you granular control over collage-making and is available for both Android and iOS devices.
Related: Best Guitar Tuner Apps
Standout Features:
Over 300 templates
Beauty mode
Edit images while designing
---
Diptic
Diptic is a paid best collage app that is exclusive to iOS devices only. It is a shame that the devs confined it to the iOS ecosystem when there is a large market of eager Android collage makers as well. Diptic arrived on the App Store a decade back and still has useful features to compete with other similar apps in the segment. You can make a photo collage, video collage, or a mix of both using the Diptic app on your phone.
Diptic lets you add captions and create a collage that showcases the images as well as videos that match the scene. Users can easily tweak the volume levels, change or add tracks, apply filters and do pretty much everything that they would do with images. The interface of Diptic doesn't quite fit with today's standards and you have to bear with obnoxiously large buttons and outdated interface. Still, Diptic is among the best collage-making apps that let you create video and image collages for a monthly subscription of 3 USD.
Related: Best Home Workout Apps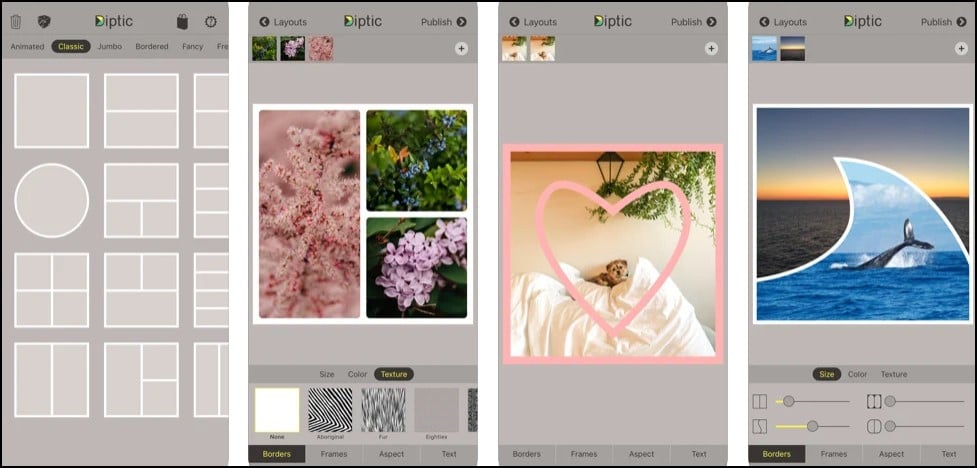 Standout Features:
194+ layouts
Create photos and videos collages
---
PicPlayPost
PicPlayPost presents itself primarily as a video editor but it also deserves the title of the best collage-making apps. The app is a boon for creators who love to build videos and gifs and need a versatile app for the same. Using PicPlayPost is very easy, as you just have to select the images and let the app take control. Even the default template and design ideas are so perfect that you will rarely need to tweak the content.
However, if you are tempted to tweak things, you can choose from 80 plus premium collage layouts and 150 plus background colors to make each of your creations stand out. You can personalize the creation with custom music, watermark, and backgrounds and can share them on numerous social platforms directly. PicPlayPost supports all the major formats and specific video resolutions such as 9:16 or 4:5 for Instagram and TikTok. You have to bear the ads in this best college app as it is the only way to use the free tier and export your creations. Otherwise, you can try out the monthly subscription plan for 7 USD.
Related: Best Weight Loss Apps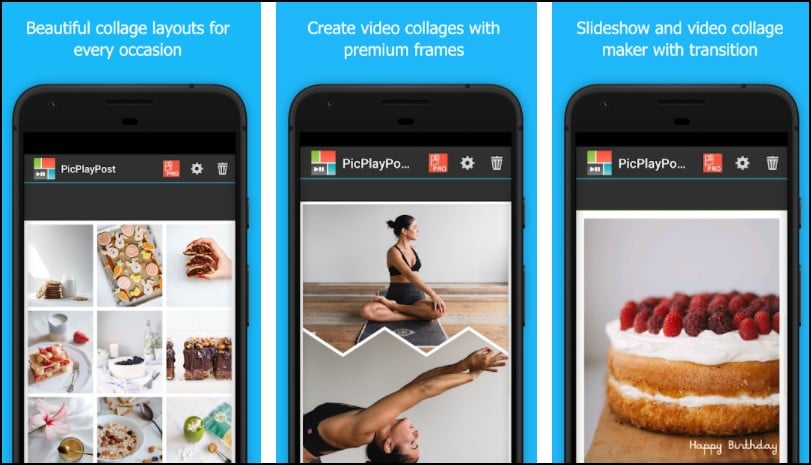 Standout Features:
150 plus background colors
80 plus premium collage layouts
Supports specific video resolutions
---
PicsArt
PicsArt is a vast community of like-minded artists who frequent the platform to share their creations and take inspiration from others. All of the other best collage apps mentioned above lack the integration of a community feed which makes a huge difference if you are searching for ideas. You can share your take on a particular genre or learn from the designs of the others. PicsArt lets you take the reins and amplify your creativity to the highest level.
PicsArt lets you create photo grid collages, freestyle collages, scrapbooks, and frames for pictures. In addition to this, you can use the story maker to help your friends, and families reminisce about the good old days with stories on Instagram. Editing tools are aplenty in this best collage app and you can apply filters, change orientation, tweak the size and use AI-style effects. PicsArt is free unless you want to use the meme generator tool and access the stickers library. All of these perks cost extra and can set you back by 4-8 USD depending upon your choice.
Standout Features:
Meme generator
Community module to share creations
---
PicStitch
PicStitch is another deserving candidate for the best collage apps because of its highly intuitive design tool that lets you create compelling collages quickly. Like Diptic, PicStitch facilitates the creation of video collages in addition to the photo collages you normally create. You just have to pick a template of your choice and begin adding images and videos to it.
As, soon as you tap on an added video, the video editor pops up which allows you to adjust the video length, zoom in or out, change playback speed, and many more tools. PicStitch lets you adjust the color, saturation, add text, memes and beautify the collage using a single window. Being a freemium app, the ads are expected but if you want to level up your collage-making game and integrate the latest memes and stickers, the 129 USD lifetime subscription is recommended.
Related: Best Sports Apps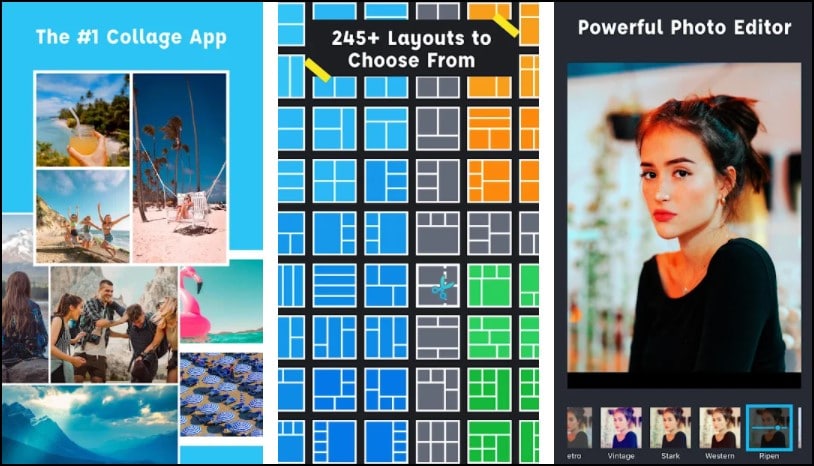 Standout Features:
Over 250 different layouts
High-resolution export
---
PhotoGrid
PhotoGrid boasts 20000+ elements in total. Sound like a lot of options for the best collage app but you don't get access to all of these in one go. PhotoGrid uses the scrapbook module to let you mix 16 pictures in one go. You can choose the traditional square-shaped grids or can bend the rules and go for triangles, hearts, and other quirky designs in the collection. You can discard the traditional designs and use the freestyle mode to tweak layouts.
Filters are in abundance in this best collage app and you get to completely transform the designs with meme filters, stickers, face pop, and many more filters. If you are creating collages for a business purpose, the watermarks feature helps to give it a formal appeal along with custom ratios for Facebook, Instagram, and other social media platforms. PhotoGrid is a free-to-use app but if you want to go all out and create the best collage designs which dominate the social platforms, the premium option makes more sense. Plus, you get access to all the elements, meme creation tools, and get rid of the ad for good.
Standout Features:
Quirky layouts
20000+ elements
Custom sizes
---
Collageable
Collageable is a dedicated collage maker app for iOS users and is not available for Android devices. Users get to choose from 300 plus layouts which can become the base for your custom collage. This best collage-making app allows you to create a collage that can contain 2 to 25 images in one design. You can go with the straight shapes or can choose rounded and imperfect shapes based on your preference.
Collageable packs social media templates that let you create befitting collages that match the sizes supported by Instagram, Facebook, etc. Custom designs can be created as well and can be tweaked to your heart's content with the help of text and elements such as stickers, backgrounds, and frames. Seasonal and holiday templates are released frequently and can be used to create memorabilia and send it digitally or print and send cards to your loved ones. Collageable ranks below because of its restricting feature set in the free version that compels you to upgrade to the paid tier.
Related: Best Personal Finance Apps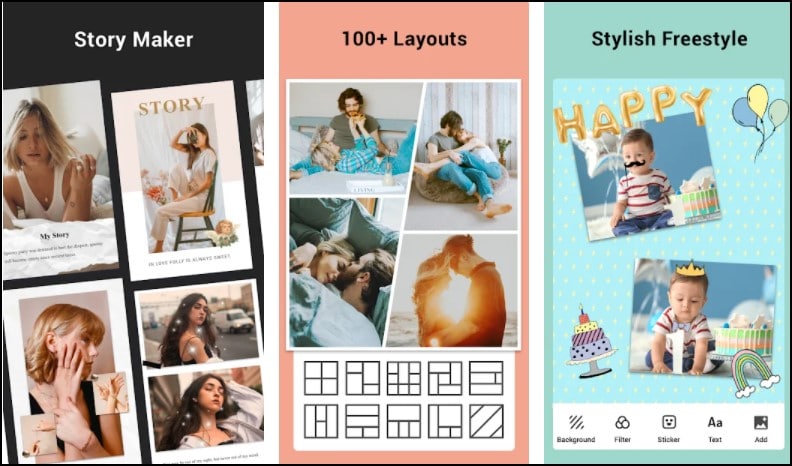 Standout Features:
300 plus layouts
Social media templates
---
Final Words
These were the best collage apps that made our list because of their distinct feature set and ease of usage. PicCollage still rules the best collage app list because of its vast templates' library and availability on both Android and iOS devices. Moldiv offers a similar package and can be considered if you crave variety in layouts and editable elements. For iOS users, there's no better alternative than Ditpic but its UI has aged pretty badly and you may find it bleak and laggy at times. Lastly, PicPlayPost and PicStitch are your go-to best collage apps if you want to create and export collages in sizes and aspect ratios that fit on social media platforms.
Thank you for reading! Try these out too:
General FAQ
Which is the best collage app for Android?
PicCollage is the best collage app for Android users that allows you to create beautiful collages within minutes.
Which is the best collage app for iOS?
Ditpic and Collageable are among the two best app options for iOS, that permit the creation of both picture and video collages.
Is the Pic Collage app free?
Yes, the Pic Collage app is free to use but you get limited access in terms of the element's library and meme generator. Also, access to predefined templates and watermark removal is only possible if you upgrade to the premium version.
What app do influencers use for collages?
Influencers need the best collage app that provides custom templates for Instagram and other social platforms. The best options include PicCollage, PhotoStitch, Moldiv, etc. that have custom templates for creating content for social platforms.
Is layout by Instagram free?
Yes, layout by Instagram is absolutely free but is nowhere in comparison to the collage-making apps mentioned above.