Tracking expenses is vital for individuals, businesses, and big organizations. Individuals may face difficulties in tracking their scattered expenditure patterns. Start-ups and small businesses require the best expense tracking apps and software to manage and track their expenses. Individuals and businesses can take the assistance of the best expense tracking apps to manage their expenses.
Besides traditional expense and receipt tracking, you can reconcile accounts, track credit, and prepare weekly and monthly budgets with the assistance of the best expense tracking apps. We are compiling a comprehensive listicle of the best expense tracking apps for personal and professional usage. Let us also look at some benefits these best expense tracking apps yield for the users.
Excited? So, Let's Get Started.
Benefits Of Best Expense Tracking Apps
Determine overspending areas: Once you start tracking your spending patterns, you can determine the overspending areas. It will help you

minimize your expenses

and accumulate a handsome sum of money at the end of the month. For businesses, it will help them to cut the cost on the areas like travel and other minuscule expenses.
Reconcile account: Businesses can reconcile their financial statement at the end of the month or financial year with the best expense tracking apps like Quickbooks. It will help the businesses to keep in check the cash flow during the year.
Error-free tracking: Tracking expenses via expense apps and software is error-free. The algorithm of the expense software lets you quickly compile all the expenditures and categorize them under different categories. It ensures a smooth workflow between departments of the organization.
Best Expense Tracking Apps For Android
---
Quickbooks is accounting software that can help you maintain finance and cash flow along with profit and loss reports. It has over 4M+ downloads and can be an ideal app for small business owners. The app comes with an automatic mileage calculator that can calculate the mileage of business trips. You can categorize the travel under the business category to get maximum tax benefits.
You can forecast cash flow over 90 days and assign funds for business and payroll taxes. The app provides data-driven insights that you can consider while making vital business decisions. It has a business dashboard where you can keep a check on the cash flow. Also, the app has an invoice generator that can create invoices in multiple currencies.
You can customize the invoices by adding logos, colors, and custom fields. By connecting your bank accounts with the Quickbook app, you can view your profit and loss reports. Quickbooks offers bookkeeping services and business insights, making it the best expense tracking app on the list.
Related: Best Guitar Tuner Apps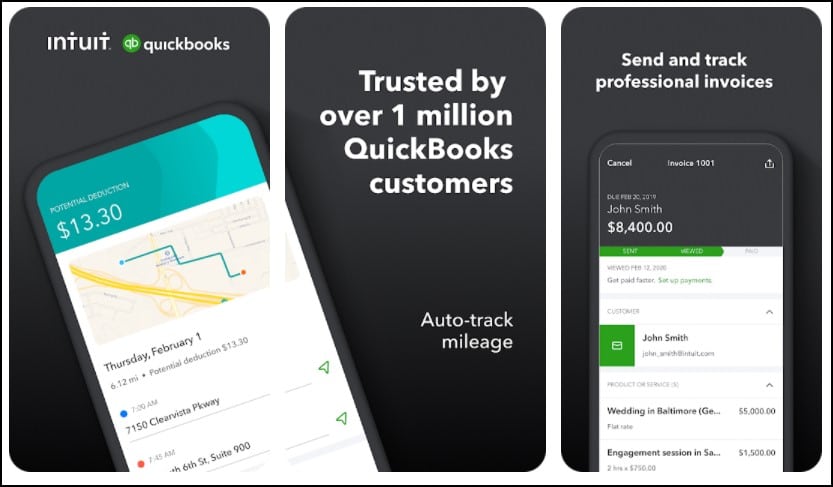 Standout Features:
Mileage calculator
Data-driven business insights
Multiple currency invoice generator
---
Wally is a top-ranked best expense tracking app available in more than 70 countries. The app offers a plethora of expense tracking features to the users. You can track all your account balances and get up to 2 years of insight on your spending patterns over the years. Also, you can monitor foreign currency and crypto accounts on the Wally app.
Wally app gives an insight into your recent spending and upcoming transactions. It also categorizes your expenses under a different heading. The categorization is done based on business, account, currency, and tags. You can write notes with every receipt and transaction ad can refer to it later for analysis purposes. The app has interactive charts that help you visualize your finances in one place. You can sync unlimited accounts and access them across various devices.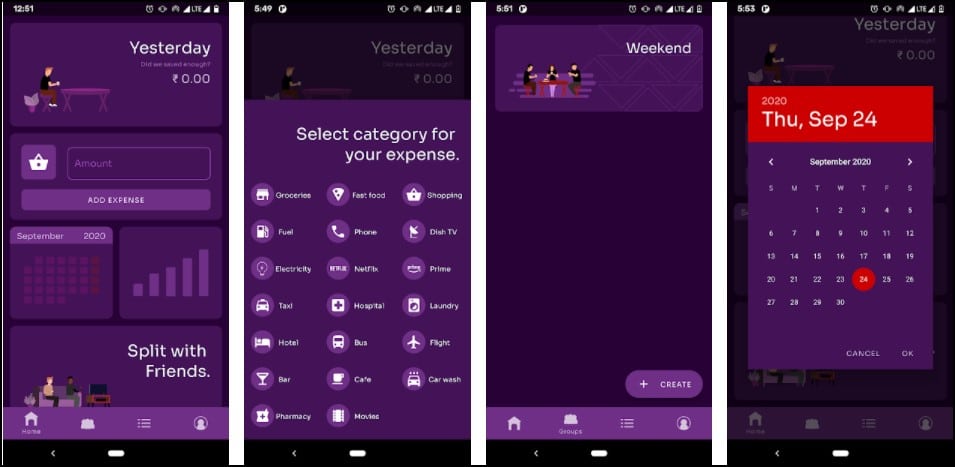 Standout Features:
2 Years of insight into spending patterns
PCI compliant
Personalized insights
Interactive charts
---
Manage monthly expenses, assign categories, record expenses, and set monthly reports with the Expense Manager app. It comes with a simple design and intuitive UI making it convenient for the users to manage their assets. You can view the expense history of the month and look for the areas of a spendthrift.
You can assign and manage categories to the expenses for easy allocation of funds. Also, you can set a home screen widget for quick access to financial reports. The app supports Dashboard integration, making it the best expense tracking app. You can also export spreadsheet reports for a holistic overview of your monthly budget. With in-app purchases, you can unlock more exclusive features of the app.
Related: Best Home Workout Apps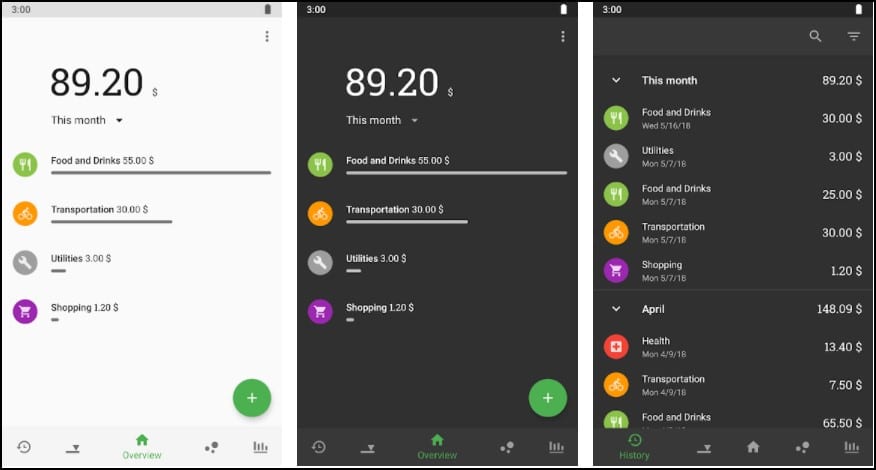 Standout Features:
Simple design
Home screen widget
Dashboard integration
---
Nerd Wallet app tracks your expenses based on your income, spending, and bills. It accesses your spending via different sources and breaks them down to provide a complete picture of your finances. You can adjust the budget and cut spending once you have analyzed your spending across different categories.
You can determine your net worth with the Nerd Wallet app. It provides deep insights into the total for cash, debt, investment, and the current market value of your home. Also, the app provides you with credit score services. You can check your credit score and know the factors that can affect your credit score. It is a multi-utility best macro tracking app users should try their hands on to track expenses and manage finances.
Standout Features:
Breakdown the expenses
Credit score services
Determine net worth
---
You can schedule transactions to track items you are spending money on throughout the month with the Goobudget app. You can see your areas of spending with interactive pie charts. Practice conscious spending with the help of this app every time you are making transactions. The app offers you insightful reports that make it the best expense tracking apps.
You get a Spending report, Income versus Spending report, to know your position at the end of every month. You can upgrade to the premium version of the app to get more useful features.
Related: Best Weight Loss Apps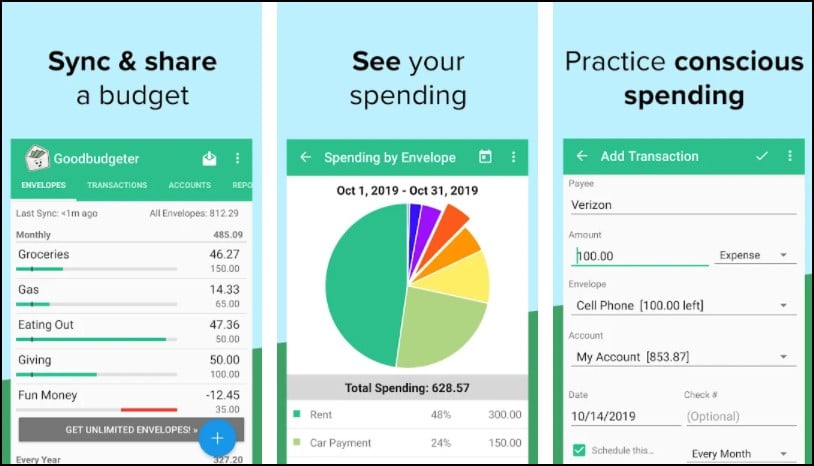 Standout Features:
Income versus spending report
Set goals
Practice conscious spending
---
Xero Expenses app provides handy features to small enterprises. It simplifies the process of reimbursement and employee claims, making it one of the best tracking apps. You can scan and submit the claim receipt, and the app will auto-approve the expense in one click. The app provides real-time insights and assists you in making quick business decisions.
Xero expenses app has an OCR technology that can extract relevant transcriptions from the claim receipts. Employees can submit claim expenses in any currency. You can link expenses to your projects to get an overall view of the cash flow of your business. The app has a map that can help you track your mileage and submit the travel claims for swift approval.
Related: Best Sports Apps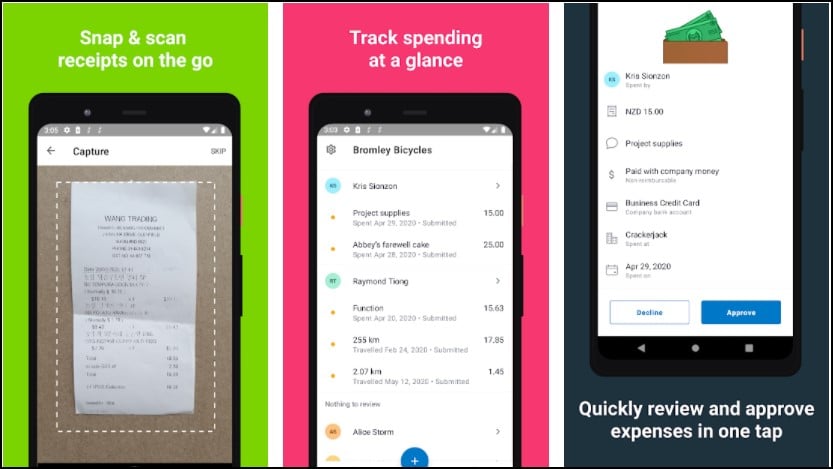 Standout Features:
Automatic receipt transcription
Track your mileage
Approve claims in one click
---
Digit app can recognize your spending pattern and suggest ways to cut down spending. It provides financial suggestions that can help you reach your future goals. The app saves and allocates money to you to complete your financial goals. With the overdraft prevention feature, you can pay off your debts faster.
The app saves overdraft fees and transfers them to your account to lay a helping hand in paying debts. You can use the Digit app to make retirement plans. It recommends investment portfolios where you can invest and accumulate wealth after your retirement. You can try the 30 days free trial version, after which you may take the monthly $5 subscription plan.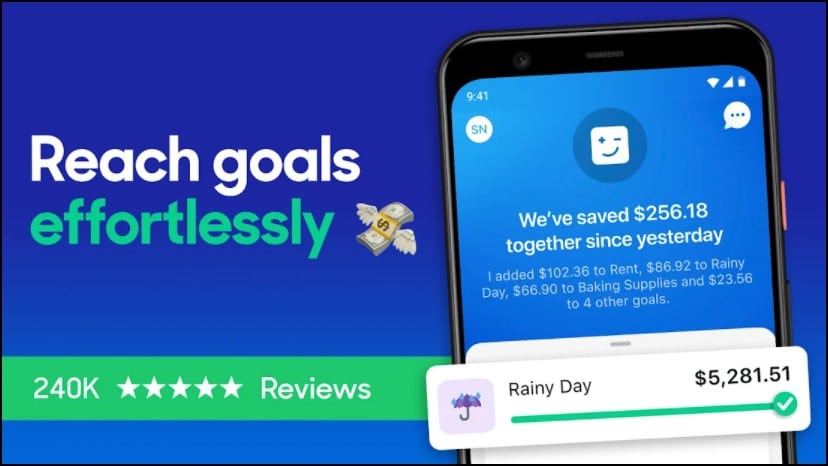 Standout Features:
Save overdraft fees
Investment portfolios
Recognize spending patterns
---
Mint is the best expense tracking app that will manage your money in one place and keep track of your spending. The app brings together your bank account details, credit card details, and investments that help to know your financial position. It gives you monthly bill reminders for timely bill payments.
The app suggests actionable saving tips that will help you reach your goals. You also get recommendations to prepare a healthy budget based on your spending history. It recommends a weekly and monthly budget that will help to save bucks.
You can also learn some tips about your credit scores that will be handy in calculating your creditworthiness. Mint is an all-in-one financial app that could be one of the best expense apps if you are hunting for one.
Related: Best Credit Score Apps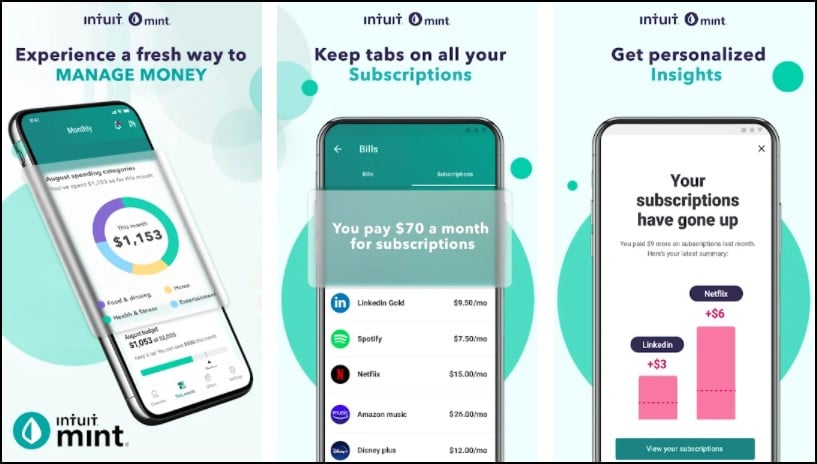 Standout Features:
Monthly bill payment reminders
Handy recommendations
Multi-utility
---
Everlance can be the best expense tracking app for companies, employees, freelancers, and independent contractors. The app can save tax, time, and track expenses conveniently with the Everlance app. GPS mileage tracking can track the mileage and filter it via work, personal, and location categories.
You can upload photos of bills and claims to get swift approval. It can also manage your revenue and expenses when you connect your card and bank cards. The app can customize the mileage expense in PDF format and share it. The app is in the development stage and seems promising. You can get an admin dashboard if you opt for the premium version of the app.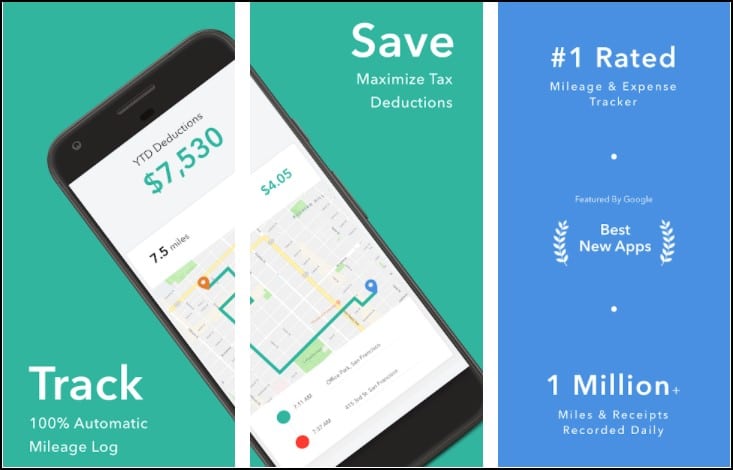 Standout Features:
Automatic trip detection
Receipt capture
Mileage tracking details and classification
---
YNAB is an app that will help you to manage all your monthly finances and accumulate savings for the future. The app offers you detailed trend reports of your expenses that help to determine your financial position. You can set your goals on the app and track them to see how frequently you hit them.
Sync all your bank accounts and stay updated with all your transactions. You can also access your data across multiple devices so that you do not miss anything. The app offers four rules that are proven to save your bucks. You can do a quality check of the app with the 34 days free trial period.
Related: Best Personal Finance Apps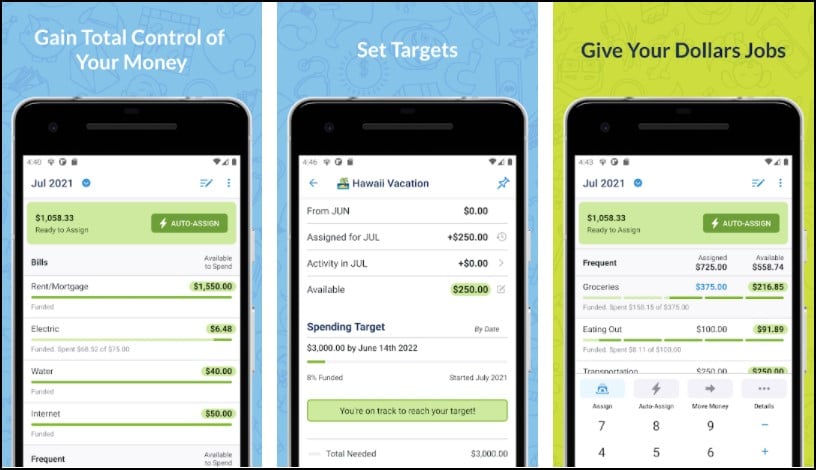 Standout Features:
Goal tracking
The detailed visual spending report
Transaction matching
---
You can manage all your accounts in one place with the Personal Capital app. Manage bank accounts, IRA, investments, stocks, debt, and 401K on the interactive dashboard of the Personal Capital app. You can access all your financial details with the cash flow graphs monthly.
The app has an Investment Checkup tool to analyze the portfolio allocation and maximize the ROI. Plan your retirement according and build a healthy portfolio with the Retirement Planner. Some other financial tools Personal Capital provides are Educational Planner, Fee Analyzer, Investment Checkup, Net Worth, and Savings Planner.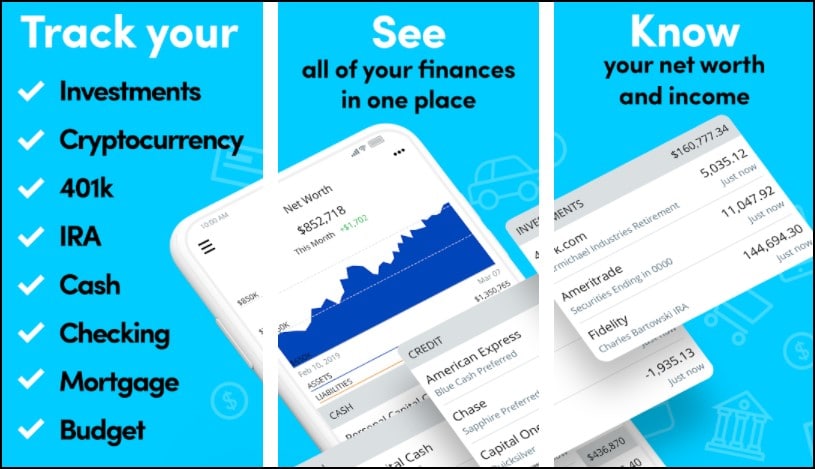 Standout Features:
Diverse financial tools
Interactive dashboard
Cash flow graphs
---
Final Words
Track your expenses and accumulate savings at the end of each month with our listicle of the best expense tracking app. We hope the list will be useful for you and help you track your spending habits. Quickbooks, Walley, and Xero Expenses app are some top recommendations. Nerd Manager, Mint, and Digit app can be an ideal choice for solopreneurs and personal usage.
Thank you for reading! Try these out too:
General FAQS
Is there an app to keep track of business expenses
There are plenty of apps that can keep a track of business expenses. Wally, Everlance, and Quickbooks are some top picks of the list that you can choose to meet varied business requirements. Everlance has a mileage calculator and can be handy to manage business travel expenses. Quickbooks is accounting software that offers varied services to businesses and enterprises.
Does iPhone have an expense tracker?
Yes, you can use the Wally app from our list that is available on the app store. It can track your expenses and manage your finances. You can also use it to save money and accumulate savings monthly.