A logo defines the identity of your product, service, and brand. Buyers identify your products with logos and appealing tag lines. To leave a lasting impression on the viewers and buyers, you need to have an appealing and eye-catching logo. You can hire logo-making agencies, freelancers to create logos. In this article, we will be presenting a comprehensive listicle of the best logo maker apps. Individuals, businesses, and content creators can opt for any of the apps from our listicle of the best logo maker apps to create a visually appealing logo.
We have compiled the list considering the diverse needs of the users. The apps come with flexible subscription plans and can offer quality services to users. Before getting started, let's look at some benefits these best logo maker apps offer to the users.
Excited? So, Let's Get Started.
Benefits Of Best Logo Maker Apps
In-built templates: Logo maker apps contain in-built templates that can ease the task of creating a logo. You can access templates ranging across various categories based on your needs. With in-built templates, you can save time and create the desired logo that will suit your brand and enhance its appeal.
Cost-cutting: If you hire any logo-making agency or freelancers, you need to pay a handsome sum of money to get the desired result. But with the help of the best logo-making apps, you can create logos at a minimal cost. With practice and skills, you can create brand logos for your product.
Rich customization: Logo maker apps are rich in customization. You can edit and modify every minute detail of your logo before making it public. There are editing tools that can assist you in enhancing the visual appeal of your logo in the public domain. Moreover, you get all the editing tools for free or by paying a nominal amount of money.
Best Logo Maker Apps For Android
---
Iris Studio Logo Maker
Have an idea in your mind to create something? Shape it with the intuitive editing tools of the Iris Studio Maker app. You can create logos in categories like shapes, textures, elements, and more. Also, you can create your original idea into an appealing final product. The app offers background options, colors, and textures to sync your logo idea with reality.
You can flip, 3D rotate, resize, curve, font, and color the logo with the editing tools of the app. Besides creating logos for your business, you can use this best logo maker app to create promotional posters, offer announcements, newsletters, and other branding material. The app has in-app purchases that you can buy to access more professional editing tools and templates.​
Related: Best Guitar Tuner Apps
Standout Features:
25+ Categories
3D rotation
Create other branding material
---
Z Mobile Logo Maker
Z Mobile Logo Maker is a feature-loaded and customization -rich best logo maker app for novices and professionals. The app offers unique typographic, artistic, symbolic, and professional logo designs for your business using the Z Mobile Logo Maker app. You can choose from the 100+ background options to craft your logo design. You can also apply transparent background to your logo to add more visual appeal to it.
To add a professional touch to your logo, you can apply enhanced color correction filters, You can personalize your logo by applying 30+ different textures and adding a suitable color touch. The app offers 100+ typography fonts that can match your logo design. You can use the editing tools to adjust the brightness, color, saturation, and contrast of the logo.  This best phone tracker app has all the ingredients logo makers would want for a perfect logo design.
Standout Features:
Enhanced color correction filters
30+ Textures
100+ Unique typography fonts
Transparent background
---
Logo Maker (Mobi App)
Logo Maker by Mobi App offers 1000+ logo templates to create an appealing logo for your digital and online business. The app can also be handy for freelancers to create logos with minimum effort. You can choose from the 1000+ creative customizable templates to start knitting your logo idea into a fine piece of art. After selecting the template, you are ready to customize every aspect of your logo to match your requirements.
You can add background stickers, text, and text from the options available in the app or add your customized option. The app is useful for design, banners, flyers, creative, and artistic professional logos. You can re-edit and re-do the parts which you think need more improvement to add more appeal for the audience. You can create an Esport logo if you are launching your own game in the market. You can also create an avatar for your game with this best logo maker app. The app also gives the perk of adding a watermark to maintain copyright for your creative work.
Related: Best Home Workout Apps
Standout Features:
1000+ Customizable logo templates
Create an avatar for your game
Add watermark
---
Logo Maker (Content Arcade)
With 2000+ logo templates, 5000+ logo icons, and 500+ font styles, the Content Arcade Logo Maker app has landed on our listicle of the best logo maker apps. You can create logos in fashion, business, lifestyle, and watercolor categories. The app provides high-quality logo design ideas that can help in the growth of your brand. Customize the text and design of the logo to make it ideal for your business promotion. The text and shapes of the logo are customizable to fit your needs. This free best logo maker app can be an ideal choice for beginners.
Related: Best Weight Loss Apps
Standout Features:
2000+ Logo templates
500+ Font style
User-friendly
---
Canva 
Canva provides diverse features to the users due to which It has also received awards and appreciation over the years. You can start from the blank canvas and paint it as you want. You can choose from 60,000+ templates, which is massive when we compare it with its peers. You can add images to the logo from your device or choose from a large number of options available. The best part is your free access to a plethora of pre-made templates.
The app can be a handy tool for businesses as it let you create hassle-free high-quality professional logos. You can also use the app as a product logo creator to enhance the reach and appeal of the target audience. Besides logo making, social media influencers will find his app highly valuable. Digital content creators can create Instagram story templates, YouTube thumbnails, and Facebook cover. This multi-domain best logo maker app can be a one-stop solution for all your creative needs.
Related: Best Sports Apps
Standout Features:
60,000+ Templates
Product logo creator
Design YouTube thumbnails
---
Logo Maker Plus
Logo Maker Plus is a customization-rich best logo maker app. You can apply custom patterns, shadow, border, and 3D depth to your logo with the Logo Maker Plus app. The app has thousands of logo categories that can fit into the requirements of the users. You can add texture, border, and shadow to your logo. In the premium version of the app, you can use the golden ratio technique to craft your perfect logo. Insert text and photos to the logo to add a finishing touch. You can insert photos from your device or choose from the options available.
Standout Features:
700+ font types
Add gradient color and 3D depth
Golden ratio technique
---
3D Logo Maker
3D logos always adds an extra flavor to your product and services. It appeals and attracts a large audience. 3D Logo Maker is one such app that can help you craft amazing 3D logos for your product. You can select from the variety of templates options available and get started. The user-friendly editor will help you create original and best-looking 3D logos for your product. The app has advanced editing tools, making it one of the best logo maker apps.
You can use 3D art, color, background, and textures to create a professional-looking logo. The app is ideal for small businesses, entrepreneurs, and freelancers who want to yield maximum revenue from their products and services. The app has 100+ backgrounds that you can choose while designing your logo. You can use the 3D rotation tools to add a perfect dimension to your logo. More than 100 typography fonts will help you add appealing fonts.
Related: Best Credit Score Apps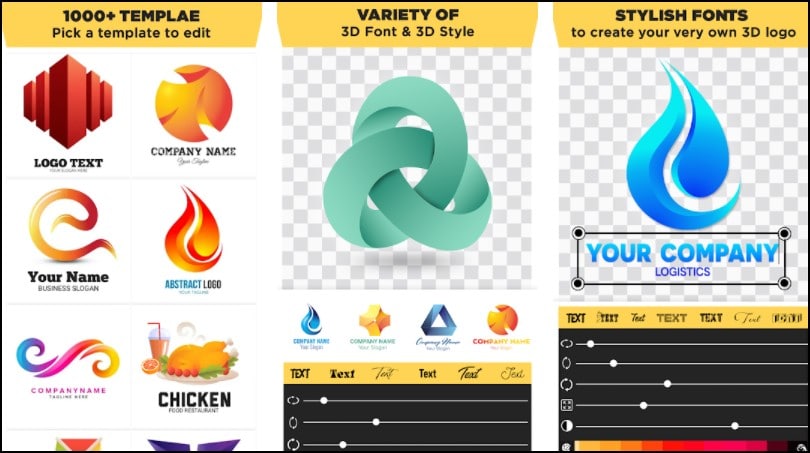 Standout Features:
Rotation tools
Enhanced color correction
100+ Background
---
Infinite Design
Infinite Design app offers infinite editing features that can help you create the desired logo. You can use four different types of symmetry to design your logo. The app allows you to add unlimited layers to the logo. It has a history slider and scrub that will help you erase and undo all the mistakes. You can use the pen tool to start any logo design from the scratch.
The app has a transform tool to scale, rotate, flip, skew, and distort your logo. Grid and pattern fill features will be handy in adding a professional touch to the logo. Also, you can turn any image into editable victor paths, making it unique and one of the best logo maker apps. The app also has a database of millions of colors, palettes, and patterns.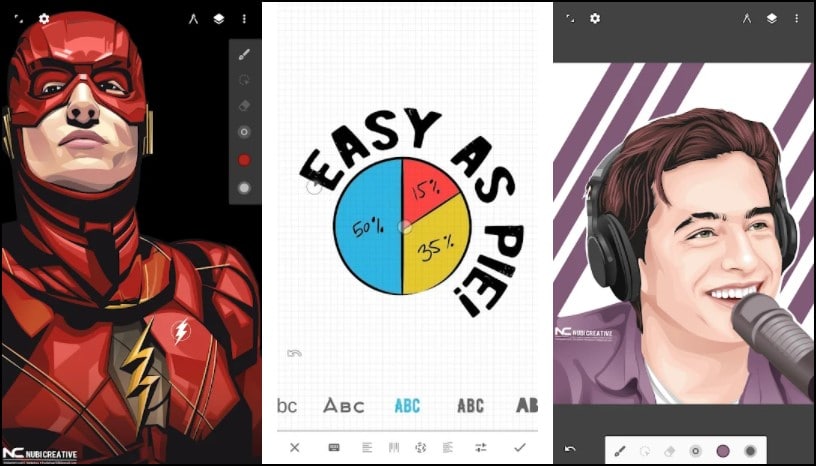 Standout Features:
Automatic shape detection
Millions of colors, palletes, and patterns
Vectorize images
---
Insta Logo Creator
Insta Logo Creator app can turn your Android devices into professional editing tools, thanks to rich editing features. The app has a massive library of logos that can help you design a suitable logo for your product. It has more than 270 Latin and Non-Latin fonts that you can add to your logo. You can change the gradient and color of logos, text, and background of your logo. You can take the assistance of professional-grade shadows to create the best logo for your business.
You can adjust the grid lines to add symmetrical perfection to your logo. Also, you can pinch, drag, and spin logo elements for a finishing touch. You can save and share the logo in PNG, JPEG, and PDF formats. You can upload images and logos to Dropbox and Evernote so that you can access them anytime.
Related: Best Personal Finance Apps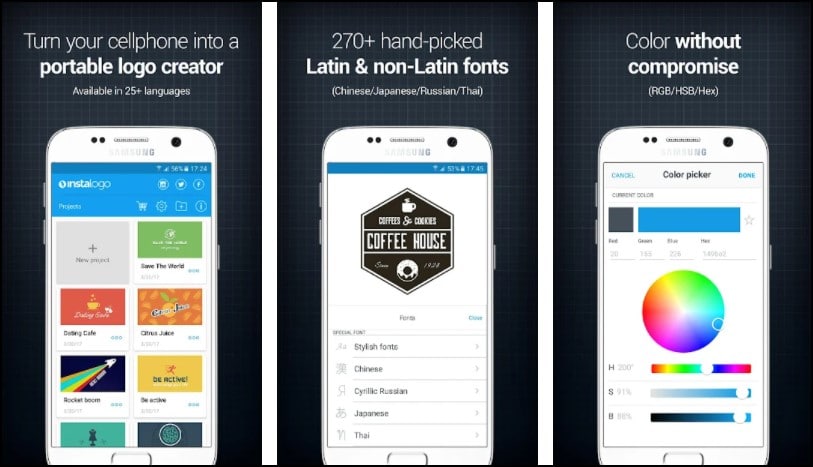 Standout Features:
Add professional grade shadows
270 Latin and Non-Latin fonts
Professional grade shadows
---
Swift Logo Maker
Swift Logo Maker app can be an ideal choice for novices. You can create a unique logo using sub-components shapes, art pieces, and drawings. You can manage and adjust layers to the background of your logo. The app has a brush tool where you can use circles and rectangles to draw a perfect logo. It also offers tons of free fonts that you can pick to fit into your logo idea.  You can buy the in-app purchases for more exclusive features.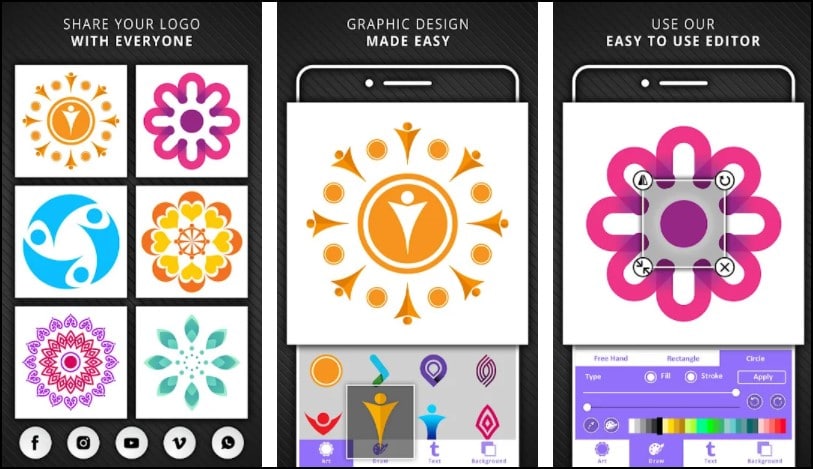 Standout Features:
Use sub components and shapes
Adjust layers
Brush tool
---
Final Words
These were the 10 best logo maker apps that small businesses, freelancers, entrepreneurs, and beginners can use to create standout logos. You can drop your comment below and tell us about your favorite picks on the list. Iris Studio Logo Maker, Z Mobile Logo Maker, and Mobi App Logo Maker are our top recommendations from the list. Your suggestions are highly valuable, do not forget to mention them in the comment below.
Thank you for reading! Try these out too:
​​
​

​